"I have an ang moh friend visiting next week, any recommendations?"
If there's one thing Malaysians struggle with on a daily basis it's the question of where and what to eat.
This becomes even more difficult when we have to think of places to introduce our "ang moh" friends to when they're visiting. It can't be too spicy, too exotic, too salty, too pungent, too sweet and the list goes on.
Western food is always a safe bet, but come on, we're better than that.
Hence, here's a practical list of places with different cuisines to solve that problem for you.
Level 1: The "Malaysian Staples" Starter Pack
A visit to Malaysia is not complete without trying Nasi Lemak, Teh Tarik and immersing ourselves in the mamak culture.
While we've all got our favourite obscure or roadside Nasi Lemak stalls, here are the basic options that are pretty good too.
Note: By no means are these strictly "Malaysian" food but rather, part of our culture. For instance, while bubble tea is widely known as a Taiwanese cuisine, as of late, it is somewhat ingrained in our culture to enjoy them.
Now, moving on to the actual food…
1. Nasi Lemak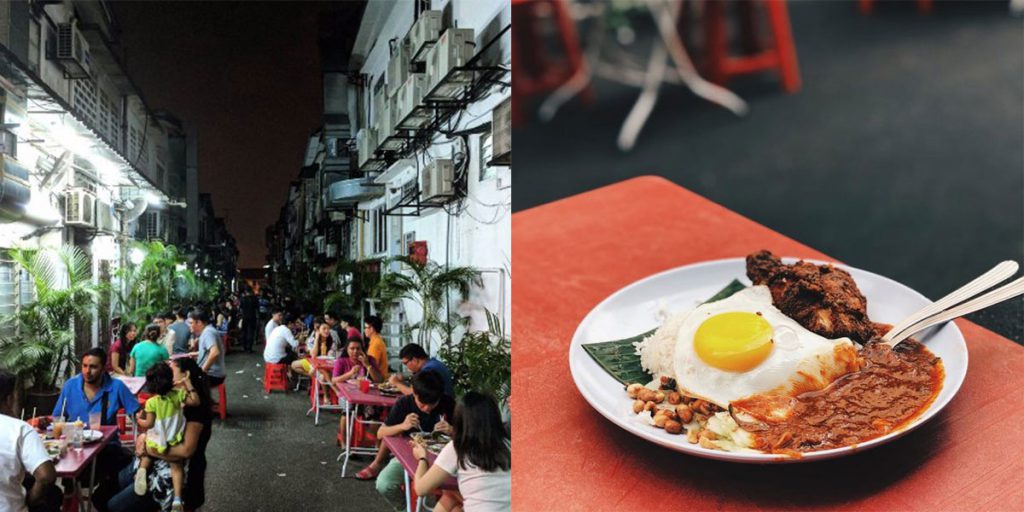 Nasi Lemak generally consists of sweet and spicy sambal with fragrant coconut rice, crispy fried chicken and a sunny side up. It goes perfectly well with a cup of Teh Tarik or iced Milo.
While places like Bumbung operates from 5.30pm till 4am on most days, Village Park Restaurant is the spot to hit up for breakfast.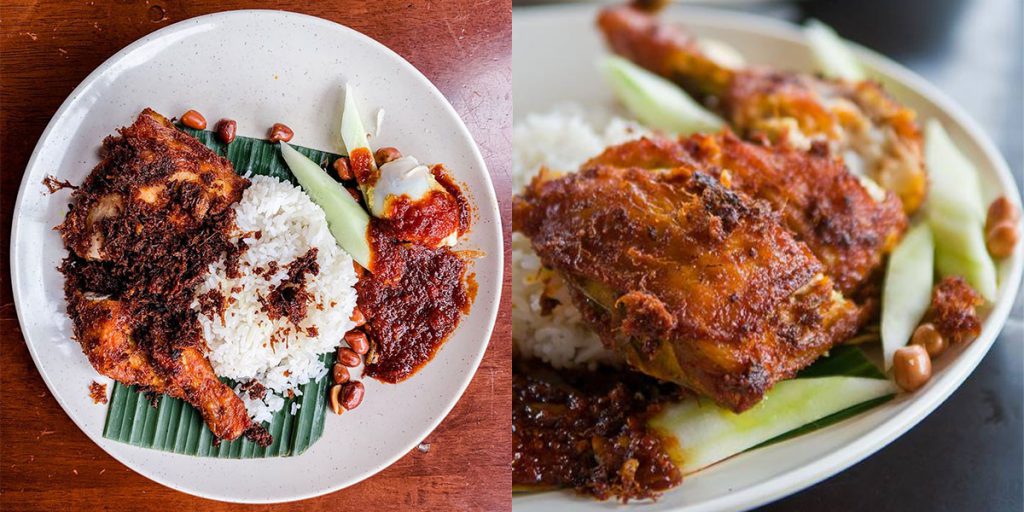 If you're not one for queuing up first thing in the morning or enjoying your Nasi Lemak under the stars, you could have it in a bar with a Kopi-O cocktail.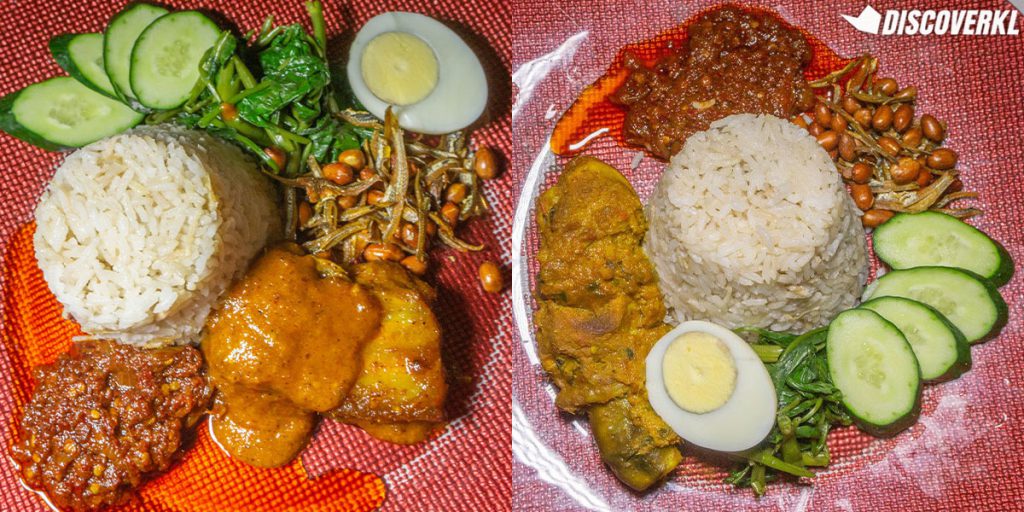 The Locker and Loft is a speakeasy that serves cocktails inspired by our local flavours, such as Teh-O Limau Ais, Assam Boi, Durian, Kaya and Jackfruit. Read our full review of the place here.
Do note that the Nasi Lemak is an off-the-menu item so you'll have to pre-order it through their Facebook page.
Where To Go: Nasi Lemak Bumbung, Village Park Restaurant, The Locker and Loft
2. Hokkien Mee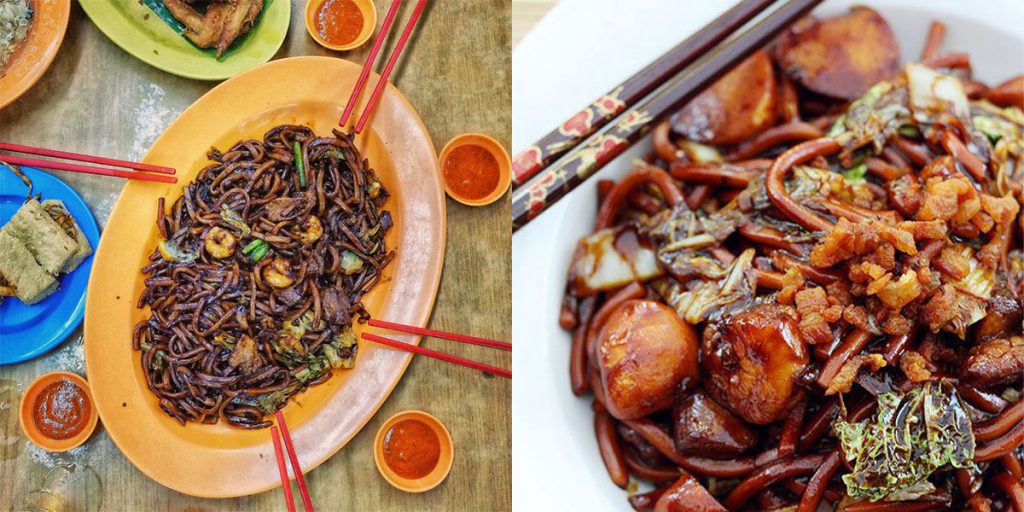 Typically found in daichao restaurants, this particular dish is known for its unique flavour. It features thick and firm noodles full of wok hei flavour, peppered with crispy pork lard and coated with a thick dark gravy.
Hokkien Mee can be found in a few locations all around the Klang Valley but personally, I've tried and enjoyed the one served at Aik Yuen. It's located behind Tawakal Hospital KL, hence earning the nickname Tawakal Hokkien Mee.
There's even a halal option located in PJ Old Town's hawker center called Ah Mang Halal Hokkien Mee (Stall No. 8).
Where To Go: Aik Yuen, Restoran Ah Wa, Restoran Damansara Uptown Hokkien Mee.
3. Buttermilk Chicken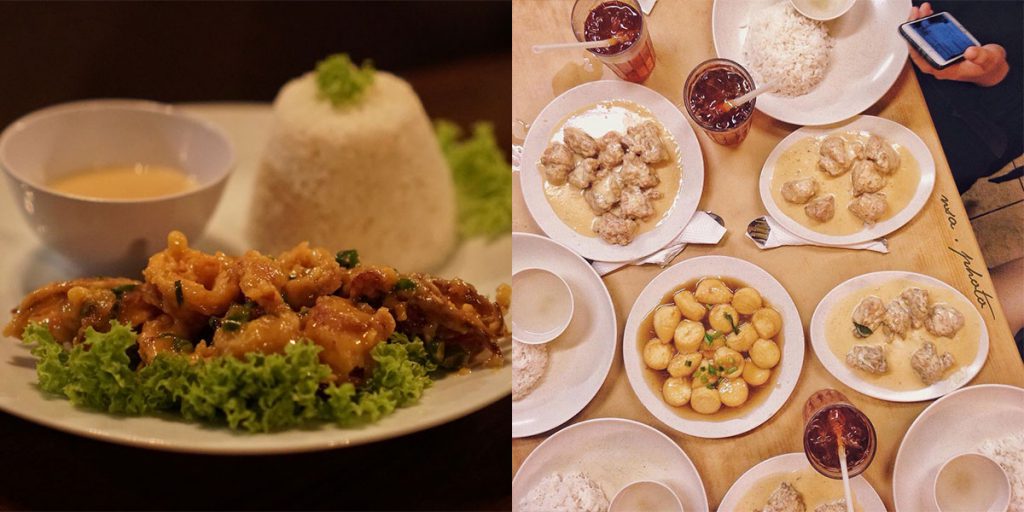 What's not to love about tender strips of chicken bathed in a sweet milky golden coloured gravy? Served with a side of rice, sometimes salad and occasionally fries, this sinful dish would usually leave you craving for more.
At the mention of Buttermilk Chicken, popular names like Gold Chili and Darussalam would pop up. Most of these places would have chicken, pork or squid as your meat of choice while their sauces would vary from being really butter milky to having a tinge of curry.
Where To Go: Gold Chili, Jibril, Buttermilk Kitchen, Plan b by Big
Want more? Here's a comprehensive list of 11 places to check out!
4. Steamboat / Korean BBQ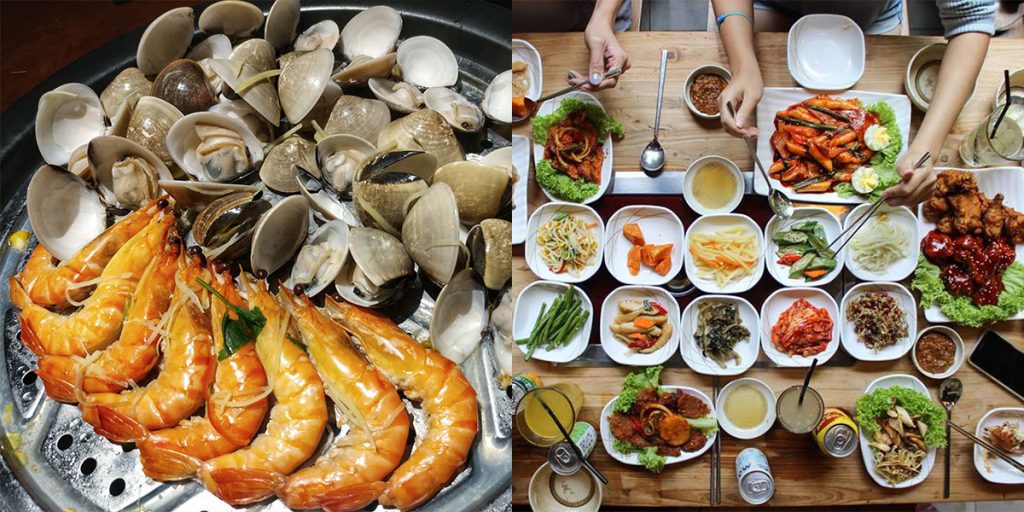 Nothing brings Malaysians together quite like watching Dato' Lee Chong Wei's badminton match or sharing a meal together. To us, eating is a communal affair hence the innumerable amount of Korean BBQ and steamboat restaurants available around the Klang Valley.
The benefits of dining in these types of places would be that everyone would have their choice of meats and side dishes to enjoy, regardless of their preference. Plus, they're also usually hosted buffet-style, so more food to go around!
Read our full review on this steamboat restaurant that steams all their seafood above a pot of uncooked-rice-turned-porridge.
Where To Go: SMS Steamboat Restaurant, Apple Samgyupsal, Daorae Korean BBQ, Po-Cha Korean Restaurant
5. Banana Leaf Rice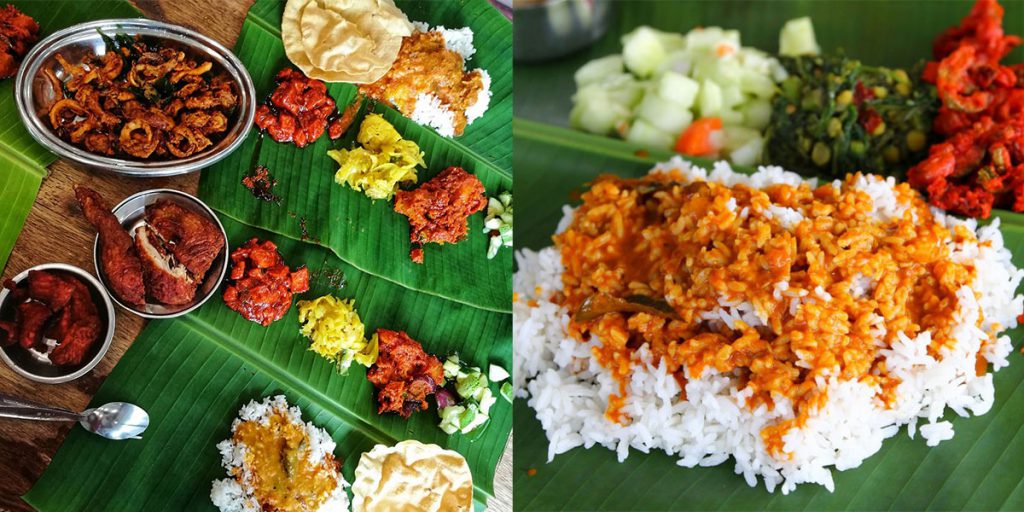 If you're looking to experience a food coma, banana leaf rice has your back. This South Indian delicacy is typically served on a sheet of banana leaf with a few condiments like chips, vegetables, curries, dhal, and proteins in stews or fried with herbs.
Ask any Malaysian and we've all got our favourite spots to hit up, be it in KL, PJ or TTDI. There's even an option for healthy thosais made with beetroot!
Do note that most of these places are pork and alcohol-free except for MyBanana. Located in Taman Megah, Petaling Jaya, these guys apparently roast some mean siew yuk (crispy pork belly) and stew some flavourful rendang pork belly.
Where To Go: Betel Leaf, Aunty Manju's, Devi's Corner
6. Northern Indian Cuisine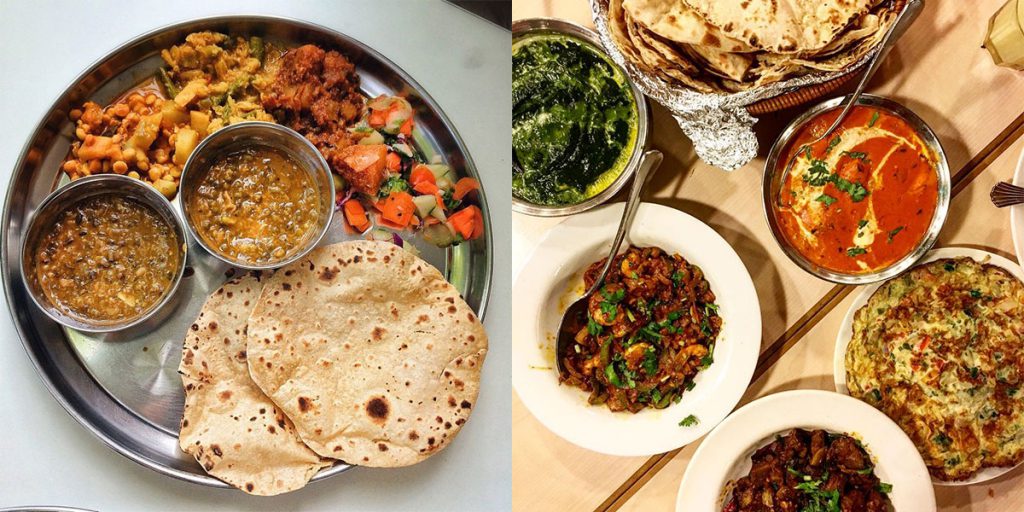 In the south of India, most dishes are served with rice. But in the north, it's swapped out with fragrant doughs and creamy gravies with herbs and spices.
Think soft roti pratas, cheesy naans, creamy butter paneer chicken, smokey tandooris and fragrant butter chicken masalas.
Located next to Maybank, hidden behind a row of potted plants, Indian Kitchen is much underrated in comparison to its competitors—Anjappar and Chutney Mary (an Indian fine dining establishment). Their butter paneer chicken, mutton Rogan Josh and cheese naan is a personal must-have for me.
Besides that, The Ganga Deli and Cafe in Jalan Kurau is famously known for their Sunday buffets and their simple establishment. Nestled away in the quieter part of Bangsar, this eatery has just opened a new branch in PJ Seapark.
Where To Go: Indian Kitchen, The Ganga Deli and Cafe, Jai Hind
7. Hawker Centres/Mamaks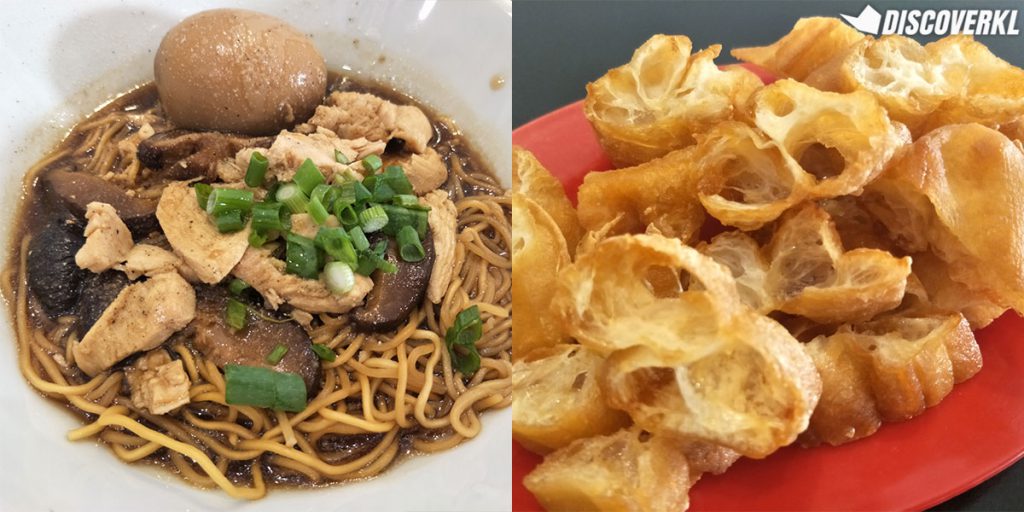 To immerse your non-Malaysian friends in our culture, a trip to a Chinese hawker center or a Mamak is a must. These kinds of eateries are also peppered throughout the city and carries plenty of different dishes to satiate any kind of craving.
Be it Mee Goreng or Char Kuey Teow, Roti Canai or You Tiao, the diverse stall vendors cater to all our needs.
Where To Go: Jalan Alor, SS2 Wai Sek Kai, Murni Discovery, Seksyen 17 Wai Sek Kai, Pasar Malam Taman Connaught
8. Meat Skewers/Satay
Cubed or sliced, these meat skewers are usually marinated with turmeric or a sweet and savoury sauce. Barbecued over an open charcoal pit, it's traditionally served with a generous bowl of peanut sauce, nasi impit, and cucumbers.
Most satay spots would sell chicken, beef, beef tripe, heart and liver satay but here are a few with other options: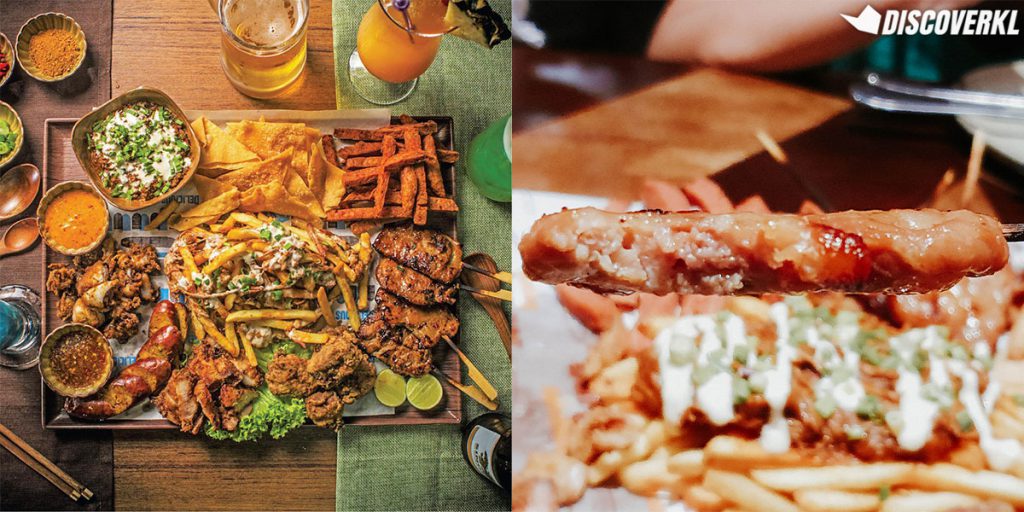 Alternatively, you could opt for some Thai or Japanese-style Yakitoris for some pork options.
Where To Go: Tommy ThongChai, Satay Kajang Haji Samuri, Sen Kee, Pak Din Satay, Zaini Satay, Satay Capitol 1951 and more options here.
9. Local Desserts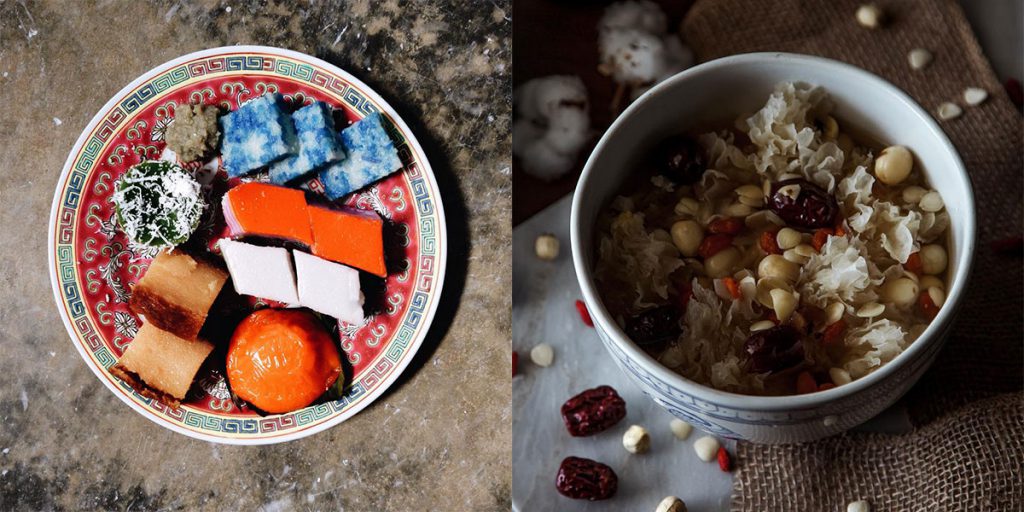 Cendol, Nyonya Kuihs, Apam Balik, Green Bean Soup, Beancurd with Barley Soup and the list goes on. These sweet and decadent desserts are best found on the side of the road, wet markets or in your mother's kitchen.
As creativity goes, we've also got Pulut Tai Tai and childhood snacks in the form of ice creams.
Where To Go:
Bonus: Waka Waka Gelato for childhood snacks turned into gelato!
10. Durian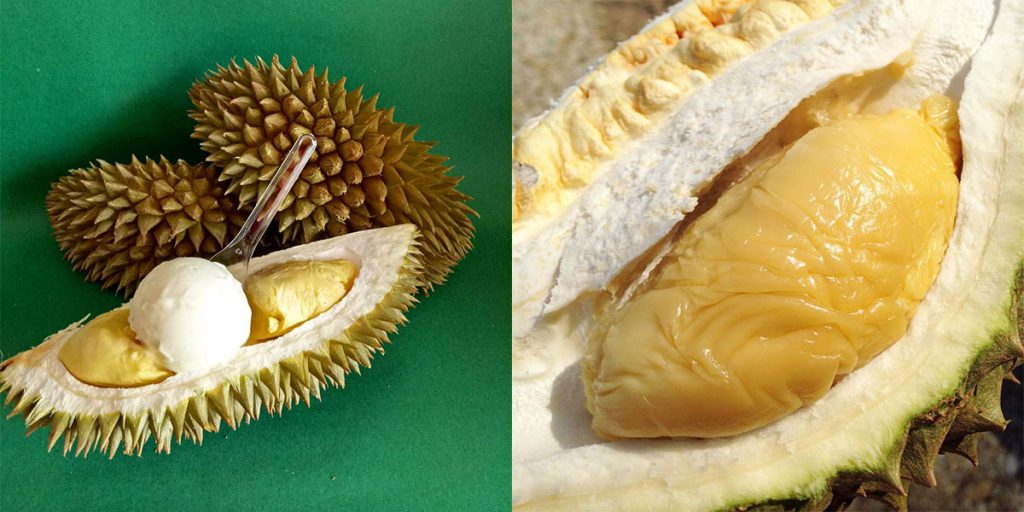 It's not quite a visit to Malaysia if a non-Malaysian has never tried Durian. Known for its thorny exterior and pungent smell, the King of Fruits is served on its own and in many other forms, such as in Cendols, cakes, ice creams and cocktails too.
Where To Go:
11. Bubble Milk Desserts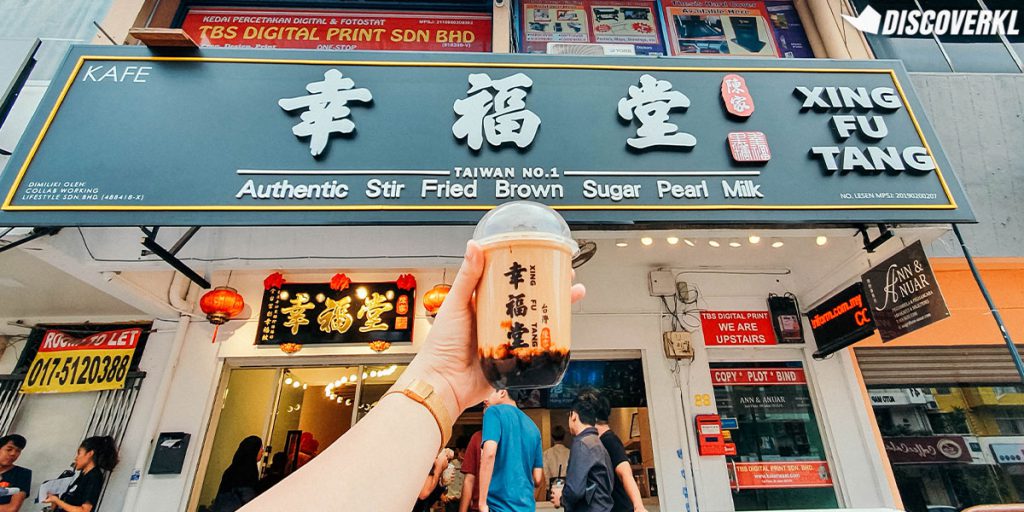 SS15 Subang has seen its fair share of bubble milk tea shops mushrooming in the same area this past year. Besides brown sugar bubble milk drinks (with or without tea), a few eateries have ventured into creating savoury dishes and various other desserts from this trend.
For example, you've got Boba Pearl Cakes, French Earl Grey Milk Ice Cream with boba by Crème De La Crème as well as Boba Beer and Pizza by My Pizza Lab,
Where To Go:
Level 2: A Soft Introduction Of Flavours: Malaysian Fusion
Going on to the next level would be some eateries with Malaysian Fusion dining. It's somewhere for our tourist friends to dip their toes into the pot of Malaysian flavours without being scared off by pungent herbs and spices.
12. Nyonya Food @ Kampung Contemporary Dining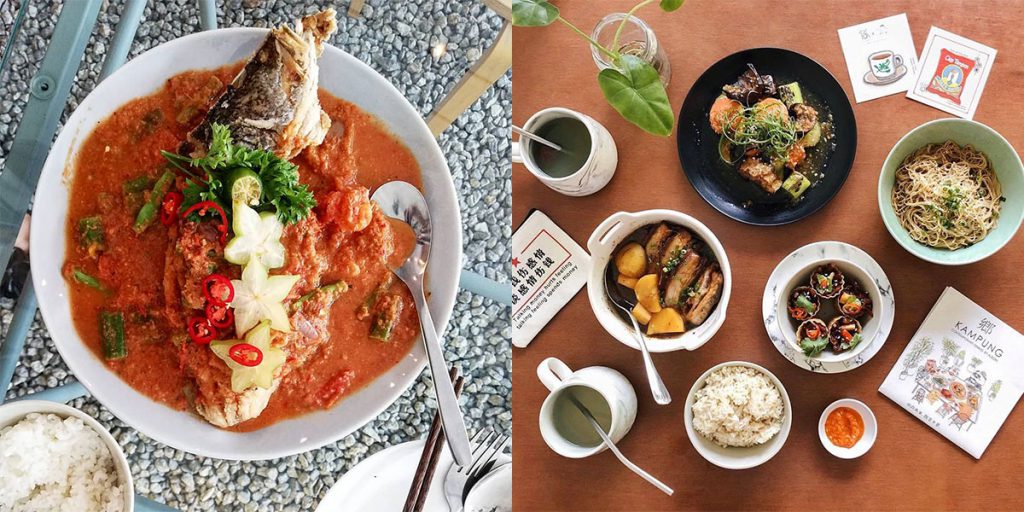 Combining modern and traditional cooking techniques, this place serves hearty plates of local produce with kampung flavours.
Founded by a husband and wife duo, Alicia and Derson, Kampung Contemporary Dining serves Malacca Nyonya food made from scratch. They've also got another restaurant that serves hearty soups that are good for the soul at Alison Soup House.
The dishes at Kampung Contemporary Dining are inspired by Alicia's efforts of recreating her mom's cooking. Combined with the old school vibes of indoor plants and rattan furniture, you'll be whisked away to a courtyard garden in a traditional Peranakan house.
What To Order: Coffee made with dark roast coffee beans from Malacca, Starfruit Assam Fish and Braised Pork Pongteh
Hours: Wednesdays-Mondays: 12pm-3.30pm, 6pm-10pm (Closed on Tuesdays)
Address: 11, Jalan 17/45, Petaling Jaya
Website: Kampung Contemporary Dining
Tel: 012-737 2085
13. Risotto Nasi Lemak & Rendang Benedict @ The Other Half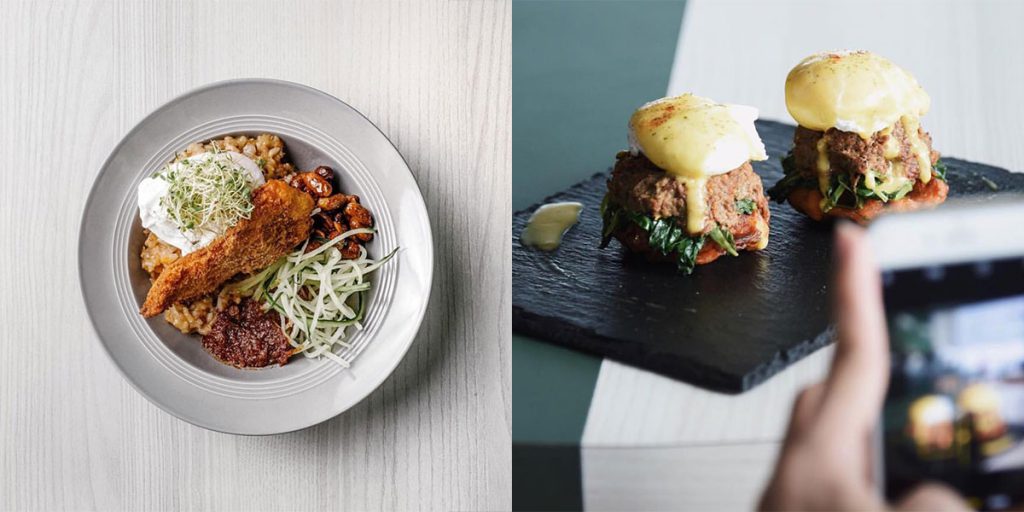 While some good 'ol coconut rice, sambal, half an egg and a cucumber wrapped in a banana leaf is arguably the best form of OG nasi lemak there is to enjoy, our national dish has proven itself to be rather versatile.
Ice creams, cakes, burgers, you name it. Some might throw hate at it but hey, it's 2019, and we're all about being inclusive.
At the Other Half, their Risotto Nasi Lemak (RM29) is a sweet sambal risotto served with a side of sambal, crispy chicken, peanuts, cucumber and a poached egg. Should the sambal be a little too spicy, there's always their Beef Rendang Benedict (RM31). It's tender beef rendang on a bed of sweet potato topped with an eggs benedict served with lemongrass Hollandaise sauce.
What To Order: Risotto Nasi Lemak & Beef Rendang Benedict
Hours: 9am-5.30pm, daily
Address: Unit 2-1, Greens Terrace, No.1 Jalan Wan Kadir 3, Taman Tun Dr Ismail, Kuala Lumpur
Website: The Other Half
Tel: 03-2771 6221
14. Nasi Lemak Wrap @ Goodness Greens Cafe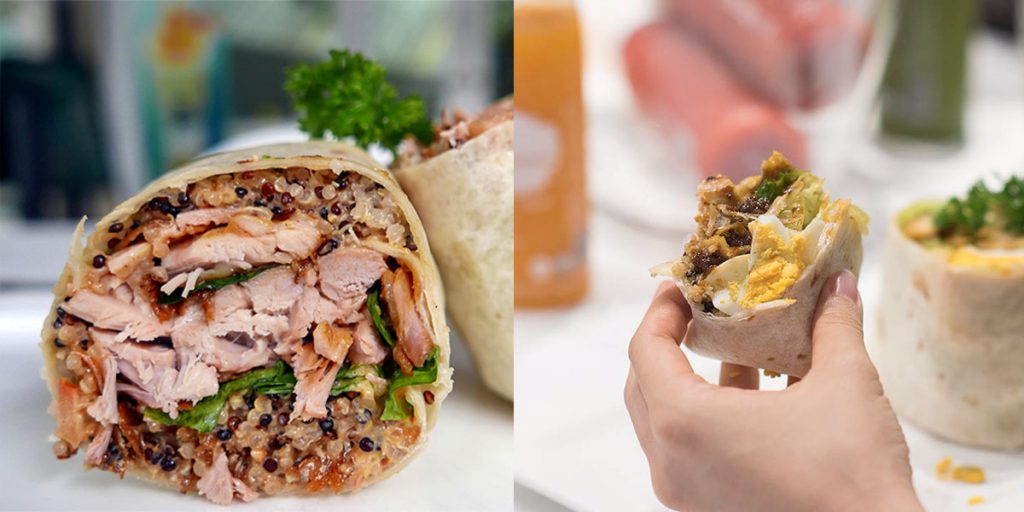 A regular portion of Nasi Lemak would contain at least 400 calories and the count gets even higher when you add on sides like sambal kerang and a piece of fried chicken.
Hence, this is perfect for your visiting friend who's feeling guilty from all the coconut milk-heavy cuisines and deep fried snacks but doesn't want to miss out on the goodness of local flavours.
This healthy Nasi Lemak Wrap (RM21.90) by Goodness Greens contains quinoa, Japanese cucumber, an organic egg, anchovies, tomatoes, nuts, lettuce, a chicken thigh, coconut oil and sambal dressing. Plus, you can have these delivered to you along with a bottle of cold pressed juice by La Juiceria.
What To Order: Nasi Lemak Wrap, Vegetarian Rendang Wrap, Fried Rice Quinoa and Raw Cakes by The Honest Treat
Hours: 8am-10pm, daily
Address: 32, Jalan Datuk Sulaiman, Taman Tun Dr Ismail, 60000 Kuala Lumpur
Website: Goodness Greens Cafe
Tel: 018-368 3320
15. Ruyi's Sushi @ RUYI & LYN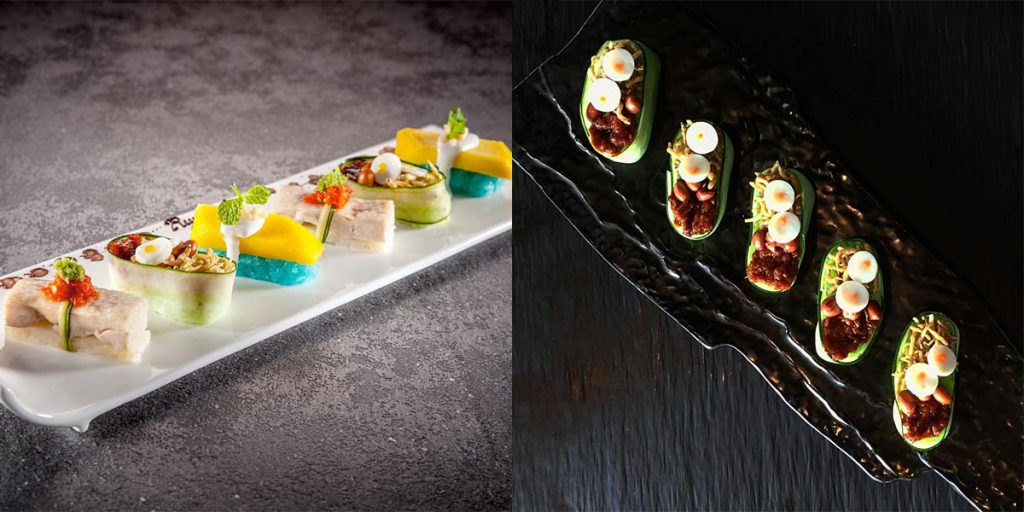 Should you seek out a more gourmet escapade, Ruyi's Sushi (RM38) features Hainanese Chicken Rice, Nasi Lemak and Mango Sticky Rice in the form of sushi.
They've also got an award winning dish (The Prince and The Pauper) that features pan-seared foie gras on caramelised watermelon amongst other Chinese cuisines.
This multi-conceptual dining space sports a bespoke cocktail bar, a pork-free kitchen, a Western bistro and private rooms with karaoke systems.
What To Order: Ruyi's Sushi, Crab Curry Fried Rice
Hours: 12pm-3pm, 6pm-12am; daily
Address: 285 Jalan Maarof, Bukit Damansara, Bangsar Shopping Centre (4th floor), Kuala Lumpur
Website: RUYI & LYN
Tel: 03-2083 0288
Level 3: Classy Asian Fusion Cuisine
Malaysia is no stranger to being a melting pot of cultures. In any commercial area, you'll get restaurants of different cuisines lining the same row.
Here's where to take your tourist friends who have never tried Asian food before.
16. Japanese New York Fusion @ FujiYama Japanese Restaurant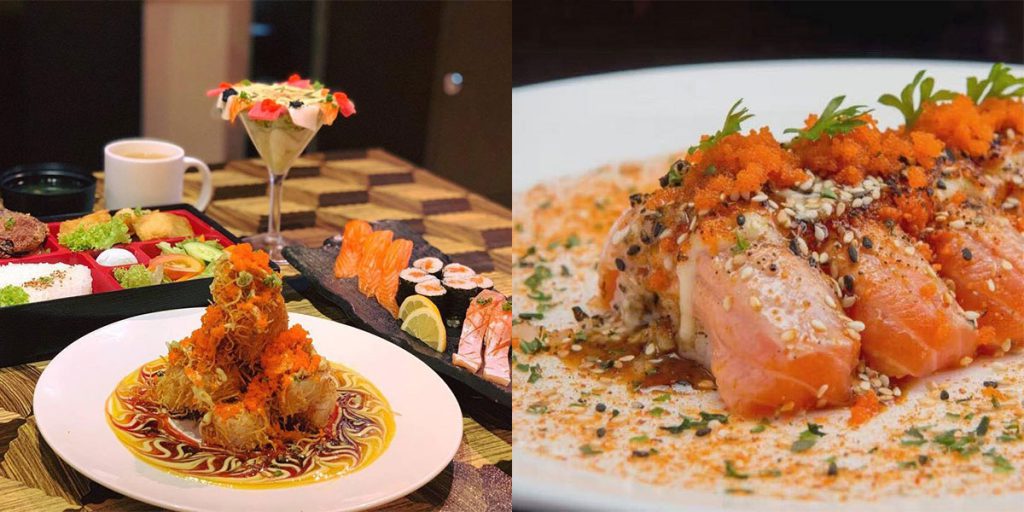 Started by two Japanese gentlemen, Fuji and Yama, this restaurant was launched in New York before coming to Malaysia in 2014.
FujiYama Japanese Restaurant is a Japanese New York fusion restaurant that serves their beautiful creations with over 13 different sauces such as yuzu, teriyaki and garlic. These sauces are combined to allow you to experience one ingredient in various flavour profiles.
Hence, their maki rolls and sushis are usually served on a plate with beautiful sauce designs on it. They've also got fresh sushi from RM0.80 per piece!
What To Order: Salmon Belly Osaka Sushi and Fuji Volcano Roll
Hours: 11am-12am, daily
Address: No. 21, Jalan SS 21/60 Damansara Utama, Petaling Jaya
Website: FujiYama Japanese Restaurant
Tel: 03-7732 6691
17. Ribs @ Naughty Nuri's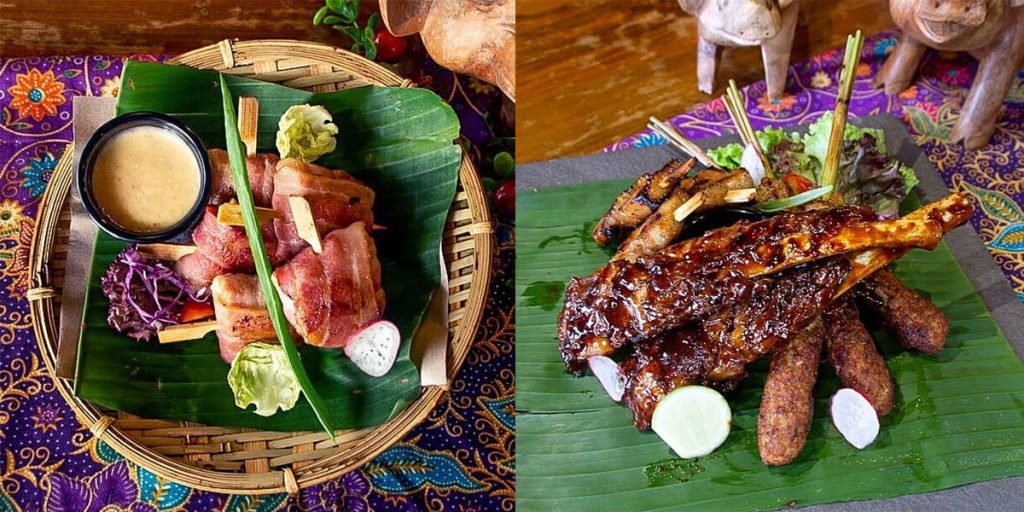 Brainchild of American Brian Aldinger and Indonesian Isnuri Suryatmi, Naughty Nuri's is no stranger to the rib loving club. Having over 15 outlets in the South-East Asian region (with four of them being in the Klang Valley), this is a delicious and safe start to introducing your non-Asian friends to a taste of Asia.
Originating from Ubud, Bali, their entire menu comprises of porky goodness along with some fried chicken on rice with chili jam. They've even got value sets for 5 pax starting from RM190 for 10 dishes and a halal set for the pork-free crowd!
We heard the Naughty Nuri's 1995 Signature BBQ Spare Ribs dish is tender and full of flavours, served with their homemade sweet and spicy sauce.
What To Order: 1995 Signature BBQ Spare Ribs, BBQ Satay Lilit and cocktails (Martinis are shaken with a dance).
Address: Desa Sri Hartamas, SS15, Life Centre, Atria
Website: Naughty Nuri's
Feature Image Credit: Ajinomoto, Wok And Skillet