In a place where industrial meets cozy, this not so speakeasy bar is hidden behind a row of old school lockers.
"We love going out for drinks and parties. But we realized that we needed a space that's chill with good music and cocktails. There are cocktail bars, but they felt too quiet, almost too stuffy and we wanted something more fun. Plus, most of them also do not have a kitchen and they were rather pricey," said Deepak Gill, co-founder of The Locker and Loft.
"So we fixed it!"
The atmosphere is filled with chatters from various groups of friends accompanied by chilled pop songs and beats to create a relaxed atmosphere. Plus, the lights are dimmed just enough for comfortable vision and the music at just the right decibel to allow you to speak eas(il)y across the table.
Aside from their barbecues held every first Sundays of the month, this bar is truly a mortalisation of the founders' passion and we're loving it.
At the bar, they pride themselves in delicious and non hoity-toity drinks amalgamated with the flavours of local fruits, herbs and spices. Some of you may have heard of the refreshing Kelapa Rock cocktail which is coconut water with Vodka and Pandan.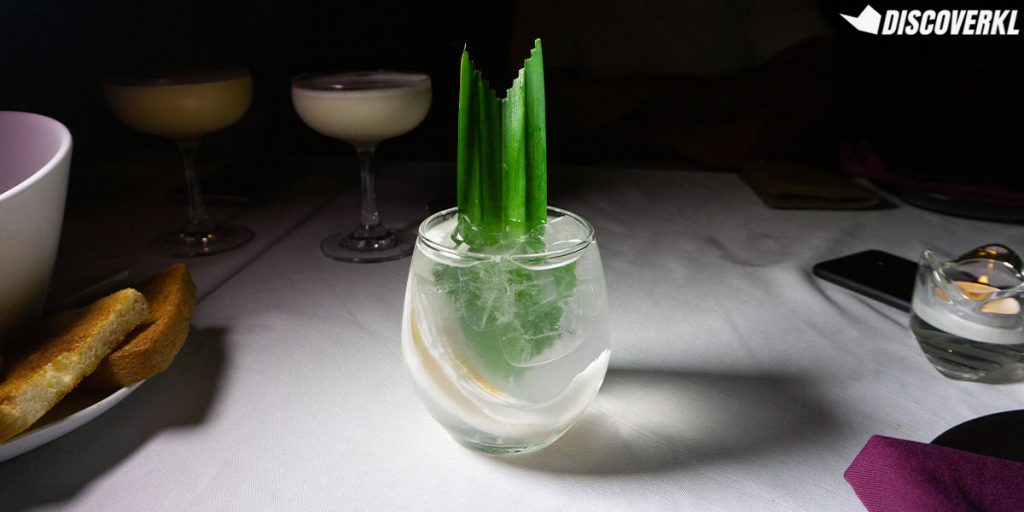 From being Deepak's first ever cocktail that he used to serve in his house parties, it's now a favourite among customers! So much so they even have bottled versions for sale.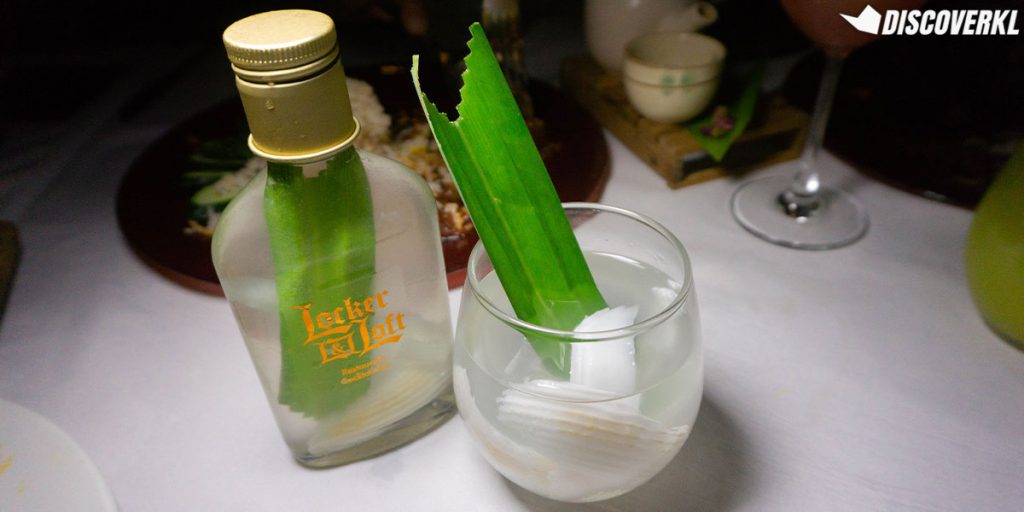 Light, refreshing, slightly fizzy and full of natural electrolytes, this sounds like an option for a hangover cure 😉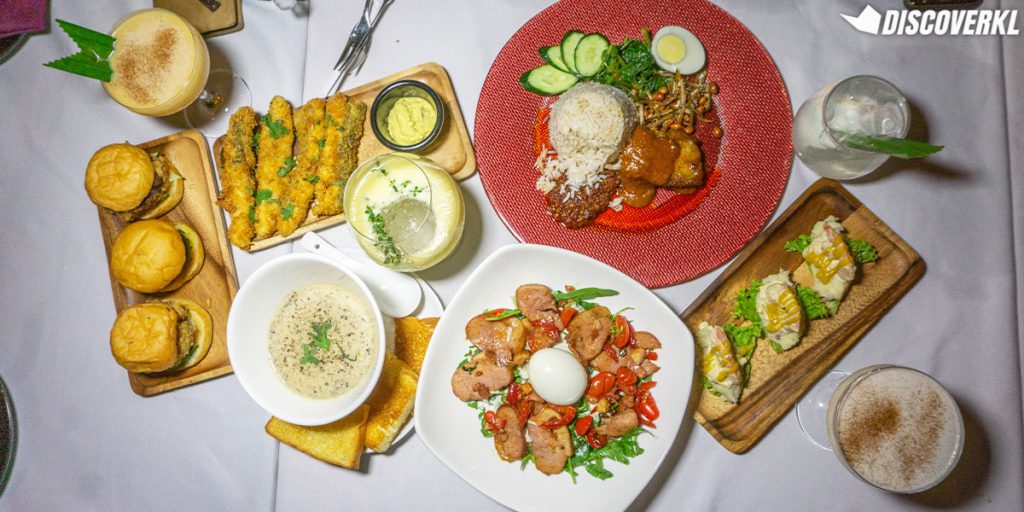 Behind the wok they serve up some interesting Asian Western fusion delights such as Nasi Lemak served with Pork or Chicken Curry, deep fried seabass fingers served with a side of spicy peanut butter sauce, and cempedak goreng served with a side of vanilla ice cream.
Every dish or drink that's served at this bar/eatery has been thought through and true by the two founders who each take pride in the kitchen and bar respectively.
We were served a table full of food and cocktails and it was difficult to choose our faves but here are the ones we'd come back for!
Fav Noms:
1. Nasi Lemak With Pork Rendang (RM14.50)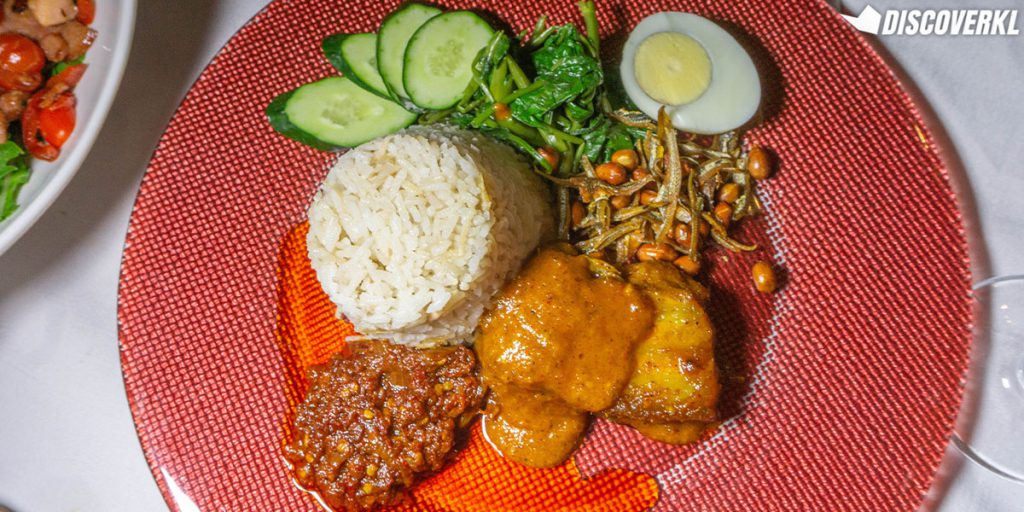 Be it starting the day or ending the night, Nasi Lemak is Malaysia's one true love, a full-filling delight to have.
Aromatic rice with just enough santan and pandan aromas, a balanced sweet and spicy sambal served with the usuals of cucumbers, kangkung and half an egg on a plate.
Not forgetting the thicc and tender slab of pork belly served on the side. The slightly sweet but aromatic rendang goes really well with the rice and condiments.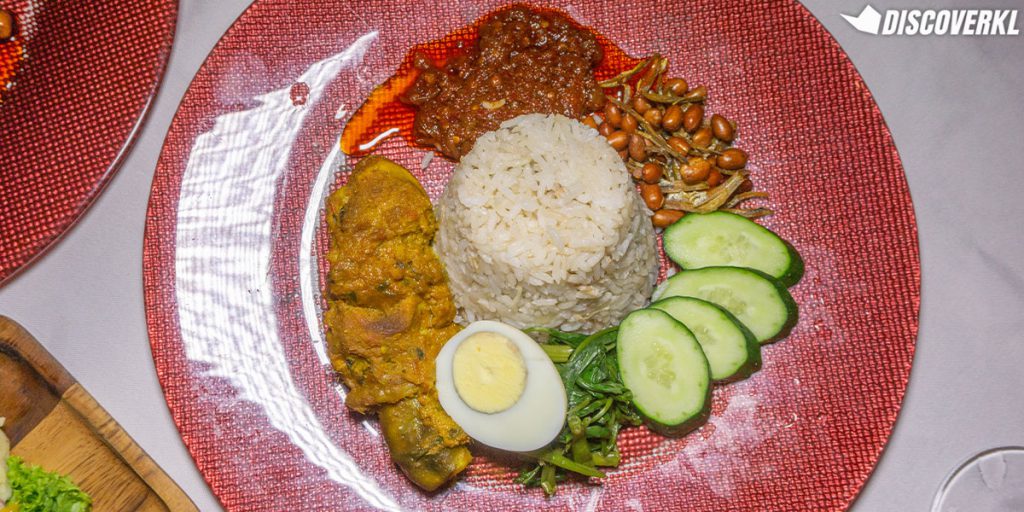 You can also opt for the chicken rendang option for RM12.50.
Available only on the weekends, we think that there is no better way than to end a night of drinks with a plate of steaming nasi lemak. It's also usually served wrapped in a plastic bag so you can have it to-go as well!
Note: Their Nasi Lemak is an off-the-menu dish that requires pre-ordering, preferably a few days in advance. Simply drop them a message on Facebook to place a reservation 🙂
2. Deep Fried Seabass Fingers @ RM21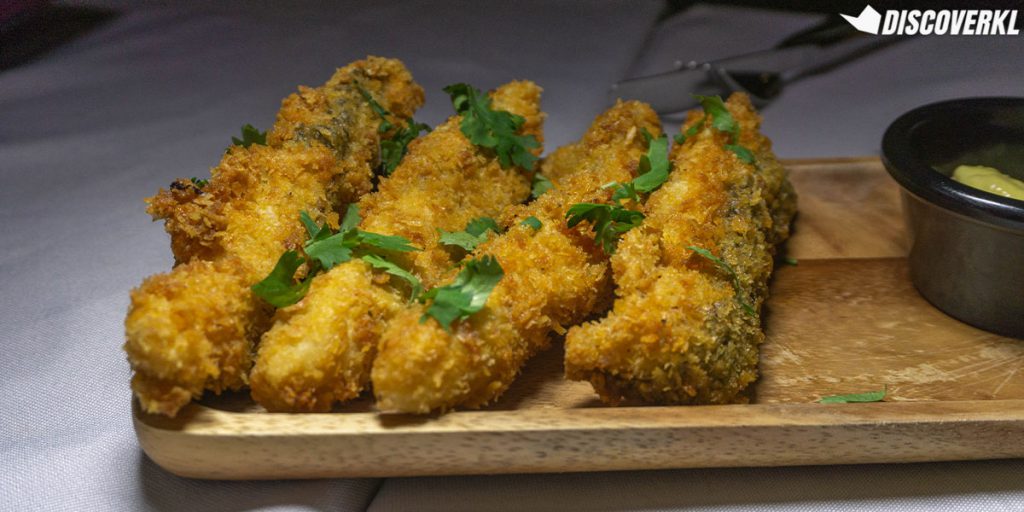 Crispy on the outside, soft on the inside, this tapas is served with either spicy peanut butter or tartar dip.
The fish used was really fresh so it tasted great on its own. However, the creaminess and slight tartness of the tartar dip provided another dimension to this dish.
If you're feeling adventurous, opt for the spicy peanut butter dip, though it sounds odd! Personally I enjoyed the dip because I'm a fan of creamy, spicy and nuttiness combined in a mouthful
3. The Duck Caesar Salad @ RM28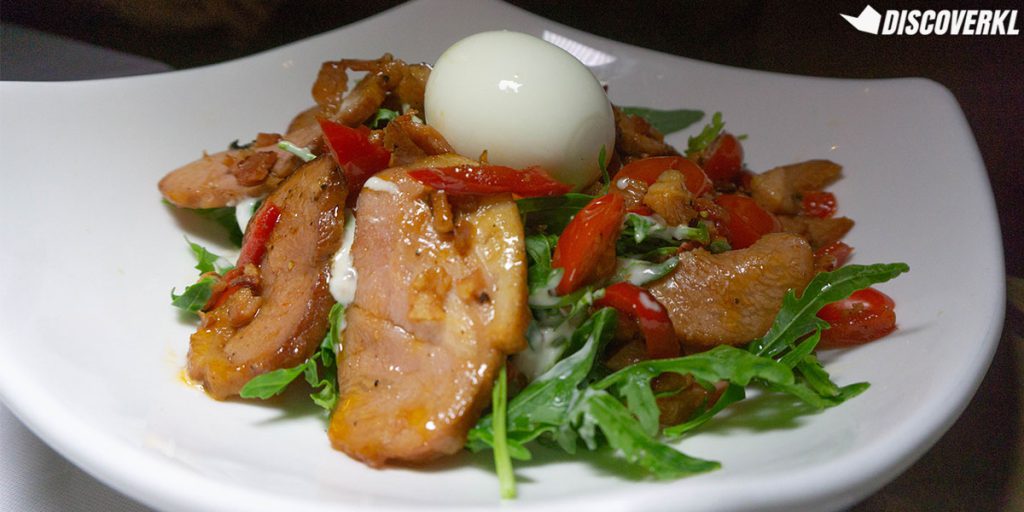 Do not be deceived by this salad as it is basically a 1:1 ratio of meats to veggies. On top of a mountain of rocket salad leaves dressed in caesar is a generous serving of sliced smoked duck breast, a half -boiled egg, sweet chili and bacon bits.
The duck was well marinated and we enjoyed the combination of flavours the molten egg yolk added to this dish.
4. Cempedak Goreng with Vanilla Ice Cream @ RM16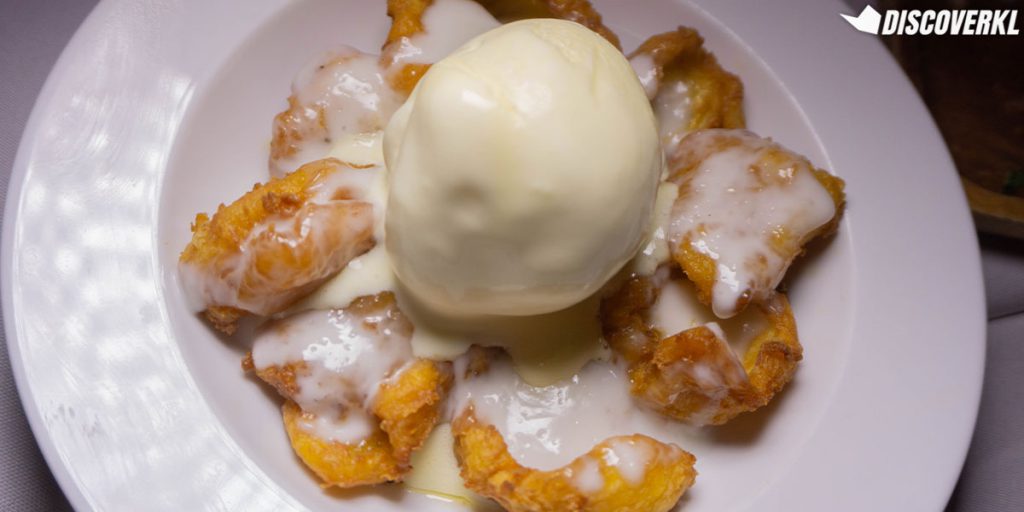 The Locker and Loft takes your roadside Cempedak Goreng to the next level with a single scoop of ice cream.
The cempedaks are freshly deep fried and a heap of vanilla ice cream is added to them while they're still warm and crispy.
Simple yet delicious, we'd see ourselves craving one of these while enjoying some cocktails with our pals.
Bottoms Up!
Some of you may have heard of their Babi Lu Mary cocktail that contains bacon infused vodka and is served with a bakgua garnish. Whether that Bloody Mary spin off is your cup of tea, here are some other types of cocktails that we've tried, tested and favored.
1. Teas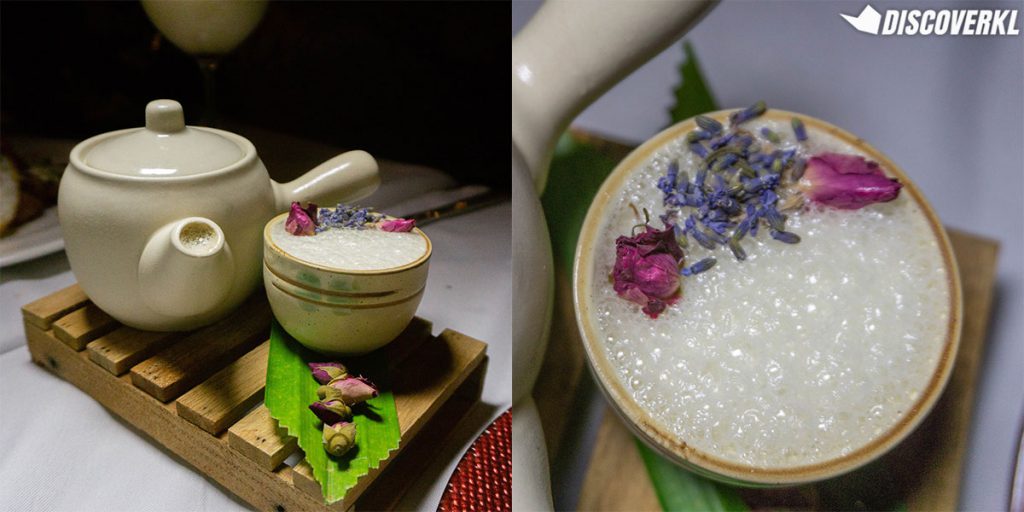 This gin based cocktail is almost like aromatherapy served in a tea set.
The herbal and aromatic notes are attributed to the combination of lavender infused in and elderflower syrup. It gives a solid oomph to your nose but finishes with a crisp and palate-cleansing taste.
To balance out the herbiness, lemon is added into this concoction giving it a sweet and sour bite to it. Bright and refreshing, the small tea cup may aid as portion control but you know you'd be thirsty for more 😉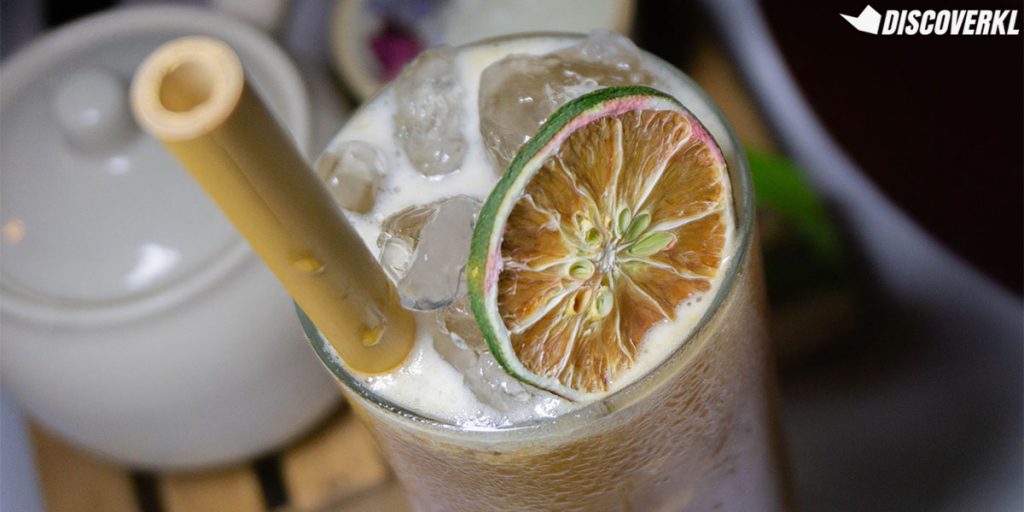 Another no-tea-able cocktail would be their boozed up teh o ais limau with Earl Grey infused vodka, pandan and of course, fresh lime juice.
Served in a tall glass with a slightly frothy cap, you might want to sip and not chug this drink. For the 90s kids, this tastes somewhat like the Cloud 9 Ice Lemon tea candy.
And again, for the sweet and sour enthusiasts, this could be your cup of tea.
2. Fruity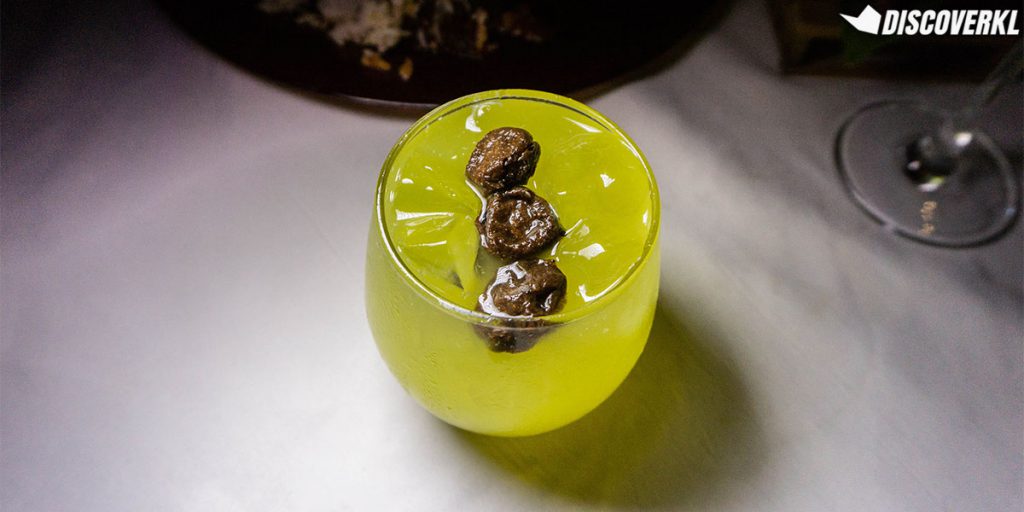 Speaking of candy, The Locker and Loft's cheeky spin off on the assam and ambarella drink is served with three candied preserved plums!
The tartness of assam provides a refreshing base to be mixed with Gin and it's made to smell and taste more fragrant with a melon liqueur.
Personally, melon liqueur smells like something from Bath and Body works but it is mixed in with right proportions in this drink to give a pleasant scent and after taste.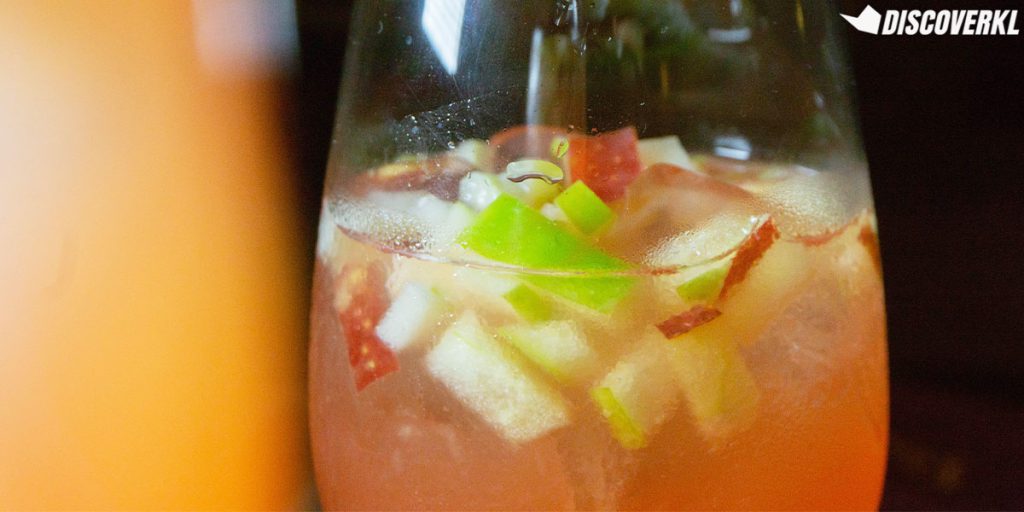 This right here is a beautiful salsa between the Sarawakian Tuak (a rice wine) and the Spanish Sangria.
Served in a stemmed wine glass, it contains apricot liqueur, a combination of fruit juices and the Tuak. If you're looking for something that's on the sweeter end with guilt-free treats a.k.a. chopped apples as garnish, this is an option for you.
Alternatively, opt for their Rocket Man (a salad cocktail, yes we're not kidding) or LC1 that contains, mango, pineapple, cucumber and celery.
PS: The Tuak Sangria is served free flow on ladies nights every Thursday 😉
3. The Classics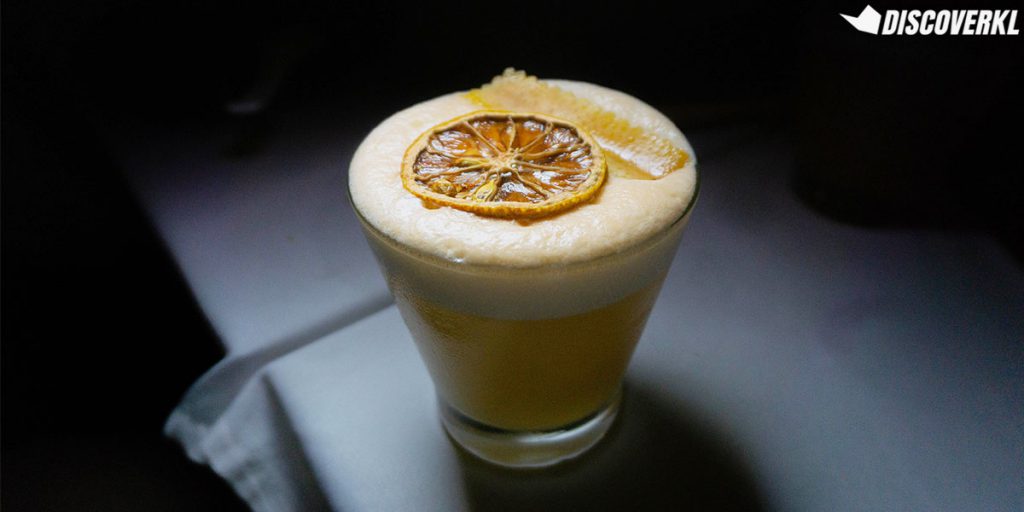 Quoted as perhaps one of the best Whiskey Sours in town, the recipe uses Jameson Irish Whiskey. While we may not be whiskey enthusiasts, this cocktail has balanced out the honey and spicy nut tasting notes of the whiskey with the tart citrus of lemons, egg white and simple syrup.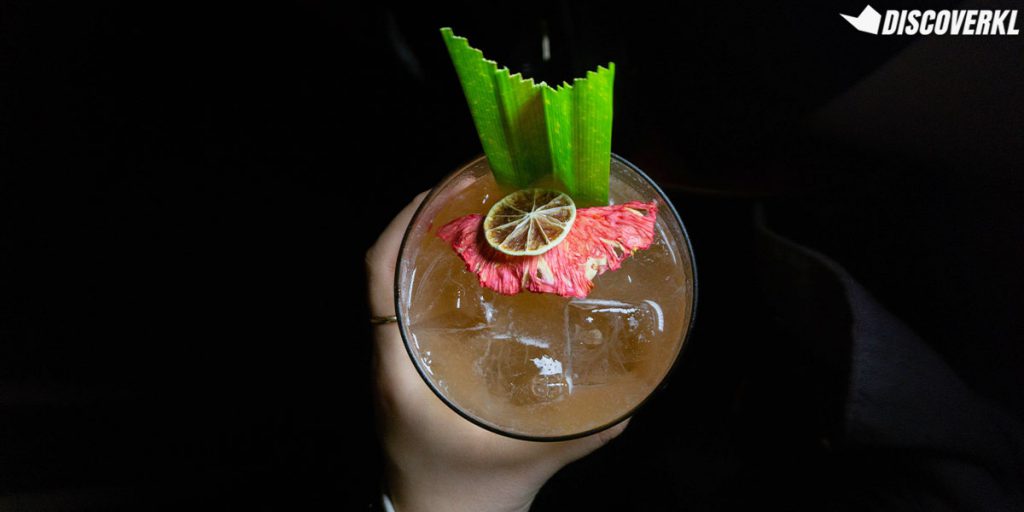 For a true Malaysian Classic Cocktail, their Jungle Bird consists of Cuban Dark Rum, Campari, Pineapple juice, lime and sugar. Garnished with a dehydrated lime, pink pineapple and a pandan leaf, this cocktail greets you pleasantly on the nose and extends to a mild citrus with a hint of bitter-sweetness.
They've also got a fruity and tropical spin off called Birds of Paradise! It's the winning cocktail of 2018 courtesy of their weekly "Shake N Take" DIY cocktail sessions. It's made from their house made mango infused white rum, Jin—a house Gin blend—coconut water and various fruit juices.
If you're on a hunt for more Jungle Birds, here are 11 more!
4. Local Fruity Booze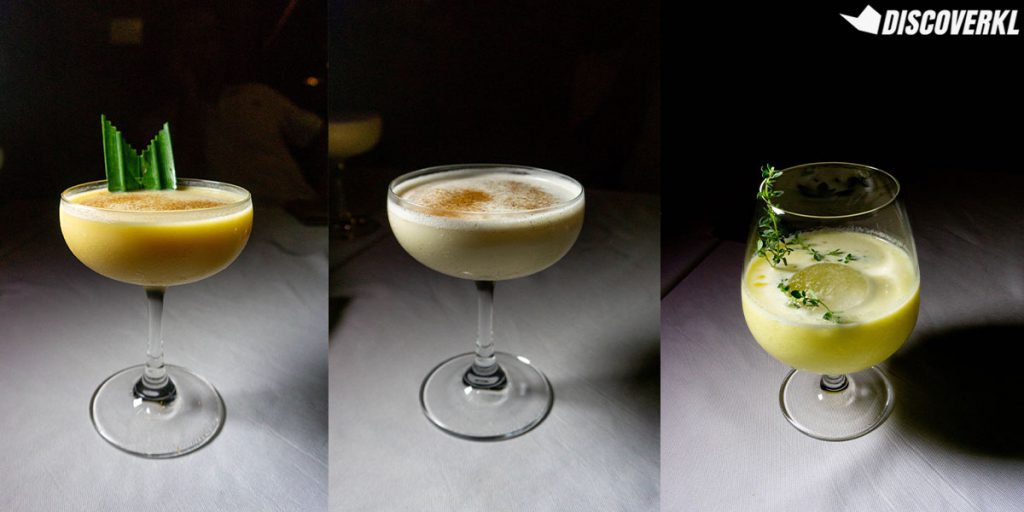 From an industrial distillery designed bar, we were transported to the kitchen of a fruit orchard with these three drinks. Made with local ingredients, some of these cocktails even contain fruit infused liqueurs that taste great on their own!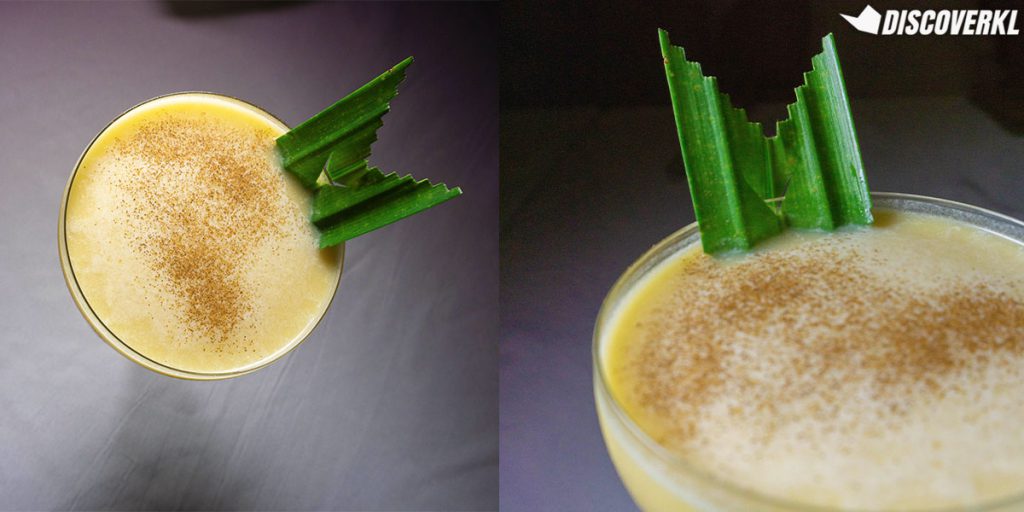 Shaken not stirred, the Kaya Mon is a nostalgic tropical treat made from Cuban dark rum, Kaya, coconut water and santan. The resulting concoction is a rich (pun intended) and sorta milky cocktail. It's garnished with torched cinnamon powder topping the froth and a pandan leaf.
Warning: Highly addictive, consume in lady-like sips at a time.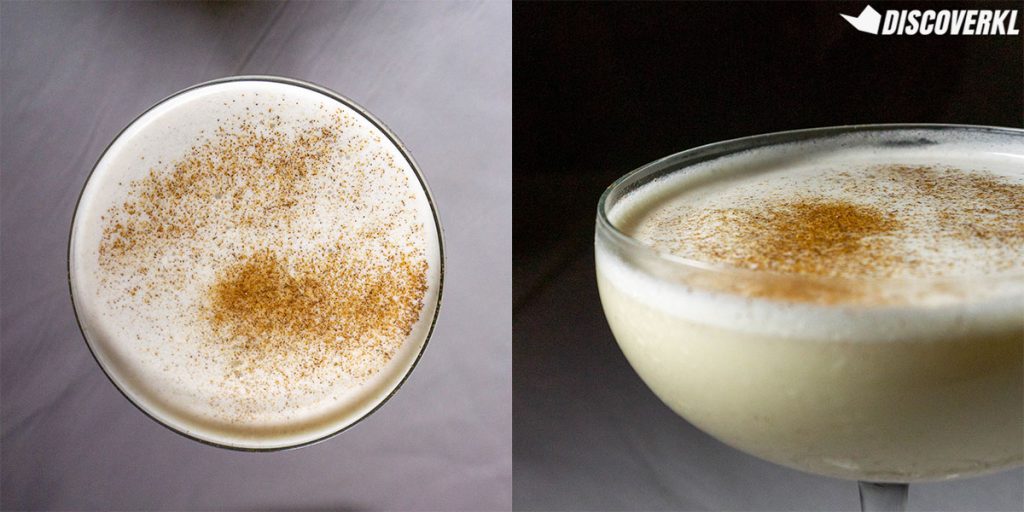 White and Bronze, even the colour scheme of this cocktail is royalty.
Fresh durian-infused vodka on its own retains the pungent smell and taste of durian without the creaminess of the fruit. Combined with Bailey's, hazelnut liqueur, and ice cream, a light creaminess is restored.
Akin to molten Potong durian ice cream, the sprinkle of cinnamon on top gives this drink its edge.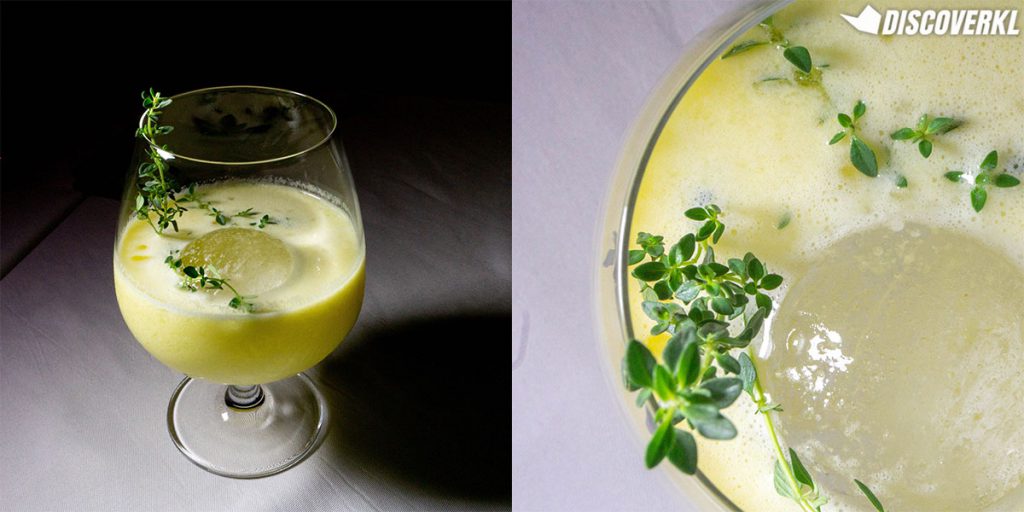 Another pungent fruit cocktail that would either make you go ? or ? is their jackfruit cocktail.
This gin based cocktail contains lemon, honey and mustard aside from Cointreau (an orange liqueur) and nangka. Served in a glass that's sometimes known as a 'snifter', the aromas of this drink is converged to meet the drinker's nose before the sip.
It's interesting how the lemon thyme garnish adds a slight lemony note to tone down the strong aroma of jackfruit. If you're a fan of the fruit, this should be on your drink list!
4. Alcoshakes
For the non-lactose intolerant alcoholics' dessert cravings.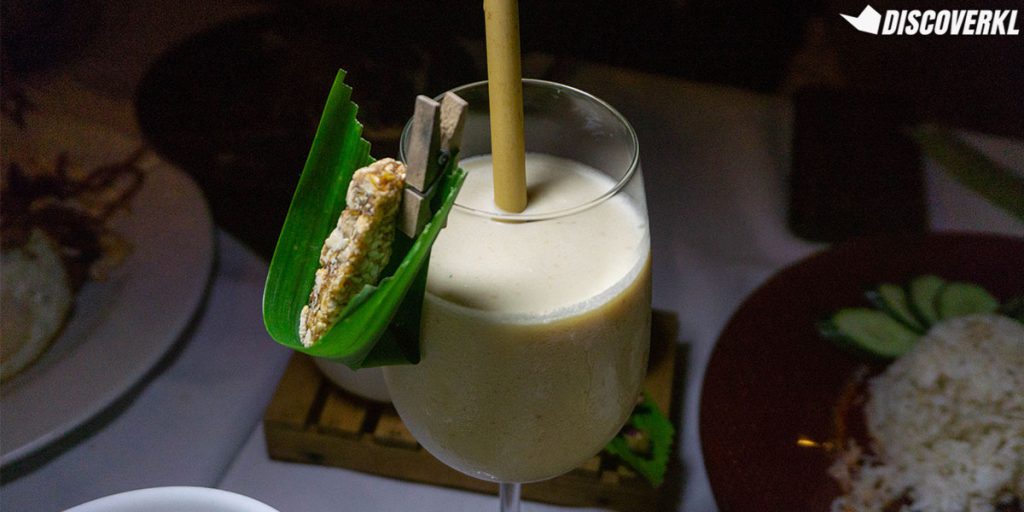 Why eat Reese's Peanut Butter Cups when you can have it boozed up and served in a tall stemmed win glass with a peanut candy to nibble on?
Built on a rum base, peanut butter, vanilla ice cream, pandan syrup and other liqueurs are added then blended to create this delightful nutty drink. Not too icy, not too thick, this drink is easily sucked up through a straw which is an important factor for milkshakes.
PS: There is also the Nangka in a milkshake version called the Yellow Sub!
The Final Tip
The Locker and Loft is the place to be for fun conversations over cocktails. We recommend grabbing a seat by the bar as the bartenders are really friendly and wouldn't mind you asking for recommendations based on your preferred taste profiles,
For the non-alcoholics, taste profiles refers to whether you'd like your drink to be sweet, sour, bittersweet, fruity, milky and so on.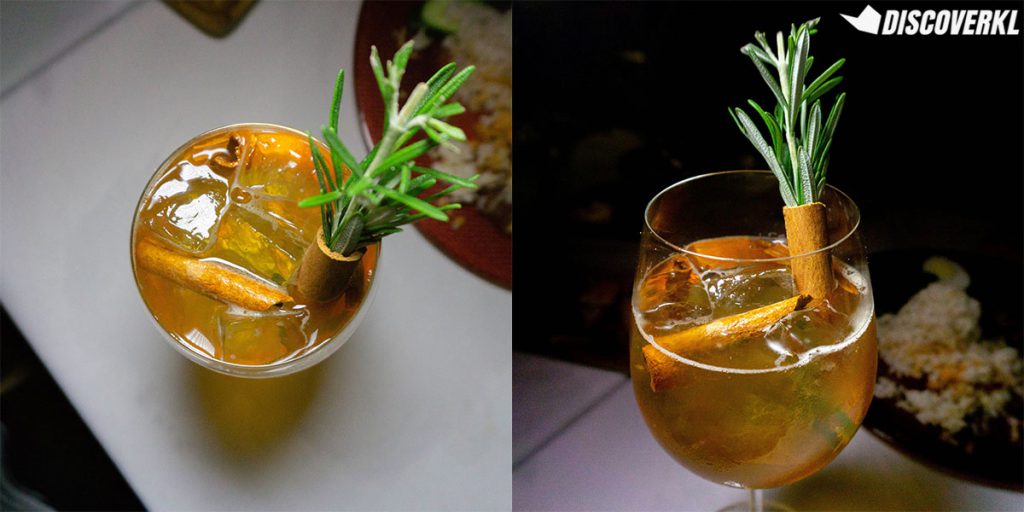 And ever so often, they'd be experimenting on new drinks behind the bar and would offer tasters to keen customers.
If you're keen on learning the art of mixology, head over every Thursday for the "Shake N Take" DIY Cocktail sessions! You'll get to develop your own recipe based on your preferred taste profiles and guided by their experienced bartenders. If you win, they'll call you back for the final showdown between all the winners at the end of the year.
From what started as a fun night out, you could end up having a cocktail of your creation on their menu! 😉
We also heard they're having a Gin Week from 7-14 April 2019. For the Gin enthusiast or curious cats, there'll be gin-sampling flights of various fine gins compared with different tonics as well as free tastings on their house made JIN!
For more information, check out their Facebook page.
The Locker and Loft
Hours: Tuesdays-Thursdays: 5pm-1am; Fridays-Saturdays: 5pm-2am; Sundays: 12.30pm-12.30am (Closed on Mondays)
Address: 40A, Jalan SS 20/10, Damansara Kim, Petaling Jaya,
Website: The Locker and Loft
Tel: 03-7496 7222