I'm a firm believer of how boba pearls should remain where they belong: in a cup of bubble tea.
As of late though, numerous KL eateries have challenged that idea and incorporated their own spin on the classic boba pearls. You'll find it in cheese pizzas, toasts and now, on cakes too.
1. The Baker Ministry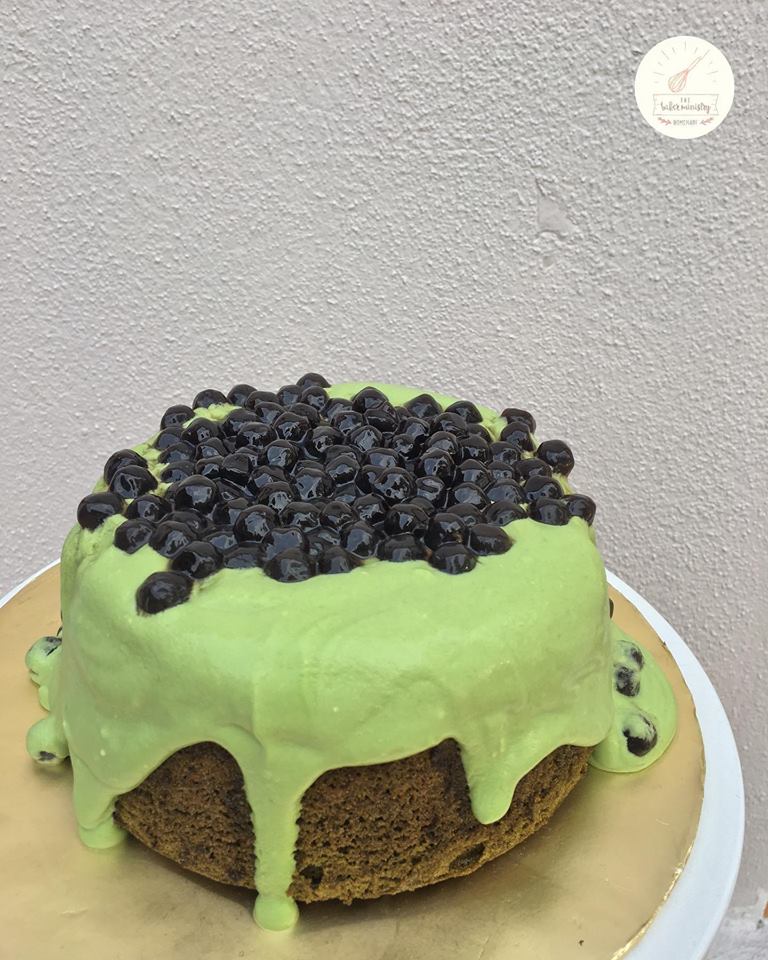 The Baker Ministry is a home-based baker in Klang which specialises in Nutella cheese tarts, salted caramel brownies, pavlovas and churros. Now, you can even order your own boba cake to indulge in at the comfort of your own home. The Baker Ministry's version of a boba cake is a matcha chiffon cake topped with green tea-flavoured Diplomat Cream and topped with large boba pearls.
Dictionary Time: Diplomat Cream is a form of pastry cream which holds its form and won't turn into a watery mess as it uses cornstarch and gelatin (two binding agents that helps to hold its shape)
Address: Bandar Bukit Tinggi 2, Klang
Website: The Baker Ministry
Tel: 011-3515 9257
2. TinyBaker In PINK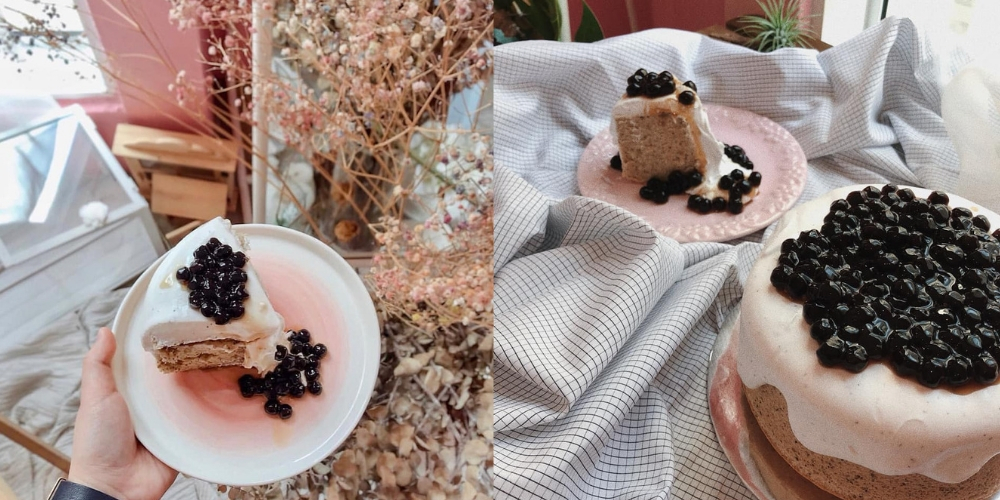 Stepping inside TinyBaker In PINK is akin to stepping into a girly, whimsical space with Tumblr-worthy food and drinks. Although there aren't plenty of choices available, what's certain is that the dishes available are all worthy of your 'gram feed. TinyBaker In PINK (which also doubles as an event space for rent) allows you to either enjoy their boba cake in the cafe itself or have it as a takeaway. The dish is priced at RM49 for the entire cake or RM10 per slice. The cake has an earl grey milk tea flavour and is accompanied by a generous helping of pearls.
Hours: Thursdays-Tuesdays: 11am-7pm. (Closed on Wednesdays).
Address: 58-2, Jalan PJU 5/21, Kuala Lumpur
Website: TinyBaker In PINK
Tel: 010-565 7152
3. Sweeto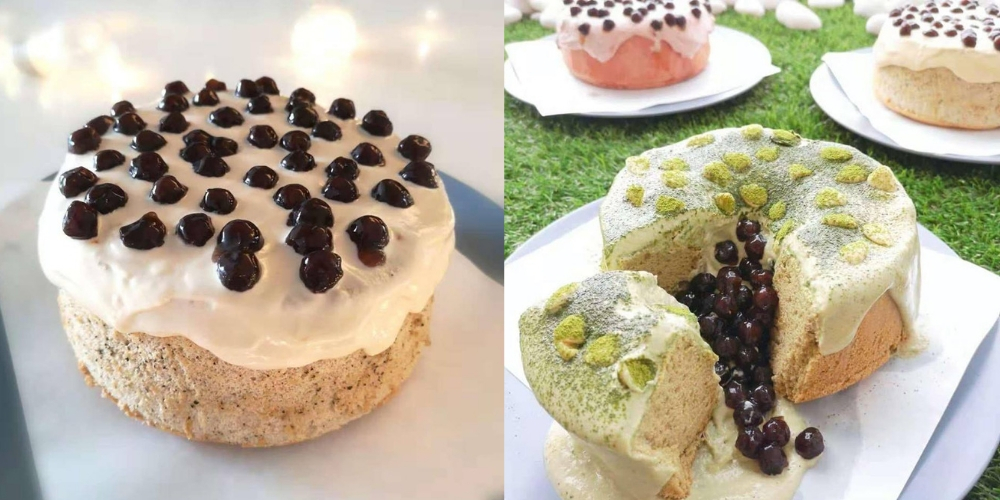 Sweeto, like its name suggests, is a restaurant with an emphasis on sweet treats. Using family recipes, the team crafts comforting Western, Italian and Chinese desserts. Their latest addition is the boba dessert which comes in numerous flavours like matcha, strawberry, chocolate and milk tea. You'll find the boba pearls scattered across the top of the whipped cream layer or hidden within the cake, lava cake-style. We like how there's a variety of flavours available at Sweeto and our pick would be the milk tea flavour.
Hours: Sundays-Wednesdays: 12pm-12am, Thursdays-Saturdays: 12pm-1.30am
Address: 39, 1, Jalan Kuchai Maju 8, Kuchai Entrepreneurs Park, 58200 Kuala Lumpur, Federal Territory of Kuala Lumpur
Website: Sweeto
Tel: 03-7980 0021
4. TeaCottage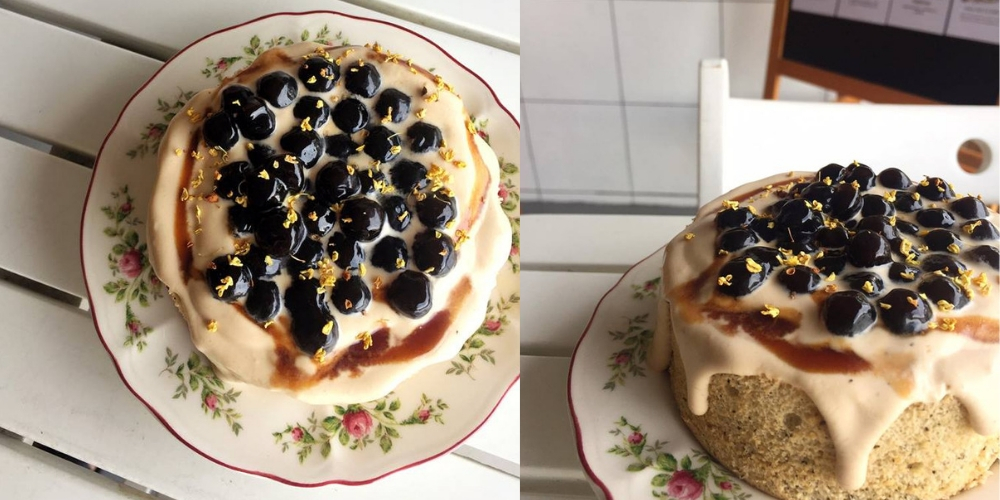 TeaCottage is a quaint little tea room and cafe located in Kajang. It first opened in the middle of 2018 and one of the tea room's specialty is their homemade milk tea jam. Recently, they've included the milk tea waffle on their menu. It is a waffle made with mocha ice cream, osmanthus and signature pearl toppings. Alternatively, there's their chiffon cake topped with black sugar boba pearls and osmanthus. The cakes are available in 3 different sizes and the largest one is only available via pre-order.
Hours: Mondays-Fridays: 11am-6pm, Saturdays: 10am-6pm. (Closed on Sundays).
Address: No 17A, Bukit Mewah 10A,Taman Bukit Mewah, Kajang, Selangor, Kajang
Website: TeaCottage
Tel: 03-8740 5325
5. The Platform Cafe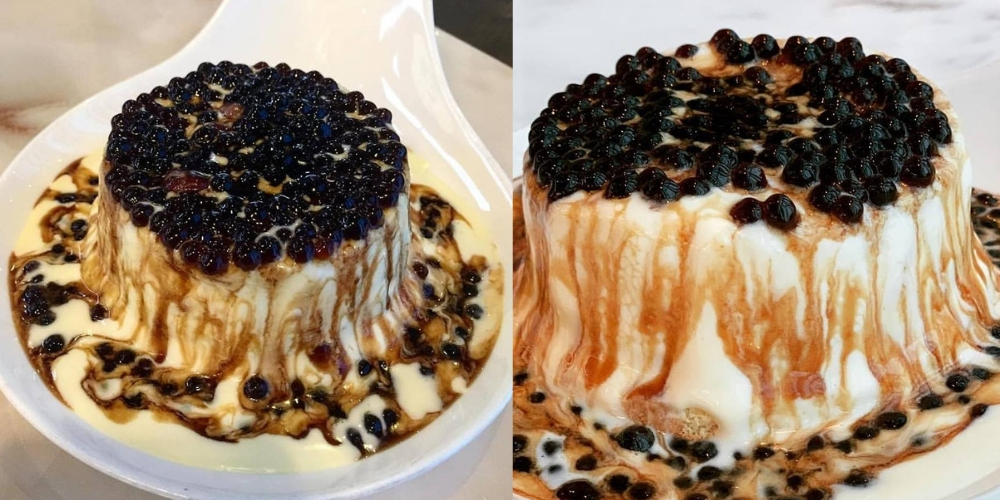 When it comes to boba cakes, you either go big or go home and The Platform Cafe has decided to go big with their cheesecake version of a boba dessert. It's served on an extra large serving spoon! The dish is pretty much like a monstrous boba mountain overflowing with molasses sugar goodness. In fact, you can barely see the creamy cheesecake beneath the  boba layer. For special occasions, you can opt to place a booking for a large size signature black pearl cheesecake.
Hours: Mondays-Sundays: 10am-3am
Address: Cheras Leisure Mall, L1.25, Jalan Manis 6, Taman Gemilang, Kuala Lumpur
Website: The Platform Cafe
Tel: 011-2618 8547
6. Cemento Cafe & Bistro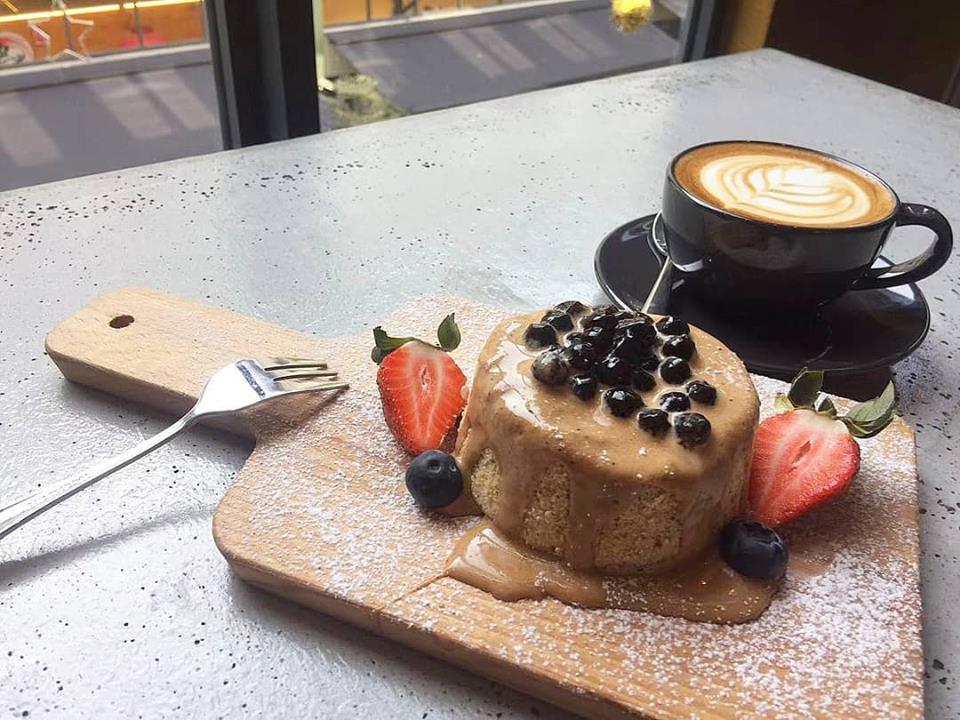 Cemento Cafe & Bistro's version of a boba cake is a mini one called The Pearl Of Summer. The serving size is just right for one person and it comes in an Earl Grey flavour. A handful of berries is served on the side. We would recommend having this as a dessert after enjoying one of the pastas or Big Breakfasts.
Hours: Mondays-Fridays: 8.30am-6pm, Saturdays-Sundays: 9.30am-6pm
Address: H-1-13, Plaza Arkadia. No3, Jalan Intisari Perdana, Desa Park City, 52200, Kuala Lumpur
Website: Cemento Cafe & Bistro
Tel: 016-505 9891
7. The Baking Trip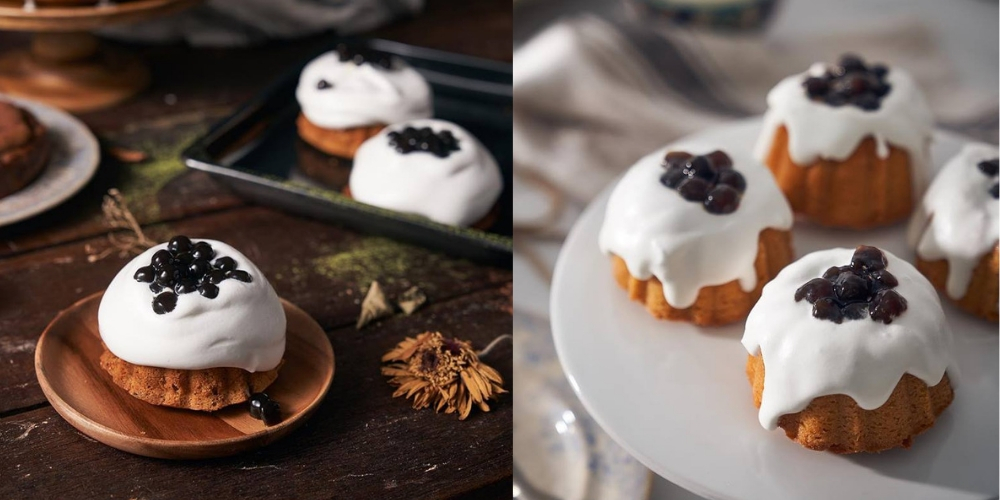 To experience the ultimate food envy, try scrolling through online baker The Baking Trip's Instagram page. Each dessert has been meticulously prepared and has a minimalist vibe to it. During last year's Artbox season, The Baking Trip introduced its bubble milk tea bundt cake which might I add, looks like it belongs on every Christmas dinner table. Besides the wildly popular bubble milk tea bundt cake, The Baking Trip also has Moist Chocolate Banana Cake and Victoria Blueberry Cake available to order.
Website: The Baking Trip
8. Thurs2.0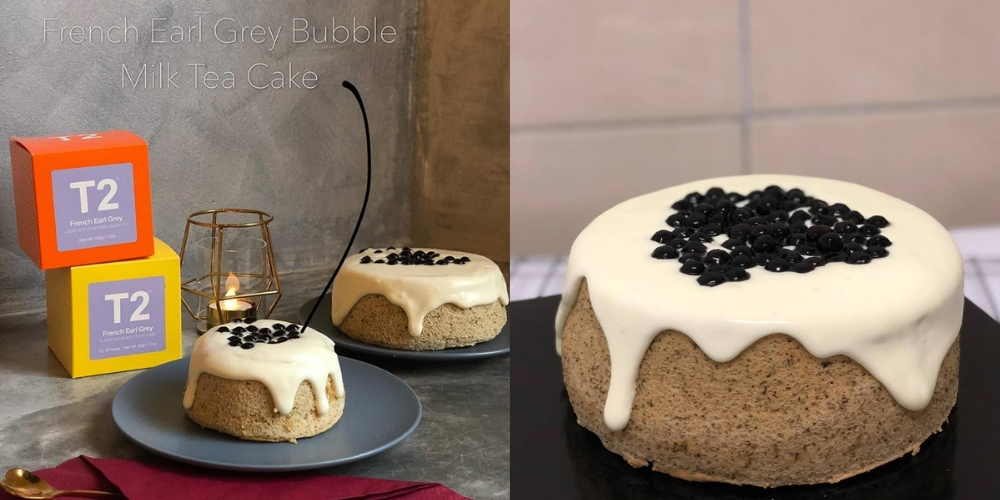 It's clear that this newly-opened eatery is all for experimenting with trendy foods. Take for instance their sapphire blue drink or their signature boba toast. Thurs2.0 recently introduced the French Earl Grey-flavoured milk tea cake which is topped with a layer of cream and boba pearls. Have this with a side of coffee or tea. The cafe bakes 60 pieces of Earl Grey Custard Bubble Milk Tea cakes a day and they come in 2 sizes: 4 inches (small) and 5 inches (medium). However, you can opt to reserve their large cakes (7 inches) through WhatsApp.
Hours: 11am-11pm, daily
Address: 270, Jalan Cheras, Taman Miharja, 56100 Kuala Lumpur
Website: Thurs2.0
Tel: 010 829 2700
9. Chin Chin Cakes & Flower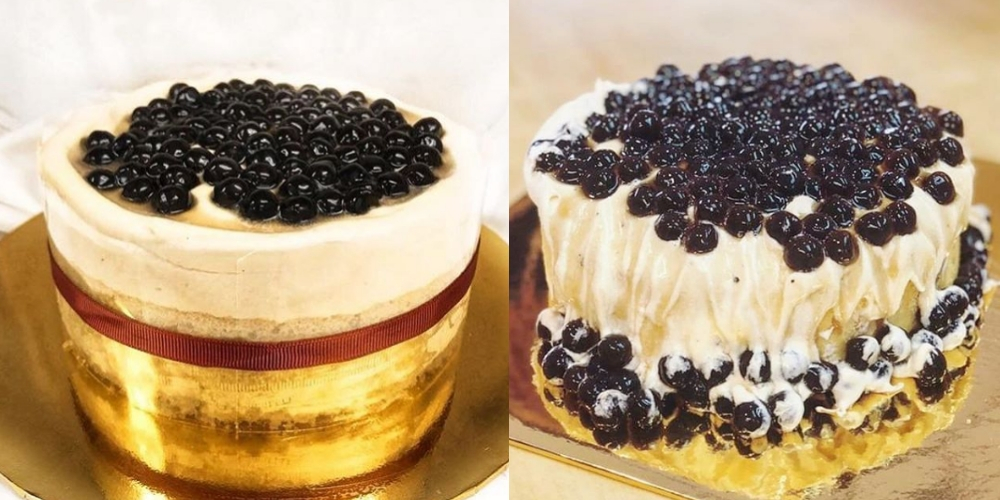 Chin Chin Cakes & Flower is a bakery and florist with gorgeous cakes and their chiffon cake with boba pearls is their standout product. The cake is wrapped with a plastic wrap and a ribbon but upon untying the ribbon, the contents will flow like a rushing river. While Chin Chin Cakes & Flower does not have a physical outlet, you can order this dessert via WhatsApp.
Hours: Mondays-Saturdays: 10am-6pm
Website: Chin Chin Cakes & Flower
Tel: 010 9122040
BONUS
10. Moge Tee Malaysia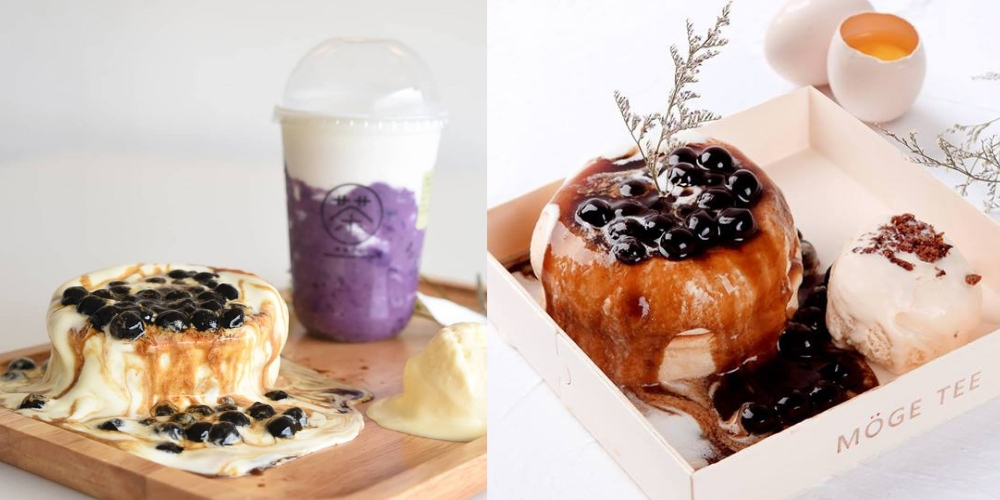 Moge Tee Malaysia is another newly launched cafe on this list. Focusing on teas and souffles, they marry both perfectly in their latest creation: the boba souffle which is aptly named the Bubble Flow Souffle.
Dictionary Time: A souffle is a baked dish made primarily of egg yolks and beaten egg whites and can be enjoyed either sweet or savoury.
Slice right down the middle and you will have a Boomerang-worthy fountain of boba. The Bubble Flow Souffle is a brown sugar-flavoured souffle and it's served with a side of ice cream. You can also order up a brown sugar bubble milk tea to enjoy on the side for the ultimate brown sugar milk tea experience.
Hours: 12pm-1am, daily
Address: 52, Jalan SS2/61, Petaling Jaya
Website: Moge Tee Malaysia
Tel: 03-7865 6757
Feature Image Credit: Moge Tee Malaysia, Platform Cafe