We all love some good butter chicken every now and then and Gold Chilli might be one of the most cited names when it comes to chicken cutlets bathed in a golden creamy, sweet and milky butter sauce. 
Here are 11 more eateries for butter chicken aficionados to discover and indulge in!
1. Buttermilk Kitchen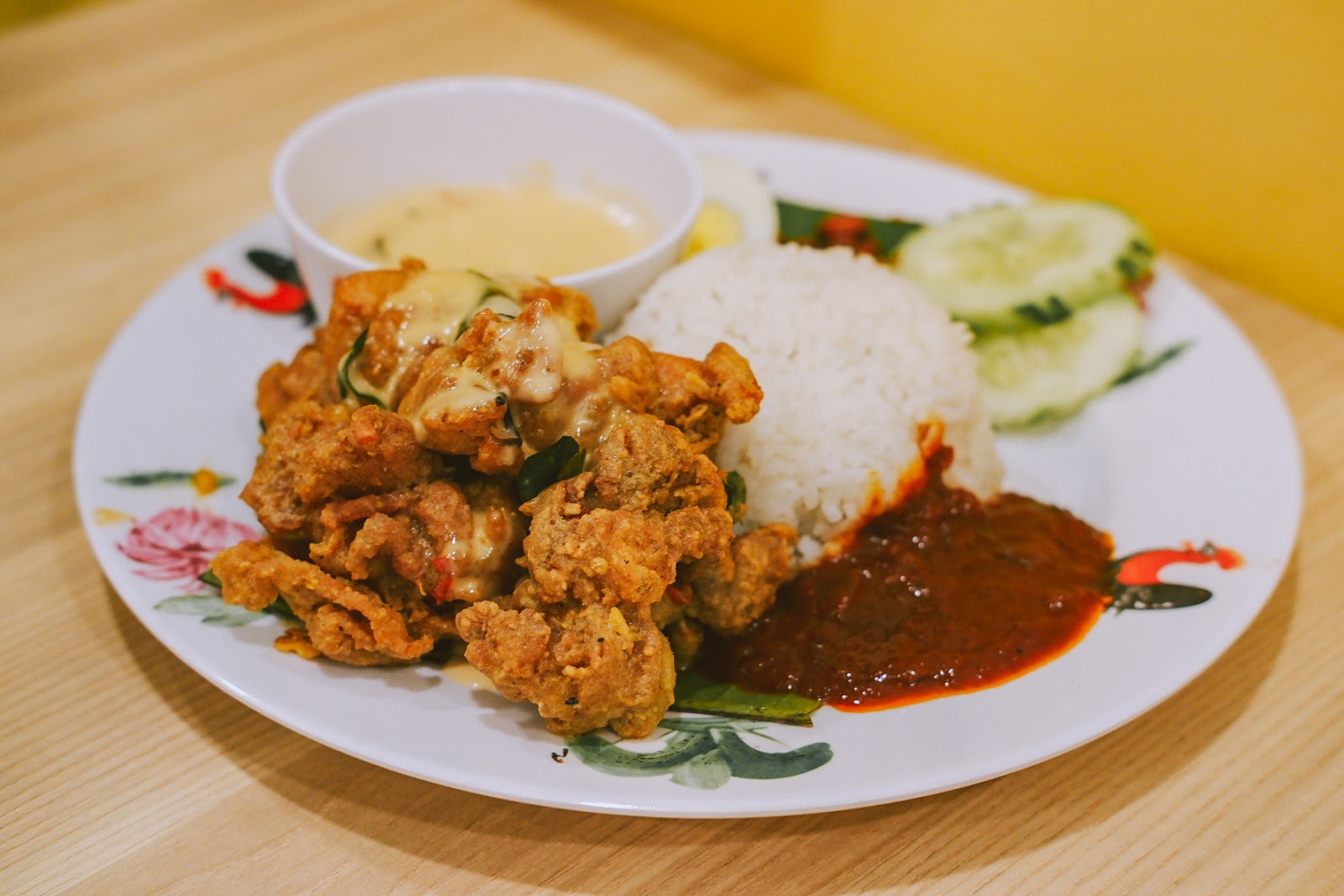 First up, we have Buttermilk Kitchen which is only just situated two doors down from Gold Chili. All dishes served are handcrafted by the founder's mother so you can expect a hearty serving of delicious creamy butter chicken with a mother's touch. Banker turned entrepreneur, Wilson Wong decided to dive into his passion of starting his own F&B business. But what makes this place so special you might ask? They have three rice options namely white rice, nasi lemak rice and fried rice as well as buttermilk sauce options such as curry and salted egg. We definitely cannot think of a better marriage between two Malaysian favorites other than Nasi Lemak and Buttermilk Curry Chicken!
Price: RM15-RM30
Hours: Mondays-Saturdays, 11.30am-10pm (Closed on Sundays)
Address: 9, Jalan SS15/8B, 47500, Subang Jaya, Selangor
Website: Buttermilk Kitchen
2. Jibril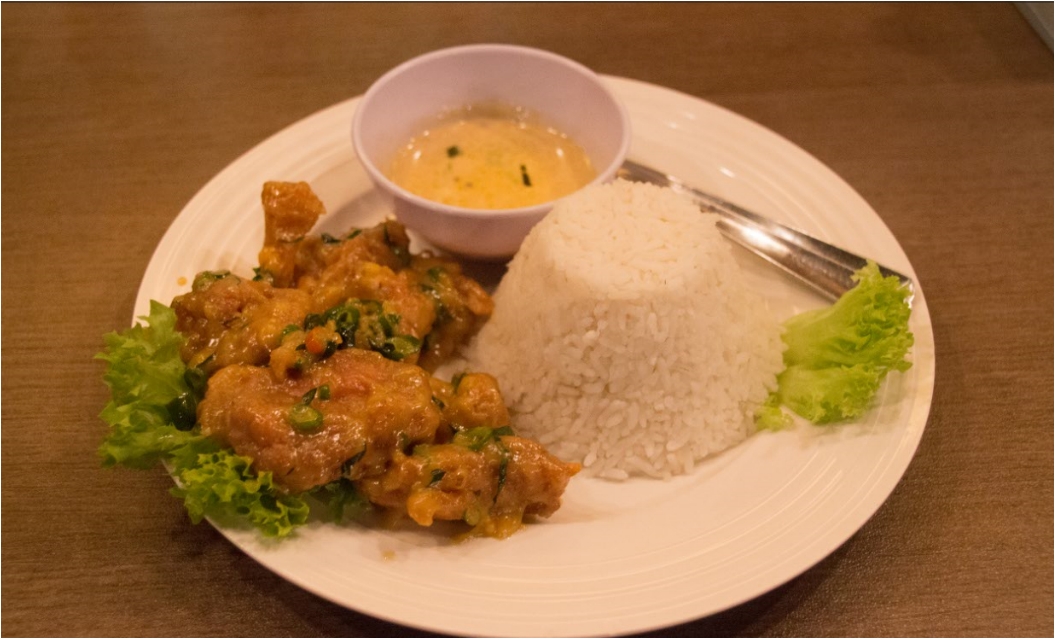 And of course we have the ever hip, ever cool, Jibril in SS15. Hidden in plain sight, Jibril serves one of the creamiest salted egg butter chicken one could get. Located behind a brick wall of SS15's Sangkaya, this eatery is styled like a speakeasy that serves unique mocktails and delicious food. If you're going on a date with a fellow Buttermilk Chicken fan, this would surely leave a good impression on your date. Jibril's set meal also comes with a free soda or water and a serving of delicious vanilla ice cream with a cherry on top. 
Price: RM14.90
Hours: Mondays-Thursdays, 12pm-12am; Fridays, 2.30pm-12am; Saturdays-Sundays, 12pm-12am
Address: 25 Jalan SS15/4B, Subang Jaya, Selangor.
Website: Jibril SS15
3. Cincai?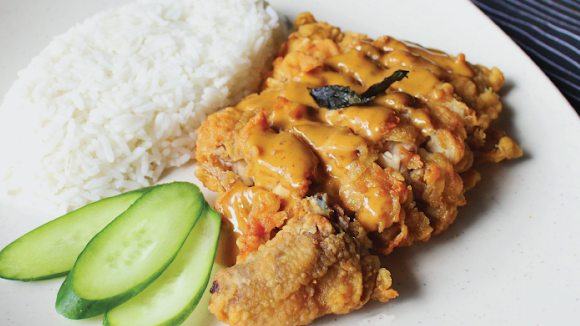 Creamy buttermilk sauce served on a bed of crispy deep fried chicken chop and rice, Cincai? is the place to go for an affordable, delicious and fun dining experience. Judging from the names of their dishes such as "Flied Lice", Cheezu Bakeuh Raisu, and The Only Western Item on The Menu (Chicken Chop), having fun seems like second nature to them. Plus, they also have an array of local desserts aka Tong Sui and a free flow of tea. We heard they even have a secret menu item called the "Yin Yang" which is a combination of their signature dishes: the buttermilk chicken and curry chicken! 
Price:  RM15
Hours: Mondays-Saturdays, 11am-10pm (Closed on Sundays)
Address: 18-1, Jalan SS15/4D, 47600 Subang Jaya, Selangor, Malaysia
Website: Cincai? 
4. Quan Ice Cream & Coffee House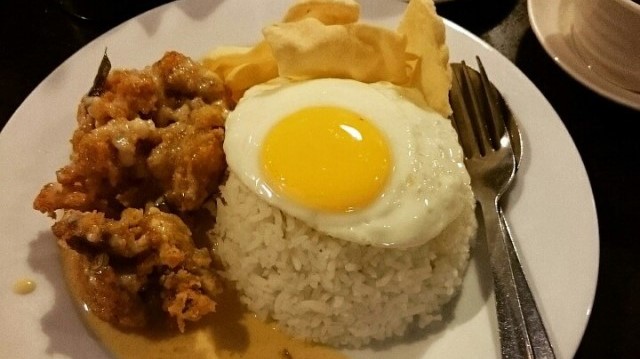 Sweet, creamy and tender, Quan Ice Cream & Coffee House is also one of the local favorites. Served with rice, a side of pappadom and a sunny side up, this is the perfect meal to have before indulging in more desserts and coffee! Plus, this restaurant has perhaps the most extensive menu (17 pages of ala carte, snacks, drinks and desserts) so there would be something for everyone to have. Definitely a bonus for group diners with non buttermilk chicken fans!
Price: RM7.90
Hours: 12pm-12am (Daily)
Address: 8 Jalan Pandan Indah 4/33, Kuala Lumpur 55100, Malaysia
Website: Quan Ice Cream & Coffee House
5. 300 Restaurant & Bar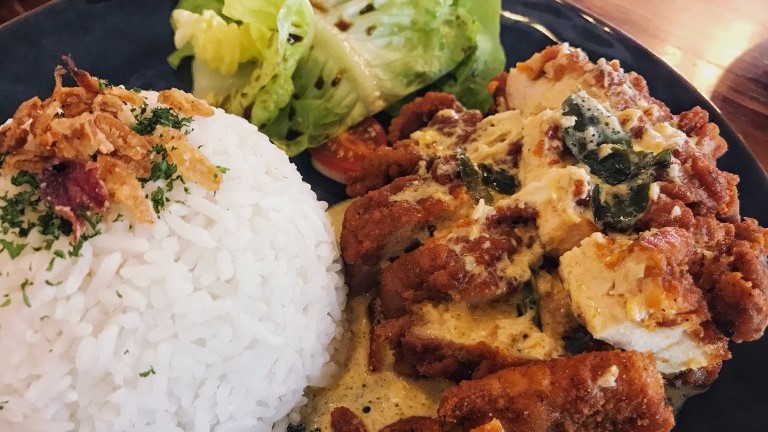 Specialising in western and Asian fusion dishes, 300 Restaurant & Bar is an eatery located at the Starling Mall. We heard their creamy crispy butter chicken which is served with rice and a side salad is a must try! There are also other protein options to customise your meal with such as seafood. On top of that, there's also a salted egg buttermilk sauce option. For a truly delicious and milky treat, indulge in their giant milkshakes too!
Price: RM16
Hours: Mondays-Thursdays, 10am-11pm; Fridays-Saturdays, 10am-12am; Sundays, 10am-11pm
Address: 85, Jalan SS21/37 Petaling Jaya, Malaysia
Website: 300 Restaurant & Bar
6. The Butter Chicken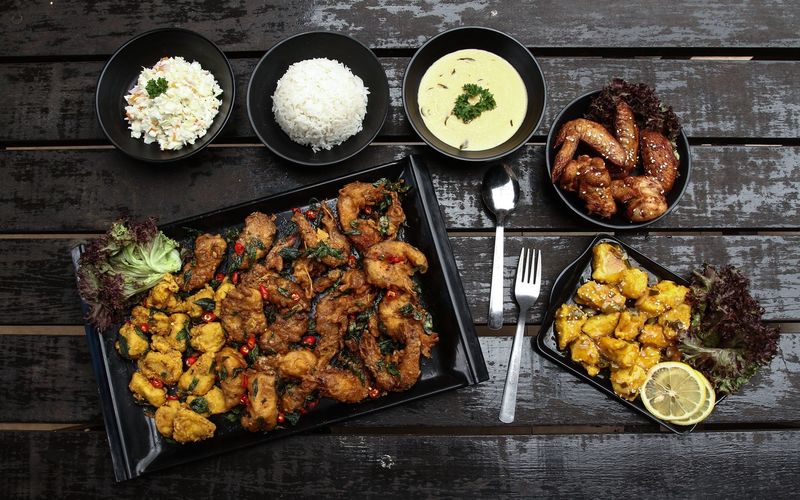 The Butter Chicken takes a spiced up twist on the OG butter chicken recipe. Marinated for 24 hours in six Indian spices – rasam puli, sambal puli, garam masala, chili powder, cumin and turmeric, their Grilled Butter Chicken is served with a generous drizzle of creamy butter sauce. Besides that, their Crispy Squid Tentacle with Thai Sauce is a delicious snack that's crispy on the outside and chewy on the inside. It is coated with eggs to give it a hint of a buttery flavor which compliments the Thai Sauce it is served with very well. The Butter Chicken may be in a small stall but their food is testament to how big their hearts are in serving only the best to their customers.
Price: RM13-RM17
Hours: Mondays-Thursdays, 11am-12am; Saturdays-Sundays, 11am-12am (Closed on Fridays)
Address: Plaza Rasta, Jalan Datuk Sulaiman, Taman Tun Dr Ismail, 60000, Damansara, Wilayah Persekutuan Kuala Lumpur
Website: The Butter Chicken
7. Good Taste Seafood Restaurant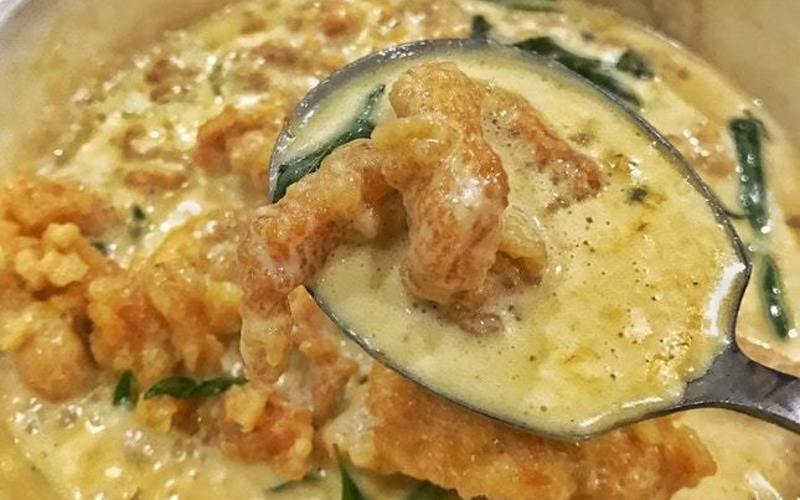 Good Taste Seafood restaurant is one of those classic Chinese restaurants that serves up hearty Asian dishes. We love Chinese restaurants as such because there's always something for everyone! Some of their famous dishes are the chicken strips with wet or dry butter, Salted Egg Squid, Signature Style Pork Ribs with Mantou, Claypot Fish with Eggplant. Crispy Tofu and Muchoy Kailan. This restaurant is located at the Taman Connaught shop lots behind the main Cheras Highway. An average meal of 5 dishes for 8 pax would cost around RM120-RM150 depending on what you order. But hey, sharing is caring and food is definitely something worth sharing so grab your friends and family for a communal meal here!
Price: RM16-RM30
Hours: Mondays-Sundays, 10.30am-3pm, 5.30pm-10.30pm
Address: 26, Jalan Waras 1, Taman Connaught, Cheras, Kuala Lumpur 56000
Phone: 03-9132 6381
8. Gaffe & Co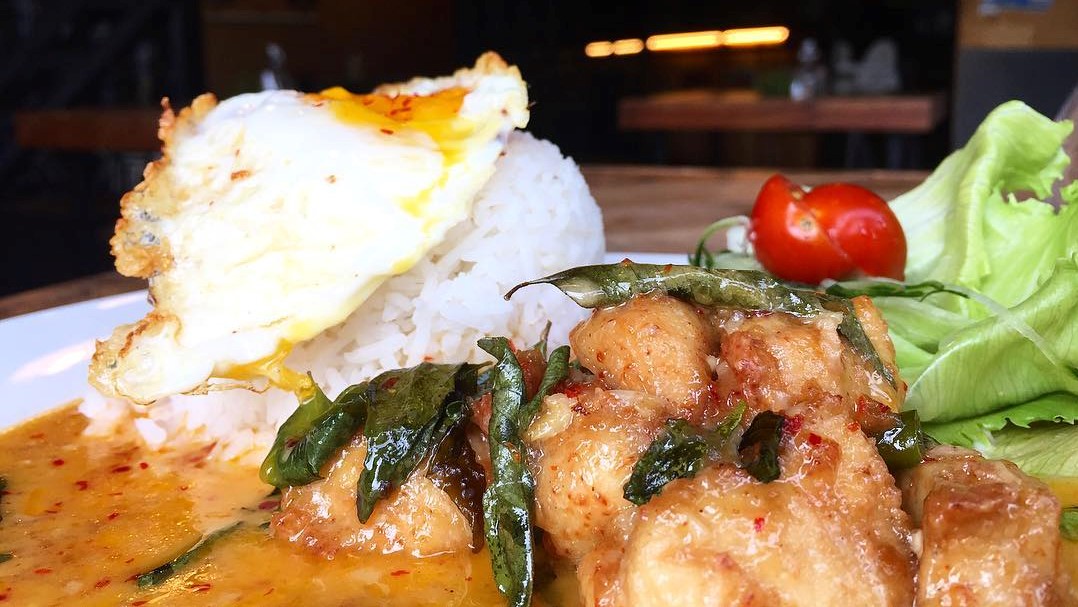 Crunchy chicken tenders and creamy butter sauce, this sounds like the perfect savoury taste created by Gaffe & Co's chef ohpenciptaku. Their Buttermilk Chicken Rice comes with white rice, a sunny side up egg, a side salad and a serving of buttermilk sauce that turns your plate into a mini swimming pool. We all know that the best part of any buttermilk dish is the sauce and these guys have got it right. They also have pastas, pizzas, desserts, sloppy shakes and a spacious dining area to accommodate larger groups. Located in The Garage KL, there are bountiful boutiques for you to walk around at in case you've eaten too much, or grab a quick haircut before a lunch/dinner appointment too!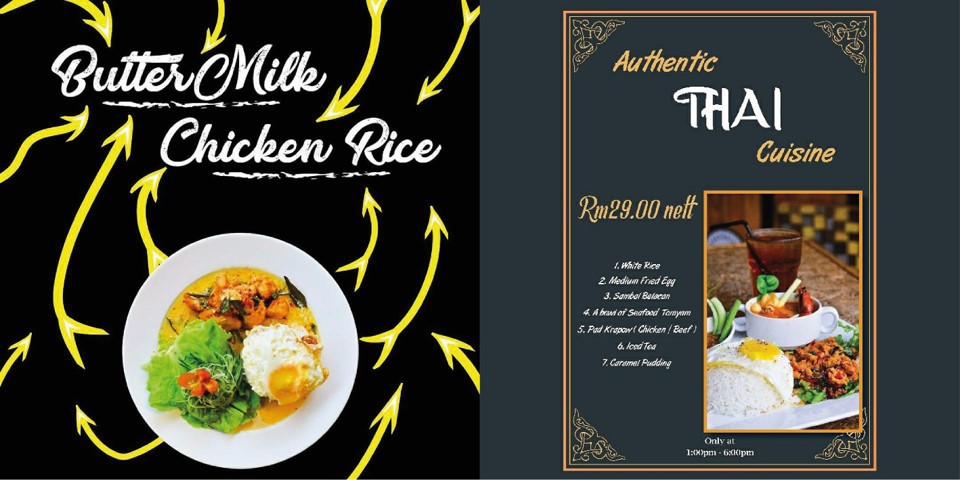 Fancy something a little more spicy or savoury instead? Opt for their Authentic Thai Cuisine crafted by their very own chef from Thailand. They now have a special lunch set that comes with drinks and desserts for only RM29!
Price: RM18
Hours: Mondays to Thursdays, 12pm-12am; Fridays, 12pm-1am; Saturdays, 9am-1am; Sundays, 9am-12am
Address: Jalan Hillview, Taman Sri Ukay, 68000 Ampang, Selangor, Malaysia.
Website: Gaffe & Co
9. Homst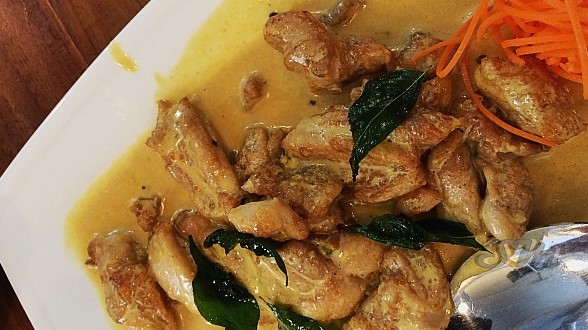 Homst is a Chinese Muslim Restaurant with 8 branches all over Selangor. Known for their top-notch Chinese Muslim dishes, their Wet Butter Chicken is one of their bestsellers that comes with a generous serving of chicken pieces in a pool of creamy butter gravy. This would be a great spot for Halal dining with family and friends who are craving some Chinese-style cooking as it is available in multiple locations across the Klang Valley. Homst stays true to their aim of bringing the warm feeling of home by also offering more than 30 types of Dim Sum dishes to enjoy such as Siew Mais, Deep Fried Eggplants and Prawn Dumplings.
Price: RM16-RM30
Hours: 11am-1030pm daily
Address: Available in various branches across the Klang Valley
Website: Homst
10. Bert's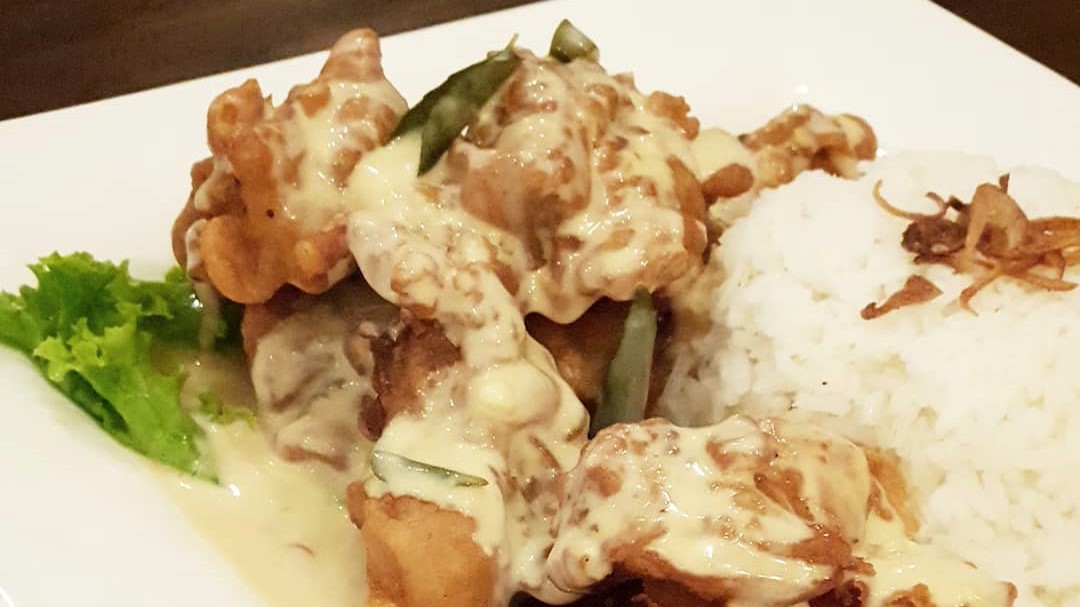 Crispy boneless chicken in creamy chili padi butter sauce is definitely one of Bert's bestsellers. Creamy, tender and juicy, this sounds like a great meal with an affordable price! They also have Salted Egg Yolk Chicken and various other local dishes such as the Nasi Lemak Gulai Daging Salai and Beef Bacon Aglio Olio to appease different taste buds. Fun fact, they provide catering services, lunch box deliveries and cater for party events upon request.
Price: RM14.90
Hours: 11am-11pm, daily 
Address: 36 Jalan Selasih K U12/K, Shah Alam 40170, Malaysia
Website: Bert's
BONUS
11. Plan b by Big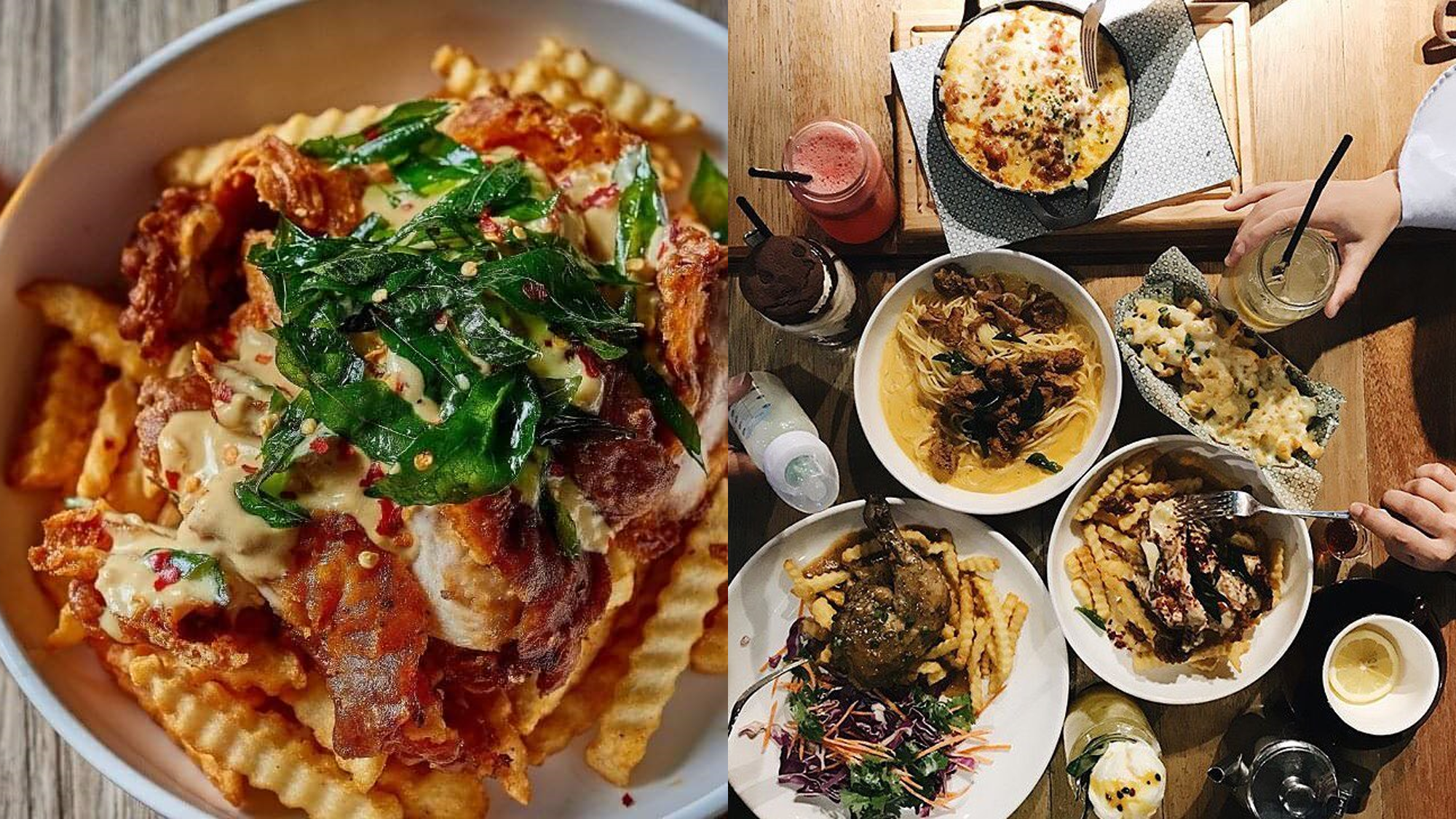 And just in case you've had enough of butter chicken with rice, we have Plan B by the Big group (also the owners of Ben's Independent Grocer). Plan B has the perfect backup plan with a Western-style Buttermilk Chicken. Plated on a bed of crinkle cut fries is their juicy cut of crispy fried chicken drenched in spicy buttercream sauce. This jumbo-sized 2.0 Signature Buttermilk Fried Chicken makes for the perfect meal after some shopping.
Besides that, Plan B also serves a Kamheong Seafood Pasta for your Asian cravings and an Iced Chocolate (which is served with a scoop of ice cream + a cookie on top) for your sweet tooth cravings. 
Price: RM28
Hours: Sundays-Thursdays, 10am-11pm; Fridays-Saturdays, 10am-12am
Address: Available in Mid Valley, Publika and Ipoh
Website: Plan B
Feature Image Credit: Berts, Cincai Lah