Sunny Side Up Market, a curated community market at Slate at The Row, had their annual Merdeka edition last weekend.
There were a total of about 30 stalls in the 3,300 sq. ft space. It did feel rather packed, with aisles just big enough for two to walk through side by side.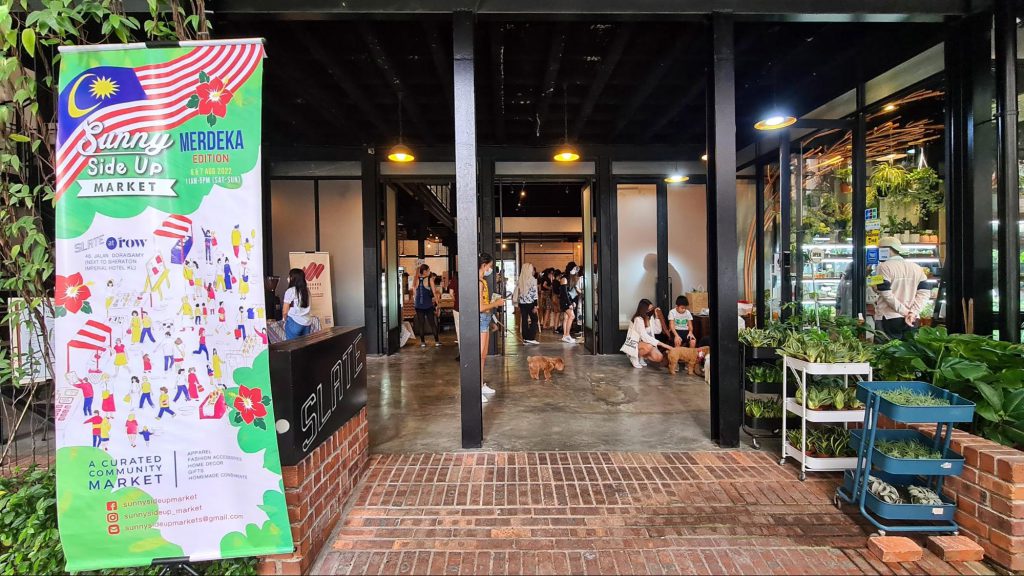 Thankfully, quite a bit of the crowd seemed to have ebbed upon our arrival at 3.30PM, since the market runs from 11AM to only 5PM.
Left with little time on our hands and lots of stalls to go through, we (and by we, I mean mainly Sarah) began her buying spree (to support local and also for the sake of content).
Cheese, please
The duo behind the D'Artisan Cheese counter were busy educating customers and pan-grilling cheese for testers, a mini see-through fridge full of various cheeses to their right.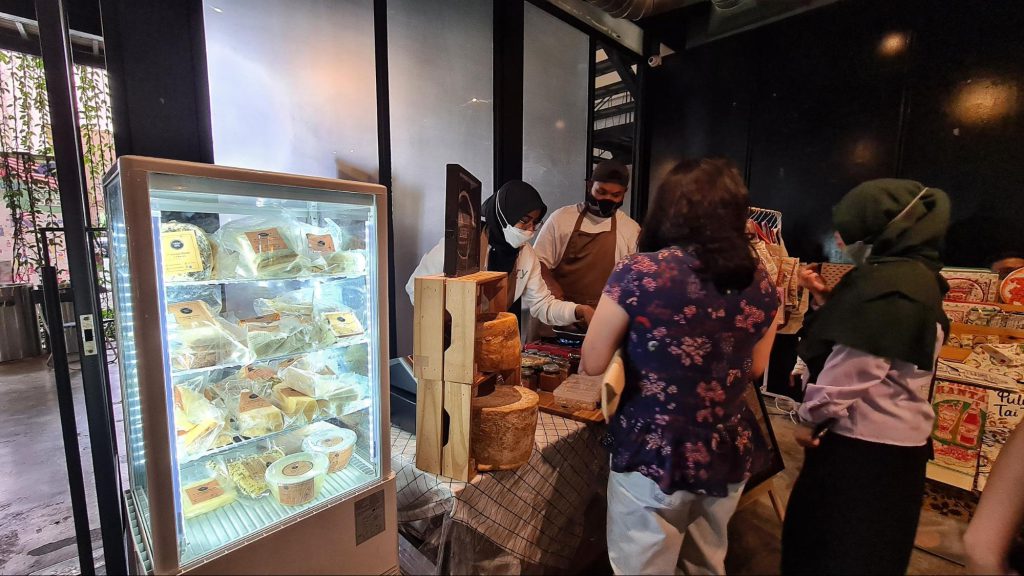 Parmamia and Kerabu from the hard cheeses category, Asiago aged for two years, Cam Blue and Caerphilly Blue from the blue cheese category, to even a Vegan Parmesan, among many other varieties, were on display, ready for purchase.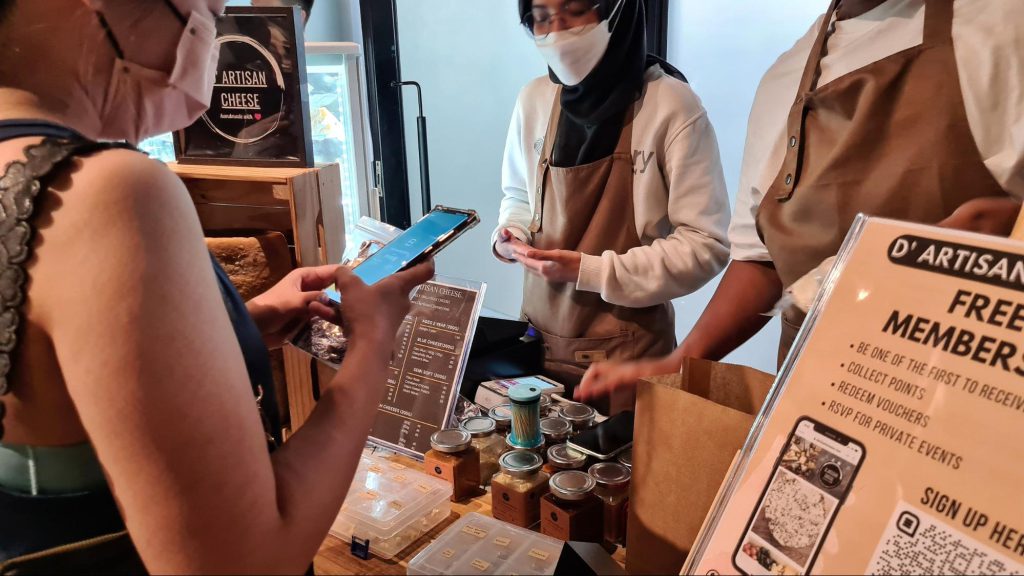 None of us there could really call ourselves cheese connoisseurs, but I settled for a Fleur Rose after trying a variety of mild to stronger cheeses.
Purchase: RM40
Post Purchase
Sade: It's semi-soft as advertised, and mild enough to enjoy on some bread, with a delicious floral undertone almost reminiscent of rose syrup. Overall, a great pick.
Art from the heart
The next stall, Bingka, was much more colourful, draped in tote bags, silk screen-printed scarves, placemats, and more. Each one sported familiar motifs of Malaysian heritage culture, such as Peranakan prints and patterns.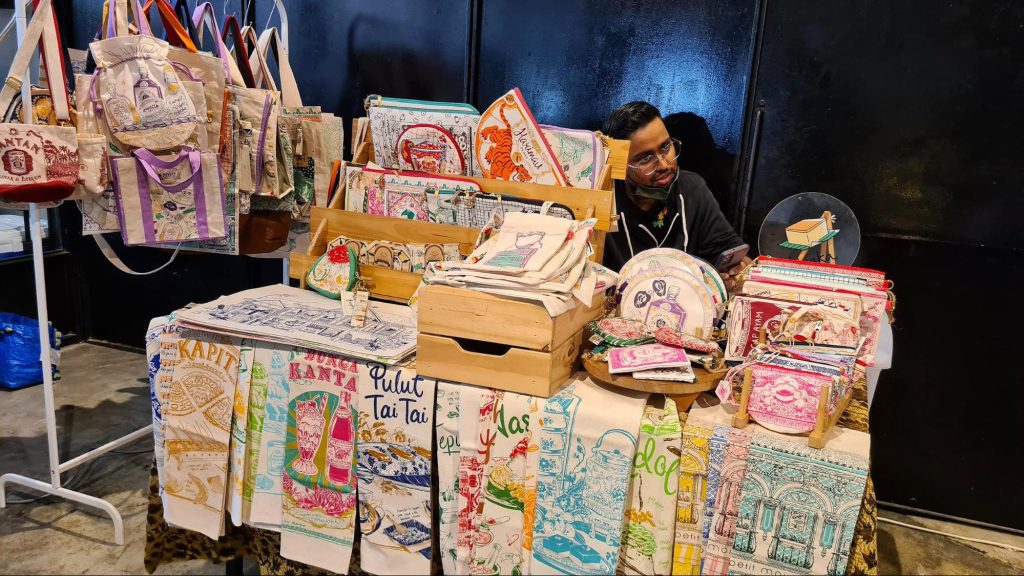 They're ideal for someone who wants to carry a bit of home wherever they go, or for a tourist who wants something more meaningful than a magnet or mug to remember our country by.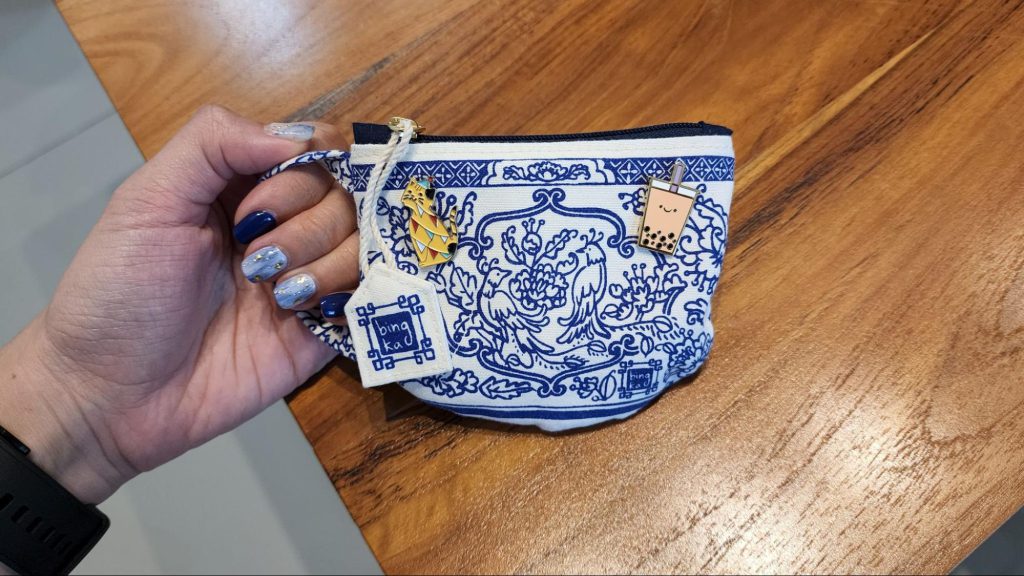 Here, we purchased a pouch that's shaped like a teacup with a tea bag.
Purchase: RM40
Post Purchase
Sarah: The price seems a little steep for such a small pouch but I love the unique design and it really feels like a high quality product. No regrets on this buy!
Made for a child's smile
At Oh Beatrice's store, we spotted her signature work, Dumpling the Tiger, which tells the story of an unexpected adventure and friendship between two very different individuals.
Beyond that, she had other artworks up for sale, drawn in a pastel-forward, sketched style that's appealing to the eye and fits right in a children's book.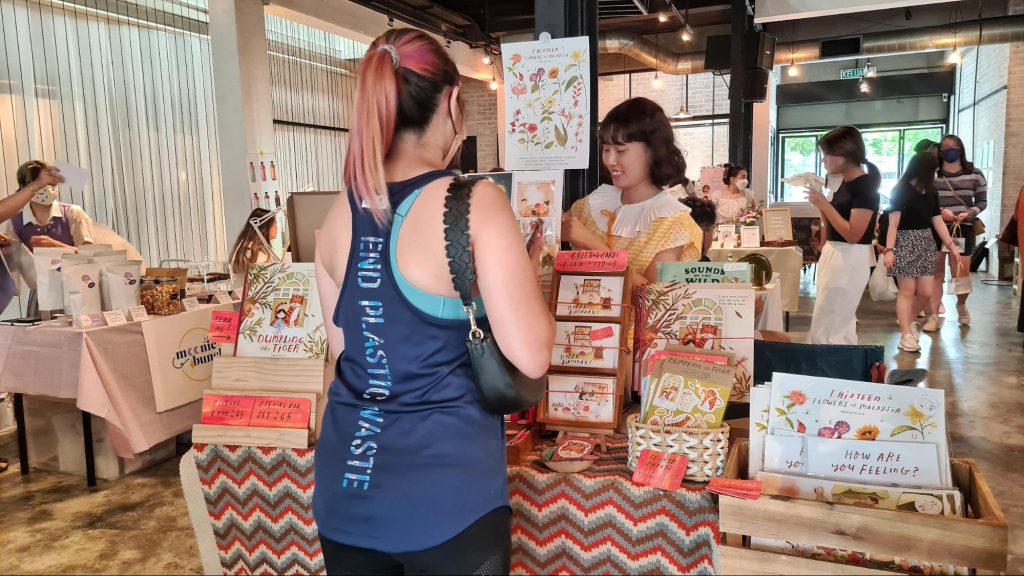 Though we're probably only children at heart, we opted to buy a cat pin (the very last one in stock there) from her.
It's now pinned on the teacup pouch from Bingka (in the picture above).
Purchase: RM25
Snack on
Back into the food zone we went with Moonie Bunch, which calls itself a "snacker's paradise".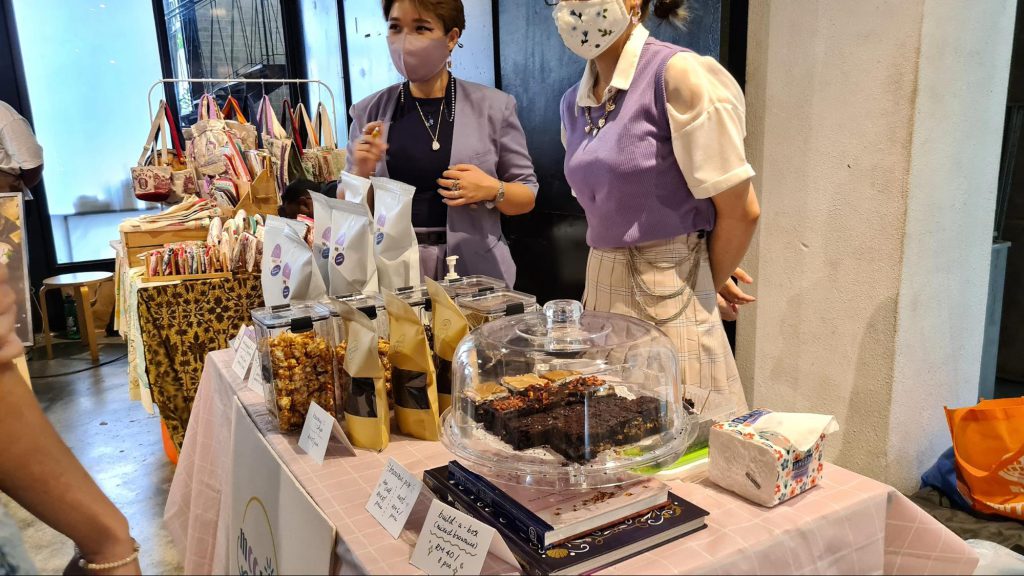 Laid out on their station was a variety of hand-popped popcorn in flavours like chocolate and caramel, and brownies for the more sweet-toothed.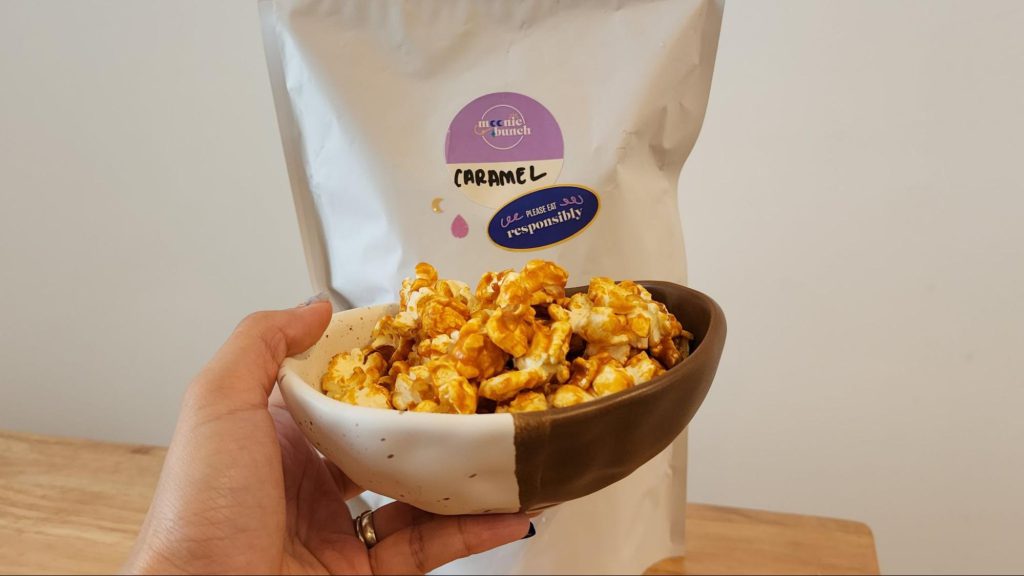 Purchase: RM12
Post Purchase
Sarah: The caramel popcorn is well coated and crunchy. Some bits may be a little sweet but my sweet tooth didn't mind at all.
Some bling and booch to go
Working together at a booth were Laithalia Jewellery and Muunchew, with fine handmade jewellery and Johor-made kombucha, respectively.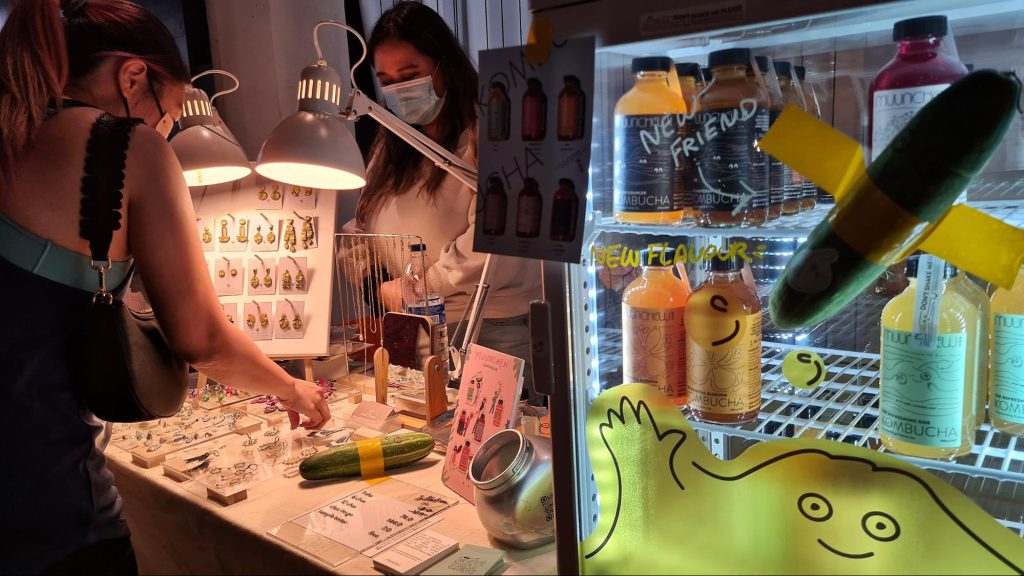 Sarah bought a delicate necklace with a unique 3D-cut style pendant of a lion from Lathalia, and, not generally a fan of kombucha herself, made me pick a flavour.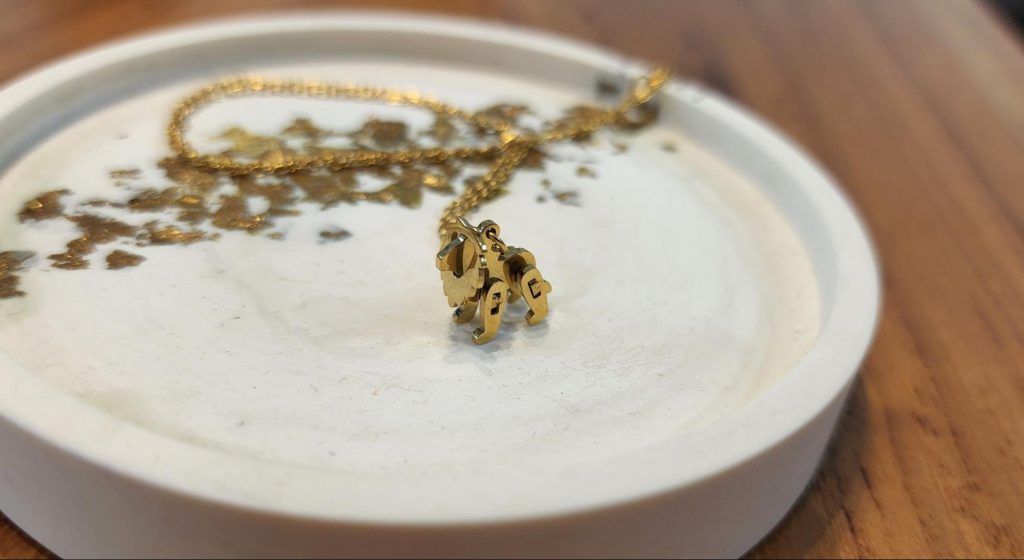 Sadly, the first few flavours I gravitated towards (The Pink Potion, with watermelon, strawberry, and mint, and The Classic Quench, with lime and mint) had already sold out.
I ended up choosing The Oriental Blossom, with pear and osmanthus, and this was refreshingly tasty, so much so that Sarah got hooked and ended up finishing it too.
Purchase: RM59 at Laithalia, and RM14 at Muunchew
Dear dairy, today we bought a brownie
Next was another stall that tingled our sweet-toothed senses, as dear dairy had fudge brownies, blondies, and chunky cookies.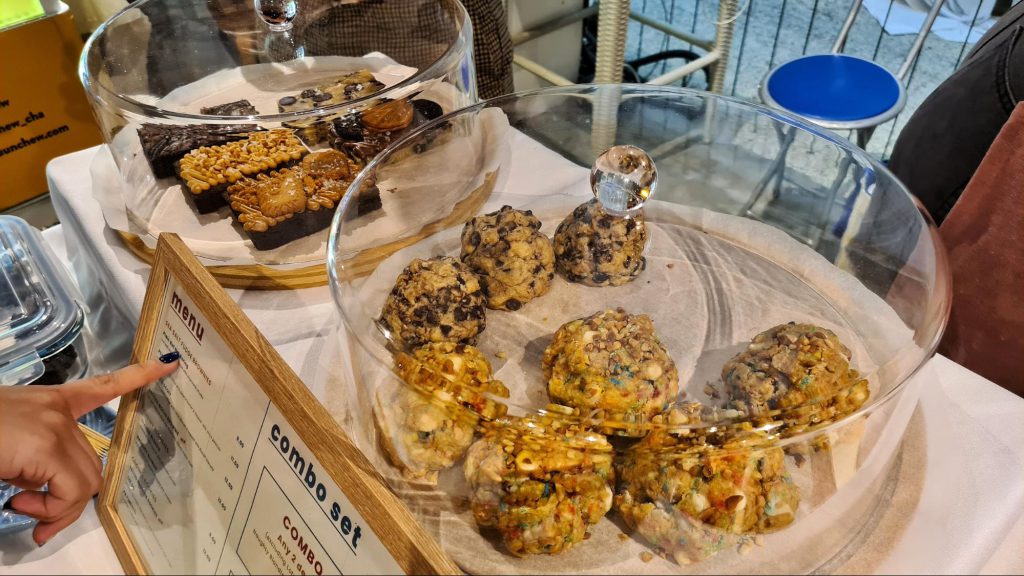 Though the bases are prepped beforehand, the final touches such as toppings are done then and there. After perusing their options, we purchased a good 'ol "Plain But Not Boring" fudge brownie (what can we say, we're simple people).
Purchase: RM9
Post Purchase
Matt: The brownie struck the right balance when it came to moistness. It was fudgey, not cakey, and had a mild sweetness that let the chocolate shine.
Familiar Malaysian scenes imprinted on paper
Locals cracking open fresh coconuts and taking refreshing sips, a durian feast right at a stall, a Raya open house visit, and more.
Kuen Stephanie's characters in her art have no faces, but that's what makes them unique: you could easily be them, doing what they're portrayed as doing in these scenes.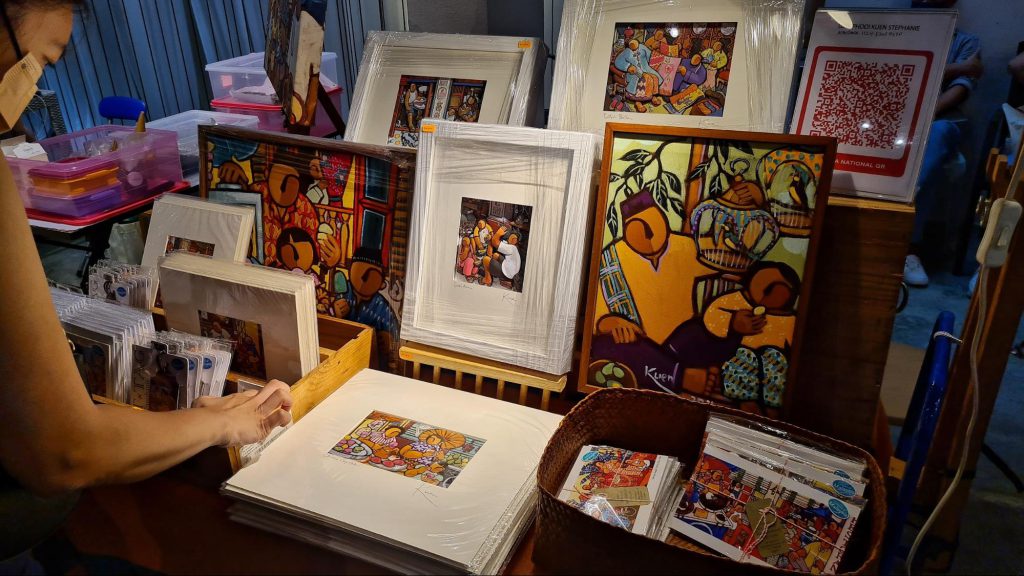 A self-taught artist, she's been honing her craft for the past two decades or so, she shared when I asked. From her, we bought a baggage tag, perfect as revenge-travelling decor.
Purchase: RM25
Banoffee thera-pie
"Ready to induce your happy hormones?", Farisya Bakes AKA The Cake Therapist's banner asked us.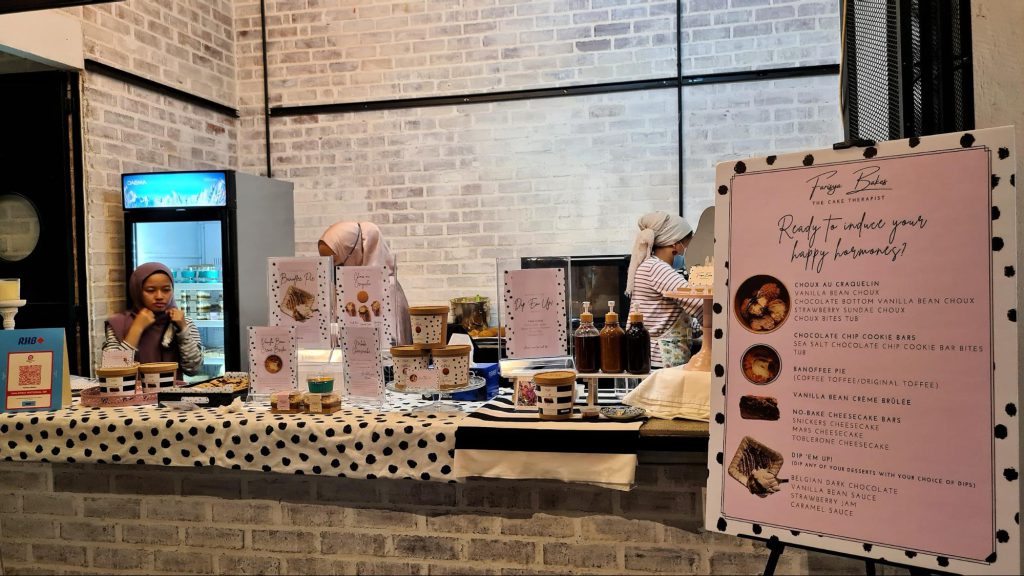 We definitely were enticed by its banoffee, which called our name louder than the choux, cookie bars, and cheesecake bars.
Purchase: RM18
Post Purchase
Sade: We were recommended the coffee toffee version of the banoffee, it was like a sweet tiramisu with hints of toffee and banana, melting harmoniously in our mouths.
Crockery with personality
Sarah, lover of beautiful and unique crockery, openly admitted that her decision to visit Sunny Side Up Market had largely hinged on her desire to see Cozycave's creations in person.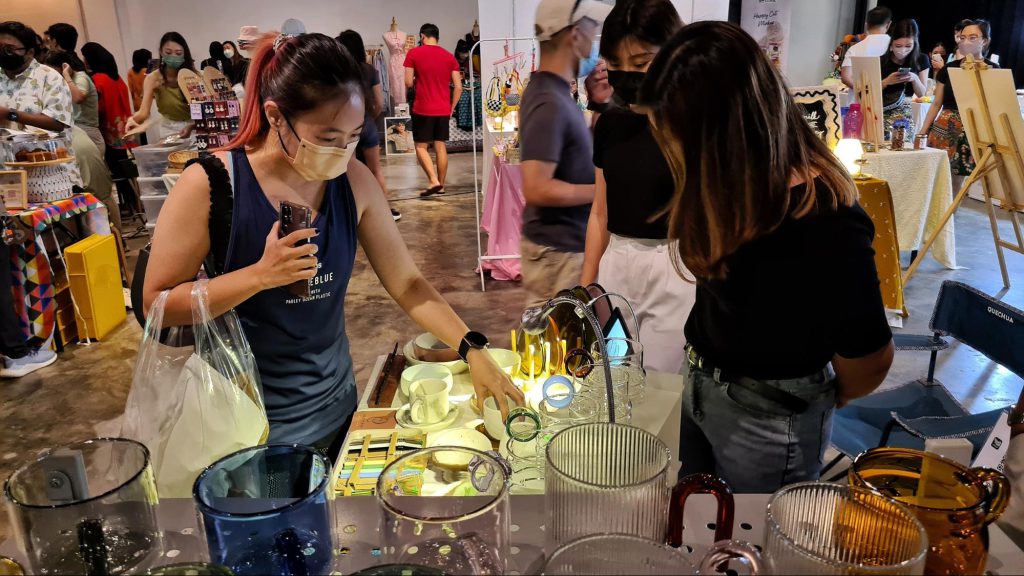 From delicate glassware to ceramic tableware sets decorated with glaze, Sarah had a hard time making a decision.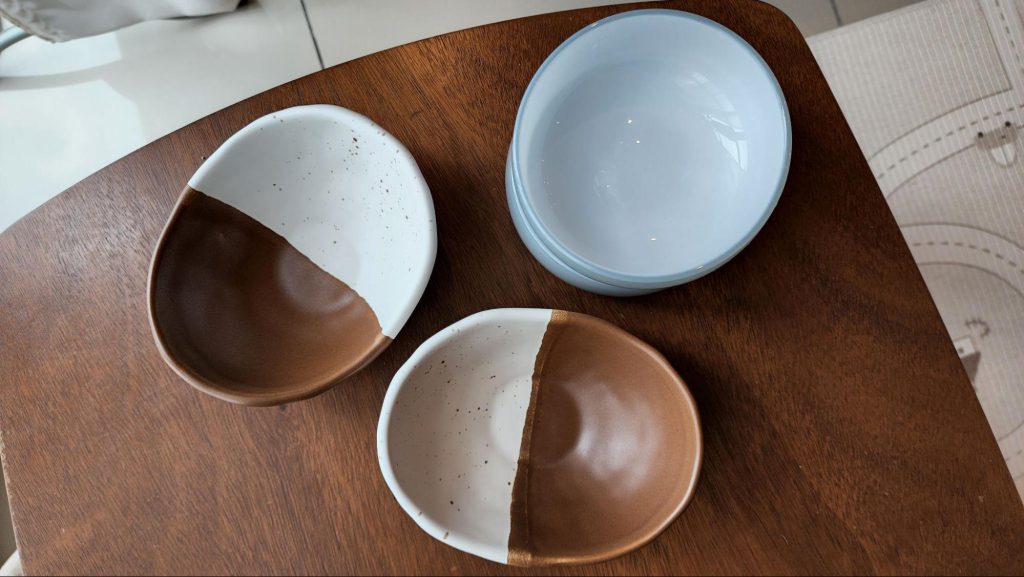 She ended up settling for two different pairs of beautiful bowls, but not before assuring everyone within hearing range that she will, one day, be back for more.
Purchase: RM120
Post Purchase
Sarah: NGL, I regret not also getting their ceramic mugs, and another set of the glass bowls in a different colour.
Bars for the bathroom
Handcrafted, artisanal facial and body cleansing products are at the core of what webarebars does. They have a small but attractive menu of scented and unscented items, which would make thoughtful gifts for someone who loves self-care.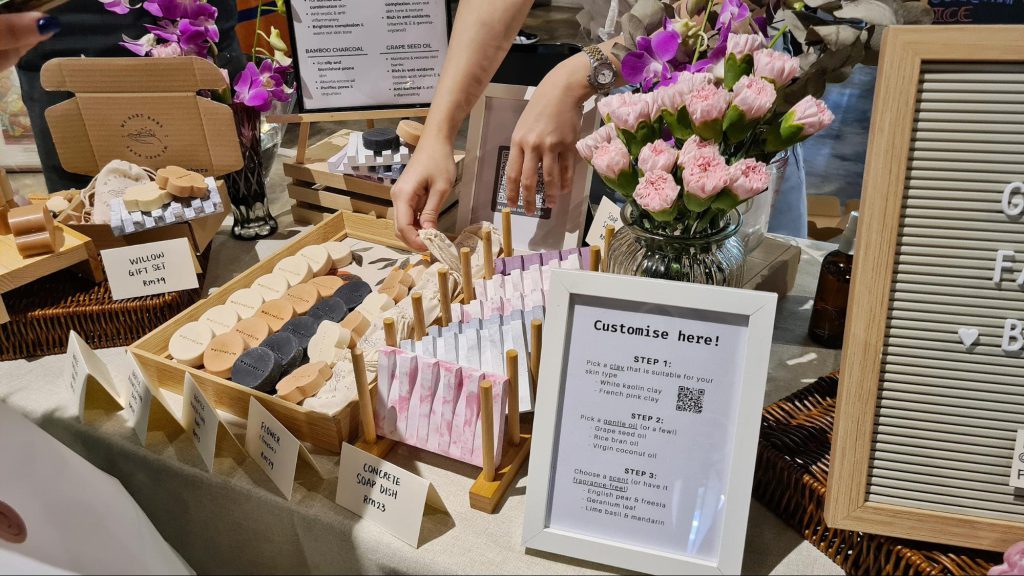 We left the stall with a small freesia-scented facial bar shaped like a flower as a gift for a fellow colleague.
Purchase: RM29
Tahini in cookies and brownies
That's what helps The Mr. Bakes stand out in the myriad of home-baked goods in Malaysia. It all started with a friend's mother's recipe, as we first learnt in our 2021 feature of the business.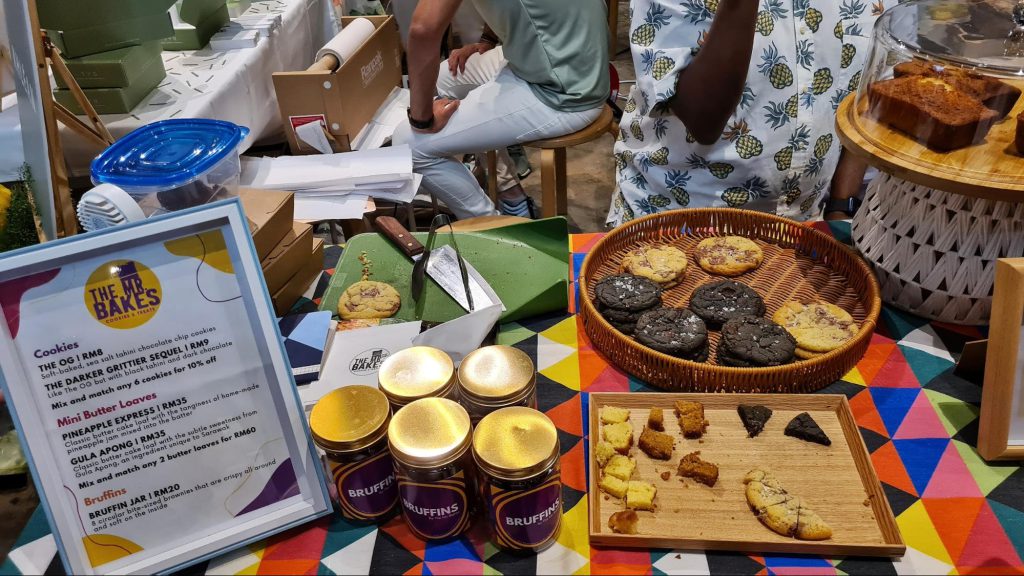 We won't spoil the rest of how this business's story came to be, but we will say that we walked away with two mini butter loaves, pineapple express, and gula apong.
Purchase: RM60
Post Purchase
Sarah: The gula apong butter loaf is not too sweet, moist, and makes a perfect afternoon treat. The pineapple butter loaf has a distinct tangy taste that goes so well with tea!
Keeping it Khlean
Khlean is a Malaysian clean beauty brand with only three products for now: lip balms in Original, Rose, and Mint. According to the team, they're cruelty-free, vegan, and plant-powered.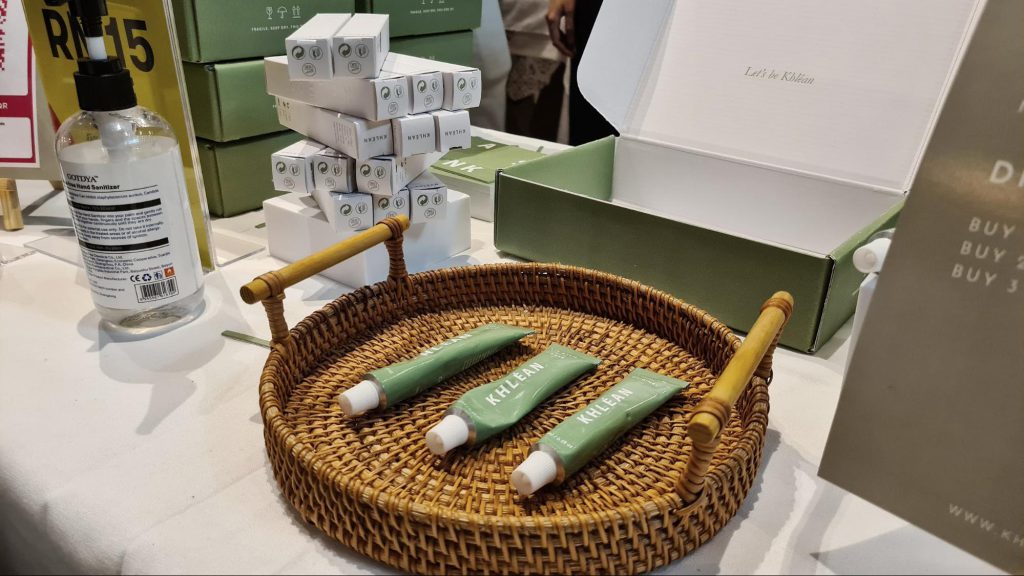 Sarah and my ears immediately perked up when we heard there was a mint (spearmint, to boot, not the inferior peppermint!) flavour, and she just had to get a tube to try.
Purchase: RM45
Post Purchase
Sarah: The texture of the lip balm is quite thick and viscous, it can be a good night lip mask too. The mint is fragrant and just the right amount of "cool" for the lips.
Globally-loved cookies made locally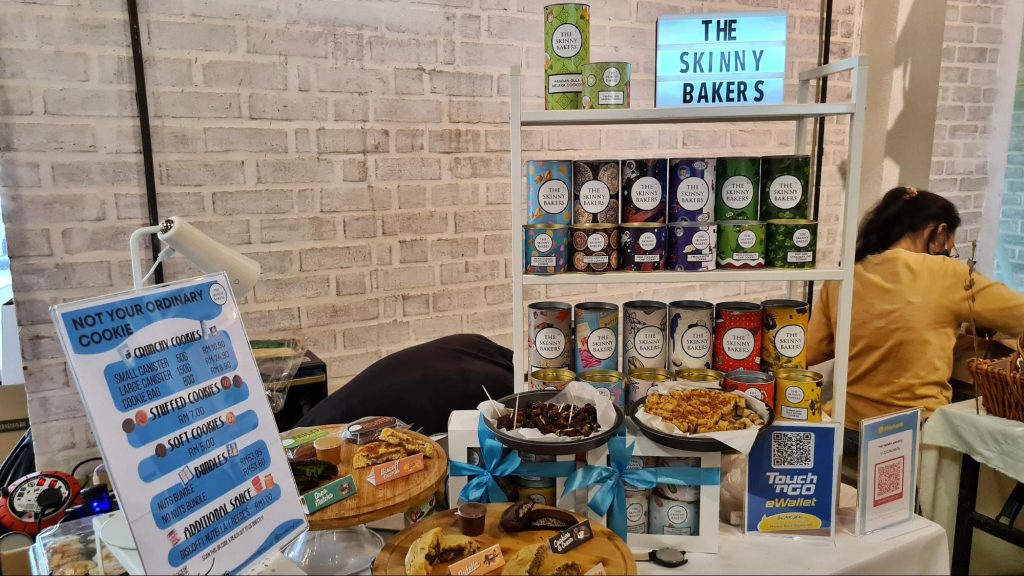 Founded in 2015, The Skinny Bakers is a familiar name often seen at bazaars and the like. They remain popular for a reason, it being that they're good at what they do.
We were spoilt for choice with cookie variety, and they were so kind as to offer us a sample of anything that we'd like to try.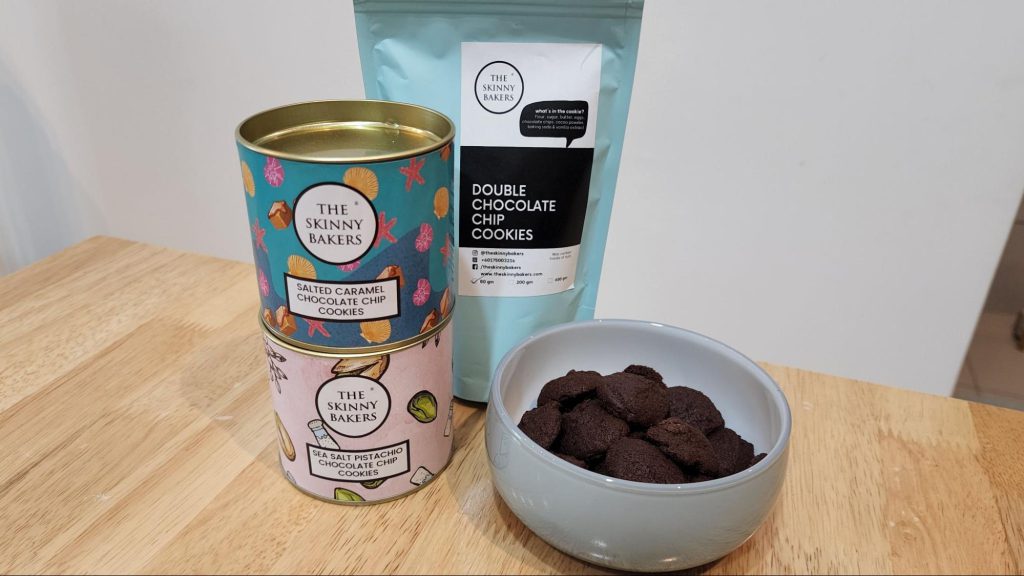 Purchase: RM37.80
Crafted concrete décor
Concrete homeware and décor have been quite the rage these past few years, and Elisavet Bloom is one of the newer makers we've seen thus far.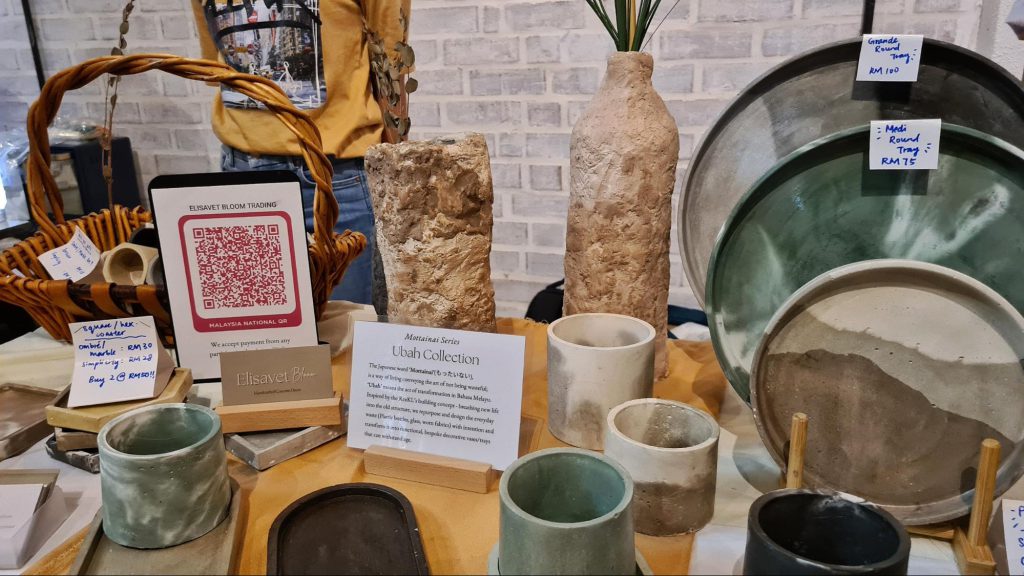 They have handcrafted plates, trays, and more, but like many other concrete-based homeware, they're not food safe.
Though she has many mug coasters at home already, from wood to resin, Sarah decided that perhaps there was room for one more, this time a concrete cement one.
Purchase: RM30
A scent-sible purchase
Scented hand sanitisers are no new creation either, especially with the COVID-19 pandemic. But the scents at annur's stall still delighted our olfactory senses.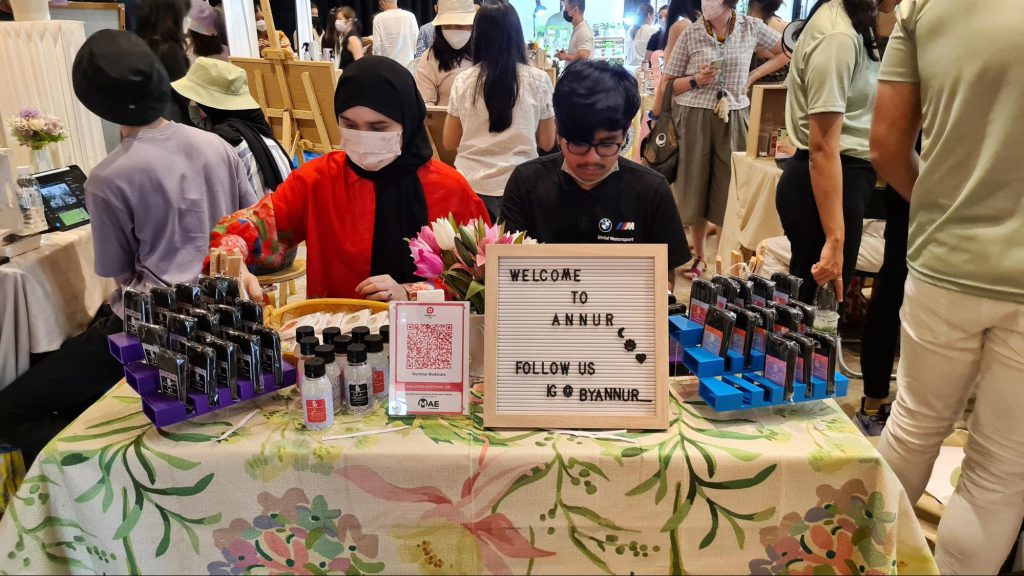 We struggled to pick between our favourites, sandalwood and cherry blossom, so, naturally, we bought both.
Purchase: RM20
Hatters gonna hat
TopiTin's story was unexpectedly cute, when we stopped by and struck up conversation with the team, a trio of siblings.
Turns out, this bucket hat business is run by a mother-daughter duo, with the daughter (one of the siblings we met that day) handling marketing and sales, while each reversible bucket hat is lovingly tailored by her mother.
If we weren't already thinking about making a purchase here, their story would have won us over (probably).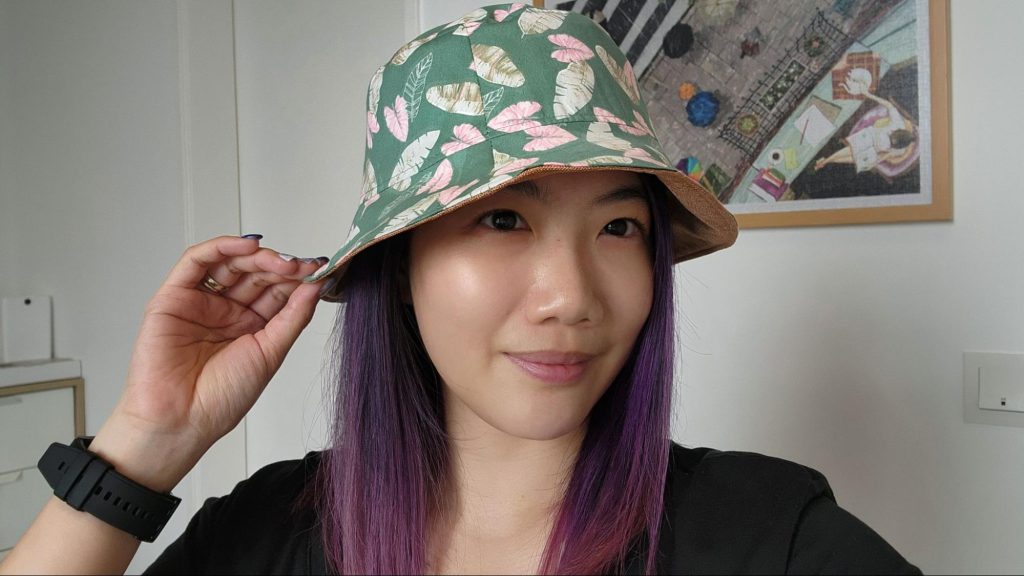 Purchase: RM50
Too cool for us
At Pretty Cool, the words "unique" and "quirky" immediately came to mind. There were scrunchies, pet bibs, pouches, and more in colourful checkered designs.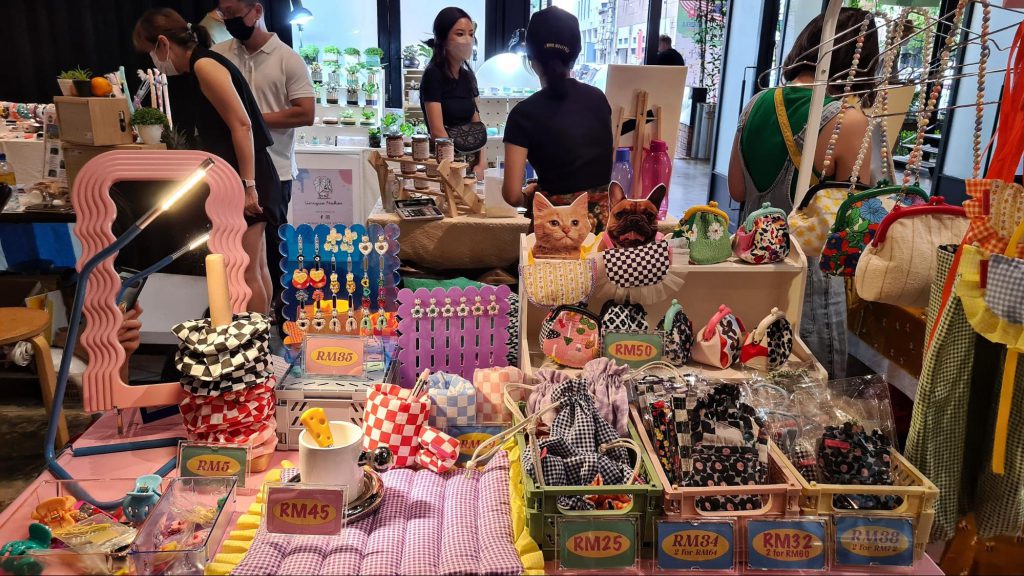 Admittedly, they didn't match our usual styles, so we ended up buying a simple scrunchie that we would actually add to our wardrobe.
Purchase: RM5
"Hear" for earrings
Glitterydaisyy's handmade clay earrings are well-made and beautiful, with lots of care put into each detail. At Sunny Side Up Market, they were proudly displayed across several vertical boards.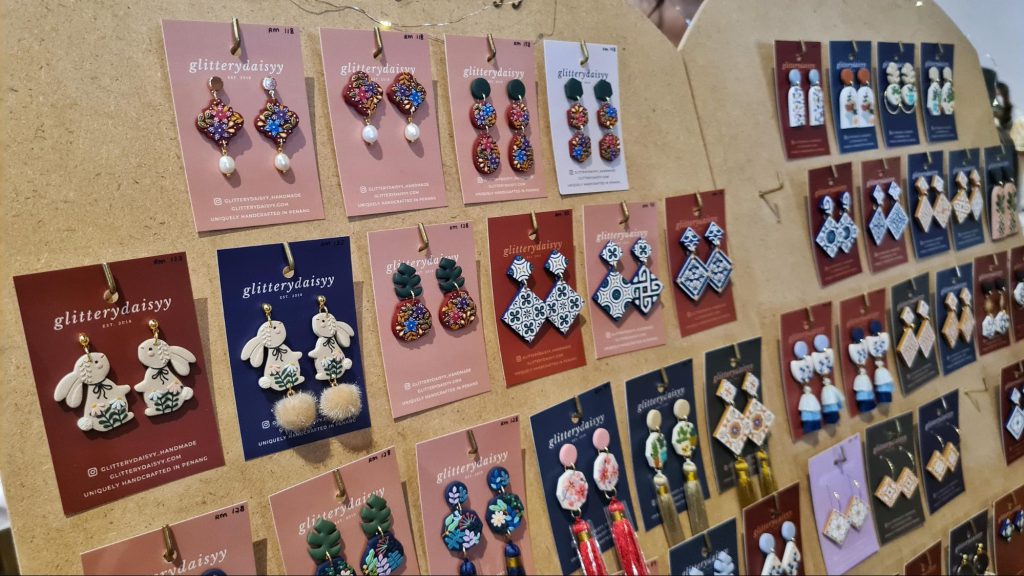 There were various options from chunky to more demure designs, hanging and studded ones.
Sarah chose floral inspired polymer clay earrings, and got a second pair as a gift for a colleague.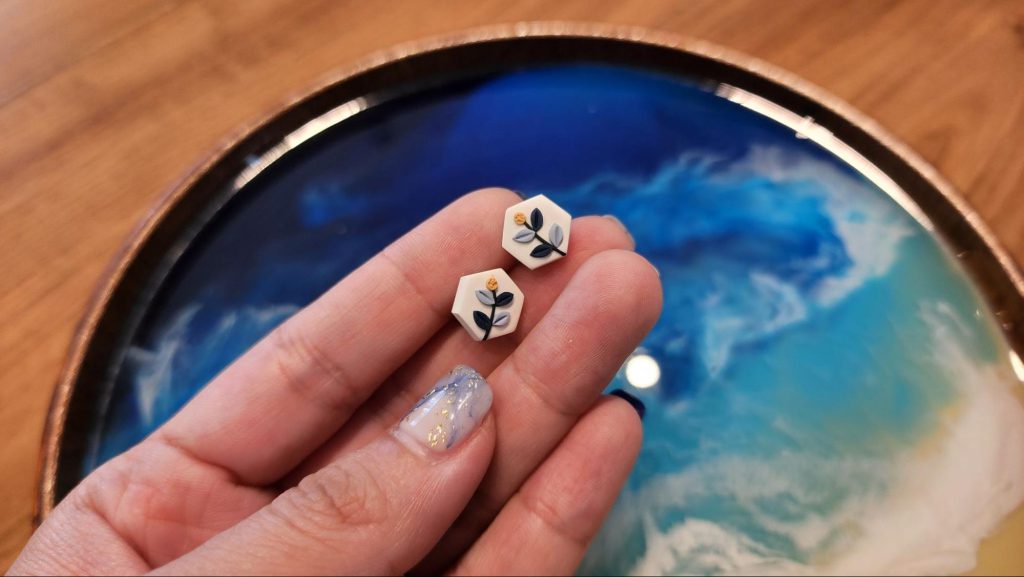 Purchase: RM37 (for two pairs)
Threading lightly with a needle & canvas
As you might guess from the name alone, Threads Lightly centres its business around sewn art pieces. There were ready made ones and sewing kits to make your very own.
Deciding that getting a vibrant piece would make for a nice pop of colour in the pictures and videos we take, but not wanting to do the work ourselves, we purchased a completed Threads Lightly canvas.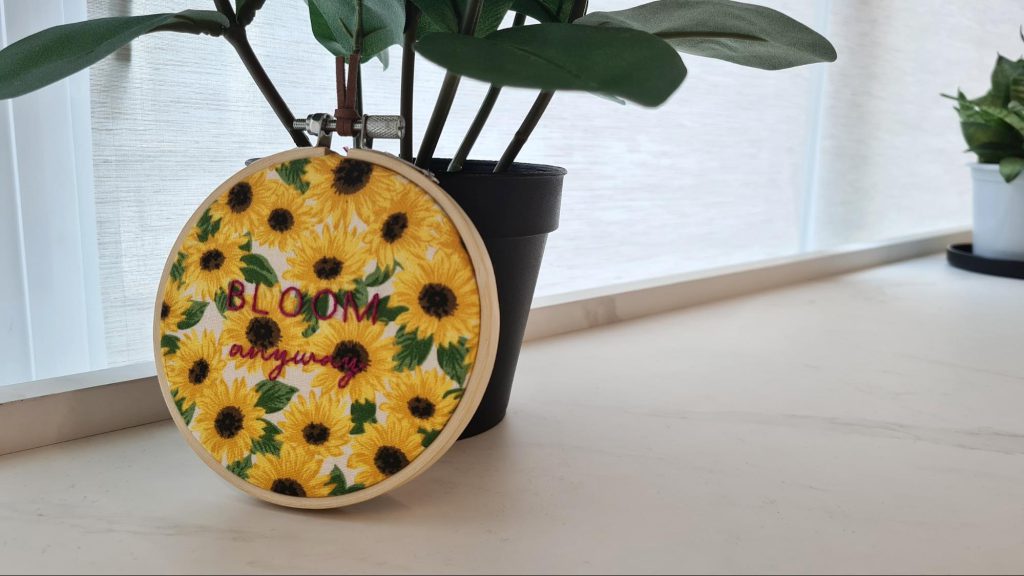 Purchase: RM45
A little light in our lives
According to science, the relation that one draws between a specific scent and a memory can be very strong due to the way our olfactory system and brain are wired.
Depending on the scents and our own memories, we can experience anything from nostalgia to happiness and maybe even heartbreak.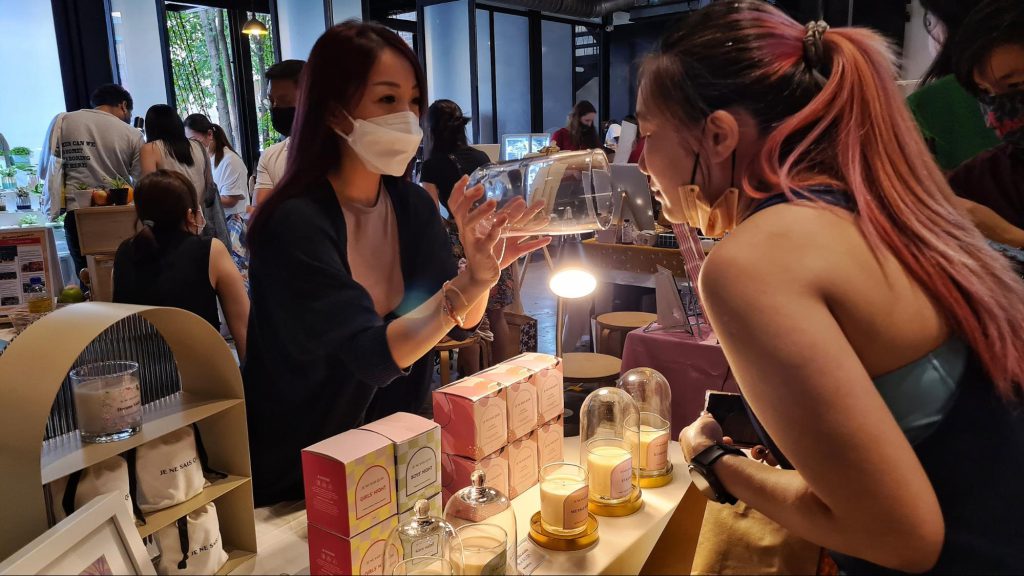 Some scents, though, might bring about a certain je ne sais quoi, if you will. While Je Ne Sais Quoi carries some classic scents of handcrafted soy candles, there are also some more unique ones, such as Girls' Night and Boys' Night.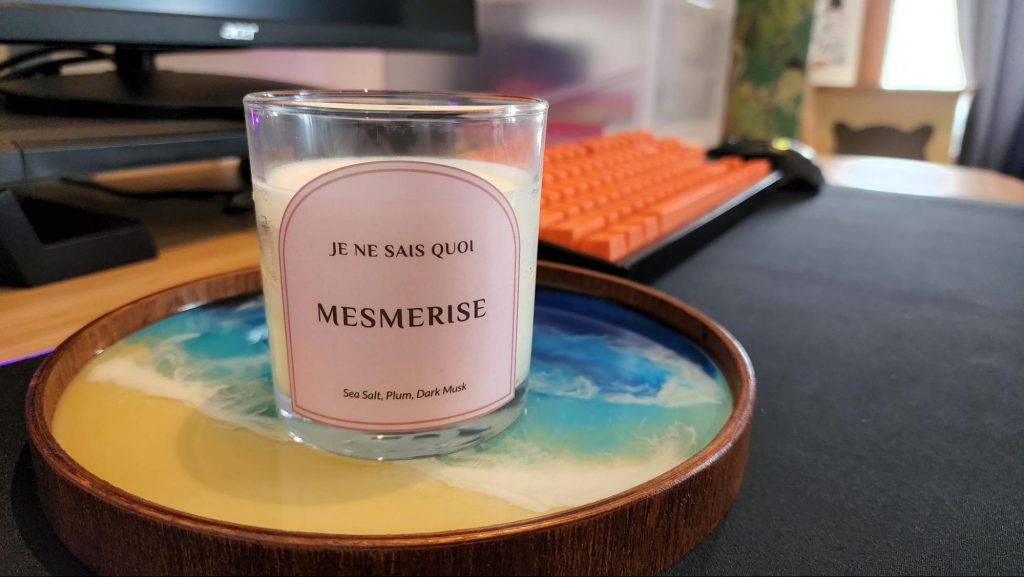 Sticking to what our noses liked best, we purchased Mesmerise, which has notes of sea salt, plum, and dark musk. It has a guaranteed 40-hour burn time, like all of their other candles.
Purchase: RM60
Cures for your furbabies
By this point in our chaotic shopping spree, we had finally reached the pets and plants section of the market.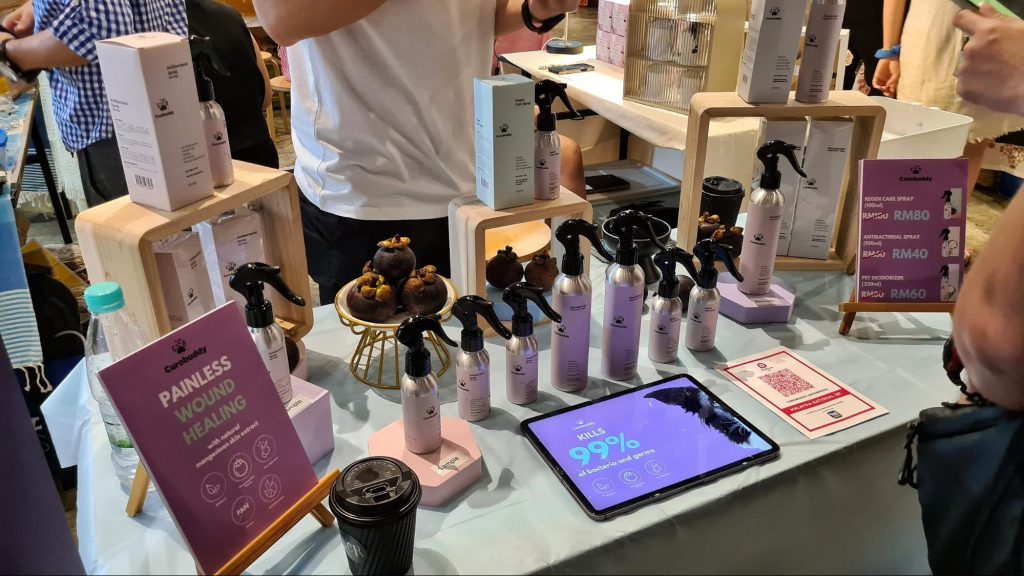 Curobuddy is a really new brand at just two months old, and the products it carries, such as an antibacterial spray, pet deodoriser, and regenerative care spray, are all formulated using mangosteen as a star ingredient.
Our Curo-sity (I had to) piqued, we ended up purchasing the pet deodoriser, since that's always a handy thing to have around if you've got furkids.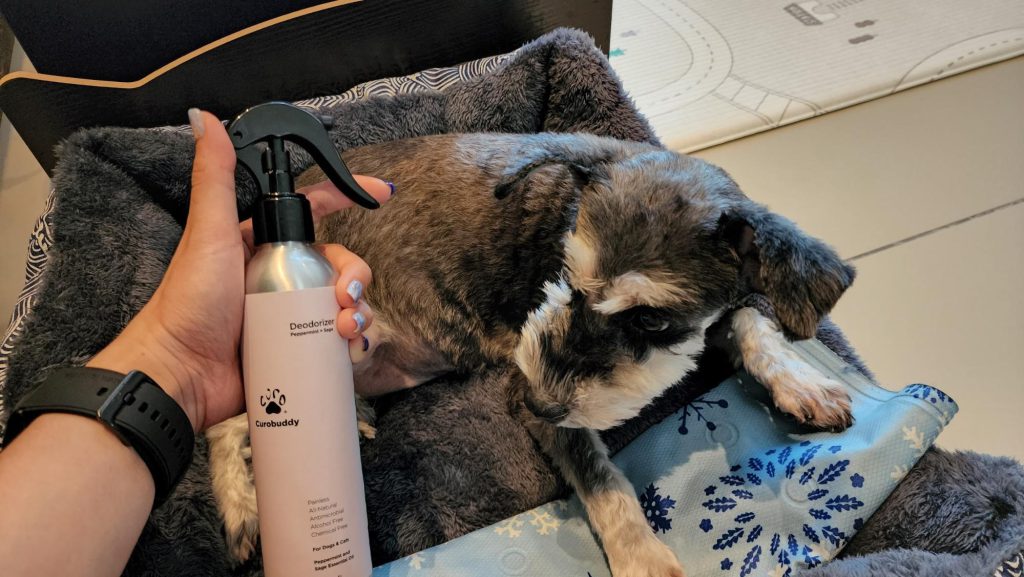 Purchase: RM60
Post Purchase
Sarah: The deodoriser smells fresh without being too overpowering. It's a useful tool to have between showers for your dog.
Spoiling our pets is always justified
When it comes to pet toys and accessories, we're weak in the knees (and wallet). We're all massive pet lovers, and are extremely prone to spending rather impulsively just for our furbabies.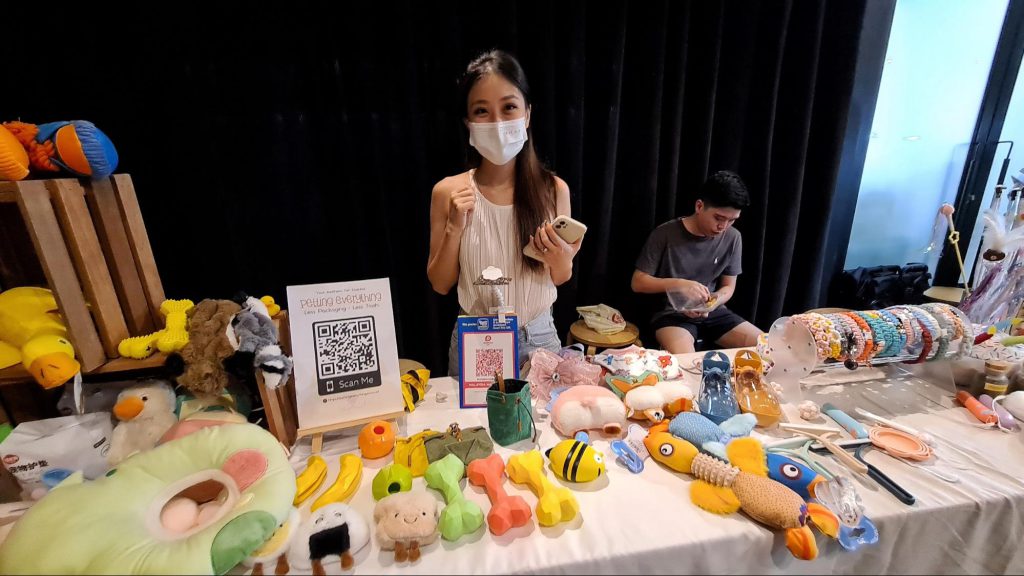 So, walking by Petting Everything, how could we have possibly ignored all the colourful items that could make our furbabies happy?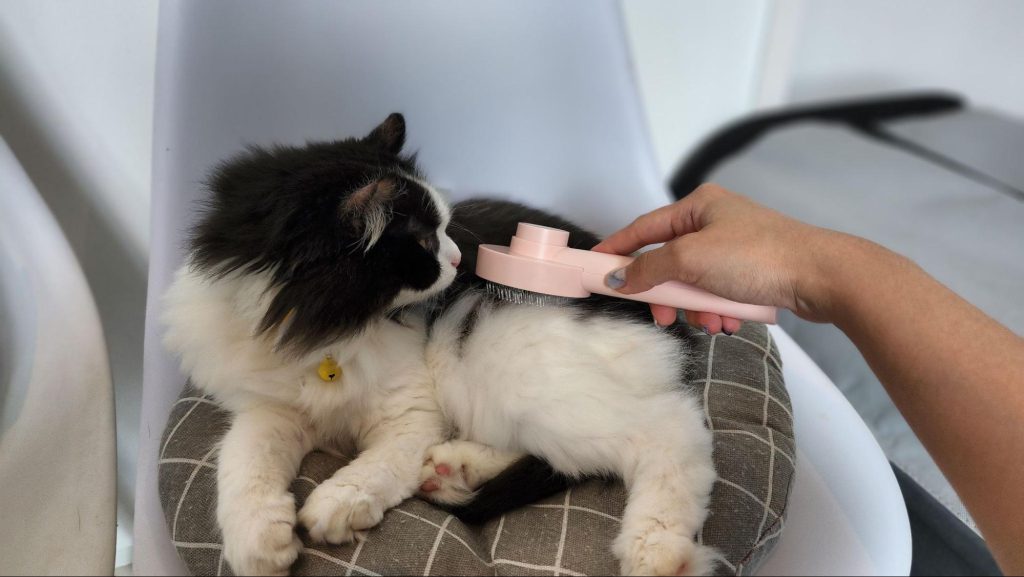 Sarah purchased a grooming brush that could rid itself of fur clumps and a toy ball, while I purchased a wormy cat toy that my own kitten now goes crazy over.
Purchase: RM30
Treating ourselves (again)
We'd seen quite a few familiar names by the time we came around to Spread Cheers, but when I pointed out to my colleagues that we'd featured them before, co-founder Richard suddenly reached out to a small standee that was initially displaying their menu.
He turned the standee around, and there was our sister brand, Vulcan Post's feature on them, the entire article printed out and laminated for passersby to read, if they so wished to.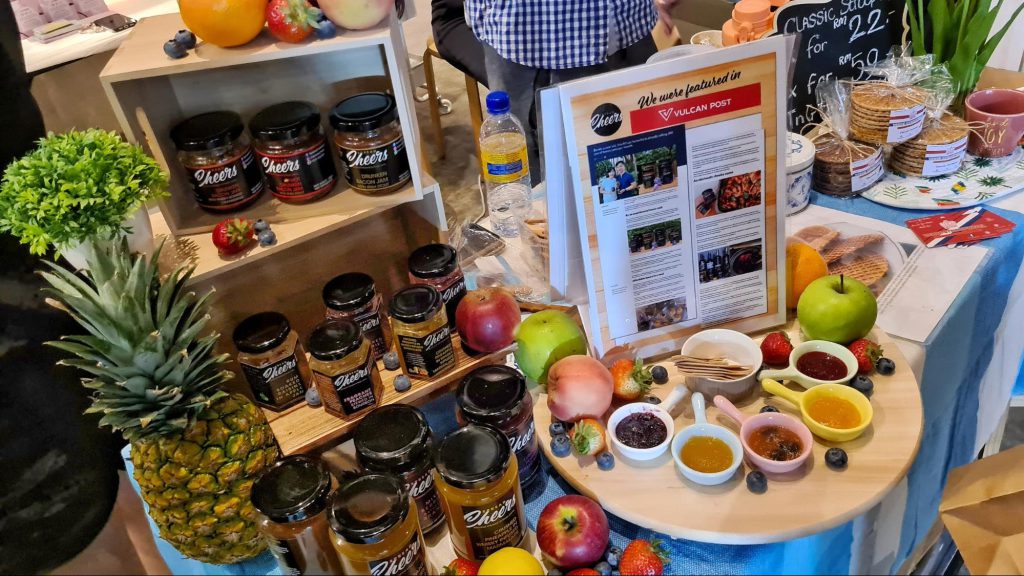 Immediately we gasped in unison, and whipped out our phones to proudly snap some pictures. Once that was done, we turned our focus back onto the alcoholic jams and bacon jams, finally able to try out a few of them for ourselves.
Tingling maybe a little from trace amounts of alcohol, but mostly from the joy of unexpectedly seeing our own work displayed so proudly, we ended up purchasing the Drunken Bacon Jam and Crushed Pineapple in Whisky infused Marmalade.
Next to Spread Cheers was another unique F&B item in the market that day, Dutch stroopwafels by Verse Stroopwafel.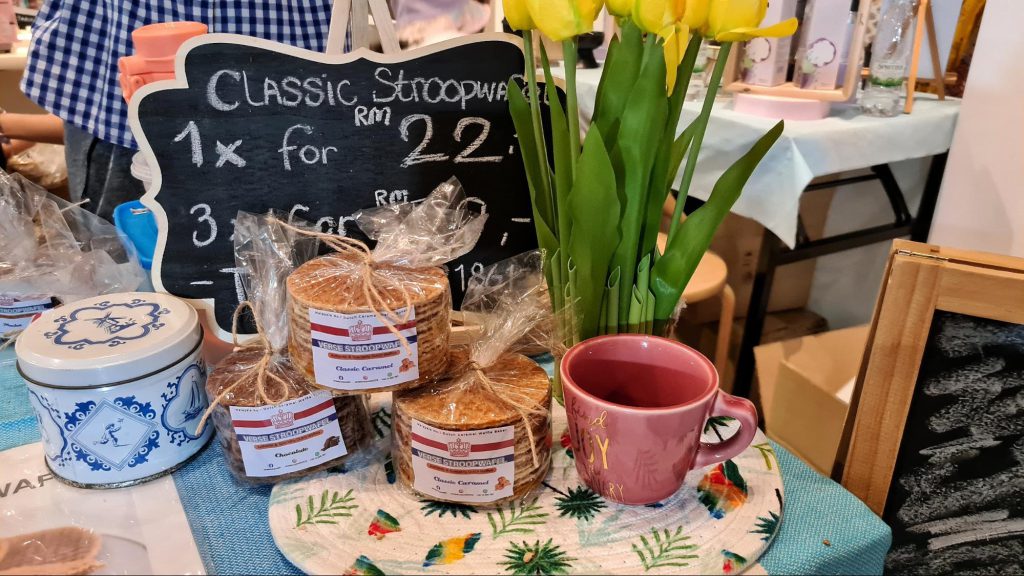 Founded by Yugin, who trained making Dutch treats in the Netherlands, Verse Stroopwafel offers genuine stroopwafels in various flavours such as chocolate, mocha, and the classic caramel.
Being first-time customers of the brand, we went for the classic caramel with high expectations.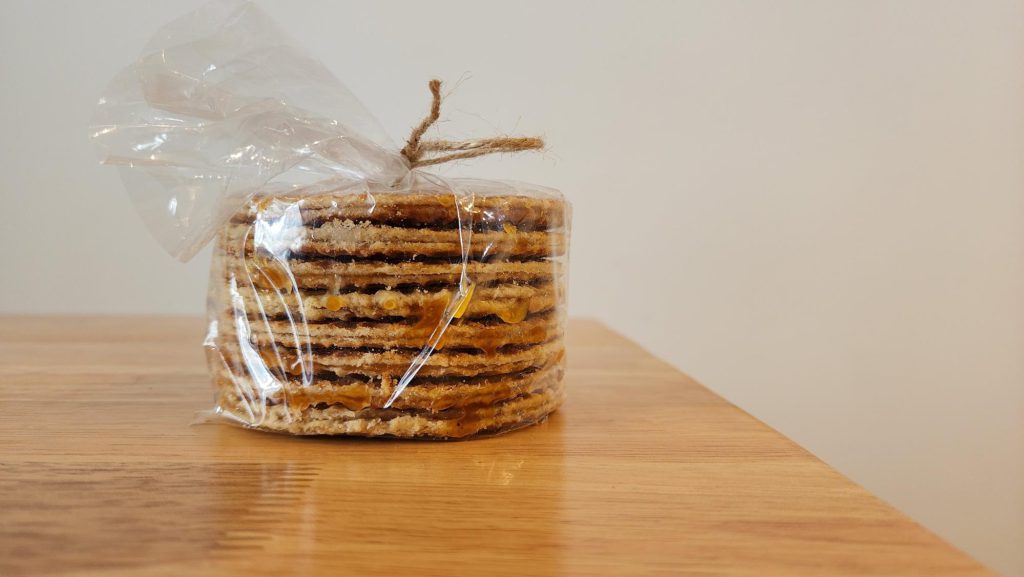 Purchase: RM38 at Spread Cheers, and RM22 at Verse Stroopwafel
Post Purchase
Sade: I haven't stopped munching on the caramel stroopwafels since I bought them. Boy, they're good. I restrict myself to one stroopwafel a day, but yesterday I felt a little indulgent and ate one whole, plus nibbled off a bit of another.
Couldn't leaf without checking out this stall
Many of us in the office don't have the best rep for keeping plants alive, but we try. And we also don't know when to give up on buying more plants.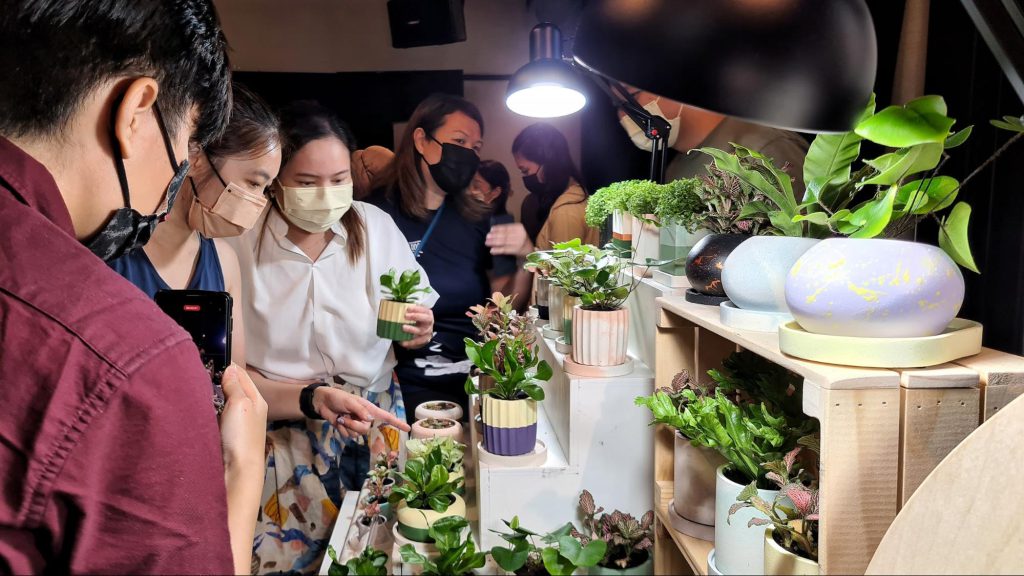 Passing by Unique Maker, we were lost for choice on which leafy beauties to buy, so we settled for something that's supposed to be easier to care for.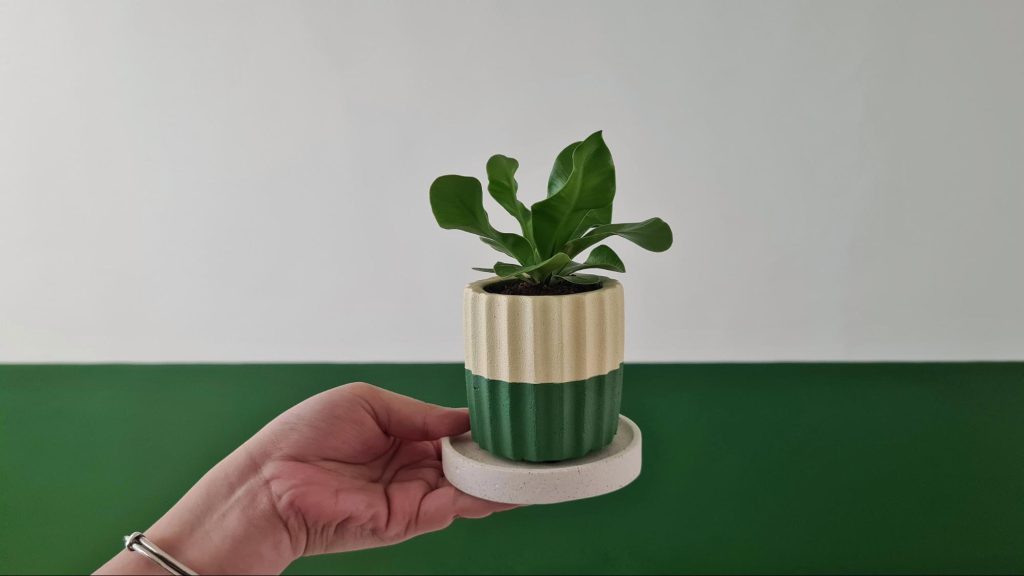 Purchase: RM48
Post Purchase
Sade: Well, it's only been a few days since we brought it back, but we've got high hopes for this one (no, we totally don't say this every time we get a plant).
Buttering up our wallets
Su began making nutritional salad lunches and healthy nut butters after being diagnosed with cancer in 2019.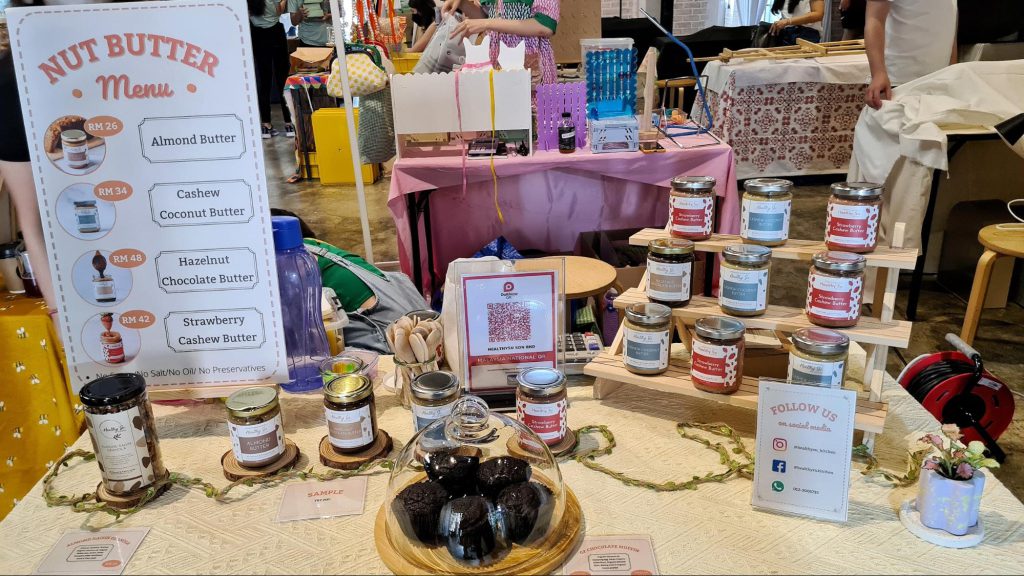 At Sunny Side Up Market, her stall called Healthy Su displayed an array of nut butters, from which Sarah chose the coconut cashew butter.
Purchase: RM34
Almost at the end of our shop-pin
Milk & Honey has been creating adorable pins and other trinkets since 2016. There were quite a few selections to choose from here, but as we were in a rush to finish our shopping, we didn't have time to properly peruse.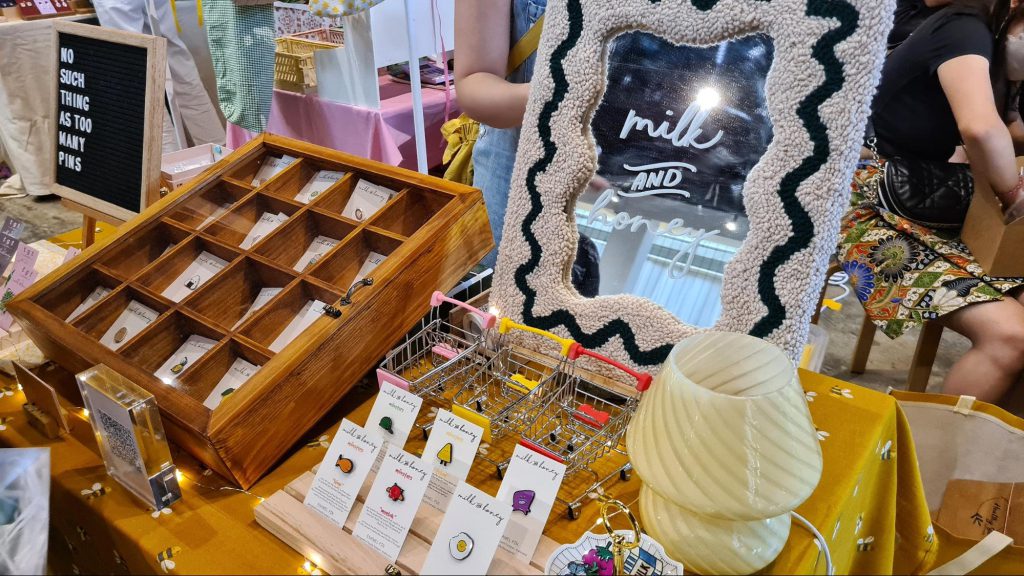 Here, we bought a bubble tea enamel pin, also now cutely pinned onto the teacup pouch from Bingka.
Purchase: RM18
A sweet ending
Our last stop of the day was Confettini Creamery, who had actually already begun packing up, their display cleared.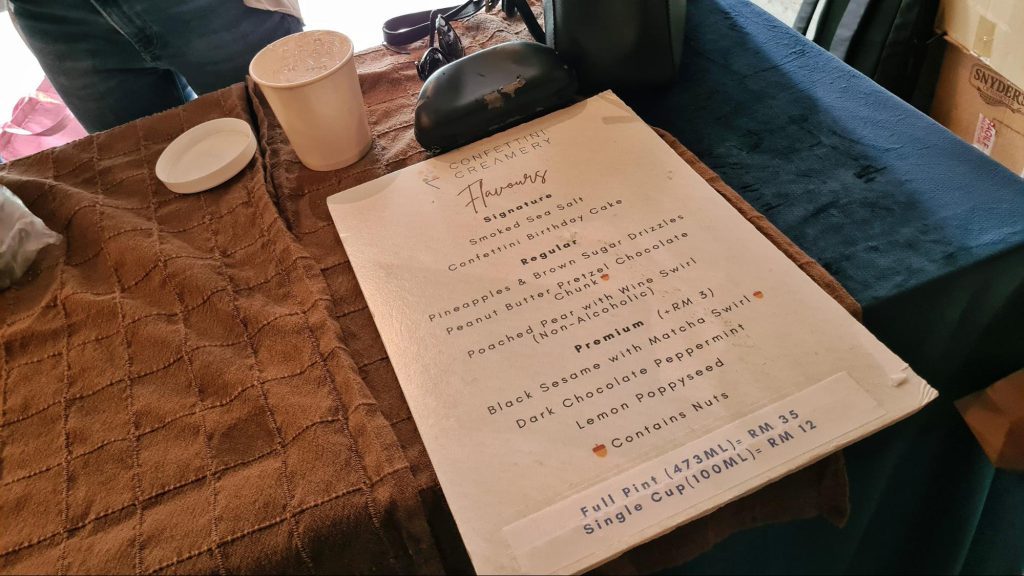 We had decided to visit them last, since we didn't want our ice creams to melt while we shopped. Fortunately, the founder assured us that she could still let us sample the flavours, if we wanted to.
Not wanting to hold her back though, we went for the Smoked Sea Salt.
Purchase: RM12
Post Purchase
Sade: There was a hint of smokiness here, but the sea salt was overpowered by a flavour I assume is vanilla, added for that creaminess.
-//-
At the end of our trip, we emerged from Slate with countless bags, no memory of the full list of things we bought, and fatigue (which the sweet treats we began to eat helped with).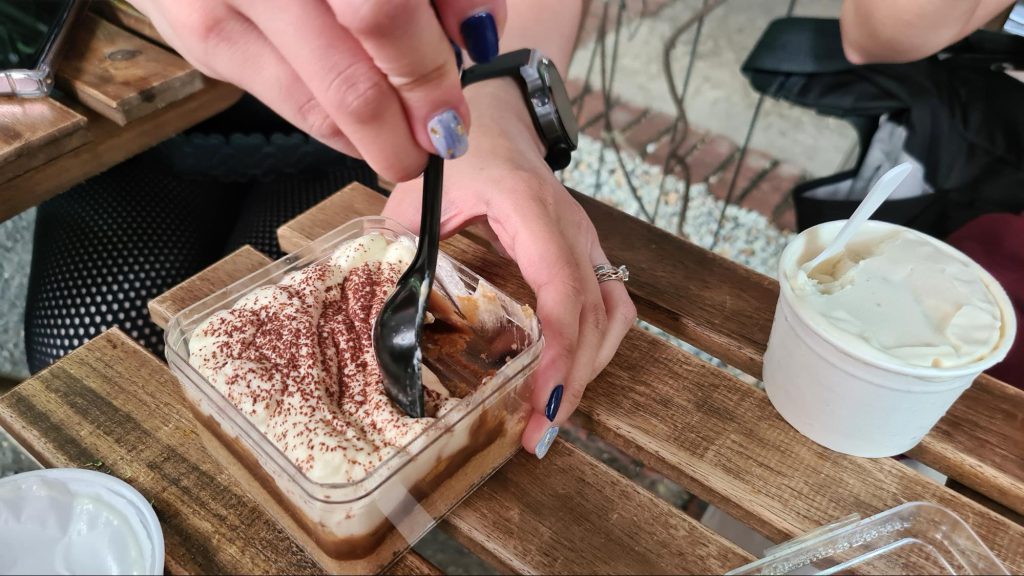 When we sat down to calculate our total, total damage… Let's just say, that RM1,041.80 spent in 1.5 hours will be a phantom pain in Sarah's pockets for quite a while.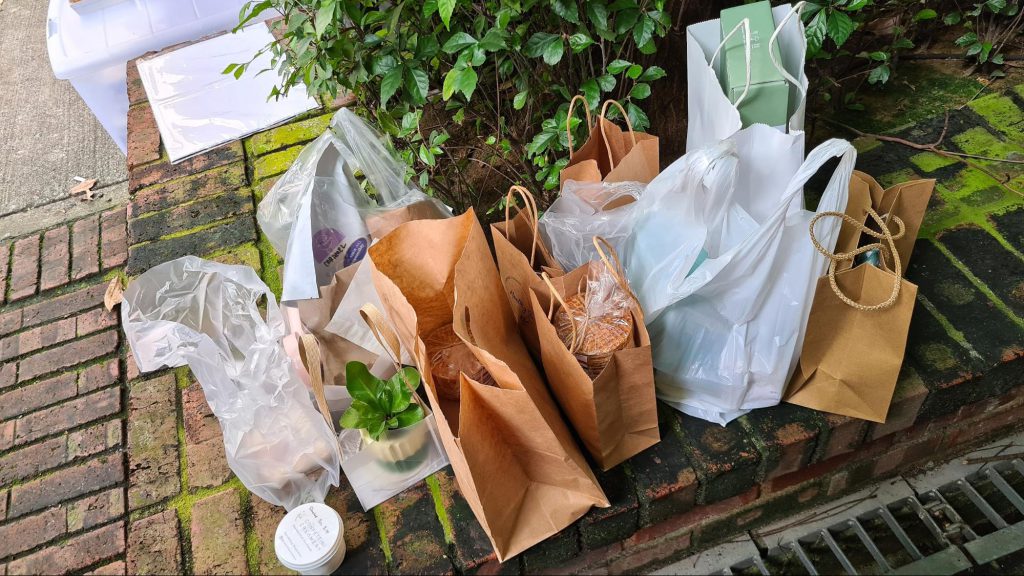 Unfortunately, we ran out of time for visiting a few other stores: streetwear brand Malayan Wolfpack, shoe brand helocarmelo, clothing brands LI's and BeatriceLau Sustainable Living, coffee brand SWTCHBCKCOFFEE, and pet food brand Happy Cat Malaysia. Next bazaar, perhaps?
What we did at this Sunny Side Up Market is definitely not your average consumer behaviour, but to be fair, it's been a while since our last proper bazaar visit so Sarah figured why not go all out.
Plus it was so fun supporting these local brands who have chosen to spend their weekend showcasing their products that have been made with such care and love.
If you've made it to the end of this extremely long article, do spend some time to check out the brands that we shopped at and give them some support too!
Sunny Side Up Market @ Slate at The Row
Address: 48, Jalan Doraisamy, Chow Kit, 50300 Kuala Lumpur, Wilayah Persekutuan Kuala Lumpur
Contact: 012-365 6856
Website: https://www.instagram.com/sunnysideup_market/