Last month, we pretty spontaneously decided to head to the i-City theme park in Shah Alam, which spans an impressive 72 acres.
This was the first time any of us in the office would be visiting it; many of us had never even heard of its existence before the trip was proposed.
We were more familiar with Sunway Lagoon, Genting SkyWorlds, or Lost World Of Tambun. Looking up i-City's theme park online though, reviews and pictures seemed promising, and its overall concept as a technologically-advanced theme park was another draw.
In a little over a week, we had made plans—we downloaded the i-City SuperApp (a must-have to navigate i-City more easily), booked theme park and hotel packages, and began thinking of what content we could create from the trip.
Specifically, we booked the:
All Day Happyness Pass (2-To-Go), which would give us single-entry access to the majority of the theme park's rides, barring the Red Carpet 2; and
Winter Tiger 2D1N, which provides a one night's stay at the Best Western Hotel, i-City, and 2x entry tickets to SnoWalk for adults.
Based on our experience, one day is enough to get through i-City's best attractions, so here's a list of attractions worth fitting into your itinerary, arranged by the least extreme to the most extreme one.
1. Red Carpet 2
This is where your favourite celebrities and fictional characters reside, made out of wax. Red Carpet 2 is a major attraction at i-City, but note that it's not part of any package. Each ticket is priced at RM100 for adults, and RM50 for a child or senior.
Once inside, walk around curated rooms hosting meticulously-made wax figures of Michael Jackson, Beyoncé, Harry Potter, James Bond, Mr. Bean, your favourite Marvel Cinematic Universe (MCU) characters, and more.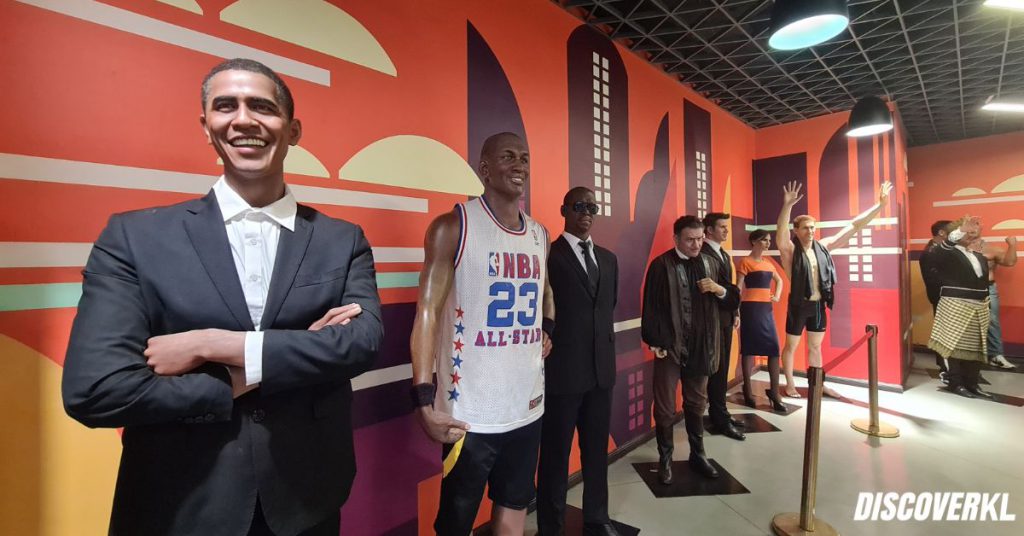 Unfortunately, this was one attraction that we had to forego due to a blip in our planning, but had that not happened, this would've been a must-visit.
The only reason why we can say with confidence that Red Carpet 2 is still a must-visit despite us not having the chance to go, is because we were able to observe i-City's wax figures' quality when we tried Bowl America (more on that later).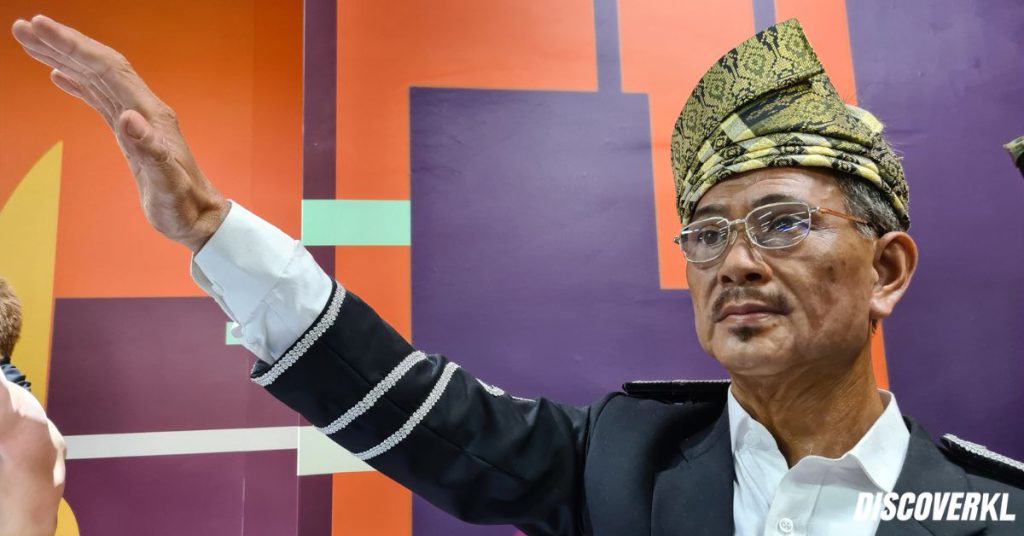 Madame Tussauds who?
2. Trick Art Museum
Explore spooky Egyptian tombs, cross treacherous bridges, have tea with a fair maiden, or visit Rome on a horse carriage?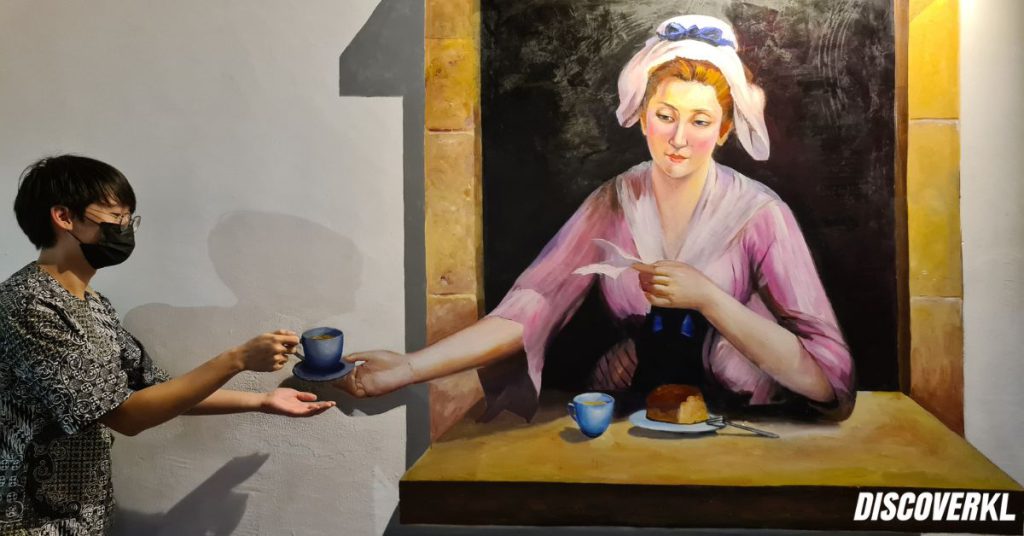 Whatever your preference is, the Trick Art Museum is the place that can make it happen, albeit only if you can capture the scene with the right angle.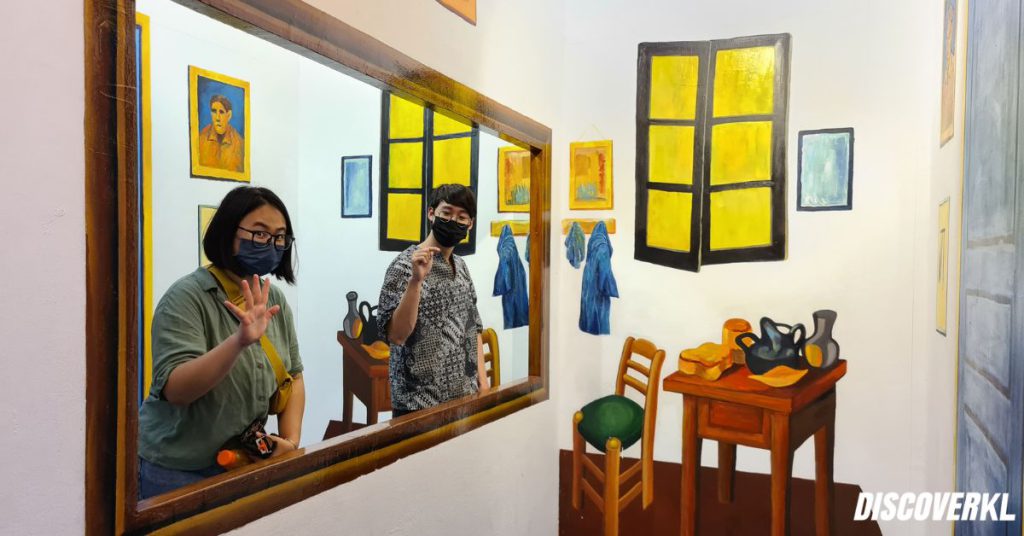 Optical illusions galore await you here, it was fun to get creative with our poses and try to recreate scenes as realistically as possible.
(Our main gripe here was that the overhead lighting of the place made getting the perfect shot tricky, but that's thankfully fixable with the power of photo editing.)
3. 2-tier Carousel
Take a regular carousel and add another layer on top of it, and that's what you'd get with i-City's 2-tier Carousel.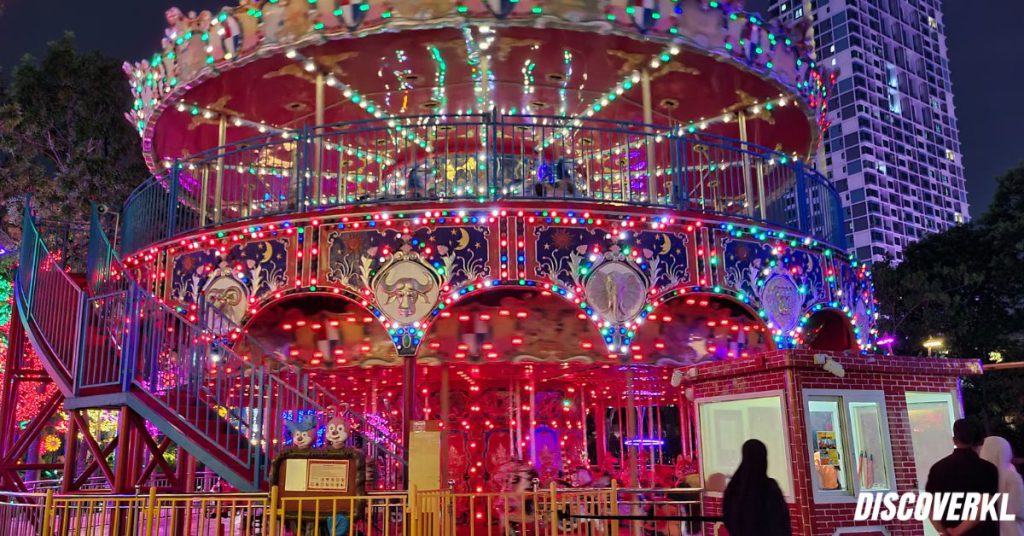 It's best experienced towards night time, when the City of Digital Lights comes to life. In all honesty, it's your standard carousel experience, but it could be more exciting if you get to ride on the second tier.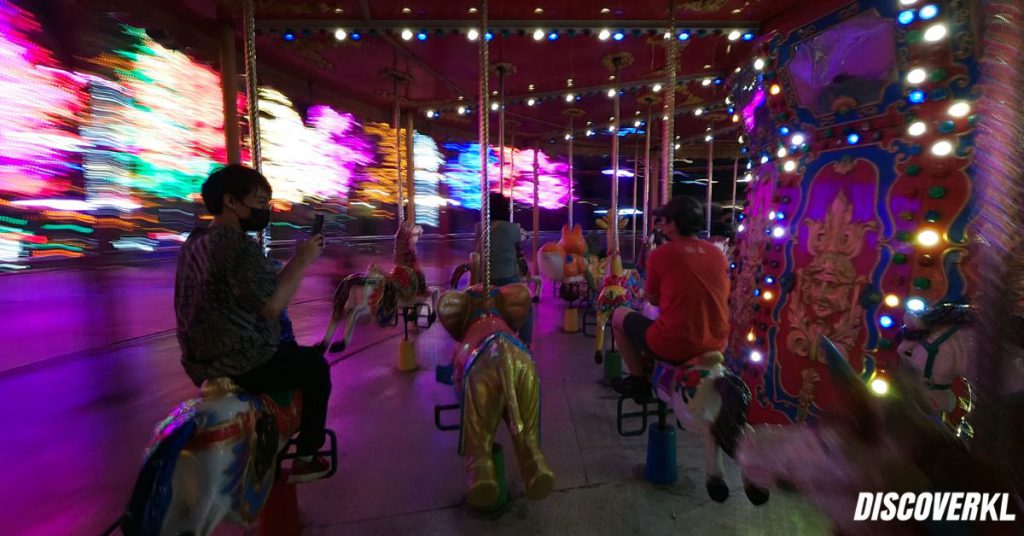 Unfortunately, the staff didn't allow us to head to the second tier, likely because the first one wasn't filled up yet.
4. Circuit de Monaco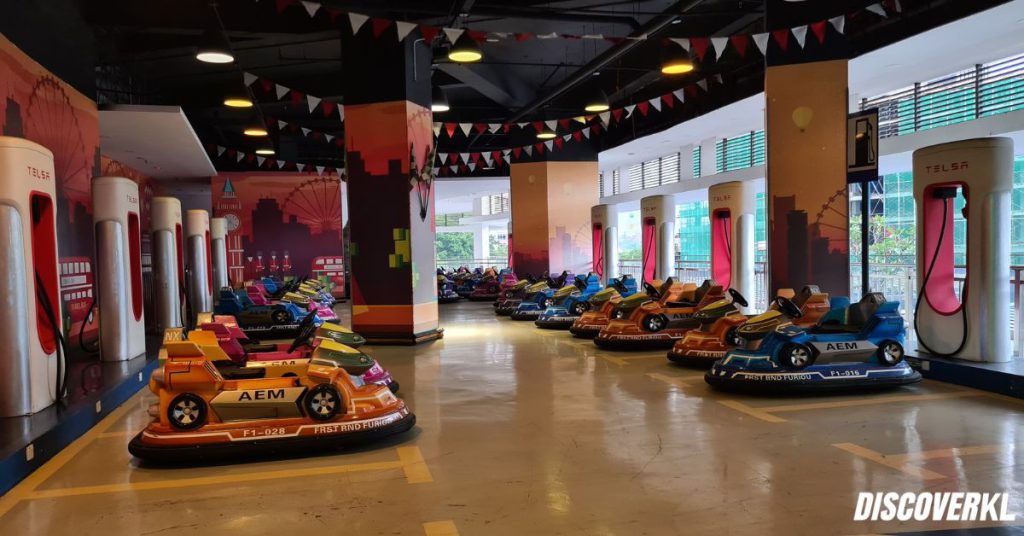 Think of Circuit de Monaco as Go-Kart's more chill cousin. It's not a place for racing nor is it a bumper car ride, as the track fits the width of just one car at a time, and the vehicles move at a fixed speed.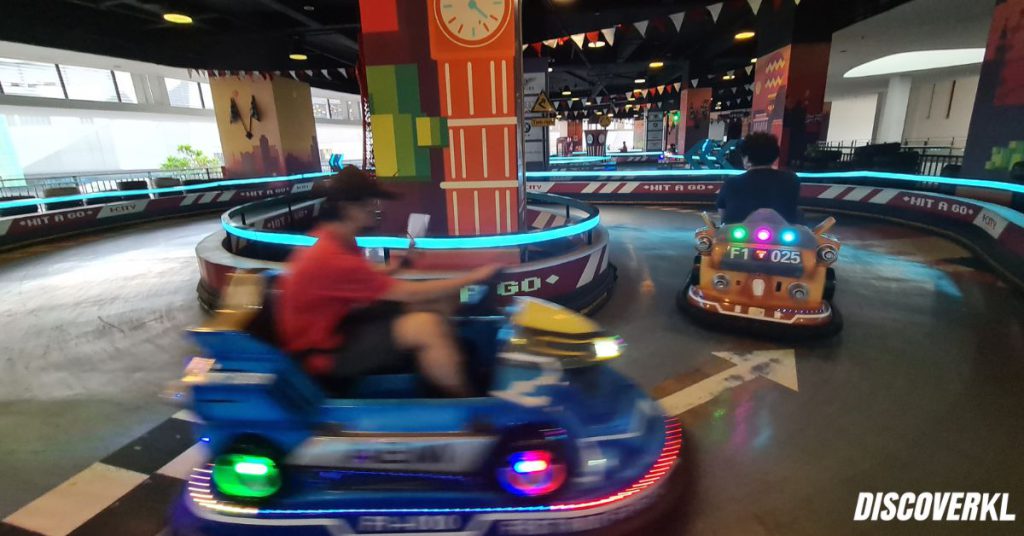 After a long day of walking through i-City theme park, it's a nice way to catch a break and give your legs a rest. This one's definitely catered more towards kids, but adults are welcome to take these small, flashy vehicles for a ride too.
5. Bowl America
If you think large, heavy bowling balls are intimidating, Bowl America could be the alternative you're looking for.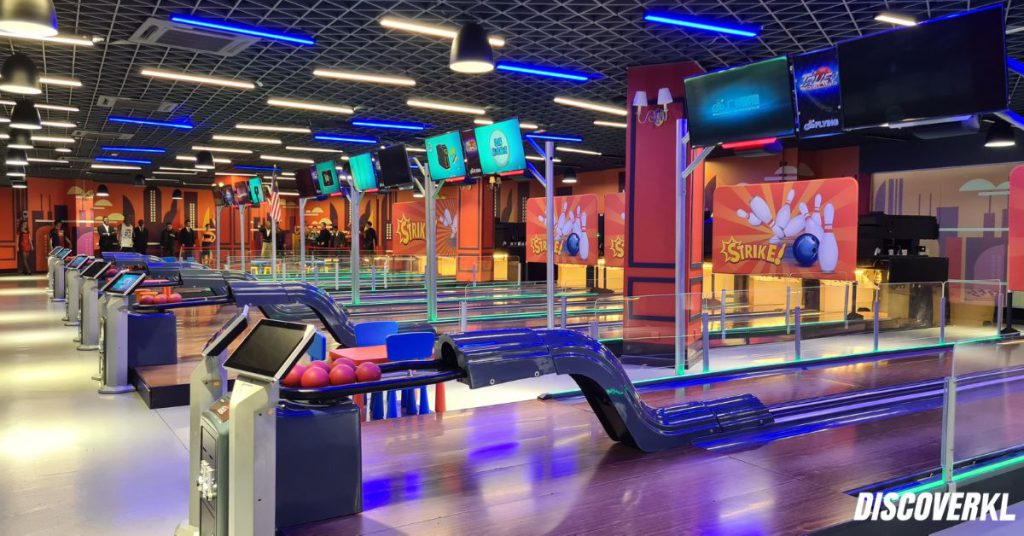 Equipped with smaller, shorter bowling lanes and more compact bowling balls, it's like a mini bowling alley, but is equal in fun to the real thing.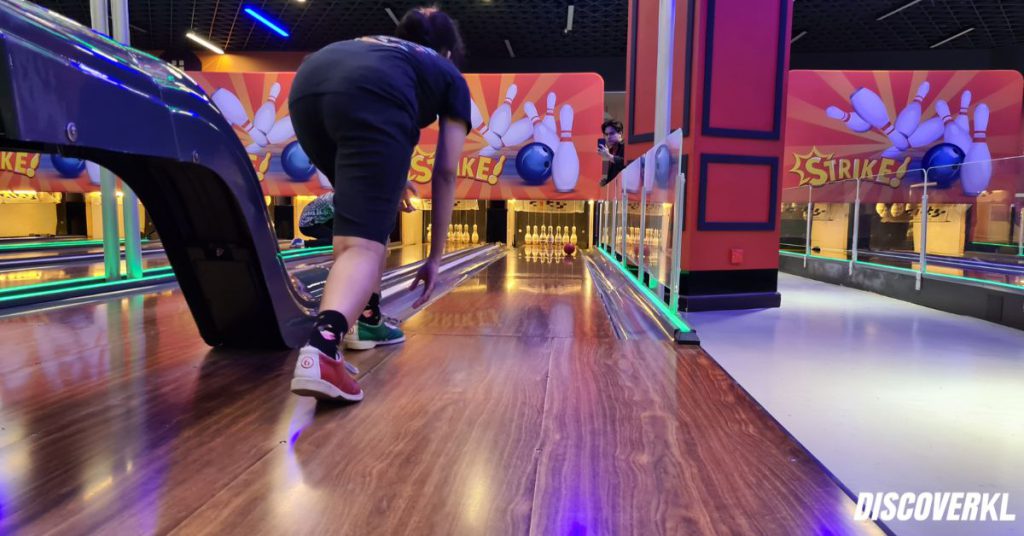 Since this was an attraction where all of us were able to play (read: compete) at the same time across different lanes, this was one of the most memorable attractions at i-City for us.
6. SnoWalk
This attraction came as a surprise to me (and perhaps some of my colleagues). I'd expected it to just be mildly cold, with fake snow to boot.However, as we later learnt, piling on the layers and wearing snow boots weren't just for show— SnoWalk was very cold and real ice was used.
It was a huge relief from the humidity outside, and snow was constantly falling from vents high above, creating a winter wonderland feel.
For added interactivity, keep an eye out for the snowball makers (who knew making a snowball was actually so hard?) and try out the slides that let you plough into snow.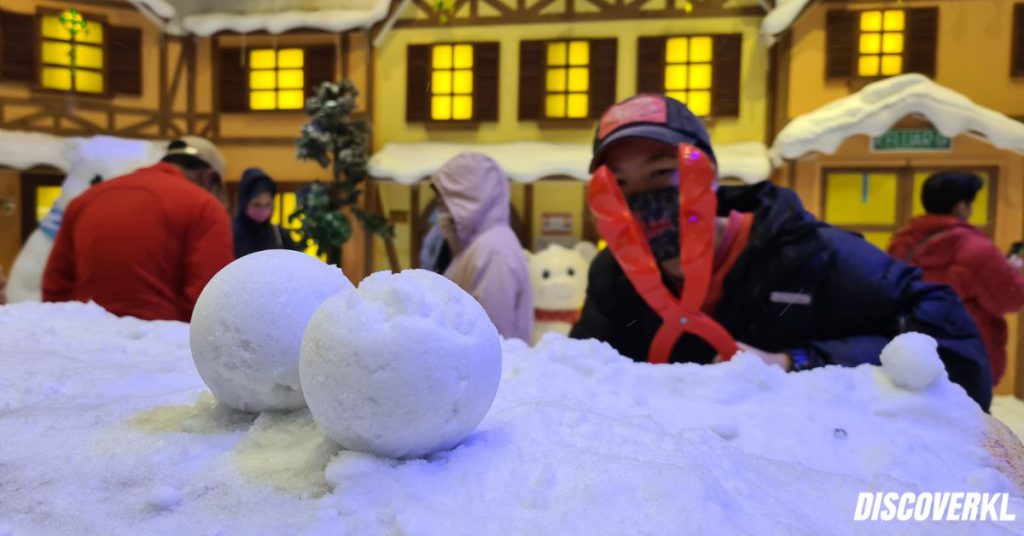 You're welcome to bring your own winter jacket here (and some gloves, if you're sensitive to the cold) and definitely wear your own socks if you can.
Snow Village is an extension of this attraction, but on the day we were there, it was under maintenance and thus closed. If you visit any other time though, do check that out too, especially if you've bought the All Day Happyness Pass like us.
7. House of Horror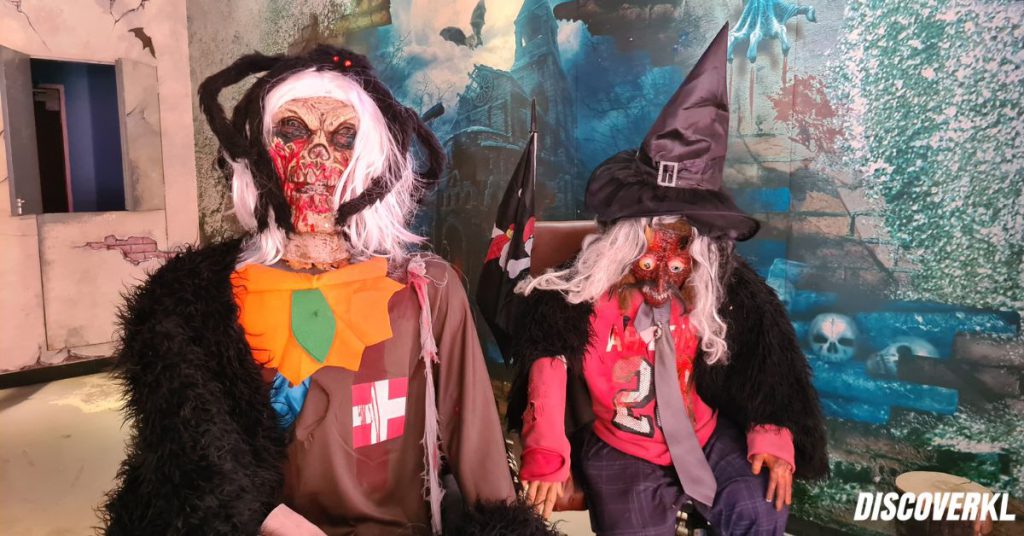 Don't let the loud "WoOoOoOo" that greets you as you make your way up the stairs to the entrance spook you too much.
The House of Horror is quite family-friendly, but with enough of an edge to send shivers down the spines of kids and, ahem, scaredy-cats.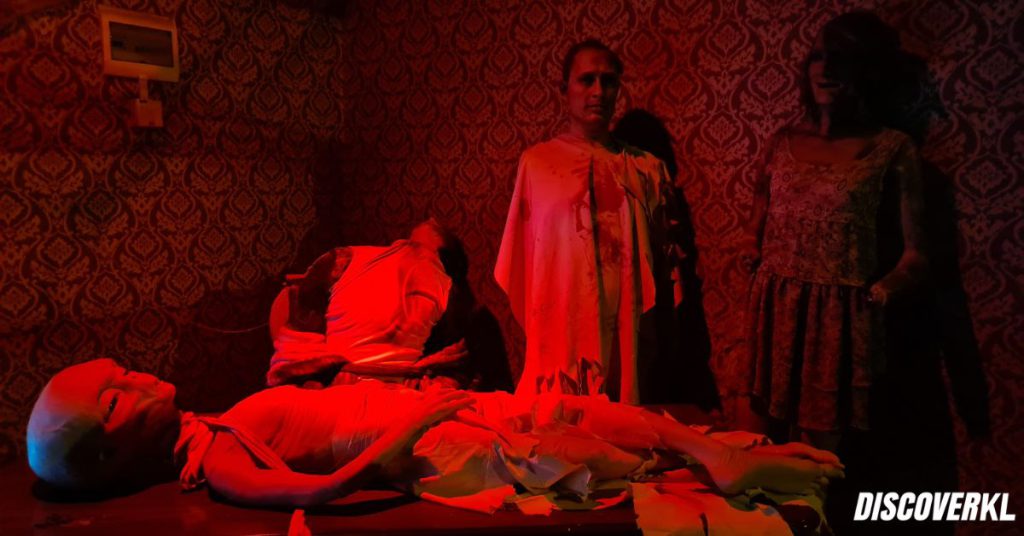 There are no real human actors in makeup and dress, just automated puppets, so overall, the experience is a little goofy and on the funnier side, especially if you're visiting with a group of clowns—I mean, colleagues.
8. Space Walk
This was another attraction that surprised us. Contrary to its name, there's nothing to do with space at all.
Rather, it's a pod ride for two pax that brings you around the City of Digital Lights on some elevated tracks, powered only by the strength of your own legs.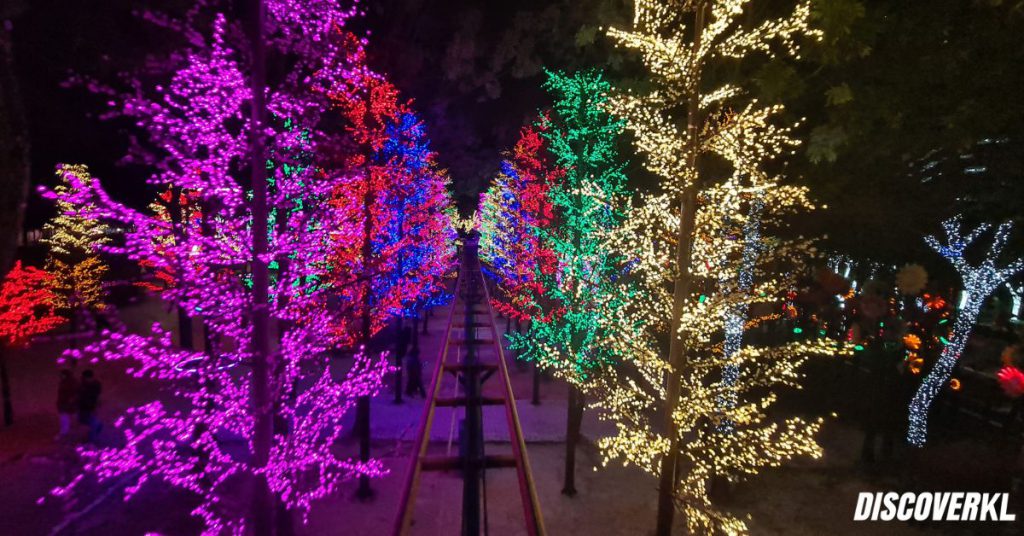 The fun in this came from how customisable your experience is: want some classic hype-y music? Gotcha.
Want to pedal real fast, or come to a complete standstill? Can do.
Want to move completely backwards, confusing every observer below you? Mission possible.
With my sidekick Claudia, we blasted headache-inducing but oh-so-fun jams, I put in most of the legwork and sped us through the tracks, we began pedalling our pod backwards to flex on our colleagues in the pods behind us. At one point, we were even crazily spinning our pod around and around as I kept pedalling.
We were… a sight to behold.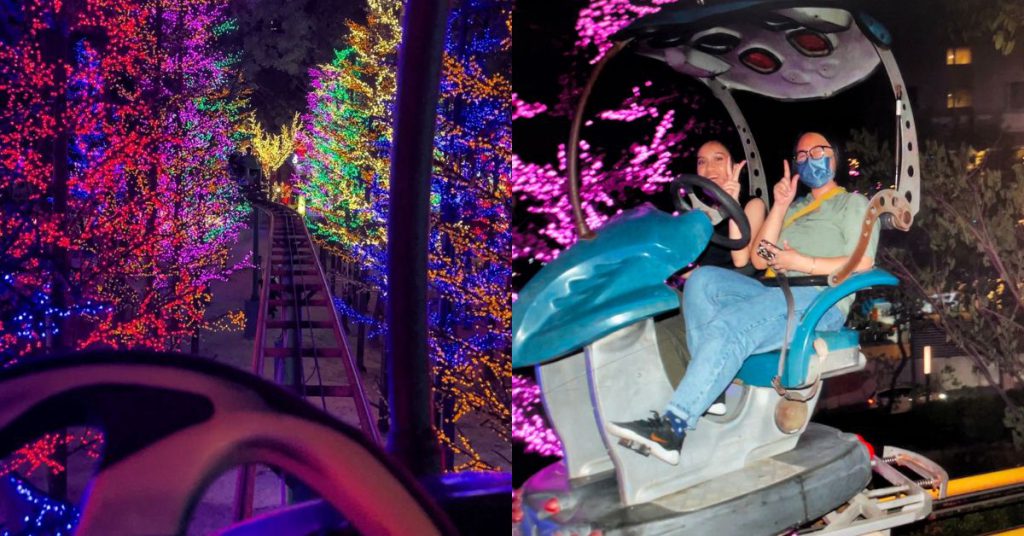 Our refusal to ride this as intended (but still within what was permissible) probably made it a more memorable experience than it would've been otherwise.
9. Twisting Boat
If Sunway Lagoon's Pirate's Revenge had a baby, it would be Twisting Boat. So, for those who easily get motion sickness, this would probably be a ride you'd want to sit out on.
It wasn't extreme enough to get our adrenaline pumping per se, but it was a nice warm-up to a ride we would later brave, the Disco Ride.
10. Super Swing
Also on the milder side of more extreme rides, the Super Swing is enjoyable for the breezy wind that'll blow through your hair while you swing freely.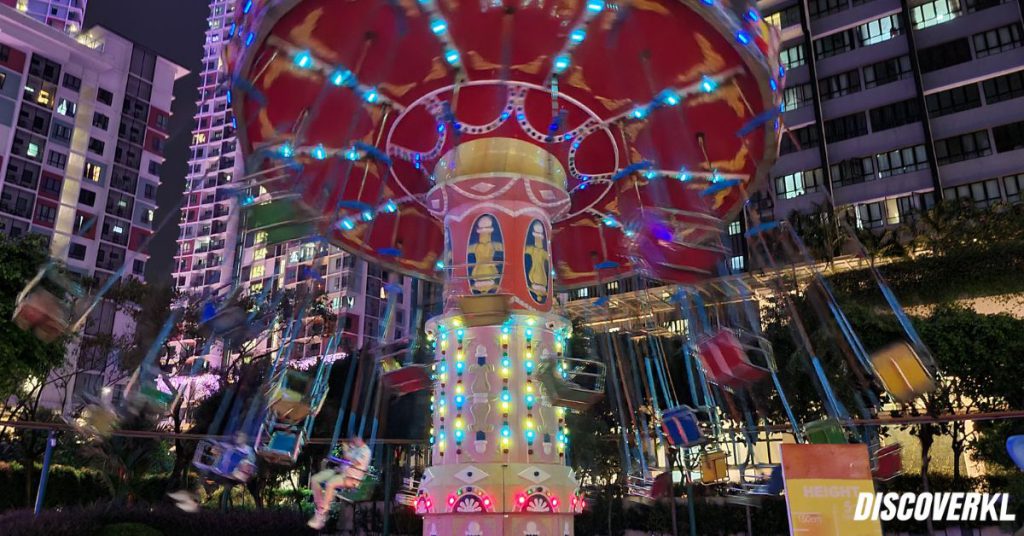 Though I love extreme rides, I did feel some slight motion sickness as the ride spun me right 'round, baby, right 'round.
On the other hand, my colleagues with stronger stomachs were having a ball on the ride, even having a firm enough grip on their phones to film me yelling, "Help!", "I'm sick!", and other dramatic phrases as I spun.
11. Bumper Cars
This was a pretty popular attraction upon nightfall, it was a packed house with lots of chaos and a rather long line that we didn't feel like braving after our long day.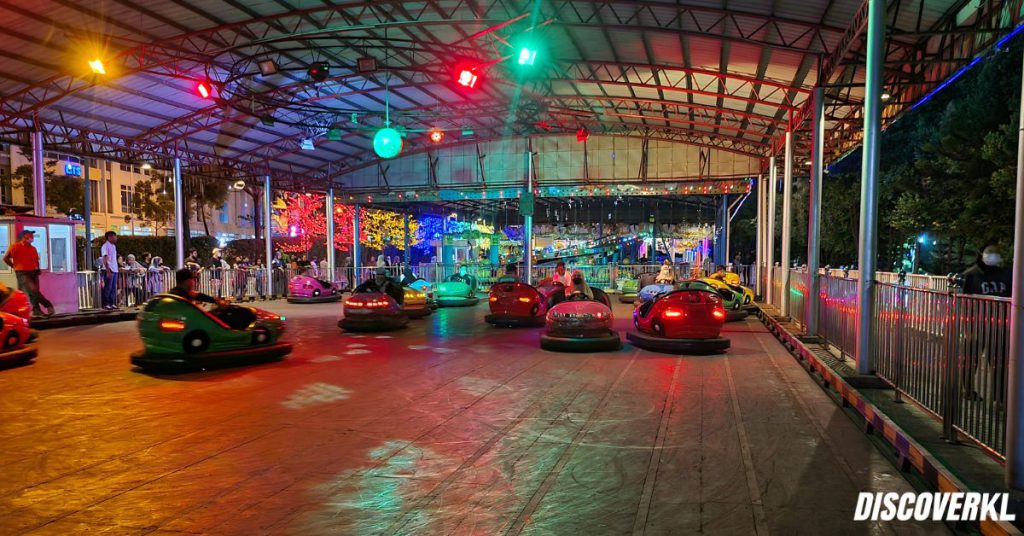 Nonetheless, we watched for a while as cars bumped, shoved, and chased one another on the magnetised floor. Safe to say, this would be good fun, potential bruises aside.
12. 5D Cinema
If you go into the 5D Cinema with lower expectations, you'll come out pleased enough. Especially because there aren't many extreme rides at i-City such as a full-on rollercoaster with steep dips and loops, this was the next best thing.
It offered stomach drops, screams of terror (or joy?), and adrenaline at a very low-risk cost. Be prepared to have your legs tickled and your torso sprayed with water though, since this is supposed to be an immersive experience, after all.
13. Disco Ride
This. This was my favourite ride in the entire park because it was probably the most extreme ride you could experience there (barring the Tornado at WaterWorld in my final point).
Despite the name Disco Ride, there's no disco element to it at all. Instead, it's themed after bikers (not sure why), and it was basically a huge disk that spun around and around while travelling on a curved, horizontal axis.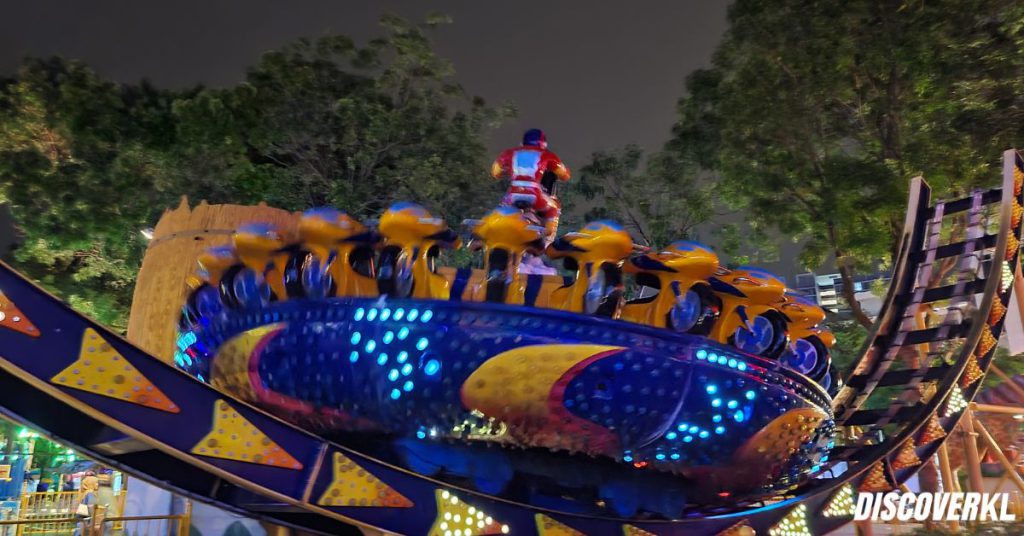 With all these elements combined, it felt like we would literally fly right off the tracks, spinning away into the distance when the ride reached either high end of the track.
Needless to say, it had us screaming our heads off, and this is one attraction you'll need both hands to hold on tight for.
14. Tornado @ WaterWorld
Finally, we've come to the end of this list, and though the Disco Ride was the most extreme ride in the dry part of the theme park, the overall winning attraction at i-City for us had to be the Tornado in WaterWorld.
Featuring a vortex that's seven storeys tall, all you'll need for this ride is three other friends, and the guts to freefall down the vortex on just an inflatable raft.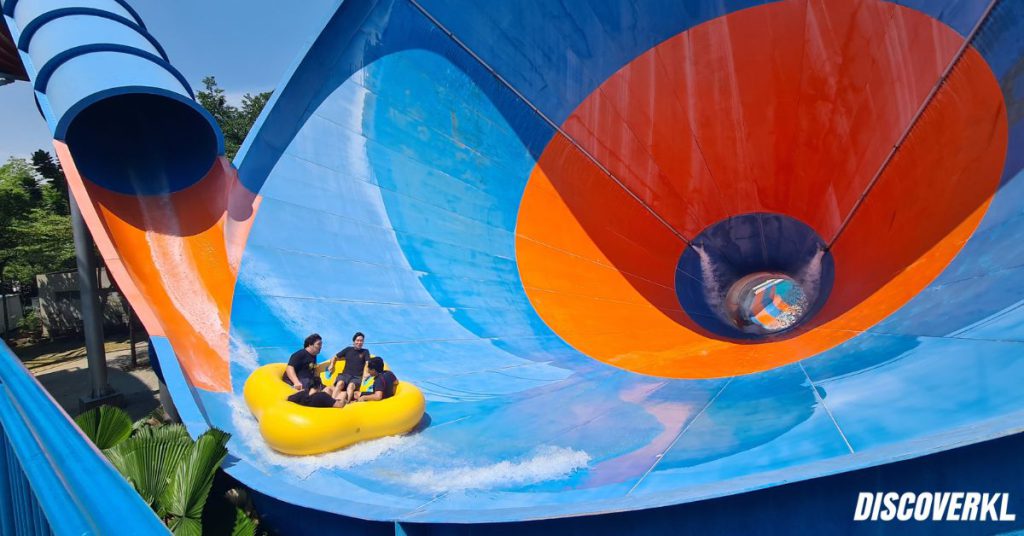 The theme park attendants do take safety precautions, such as ensuring only a party of four can ride it, and weighing every person to ensure that they can safely distribute weight across the float.
There are no seatbelts or safety harnesses, just lifejackets, streams of water, and screaming good fun.
If this is a little too extreme for your tastes, then the Rainbow Racers Slide, also in WaterWorld, is a tamer water park ride to try.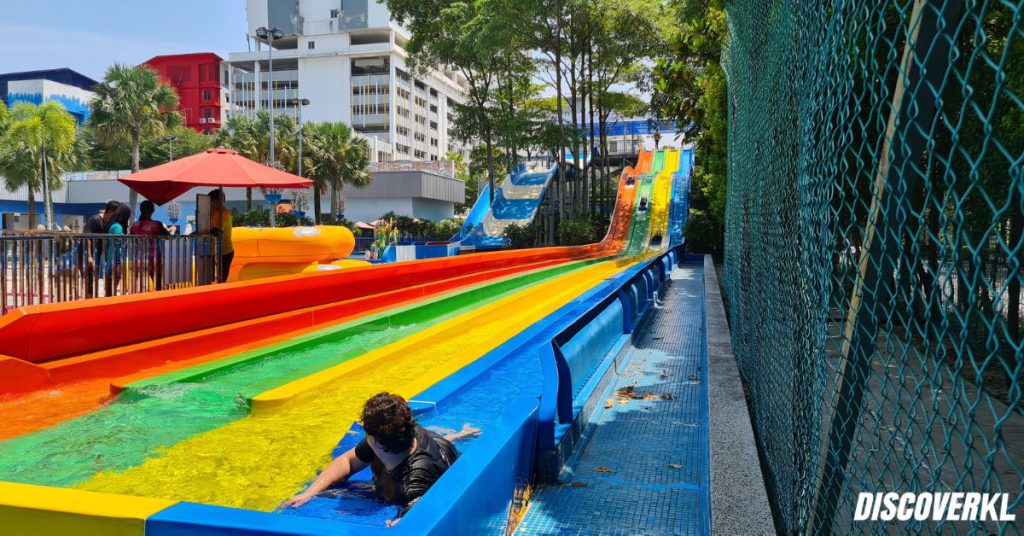 -//-
Though we got the All Day Happyness Pass, we realised that it wasn't really necessary for us, because we ended up not going on quite a few rides since they were kid-oriented.
In our opinion, if you want the hassle-free route, then the all-day pass is convenient, but if you don't mind being more picky about your rides, then it's better to just utilise the app's i-Points and purchase tickets only for what you want.
i-City Theme Park, Shah Alam
Address: Persiaran Multimedia, i-City 40000 Shah Alam, Selangor, Malaysia
Contact: 03-5521 8800
Website: https://www.i-city.my/themepark/