If you're familiar with the custom keyboard-building scene in Malaysia, one of the few notable names you'd most likely recognise while browsing on Shopee is MKB Malaysia.
Initially started as a hobby between three siblings passionate about custom keyboards in 2021, they have expanded their offerings to include keyboards, switches, keycaps, as well as many tools needed to get you started in building your keyboard.
At the start of 2023, MKB Malaysia finally opened its first physical store in SS15, Subang Jaya, about a minute's walk away from the SS15 LRT Station.
Here's what to expect from MKB's first outlet in Malaysia.
When we spoke to Andy, the co-founder of MKB Malaysia, he revealed that the products are strategically placed around the store to make shopping parts for their keyboard a more seamless experience.
With the mentality of building a brand that's for keyboard enthusiasts by keyboard enthusiasts, Andy wants to help consumers get into building custom keyboards affordably.
He even mentioned that at MKB Malaysia, the starting price for building a custom mechanical keyboard starts from as low as RM250.
Upon entering the store, customers will first notice the keyboard samples placed at the front and on the right side of the store.
These samples give new keyboard enthusiasts a better idea of what to look for in terms of look and feel.
Further down the right side of the store, there's a tray of keyboard switches with a balanced mix of tactile, clicky, and linear switches, as well as Franken Switches (a keyboard switch that's made of two halves of different switches) for you to test out and see which you prefer.
If you need help figuring out where to start, MKB's friendly staff will guide you and recommend what switches to consider.
Once you've decided on a switch, moving further down the right side is where you'll get to choose a set of keycaps.
On top of having multiple keycap profiles like XDA, Cherry, and even MSA, they also have a plethora of themed keycap sets like Genshin Impact, Neon Genesis Evangelion, and even Demon Slayer for you to personalise your keyboard.
We recommend going with Double Shot PBT keycaps because keycaps made with ABS tend to become shinier and fade more quickly after long-term use.
At the back of the store, customers will choose a barebones keyboard kit, a keyboard base without keycaps and switches installed.
Here, you can choose what keyboard size you want. A rule of thumb that I like to follow is that those who deal with spreadsheets and data daily should go for a full-sized keyboard complete with a Numpad.
For those who don't use the number pad as much, or if you're a gamer, getting a TKL (Tenkeyless) sized keyboard, which is a full-sized keyboard minus the number pad on the right side, would be a better choice for more mouse space.
There are 60% keyboards, which are relatively affordable and space efficient, but the keys are laid out differently, and there are no function row or arrow keys, which might take some time to get used to.
There is also the keyboard's functionality to consider. For example, some keyboards come with a rotary knob to quickly adjust or even mute your computer's speaker volume.
Another thing is connectivity options for the keyboard. While most keyboards allow you to connect via USB Type-C, some also give you the option of connecting via Bluetooth or 2.4GHz wireless connectivity.
That said, if you're looking for a wireless keyboard for gaming, choosing a barebones keyboard kit with 2.4GHz support would be ideal, as Bluetooth may sometimes have a bit of latency between inputs.
After picking all the necessities, you can either build it yourself or have MKB Malaysia build the keyboard for free (within reason, of course).
If you prefer building the keyboard yourself, MKB also sells all the tools required to build and mod a keyboard.
However, if you run into issues while building your keyboard, or if there's an issue you can't quite put your finger on, MKB offers a free diagnosis service to find out the cause of the problem.
Speaking of services, MKB also offers various keyboard modding and other services too:
| | |
| --- | --- |
| Service | Price |
| Keyboard Build | Free* |
| Lube Switch | RM0.90 per switch |
| Lube Stabiliser | RM3.00 per stabiliser |
| Film Switch | RM0.45 per switch |
| Lube and Film Switch | RM1.25 per switch |
| Tape Mod | RM15 |
| Foam Mod | RM10 |
| Function Test | Free |
| Solder Hotswap | RM5 per switch |
| Diagnosis | Free |
Other than that, MKB also sells keyboard-related accessories such as mousepads, coiled cables, and keyboard-carrying cases.
They also have several high quality artisanal keycaps that local artists made. Currently, they have four artists on board, but they plan to expand their roster in the future.
All in all, MKB Malaysia is an excellent place for those who want to get into building their own mechanical keyboard for the first time without necessarily breaking the bank.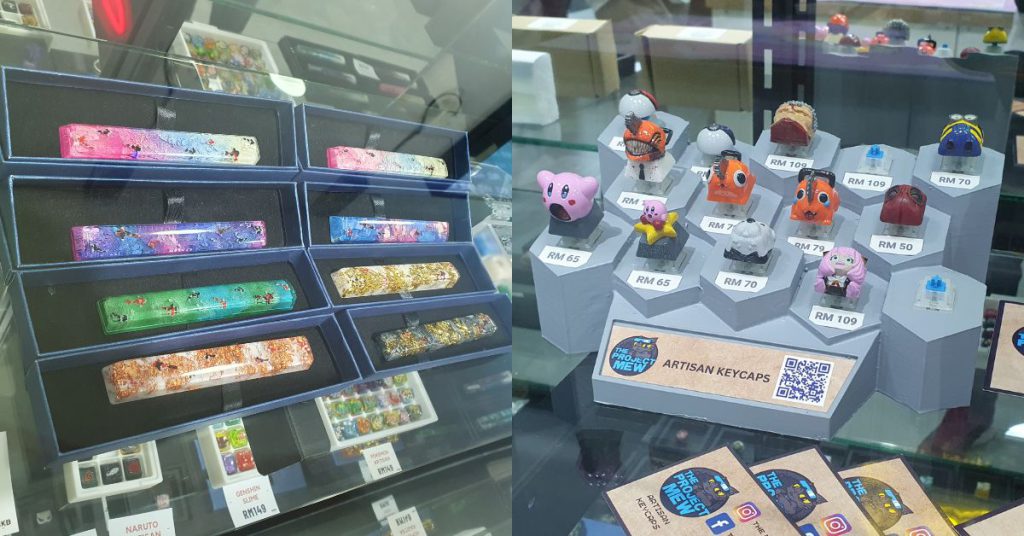 We loved that most of the staff there were passionate about building keyboards, which made our visit worthwhile, too!
MKB Malaysia
Location: 4, Jalan SS 15/4c, Ss 15, 47500 Subang Jaya, Selangor
Contact: 016-321 8248
Website: https://mkbmalaysia.com/
Operating hours: 12PM ~ 10PM daily