Minions have remained prime meme material ever since the first Despicable Me movie dropped in 2010.
For some reason, these strange-looking, small yellow creatures with goggles and jean overalls struck such a chord with many of us across the world, regardless of whether we were boomers, millennials, or Gen Zs.
With the latest movie, Minions: The Rise of Gru, now released, there's no running from these expressive little creatures speaking gibberish because promotional material for them is everywhere…
Even in our ice cream.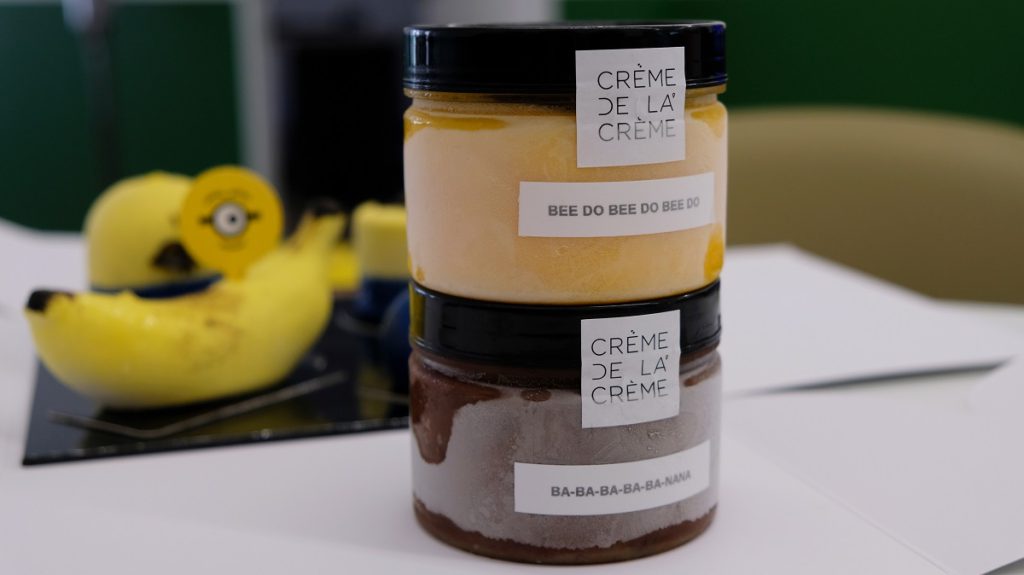 Crème De La Crème (CDLC) has partnered with the franchise to create a total of six products in the likeness of the bright creatures, and with an outlet so near us in Taipan, we had to try them for ourselves.
For petit gâteau, we had Bello Otto!, Tara, tropa!, Me want Banana!, and Bello Kevin!. All of them cost RM28 each, and have white chocolate dip shells painted with great detail to mirror some of the most popular minion characters (the banana aside, of course).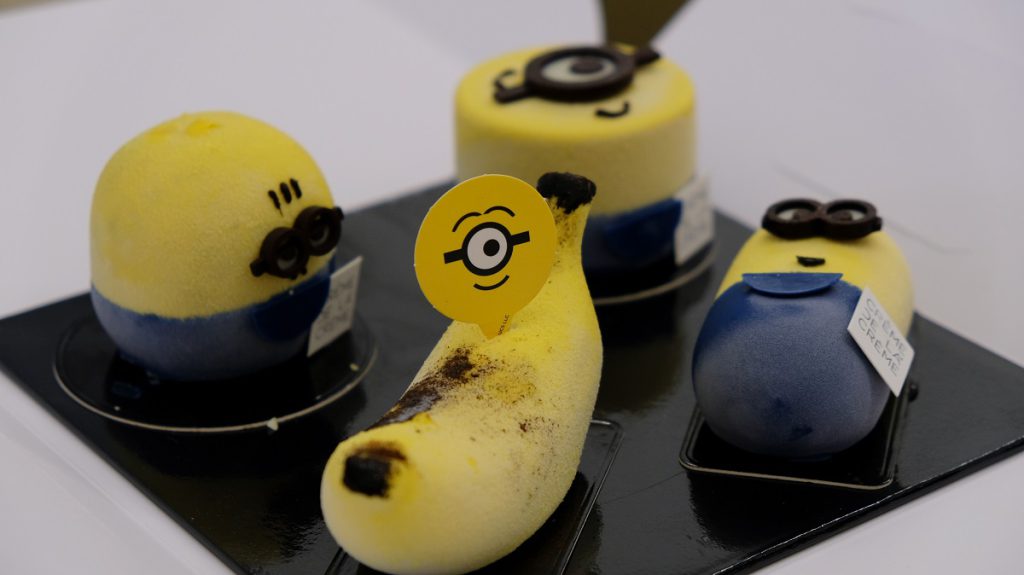 Inside each petit gâteau is a delectable mix of various flavours, showing off CDLC's signature approach to dessert and their prowess in chasing bold mixtures.
Starting with Bello Otto!, some of the flavours that immediately stood out was the coffee ice cream and pandan ice cream.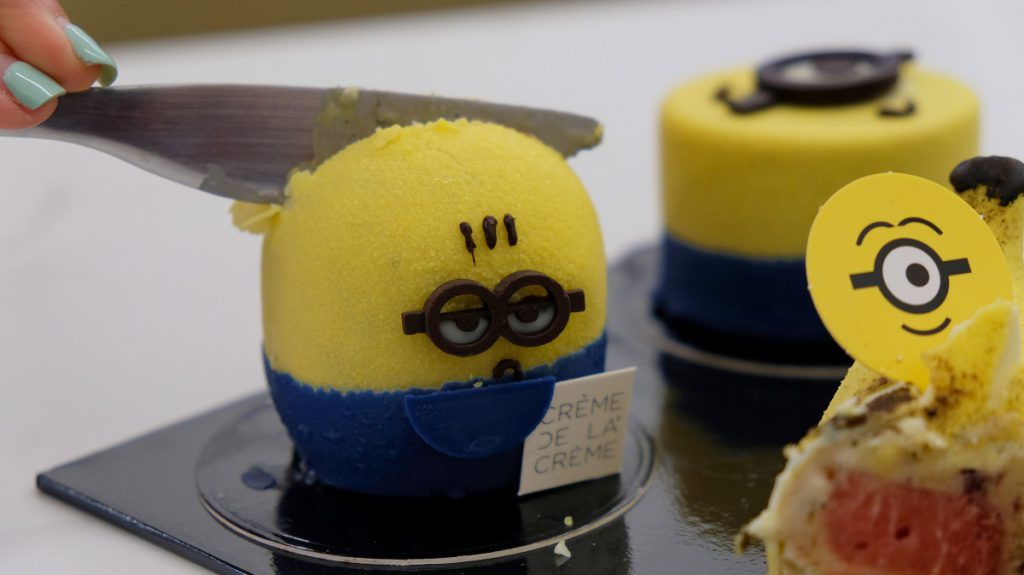 The brown butter ice cream gave a hint of delightful nuttiness that some of our tastebuds registered as caramel or hazelnut even.
Serving as the foundation of this dessert was a banana brownie and spice crumble, elevating the overall creamy flavours.
Thanks to the spice crumble, there was a hint of cinnamon and possibly nutmeg (though we're not super sure).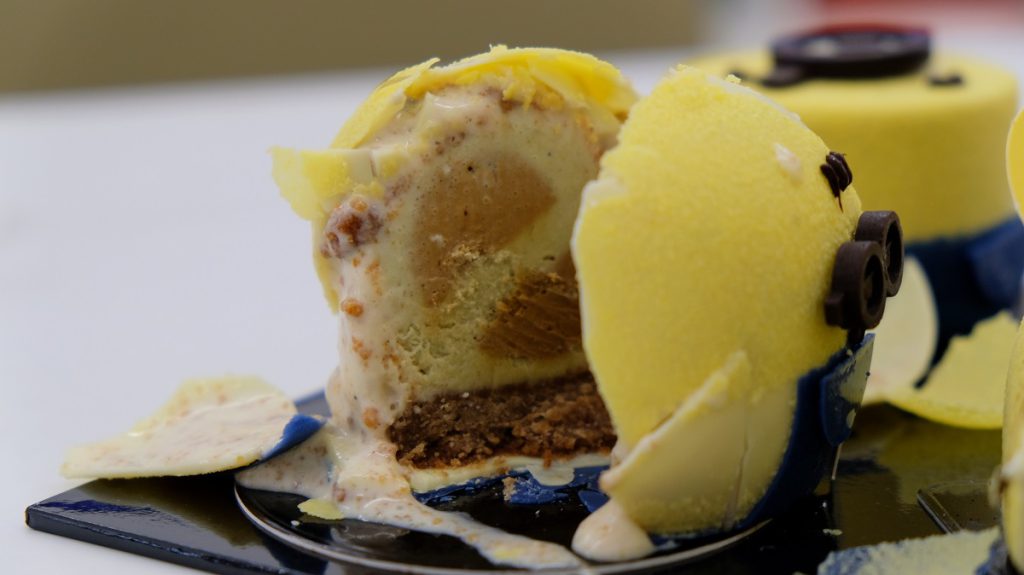 Bello Otto! was easily a likeable classic treat for many of us, unless you really don't like banana.
Next up, we tried Tara, tropa! This brought chocolate banana ice cream, passionfruit sorbet, salted butterscotch, and dark chocolate almond crumble to the table.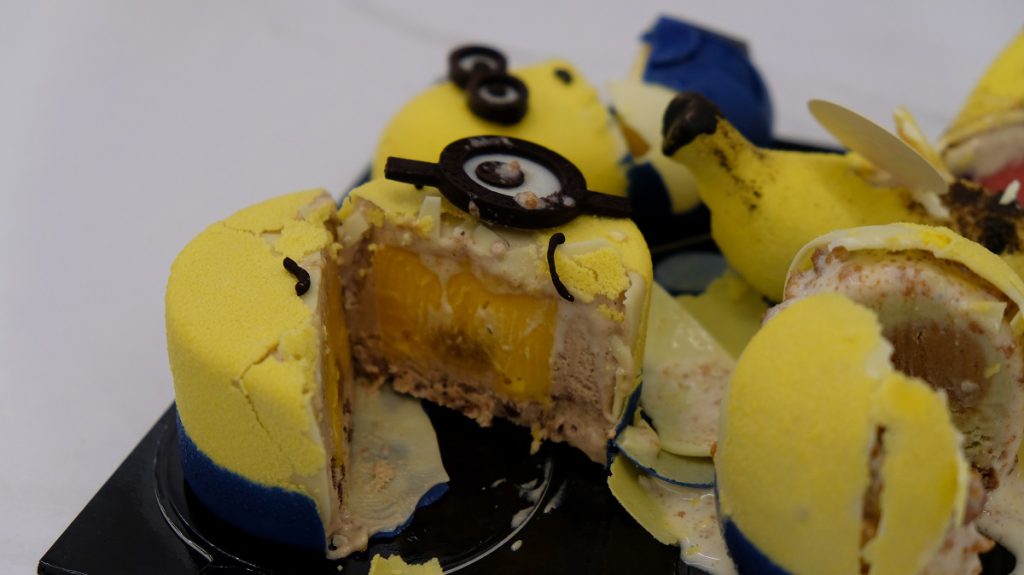 Chocolate and banana are a classic sweet treat combo and CDLC balances this well, ensuring that neither outshines the other.
Salted butterscotch adds a nice saltiness to balance the richness, while passionfruit sorbet adds a tinge of tartness. While we noted the nuttiness of the dark chocolate almond crumble, the dark chocolate itself was rather muted.
Me want Banana! had caramelised banana ice cream, cherry pineapple sorbet, roasted peanuts, and cherries.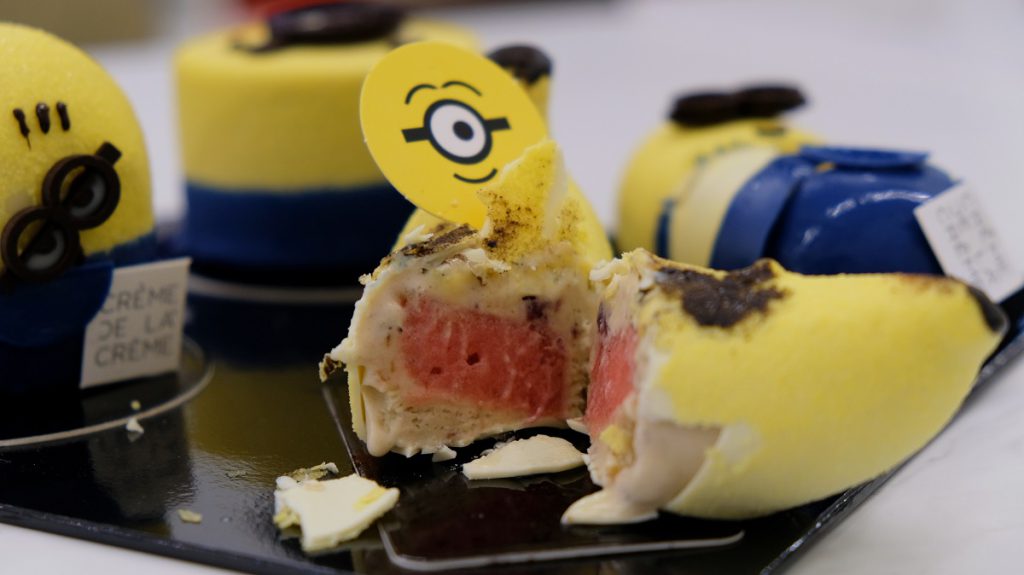 Many of us aren't fans of maraschino cherries so we were a bit hesitant over whether we'd like this one, but CDLC uses fresh cherries.
Instead of that overly-fake, syrupy flavour, the fresh cherries had a deeper tangy-and-sweet flavour that complemented the sweet caramelised banana ice cream.
The cherry pineapple sorbet and roasted peanuts added a tropical edge to the dessert in a way that you wouldn't expect to work, but it does.
Bello Kevin! offers up even more tropical flavours with coconut ice cream, mango passion sorbet, kedondong assam sorbet, and almond crumble.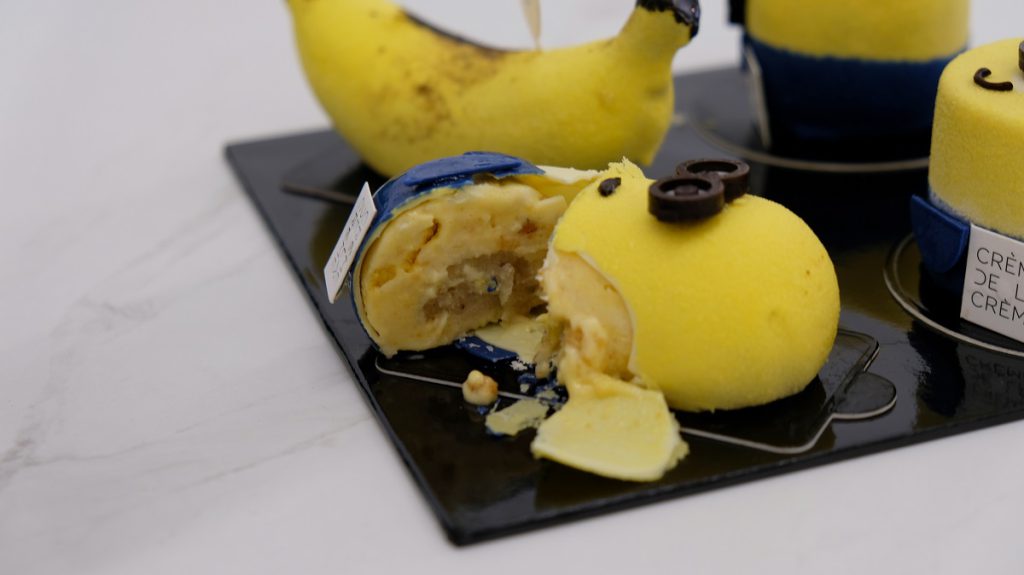 There was a nice balance of sweet and sour here, with an added creaminess from the coconut ice cream. These flavour combinations could probably go well in a smoothie too.
After the petit gâteau, we moved onto the ice cream, Ba-ba-ba-ba-ba-nana (I'm never typing that out again), and sorbet, BEE DO BEE DO BEE DO. Both have a base price of RM16.90, and for a 200ml mini tub, we paid RM3 extra.
The former is a French dark chocolate ice cream swirled with caramelised bananas, butterscotch, and chocolate crumble.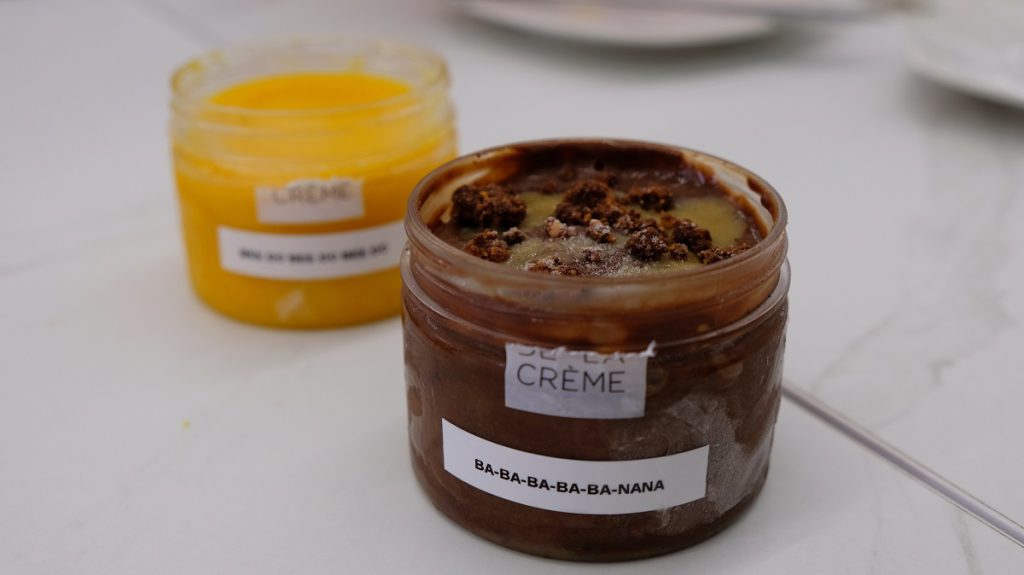 It's not as complex as the petit gâteau flavours, but it's a classic option for chocolate and banana lovers, giving us exactly what we'd expect.
For those who want something more refreshing, you can opt for BEE DO BEE DO BEE DO, which combines mangoes, pineapples, and papayas.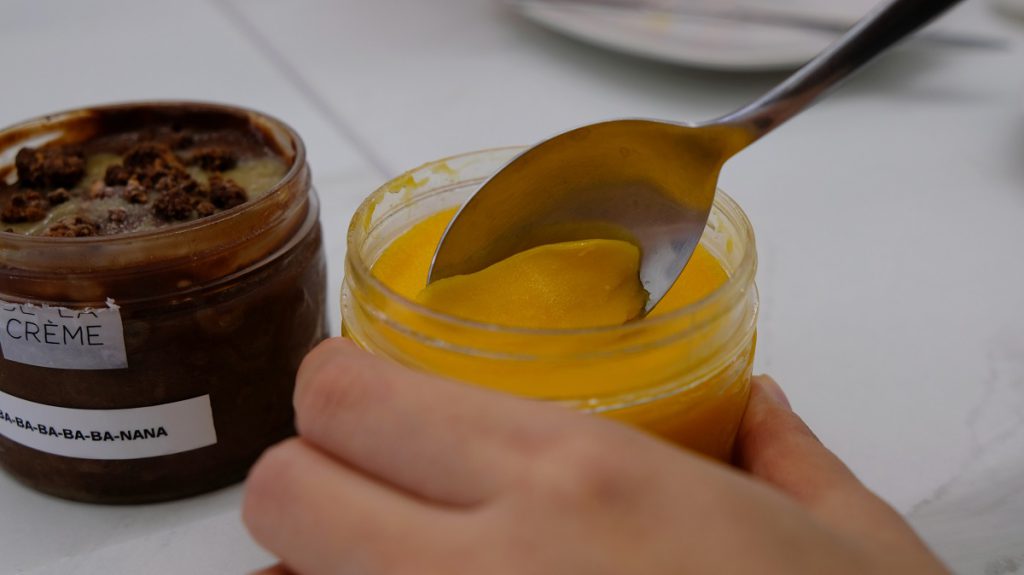 Interestingly, even the most extreme papaya-haters among us couldn't quite detect the fruit in the sorbet, as it's very mango-forward.
These Minion-inspired desserts will only be at CDLC for a limited time, so if you're in the mood to delight your inner-child (or sweet tooth), head on over to any CDLC outlet around Malaysia.
Crème De La Crème