Courtyard by Marriott Setia Alam is a newcomer to the Malaysian hospitality scene, having been soft launched on December 1.
We were invited to a preview of its first Christmas and New Year's buffets offered at the hotel's 5 Wells Restaurant. Located on the second floor, the restaurant is modern and spacious, like the hotel itself.
In one corner, there was a table of cold cut meats and sashimi. Behind that was a salad bar, which was really more of a salad shelf, decked out in various greens and dressings.
The other dishes were presented in colourful crocks, organised neatly in a row. Although it was a rather humble spread, there was a good ratio of Western to Asian dishes for families with different preferences.
Western dishes
To whet our appetite, we had scallops and prawns in cocktail glasses.
The bite-sized scallops were fresh, with a firm texture that was easy to chew. They weren't fishy either, and were nicely complemented by the diced capsicum salad.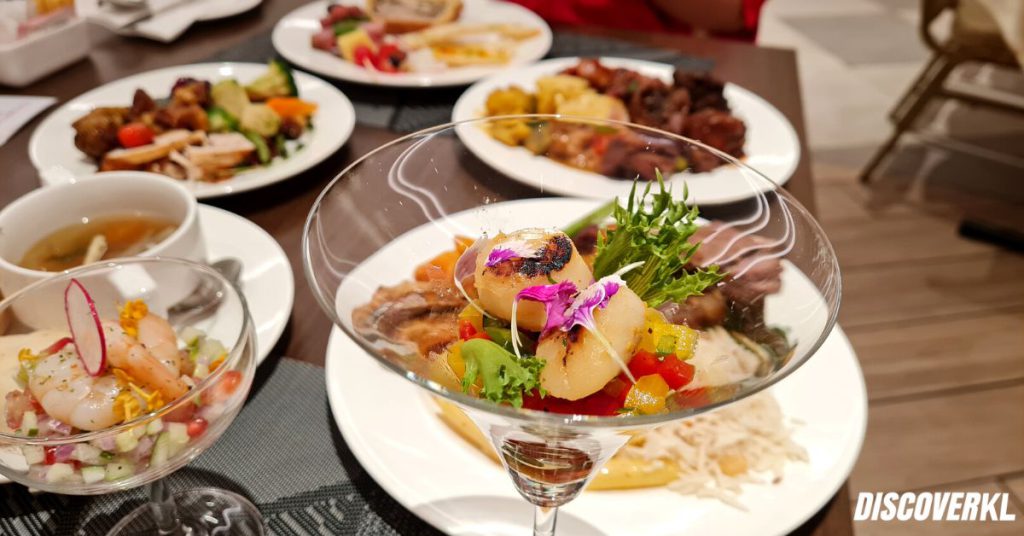 The prawns were juicy and had a nice bite to them. Pomegranate seeds enhanced the natural sweetness of the seafood.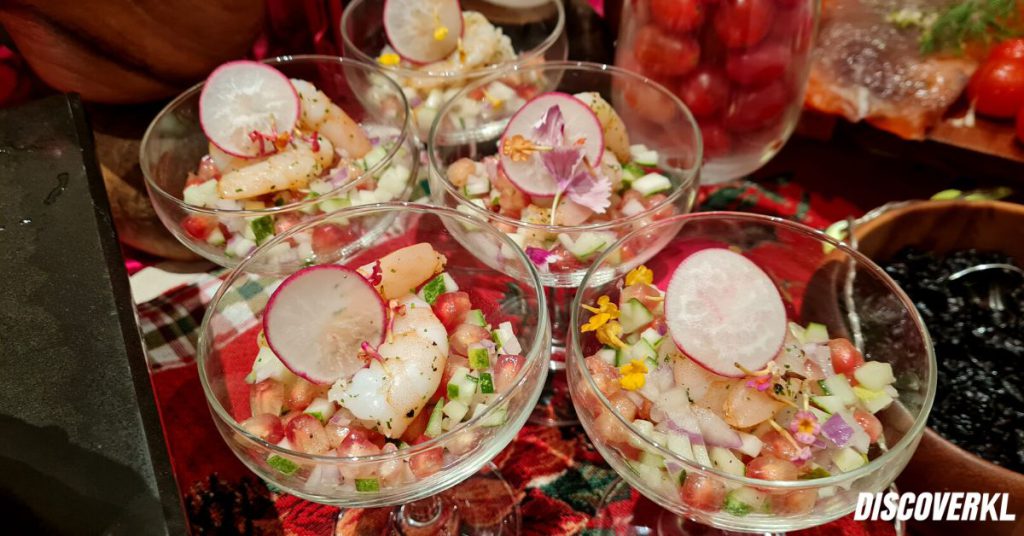 We warmed up with mains before tackling the Christmas meats. The texture of the Penne Primavera could have been better, as it was a bit undercooked and doughy in some parts. Flavour-wise, it wasn't anything unique, but it was nicely salted and had a bit of a kick (or a lot of kick, my weak-to-spice colleague interjected).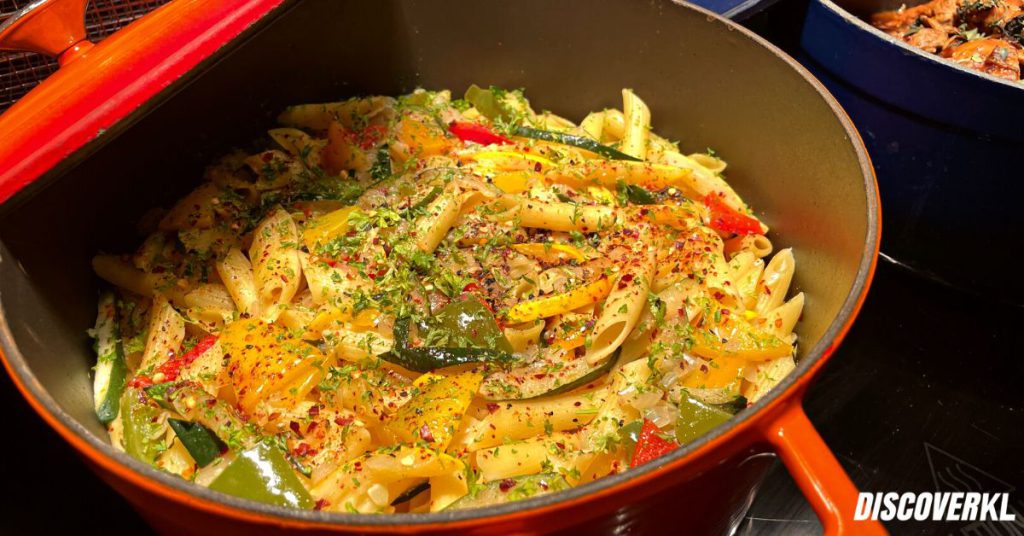 The Seared Parmesan Chicken Leg with Wild Mushroom Sauce didn't really stand out in terms of taste, but it was tender and would be sure to please most chicken meat enjoyers.
The Roasted Root Vegetables with Pumpkins was simple but good. The roasted pumpkin and sweet potatoes were very well-cooked and well-seasoned, and the asparagus stalks were crisp-tender.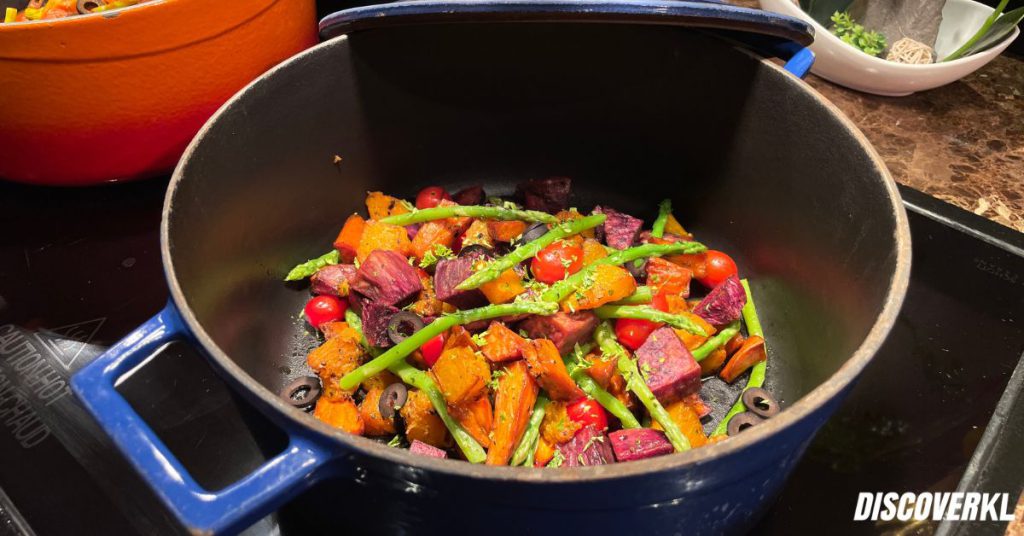 We were surprised by how much we liked the Tomato Poached Seabass Fish with Rich Vegetables & Fresh Herbs, considering that it was a dish that we had never come across before, and it sounded like an odd combination.
However, the fish was cooked just right, flaky but not too dry, and the gravy was deliciously tart and tomatoey. It reminded us of sardines in tomato sauce, but a premium version.
Familiar, hearty, and it paired nicely with the Jeera Pulao (Corn Ghee Rice), which leads us into the Asian cuisine at the buffet.
Asian dishes
The Wok Fried Seafood Kam Heong on the other hand left something to be desired, as the prawns were overcooked and mushy. While we didn't try the other seafood in this dish, perhaps they fared better?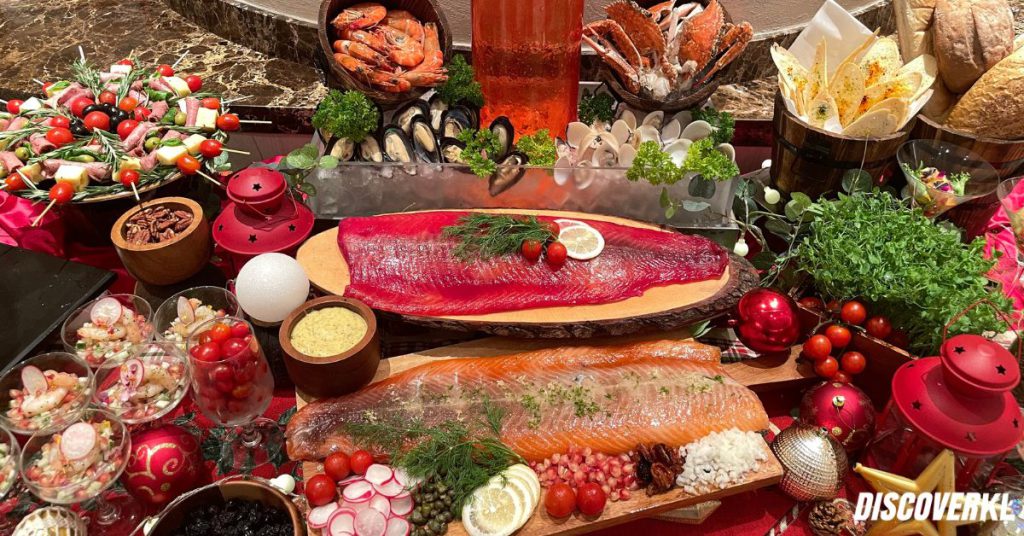 Also known as chai tow kway or fried carrot cake, the Fried Yam Cake with Chives & Sprouts featured quite large chunks of yam, which made our bites feel a bit doughy. This dish was on the sweeter side and lacked the wok hei flavour Malaysians know and love.  
For a soup option, we had Mushroom soup Ala Thai, which is the hotel's take on tom yum soup. It had a strong tangy flavour without the heat.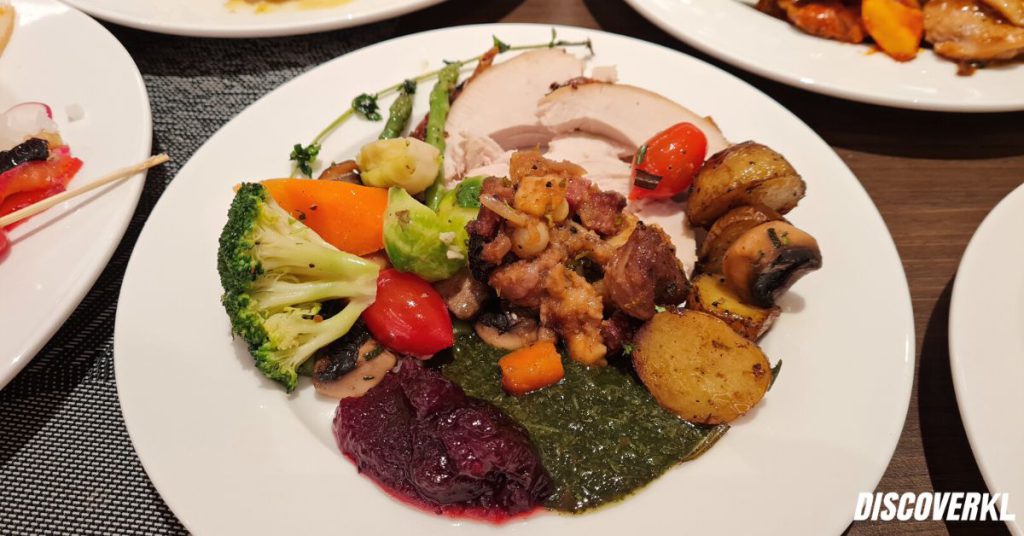 The Beef Dendeng was a bit tough, but its flavours were good and it wasn't spicy. It paired really well with the rice.
For the Chinese Kung Pao Chicken with Dry Chili, the meat was tender and the sauce was perfectly sweet and salty, though not spicy like the dish conventionally is.
A soft and flavourful dish, the Potato Masala was comforting, delicious, and packed quite the spicy punch.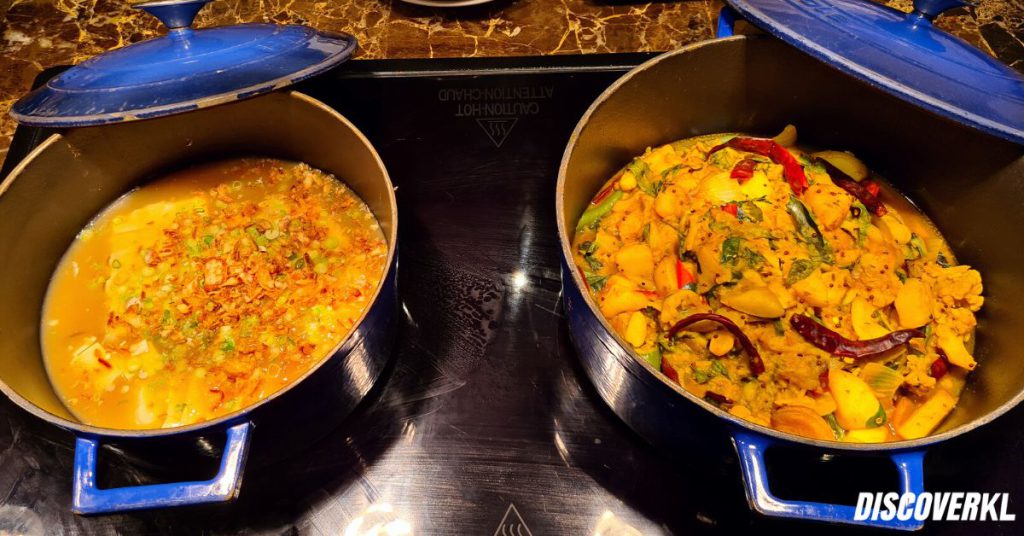 We weren't expecting the sizable selection of Asian dishes at this festive spread, but this means that older folk and children who are not so used to Western food will also be spoilt for choice during the buffet.
Moving on to desserts, there were festively decorated cupcakes and cake pops available. Both would certainly be a hit with kids and sweet-tooths.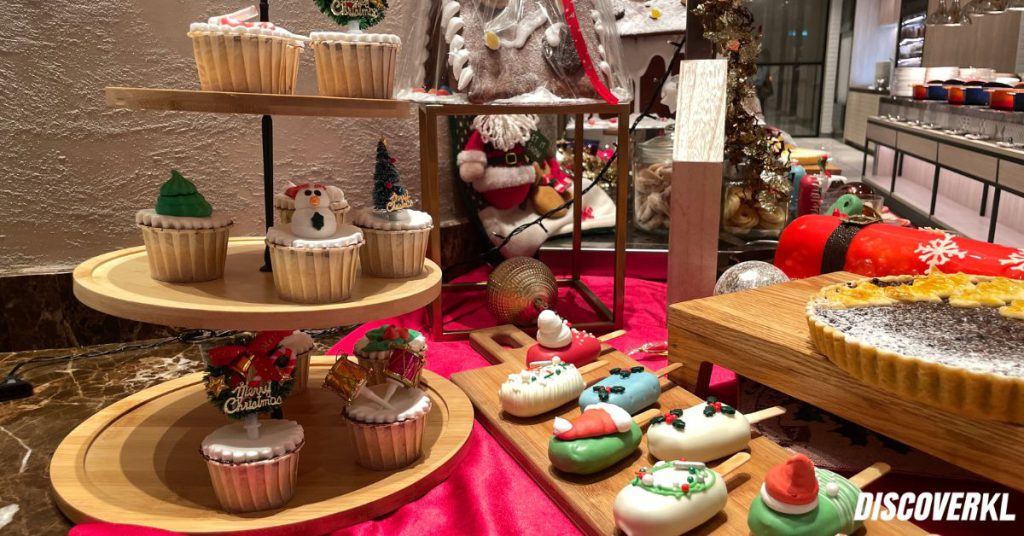 Takeaway specials
Aside from the buffet, Courtyard by Marriott Setia Alam is also offering Festive Takeaway Roasted Boxes.
Selections include the Turkey Set Box (RM458 nett), the Lamb Leg Box (RM258 nett), and Beef Brisket Box (RM298 nett).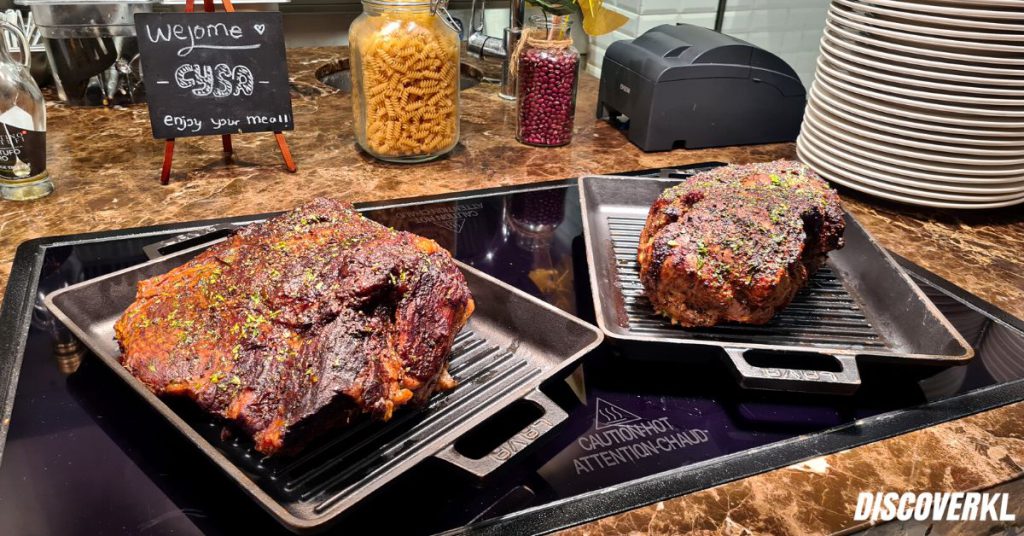 Dishes from these takeaway boxes were presented during our buffet experience as well. Overall, we found the meats to be on the drier side, but the cranberry and mint jams made up for it.
The sets also come with three other dishes— chestnut herb stuffing, roasted vegetables, and baked potatoes.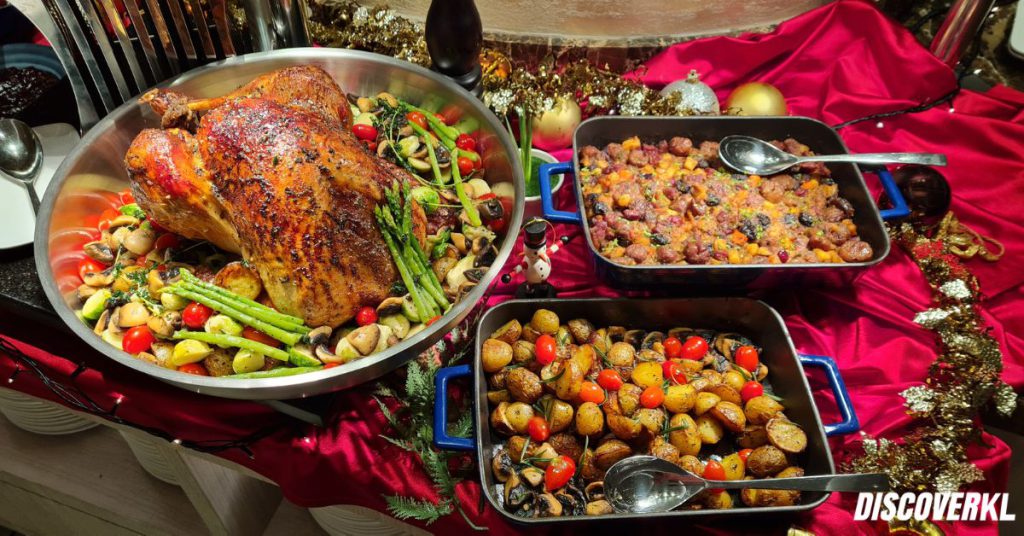 The stuffing was sweet with a crunch from the chestnuts, the baked potatoes were perfectly cooked and seasoned, and the roasted vegetables were flavourful.
These boxes must be preordered one day in advance and can be picked up from December 1 to December 25, 2023.
There are also Festive Yule Log Cakes (RM128 nett) available for order. Flavours include the Buche De Noel Chocolate Raspberry Yule Log or Local Fusion Twist Mango Lime & Oolong Tea Log Cake.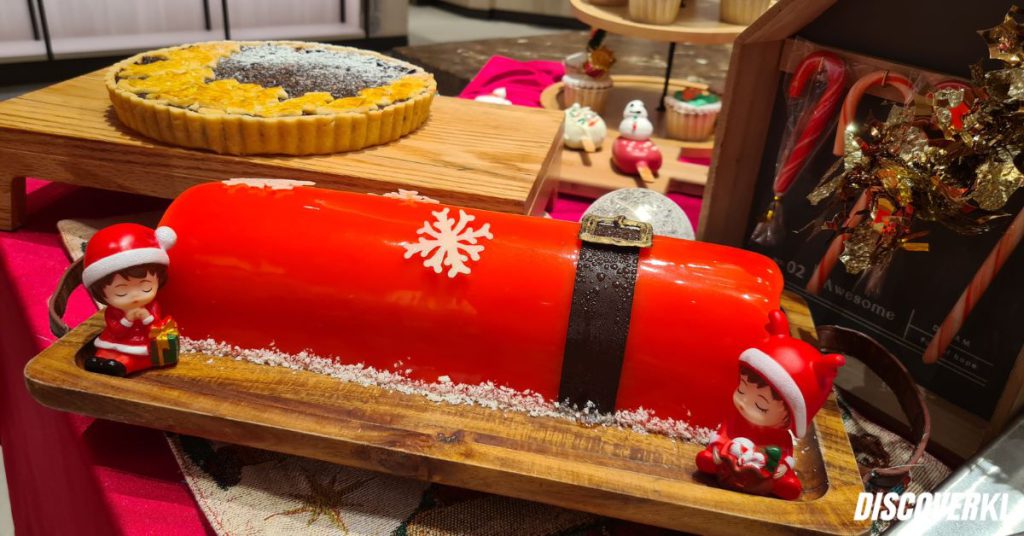 The mango lime cake was on the sweeter side, while the chocolate log was more balanced and had a rich cocoa flavour.
Lastly, there are also nine-inch festive pies available (RM118 nett) with two choices available—Christmas Minced Pie or Custardy Pumpkin Pie.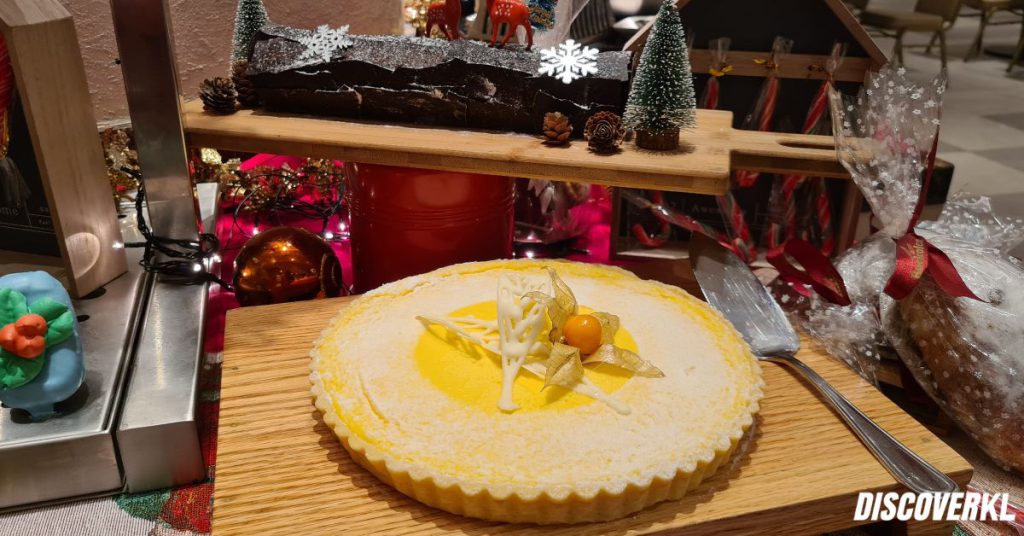 For those who want to dine in for the buffet experience, here are the details:
Buffet
Date
Price
Christmas Eve Buffet Dinner
December 24 (6.30PM to 10.30PM)
– RM148 nett per adult
– RM74 nett per senior citizen and children aged 6 to 12 years old
Christmas Day Buffet Brunch
December 25 (12.30PM to 3.30PM)
– RM138 nett per adult
– RM69 nett per senior citizen and children aged 6 to 12 years old
New Year Eve Dinner Buffet
December 31 (6.30PM to 10.30PM)
– RM148 nett per adult
– RM74 nett per senior citizen and children aged 6 to 12 years old
New Year High Tea Buffet
January 1, 2024 (12.30PM to 3.30PM)
– RM98 nett per adult
– RM49 nett per senior citizen and children aged 6 to 12 years old
If you're looking to end 2023 or start 2024 with a hearty, homey meal, Courtyard by Marriott Setia Alam might just have what you're looking for. It's a plus for those located in the Shah Alam area who don't plan to travel far for celebrations too.
Courtyard by Marriott Setia Alam
Address: 5 Wells Restaurant, No. 6, Jalan Setia Dagang AH U13/AH, Setia Alam, Seksyen U13, Setia Alam, 40170
Contact: +6012 560 9077 / [email protected]
Website: https://www.marriott.com/en-us/hotels/kulsc-courtyard-setia-alam/overview/