[This is a sponsored article with Shopee.]
There are various food delivery options in Malaysia today, with one of them being ShopeeFood. It is Shopee's online food delivery service that was officially launched in Klang Valley last year.
To offer users attractive deals on their food orders, Shopee will be holding the ShopeeFood Day on the 12th to the 14th of each month.
It provides users with Super Deals discounts that give up to 65% off their meal orders and all-day free delivery, among other things.
As users order their meals as usual through ShopeeFood, they're also given the chance to partake in the Order & Win Contest to win prizes of up to RM10,000, which consist of electronics, household products, and vouchers.
Here are the discounts available this July, and how to take part in the Order & Win Contest.
Redeem discount vouchers for meal deliveries
ShopeeFood users can get all-day Super Deals discounts of up to 65% off on their orders (dependent on minimum spend) as well as free delivery.
In addition to that, there are limited-time vouchers available from 3PM to 5PM from July 12 to July 14, 2022, with their details below.
| | | |
| --- | --- | --- |
| Date | Discount Vouchers | Minimum Spend |
| July 12 (Tuesday) | 3x RM12 OFF | RM20 |
| July 13 (Wednesday) | 3x RM13 OFF | RM20 |
| July 14 (Thursday) | 3x RM14 OFF | RM25 |
Example: If you order a meal on July 13 that's worth a minimum of RM20, you can get an RM13 discount on your order, which is a 65% discount.
How to participate in the Order & Win Contest
On top of the discounts mentioned above, ShopeeFood will also be hosting an Order & Win contest from July 12 to July 14, 2022.
Taking part in the contest is quite simple, you don't have to do anything too outrageous other than spending a minimum of RM25 on a single order on ShopeeFood to be eligible for one entry.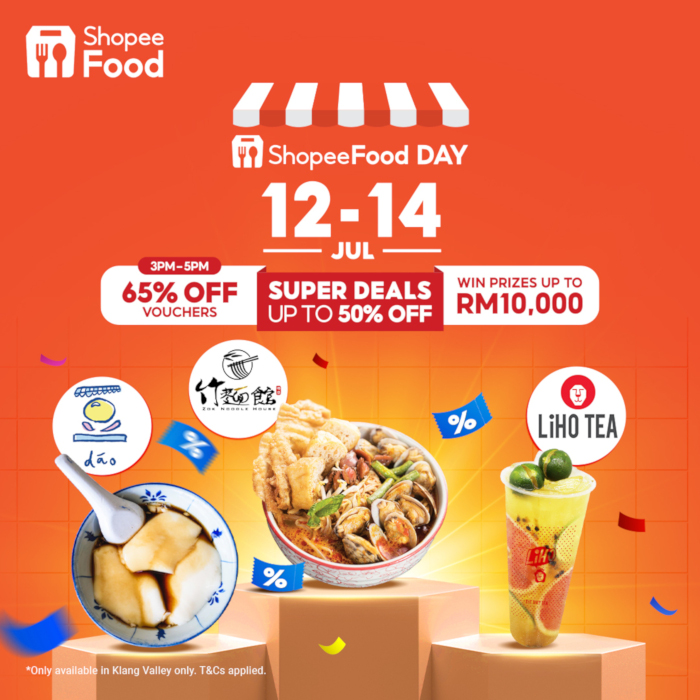 But, if you order the minimum amount from any of the participating Super Deals restaurants such as Agrain, Pasta Ohsem, Dao, LiHO Tea, Purple Monkey, and Zok Noodle House, you'll be eligible for two entries instead.
As an example:
Scenario 1: If you order from 1x any restaurant with a minimum spend of RM25, you are entitled to 1x entry.
Scenario 2: If you order specifically from 1x "Super Deals" restaurant with a minimum spend of RM25, you are entitled to a total of 2x entries, which provides you with an extra chance to win.
Once you have made your order:
Follow @shopeefood_my on Instagram.
Click "LIKE" for the "ShopeeFood Day Order & Win" post found on their Instagram page.
Comment on that post with your ShopeeFood "Order ID".
The more entries you have, the higher your chances of winning the lucky draw because you'd have more comments on the post.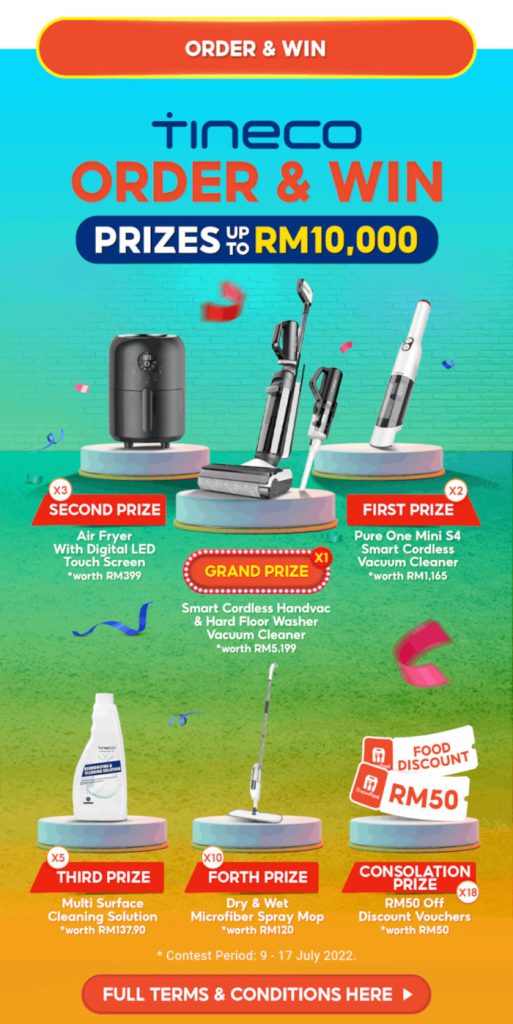 Here are the limited-time Order & Win prizes:
| | |
| --- | --- |
| Grand Prize | 1x Smart Cordless Handvac & Hard Floor Washer Vacuum Cleaner |
| First Prize | 2x Pure One Mini S4 Smart Cordless Vacuum Cleaner |
| Second Prize | 3x Air Fryer With Digital LED Touch Screen |
| Third Prize | 5x Multi Surface Cleaning Solution |
| Fourth Prize | 10x Dry & Wet Microfiber Spray Mop |
| Consolation Prize | 18x RM50 off discount vouchers |
Winners will be announced by the end of July, 2022.
For new users who are:
First-time Shopee App users using ShopeeFood will get free delivery + an extra RM20 OFF discount.
Existing Shopee users using ShopeeFood for the first time will get free delivery + an extra RM7 OFF discount.
If you're from East Malaysia and have been waiting for ShopeeFood to arrive at your doorstep, good news: it's now in Kota Kinabalu. Users can order from notable merchants like Yam Yam, KFC, Tealive, and Boost Juice.
With this expansion, Sabahans, along with those staying in Johor and Penang, are eligible for the Super Deals discounts, and can take part in the Order & Win contest.