Recently, we were invited by Sunway Putra Hotel to try out their exclusive Christmas menu at their hotel, that's situated in the heart of Kuala Lumpur.
As soon as we reached the 9th floor, we're immediately greeted by a bunch of Christmas decorations scattered throughout the Atrium Lounge.
There's even a handcrafted Snowman in the middle, which we did not manage to take a picture of, unfortunately, because we had to prioritise satiating our lunchtime hunger.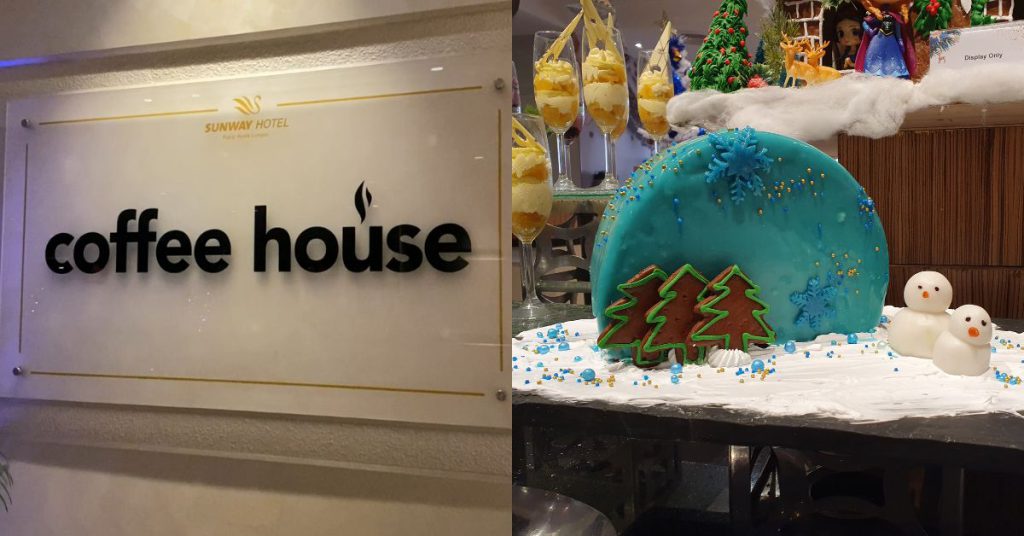 As we walked into Coffee House, where the buffet takes place, the first thing we noticed was that most of the desserts looked as if they were put together by Oompa-Loompas from the movie Charlie and the Chocolate Factory.
Other than that, we were told that the buffet has 130 dishes ranging from seafood, cutlets, pastries, soups, and more.
Seeing as to how it's physically impossible for a team of two to try all 130 dishes, here are our comments on the dishes we did try for ourselves.
For our first dish, we got ourselves a portion of beef wellington, a beef fillet wrapped in puff pastry. While we liked how juicy and flavourful the meat was, we wished that the cut was a little cleaner since ours was a little crumbly.
The roast turkey was a little bland and on the dry side, but slapping on a bit of black pepper sauce helps. If you're not a big fan of chicken breasts, then the blandness of the turkey might not be something that would pique your interest.
The lamb ribs were by far our favourite. It's both juicy, tender, and goes well with a spoonful of mint sauce which gives the lamb a tangy and refreshing taste.
Once we're done with the main course of our choosing, we head towards the middle of Coffee House, where most of the desserts are at.
We had the bread butter pudding and found the small gummy bits as well as raisins to be a nice touch. We wished the pudding sauce was a tad bit sweeter, though.
There's an assortment of mousse, which includes flavours like strawberry, blueberry, and mango as well as pastries like cakes and cupcakes, too. While they were all beautifully decorated, some of them were a little dry on the inside so we recommend having a mix of cream and cake in every bite.
Alternatively, there's also a shaved ice machine if you're looking for something sweet and refreshing.
This particular menu, which is part of the Christmas Eve Buffet Dinner, is exclusively available only at the Coffee House on December 24 and 25, 2022. It's open to both adults (RM159+) and children (RM79.50+) from 7PM to 10PM.
If you're looking for a place to spend your Christmas Holiday, you could also opt for their 3DN2 Joyful Stay & Feast (RM768+), where you and your family can stay from December 24 to 26 at Sunway Putra Hotel's Deluxe room.
They're also having the Christmas Day International Buffet Hi-Tea from 12:30PM to 4:30PM on the same day. It's slightly cheaper for adults (RM129) and children (RM64.50), too!
Sunway Putra Hotel is also offering the 3D2N Happy New You Stay and Dine (from RM888+) and the 2D1N Happy New You with KLCC View (RM669+) if you don't have plans for the New Years' celebrations.
Sunway Putra Hotel
Location: Sunway Putra Mall, 100, Jalan Putra, Chow Kit, 50350 Kuala Lumpur, Wilayah Persekutuan Kuala Lumpur
Contact Number: 03-4040 9888
Website: https://www.sunwayhotels.com/sunway-putra