Paraffin candles, as much as they light up a room and add warmth to it, receive quite a load of flak for not being eco-friendly and potentially hazardous for some too.
According to CandleScience, paraffin is one of the more commonly-used forms of wax for candles.
Paraffin is a petroleum by-product which forms when crude oil has been refined into gasoline.
This form of wax is used because of its soft texture and how it adheres to bottles well. Paraffin also does not frost up, as compared to soy wax.
Despite its properties which makes it suitable for commercial scented candles, according to The Red Head Hitter, one of the concerns for paraffin candles is the fact that it produces soot. As such, this might be potentially hazardous for those with asthma, the elderly or young children.
Nothing these health concerns, many have begun making the switch to soy candles instead.
Soy wax is sustainable and is renewable, hence making it a more eco-friendly option for scented candle lovers. Besides that, soy wax burns cleaner and slower too.
Whether you're looking for a more sustainable option or simply hunting down a better-for-you candle, here are some homegrown brands to support.
1. Meraki Candle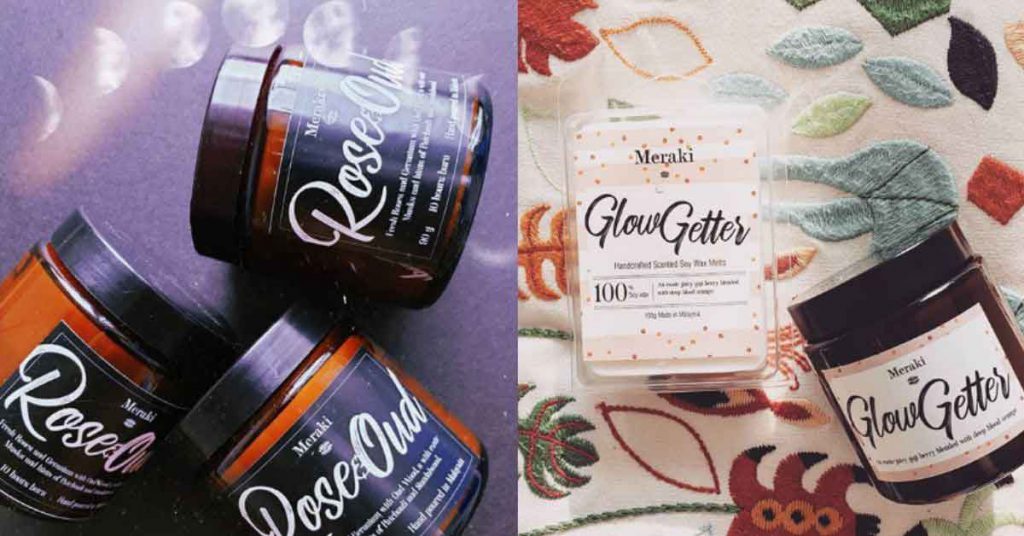 Soy wax candles, especially larger ones, tend to scare commitment phobes. After all, the fact that they burn longer and slower means that you're likely stuck with a certain scent for a period of time.
Meraki Candle creates 100g petite-sized candles that burns between 10-20 hours. They also sell 90g soy wax melts in sachets for frequent flyers who are looking to bring a piece of home with them while they are travelling.
With their most popular scent being the Rose Oud, it sounds ideal for those who are into floral notes.
Instagram: Meraki Candle
2. Håndlavet18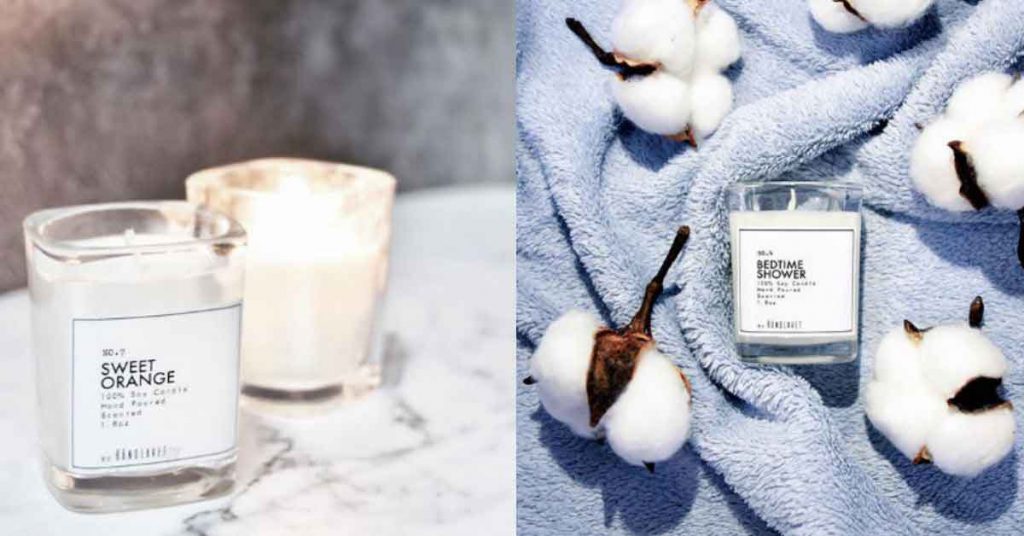 The term håndlavet stands for "handmade" in Danish and represents how all products by this 2-person business is handmade. All soy wax candles are hand-poured everyday in small batches to ensure consistency.
Their candles are available in 200ml (wood wick) and 53ml (cotton wick) sizes. Some notable scents include spearmint, mocha, grapefruit and buchu leaves. Besides candles, Håndlavet18 also sells hand soap pellets which disintegrate in water, and gift boxes for special occasions.
Instagram: Håndlavet18
3. The LIT Wax Co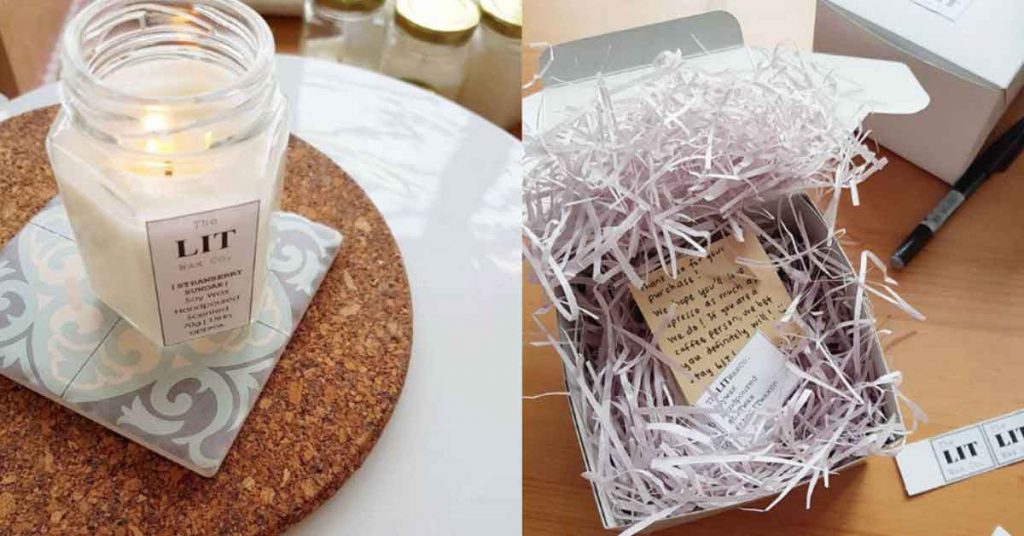 When you order a candle from The LIT Wax Co, expect a personalised handwritten note from the team, and a scent that will likely last for a while, even after you've put out the candle. The Strawberry Sundae scent in particular, is said to turn your space into a candy store.
The LIT Wax Co's candles come in 70g bottles and have an approximate burn time of 15 hours though the team advises burning for no more than 4 hours at a time.
Instagram: The LIT Wax Co
4. Devon Airla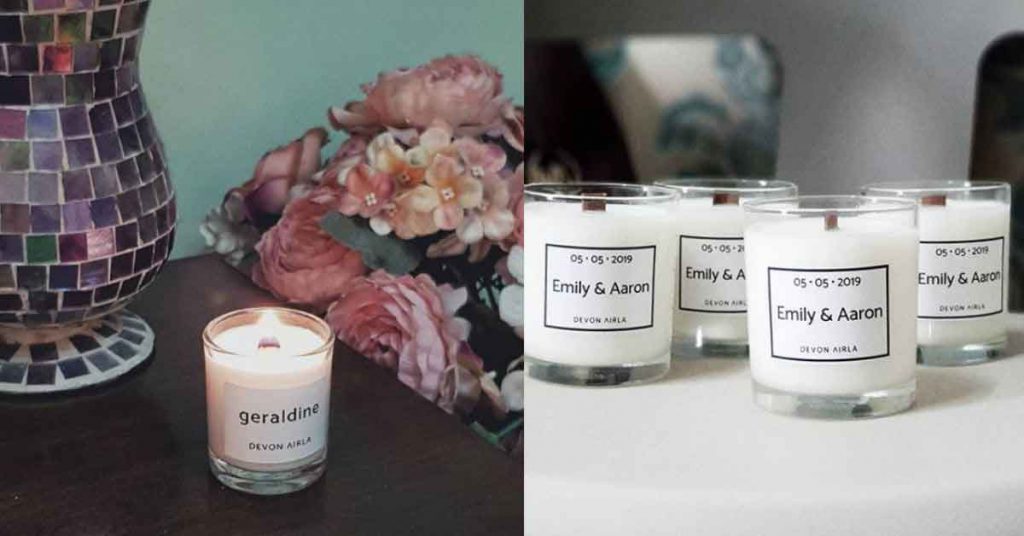 What's unique about Devon Airla is the fact that they provide customisation services for brands and special occasions.
If a company you know is looking to create unique personalised gifts for their employees or if you're searching for thoughtful wedding favours, Devon Airla can sort you out.
The 5 available scents at Devon Airla are:
Hijo – Green Tea & Cucumber
Champaca – Champak, Sandalwood
Rosa – Rose Geranium
Geraldine – Geranium
Pyrus – Pear Blossom, Freesia
Instagram: Devon Airla
5. Candle Lab Co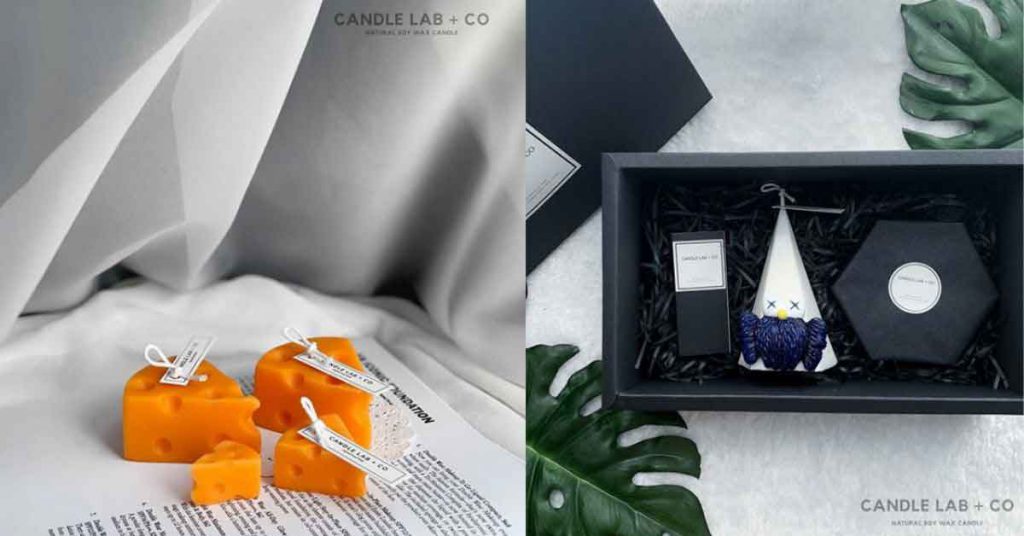 Candle Lab Co sticks to what they know best: candles that look like food and the occasional floral candle. In the past, they have created scented soy candles in the form of blocks of cheese, macarons, bundt cakes and birthday cakes.
As some of their candles come without jars, Candle Lab Co also sells concrete candle holders. If you're looking for a complete customised gift set which comes with a candle, a candle holder and matches, the team offers this too.
Instagram: Candle Lab Co
6. Fluffy & Co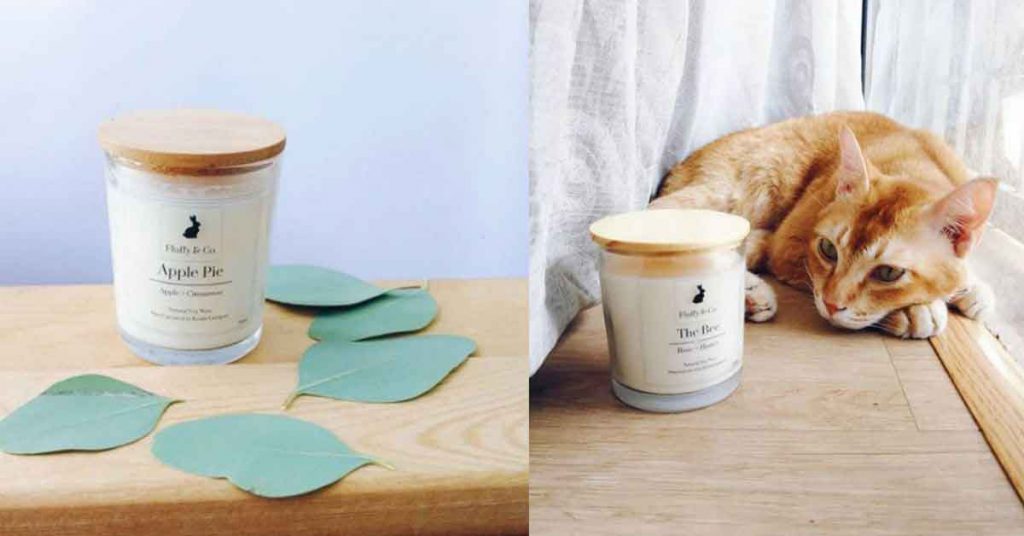 Having met Farah, founder of Fluffy & Co at a bazaar before, I can attest to the fact that her bubbly personality befits the name of her soy candle brand. The fact that she considers her pet cats as her "fluffy helpers", if only for company, also helps one make sense of the moniker she has chosen for the brand.
A frequent participant at bazaars, Fluffy & Co's notable scents include the Grapefruit, White Rabbit and Apple Pie. If you're into sweet scents, you might enjoy Fluffy & Co's offerings. They've also recently begun offering candle accessories such as wick trimmers.
Instagram: Fluffy & Co
7. Rad Alchemist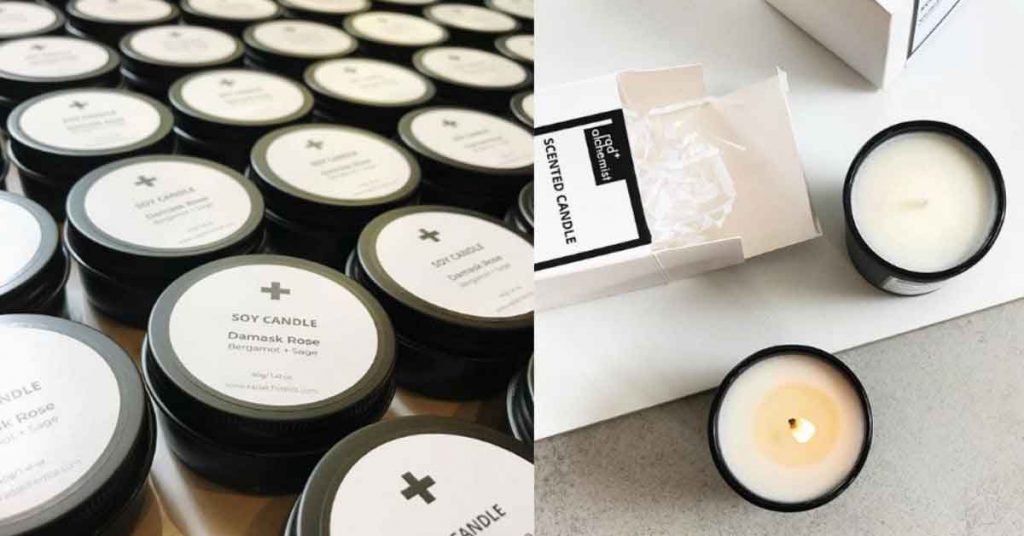 Rad Alchemist is a homemade beauty and wellness brand which originated from Penang. They've recently expanded to Klang Valley as well, and unlike the other brands in this list where their products are only available online or through popup markets, Rad Alchemist is stocked in physical outlets too, namely Shop Unplug at Bangsar Village 2.
Rad Alchemists' core belief is that a balanced lifestyle both physically and psychologically, is key to good health. Because of this, they are against animal testing and their products are (safely) tested on humans.
The soy wax candle scents available include lavender, sandalwood and peach. Rad Alchemist's candle containers are also recyclable. If you're planning on reusing them, just clean out the container with warm water, alcohol and detergent to remove any wax residue.
Instagram: Rad Alchemist
8. EJL Candle Bar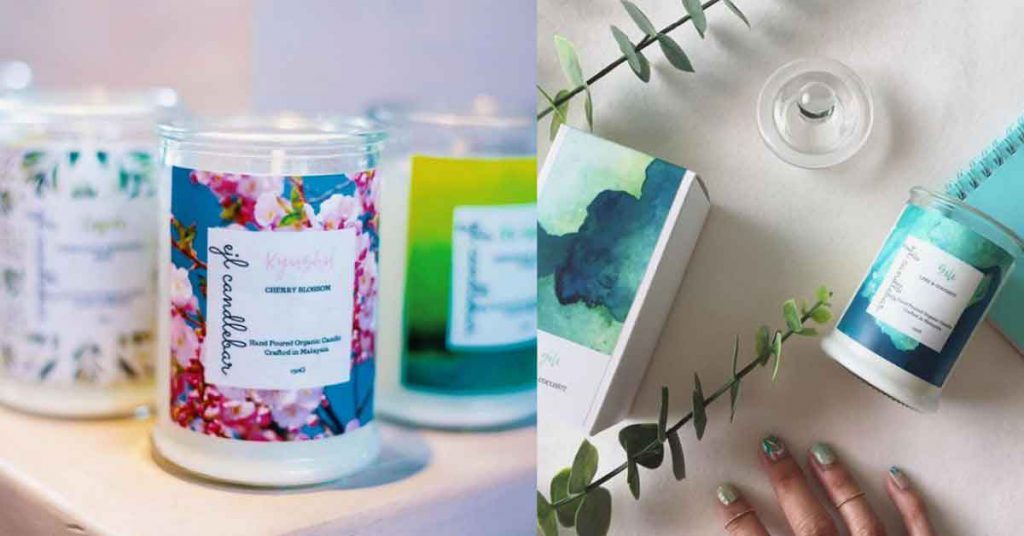 EJL Candle Bar specialises in personalised candles for events and special occasions. Some of the brands they have collaborated with in the past include Charles And Keith, Christy Ng Shoes and Dorothy Perkins. EJL Candle Bar has 2 ranges for their candles: the classic and premium.
For their classic range, scents include Cherry Blossom, Lavender and Vanilla & Cream. Their luxe range consists of 3 scents: Bora Bora, Tahiti and Boracay.
The Tahiti scent is the most unique of the lot: Bergamot, Tobacco & Musk. While tobacco might sound like an off-putting scent for some, a real tobacco plant actually smells of fresh, woody scents. EJL Candle Bar's Tahiti smells of a manly aftershave scent, making it an ideal gift for the men in your life.
Instagram: EJL Candle Bar
9. 5 Luxe Scents Co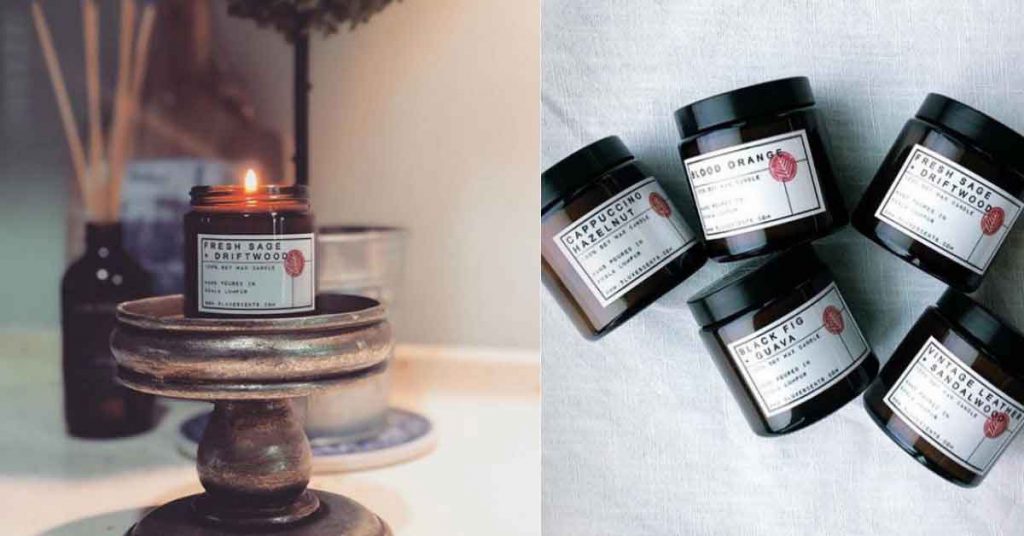 Admittedly, 5 Luxe Scents Co's candles are not the most affordable of the lot. Candle jars are priced starting from RM47 onwards depending on the size and scent you're getting. What you do get though is a more premium look and feel. Encased within marble jars, these candles are meant to be living room table centre pieces and can even function as a paperweight for your office desk.
One good thing about this KL-based brand is the fact that numerous sizes are available and you can get one which caters to your lifestyle. If you're a frequent flyer, travel tins might be better for you. Floral wax sachets, on the other hand, would be great if you're looking to freshen up a small space, for instance, a wardrobe or shoe cabinet.
All of 5 Luxe Scent Co's candles are made from 100% natural soy wax, beeswax and coconut + soy wax. Plus, they're also distributors for an Australian based company supplying raw waxes.
Instagram: 5 Luxe Scents Co
Feature Image Credit: 5 Luxe Scents Co, Fluffy & Co