To most of us, old furniture and stained cushions are not a pleasant sight. But for a 29-year-old, they're a creative opportunity.
Syaza Saifuddin of @syazaofalltrades is an interior designer who has refurbished roughly 30-50 pieces of furniture since 2017. What started out as an opportunity to financially support herself through her PhD has turned into a passion as she found joy in giving new life to these unique pieces.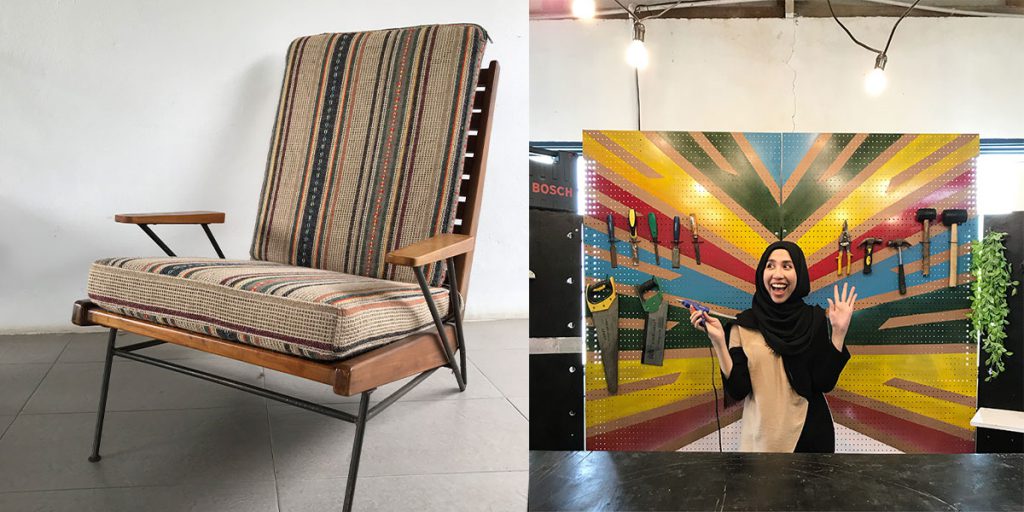 Sourcing these unwanted pieces from Carousell, Mudah, second hand stores, flea markets, bazaars and random picking trips, she believes that she's positively helping the environment.
"Furniture that are thrown out are usually in near mint condition and can be salvaged, so why contribute to landfills when you can use it and make it look good?" she shared.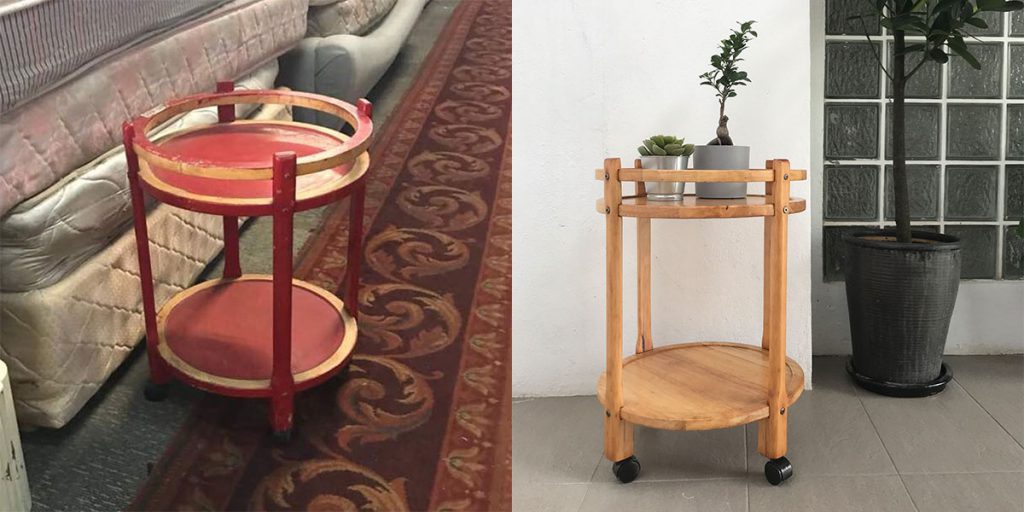 And we can't help but to agree with her.
How The Magic Is Done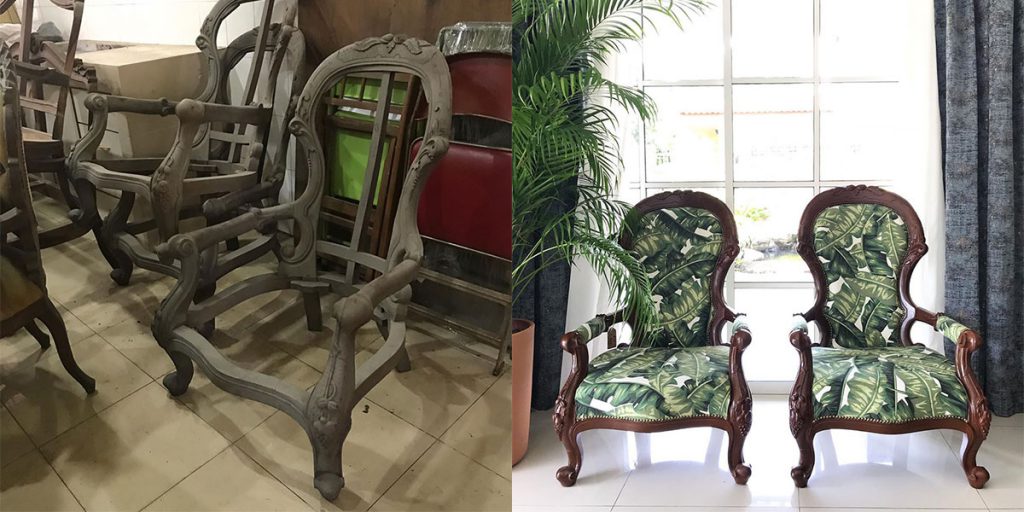 First, she would study the structure and style of the sofa, determine the amount of restoration that needs to be done and decide if it's worth the effort. Then, she'll imagine it in a different colour, material, fabric and seek inspiration from movies, magazines or online.
And finally, she'll source for the materials and give them to her carpenter along with some instructions on what she would like to be done.
Generally, people would assume that old/used furniture "cannot look good and it's gross". Perhaps, it could be due to those weird 'aha' moments you get when you're sitting in a worn sofa and wondering how many butts have sat in the exact same spot thus far.
However, to Syaza, the furniture pieces look lived in and don't stick out like an unsterile sore thumb with other furniture, so much so you'd be too afraid to use them.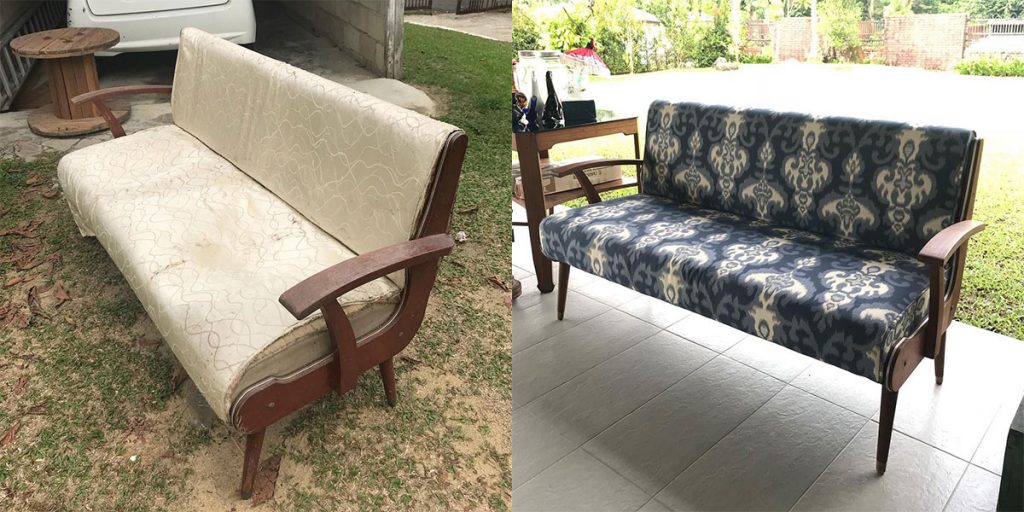 And while you might also be afraid to use a worn-in century-old vintage sofa, Syaza's got those qualms taken care of.
Syaza noted, "What I normally do is take the frame of it. So let's say I redo a vintage sofa, I'll take off the cushion parts and install new ones on top of changing the material. It's practically a brand new sofa with old bones."
Her Inspiration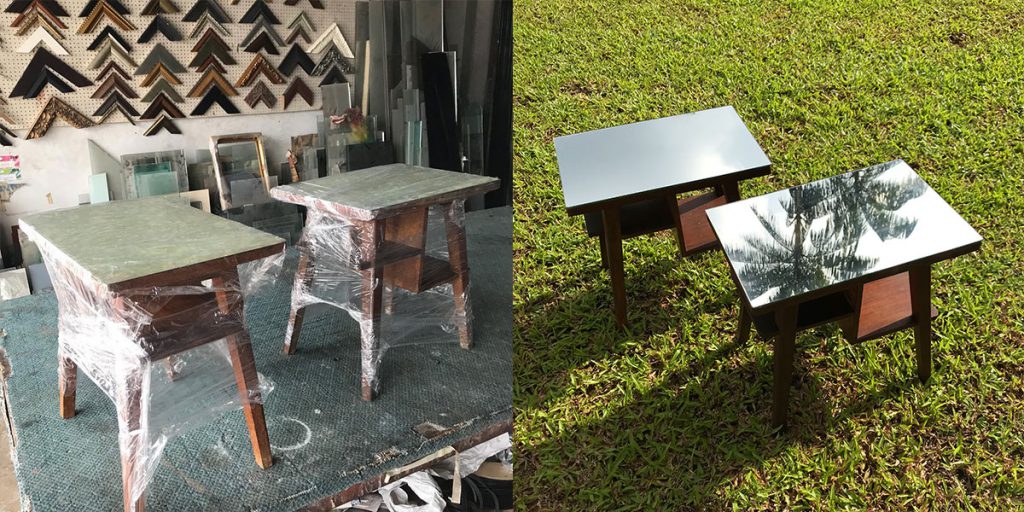 For someone who loves quirky pieces in her design so that it doesn't look like a cookie cutter space, she draws inspiration from various avenues, depending on the pieces.
Sometimes, it's based on clothes or fashion magazines, a documentary, a TV show or movies like Mean Girls or That 70s Show. She even takes them from old photos from her grandmother's house or her grandfather's old clothes.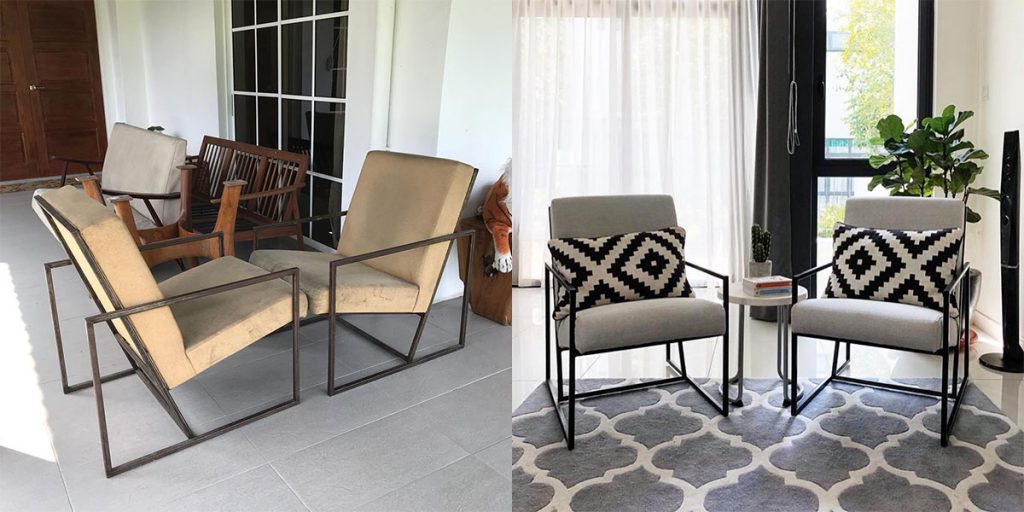 We suppose that's how her specialty of making old furniture look current and assimilated with the current trends came about.
As for her favourite furniture makeover project, it was her friend, Billa's dining space. If Syaza hadn't told us, we would have never guessed that 95% of this space was created with upcycled furniture.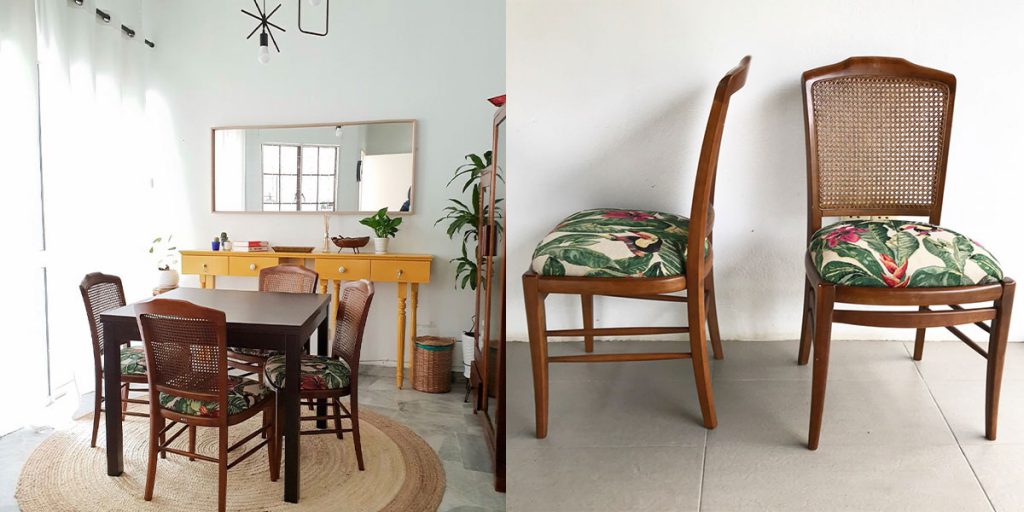 Personally, this is such an Instagrammable corner of warm tones with a pop of yellow in the cute drawers behind. Plus, the cushions add a subtle yet eye-catching accent to the chairs.
From making waves in a market that initially didn't believe in her dreams, Syaza is slowly but surely making her mark in the industry.
"It's a growing community I think because they're more aware of the possibilities and everyone has been very kind and responsive so far," she said.
DIY Tips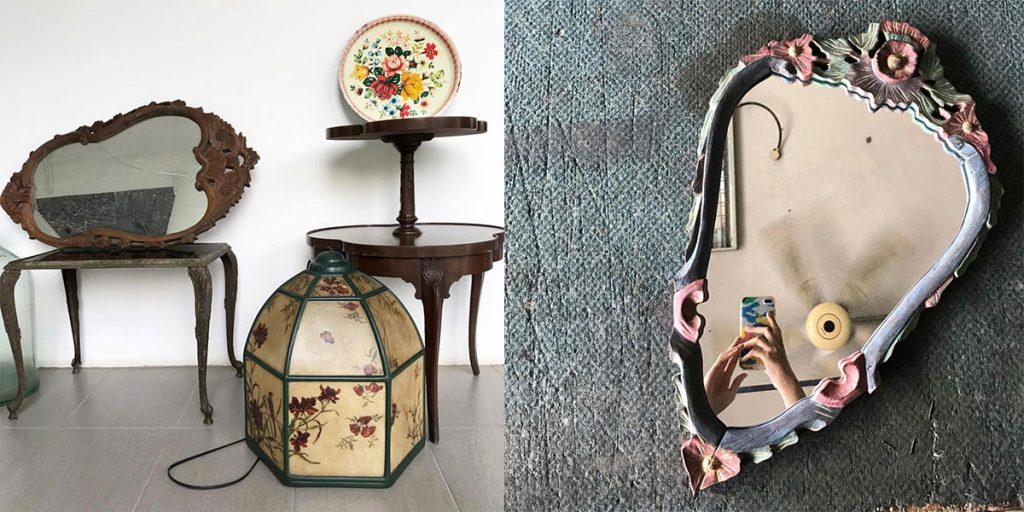 However, if you'd like to embark on your own furniture upcycling project, here's what you should take note of to determine if the furniture is fit for the project.
Here are some pointers, as shared by Syaza:
1. Consider the materials used
Materials like plastic are harder to fix when broken, but wood can be repaired and restored fairly easily.
2. What about the frame?
Is it worth fixing and will it be worth the effort?
3. And consider future usage
How will this item be used and will you even use it?
-//-
With her dream furnished space being "an eclectic mix of upcycled vintage furniture in a mid-century/retro building", Syaza aims to have a design house (like Marimekko) that acts as a niche vintage furniture showroom for people to pick her brains on possible designs.
At the moment, these intricate pieces of furniture can be purchased on her Instagram account and they're priced between RM200-RM3000.
Instagram: @syazaofalltrades
All Image Credit: @syazaofalltrades