Editors Note: This piece has been updated as of May 6th, 5.39pm to reflect changes made known to us.
Art classes were once reserved only for our childhood memories of sitting in an enclosed room filled with acrylic paint fumes. Now, it's become an activity that adults and children can enjoy together. Or even a group of adults sipping on some wine while painting a starry night sky.
Best part of all, you don't even need to have the skills of an artist to join in on the fun! Here are 8 art studios you can head over to paint your worries away. 🙂

Note: Prices stated are based on their lowest price per single class available on their website. Some organisers offer discounts if you sign up for more than 1 class too. Hence, make sure to check out their page for more deets.

1. Art & Bonding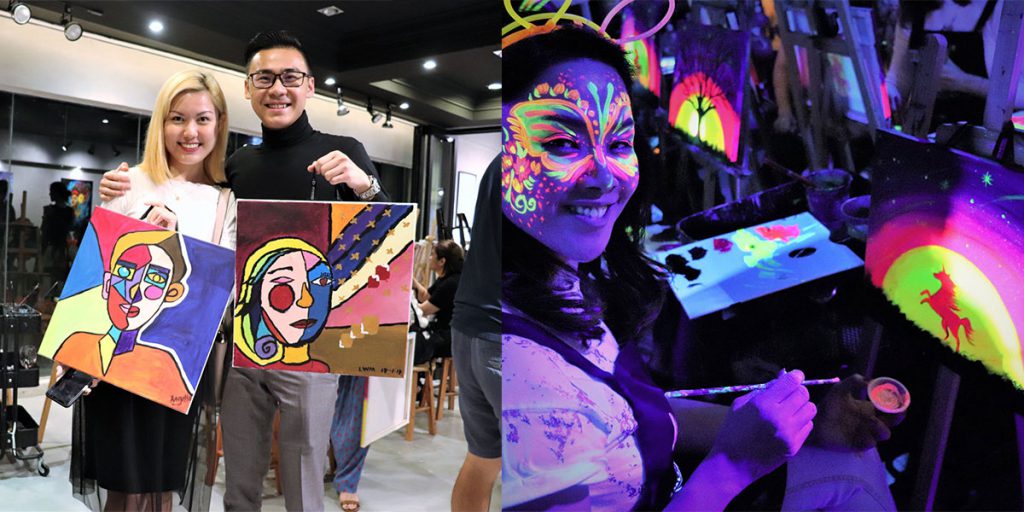 Art & Bonding offers a few services such as Art Jamming for the free spirited and adventurous artist, art and craft workshops for both kids and adults, and family bonding services.

But their Sip & Paint Night has got to be the activity that caught our eye. Happening every Thursday, Friday and Saturday from 8pm-11pm, they offer different artworks to paint in each session. There are even different themes such as the Sip & Paint Date Night and Sip & Paint Night: NEON Paint Party for a different kind of experience.

And don't worry about being too drunk to paint, an artist will be there to guide you through the process!

Check out their schedules here.

Extra Paint: Bring four other friends with you and get a bottle of wine on the house!

Price: From RM136.49

Address: 3F, No. 22, Jalan 25/70A, Desa Sri Hartamas, Kuala Lumpur, Malaysia

Website: Art & Bonding

Tel: 010-650 1212
2. A Space To ___.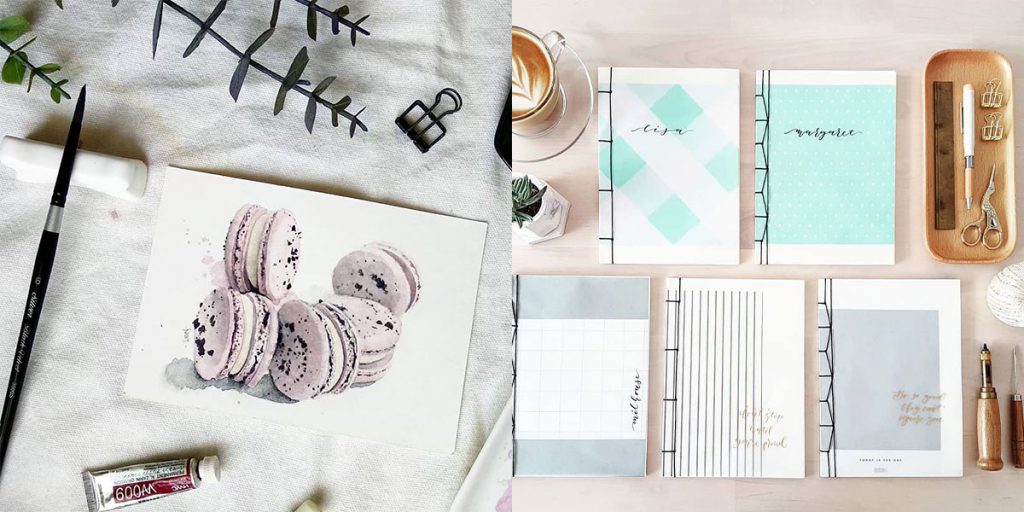 Being a co-working space itself, the blank in A Space To ___ 's name refers to the endless possibilities the space offers to its users. True enough, on weekends, it turns into an arts and craft event space for individuals to flex their creative muscles.

From stationery jams to doughnut making and decorations, custom neon-light message boards building to leather craft workshops, there's bound to be something for everyone! There's even an activity that allows you to craft a cash rose bouquet for Mother's Day.

Check out their schedules here.

Extra Paint: If you're an artist looking to spread the love of your craft, hit 'em up!

Price: Varies between events

Address: 109A, Jalan SS 21/37, Damansara Utama, Petaling Jaya, Malaysia

Website: A Space To ___.

Tel: 03-7732 2166
3. Cratze Art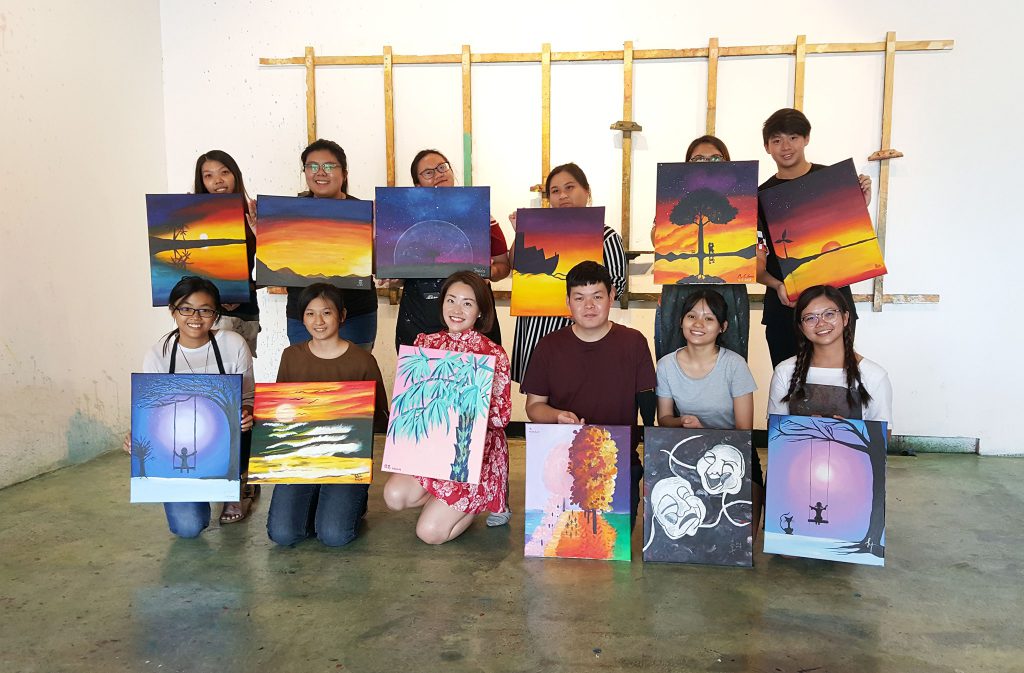 At Cratze Art, they believe that art is bound by no rules and that everyone can become a Picasso. Hence, their art sessions are a little more out of the ordinary. During their art jamming sessions, you're free to draw, paint and artistically express as you wish on a canvas. They're even willing to let you hurl paint balloons at a canvas too!

Alternatively, they also teach classes on various art styles such as realism, impressionism, post-impressionism and pop art.

Check out their schedules here.

Extra Paint: We've seen positive reviews on the therapeutic experience created in exploring and having fun with art.

Price: From RM120

Address: Nova Saujana, Shah Alam, Malaysia

Website: Cratze Art

Tel: 016-934 1210
4. Brew N Brush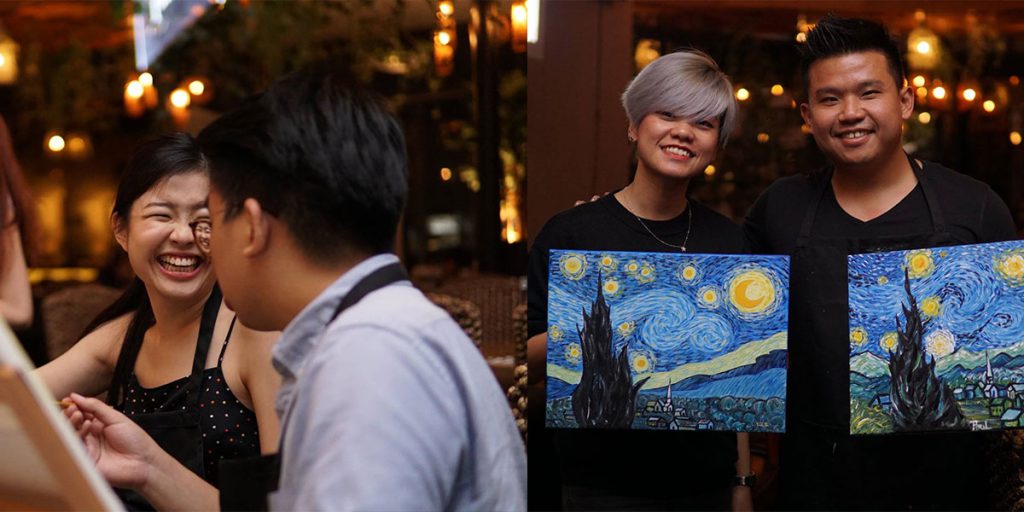 Specialising in acrylic painting, Brew N Brush's classes come with all the materials you'd need, including an experienced artist. All you'll really have to do is bring yourself and your social game on as you're encouraged to socialise as you paint your masterpiece!
Perhaps if you're sick and tired of Tinder or creeped out by Facebook's latest in-app dating feature, this class could be your stroke of luck for you to meet your other half. 😉

For day-time painting, head on to their Saturday, 11am classes at Jao Tim or DIY Bites. They've also got an evening class in Petaling Jaya on Thursdays at 8pm for the nocturnal artist. Get your tickets here!

Check out their schedules here.

Extra Paint: We're loving the cosy, artsy fartsy aesthetics of their space! Dimmed surroundings with a spotlight on the canvases is bound to make everyone feel like a professional artist.

Price: From RM136.49

Address: Thursdays: Signature @ The Roof, Saturdays: Jao Tim and DIY Bites

Website: Brew N Brush

Tel: 014-938 3203
5. Veinist Project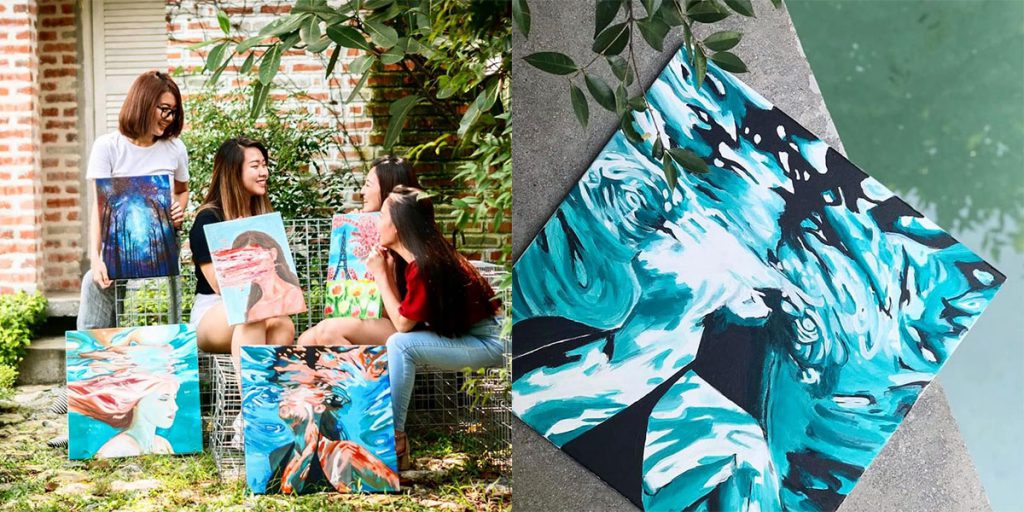 Escape from the hustle and bustle of the city by painting to your heart's content in an establishment surrounded by nature. Located at the Old Klang Road, they offer guided art jam sessions and normal art jam sessions with the freedom to paint anything you wish to.
Each session comes with an introduction to the material, colour study and mixing as well as textures, and a step-by-step guide.

Check out their schedules here.

Extra Paint: Feel inspired by the natural and industrial aesthetics of the space as you socialise and paint your weekend away!

Price: From RM150

Address: Sekeping Jugra, 3, Jalan Jugra, 58100 Kuala Lumpur, Wilayah Persekutuan Kuala Lumpur

Website: Veinist Project
6. MY Artjamming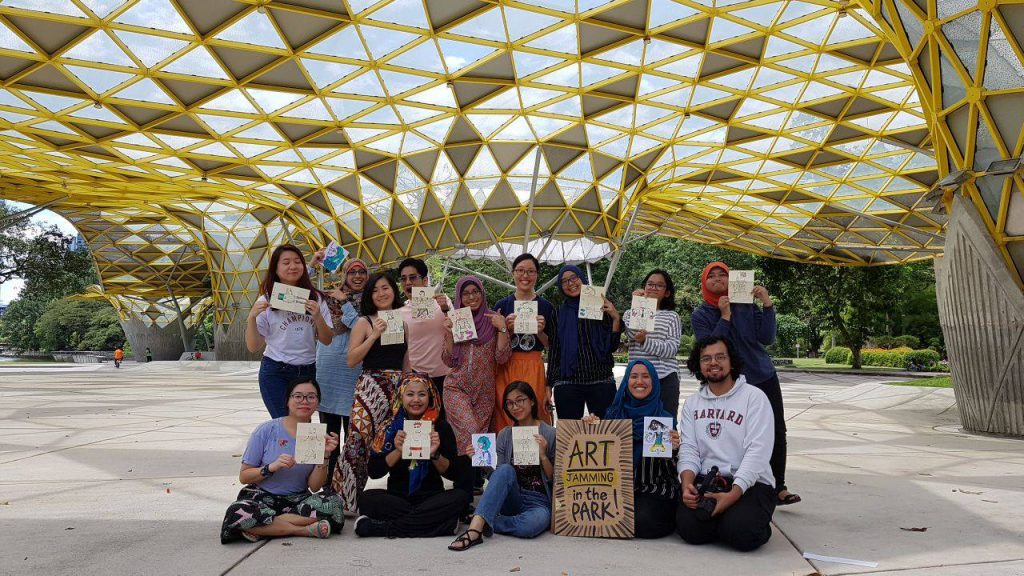 Based at various locations around KL, MY Artjamming is an art jamming group. Part of their artsy activities include playing drawing games, themed-based doodling and even non-drawing related activities that involve embroidery, acrylic pouring, and poetry!
Random? Yes, because they take pride in being an art community where you can create art as an expression or as a form of therapeutic healing.

Check out their schedules and locations here.

Extra Paint: Their classes run on donations from participants on top of fees to cover the course materials!

Price: Varies from different types of sessions

Website: MY Artjamming
7. Yorokobi Art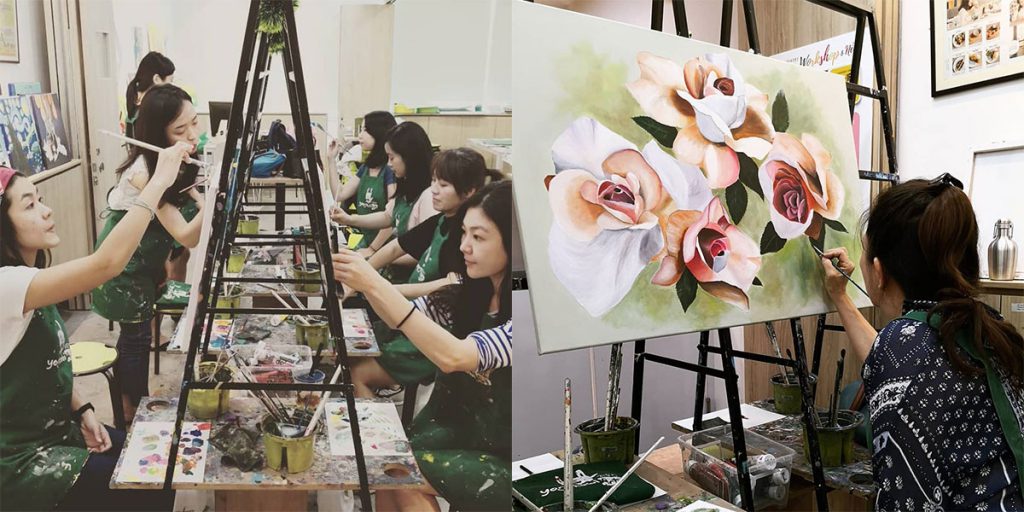 The "confident-in-their-skills" ones might enjoy the art jam experience at Yorokobi Art Cafe! On Wednesdays to Sundays you'll get to art jam it out on a canvas with acrylic paints for 3 hours — basic guidance provided. Brushes in one hand, a palette in the other and a beverage on the side sounds like a fun mid-week activity!

Plus, you'll get a free cake or cookie pack from them on your birthday!
PS: Advance booking is recommended.
Check out their schedules here.

Extra Paint: Being an art cafe means you won't have to worry about getting hungry while painting! Choose from a selection of desserts and drinks to enjoy as you channel your creativity.

Price: From RM89

Address: 12A-1, Jalan Radin Bagus 8, Bandar Baru Sri Petaling, 57000 Kuala Lumpur

Website: Yorokobi Art

Tel: 03-9054 9538
8. Stickerrific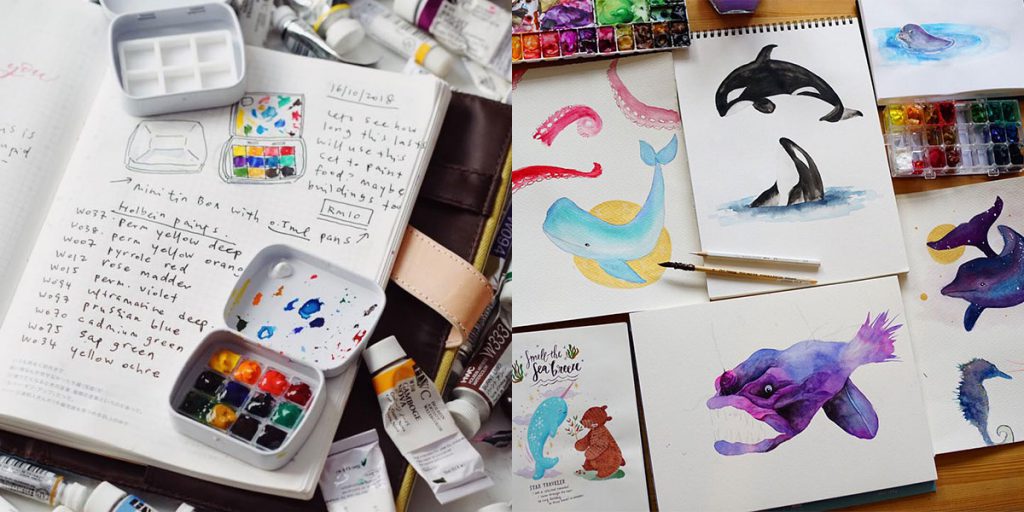 Famed for their quirky shop that's filled with art supplies, Stickerrific also conducts workshops and art jams for the artistically curious. They've also got a plethora of workshops and classes on adorable water colour animals, character drawing, brush lettering and calligraphy. On May 26th, they'll be organising an open session for Art Jam.

Check out their events in May here!

Extra Paint: Grab your bullet journalling supplies here too! Or order them from these Shopee stalls. 😉

Price: The art jam is FREE for all, but you'd need to purchase tickets from them.

Address: F-85-3.1, Jaya One, Jalan Universiti, Petaling Jaya, Malaysia

Website: Stickerrific

Tel: 03-7931 4092
Feature Image Credit: Veinist Project & MY Artjamming