It's officially the third month of 2019 and some of us are already failing our New Years resolution. Between yoga pants and health food ads, gut health has been pushed into the spotlight.
Thus, some of you may have heard of a drink called the Elixir of Life a.k.a. Kombucha. Here's the down low on a drink that apparently existed 2000 years ago in China.
Remember when you had to learn about aerobic and anaerobic respiration of muscles and bacteria in school? Well, we're about to get scienced up in here!
What is Kombucha
Kombucha is a fermented tea made by brewing tea with sugar and some jelly-looking substance called SCOBY. SCOBY stands for Symbiotic Colony Of Bacteria and Yeast which is also known as the 'mother'.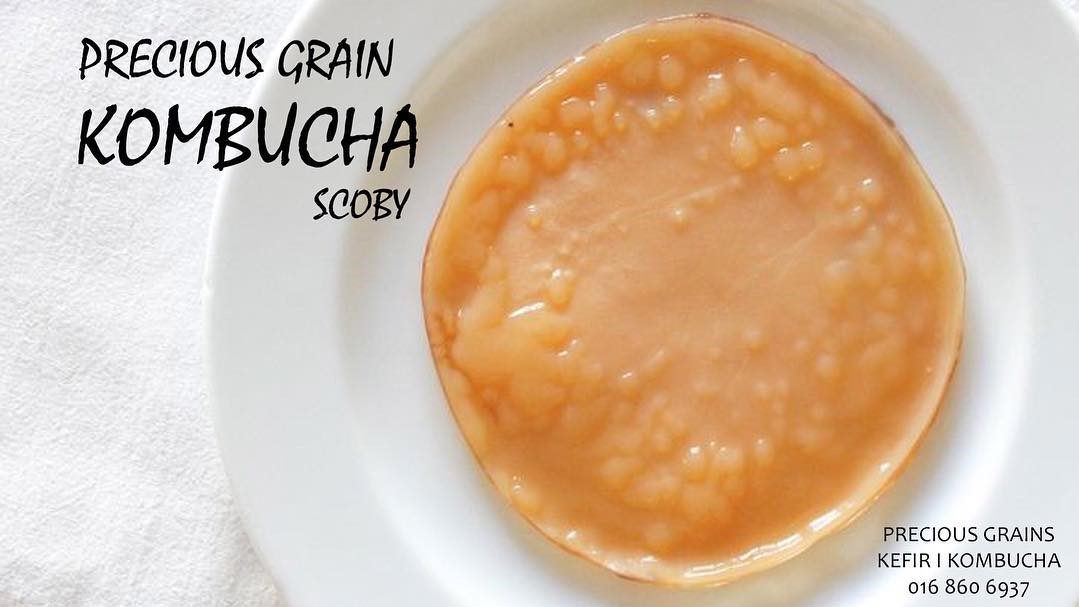 The SCOBY is a gelatinous, cellulose-based biofilm that is home to multiple bacterial and yeast species including the Acetobacter and Sacchraromyces strains.
When left in an air tight jar in a mixture of steeped tea and sugar, an anaerobic respiration process occurs. First, the bacteria and yeast breaks down the glucose in the sugar. Then the broken down complex sugar is converted to ethyl alcohol and carbon dioxide gas. This process is also known as fermentation which produces a tangy and fizzy solution with less than 1% alcohol content.
During this entire process the "mother" SCOBY will produce "daughters" with every brew which appears as new layers on the surface of the liquid. These layers can either be left to make the "mother" SCOBY thiccc or kept in a SCOBY hotel to be used as the starter liquid.
But WHY?!?!
Yes yes, we know. The SCOBY looks a bit geli with its little bumps, but Kombucha is jam-packed with really good enzymes and probiotics. While it doesn't cure cancer or revive a dying patient, it restores the natural gut flora in our intestines while increasing our body's immunity.
Hence you'll have better absorption and digestion while enjoying a low carb but delicious drink.
It is also paleo-approved as the sugar left over in the Kombucha lessens with the length of brewing time as most of it is used by the SCOBY!
But how do I drink this?
Kombucha tea is delicious on its own and made even better when brewed with various teas and fruits. Some common favourites we've come across are pomegranate, lime and apple Kombucha teas.
Or if you're feeling extra fancy, you could turn them into fancy ass cocktails ?.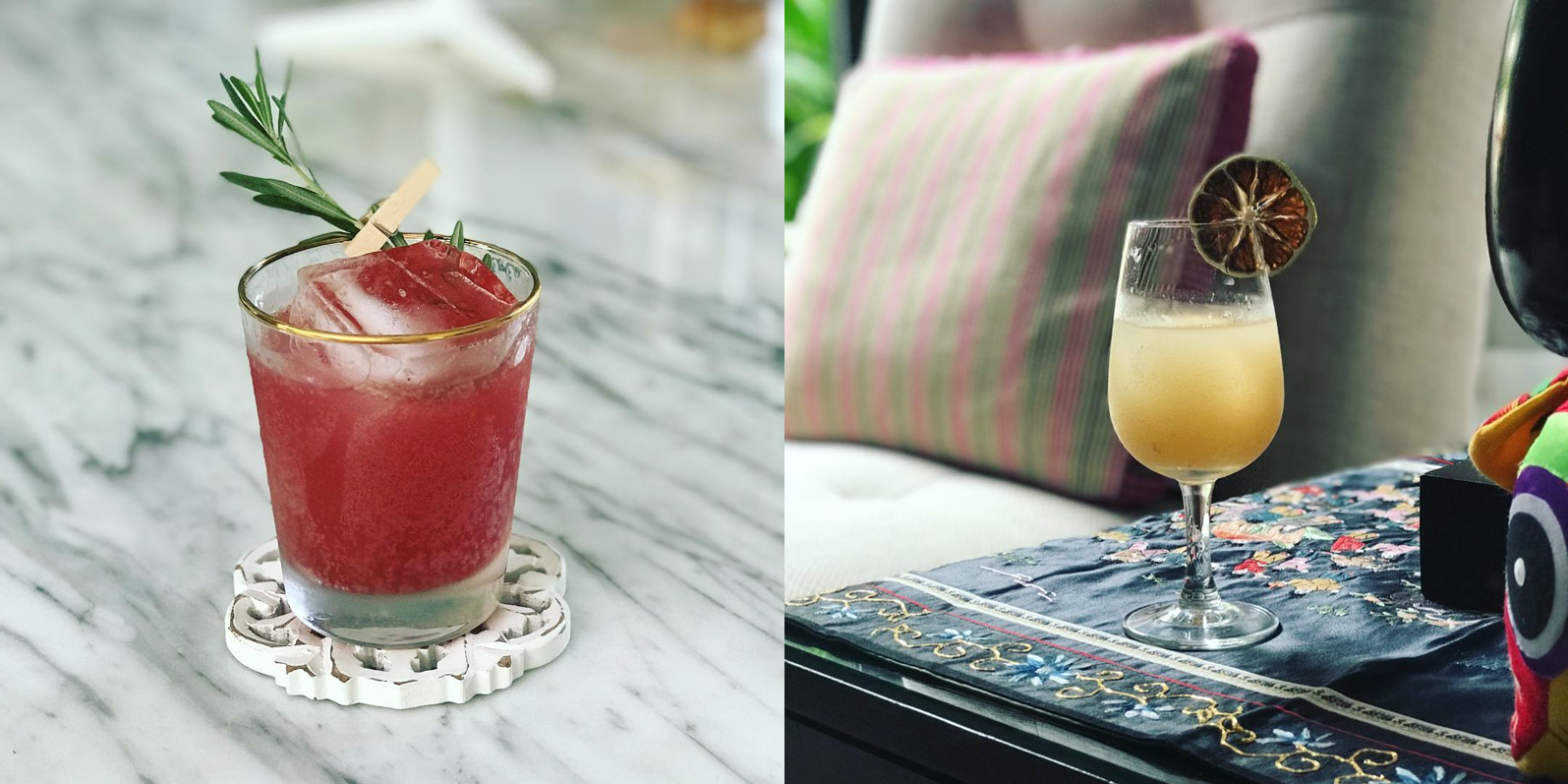 The natural tartness and slight fizziness of Kombucha makes it a perfect base to combine with sake or gin; perfect for the health conscious alcoholic as it is low in calories and carbs.
So before you judge a SCOBY by it's cover, give it a try! It may just be too "gut" for you.
Kombucha is often sold alongside Kefir, another fermented probiotic drink. Kefir is made by adding probiotics to milk.
Fans often describe it as tangy and yogurt-like, and for the many Asians who are lactose-intolerant, you might find that you can stomach Kefir. A lot of the lactose is removed from the milk during the fermentation process.
Here are 10 online shops that make delicious refreshing Kombucha teas with bonus kefir, and some with starter packs for you curious cats.
1. CHACHA Kombucha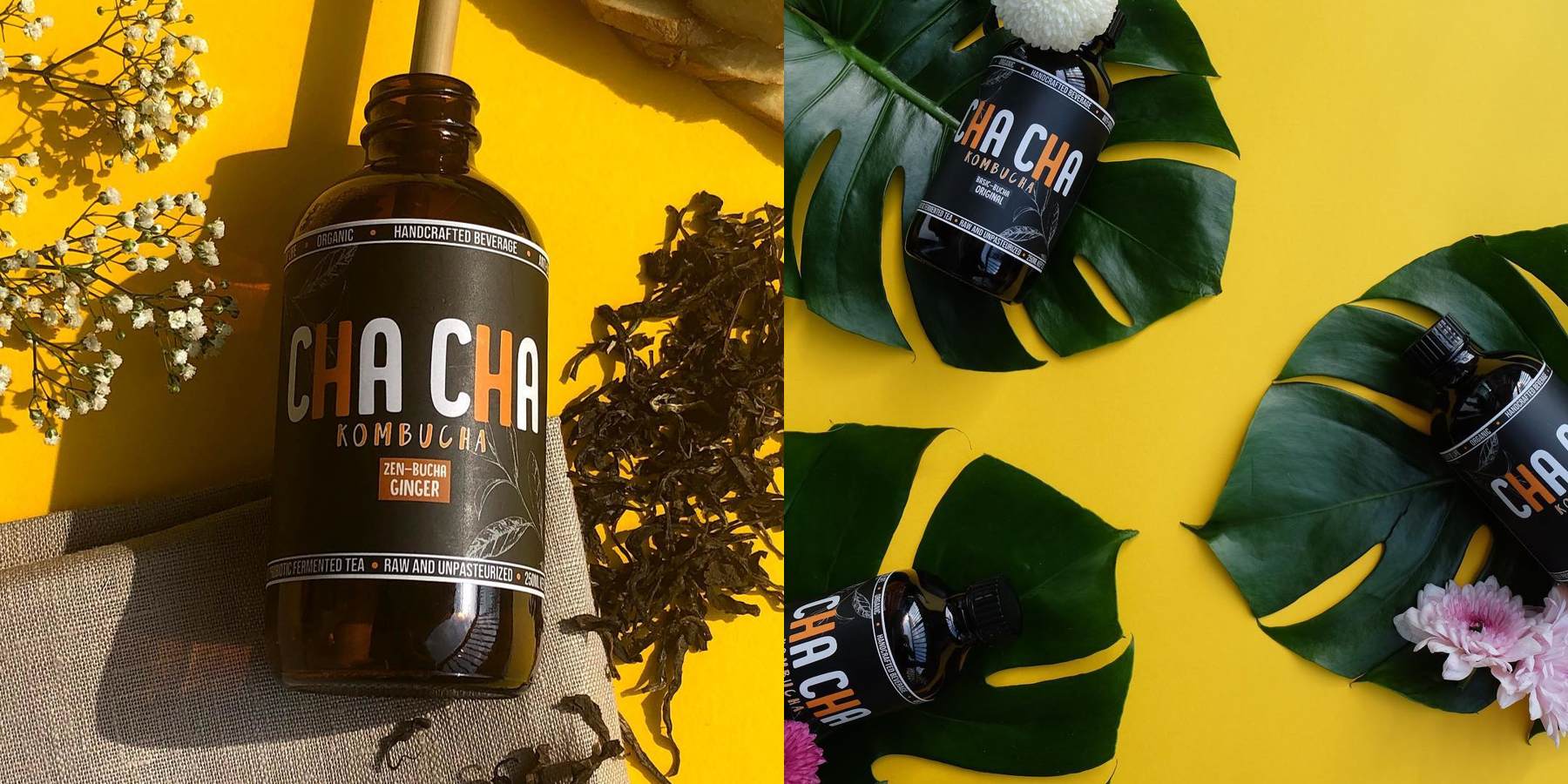 Their Instagram is full of fit babes and hunks with vibrant pops of colors. Based in Kuala Lumpur, their Kombucha teas are bottled, handcrafted and organic.
Incorporating various teas, cold-pressed juices and herbs, their Kombucha blends sound simply delicious.
When you're craving something cooling yet calming, their Cool-Bucha sounds thirst quenching. Combined with watermelon, it's slightly nutty, floral, sweet and bubbly.
They've also got the Basic-bucha (original) and the Zen-bucha (Ginger) for a classic spicy kick.
Price: RM11
Website: CHACHA Kombucha
2. Precious Grains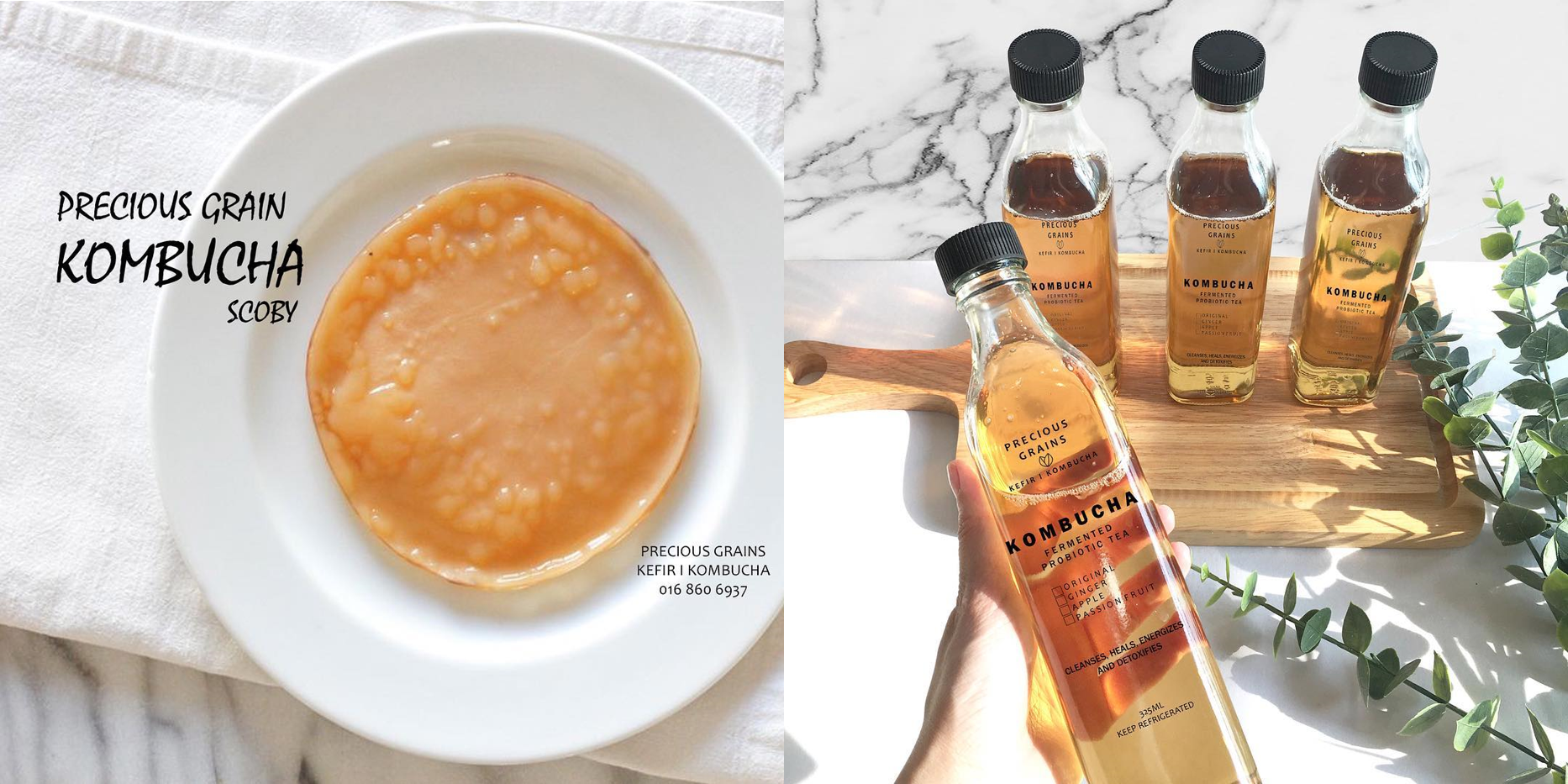 As the name suggests, this Instagram store sells anything related to Kefir and Kombucha.
Their kombucha teas come packaged in slim minimalist clear bottles for ease of travel.
Choose from four different types of kombucha teas (original, ginger, apple and passion fruit) and have them delivered for free within Petaling Jaya with a purchase of RM70 and above.
Price: RM10.9-RM20
Website: Precious Grains
3. Wild Kombucha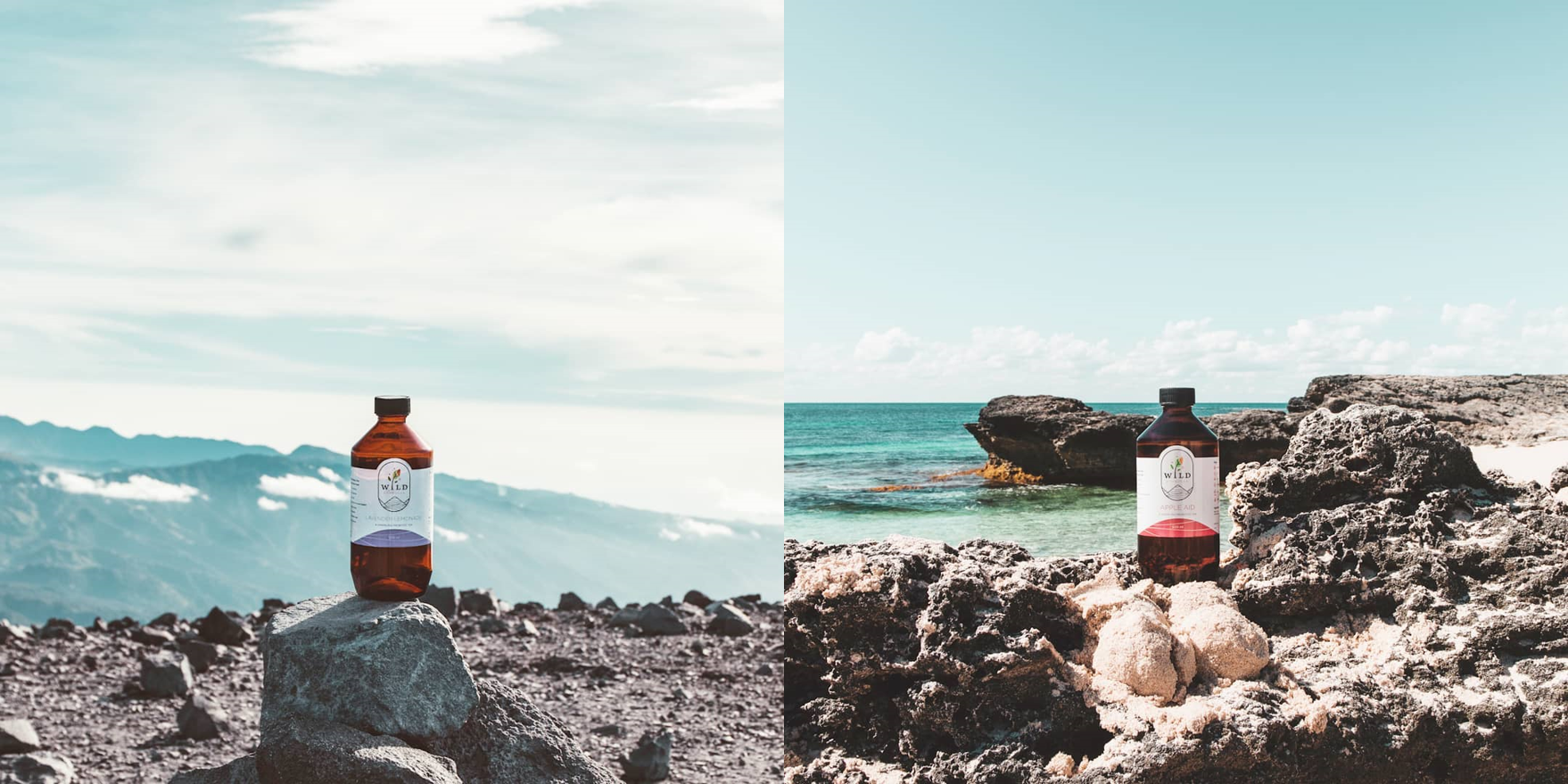 One of Kombucha's many traits includes being packed with antioxidants which are really helpful in fighting diseases and inflammatory allergies.
The founder of Wild Kombucha began his journey in 2014 when he chanced upon Kombucha's ability to rid him of a form of eczema. Besides ending his woes with eczema, his after-meal cravings for chocolates and sweets were plighted too.
Hence, Wild Kombucha aims to spread the benefits and awareness of Kombucha through their small batch of handcrafted brews using pure ingredients. Their refreshing teas are available at Pushmore Fitness Centre, Hippe Hub Studios and Medifoods Lifestyle Cafe TTDI too!
Opt for their Orange Oasis that's Black tea and Pu'er infused with citrus notes from oranges and mint leaves after a tough workout! They've got apple, lavender and white tea Kombucha Tea variations too.
PS: Get an RM1 discount when you return their bottles at various locations available on their website!
Price: RM15-RM27
Website: Wild Kombucha
4. BELLY GOOD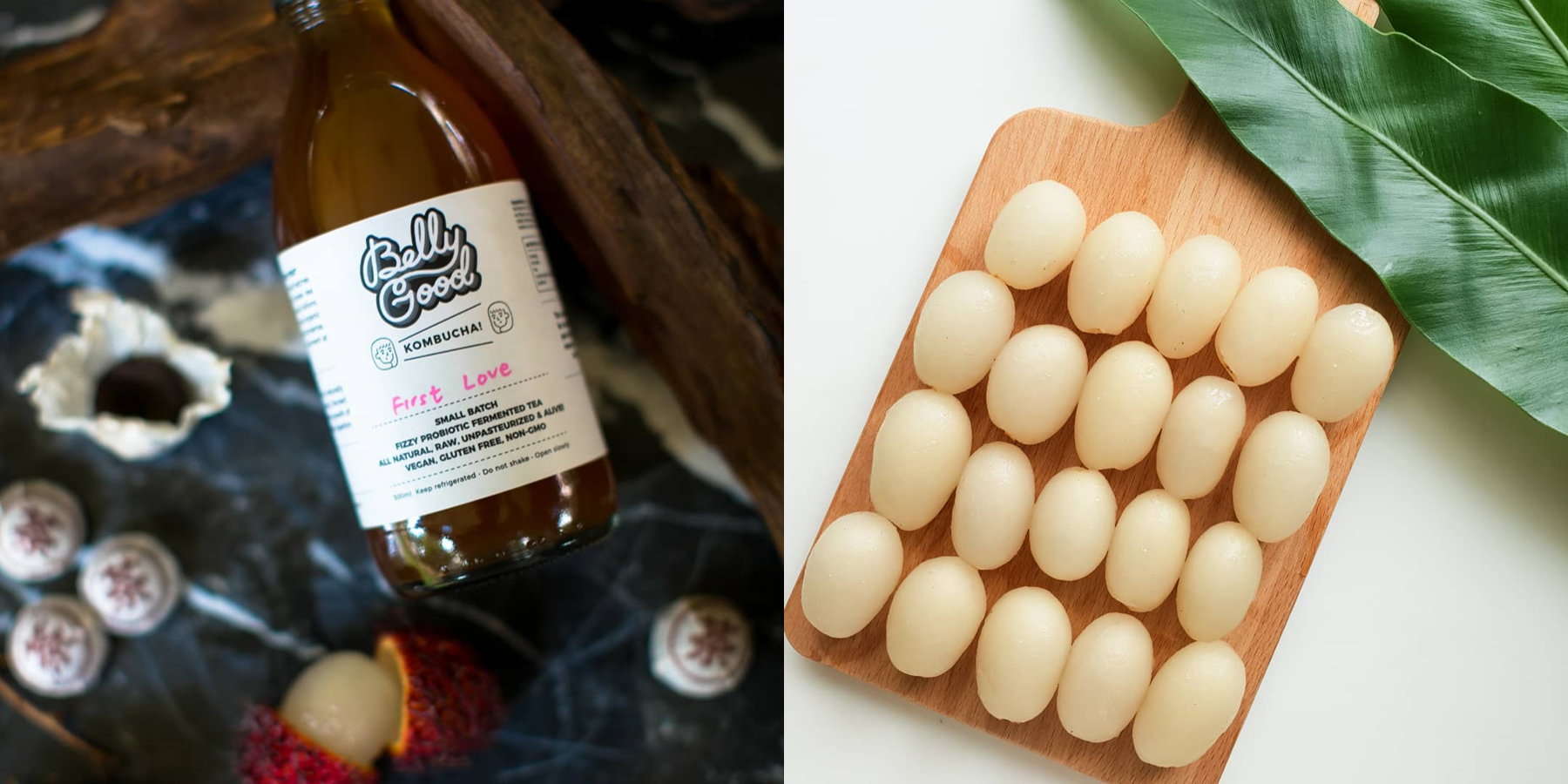 Founded in 2017 by two good friends who bonded over the love of yoga, BELLY GOOD creates small batches of handcrafted Kombucha.
By using sustainably-sourced Chinese tea and organic local ingredients, their Kombuchas come with a twist of local flavours.
Their Golden Goddess is their special blend black tea Kombucha flavoured with organic lemongrass, ginger and tumeric. However, their First Love caught our attention. Described as "reminiscent of your bittersweet first love", their pu'er black tea Kombucha is flavoured with local rambutan.
Check out more of their teas at Hot Yo Studio and Bee Q Nails or their website!
PS: They have a Buy 10 Free 1 promo going on indefinitely so this is your chance to get your whole gang on the Kombucha train. 😉
Price: RM12
Website: Mybellygood
5. Scobyfarm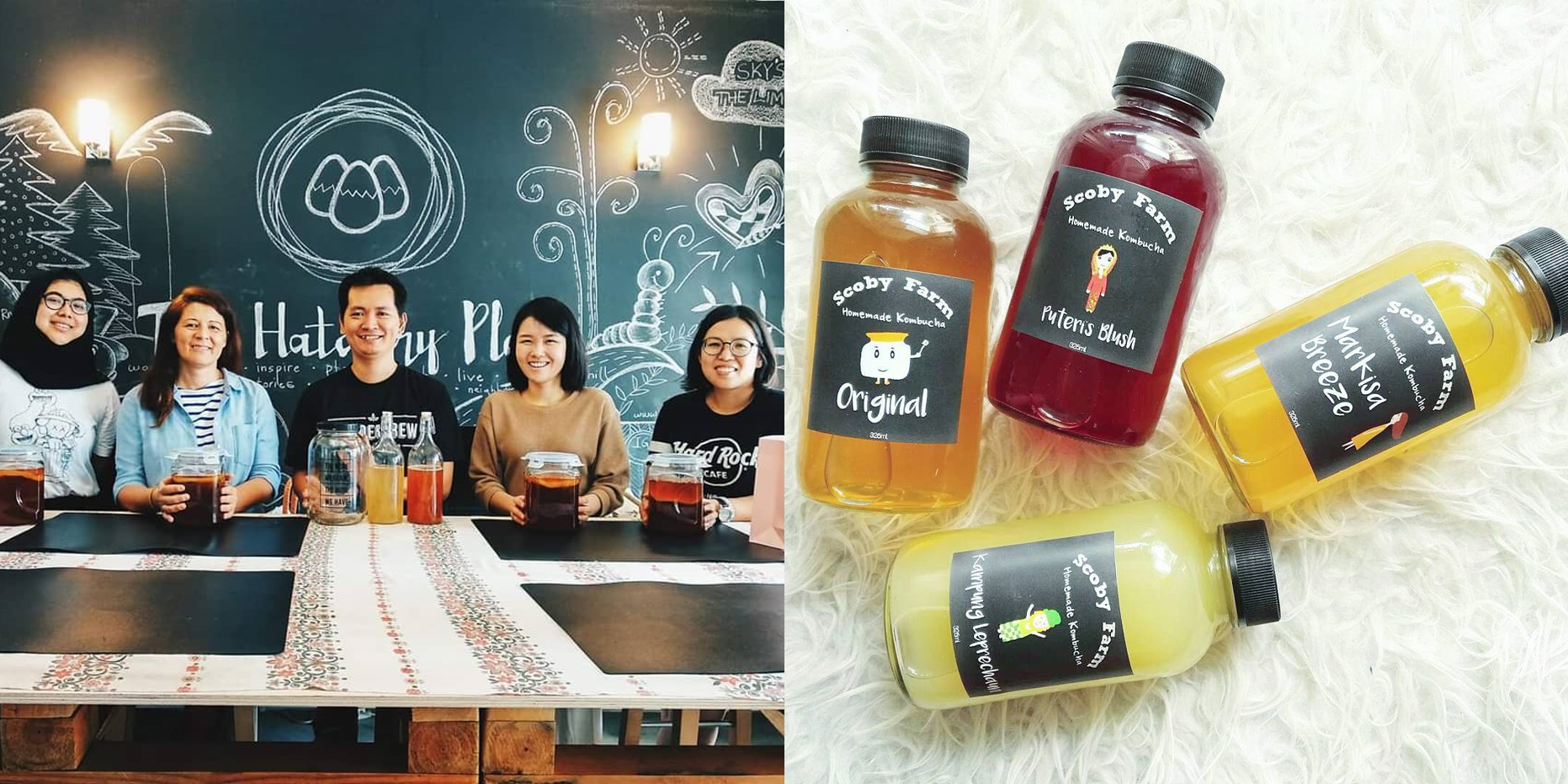 Describing his first encounter with a scoby as something from Fear Factor, Boon Loke was pleasantly surprised with the refreshing and slight tartness in a Kombucha drink.
Brewing since 2011, Scobyfarm is known for their naturally-infused Kombucha teas with fruits such as their Markisa Breeze. Who knew a combination of Oolong tea and passion fruit in a jar of yeast and bacteria would be such a hit!
They've also got an antioxidant-rich kombucha named the Puteri's Blush or a Kampung Leprechaun with green tea and ambra. Selected Scobyfarm kombuchas are also available at M+ Pharmacy, Bangsar Village 1.
If you're looking to learn the ways of Kombucha tea brewing, they do offer courses and also a Kombucha Starter Kit!
Price: RM10.6
Website: Scoby Farm
6. Wonderbrew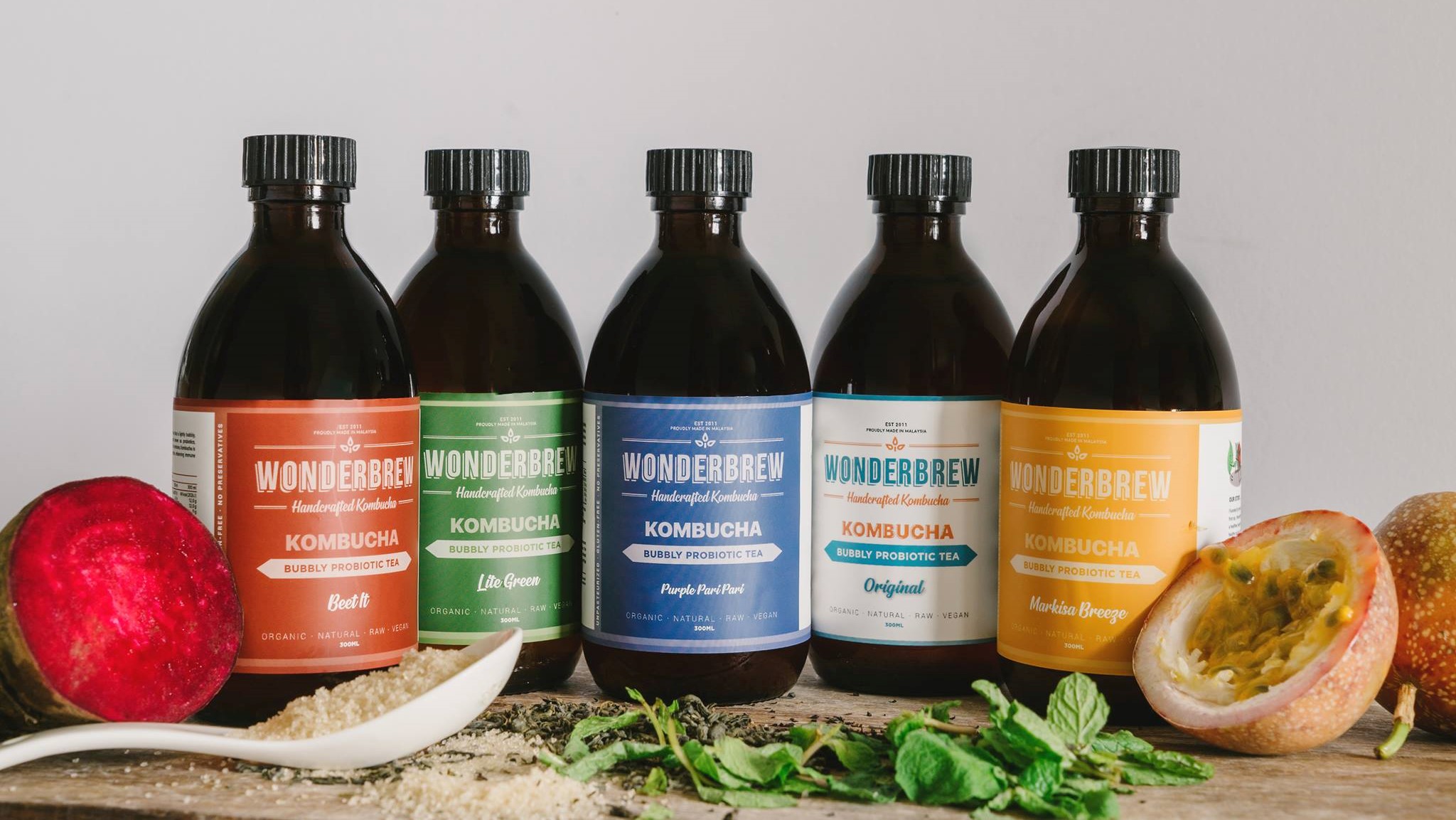 Give your tummy a "Wonderbrew" time with their organic, low sugar, natural, probiotic-packed Kombucha teas! Inside these vibrant labelled bottles are kombucha teas brewed with refreshing ingredients such as beet root, mint, and passion fruit.
Besides having individually packed bottles, they're also available for event catering on tap. It'll be like serving probiotic fruit beers without the carbs! Like how fetch is that!
Price: 12.90
Website: Wonderbrew
7. Kefir.lab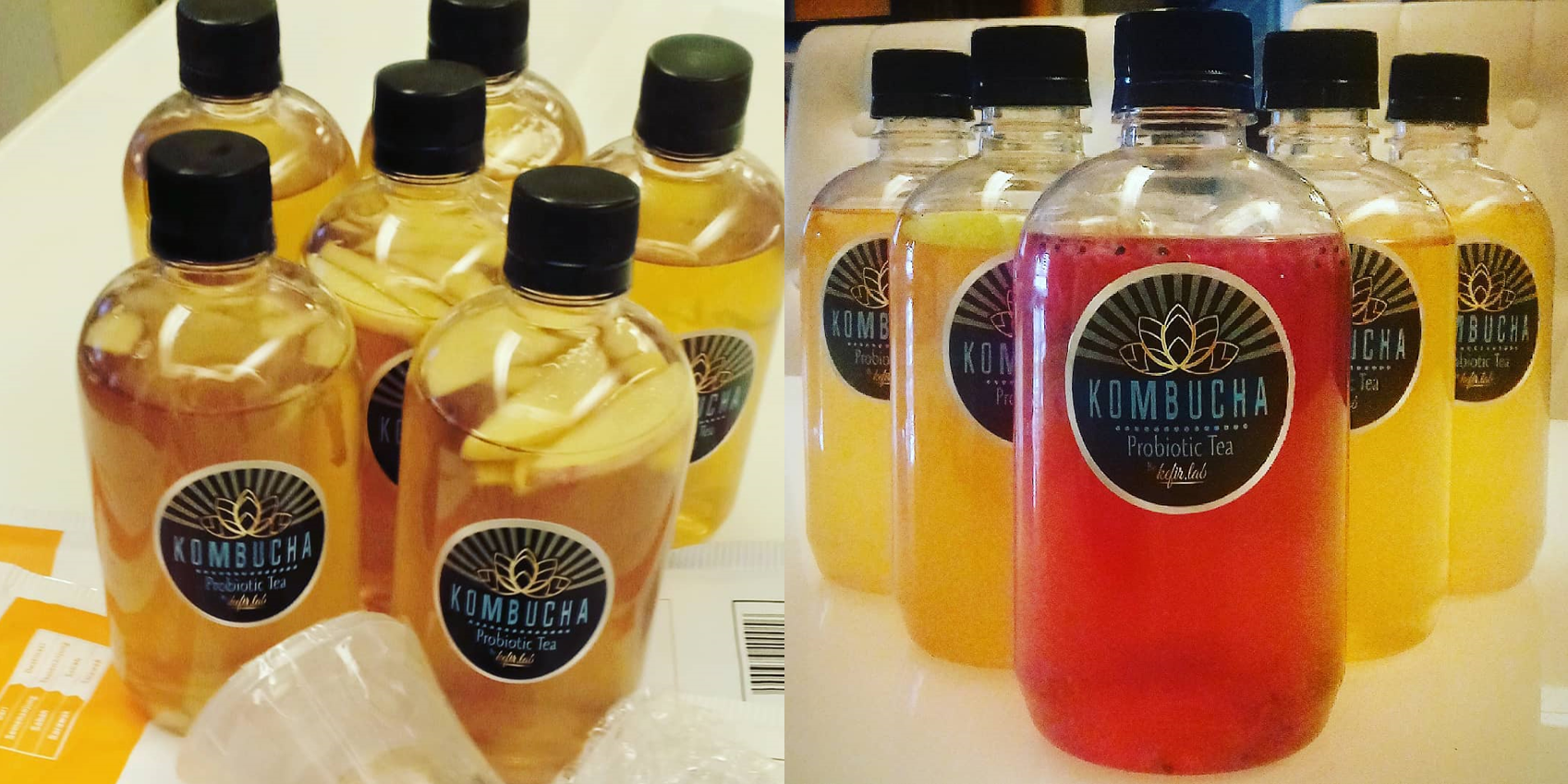 Yep you guessed it! Not only does kefir.lab make and sell their own Kombucha teas, they also have milk and water kefirs, Scoby and a probiotic mask.
Made with real fruit, their dragon fruit Kombucha tea is a vibrant pink while their ginger Kombucha is a thirst quenching bottle of gold.
Besides that, the friendly bacteria in probiotics are also great for preventing skin breakouts. And this particular shop also has little tubs of Kefir face masks to soothe your skin (and soul) for complexion as smooth as a baby's bum.
Chill in the comforts of your home with a face mask and a bottle of Kombucha as they post over six bottles for a postage fee of only RM11!
Price: RM10
Website: kefir.lab
8. Kefir and Kombucha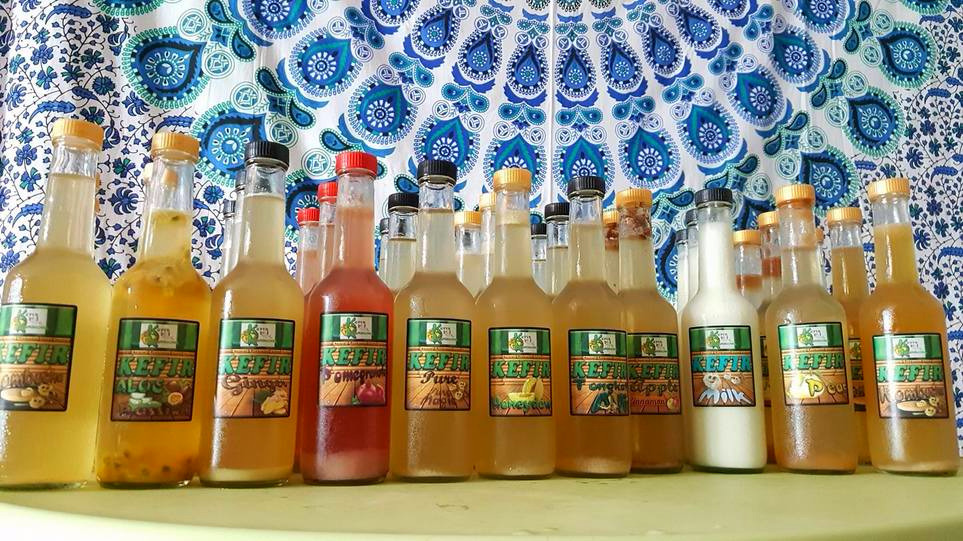 Hailing from Mother Russia is the mother of all Scobys, a.k.a Russia! Having grown up drinking Kefir and Kombucha, Youri (the founder) decided to share the wonders of these probiotics with Malaysians. Hence, Kefir and Kombucha was born.
We really love how their entire family is involved in the sharing of such bubbly goodness.
Fun Fact: Even their youngest son, a young toddler would occasionally help to stick on the bottle labels!
Price: RM18.70-RM57
Website: Kefir and Kombucha
9. HealthyEverAfter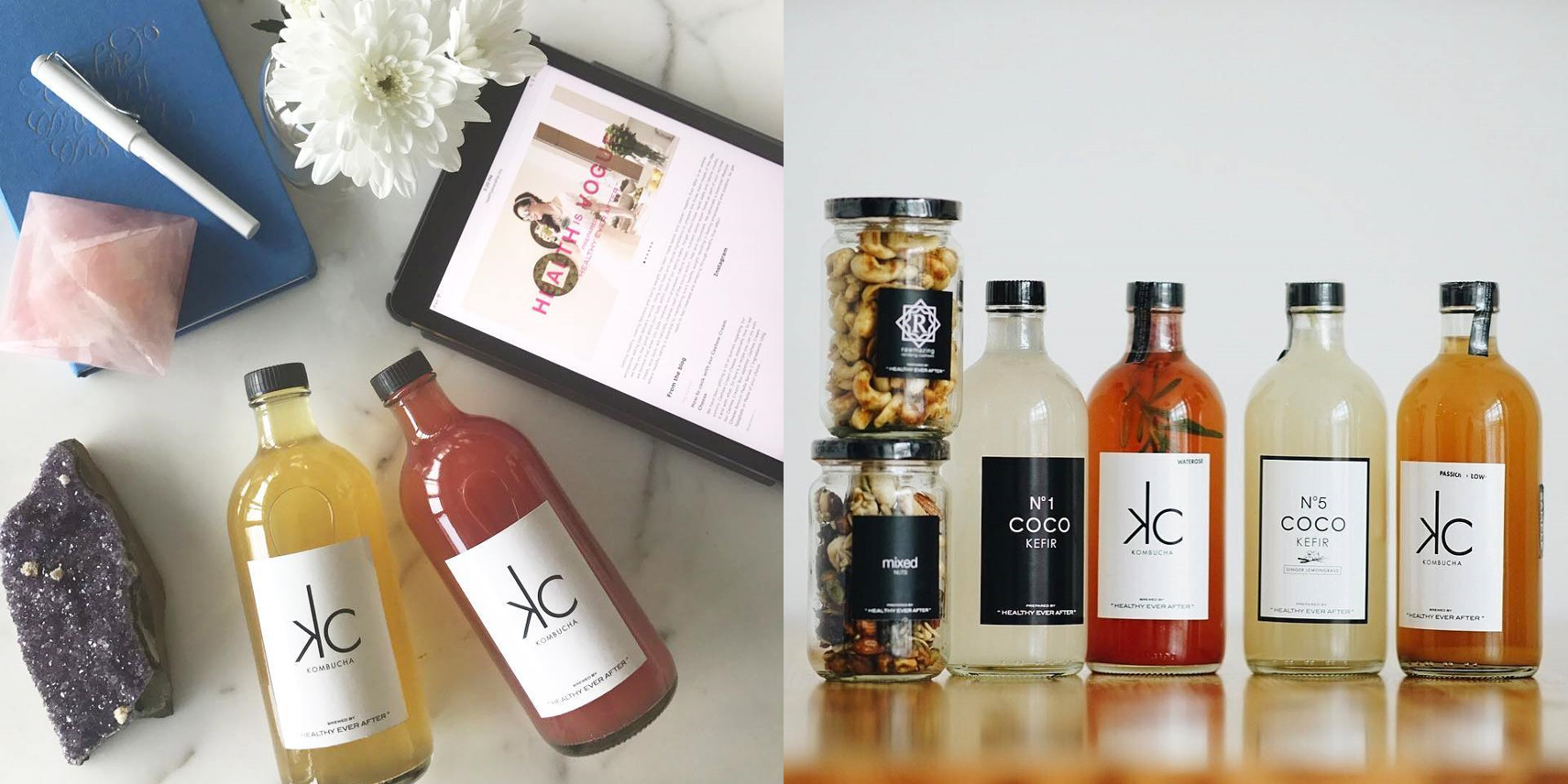 Started by fitness guru, Dian, her love for all things love, flow, peace manifests itself in pretty bottles of Kombucha and Kefir. Using natural whole food fruits and herbs for flavouring, every small batch brewed is guaranteed to have as much probiotics and goodness possible.
Have a taste of health with a full wave of fruitiness that fill your senses and quench your thirst. It comes with a tinge of sweetness intertwined within tangy swirls.
PS: We heard that you can get these little bottles of joy from Kopenhagen Coffee too!
Price: RM12-RM18
Website: HealthyEverAfter
10. Booch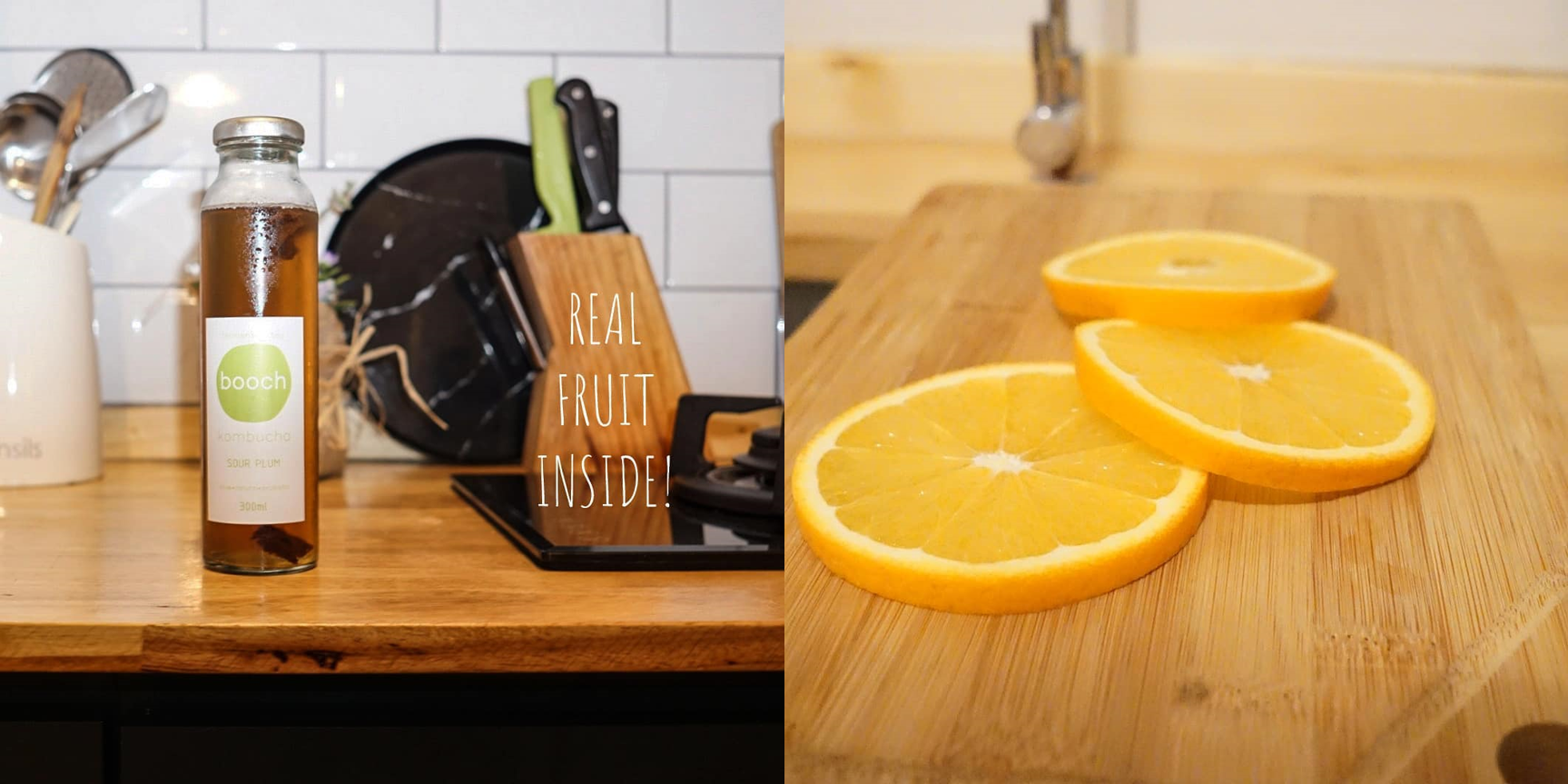 And finally we have a new kid on the block, Wittle-Boochy-pie! We're loving their name but that's not all. They also drop real dehydrated fruits in their bottled Kombucha teas for extra flavouring! Plus, their flavours all sound so delicious – original, sour plum, peach and ginger.
Can you imagine yourself sipping on a fizzy sour plum Kombucha on a sunny afternoon? We can!
Price: RM10
Website: Booch
Feature Image Credit: wildkombucha.co & healthyeverafter.my