Last year, we reviewed RollerWa's first Malaysian outlet that's located in 1Utama Shopping Centre, which first opened in December 23, 2021.
Fast forward to 2023, RollerWa has two other outlets in the Klang Valley, one in LaLaport BBCC, and their most recent outlet is in IOI City Mall, Putrajaya.
For those who are not familiar with RollerWa, it's a South Korean company that specialises in creating a K-culture inspired indoor skating experience.
Having said that, here's what to expect at the IOI City Mall outlet.
Located at phase 2 of the mall, purchasing the tickets is easy and straightforward as we only had to interact with the self-service kiosk which accepts cashless payments.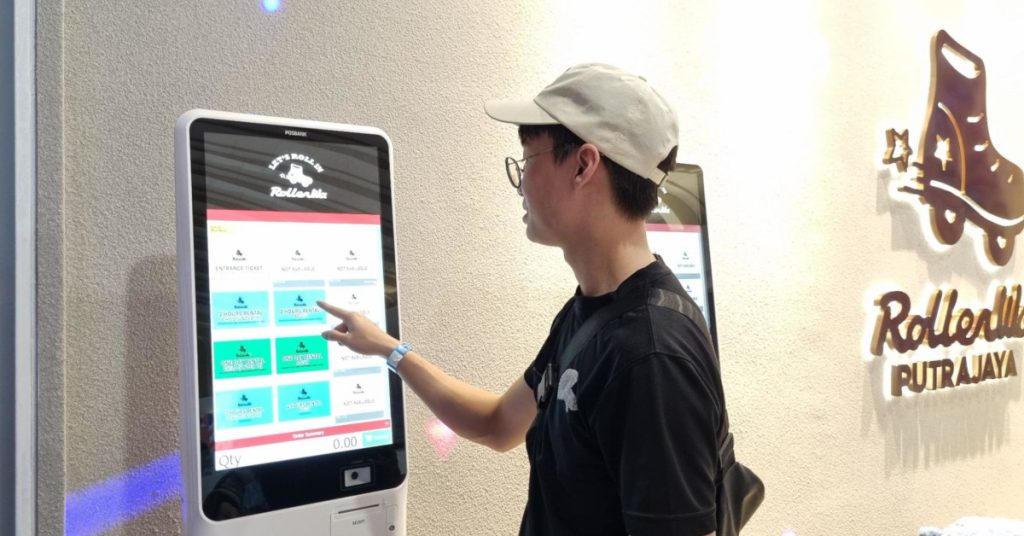 Here are the prices of the tickets:
| | |
| --- | --- |
| Ticket | Price |
| Two-hour entry | RM40 (age 17 & below)RM50 (age 18+) |
| One-day entry | RM70 (age 17 & below)RM80 (age 18+) |
If you get the one-day ticket, you can head out for lunch or dinner, and return after that to continue skating.
If you bring your own quad skates, you can get RM3 off the total price of your ticket.
As for those who want to enter but don't plan on skating, you're required to pay a non-skater entrance fee of RM12. This would be applicable for example to parents who want to accompany their children in the premises who are skating, but are not entering the rink itself.
RollerWa is designed with a slight retro aesthetic, where neon lights adorn the walls, and geometric symmetry is reflected through the clean white tiles along some seating booths.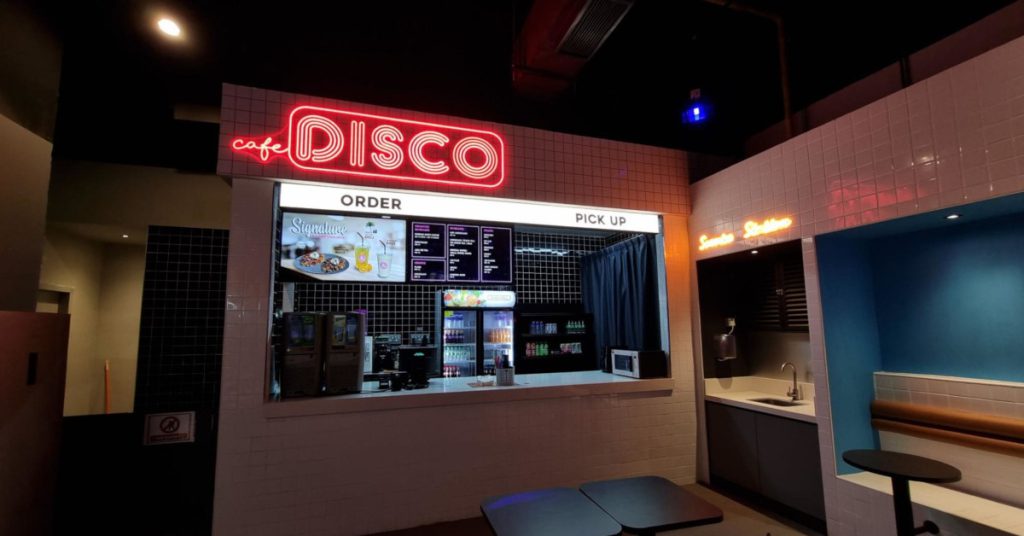 An 80s inspired cafe dining area sits in one of the corners, with some snacks and drinks available on their menu. They also serve light food such as the Korean crispy corndog (RM12), plain croffle (RM13), and chocolate croffle (RM15).
In the middle area there's a large rink, where you'll notice flashing lights from the quad wheels as skaters fly by. Disco lights rotate around the rink too, contributing to the nostalgic ambience.
It's not hard to find Insta-worthy spaces and angles, seeing as the lighting in the space compliments the contrast of colours well.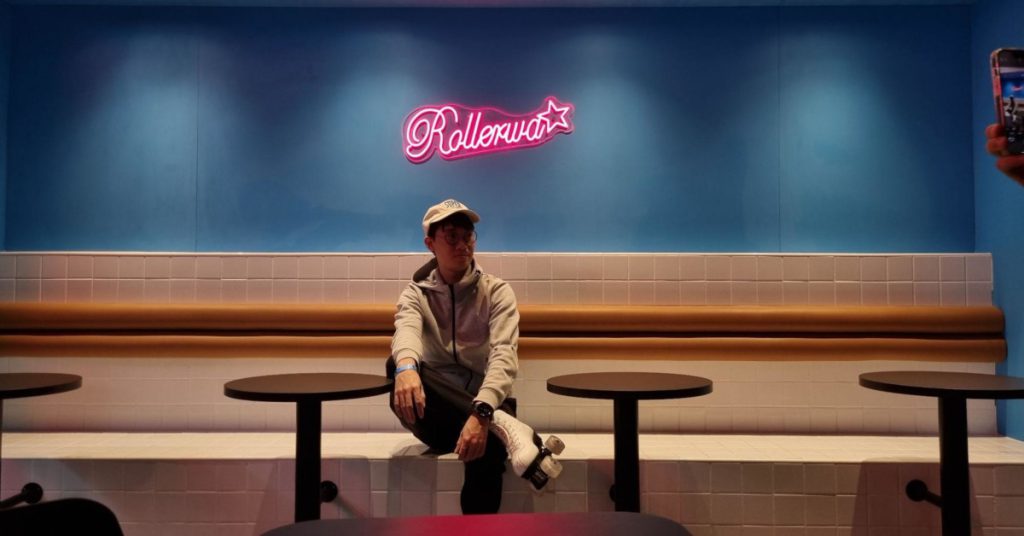 You can get yourself a pair of quad skates at the rental counter on the right side, along with knee pads, elbow pads, and a helmet. There's no additional cost for all the safety gear.
Tip: Wear or bring socks because it's compulsory to skate. If you don't have any with you, you can buy a pair for RM5.
When renting a pair of skates, choose a size that matches your street shoes, or even half a size down so that your foot has as snug of a fit as possible. This is to avoid rolling your ankle, especially during turns or accidental falls.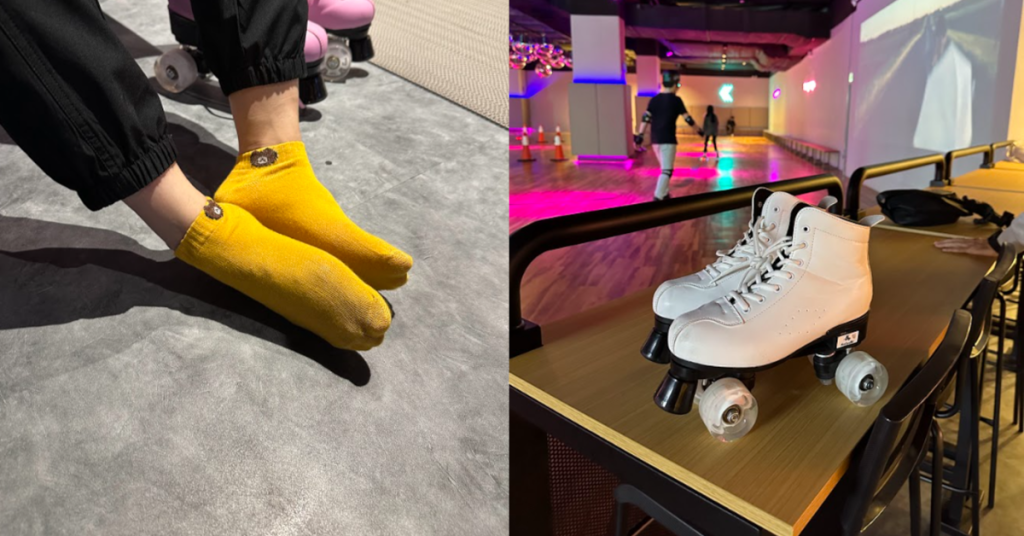 If you're not confident in your skating abilities, you can consider renting a skating aid to help you stay upright as you practice.
To the left of the rental counter is where you can rent lockers to securely store your valuables. Alternatively, you can have someone look after your personal belongings as you skate.
On top of that, RollerWa also sells merchandise too such as the RollerWa Oversized Tee (RM140) and the RollerWa Hoodie (RM220).
There are also several colourful quad skates on display, perhaps to inspire skating enthusiasts who would like to invest in more skates of their own.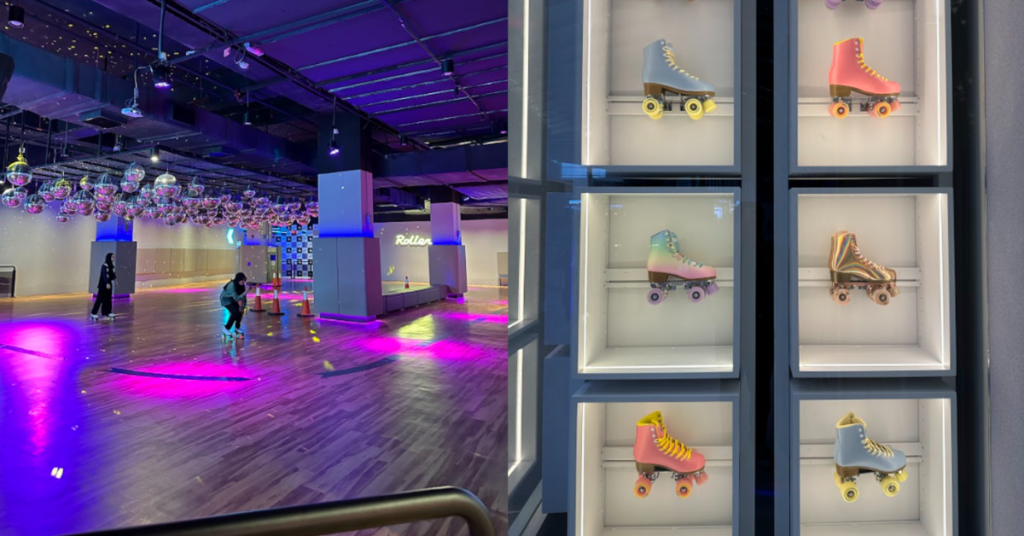 Once we got our rental skates on, we stumbled onto the skating rink and cautiously tested our balance by moving slowly forwards and taking gentle turns.
After we finally got the hang of skating (some of us were quicker than the rest), it was fun skating counterclockwise around the rink while bopping our heads to various K-pop music.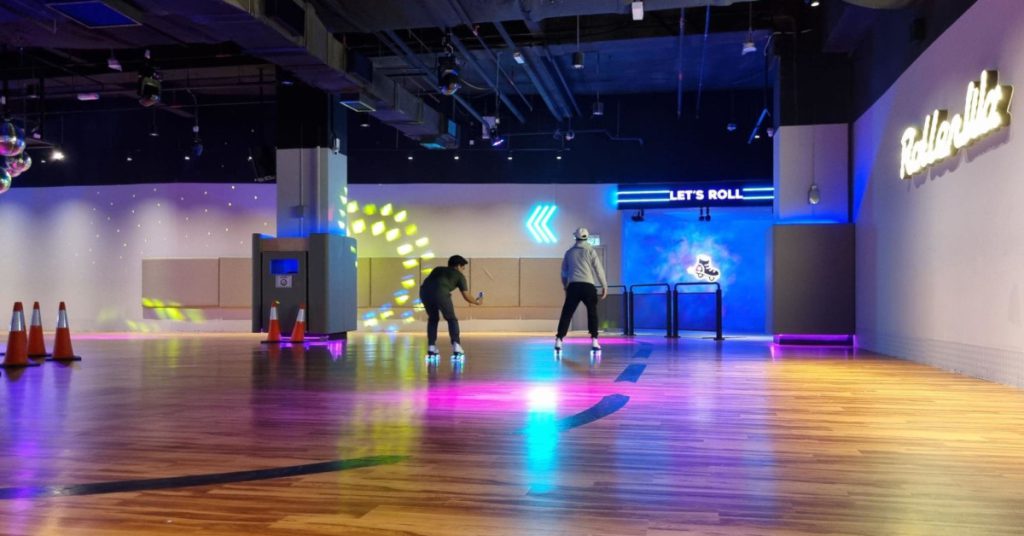 For newbies, take your time to stabilise and build up your momentum and speed. There's no rush and other skaters are generally very gracious to move out of the way and avoid you if you're skating slower.
If you need a spot to rest, there are seats located around the edge of the skating area, and within the circle of the skating rink.
The seats are also helpful if you happen to fall and you need some time to catch your breath before continuing.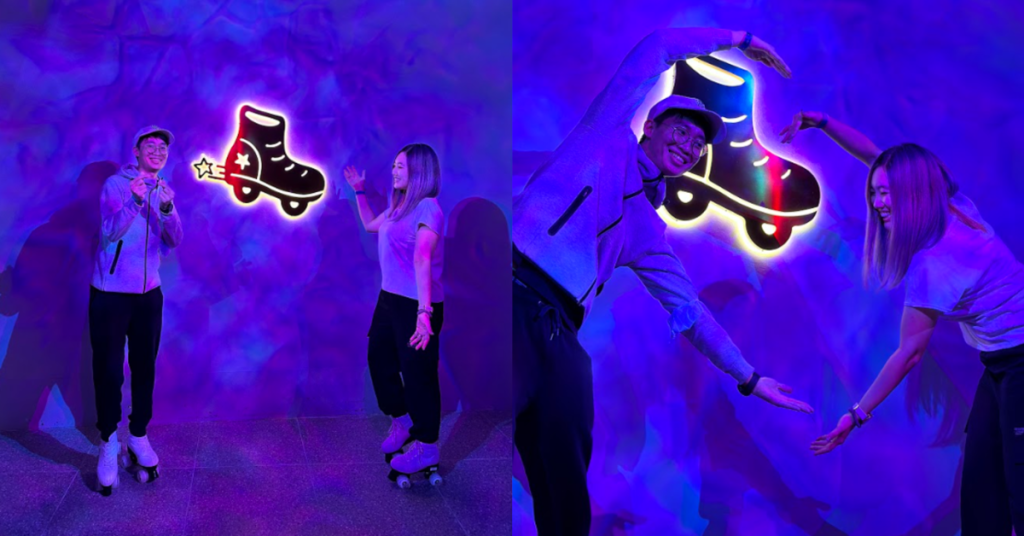 We did notice that the outlet in 1 Utama has more backdrops for pictures compared to the IOI City Mall outlet.
One thing to note is that when it comes to pictures, you may want to consider using a phone or a camera with decent low light performance, as the outlet is rather dim.
Overall, it was a fun but tiring experience. There is no half hour or one hour option for tickets so you have to dedicate more time to this activity to make full use of the fee.
It was surprisingly quite a workout, we did not expect to come out sweating from skating around inside an air-conditioned mall!
RollerWa, IOI City Mall Putrajaya
Location: L3-231, Level 3, IOI City Mall, Putrajaya
Instagram: https://www.instagram.com/rollerwakl/
Contact Number: 010-429 5800
Operating Hours: 10AM to 10PM