Recently, Nextgen Themepark, the largest indoor "edutainment" outlet in Malaysia has opened its doors in One Utama Shopping Centre, Bandar Utama, Petaling Jaya.
Recognised by the Malaysian Book of Records, the outlet spanned about 45,000 sq ft, and it included many fun activities ranging from wall climbing to obstacle courses.
However, the biggest draw for us was the Night Owl Tickets, where you can get 50% off the ticket's original price if you go in from 7:45PM onwards on Mondays to Fridays.
Being occupied during the day with our jobs, we saw this discount as an opportunity to check Nextgen Themepark out after work.
But before we elaborate more on what we found when we were there, here's what to expect regarding the price.
| | | |
| --- | --- | --- |
| Weekday Price | Weekend Price | Night Owl Ticket (Mon ~ Fri 7:45PM onwards) |
| Adults – RM38Children – RM28 | Adults – RM55Children – RM45 | Adults – RM19Children – RM14 |
Because my colleague and I got ourselves the Night Owl tickets, we only spent RM38 for two tickets and RM14 for two pairs of grip socks, which are socks with rubber padding underneath to stop wearers from slipping about while running about.
Note: The grip socks are reusable, so bring them along on your next visit to save yourself from spending another RM7.
While there's no harm in carrying your bags into the premises, leaving them unattended while you run around is not a good idea.
Near the entrance, there's a designated area where you can store your shoes at. There are lockers for you to store your belongings with a fee of RM6 for the whole day.
As you enter the main area of the Nextgen outlet, you'll first be greeted by the Ninja Challenge Arena, filled with a variety of obstacles for you to navigate through.
Based on the promotional videos shown at the front of Nextgen, there are supposed to be a bunch of checkpoints scattered throughout the obstacle course that you will have to tap as you run through the obstacle course, but it was not available while we were there.
Once the checkpoints are functional, there could be a Ninja Challenge Arena competition somewhere in the near future.
Climbing to the top of the Ninja Challenge was moderately challenging, likely due to my height (about 173 cm), making it slightly difficult to squeeze through certain obstacles.
We liked how there's a large variety of obstacles, each with its own set of challenges to test your balance, coordination, and nimbleness when traversing between each section,
If there's one flaw I have to point out, it would be the flying fox obstacle, where the sudden stop may be too abrupt for some people to handle.
Reaching the peak of the Ninja Challenge Arena, you get a bird's eye view of the Nextgen theme park.
Getting out was quite simple because we needed to follow the same path we came in from and climb down a few openings on the floor until I reached the bottom floor.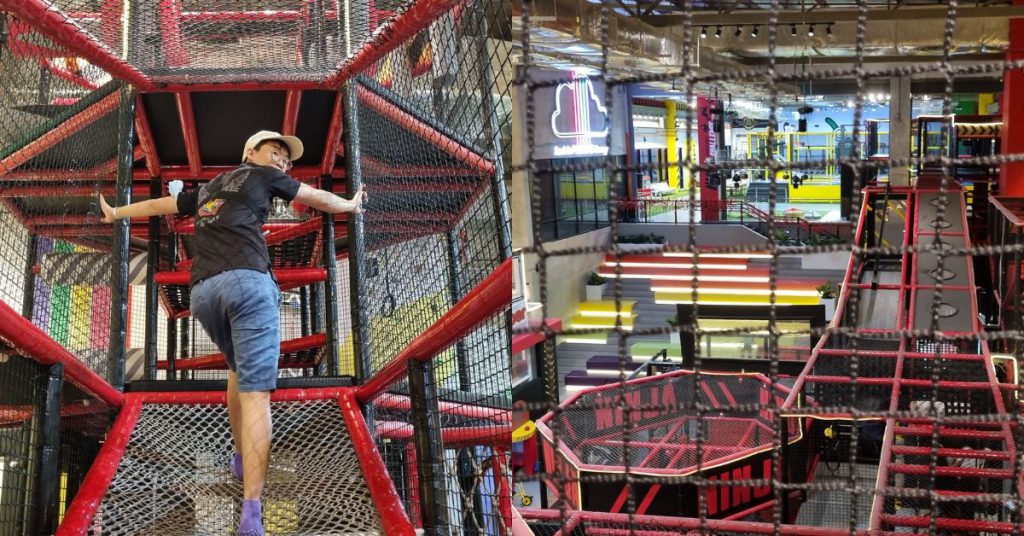 Directly opposite the Ninja Challenge Arena, you'll find the Imagination Playland. Children can roleplay as a firefighter, police officers, a chef, or even a merchant at a market.
Adults may have difficulty navigating this area because the ceiling was relatively low, requiring us to hunch down as we went from room to room.
Right beside Imagination Playland is where you'll find the kids playground, which has some obstacles similar to the Ninja Challenge Arena, except they're not as strenuous. There's also a slide in the middle for a quick exit.
Heading towards the back, there's a wall climbing section with an auto-belay system which will lower the climber slowly in the event of a fall or once they've reached the top of the route.
Unfortunately, we could not try out the wall climbing section for ourselves as it was closed during our visit.
There are party rooms beside it that you can book for activities, like birthday celebrations, from RM28 per pax.
Once we were done with this section of the theme park, we went upstairs, where there were more activities to try out.
Here, we found another entrance to the Ninja Challenge Arena obstacle course that leads to the main area, complete with its own set of obstacles.
There's also a trampoline section where you can jump around and shoot some basketball hoops or stick yourself to the velcro-lined wall while wearing a velcro suit, which could hold my weight (56kg) without ripping off the wall.
There's a padded court called the bubble bang beside the trampoline zone, where you ram into each other while wearing a big bubble suit or playing soccer.
There's another section at the back where you'll find the Virtual League, a room filled with Playstation 5s and Nintendo Switches. Best of all, you can stay here as long as possible until 10PM.
There are more Karaoke rooms and a glow-in-the-dark dance floor which were not open yet.
Overall, as adults, we found Nextgen to be a fun play to blow off some steam and de-stress after a long day's work, and it wasn't too expensive with the Night Owl tickets.
We can also see how this place can be suitable for families looking to spend time and play with their children after work.
Nextgen Themepark
Location: S603-S610, LEVEL 2, 1UTAMA E, 1, Lebuh Bandar Utama, Bandar Utama, 47800 Petaling Jaya, Selangor
Website: https://nextgen-asia.com/
Operating hours: 10AM ~ 10PM