Chinese New Year reunion dinners ought to be had at Chinese restaurants with food items like yee sang, braised rice, gourmet chicken, steamed fish, and sometimes even shark fin soup. However, the one common thing about these Chinese restaurants is that most of them are not halal, with pork or alcohol-infused dishes on the menu most times.
So what do you do if you want to catch a reunion dinner with your family or friends but would prefer a halal option? Well, we have compiled a list of halal restaurants in Klang Valley that you can have your CNY reunion dinner at!
1. Amber Chinese Muslim Restaurant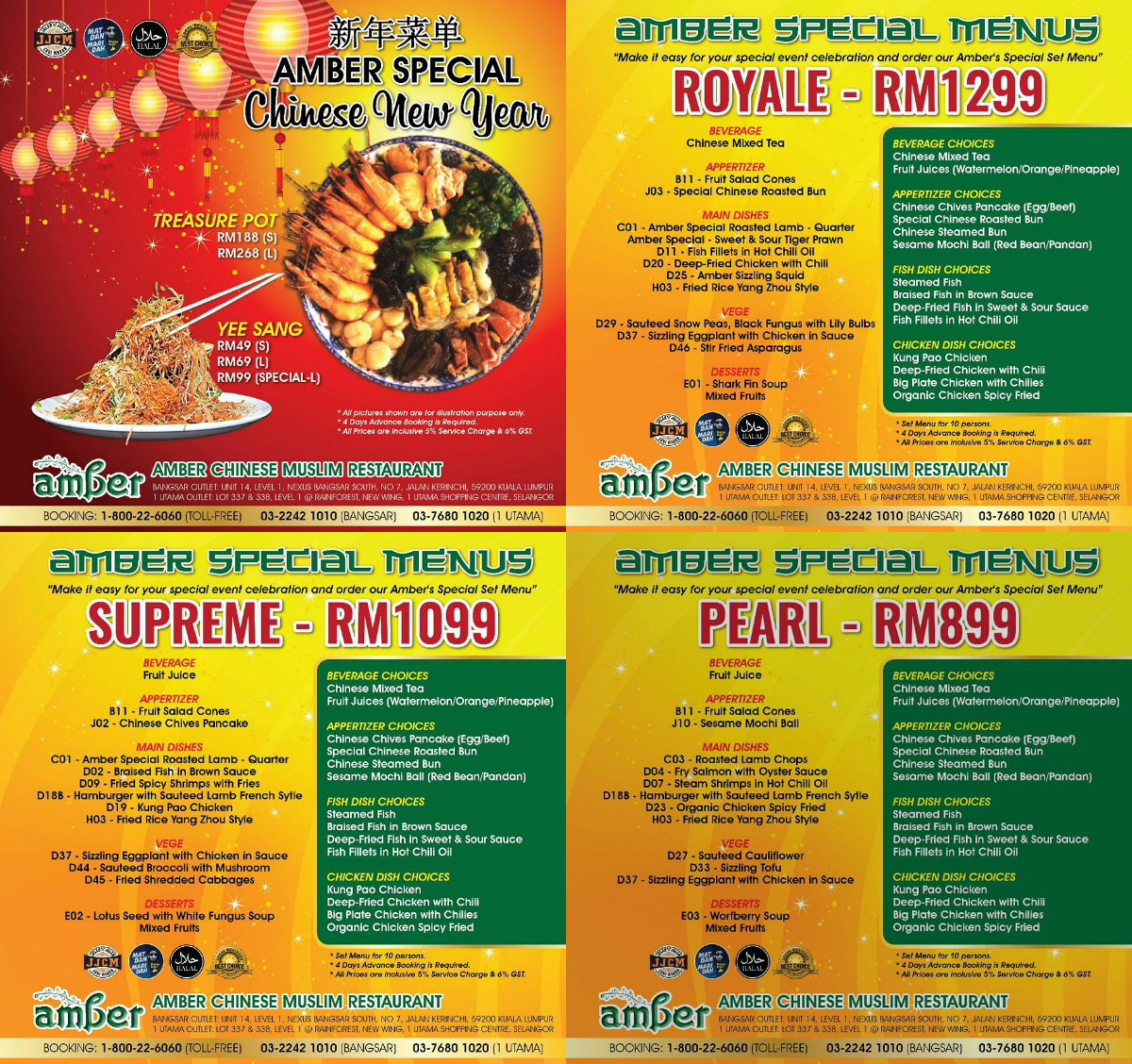 This restaurant offers a menu consisting of a stylish fusion between Chinese and Muslim dishes. You can either eat with a large group or just share a romantic dinner with your significant other in a sophisticated yet simple environment. They focus on serving the best of halal Szechuan dishes, which can be seen from their Chinese New Year menu, where there's yee sang, treasure pot, sizzling squid, yang zhou fried rice, sizzling eggplant with chicken and more. There are three sets for ten pax available: the Royale at RM1,299, the Supreme at RM1,099, and the Pearl at RM899.
Hours: Monday-Sunday: 11.30am-10pm.
Address: Unit 14, Level 1, Nexus, Jalan Kerinchi, Kuala Lumpur, Malaysia
Website: Amber Chinese Muslim Restaurant
Tel: 03-2242 1010
2. Golden Valley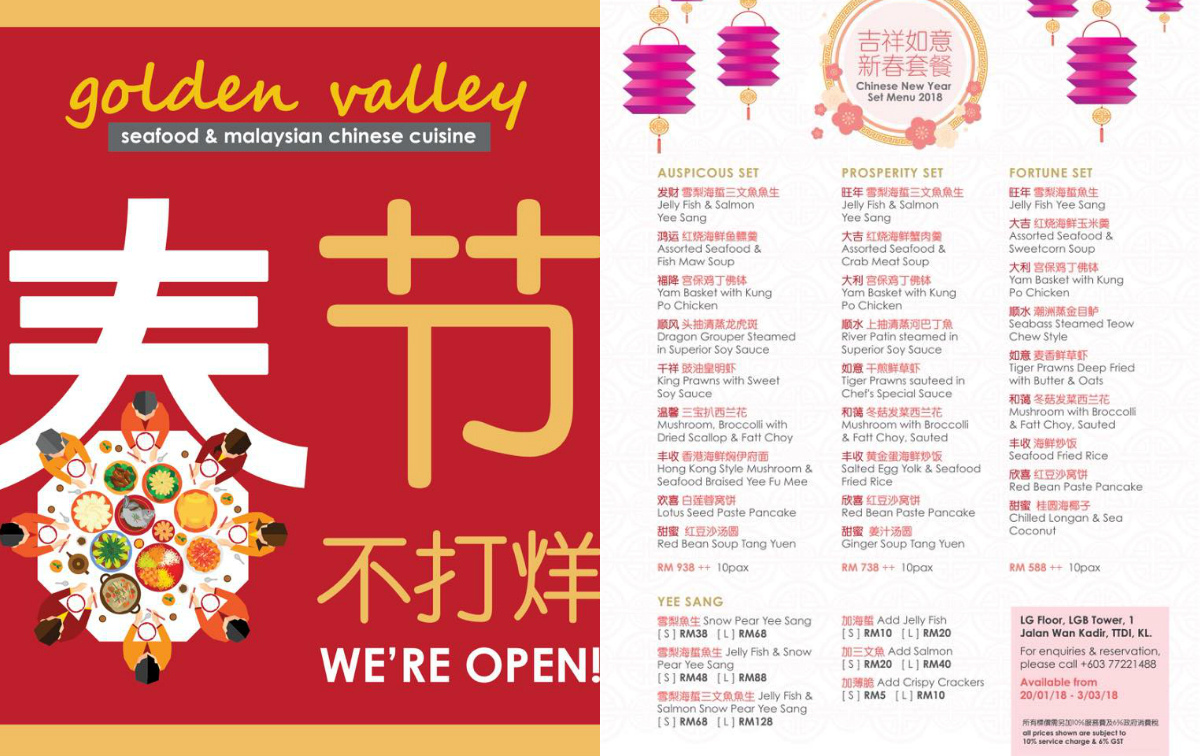 Golden Valley is one of the rare Chinese restaurants that make all their foods using halal recipes. They prove that you do not need anything porky or alcohol-infused to make good and appetising Chinese dishes. For Chinese New Year, you can either choose your from the ala carte menu or their 2018 Chinese New Year menu, which consists of yee sang with jelly fish, assorted seafood soup, king prawns and tiger prawns, and pancakes desserts. You can get the Auspicious set at RM938 for 10 people, the Prosperity set at RM738, and the Fortune set at RM588.
Hours: Monday-Friday: 11.30am-3pm/6pm-10pm, Saturday-Sunday: 6pm-10pm.
Address: LGB Tower, 1 Jalan Wan Kadir, Taman Tun Dr Ismail, Kuala Lumpur, Malaysia
Website: Golden Valley
Tel: 03-7722 1488
3. Jibby Chow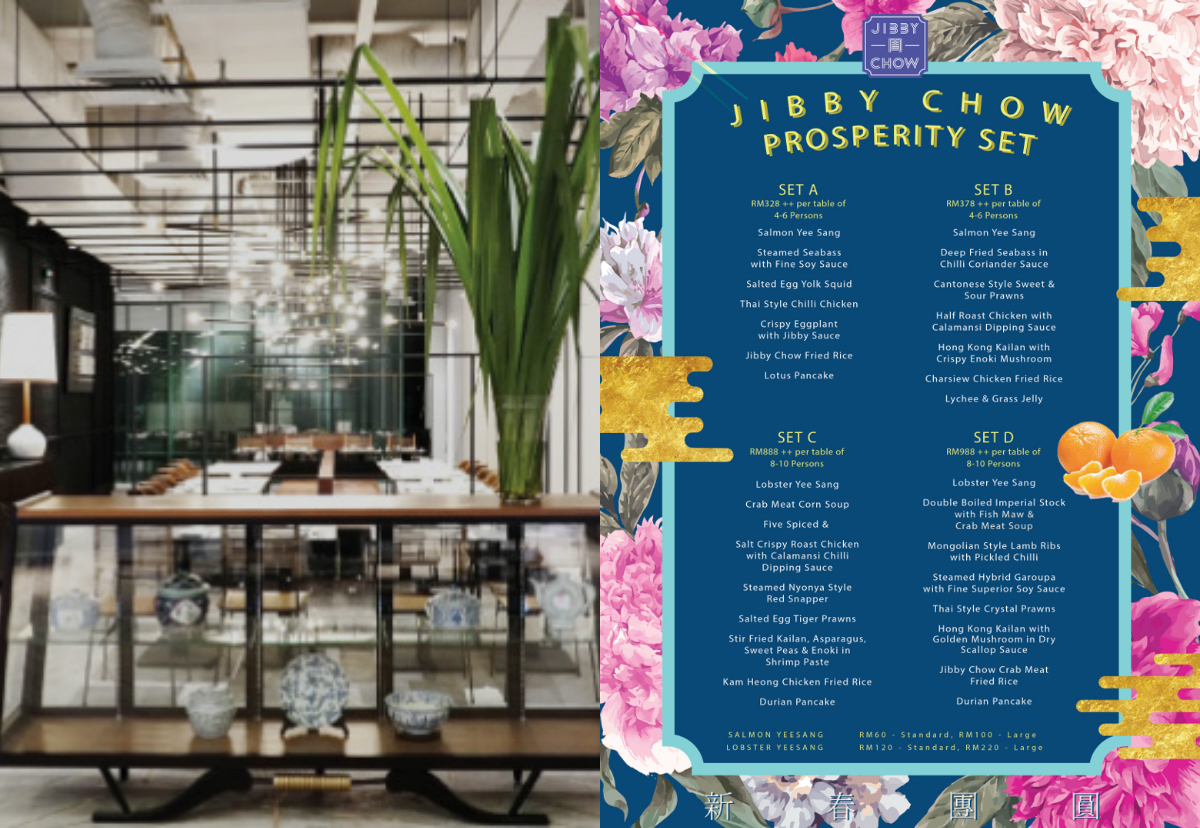 At Jibby Chow, you get to enjoy a flavourful variety of innovative Chinese stir-fries, homemade Thai-based sauces, and contemporary fusion dishes – all of them halal. The environment is eccentric and chill, what with the porcelain floors, neon signs, and the constant wafts of aromas that never rest during the operative hours of the restaurant. There are four sets on their Chinese New Year menu: Set A costs RM328++ for 4 to 6 people, Set B costs RM378++ for 4 to 6 people, Set C costs RM888++ for 8 to 10 people, and Set D costs RM988++ for 8 to 10 people.
Hours: Monday-Sunday: 11am-10pm.
Address: Jibby Chow, Lot G-02 Courtyard Mall, Jalan SS15/4G, SS15 Subang Jaya
Website: Jibby Chow
Tel: 03 5612 7072
4. Serai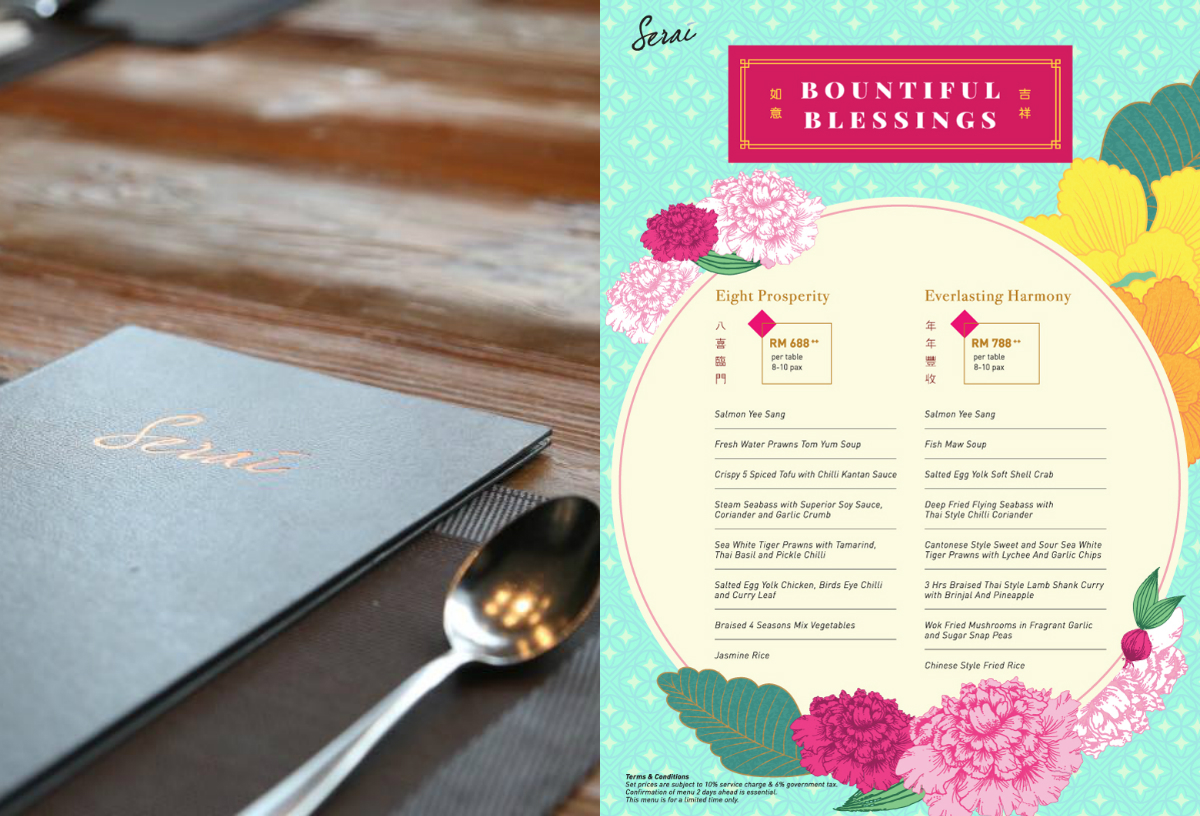 While Serai is not necessarily a Chinese restaurant, their menu also contains food items that cater to the Chinese crowd. It is essentially a family restaurant with authentic cuisines and comfortable seating arrangements to ensure the most comfort for patrons. Serai can be found in Paradigm, Pavilion, Empire Shopping Gallery, Jaya Shopping Centre, and Shaftsbury Square. They have 2 sets to their Bountiful Blessings menu, which is their Chinese New Year menu, consisting of salmon yee sang, seabass, crab, fried rice, and more. The Eight Prosperity set is sufficient for 8 to 10 people, priced at RM688++, while the Everlasting Harmony is sufficient for 8 to 10 people as well, but is priced at RM788++.
Website: Serai
5. Muhibbah Seafood Restaurant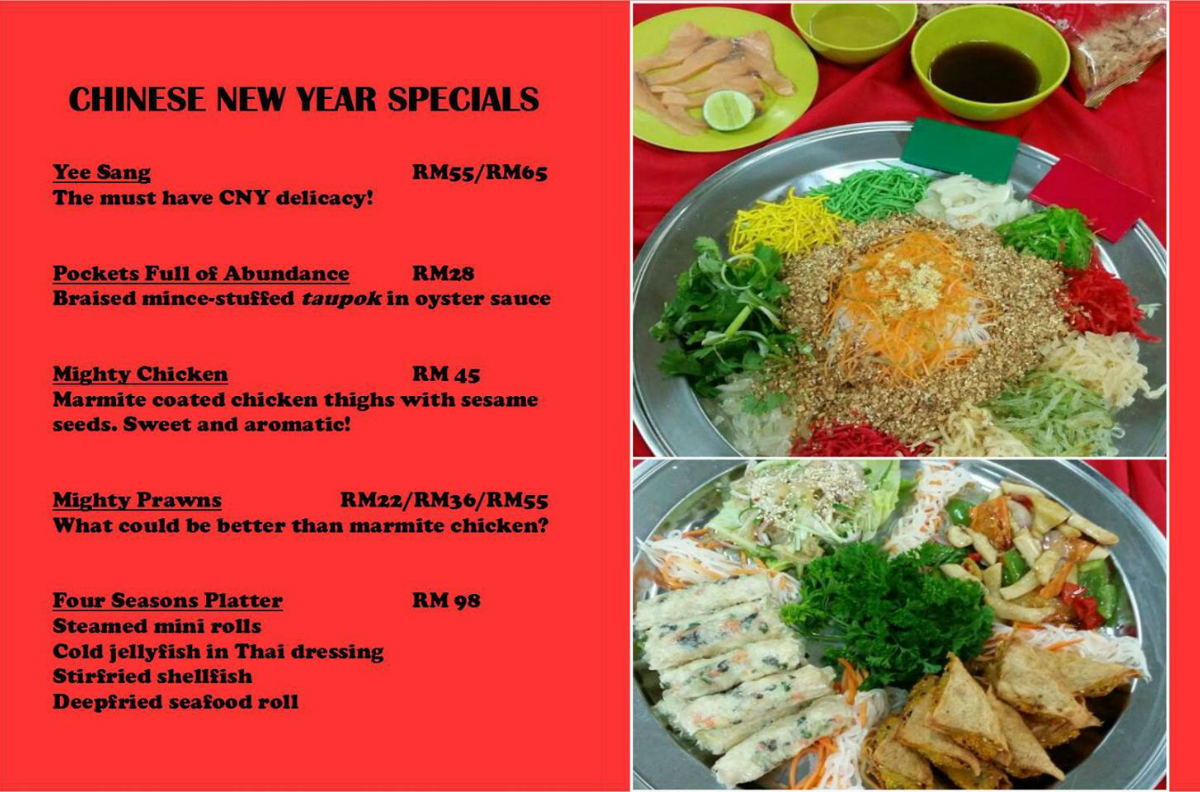 This restaurant has been around for a long time, first operating from a stall in front of Restoran OK and now a full-on shop serving halal Chinese cuisines. The place makes a good gathering spot for friends and families; nothing reunites people better than good food. This year, instead of a Chinese New Year set menu, they have decided to let you select what you want from their list of specials instead, while also complementing it with food items from their usual menu. They have yee sang, braised mince-stuffed tau pok in oyster sauce, marmite coated chicken thigh, prawns, and four seasons platter, all of them priced between the range of RM20 and RM100.
Hours: Monday-Sunday: 12pm-2.30pm/6pm-10pm.
Address: Lot 2851, Jalan Seri Penchala, Kg Sg Penchala, Kuala Lumpur, Malaysia
Website: Muhibbah Seafood Restaurant
Tel: 03-7727 3153
6. Tung Yuen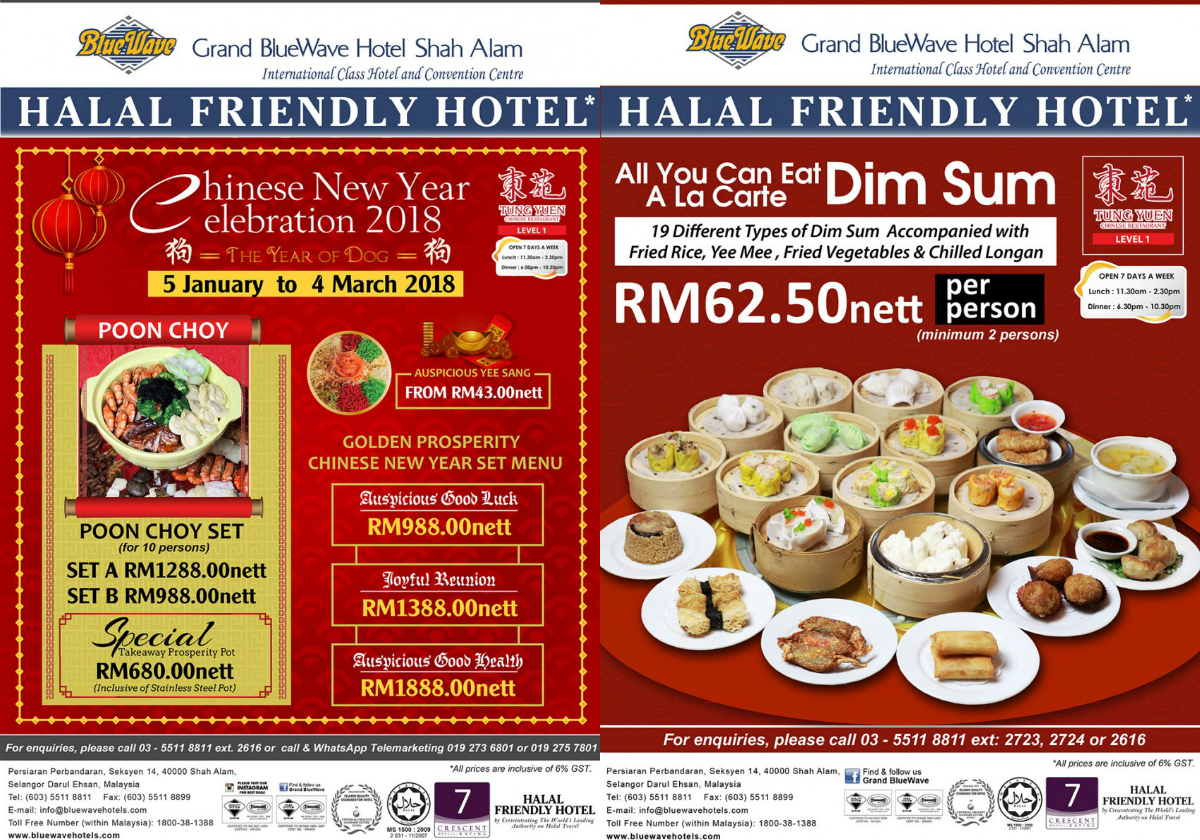 Their main dishes are dim sum, and they serve them in rather big portions. In addition, if you are craving for Cantonese or Szechuan dishes, you've come to the right place. Plus, you will probably find it comforting to know that this is Southeast Asia's first 5-star hotel accredited with the highest halal-friendly rating, according to CrescentRating. There are two sets of poon choy you can choose from, both of which can feed 10 people – Set A costs RM1,288 and Set B costs RM680. You can also get the Special Takeaway Prosperity Box at RM680. Alternatively, there are three different CNY sets you can choose from, which are the Auspicious Good Luck set at RM988, the Joyful Reunion at RM1,388, and the Auspicious Good Wealth at RM1,888.
Hours: Monday-Sunday: 12pm-2pm/6pm-10pm.
Address: Persiaran Perbandaran, Seksyen 14, Shah Alam, Malaysia 
Tel: 03 5511 8811
7. Maju Palace Restaurant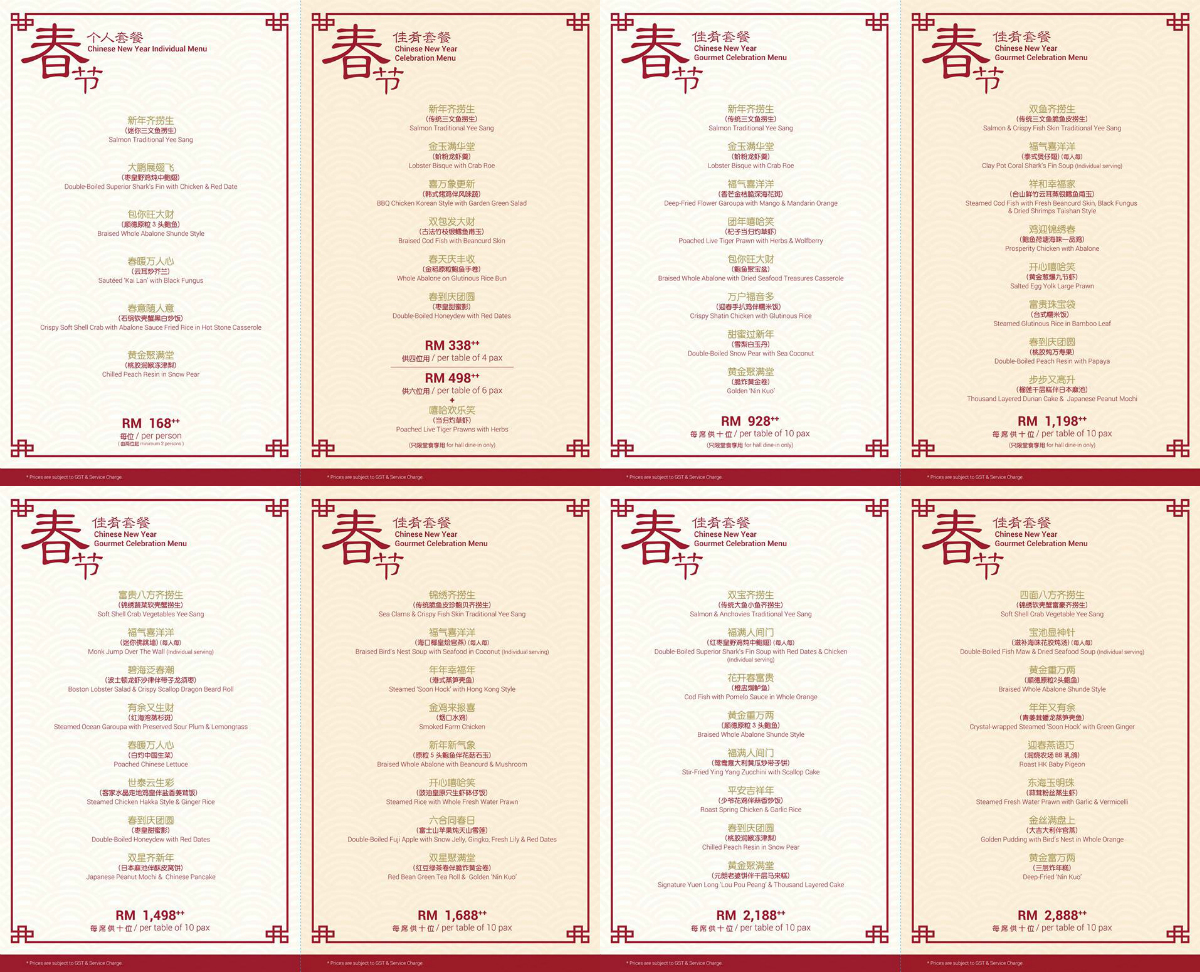 Maju Palace is a part of the giant cuisine conglomerate, Oriental Group, but they serve entirely halal dishes, unlike their brothers and sisters. You are also privileged to a view of the KL skyline at the restaurant amidst an elegant and peaceful atmosphere. Their Chinese New Year menu is massive, going from ala carte to personal set menus to gourmet set menus. The price range of a personal set menu is between RM80 and RM200, while the gourmet set menus are priced between RM900 and RM3000 for 10 pax.
Hours: Monday-Saturday: 11pm-3pm/6pm-11pm, Sunday: 10am-3pm/6pm-11pm.
Address: Level 5, Maju Junction Mall, Jalan Sultan Ismail, Kuala Lumpur, Malaysia
Website: Maju Palace Restaurant
Tel: 03-2691 8822
8. Mohd Chan Restaurant
Mohd Chan Restaurant is actually a chain of restaurants that serves authentic Chinese cuisines, except that they are all pork- and alcohol free. You can find a Mohd Chan Restaurant in Bukit Beruntung, Taman Melawati, Kelana Jaya, Bandar Baru Bangi, Shah Alam, Klang Sentral Meru, and Kota Kemuning. They have six set menus available, consisting items like butter prawn, sweet and sour chicken cubes, fuyong egg, and a CNY set menu is priced between the range of RM100 and RM400.
Hours: Monday-Sunday: 11am-11pm.
Website: Mohd Chan Restaurant
Feature Image Credit: SS15 Courtyard, VMO Rocks