Ballerinas are often the star to many ballet recitals, relegating the darker sex to a somewhat secondary role. Though it might not be true 100% of the time, male ballet dancers are rarer for a reason.
At the end of the day, despite their strength and gracefulness on the dance floor, the reality is that they're competing in a female-dominated sport and there's another level of hardship that comes with it.
We speak to 4 male ballet dancers in Malaysia on the harsh reality behind this graceful artform, the amount of hours they put into it and what makes ballet rewarding and worth fighting for.
1. Timmy Ong, 27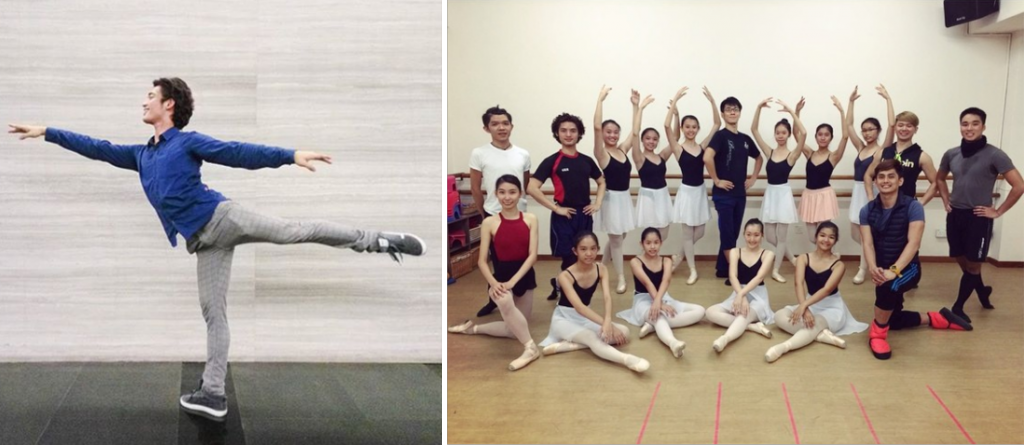 Timmy currently works for the Malaysian Philharmonic Orchestra where he manages the musicians, coordinates rehearsals and concert schedules as well as plans tours. His other full-time job is as a freelance performer. On top of this, Timmy is a ballet dancer, and he has been one for about 4 years now—he was 23 when he attended his first ballet class.
The IT graduate, who has dabbled in jazz, zapin and joget, by being a part of his university's dance troupe, wanted to "upgrade himself" after landing his first musical theatre gig. He then signed up for a contemporary dance class, and later, a ballet class as well. Today, he spends 4.5 hours a week formally practicing ballet.
When asked what's the hardest part about being a male ballet dancer, Timmy shared, "The demonstration of strength and power in an effortless manner. I am generally okay with the usual unisex ballet moves; but those male-specific virtuosic tricks like double tour en l'air (jump and turn two rounds in the air) and big gravity-defying jumps really trip me up."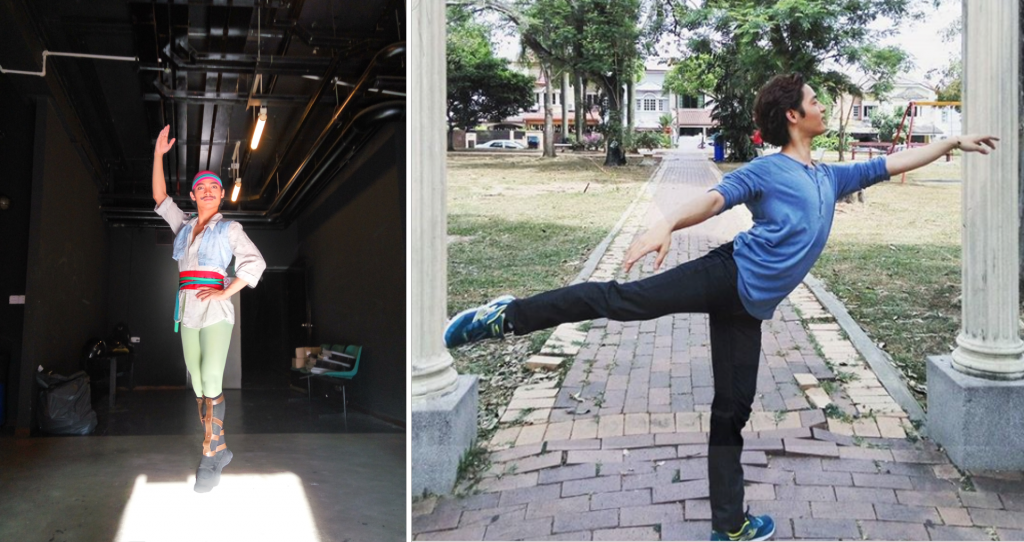 Still, despite the injuries and hardship he has sustained throughout his ballet career, Timmy believes that more males should pursue ballet. "Without going into the "artsy-fartsy" side, ballet is a really, really good workout. The flexibility demanded in ballet will also prevent cramps, injuries, and stiff joints, and help you age gracefully," Timmy noted.
For Timmy, the best part about ballet is learning and owning a set of skills that he will keep for life—much like cycling and swimming. Thus far, most people have been pleasantly surprised when they find out that Timmy's a ballet dancer. "Some are rather curious about it too. It's a great conversation-starter!" he noted.
2. Ooi Chun Seong, 29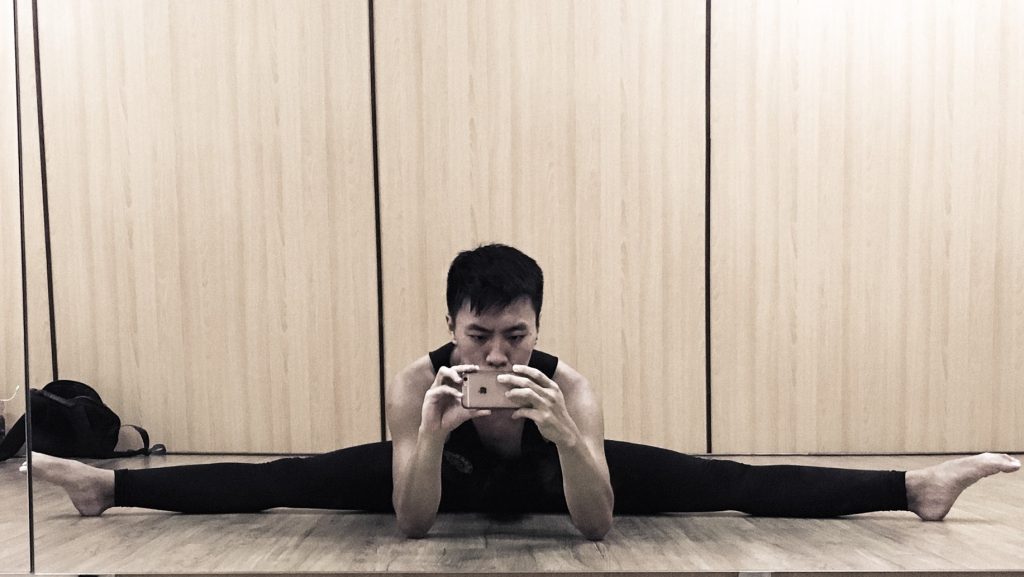 Chun Seong currently pursues a full-time Digital Marketing job in a construction building material supplier company. His love for ballet begun when he picked up the style of contemporary dance. He later attended his first ballet class at the age of 27 and has thus far been practicing the artform for 2 years.
Despite his busy work schedule, Chun Seong makes time for ballet. "For me, to attend my ballet class is just like hitting the gym. While others go to the gym, I go to my ballet studio. That's the only difference," he said. His ballet practices are held in the night time and he would travel an hour to get to class, only to reach home around 12am. In total, he spends 2-3 hours a week practicing ballet and was even a part of the recent full-length ballet performance—Le Corsaire—by the City Ballet Dance Academy.
Chun Seong finds that the biggest challenge in being a male ballet dancer is when they have to work with a female dancer. "When you perform together with a ballerina, you need to build the chemistry and understand how they walk and dance on pointe shoes, how to turn them, how to hold them, how to lift them, etc. Furthermore, to be a good male ballet dancer, it requires long hours of training to improve your technique, and there are even some techniques that a ballerina would never perform," Chun Seong shared.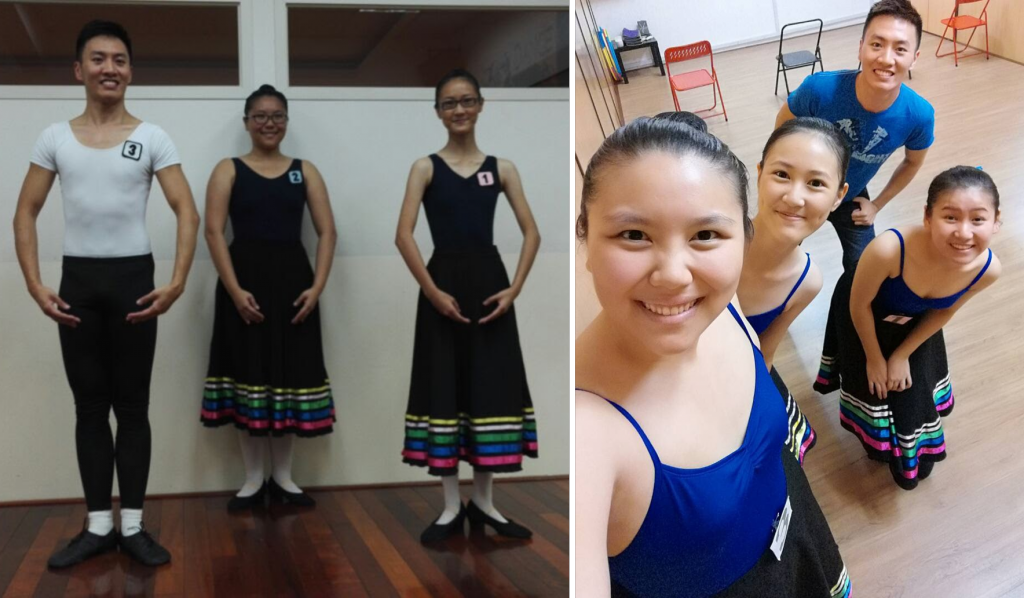 Most times, Chun Seong would find himself to be the oldest and only male ballet dancer in class. His mum even asked him to stop pursuing ballet and go for yoga instead. He explained that, "Most parents have the mentality that ballet is for girls and that boys should go for outdoor sports. Even if it's dance, boys should do street dance and break dance. It is actually a gender stereotype that people need to look into."
In spite of this, he believes that there's nothing wrong in pursuing ballet and it does not make a guy less masculine. If anything, learning ballet makes Chun Seong feel special. "Just think of it as an exercise, an art. We definitely need more male ballet dancers in the dance market, and when you look at the big dance performances in Western countries, they have a lot of male ballet dancers. If there're no male dancers, who is going to lift the female dancer? Who is going to make the "white swan" fly?" he shared frankly.
3. Low Ley Wee, 32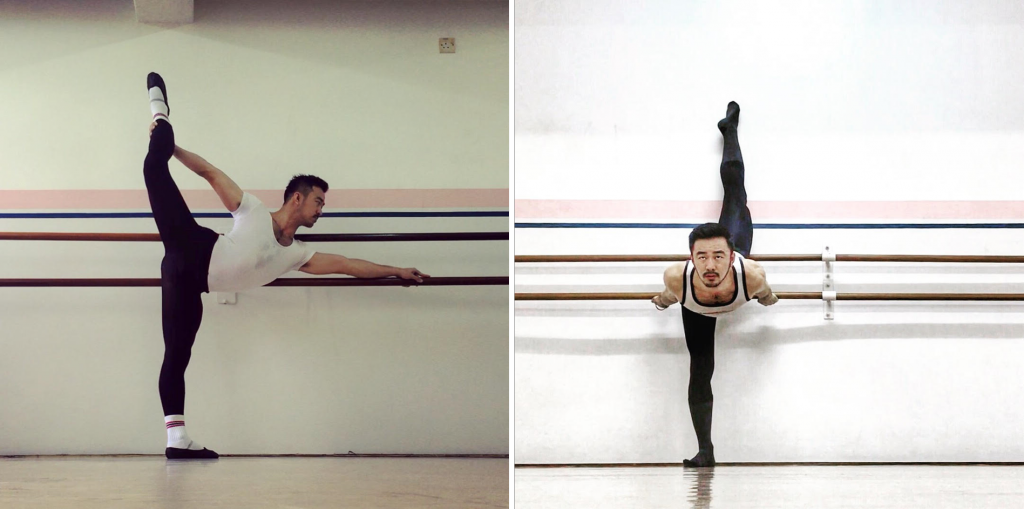 Ley Wee is an Assistant Distribution Manager for the Asia Pacific region in a medical device company. He first begun ballet at the age of 28 and has been practicing for the past 4 years. On average, Ley Wee spends 3 hours a week in ballet class, whilst the rest of his leisure time is spent doing yoga and pole dancing.
He notes that it isn't easy juggling a full-time job on top of practicing a demanding sport like ballet. "However, I love what I do at work and I also have a lot of passion in ballet. I look at both of them as equally important to me. I think that's how I found a balance in both," Ley Wee said.
The hardest part for Ley Wee in being a male ballet dancer is finding a role model to look up to. "A lot of my inspiration are far, far away and they only live in my Instagram. Oh, another challenge would the dancebelt that we have to put on underneath our tights. After a while, they could be quite uncomfortable," Ley Wee shared candidly.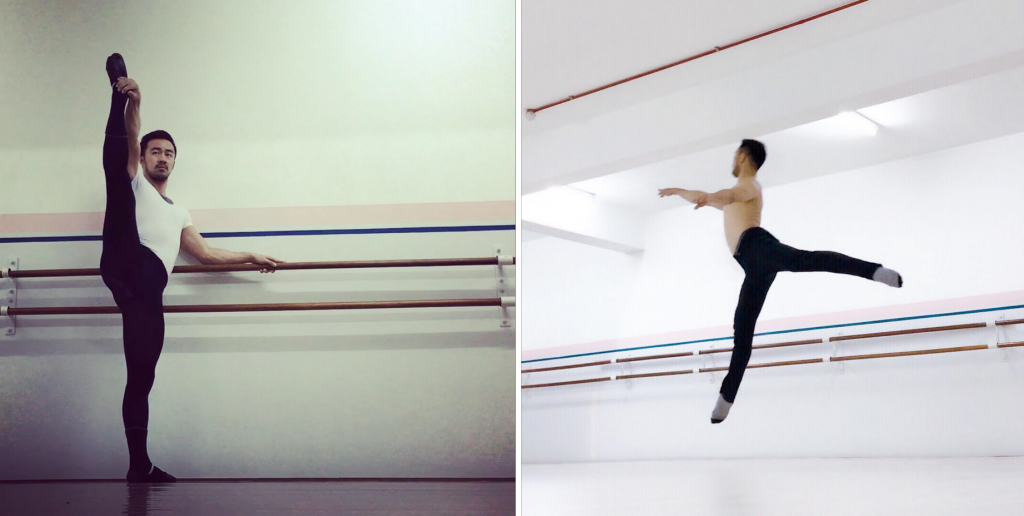 However, Ley Wee still feels that more boys and men should pursue ballet. "I think ballet teaches you discipline. It teaches you how to work hard to achieve what you want. And also, ballet training gives you a sexy butt."
For Ley Wee, the best part about learning ballet is the personal growth he sees in himself. "Things that you were not able to do and how they are coming along, through years and years of training. That is definitely very satisfactory."
4. Dominic Lor An-Zhen, 17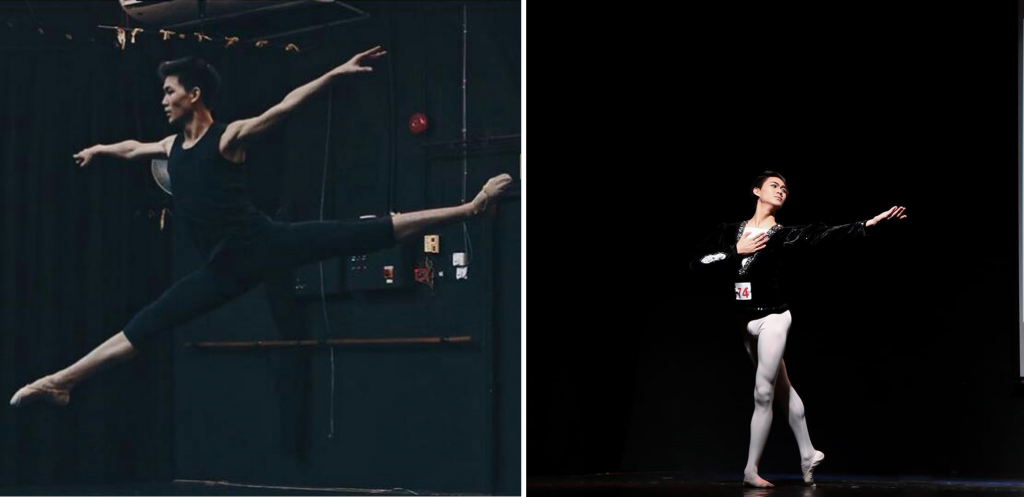 Dominic first pursued ballet when he was 10. He has now been practicing the art form for 7 years and is currently fulfilling his scholarship at Kirov Academy of Ballet, as part of the Junior Company. Besides ballet, he also does other dance styles like ballroom dancing, which was actually the dance style he started off with.
Being a part of the Junior Company, most of his time is spent practicing ballet. He takes classes and rehearsals as well as engages in strengthening activities for an average of 36 hours a week.
"The hardest part of being a male ballet dancer for me is having to stretch twice as much as girls do and having to do pas de deux (partnering) movements with the strength I have but hard work always pays off. Being the only male dancer in class also makes me uncomfortable at times but when doing workshops or intensive programs, I get really excited to see other boys from other academies and schools so we can share our experiences or talents with each other," Dominic said.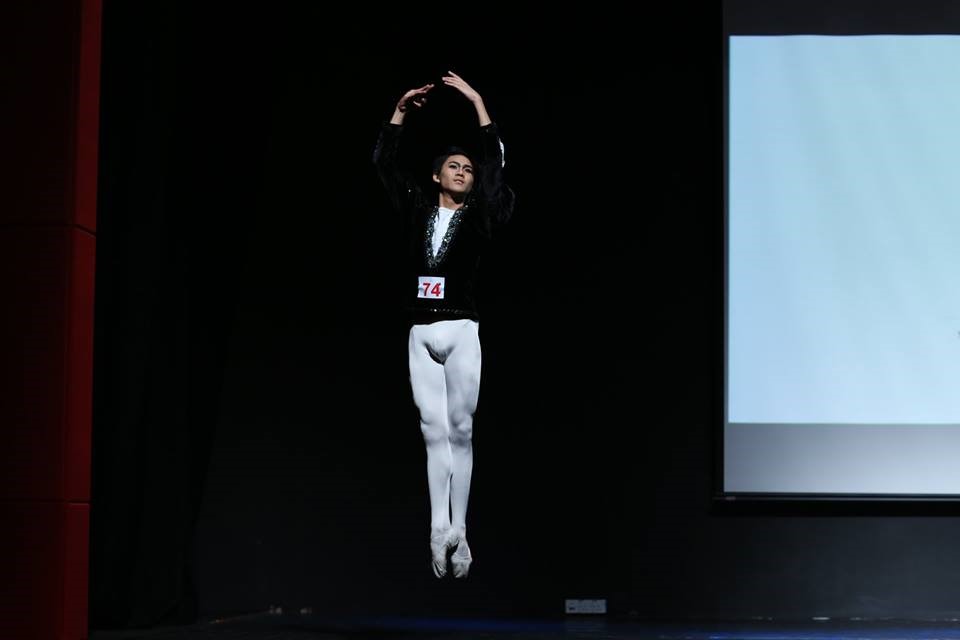 Dominic has hard his fair share of hardship and was even called "gay" and "weird", but that does not deter him from pursuing his passion. "Men or boys doing ballet in Malaysia is still very rare but as the years go by, I see and meet more boys having the same interest. This gives me the feeling that male ballet dancers in Malaysia are on the rise," Dominic noted.
And the best part of the entire process is, as Dominic puts it, "Being surrounded by girls and doing jumps or turns that even normal people don't do. And doing all of this with a passion and ambition."