I had my own ritual to prepare for the Junji Ito Horror House experience. By ritual, I mean one main step. And by step, I mean I just kept my curtains drawn the entire day before the day of the event, lest my imagination ran free and I started seeing flying balloon heads outside with my face on one of them.
Originally, my plan was to do a refresher and rewatch the entire season of Junji Ito Maniac: Japanese Tales of the Macabre on Netflix. As you might have guessed, I chickened out of that too.
The real question is, what is a scaredy cat like me doing at a horror house featuring some of Junji Ito's famous horrifying works?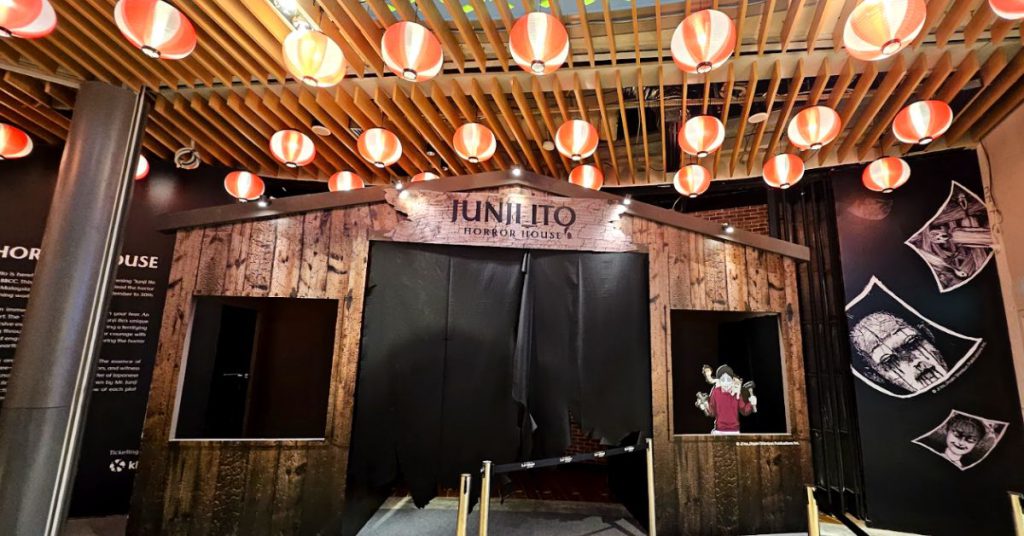 I've been a Junji Ito fan over many years now. His line art that brings out hideousness and unsettling detail, his outlandish ideas, his ability to distort and twist; his work brings me down a spiral that I find hard to pull away from.
The Junji Ito Horror House promises to give fans an opportunity to immerse themselves in "realms crafted by the master himself".
Divided into 3 halls (Hall A, Hall B, and Hall C), there are 13 curated rooms to explore, decked out with familiar scenes and characters. Hall A and B are horror walkthroughs, with intricately designed and thoughtfully placed lighting for the spookiest atmosphere.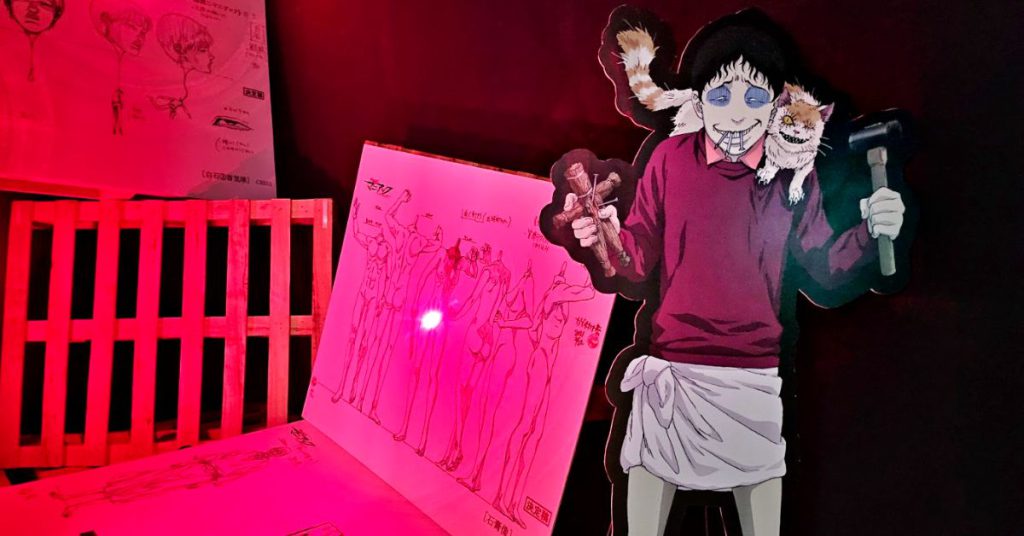 Live horror actors roam specific areas, so be prepared for some jump scares. There were some cheap scares, but that didn't stop my cowardly ass from screaming at almost every turn. Shoutout to the Tomie horror actress in Hall A, I gotta give it to her for being 150% fully committed to the role (or roles, seeing as she does have two faces).
Souchi Tsujii makes an appearance in Hall B, but no sign of the Tsujii's family cat, Colin. Though that's probably for the best. I don't know what I'd do if I saw that abomination coming towards me.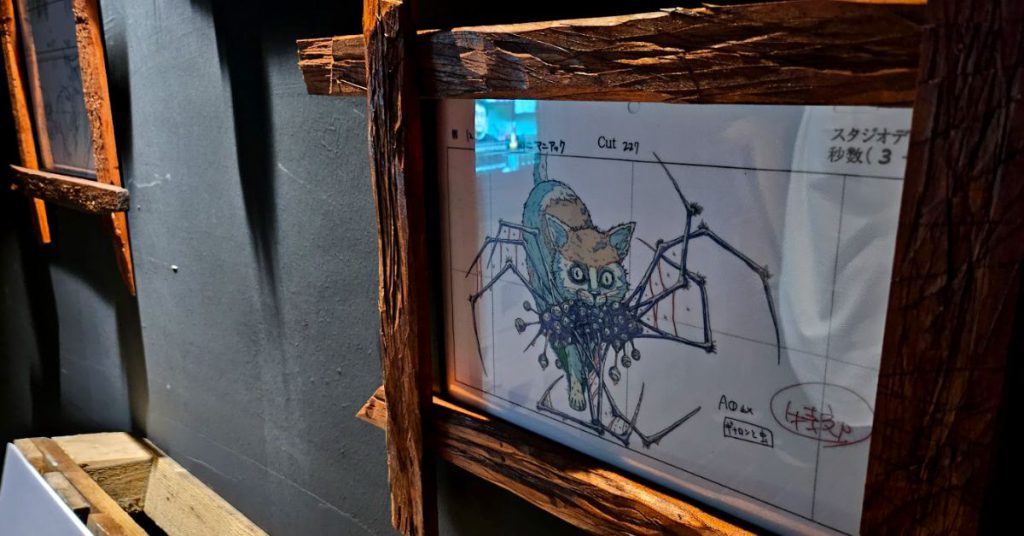 One of my favourite stories from Junji Ito is Hanging Balloons so I'm glad that it made an appearance in Hall B too.
Did you know that this story reflects a form of commentary on the suicide rates in Japan? The balloons with their own heads serve as a metaphor that those who are contemplating suicide don't usually show that they are suicidal until it is too late.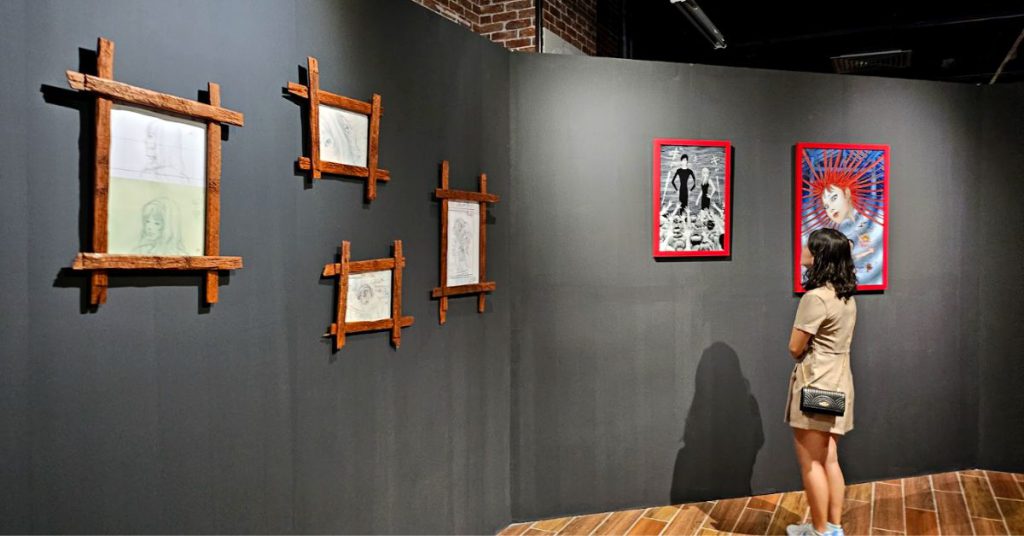 Both Hall A and Hall B will end at Hall C, which features an exhibition displaying some of Junji Ito's works and art pieces, where you can see what perspectives he uses in his drawings to create the illusion of depth or to frame the faces of his characters.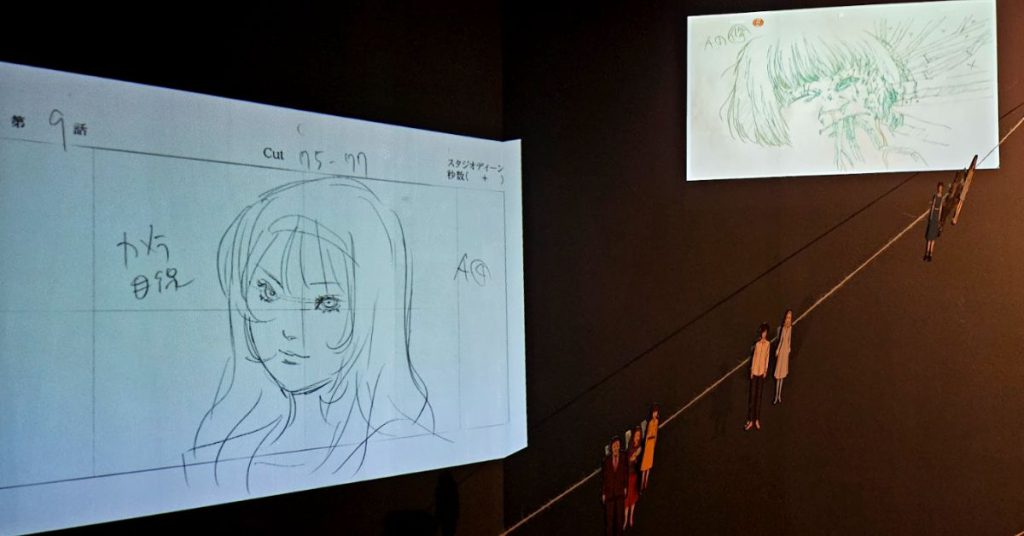 It includes a section dedicated to "Uzumaki". For those who are yet to be tainted, "Uzumaki" literally translates to "spiral" and is a horror manga series with 20 chapters of how the inhabitants of a Japanese town descend into an insanity of mutated and warped spirals.
For huge fans that want to bring home something that would constantly remind them of the impending dread of Junji Ito's stories, you're in luck. There is exclusive merchandise with Junji Ito's beguiling characters up for sale.
Fancy looking into the face of Tomie as you sip on your morning coffee?
Or perhaps you want to creep everyone around you out with your umbrella with horrific imagery from the mind of Junji Ito?
Good news, your moment has come.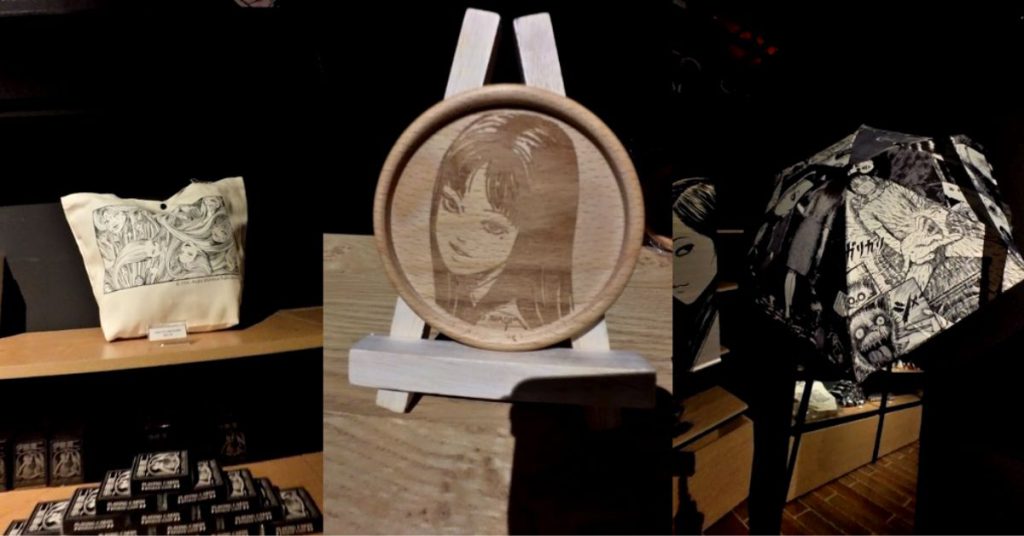 A few notes for those who are braver than I am and are confident that they can make it through the halls without screaming:
Take your time when walking through Hall A and B, especially the areas with the live horror actors. They take a moment to reach that climactic "scare" so for you to get the best experience, don't rush.
Go with a group of friends, you'd enter each hall in a group of 8 participants so having people that you know screaming with you offers a false (but necessary) sense of comfort.
Do note that you won't be allowed to take pictures in Hall A and B, so keep your cameras away until you reach Hall C.
Lockers are provided on site on a first come, first served basis, use them to store away any large hand carry items so that you can enjoy the experience without worrying about your belongings.
You can dress up in your scariest Junji Ito inspired outfit to go through the horror house. So all you two-faced people can embrace your nature and get busy with your very own Tomie SFX makeup.
Can't decide which Junji Ito character you are? Here's a list based on your zodiac sign.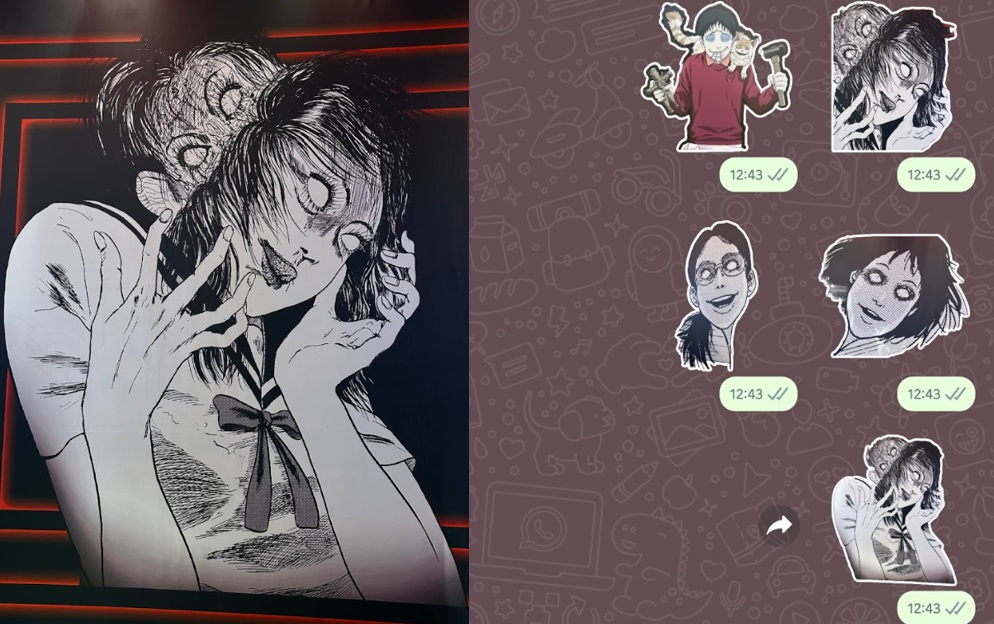 The Junji Ito Horror House will be at LaLaport Bukit Bintang City Centre from September 28th to November 30th, 2023. I do appreciate the linkage of having a Japanese lifestyle shopping mall hosting this iconic Japanese horror manga artist in Malaysia.
Tickets are now available on Klook, with prices ranging between RM39.50 per pax to RM62.25 per pax for a double hall entry, depending on weekday or weekend rates.
As for tonight, I'll hug my cat a little closer, and continue to keep my curtains drawn. I'm going to let my mind take a breather from thinking about spirals. And I don't look behind me.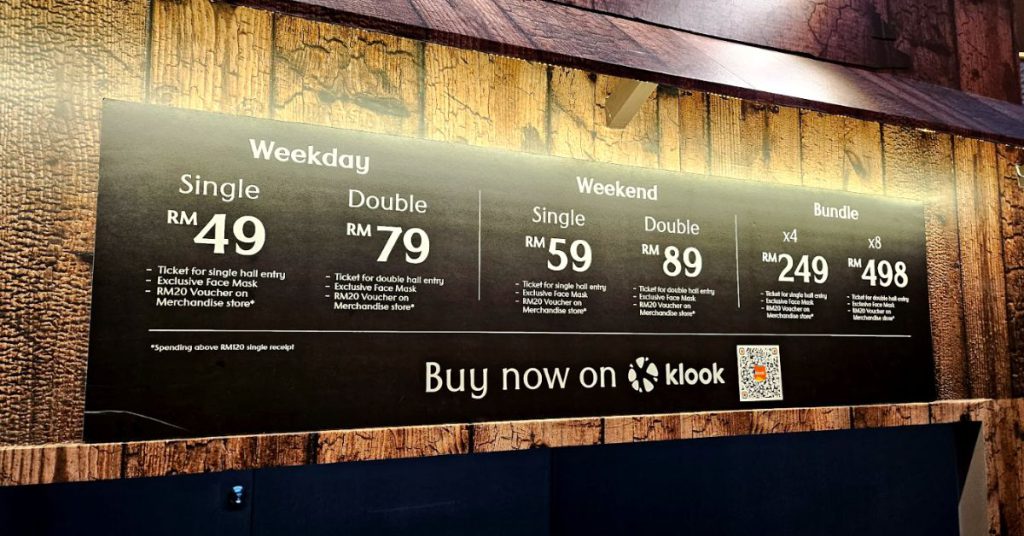 Junji Ito Horror House
Address: Lot LG1-16, LaLaport BBCC (Beside Burger King)
Operating dates: 28 September 2023 to 30 November 2023
Operating time: Daily 12PM to 10PM (9PM is the cutoff time for last entry)
Contact: 016-617 8379
Website: https://www.klook.com/en-MY/activity/96296-junji-ito-horror-house/