I've never been averse to plant-based foods, finding them all relatively palatable. Some may argue that their sometimes bland flavour and weird textures are off-putting, but I don't mind.
Of course, if forced to choose between the original food product and its plant-based version, I'd go for the former.
But what happens when the two are nearly indistinguishable?
In recent years, there's been a movement to make plant-based foods as close as a replica to the original, sans the meat aspects. This is in terms of flavour, appearance, and texture.
CU Malaysia and local plant-based meat company Phuture's first collaboration falls in line with the above, and we had the chance to try their creations for ourselves.
The star product is Phuture's plant-based crispy Korean fried chicken called Dak Gang Jeong that's akin to popcorn chicken. It comes in two flavours, Sichuan Spicy, and Zesty Cream.
I could have been fooled myself
When the food first came in, I already saw some of my colleagues with bottomless pits for stomachs greedily eyeing the package, but I managed to keep them away until I had taken my photos and tried them myself.
Each purchase of Dak Gang Jeong comes with a paper bag that you're supposed to pour a flavour packet and the "chicken" into, then shake it all up.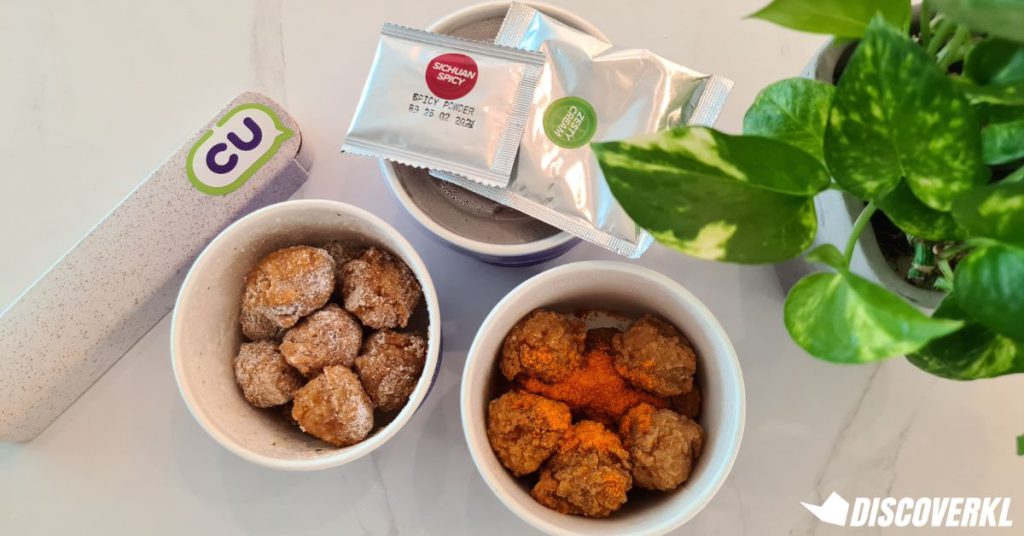 Do be warned, this can get pretty messy, and we even had one bag come apart a little as we shook it, bursting flavoured powder onto our table.
Visually, the Dak Gang Jeong doesn't appear any different from your regular popcorn chicken, and I'll admit that texture-wise, I could have easily been fooled that I'd just eaten very tender chicken.
Taste-wise, the insides of the Dak Gang Jeong had quite a familiar meaty flavour, which is probably thanks to a good marinade.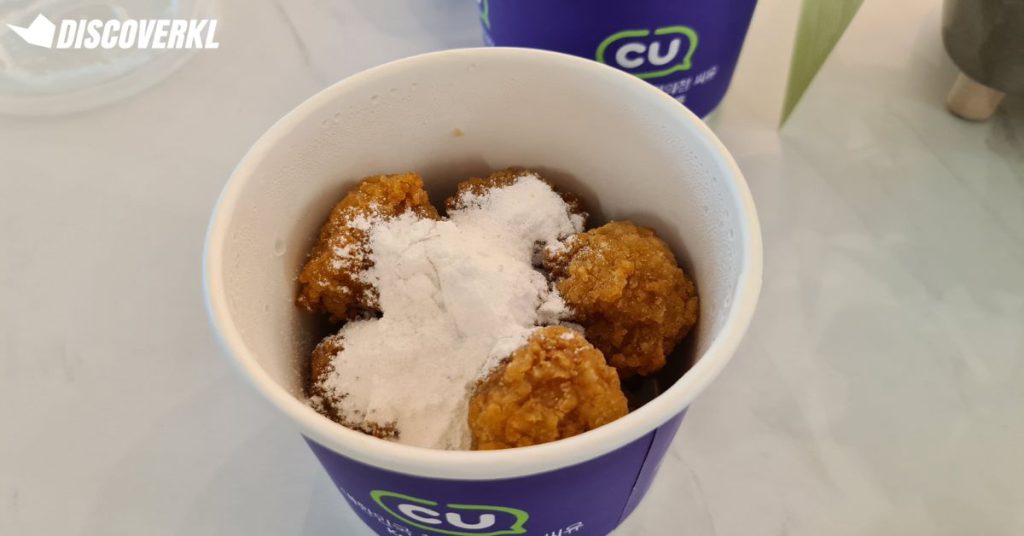 If I were to eat these next time though, I'd probably give the flavour packets a skip. Sichuan Spicy didn't add much to the overall bites except for a bit of a kick, and the Zesty Cream had an odd artificial lime flavour.
Onto trolling my colleagues
I actually had no intentions to trick my colleagues at first, but seeing how curious some of them were, the idea of trolling them suddenly popped into my mind.
With my own thoughts gathered, I began my cunning plan. Keeping the plant-based nature of the Dak Gang Jeong a secret, I wanted to know if my colleagues would be able to figure out that it wasn't actually chicken.
A few of my first victims were the colleagues who had been hungrily eyeing the food earlier. Since we had four containers of the Dak Gang Jeong (with two of each flavour), executing my mission was easy.
I held two different containers of Zesty Cream in my hands, while my trusty sidekick Claudia held the other two containers of Sichuan Spicy.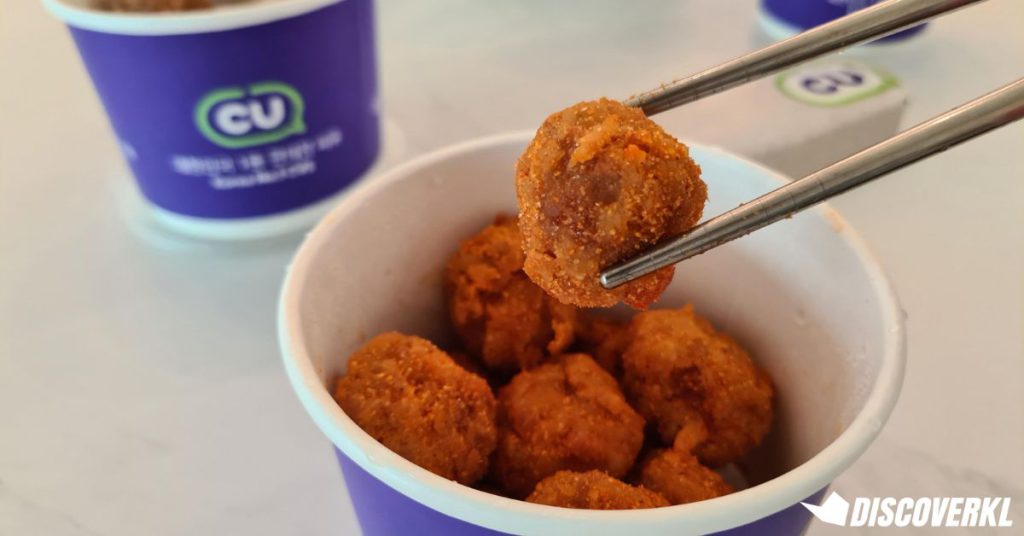 Shamelessly, I told my other colleagues, "These two containers have the same flavour, but one container is chicken, the other one is plant-based chicken. Can you tell me which one you think is real chicken?"
Having planted that seed in their heads, I watched with glee as the majority of them made confused faces when trying the Dak Gang Jeong.
I could hear the cogs turning in their heads as they struggled to differentiate the two while my lies (still truths to them) continued to bounce around in their heads, creating self-doubt.
Interestingly, the majority of my colleagues ended up convincing themselves that there was a difference.
Their comments regarding what they thought were the plant-based chicken included all sorts of reasons, such as it being mushier, weird texture-wise, and more.
But all of them agreed that the Dak Gang Jeong itself tasted good, though the flavour packets did little for them too.
There were a few colleagues who didn't buy my lies though, and this probably came down to them being convenience store (konbini) connoisseurs.
Being extremely familiar with konbini offerings, including popcorn chicken, one colleague in particular, Fud, kept trying to expose my bold-faced lies, constantly asking, "Really? One of these is not chicken?"
To her, neither tasted anything like the popcorn chicken she knew of, but she said they still tasted good enough that she'd be willing to buy them herself.
This was major news, because Fud is a carnivore through and through. Perhaps it was the combination of a good-tasting snack and the reasonable price of RM8.99 that ultimately won her over.
Once my little experiment was over, I told my colleagues the truth: all of them were plant-based chicken.
Some of the more suspicious ones earlier simply played it cool and said they weren't surprised, while the others laughed it off and said they'd still be open to trying the Dak Gang Jeong on their own dime anyway.
So, mission accomplished? For both CU x Phuture's and mine, it sure seems so.
CU Malaysia x Phuture
Website: https://www.facebook.com/Malaysia.CU/ & https://phuturemeat.com/