A couple of months ago, I decided to visit the new Rollerwakl, the third global outlet of a South Korean indoor roller skate rink, at 1Utama Shopping Centre with some friends. The Korean-themed rink officially opened its doors to customers on December 23, 2021.
Upon entering, we proceeded to the cashless self-service kiosk to purchase our tickets and wrist-bands.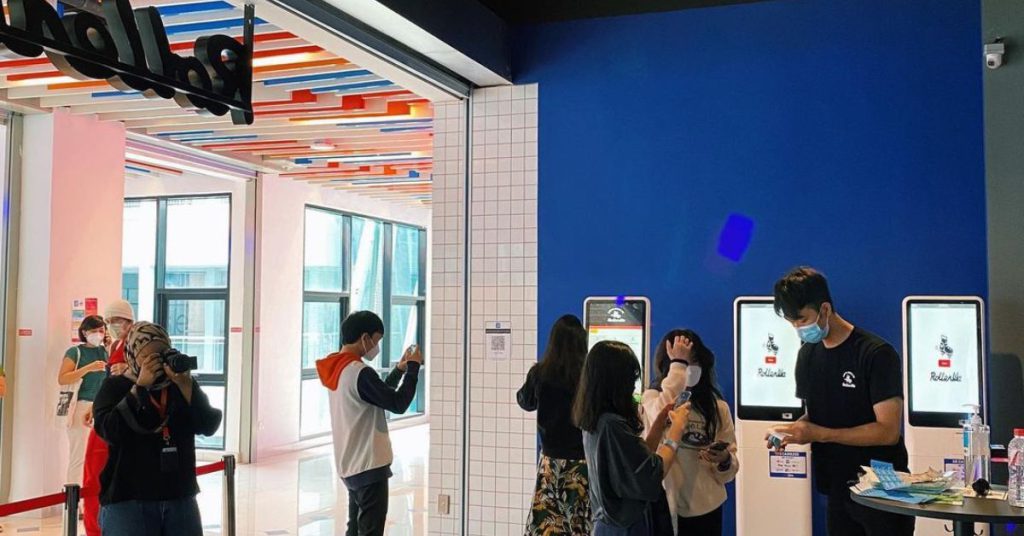 The indoor rink looked amazing with all of its bright lights flashing in the first half of the rink, and dim lights turned on in the second half of the rink.
As it was a weekday, there weren't many people around and we initially had the rink pretty much to ourselves.
However, after 30 minutes or so, university students started coming in and the crowd got larger. It seemed that this was quite the popular spot for youths to hang out at.
Entering the rink itself costs RM12. The prices for renting safety gear such as knee and elbow pads, and skates are as below:
Children: Two hours for RM40, one day for RM70;
Adult: Two hours for RM50, one day for RM80.
If you bring your own skate shoes, there's a discount of RM3 on the prices above.
There was also a section that displayed Rollerwakl's own merchandise ranging from hoodies, t-shirts, roller skates, and safety gears. According to Rollerwakl's Instagram page, the prices for the goods are as below:
Oversized Tee (Black or White) – RM140;
Hoodie (Navy Blue) – RM220;
Rollerwa roller skates (Black, White, Pink) – RM338.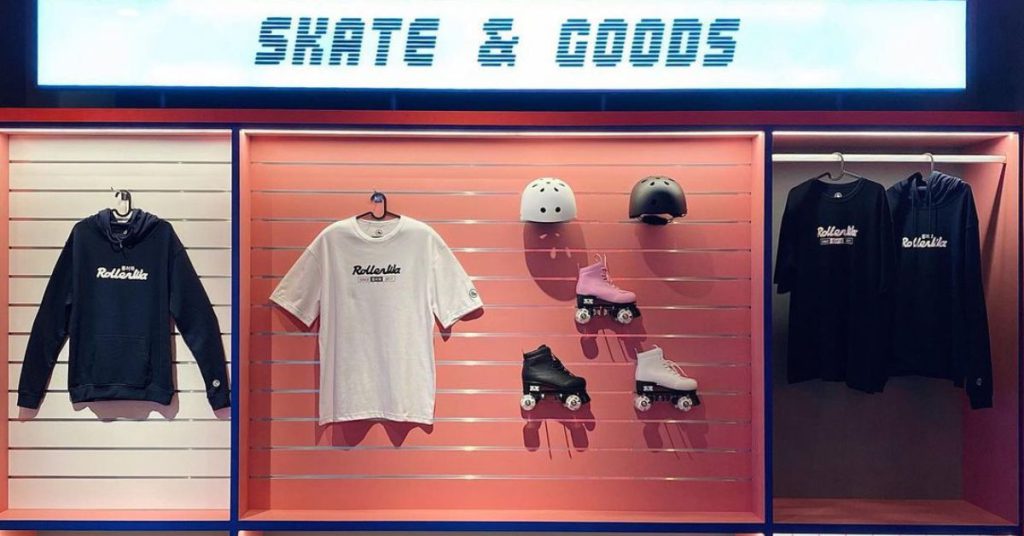 The sweaty and nerve-wracking experience
Although the entire place was air-conditioned, I was sweating profusely as I was quite nervous. For comfort, a recommendation would be to wear comfortable clothes, possibly sports attire.
Having never rollerskated, I ran into my first issue just trying to put on my skates. After getting them on with much difficulty, I'd say definitely sit down and take your time to lace up your skates for proper safety.
Now with my skates on, it was time to face my next hurdle: actually skating. It was really hard to move along, and I was stagnant for a solid 10 minutes before even attempting to skate to the rink.
My legs were wobbly and I could feel myself stiffening when I tried to skate. Like a baby finding their footing for the first time, I started skating around the rental zone while hanging on to tables and chairs for dear life.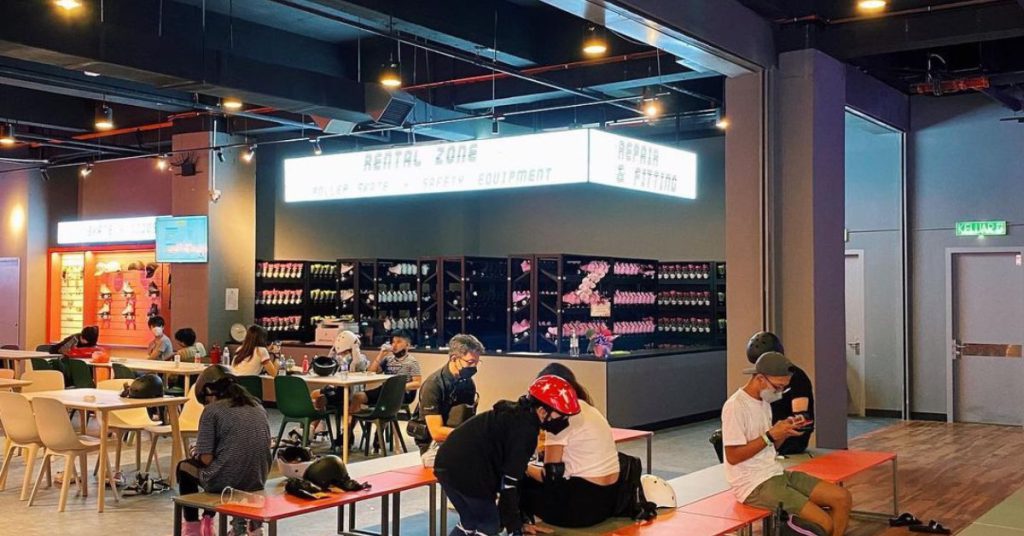 What made matters worse was that as I practiced, I saw confident people falling and tripping over themselves.
If they made such mistakes, how would a beginner like me fare? Though I was afraid, I braved on and continued my journey.
Soon, I got the hang of it (or at least, I thought so). Together with my friend who was a regular skater, we headed towards the rink.
We did a total of four rounds around the rink, and even stopped at a dedicated space to take pictures.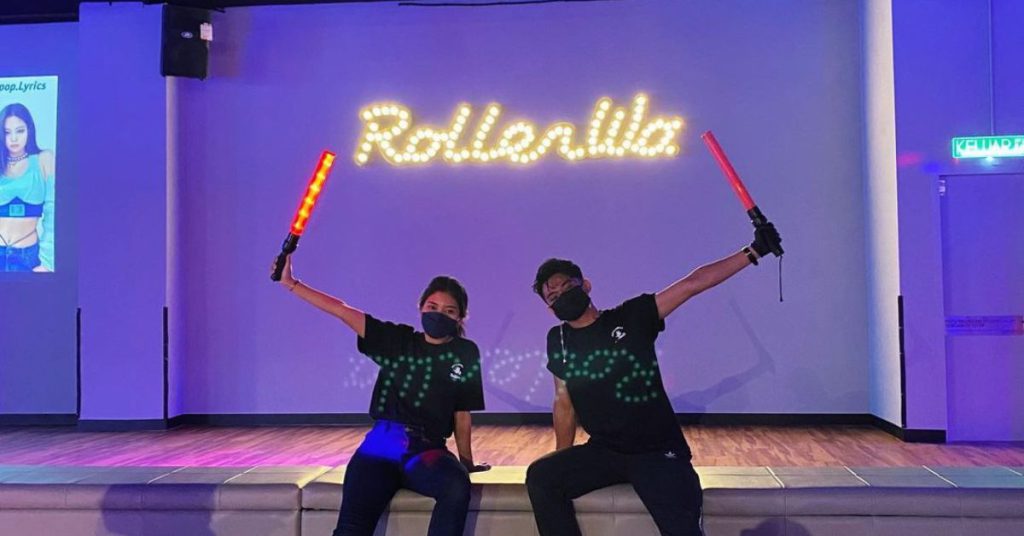 To ease me into the experience, we started off by skating together slowly. There were numerous times where I almost fell and could have potentially broke my back (pardon the dramatisation), but thankfully, I turned out okay.
The rink itself wasn't difficult to navigate around, since it's just one big circle and there were signs here and there to help guide me.
At one point during my skate, I decided to take advantage of the railings that were provided. I attempted to skate on my own and I can say confidently that I succeeded…until the railings pathway ended.
For non-skaters such as myself, Rollerwakl also provides a "skate-aid" for RM20 an hour to help guide newbies along the rink. The aid is built with structural-grade PVC materials, and has large three-inch wheels.
It looks and works like those walkers that some elderly folk depend on to walk, but hey, if you need it, you need it. It is only available on weekdays from 9-5PM.
Additionally, I noticed that there weren't many helpers around to help the skating newbies. When they did come around, they would just be skating throughout the rink.
I'd imagine that they were relatively helpful and would have gladly helped me if I had asked for help (which I didn't).
As I learnt to skate, preppy Korean and English tracks playing throughout the rink served as motivational and mood-lifting music.
Complementing that were the flashing disco lights that kept everyone's adrenaline going. A fair warning though, anyone with epilepsy might want to properly check if such lighting might trigger their condition.
The finishing touch
As an extension of the rink, Rollerwa had set up a dedicated space for skaters to take pictures and they have relatively nice backdrops for it.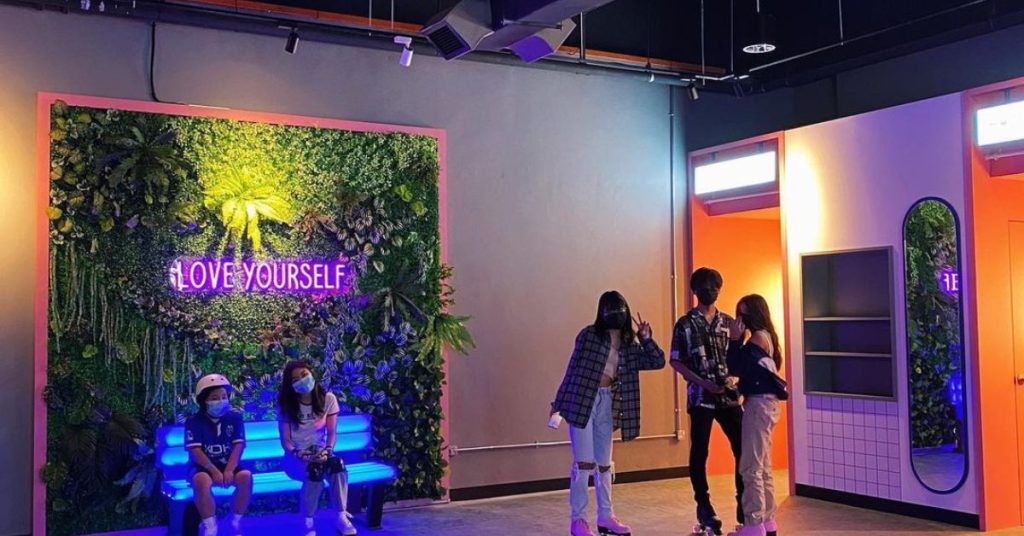 There was also a small cafe selling various forms of light snacks and soft drinks for skaters with separate charges.
That being said, my entire first-time roller skating experience was relatively good. Even if you think you're entirely incapable of doing it, I would definitely recommend you try it at least once.
Bringing along friends or family who are regular skaters would also be a great help, as they can teach you the proper ways to start and stop, navigate, and even fall safely.
For those in need of a date idea, indoor roller skating would also make for an interesting time. Imagine you coming to the rescue if your date falls down, or vice versa, just like in the movies.
Rollerwakl
Address: 1UE Kuala Lumpur, MY 47800 Selangor Petaling Jaya Lebuh Bandar Utama Lot F603A-F613, First Floor
Contact: +603-7732 9117
Website: https://www.instagram.com/rollerwakl/?hl=en