Cool graffiti street arts a huge part of KL culture and is a testament to the creativity of both Malaysian artists and artists who call Malaysia their home. When it comes to graffiti, a spray can that falls in the wrong hands might result in an amateur-looking piece.
But being masters at intricate life-sized paintings on walls, the artists behind some of KL's most iconic street art pieces can be proud of their accomplishments, that's for sure.
Here are 15 places to check out for some pretty sick wall arts in Klang Valley.
1. Damai LRT Station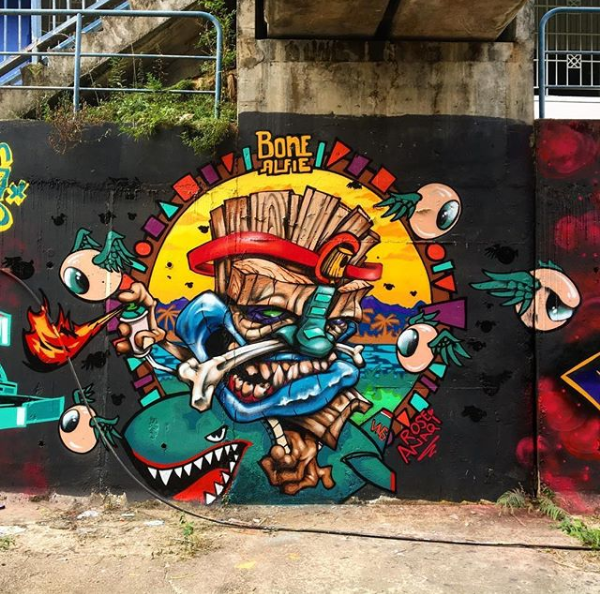 Damai LRT station is not merely a stop on the local public transportation line. It's also home to a piece by Bone Alfie, a talented artist known for his small-scale art pieces and larger wall arts like the one seen at Damai LRT station. This is one of Bone Alfie's newer pieces and was completed in early July of this year. It is of a Tiki bomber and his minions and the art is accentuated by flying eyeballs, complete with wings too!
2. Jalan Sultan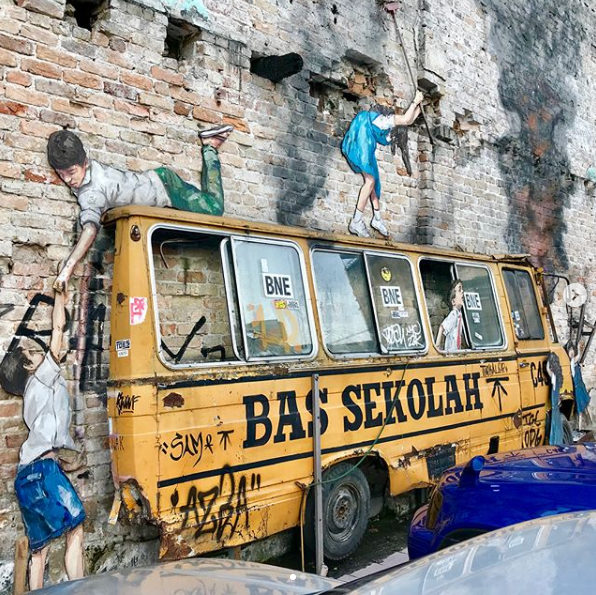 If you've been to Jalan Sultan, especially if you're traveling by foot, you might come across the Bas Sekolah mural. It's an art piece by the famous Ernest Zacharevic, the same man behind some of Penang's most iconic murals. Ernest's style often times includes a human touch to it and this piece is no different. It's of young kids in their school uniform playing in a bas sekolah.
3. Kampong Datok Keramat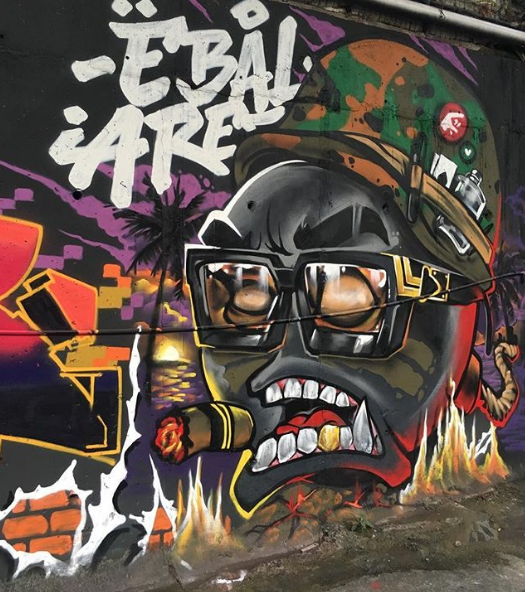 This piece by Iqbal Hareez has several different elements to it and the closer you look, the more you'll notice that it's super intricate. From the different colours for the character's tooth, down to the splashes of paint on its military hat, I personally like how the mural is abstract and completely up to your own interpretation. It was designed in conjunction with the Meeting of Styles Malaysia 2018, an international graffiti event which begun in Wiesbaden, Germany.
4. Jalan Panggung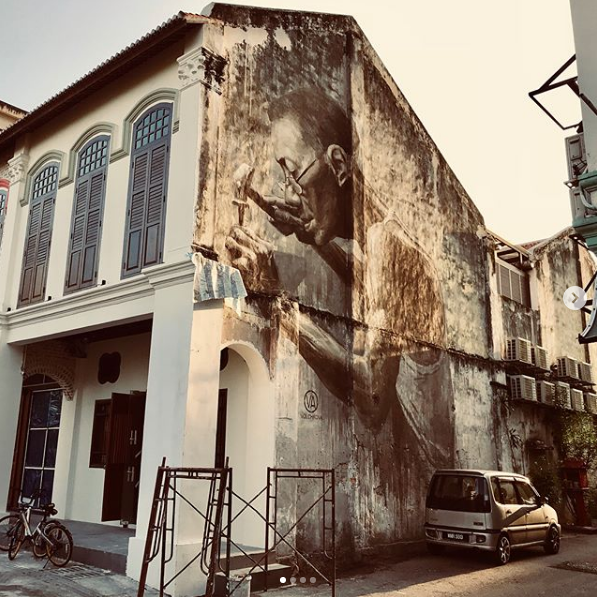 Julia Volchkova is an artist known for her works in Penang and this is one of her few KL works. Located along Jalan Panggung, the piece blends in with the darkened molds on the building, giving it a rustic vibe. It shows a man hard at work, whilst dressed casually in a singlet. It shows the hardworking nature of our forefathers and is a reminder of their sacrifice.
5. Jalan Alor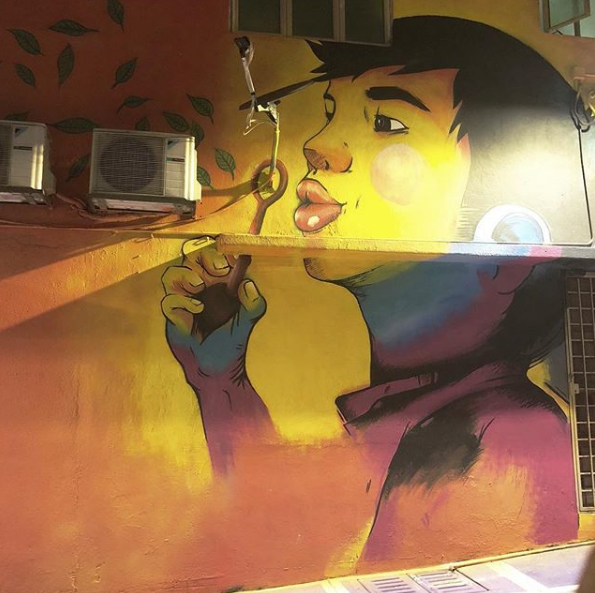 With the stresses of daily life, it's easy to forget the little things and this mural in Jalan Alor is a gentle reminder to remain child-like and enjoy the simpler side of life, like blowing bubbles (or in this case, leaves). If you look closer, you'd notice that the painting is also in the shades of the rainbow.
6. Changkat, Bukit Bintang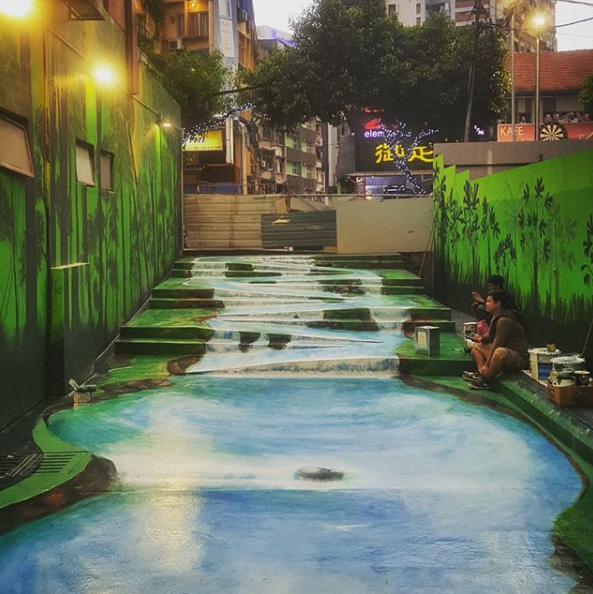 One of the coolest street arts in KL belongs on the streets of Changkat. Depicting a river, the street art extends to the ground as well as its surrounding walls. It's extremely realistic, down to the way that tiny ripples are created in the water and different white and blue accents are added to the "river" to make it appear natural.
7. The Zhongshan Building @ Kampung Attap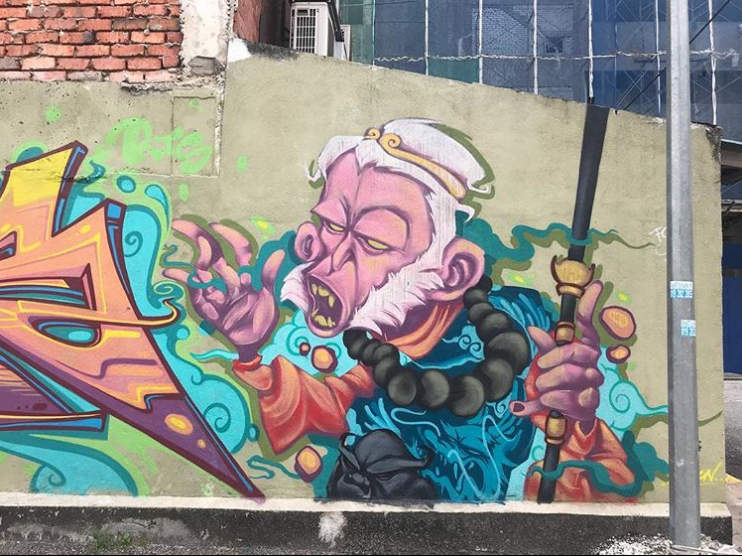 Journey From The West is a television series and movie based on a popular Chinese novel. This street art in The Zhongshan Building in Kampung Attap is a depiction of the Monkey King. The building was once home to the  Selangor Zhongshan Association and is now home to the Monkey King. If you grew up watching the show or reading the novel, you might want to head down to check this mural out. And after you're done, pay the newly-renovated Zhongshan Building a visit too.
8. District Shop Gallery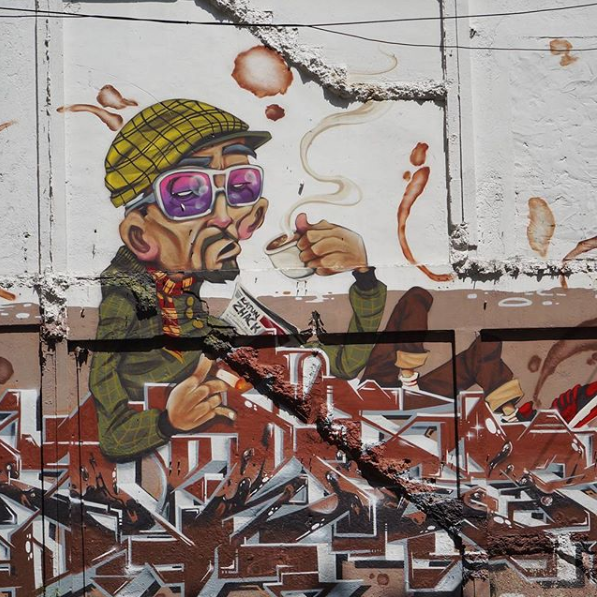 Teh Tarik & Chill is the Malaysian equivalent to a chilled out weekend pastime and this street art in District Shop Gallery is a true representation of KL-ites on a weekend: decked out in our best outfit, we'd head out for a cuppa and perhaps even spend time reading the 'papers or a book.
9. Pasar Karat, Petaling Street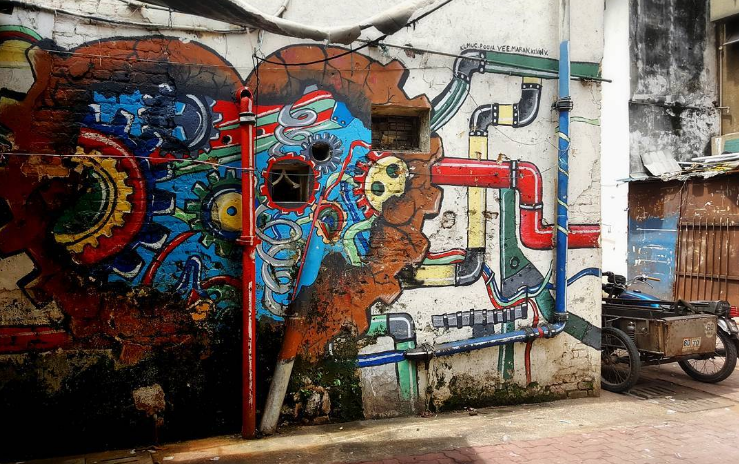 Ever wondered what a mechanical heart might look like? This iron heart hidden along one of the lorongs in Pasar Karat, Petaling Street might be your answer. From the tiny gears and springs, to its connecting tubes, I personally like how meaningful this piece is. It's one of those abstract pieces that'll leave you wondering. My thoughts are that the mechanical elements show how love can sometimes be routine and mechanical.
10. Jalan Gereja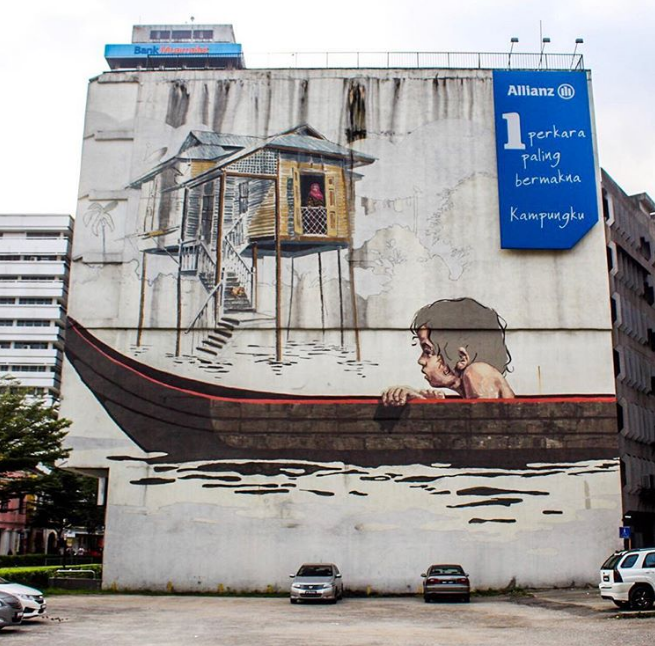 Any guesses as to who's the artist behind this iconic mural in Jalan Gereja? If you guessed Ernest Zacharevic, you're right. The mural is of a child in a boat with an overwater home painted in the background. Look closely and you might spot a mother figure gazing out into the distance at who could only be her child. Again, another piece which is subject to your own interpretation, but needless to say, it's deep.
11. Avenue K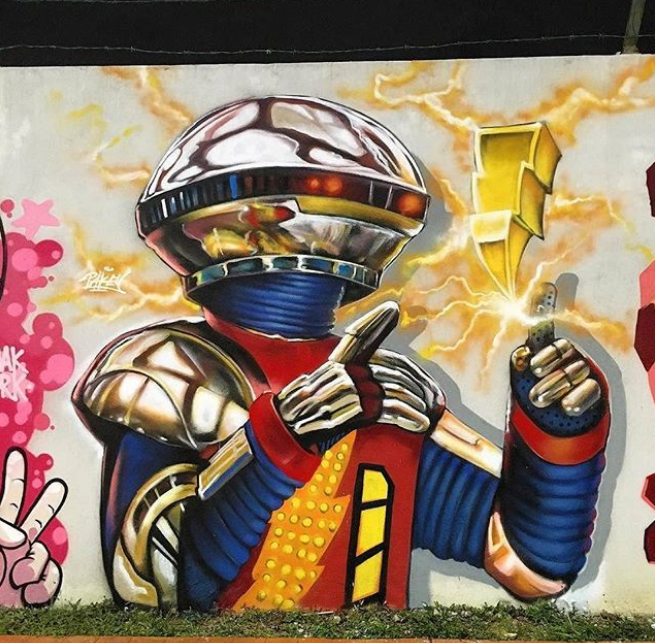 This street art in Avenue K is playful and would resonate with those who grew up watching Power Rangers. It's none other than Alpha 5. If you enjoyed Power Rangers as a child, you might just fangirl over this mural and want to take a shot with it. The fact that it's in Avenue K, a shopping mall hotspot and a place where you might least expect awesome street art, makes it all the more cooler.
12. Menara Kuala Lumpur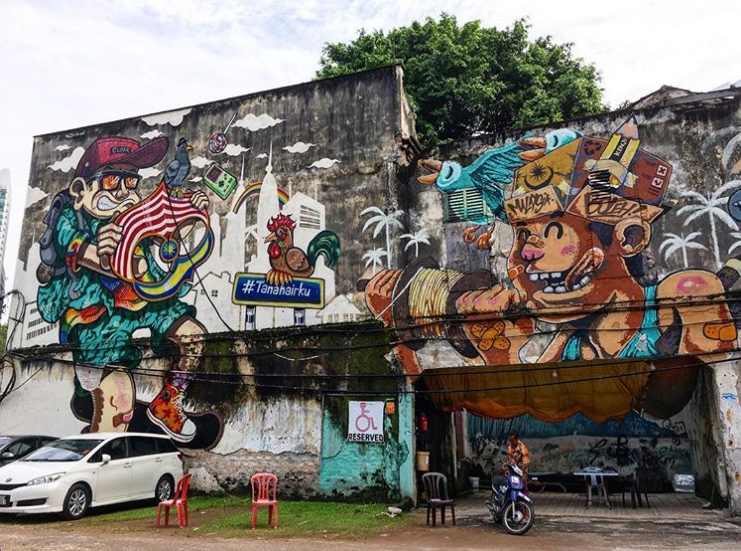 This full-fledged street art is located in an open space car park and is patriotic with a twist. Unlike regular patriotic murals, this one has a playful element injected into it. Besides the traditional waus, Malaysian flags and slogans like Malaysia Boleh and Tanahairku, it's also got drawings of things that Malaysians in the 90s would be able to resonate with, such as the 2B pencil and an ol skool gameboy.
13. Jalan Imbi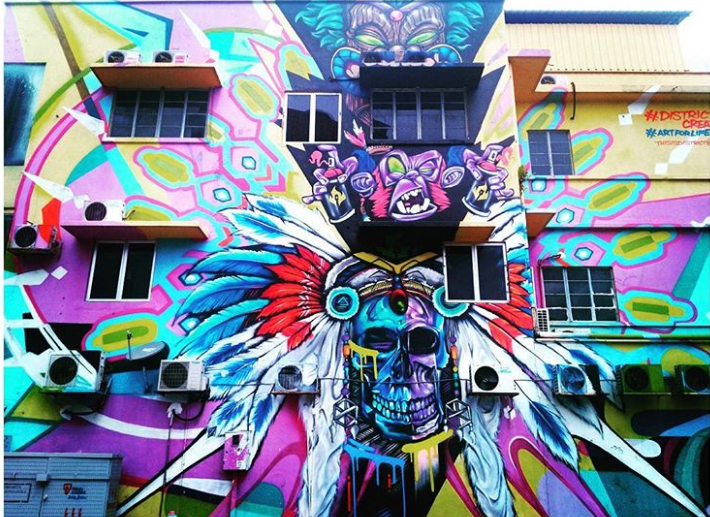 Ever seen a badass-looking skull in a traditional Red Indian head gear before? Well, now you have. This 3-tiered mural comprises of a skull, a monkey holding spray paint cans and at the highest floor, a creepy-looking clown with sinister eyes. The fact that it's painted in bright colours but is a depiction of horror-inducing characters makes this a unique one.
14. Bangsar Village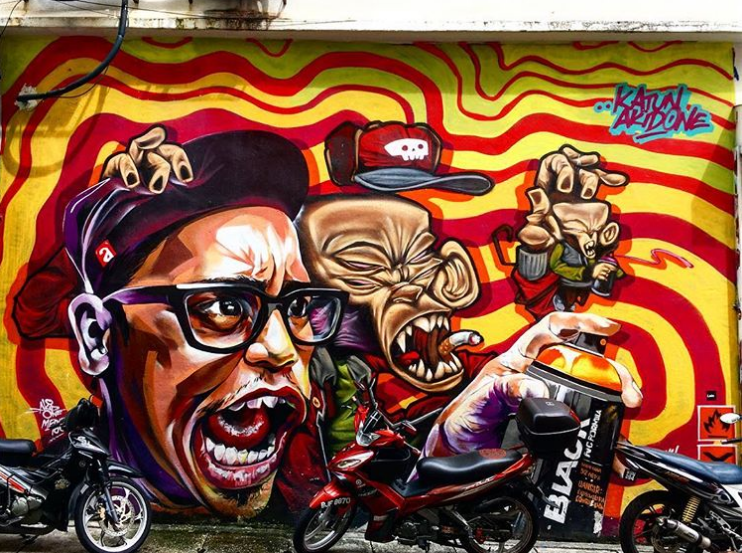 The next time you're at Bangsar Village, this intricate street art could be one of your OOTD spots. The multi-layered piece reveals more the longer you look at it. From a hand (which is really a creature's hair), to a creature with four sinister eyes, we challenge you to count the number of hands and eyes in this mural. It's trippy, that's for sure.
15. Publika Solaris Dutamas
This piece is called Oldman in Zombieland and like most of the street arts on this list, contains more than one element. From the image, it almost seems as if cats are taking over the world and turning humans into mindless zombies. An interesting piece that takes a little time to digest, it's one worth visiting with a peer, purely to discuss the art. Who would've thought that a street art would one day be as thought-provoking as the ones you view at a museum?
Feature Image Credit: Instagram user @brendansiva, @epyowe