So far, we've tried ZEN by MEL's Daiisho dinner menu and their Niisho lunch and dinner menu. But we had yet to taste anything by Chef Liang, whose work we've only seen through pictures on ZEN by MEL's Instagram. 
From there, we knew that Chef Liang is a Michelin-trained chef from Penang with over six years of experience in the culinary industry, and that he seems to specialise in Chinese cuisine.
All that aside, we didn't know what he was truly capable of.
Going into the ZEN By MEL X Chef Liang Chinese 9-course menu, his menu was vague in its descriptors. There were no words, only pictograms of one ingredient for each course.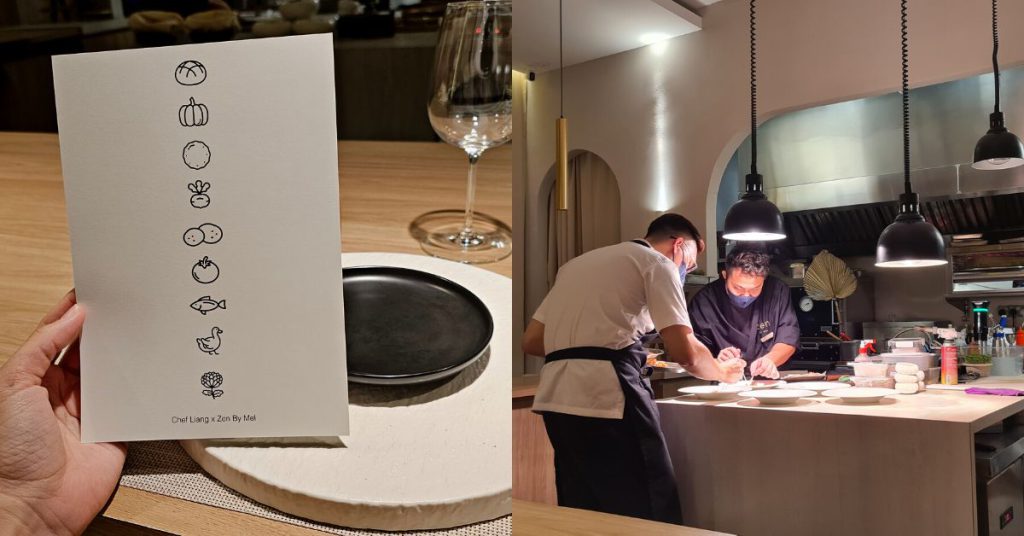 Mystery much?
We went for the dinner slot, and the first course came out pretty much on time.
Ingredient 1: Bread
For something so unassuming, the flavour that this combo packed was surprisingly delightful.
The mala bread was made with mala paste, coriander, and cinnamon sticks, while the mala butter had yellow onion and Szechuan peppercorn powder.
Instead of an intense numbing sensation, the bread was enjoyable in all its delicious savouriness with a hint of mala kick that didn't linger, packed behind its crusty exterior and fluffy interior. The butter added to the experience (I wiped both our dishes clean).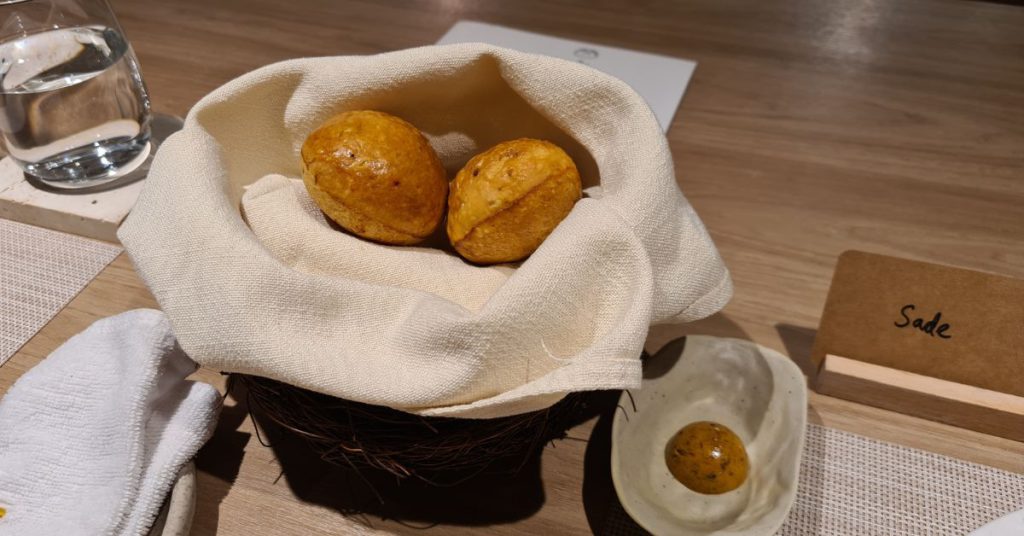 Sarah, who typically can't handle spice, wasn't able to put her bread down despite the mala pushing her limits. It was that good.
This first course awakened our tastebuds and set a precedent for what was to come.
Ingredient 2: Pumpkin
Encased in a light crispy tartlet shell was a smoked pumpkin puree, sprinkled with pumpkin seeds that had been chopped and roasted as well as pickled pumpkin, with torched braised pumpkin slices topping the entire thing.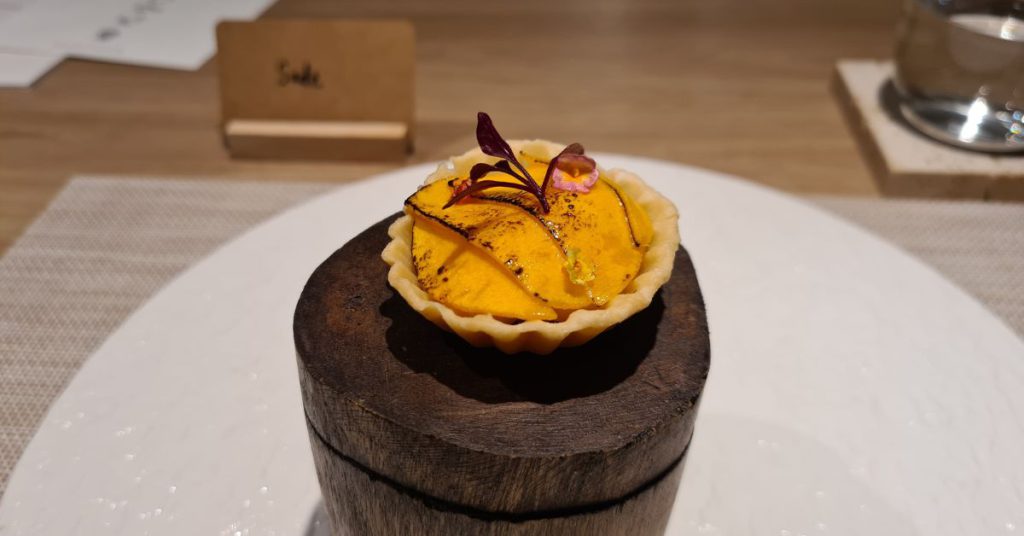 Even in a small bite, the pumpkin depth was strong with a distinct smokey charredness. The textures worked amazingly well together, from the soft feel of the pureed filling to the crunchy pumpkin seeds and the slight bite of the pumpkin slices.
Ingredient 3: Biscuit
This dish had beef tartare, shallots, oyster sauce, soy, sour cream, lemon zest, chives, and sesame crest, Chef Liang described.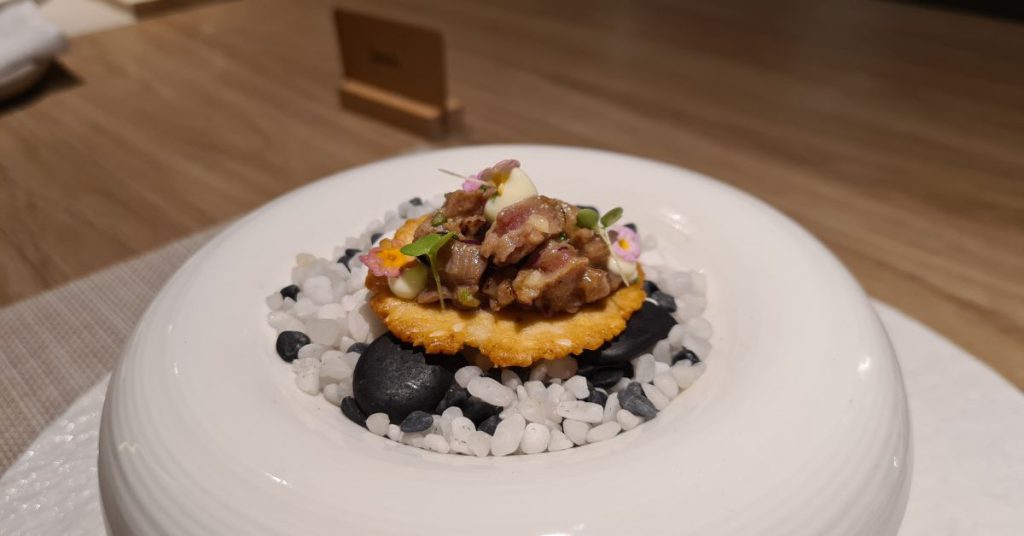 Beef tartare isn't a thing commonly found in the Chinese cuisine we enjoy, but this dish's tie-back to local roots lay in the Kampar crispy chicken biscuit (kai zai paeng).
Contrary to its name, there's actually no chicken in the biscuit, but it's well-loved for its aromatic, sweet, and savoury profile.
The beef tartare was just the right amount of fattiness. The sour cream and lemon zest gave each mouthful a wonderful tang.
The mix of textures was fantastic once again, the chew of the beef tartare complemented by the crunch of the biscuit. Overall, this was one hors d'oeuvre we'd happily eat too much of.
Ingredient 4: Turnip
Kohlrabi (German turnip or turnip cabbage) was the star ingredient of this dish.
Buri (amberjack or yellowtail) sashimi was laid upon a bed of kohlrabi that had been braised and pan-seared for a smokey and chargrilled flavour. Between the fish and kohlrabi was a granita of kohlrabi that also used apple juice, accentuating the freshness of the fish.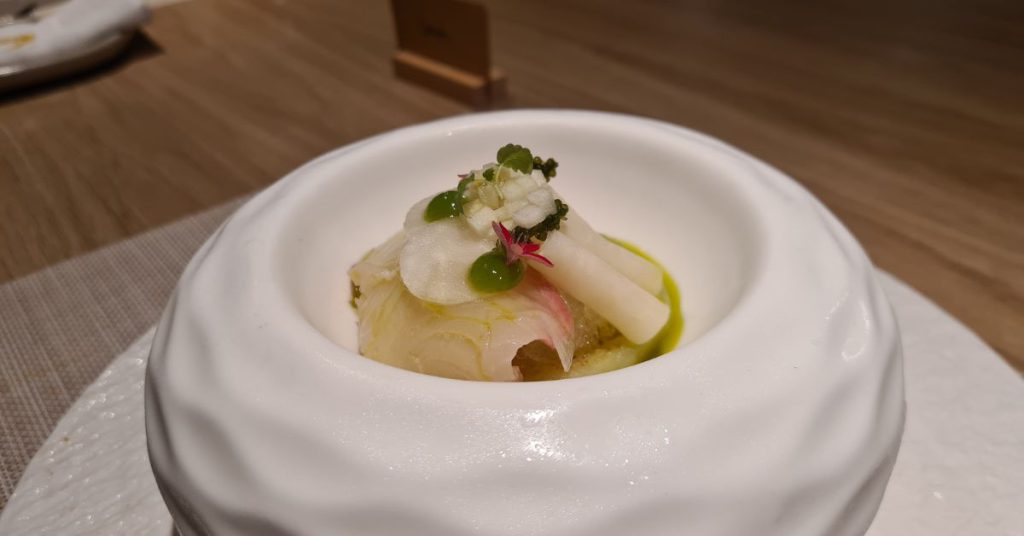 Pickled kohlrabi lined the sides of the plate, and latok (sea grapes) and verbena leaves topped it all. This was a rather tart dish, the fish not imparting any fishiness to let the kohlrabi shine.
Try to get a bite of everything together to enjoy the delicious variety of crunchy kohlrabi, enhanced by the seaweed oil and jelly of apple and sorrel.
Ingredient 5: Potato
After the refreshing kohlrabi dish, we dug into something richer. This was pan-seared scallop with butter, and potato three ways: petite (baby) potatoes sauteed with tauchu (fermented bean) paste, potato chips, and foam of potato on the side.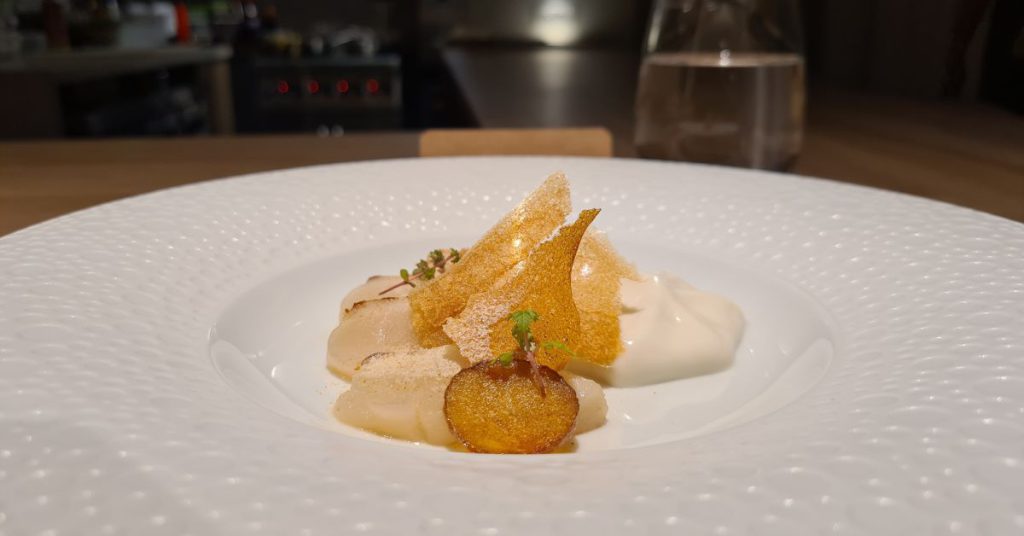 The well-seasoned petite potatoes and potato chips were probably our favourite elements of this dish. The foam of potato reminded us of mayo.
We wished the scallops had been more seared, as it seems the served scallops had been initially seared then sliced.
Ingredient 6: Tomato
This had every tomato flavour profile in it. The chilled, jellied tomato consommé had an intense sour note that played off the sweetness of the biscoff crumble, semi-dehydrated halo tomatoes, and sun-dried tomatoes.
Homemade pesto and buffalo cheese chips brought in a savoury element, while a velvety smooth and sweet tomato cream rounded out each mouthful.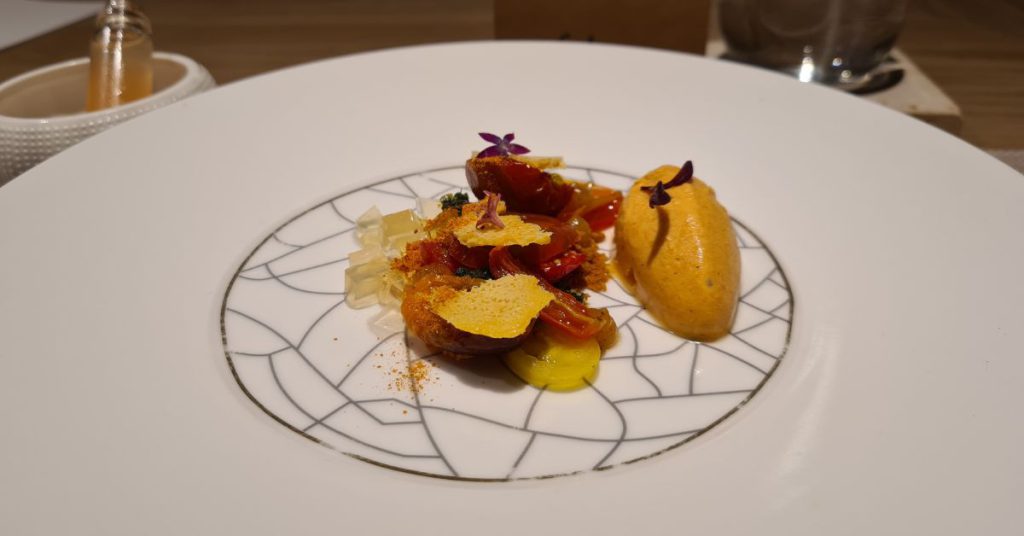 This was served with a vial of tomato consommé juice on the side. It was quite acidic and had a fermented, alcoholic aftertaste that I didn't favour, but Sarah finished hers.
Even without the juice, this dish was a delectable explosion of tomato and was like nothing we had ever tasted before but would gladly have more of.
Ingredient 7: Fish
Reigning in the adventurous flavours, this grilled halibut fish with seafood porridge was a trip down memory lane.
There was something so nostalgic and homey about how the perfectly-cooked fish and its beautifully flakey flesh came together with the porridge, infused with dried scallops and dried oyster.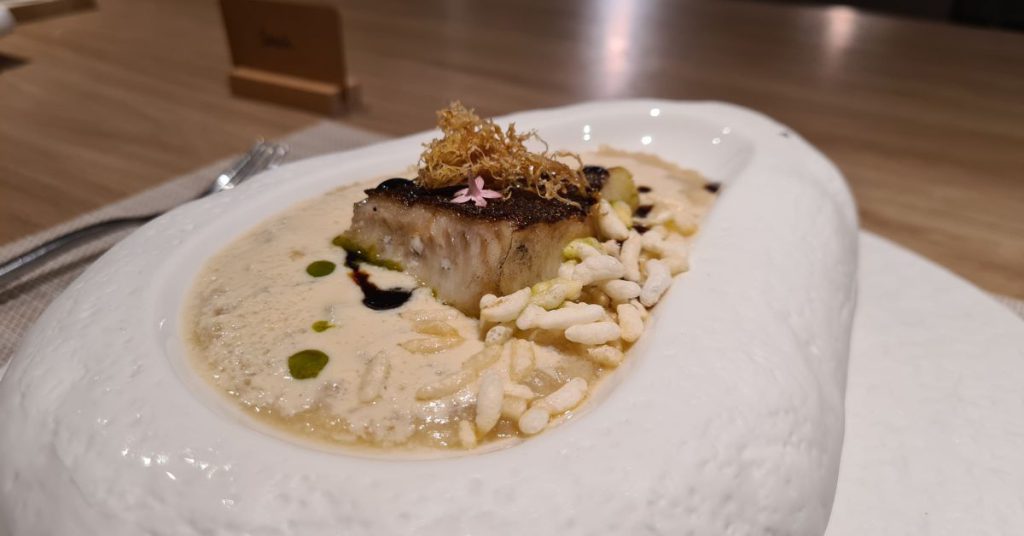 A fish jus with Shaoxing wine was drizzled over the porridge before we began eating, and this gave it a deep umami taste. Deep fried ginger and puffed rice introduced some fun textures and cut through any saltiness.
The portion was also just right. We finished off every grain of porridge and came short of licking the plate clean.
Ingredient 8: Duck
The final main course was duck that had been dry-aged for seven days and then cured for one. On the side was king oyster mushroom topped with aubergine puree and puffed quinoa, with dollops of red bell pepper and black garlic puree.
Chef Liang added the finishing touches by pouring a purple cabbage and meat jus.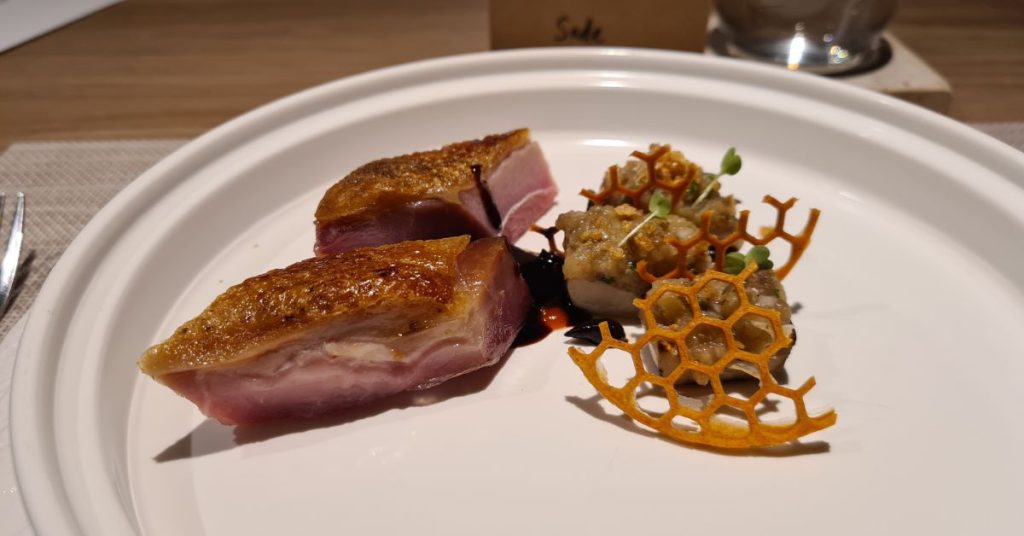 The duck had a nice crispy skin, but some cuts were more tender than others, and thus easier to slice and chew.
The king oyster mushroom with its more earthy flavours was a nice palate cleanser in between bites of duck.
By this point, we were mighty impressed by Chef Liang's every dish. Then it was time for dessert.
Ingredient 9: Chrysanthemum
So far, we've not really had outstanding experiences with the desserts at previous Zen by Mel dinners and lunches, with more misses than hits.
One thing we noticed was that it seemed as though the desserts were often relegated to someone other than the main chefs, and would usually leave more to be desired.
Would Chef Liang's sublime course-set dinner come to an end with a lacklustre dessert too?
Before we would find out, we were served red bell pepper tea, which tasted more like a hot, savoury soup that was soothing to the soul.
What came out next surprised us, both in who presented it and its presentation. Chef Liang brought us a dessert made from chrysanthemum and red dates.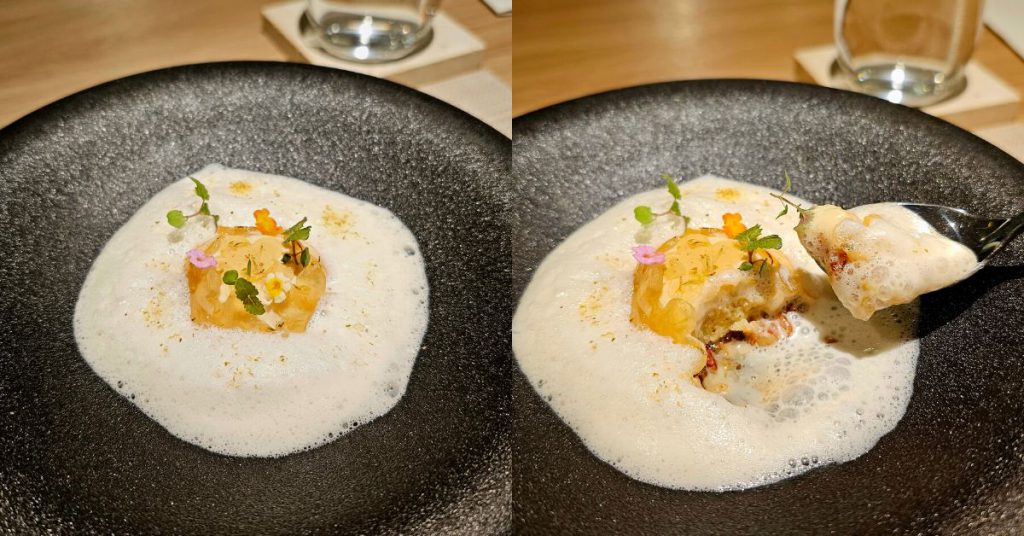 This was a beautiful dome of jelly made from chrysanthemum with kombucha, under it a chrysanthemum mousse, chrysanthemum cake, and red dates with pecans. Around the dessert was a moat of chrysanthemum milk.
The first bite left us wide-eyed and speechless. Full disclosure, I'm a huge chrysanthemum fan, so I already knew I'd like the dessert before tasting it. But even Sarah, who isn't the biggest chrysanthemum fan, loved this to the fullest.
The light floral taste was accompanied by a just-right natural sweetness from the red dates, the nuttiness from the pecans and chrysanthemum milk adding depth. This was a dessert that was easy on the palate and a uniquely gorgeous end to our meal.
I can still taste the harmony of flavours as I write.
Price and overall thoughts
Chef Liang already heard our compliments that night at dinner, but we must commend him again for this absolutely memorable meal. 
How he balanced portion and flavour was outstanding and skilful, and the way each dish had a clear star ingredient was a unique way to plan the courses.
Chef Liang wasn't one to talk up his ingredients, instead, he let his dishes speak for themselves, and oh, they didn't just speak—they sang.
Waxing poetic aside, the dinner was well-paced, about 1.5 hours in total, despite a waiting period of about 10 minutes between a few dishes for a group of latecomers to catch up with us.
It's best to arrive on time if you've made a booking, as your seats will only be held for 15 minutes.
The Zen By Mel X Chef Liang Chinese 9-course menu is easily our favourite so far out of everything else we've tried at Zen by Mel. We'll definitely be looking forward to what else Chef Liang will dish out next, with extremely high expectations.
You can enjoy the ZEN By MEL X Chef Liang Chinese 9-course menu (Season 2) for either lunch or dinner, at RM350++ per pax. When making your booking, you'll need to reserve for at least 2 pax.
ZEN by MEL
Address: F-10-01, Pusat Perdagangan Bandar, Persiaran Jalil 1, Bukit Jalil, 57000 Kuala Lumpur, Wilayah Persekutuan Kuala Lumpur
Contact: 011-5636 8875
Website: https://www.instagram.com/zenbymel/