Here's a new Japanese fusion fine dining place in Bukit Jalil that serves a specially curated seasonal 11-course menu! Zen By Mel is the sister restaurant of CC By Mel, and it explores fusion Japanese haute cuisine while featuring some of our own fresh local ingredients (eg. pucuk paku, and paku rawan).
It may not be a very large dining space, but the team has optimised the layout to have a main room (Chef's Orchestra) that can seat 13 pax, and a private room (Zen's Chamber) for a smaller group of 4-6 pax.
We of course highly recommend sitting opposite the chefs in the main room because you get to observe and admire the preparation of each dish a few metres away. Enjoying the smells of the ingredients being cooked near you also tantalises and heightens the senses before digging in.
The gastronomic delights created at Zen By Mel are by Chef Jordan, a Singapore-trained chef with 8 years' experience, who has worked in a Michelin Guide restaurant.
Assisting him is the Chef de Cuisine, Chef Mohd Shafik, with an impressive 27 years of experience and a deep familiarity with European dining and cuisine.
With the two of them at the helm, you can be sure that each dish is cooked, prepped, and presented to perfection.
We'd suggest that you enjoy the element of surprise and try the experience for yourself. But just to give you a sneak peak, here are our top favourites.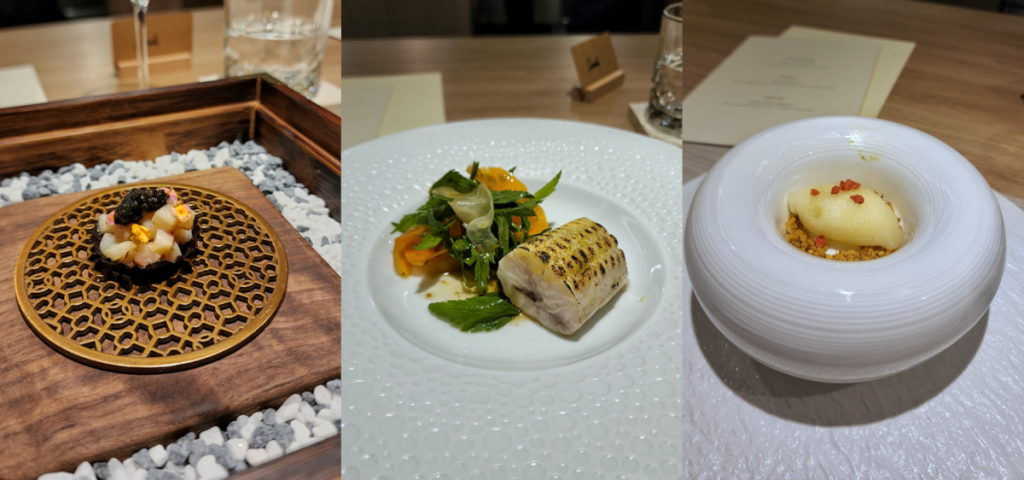 1. Amuse Bouche – Seitaikei Tart
This is a beetroot tart topped with buri (yellowtail fish), smoked mushroom vinaigrette, Iranian caviar, kaffir lime and lantana. This was a well balanced explosion of flavours: the bitterness of the edible flowers, freshness of the kaffir lime, nuttiness and creaminess of the caviar. Mmphh.
By the way, Iranian caviar originates from the Caspian Sea and is known as one of the tastiest caviars in the world!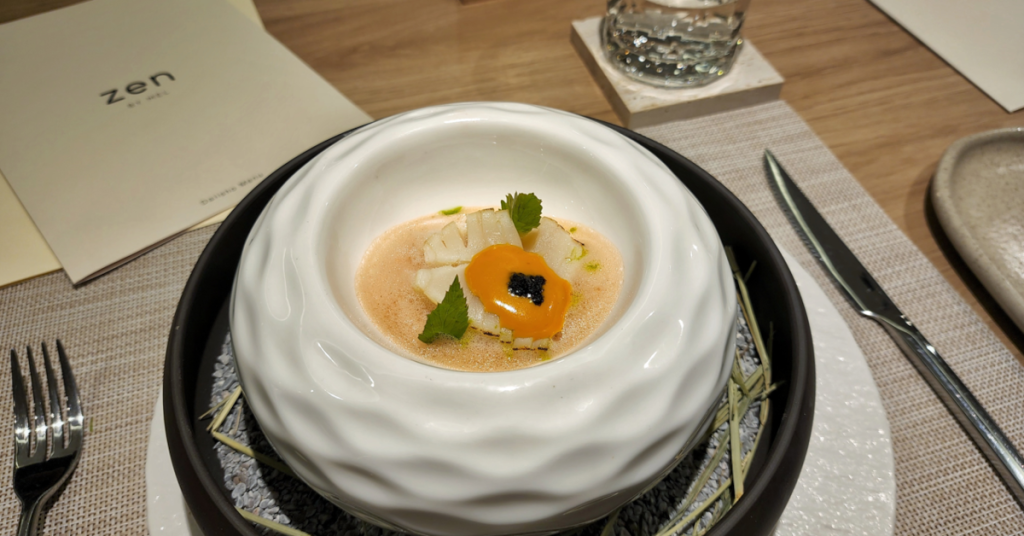 2. Cold Appetiser – Hotate Picasso
Anything umami strong deserves a shoutout. The smoked uni paste with the thick cuts of scallops and kaffir lime leaf oil really got our attention and we couldn't help but want more.
3. Main Course 1 – Eden of Zen
A few things really made this dish memorable. First of all, the chef explained that the fish was killed with the ikejime method which is a traditional Japanese technique that best preserves the flavour and quality of the fish.
When done correctly, the flesh of the fish also develops a stronger umami taste when aged, and even stays firmer for much longer.
Second, the Hokkaido corn that was seamlessly wrapped onto the fish added texture to every bite. You can tell they really like their kaffir lime here because the vegetables were also drizzled with it (we ain't complaining!).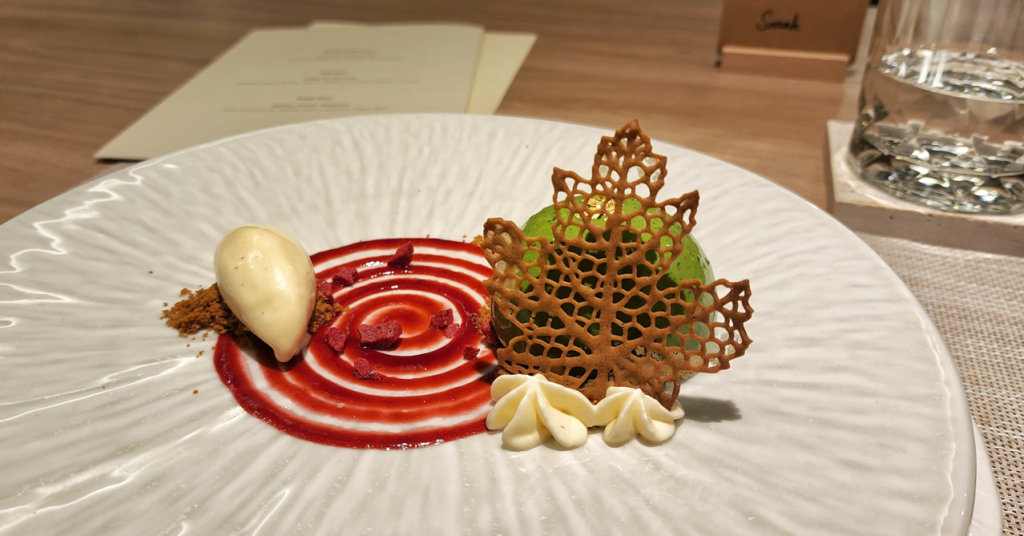 4. Dessert – Imperial Zencha
Another umami slanted dish, the matcha mousse was strong, sweet and savoury, and the raspberry filling lent a tanginess that further enhanced it.
Upon a personal request in advance, the chefs had kindly replaced the adzuki red bean ice cream with vanilla, and even this deceptively simple flavour tasted so aromatic and rich.
The intricately designed leaf biscuit topped off the flavours with a nice crunch. This is one dessert that we would gladly have over and over.
There was however some slight imbalance of the filling thickness within the matcha mousse. Towards the final quarter of the mousse, the filling got way too thick and the balance of the tartness was gone.
This seemed to be an outlier though because the raspberry filling of the two other diners near us were fine.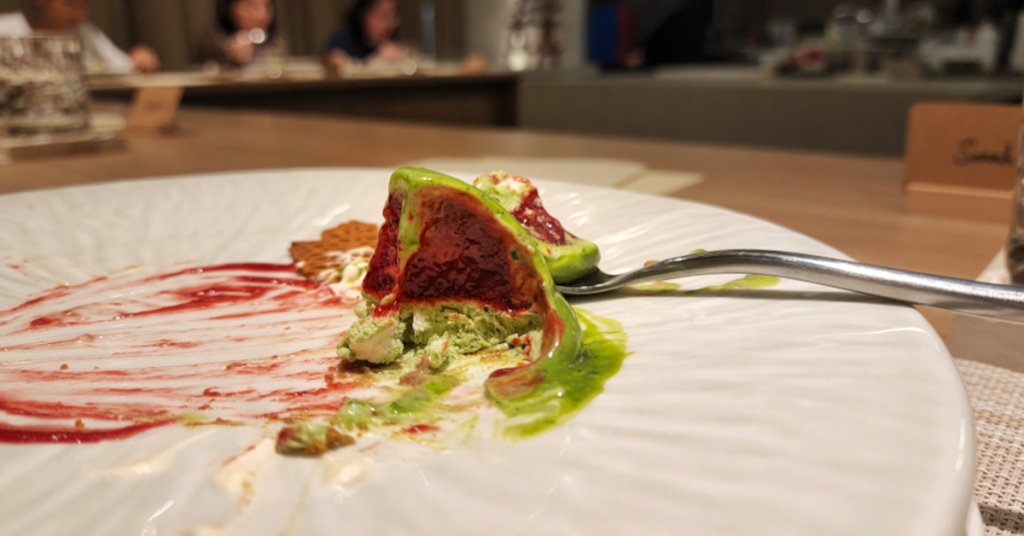 Price and overall thoughts
At RM498 per pax, expectations are bound to be high. With 11 courses, each dish averages at RM45, which reflects the complexity of each course, the various preparations and ingredients that make up each of the elements, and also the overall presentation.
We left feeling quite full at the end so the experience was satiating, portion-wise.
Several other reviews have branded this dining experience as omakase. Omakase derives from the phrase "omakase shimasu", which translates to "I trust you, chef." In other words, diners leave it up to the chef to give them a dish with the best and freshest ingredients.
There are also several other elements that make up an omakase style meal. Usually, there is some engagement with the chef, so food is typically prepared really up close to the diners to maximise interactivity.
The chef will give recommendations and may also change subsequent dishes depending on the diner's preferences or feedback on each course.
The menu is usually based on what ingredients are in season, which is why omakase dishes aren't typically fixed.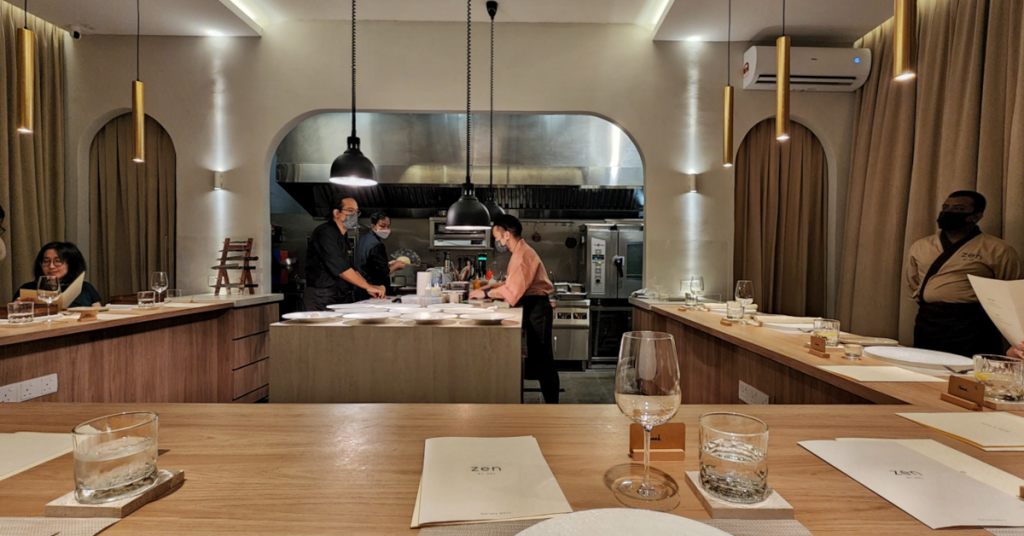 In Malaysia with more restaurants coming up with their own interpretations of "omakase", I personally feel that the elements that define omakase dining are becoming a bit looser.
For example, Zen By Mel's chefs are fairly far from the dining counter so it's hard to really see the details of what's going on (though we can definitely smell it).
The dishes are pretty set already and are not based on what the chefs feel you will personally like, so there is a lack of spontaneity (which original omakase restaurants tend to have). There is some small room for improvisation if you don't like certain ingredients but not by much.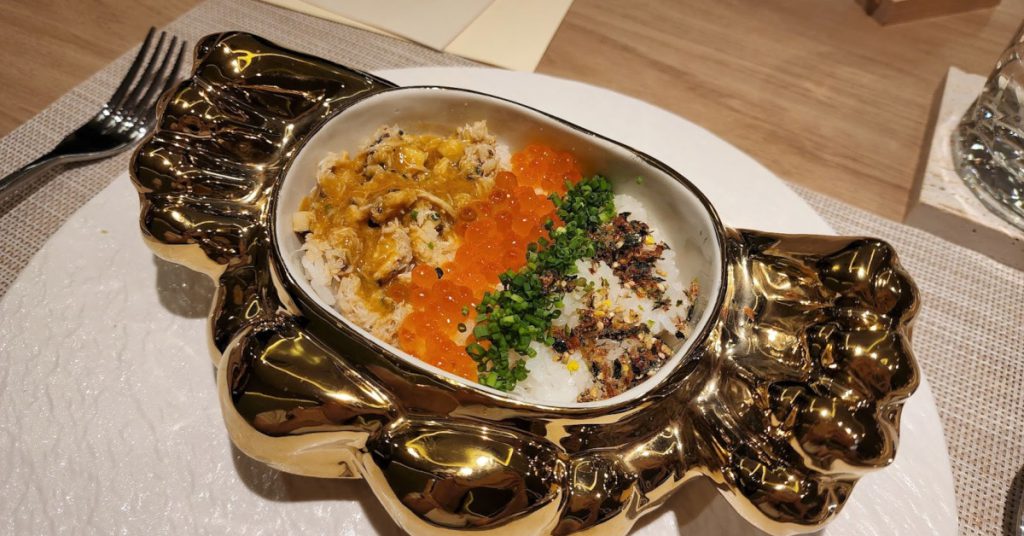 When it comes to an omakase experience, we do also feel that sometimes less is more. Having that many elements on the plate may tend to overcrowd the palate. Omakase after all is about the freshest ingredients and how the chef lets those ingredients shine.
So personally, contrary to what other reviews have said, Zen By Mel isn't genuinely omakase, but it certainly is fusion fine dining.
All in all, we admire the gutsiness of Melanie (the founder of CC by Mel) to venture into this next level of fine dine cuisine and to bring together talented chefs with a vision to marry Japanese ingredients with a local twist.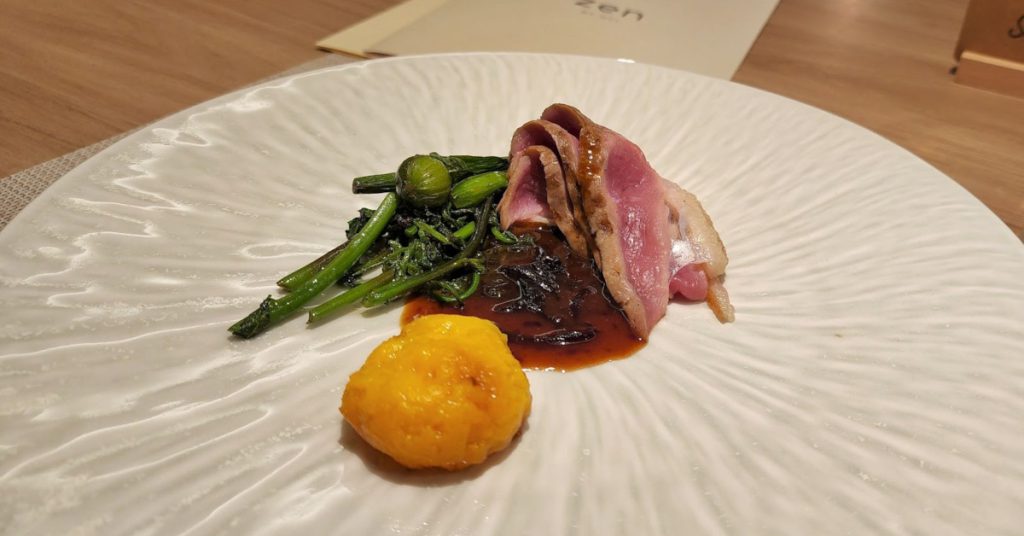 The service is top notch, warm and welcoming, the chefs are friendly and you can really tell that they pour their heart and soul into every dish.
There are only two dining time slots daily (closed on Tuesdays), with the first session at 6PM and the second session at 8.30PM. Each dining session is two hours so do make yourself available for the whole duration and not rush the experience.
A booking deposit of RM100/pax is required and there are no refunds for cancellations within 24 hours.
Zen by Mel
Address: F-10-01, Pusat Perdagangan Bandar, Persiaran Jalil 1, Bukit Jalil, 57000 Kuala Lumpur, Wilayah Persekutuan Kuala Lumpur
Contact: 011-5636 8875
Website: https://www.instagram.com/zenbymel/