ZEN by MEL's new fusion fine dining menu called Niisho marries Japanese cuisine with a local twist, just like their previous season.
Ulam and bunga kantan made appearances in some of the dishes, lending bolder and complex tastes that complemented the typically umami Japanese cuisine.
This curated gastronomic journey was once again created by Chef Jordan, a Singapore-trained chef who has worked in a Michelin Guide restaurant, and Chef de Cuisine, Chef Mohd Shafik, who has 27 years of culinary experience and a deep familiarity with European dining and cuisine.
From the 11-course Niisho menu, here were some of our favourites.
1. Hajime & Tōhō-ken
We started things off with contrasting textures and distinct flavours in the amuse bouche.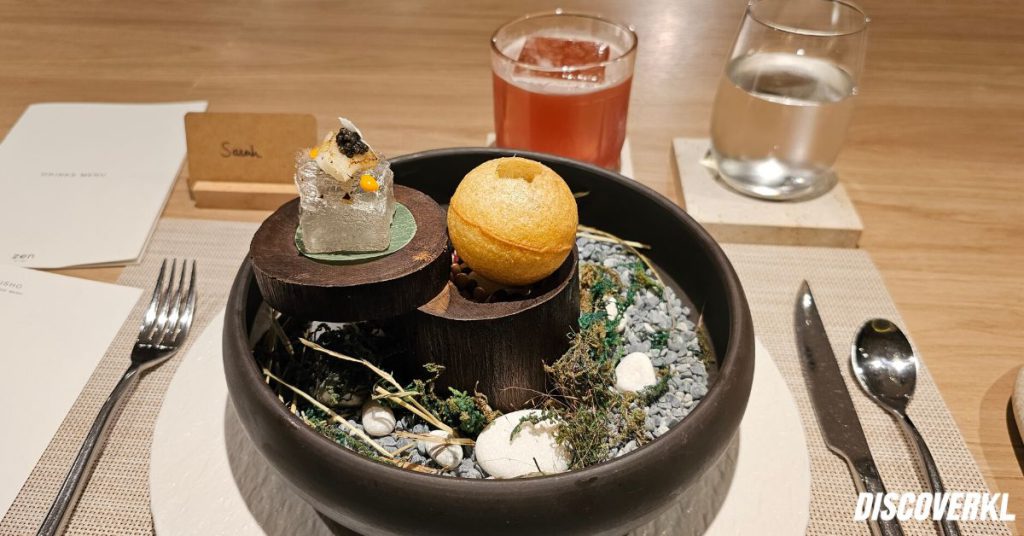 Hajime's crystal bread was delightfully airy and crispy against the firm chew of the engawa (meat that comes from the tail fin muscle of a flounder), while the micro ulam raja, borage, and caviar brought their own characters to the dish.
The ponzu uni paste gave it a strong umami edge with a slight hint of tartness.
Bringing freshness was Tōhō-ken, with marinated tai (Japanese sea bream), sambal sudachi aioli, and pomelo all encased within a thin pani puri shell.
Again, lots of playful textures, with a citrusy undertone to tie it all together.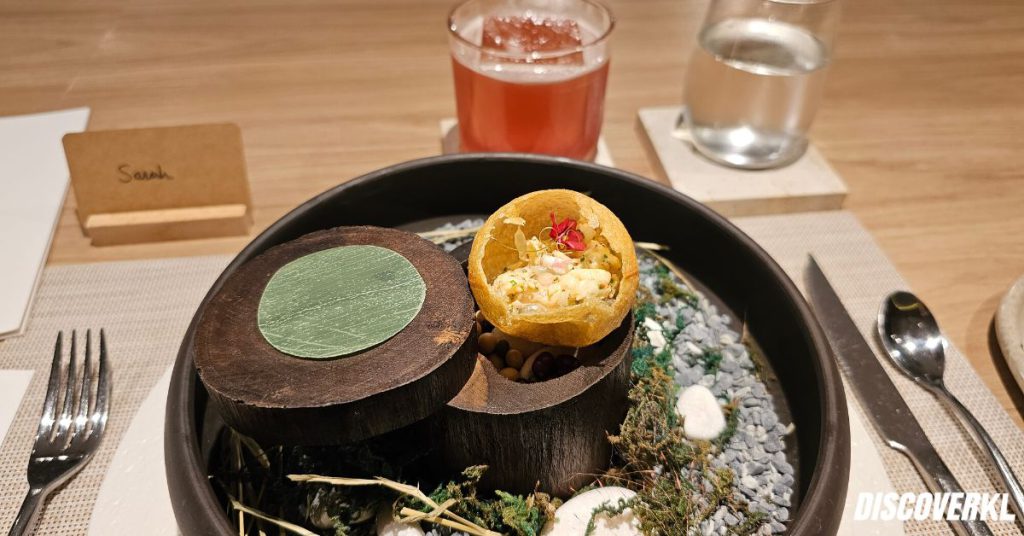 2. Nettaebbi
Taking inspiration from Thai cuisine, Nettaebbi was a meng kam wrap with Miyazaki mangga gel, Japanese tiger prawn, and kadaifi.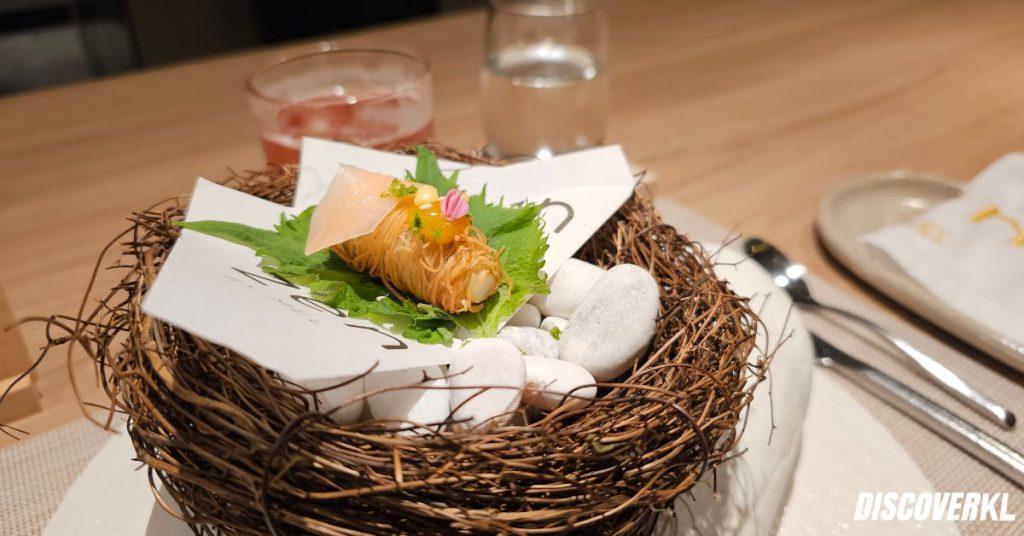 Tart, savoury, and a little sweet, there was lots of crunch in this dish thanks to the kadaifi (pastry spun into fine strands) and pebbles of dehydrated mango.
Placed atop a leaf, it's meant to be wrapped like a taco and eaten in one to two bites.
3. Daiya
The final appetiser was Daiya, which translates to "diamond". Smoked hamachi from Kyoto was shaped into a rocher and dipped into kelulut and dashi jelly, then topped with a line of uni crema made with asparagus cream.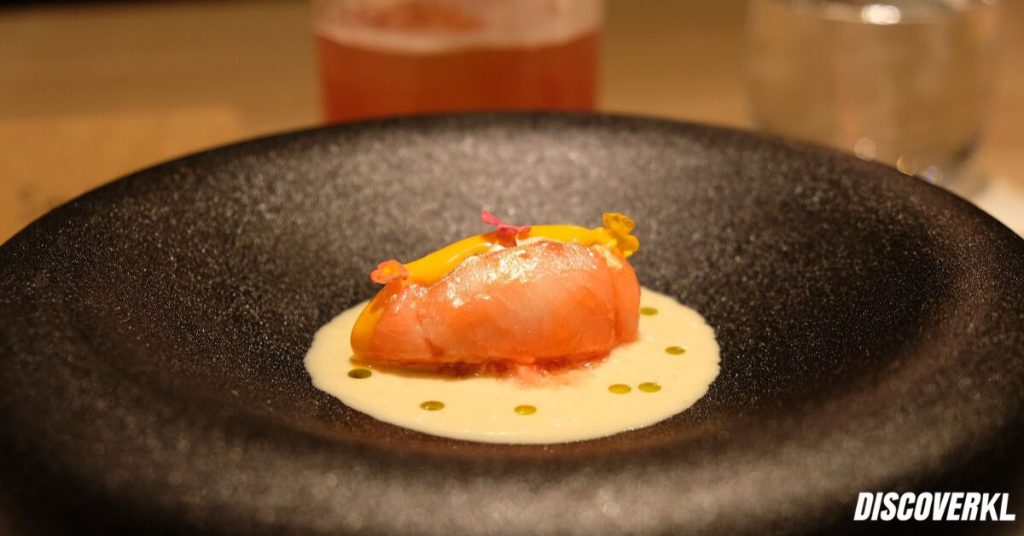 Underneath it was diced pickled sengkuang, giving the dish a crisp, refreshing crunch, and the onion milk made from caramelised onions and almond milk rounded out the flavours.
4. Clam Latte
A warm palate cleanser, the broth made from Japanese clams was full-bodied without being too briny, the Shaoxing wine adding some depth.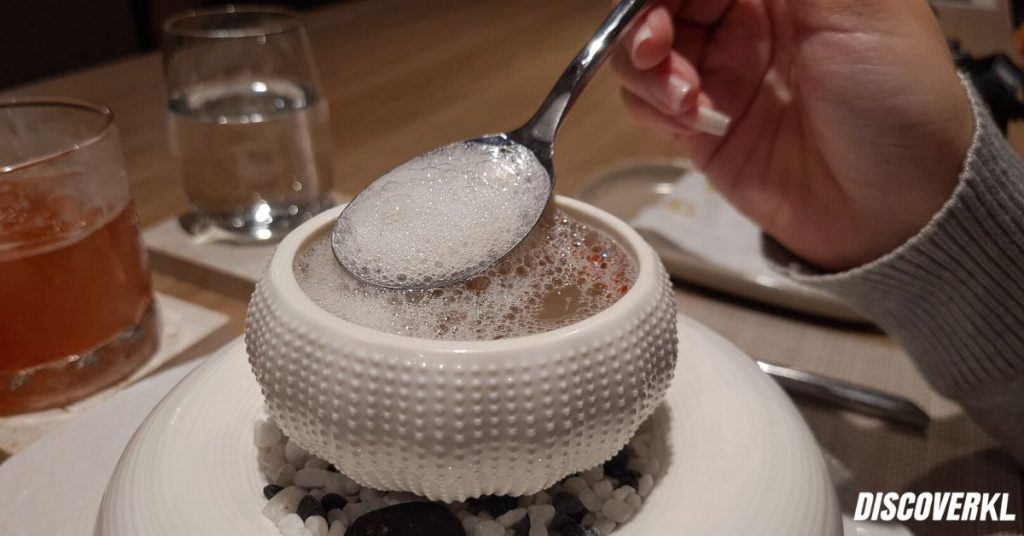 At first taste, there was the slight kick of chili padi which ebbed into a comforting aroma from the torch ginger, lemongrass, and bentong ginger, sweetened ever so slightly by goji berries.
Our main comment for this was that it could've done with more clams and baby scallops, which were deliciously fresh.
5. KaiyonoMori
This was red snapper with a creamy bunga kantan béarnaise sauce, three types of Japanese sweet potatoes caramelised with brown sugar and brown butter, ulam raja, and kaffir vinegar.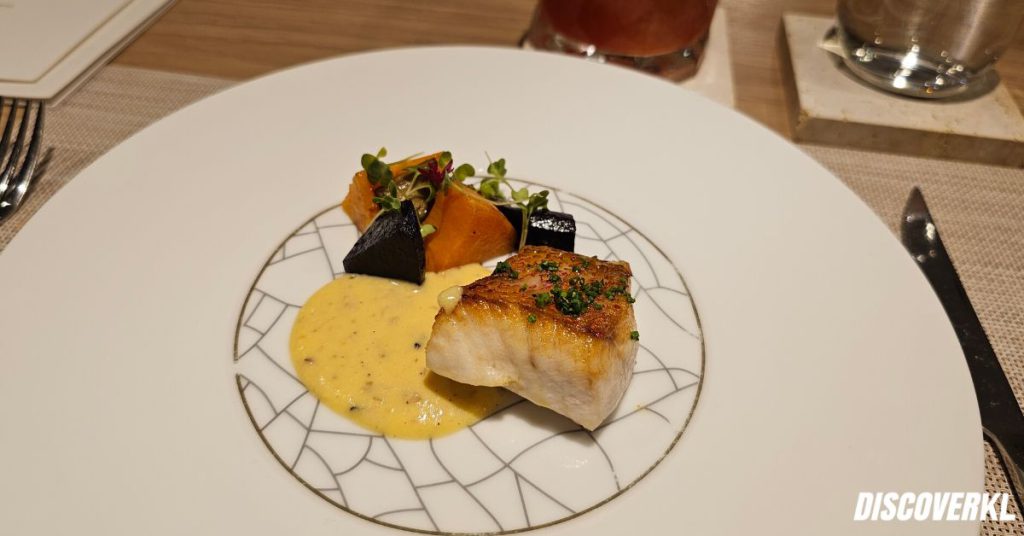 The fish was firm and perfectly cooked, flaking in large chunks when cut, and the potatoes had just the right amount of bite.
Their textures went well together, and the butteriness of the bunga kantan béarnaise sauce had Sarah requesting more (to which they happily obliged).
6. ShinKarubi
ZEN by MEL took melt-in-your-mouth literally with this dish of Angus karubi (flanken-cut rib), pucuk gajus, sweet Yamasa glaze, and umeboshi and Granny Smith gel.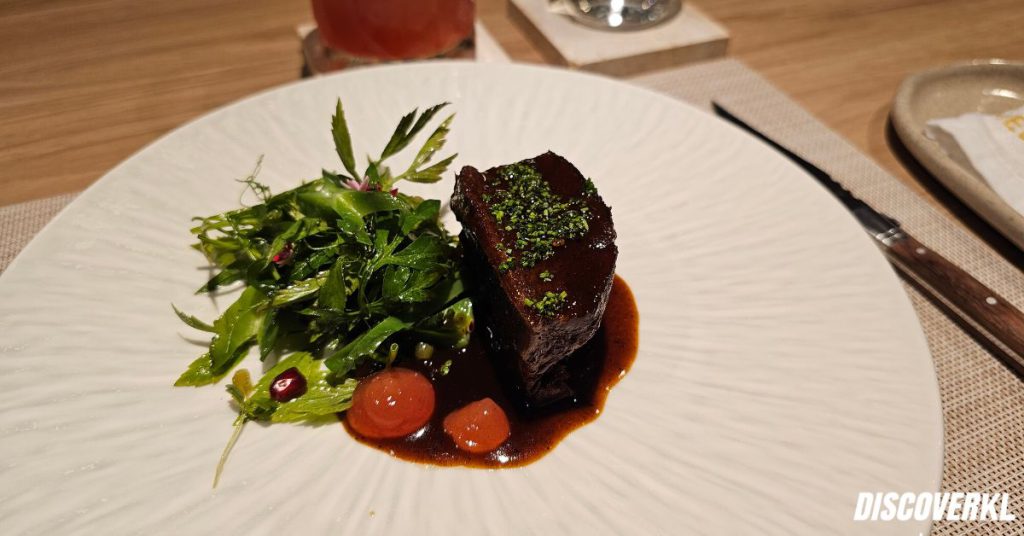 The meat was extremely tender and juicy, cutting it was like a hot knife through butter. The sweet smokey glaze was accentuated by the tart umeboshi and Granny Smith gel and paired well with both the Angus and pucuk gajus.
Since the first visit to ZEN by MEL, Sarah noticed that Chef Jordan is one of the few chefs who could easily convince her to eat her greens. This dish was not an exception, she happily wolfed down every leaf and stalk.
For an additional charge, the Angus can be upgraded to Japanese wagyu.
7. Ji-tsubu
The final main course consisted of Akitakomachi rice, seasonal mushrooms (it was king oyster and enoki for us), a broth made from smoked shiitake and porcini mushrooms, and tako carpaccio.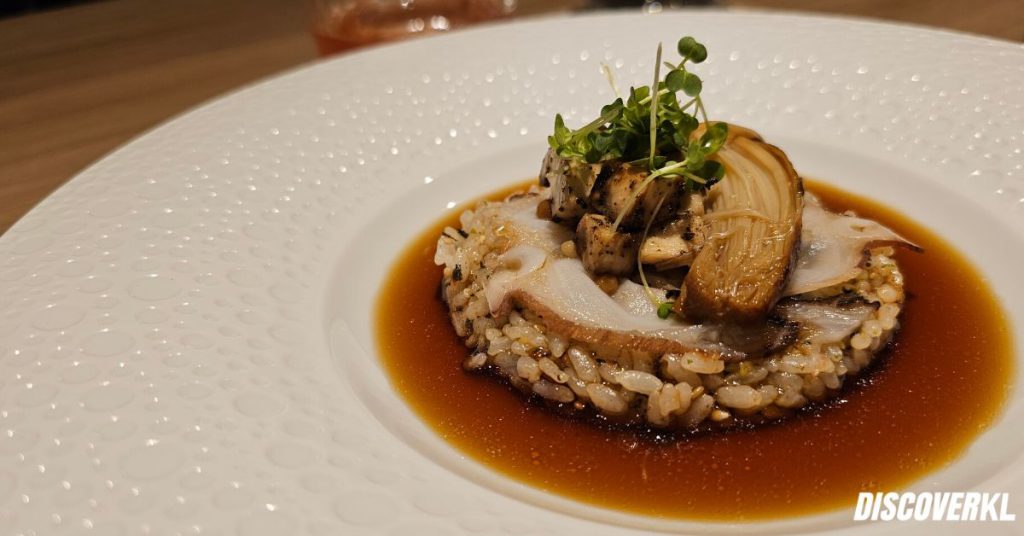 Sarah commented that this rice dish was a big improvement compared to the previous Daiisho menu.
It was well-seasoned with furikake and mushroom vinegar. The enoki was braised with brown butter, mirin, soy sauce, and sugar, while the cubed king oyster mushroom was grilled using binchō-tan for a smokey touch.
The tako carpaccio was very thinly sliced and paired perfectly with the earthiness of this dish.
The chef's restraint has paid off because it resulted in a more balanced and well-defined dish.
Price and overall thoughts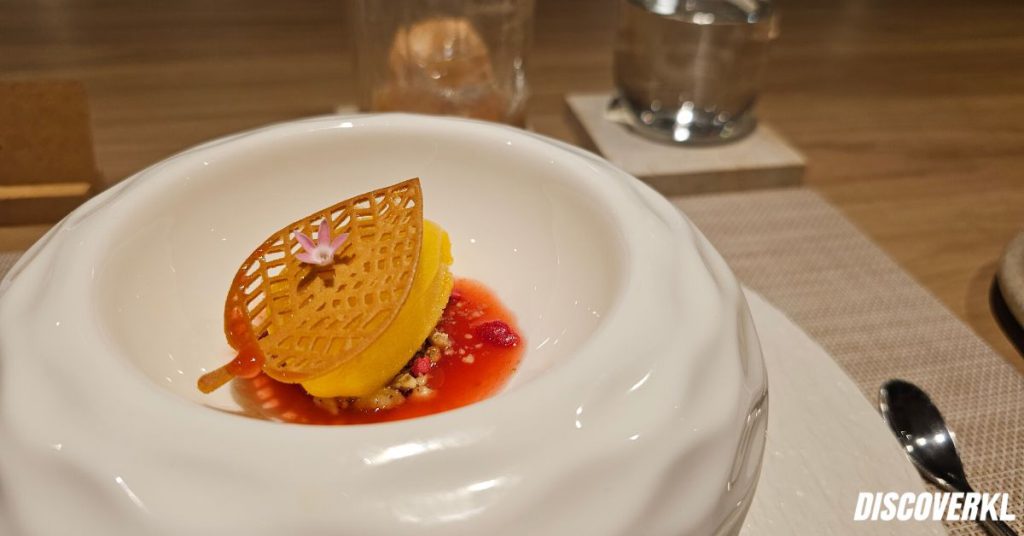 For desserts, there was the Borneo Sharbetto and Hana Fubuki before we ended the meal with petit four.
Borneo Sharbetto was a burst of sweet and sour in our mouths, utilising a species of mango called Bambangan that's endemic to Borneo.
It's more fibrous, so processing it into a sherbet was more painstaking, Chef Jordan shared. That effort certainly paid off though, as the resulting dessert was very smooth.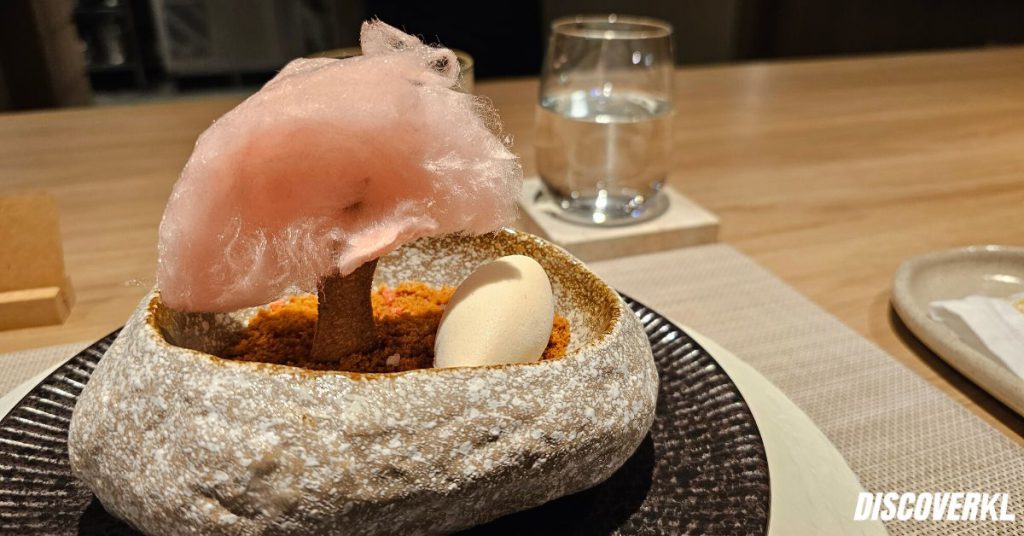 The Hana Fubuki was probably the dish that let us down the most simply because in comparison to the other courses, cotton candy and Biscoff crumbs as part of the ingredients came across as more plain and amateurish.
We were actually looking forward to seeing more fresh seasonal fruits or rare ingredients being used in creatively sweet ways.
Nonetheless, we left Niisho quite satisfied, so it seemed that the portions of each course were just right.
What stood out to us was how every dish seemed almost comforting and even familiar, since so many local ingredients were used—but in ways that added more dimension and depth to every bite.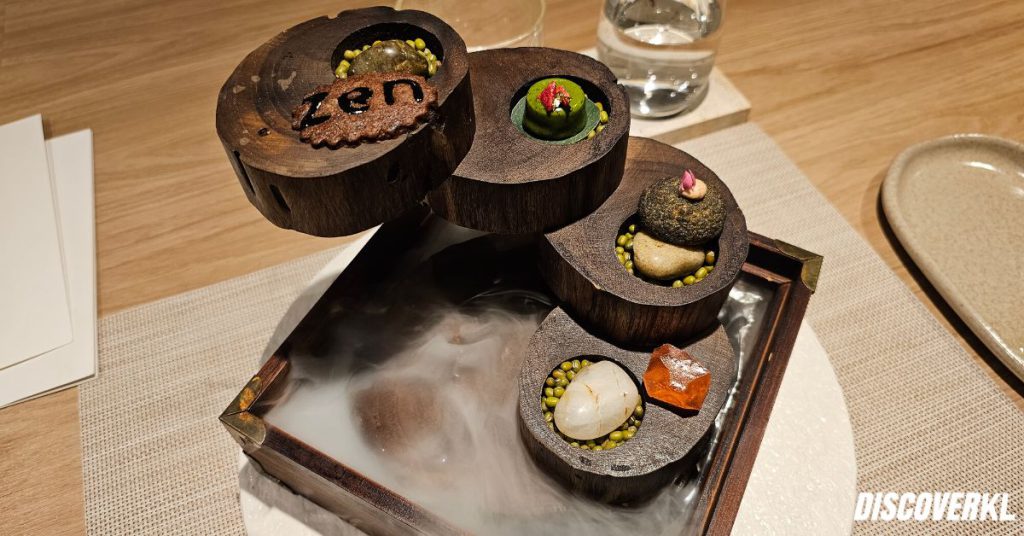 The staff were very attentive and ready to help with our every request, and the chefs were always happy to share the details that went into each dish, elevating our experience.
Niisho's 11-course menu costs RM420/pax, and has two slots daily (closed on Tuesday) from 6PM – 8PM, and 8.30PM – 10.30PM.
Each session is two hours long, and though we thought it was going fast at first, it was relatively well-paced and ended pretty much on time.
A booking deposit of RM100/pax is required and there are no refunds for cancellations within 24 hours.
ZEN by MEL
Address: F-10-01, Pusat Perdagangan Bandar, Persiaran Jalil 1, Bukit Jalil, 57000 Kuala Lumpur, Wilayah Persekutuan Kuala Lumpur
Contact: 011-5636 8875
Website: https://www.instagram.com/zenbymel/