Early in May, we were invited to the debut of The Studio KL's High Tea Omakase, organised in partnership with Bar Shake, KL.
This unique and one-of-a-kind omakase is the brainchild of Chef Lucas, the chef and also a partner of The Studio KL, who wanted to channel his creativity and skills into something more than just the typical high tea experience.
We were wowed before by their first travel-themed high tea set that launched in May 2021 during the pandemic. That high tea set was then inspired by Japan and we got a first-hand peek at Chef Lucas' prowess.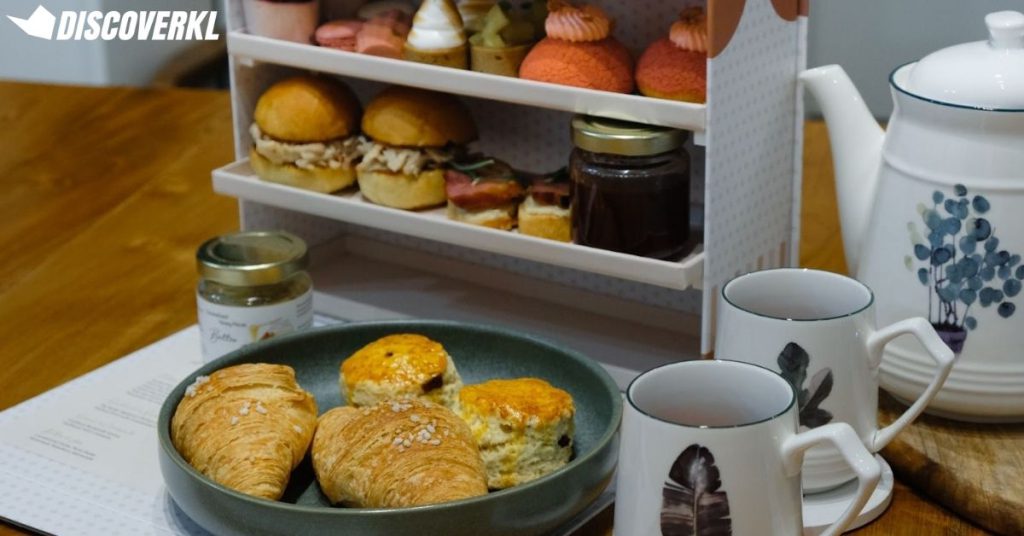 So needless to say, expectations were high—but then again, what were we supposed to expect, we've never been to a high tea omakase before.
Shaking up the omakase scene
We were welcomed into the cosy setting of Bar Shake, KL where a row of spotlights illuminated the bar counter top.
There's a maximum capacity of 6 pax along the counter and another 6 pax in the lounge area. Even with a full house, it's still a pretty intimate ambience.
The omakase's menu theme is aptly named "Around The World", with 9 courses served with 2 drinks (non-alcoholic) that are inspired by various regions, you guessed it, around the world.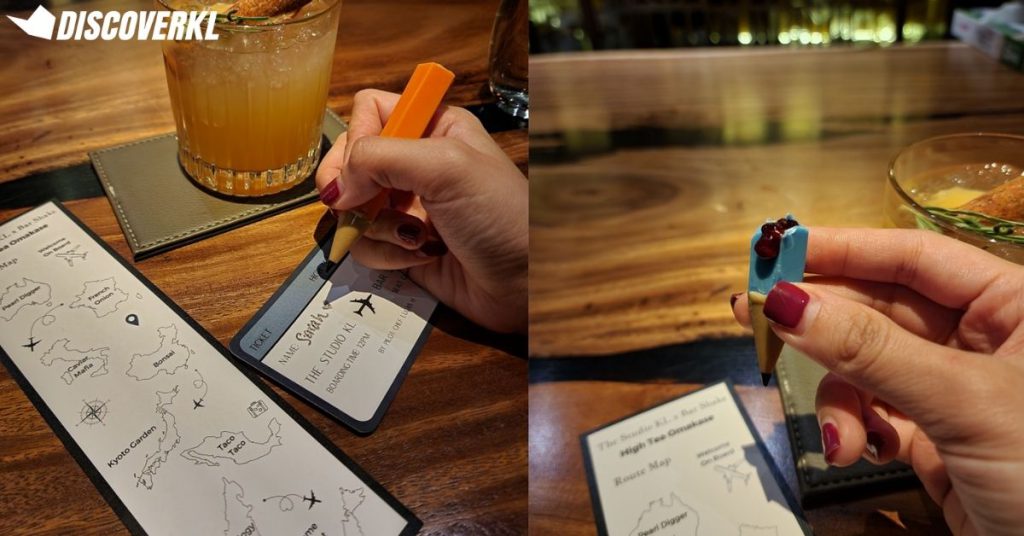 Before we began our "flight", we were asked to choose a pencil to sign our name on our boarding pass, and then eat it. You read that right, the pencil was our first course.
It was the yummiest pencil we've ever eaten, a cute and unexpected surprise.
Hint: The colour of the pencils are a hint of their flavours, so choose wisely!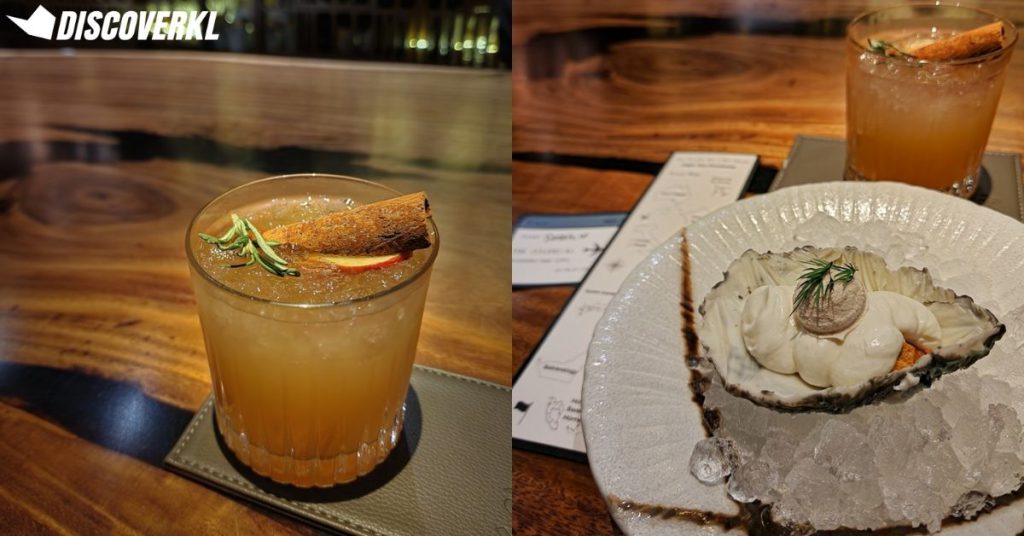 We then "flew" to Australia for the second course, where we were served the Pearl Digger. This intricate oyster shell is made out of chocolate and hand-painted. It looked so realistic that we actually didn't realise it was edible until Chef Lucas pointed it out to us!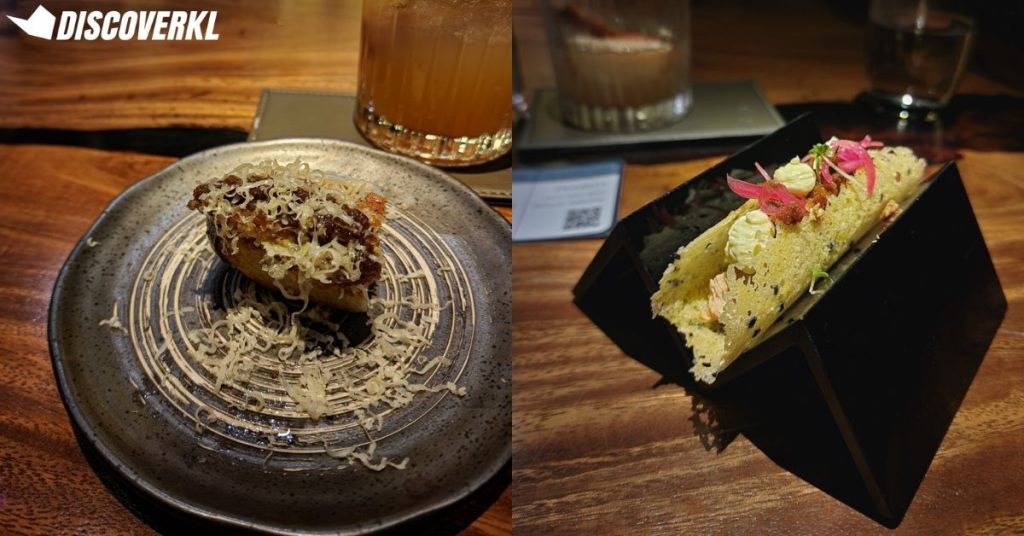 The next destination was France and the course was inspired by the French onion soup. We absolutely admire the dedication that went into the onion chutney here. It's 7 types of onion slow-cooked for over 4 hours for that natural sweetness.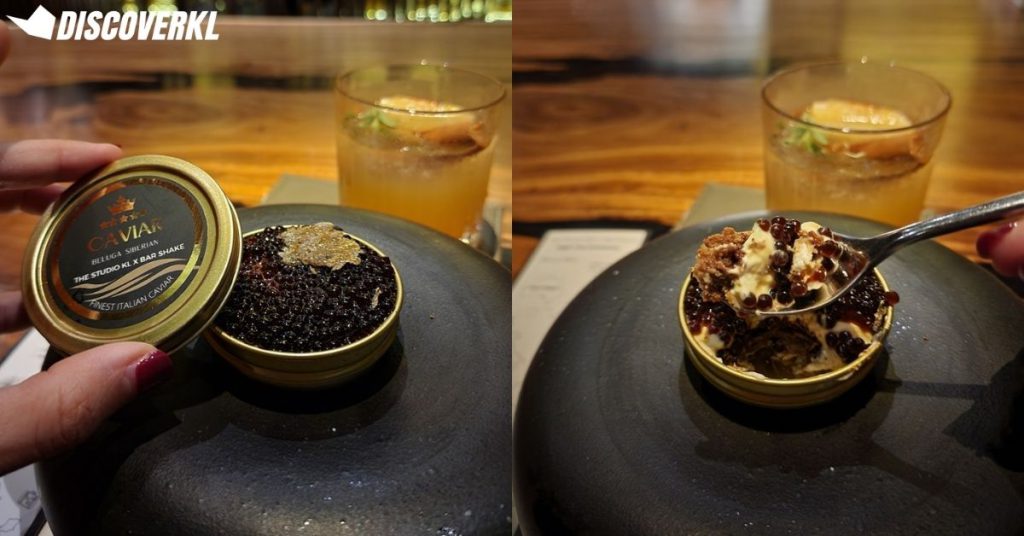 The Caviar Mafia at our Italy stop was our favourite sweet dish of the omakase. It looked like a tin of caviar, but nope. It's truffle tiramisu, enough said.
The complexity of flavours was light, fragrant, savoury, sweet, creamy, luxurious… just give us another one already. Our only qualm with this was that the caviar tin should have been double, nay, triple the size.
Chef Lucas had more tricks under his sleeves, with our China-inspired course looking like a lychee hanging from a Bonsai plant.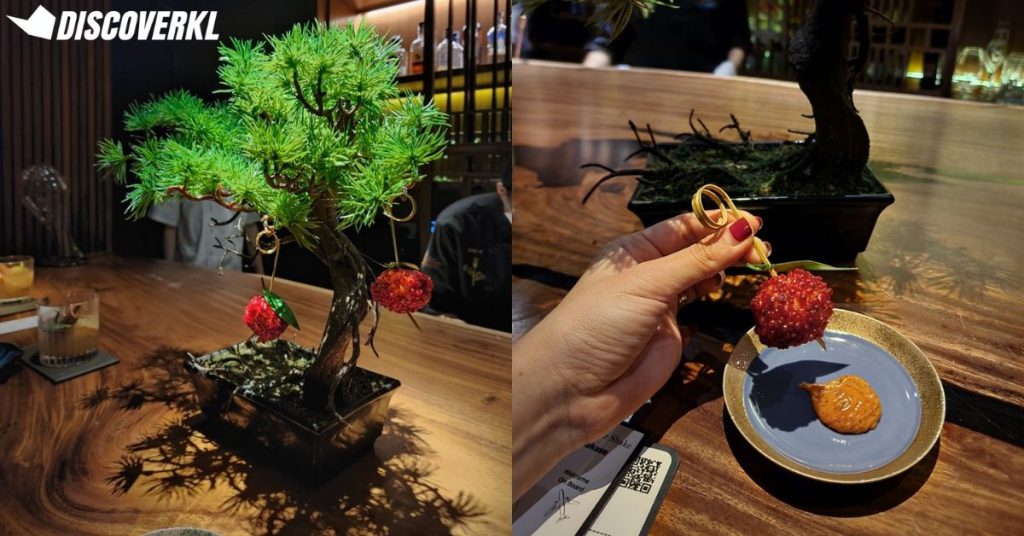 We plucked our "lychee" (which obviously didn't actually taste like just plain ol' lychee) and the flesh inside paired so well with the Sichuan mayo sauce.
With the fake pencils, fake oyster, fake caviar, fake lychee, we're starting to think Chef Lucas is the reason for some of us having trust issues. Fortunately for him, they're all outstandingly delicious so we'll give him a pass.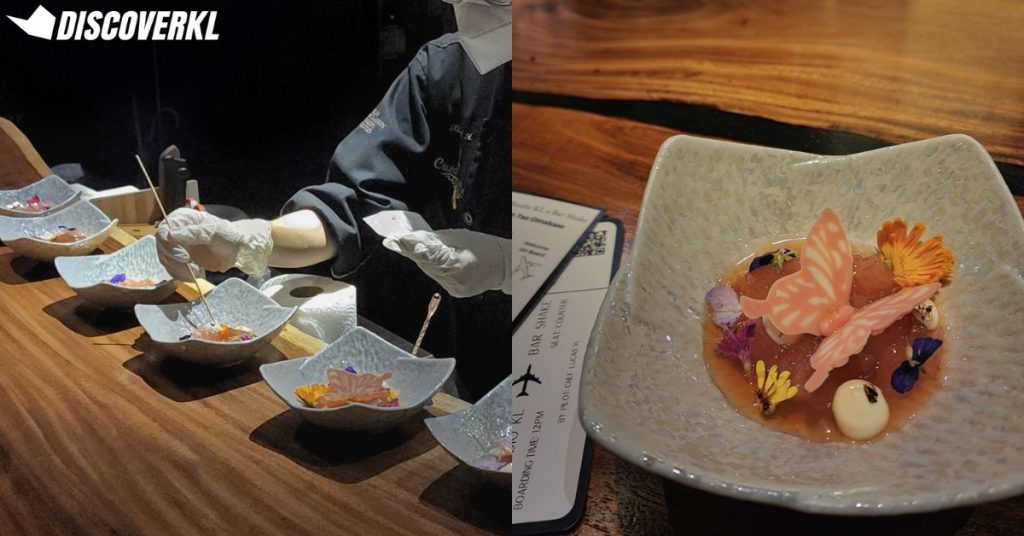 Our sixth course brought us to Japan with a refreshing floral mix, infused with a peach aroma. This palate cleanser resembles a Japanese garden with a pond and plants, and was delicately assembled by the team as such.
The Taco Taco from Mexico was one of the complex courses, as proven by the amount of time taken to put all the ingredients together. The fillings in the Parmesan cheese taco shell made for delightful multi-textured bites so the prep time is well worth it.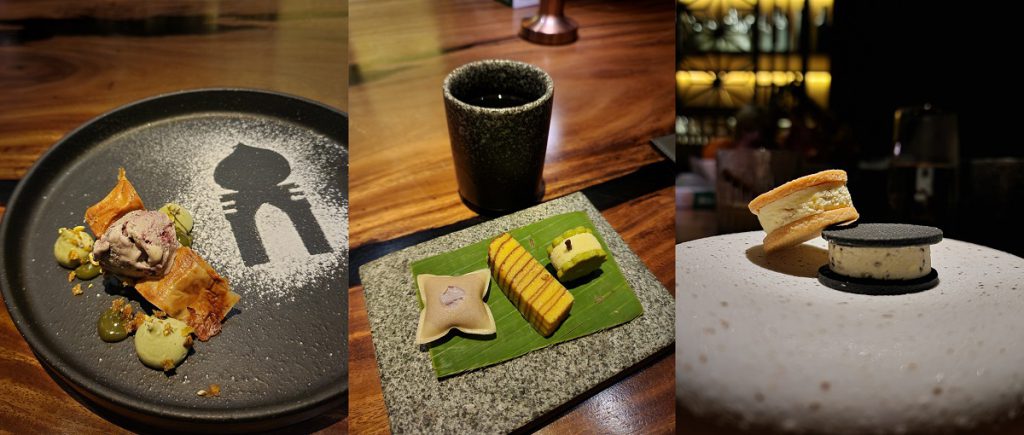 Dubai's Baklavology, the eighth course, was our second favourite dessert! The explosion of pistachio flavours with crispy layers of mille feuille is just all texture, all balanced sweetness, and an all-around crowd-pleaser.
Finally, we head home for the ninth course, which features petit fours that represent Malaysia (of course, durian was one of them). Everything is then capped with a nice hot cup of pandan lemongrass tea.
All in all, this omakase collaboration between The Studio and Bar Shake showcases dishes that are not just exaggerated and showy for the sake of external flair. It is a journey, a sweet and savoury affair that's worth the ride.
It's definitely a high tea experience that we're glad to have stamped into our "food passport". If you're keen on a trip, check out this limited-time pop up before it's time for them to depart.
High Tea Omakase Pop-Up by The Studio KL x Bar Shake
Address: Platinum Park, Unit 3.3A, Level 2, Tower 1, 11, Persiaran KLCC, 50088 Kuala Lumpur
Contact: 019-956 0111
Website: https://www.instagram.com/omakase.thestudiokl