#SaveOrSplurge is a DiscoverKL series highlighting the most luxurious makan experiences, activities, places and travel spots in and out of KL. Leave it to our team to find out if you should just "save your money" or "splurge all the way".
---
The art of enjoying fine dining revolves around the idea of sensory appreciation—sight, taste, sound, touch and smell.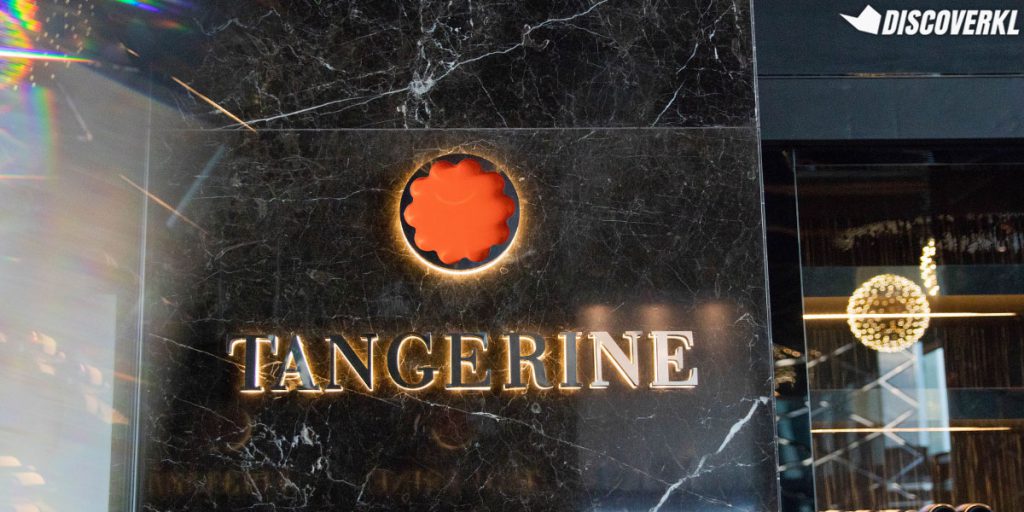 Tangerine is a fine dining restaurant that has been serving up Modern Western cuisines to tease their patrons' palates since 2017. As of 1st July, Chef Siti Arini Darsom and her team released a new 6-course menu centered on distinct flavours.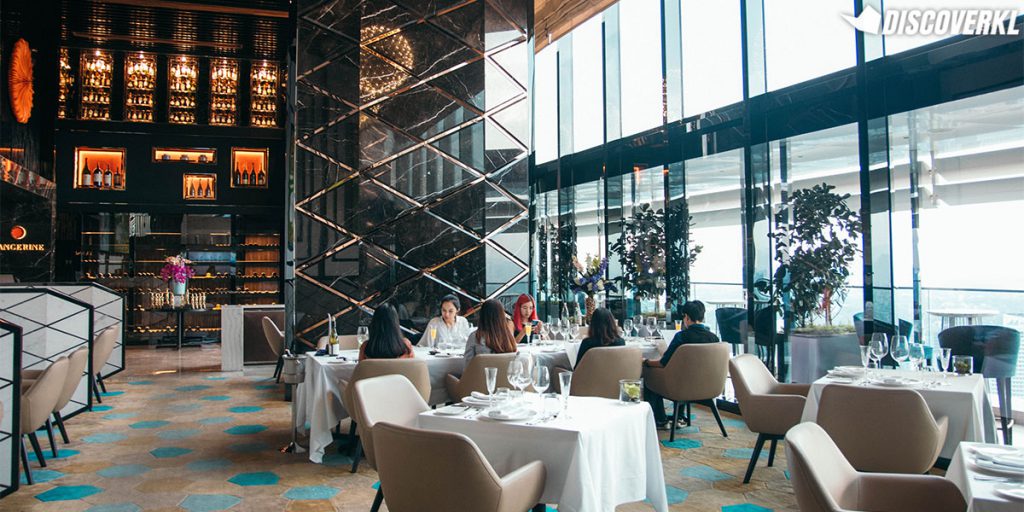 Her sous chef explained that they had gone through countless rounds of trial and errors to ensure that every element displayed on the plate played a role in their gastronomical exploration.
Here's what you'll get from a 6-course RM438 set dinner at Tangerine Restaurant.
1. Dining with a view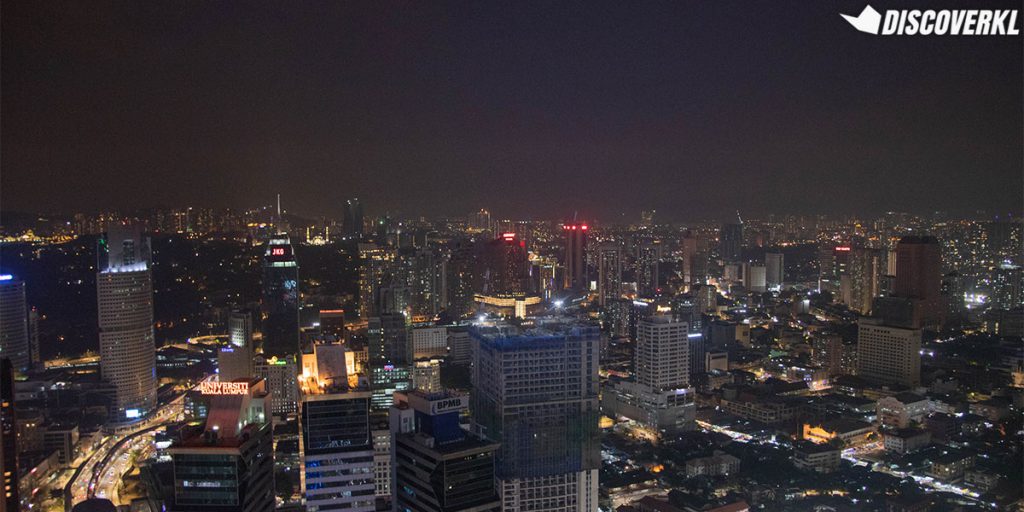 Being on the 51st floor of THE FACE Suites, you'll be able to dine and literally watch the sun go down. Combined with smooth jazz tracks and attentive staff members that help to pull out heavy chairs, it's perfect for some classy unwinding with friends or a date.
2. Amuse bouches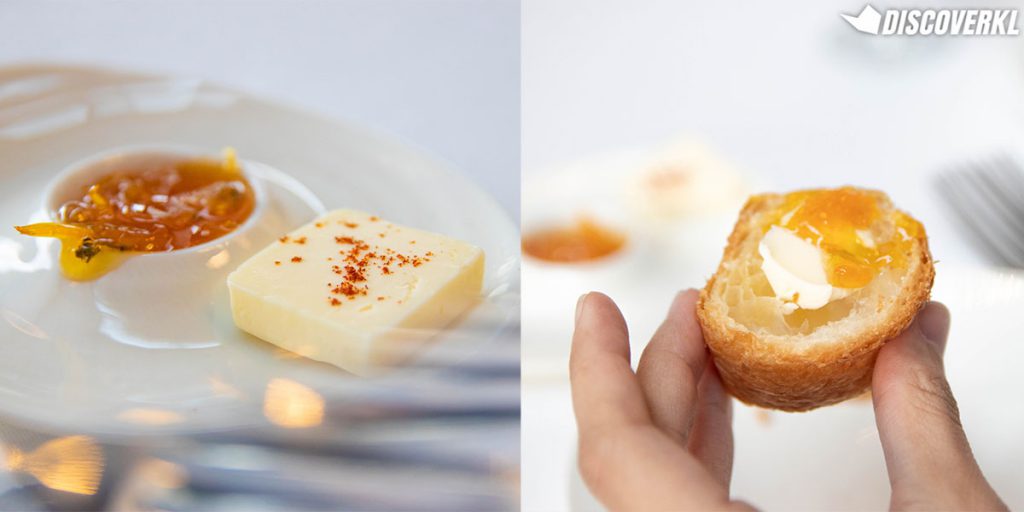 Fresh in house-baked bread and croissants with marmalade jam and a square of butter with a sprinkle of paprika. Warm and crunchy, we'd insert ASMR sound clips of the bread crunching if we could.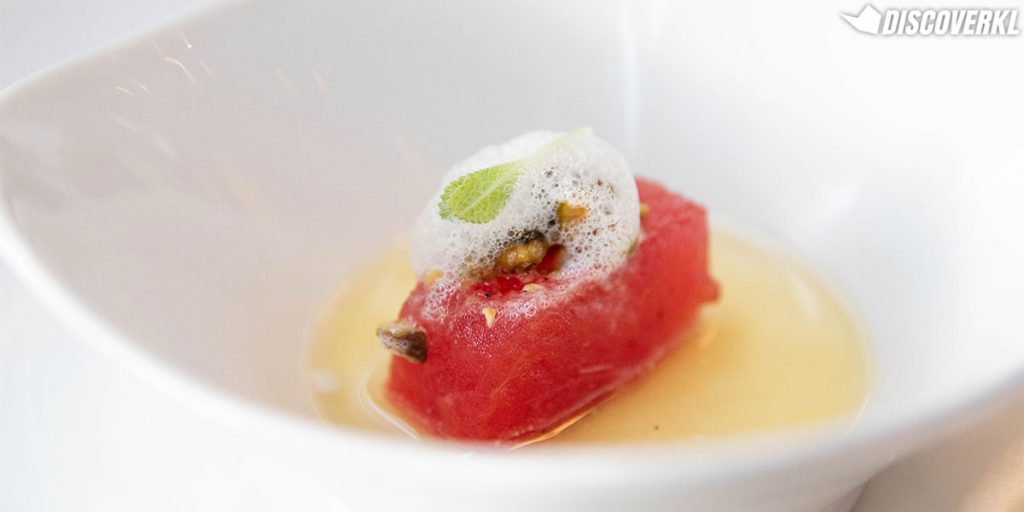 Then, a dehydrated watermelon cube topped with a walnut and foam as well as three deep fried panko balls were served to excite our palates.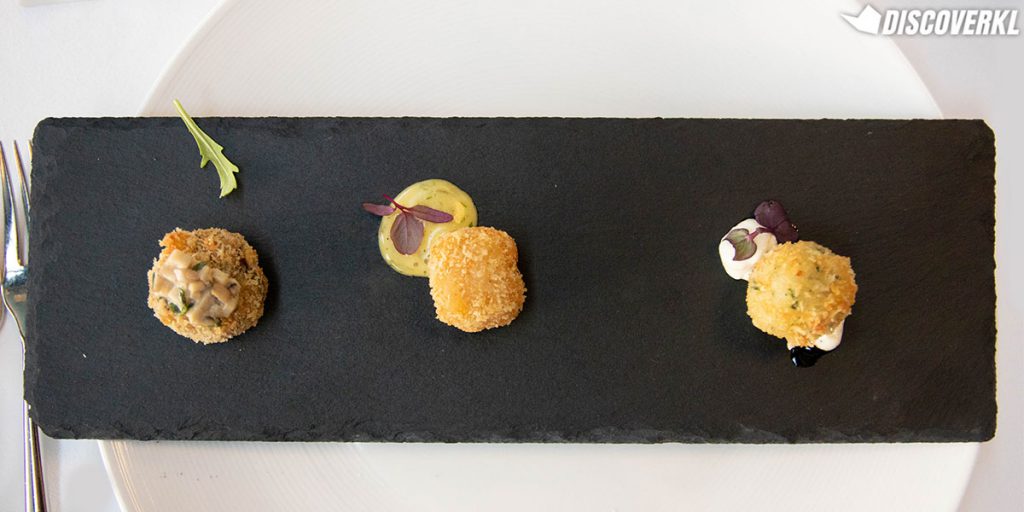 It was a great segue into the oncoming flavourful adventure.
3. First Course: White Sturgeon Caviar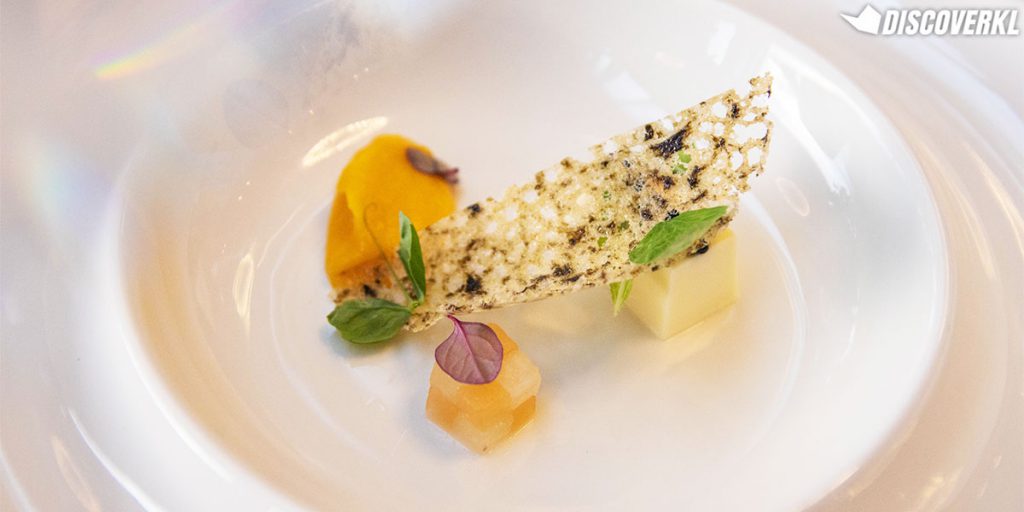 Compressed fruits are a popular modernist technique that uses physics to rupture the inner structure of fruits. It results in a translucent-looking fruit with a different physical appeal. For the melons, it had a nata de coco-like texture that added dimension to the other parts of this dish that were of mainly soft and smooth texture.
Combined in a spoon, it was a pleasant mix of sweet, savoury and earthy flavours.
4. Second Course: Foie Gras and Truffle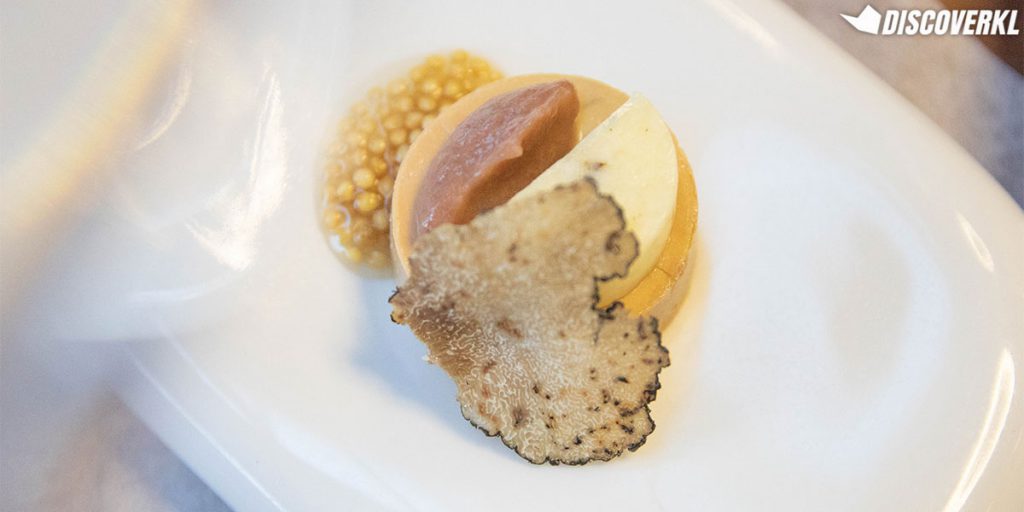 Imagine this: a slather of soft and fatty foie gras and some tart and fruity rhubarb topped with some umami flavours from the mustard caviar and an earthy bit of truffle, all layered on a crunchy brioche.
5. Third Course: Ocean flavours
Once you're seated, you'll be invited to pick your dishes for the third, fourth and sixth courses. Here are the selections for the third course.
Seared Japanese Scallop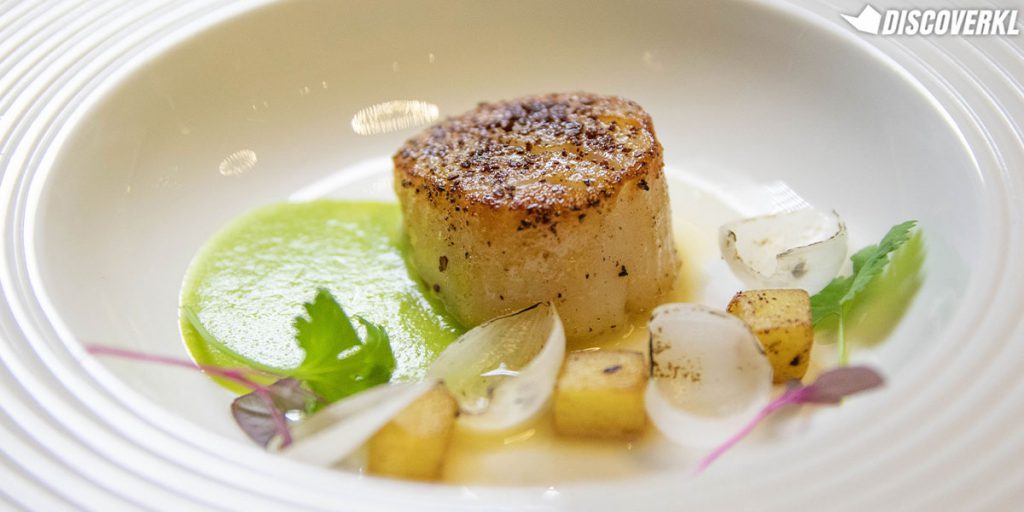 My colleagues who had this dish commented that the scallops were the softest they've ever had. Served with pickled onion petal with some savoury garden pea velouté,
Grilled Octopus Tentacle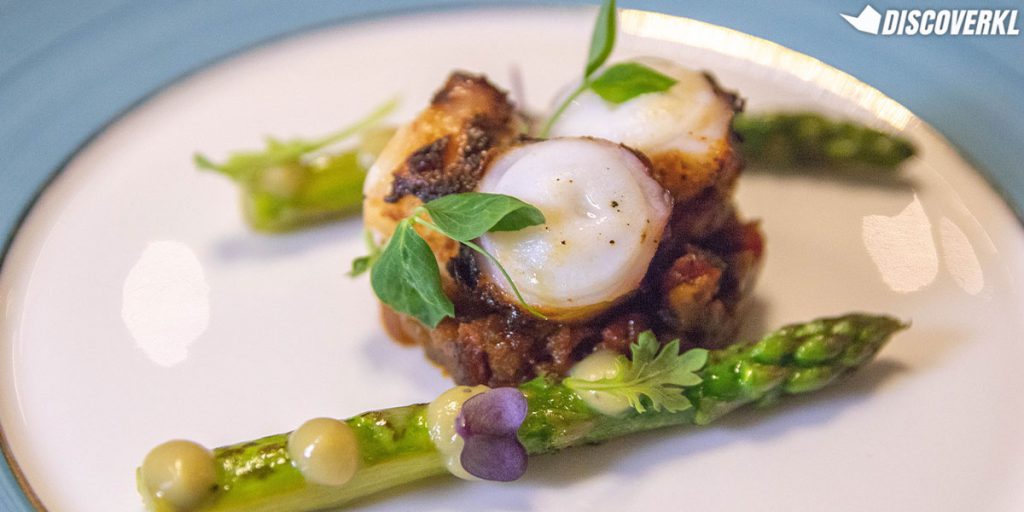 Plated to resemble a sea creature, this dish is for the ones who enjoy tougher textures. Chewy tentacles with smokey and comforting aromas from the smoked garlic drop and Provencal stew.
Ocean Trout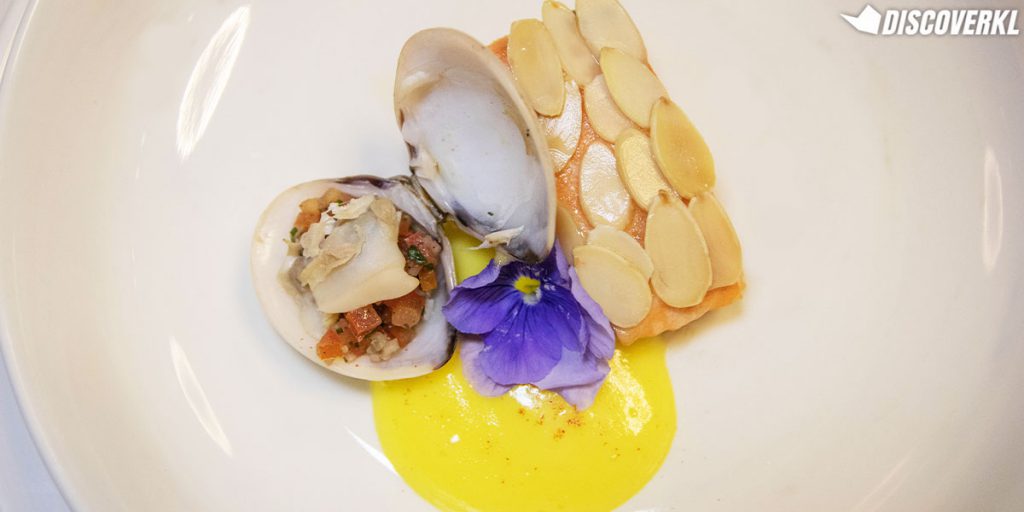 Almond scale, smoked clam, yuzu hollandaise.
Closely related to the salmon, the meat of this ocean trout was firm yet soft. The tartness from the yuzu hollandaise balanced out the strong taste of the fish oils.
The almond scale added a delicious crunch and slight sweetness while the smoked clam with a tomato salsa was light and refreshing.
6. Fourth Course: Land to sea flavours
½ Maine Lobster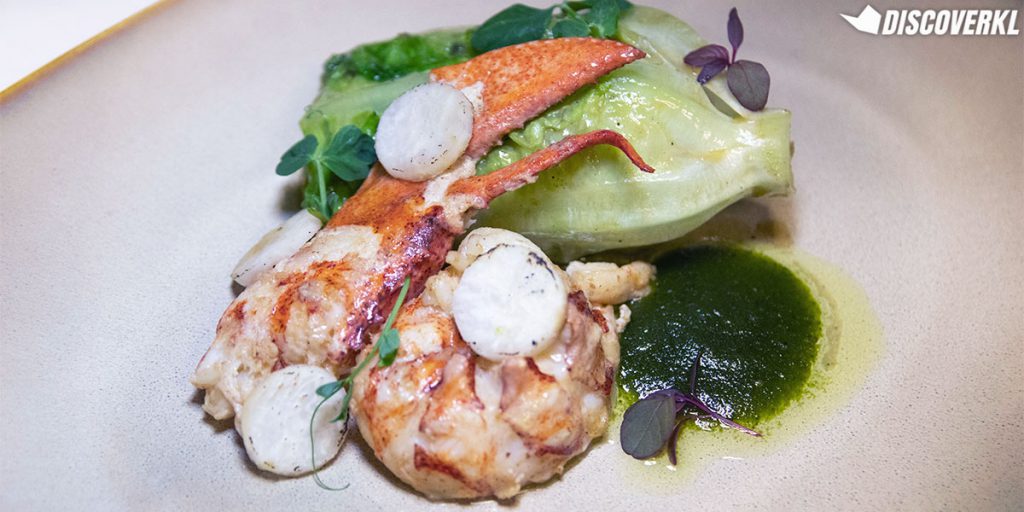 Served on the side is a Romaine lettuce heart and some aromatic Spanish sauce, this is an eye-catching dish for sure.
Do note that this is priced at an additional charge of RM100 and can be further upgraded with a Sanchoku wagyu side for RM60.
Sanchoku Wagyu 'MB9'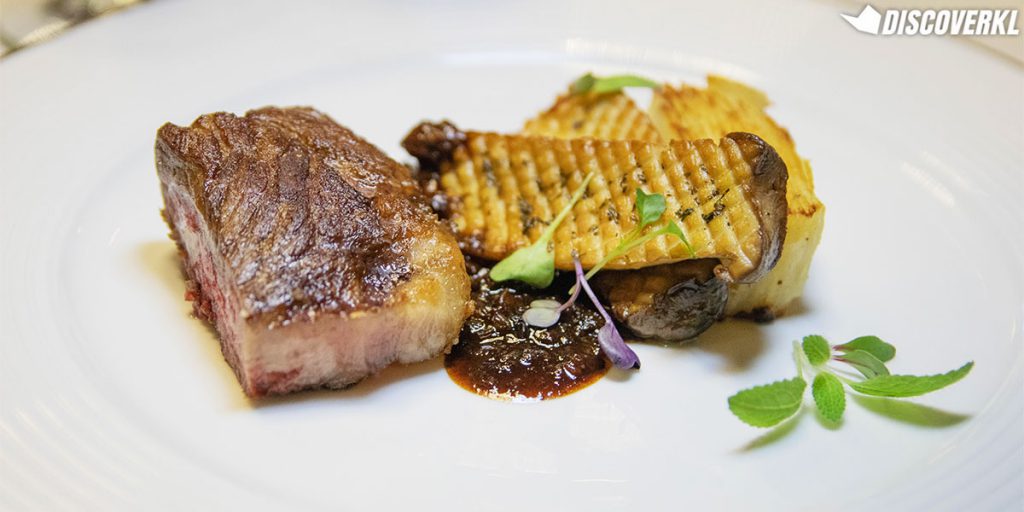 Layman's Translation: Sliced, stacked, baked and potatoes cut into squares, Latin-style oyster mushrooms, concentrated mushroom sauce
With the high concentration of marbling, this kind of steak is relatively rare.
But the hype doesn't disappoint as it's a tender piece of steak that's rich in flavour, accompanied with the earthy flavours of the mushrooms and potatoes.
'300 Days Grain Fed' Wagyu Cheek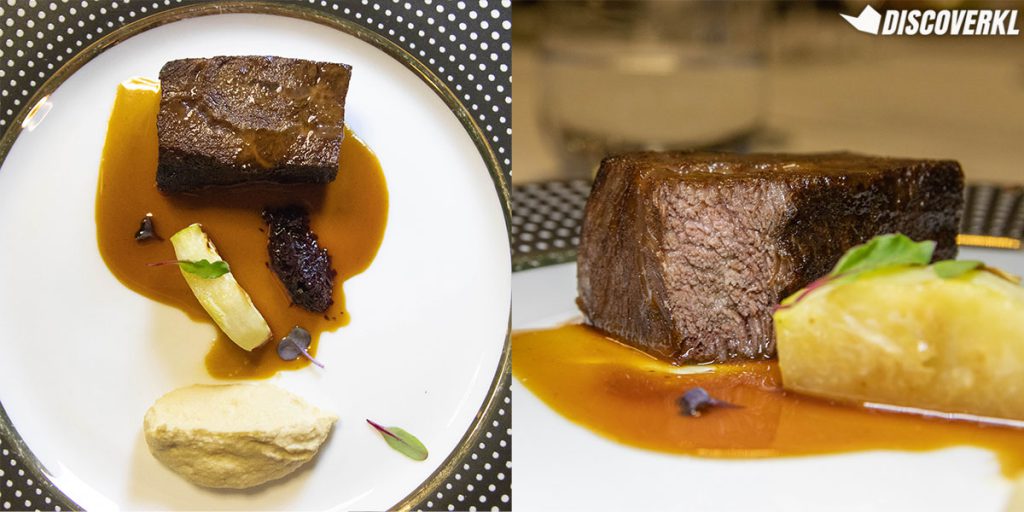 The meat was a soft and melt-in-your-mouth kind of buttery texture that combined well with the fruity and savoury shallot merlot. Balancing the tart and gamey flavours is a slice of roasted German turnip and some creamy sesame pea mousse.
"Hill Side' Lamb 'Bone In'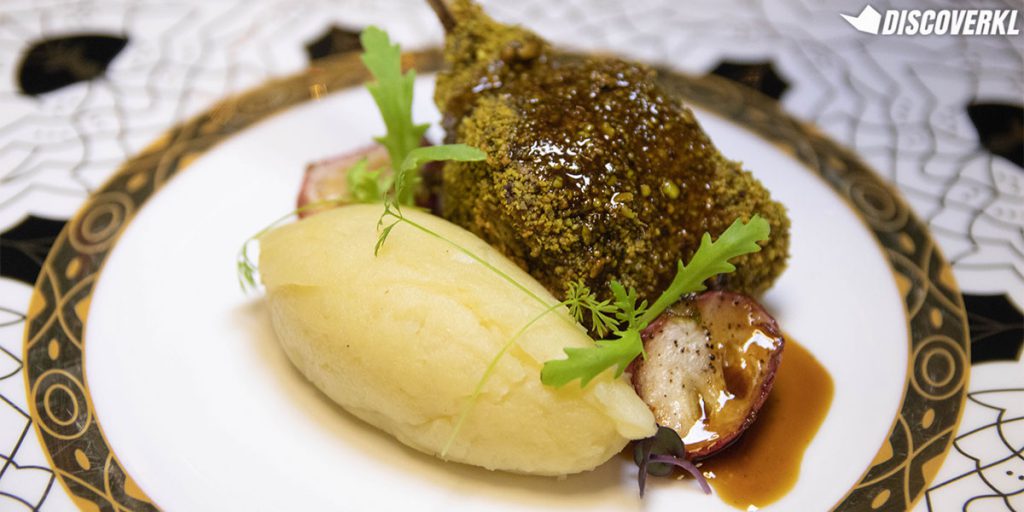 Tender lamb encrusted in a mint and pistachio crust, served with a side of Greek potato and garlic mash. Adding a layer of smokeyness is some browned baby radishes.
Atlantic Halibut
Similar to the ocean trout, the fattiness of the Halibut was balanced with the lemongrass ginger dressing and the heirloom tomato compote.
Served clean, the dressing is poured onto the Halibut upon serving.
7. Fifth Course: Selection of Fine Cheese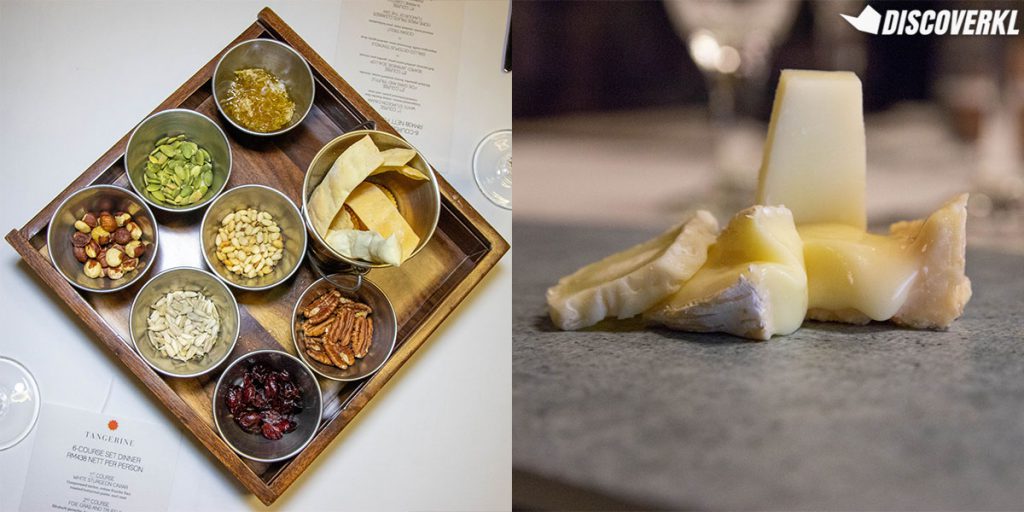 Despite being a huge fan of cheese, this platter came as a shocker. There were 4 types of cheeses, namely goat, edam, muenster and camembert. Served in generous chunks, a colleague and I enjoyed pairing the muenster or camembert with a bit of honey comb and some dried cranberries on a cracker.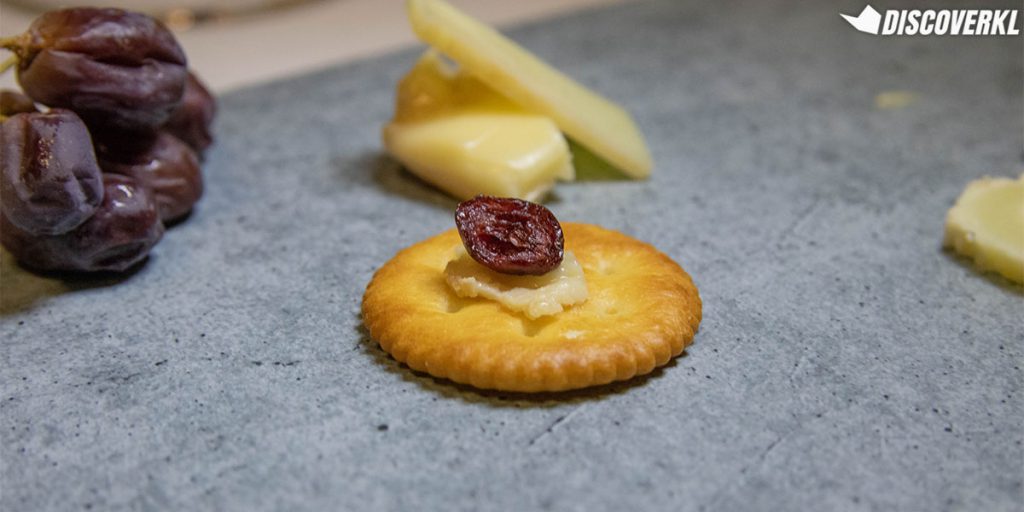 Should the cheese be too pungent, the raisins on a vine and wine is a life-saving palate cleanser.
Note: Wines start from RM230 per bottle.
8. Sixth Course: Desserts & Bon Bons
Chocolate Luxe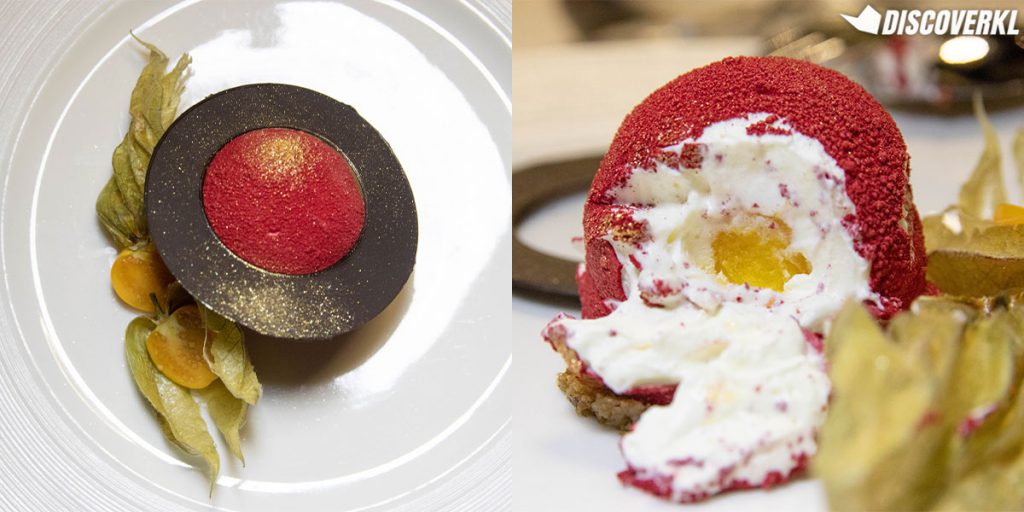 Encasing the a tangerine jello heart is a semi-frozen white chocolate creme layer on a crisp pecan brittle. The tartness of the tangerine is softened by the opalys semifreddo but enhances the dark chocolate disc balanced on the planet-looking dessert.
On the side is a halved golden gooseberry. Be warned, it may look harmless but its tartness is akin to sour pineapples, mangoes and a lemon.
Le Vacherin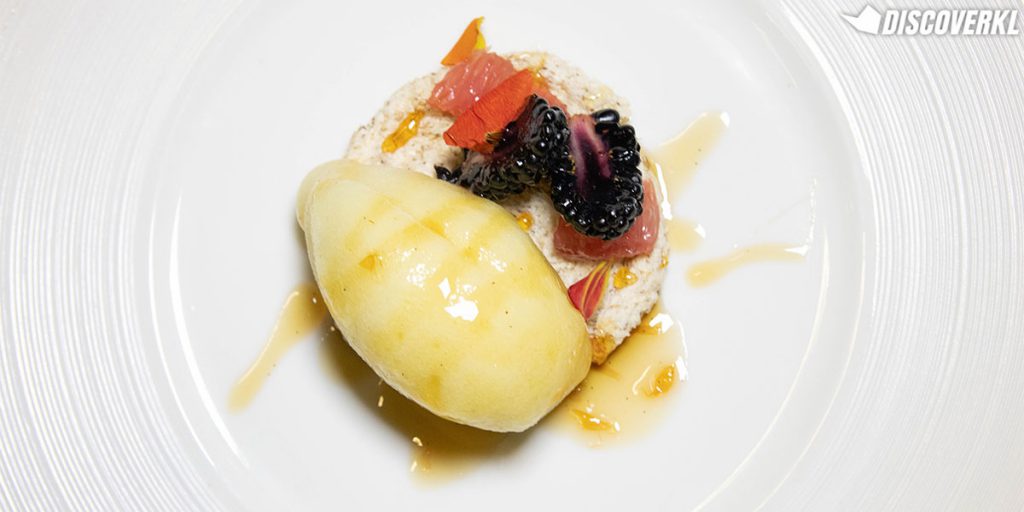 Commonly known as a green pear, this European pear is turned into a refreshing sorbet. The coconut macaroon is akin to a disc of desiccated coconut which is perfect for coconut lovers.
Eaten with the grapefruit candy and fresh mulberries, it was a sweet and tangy delight.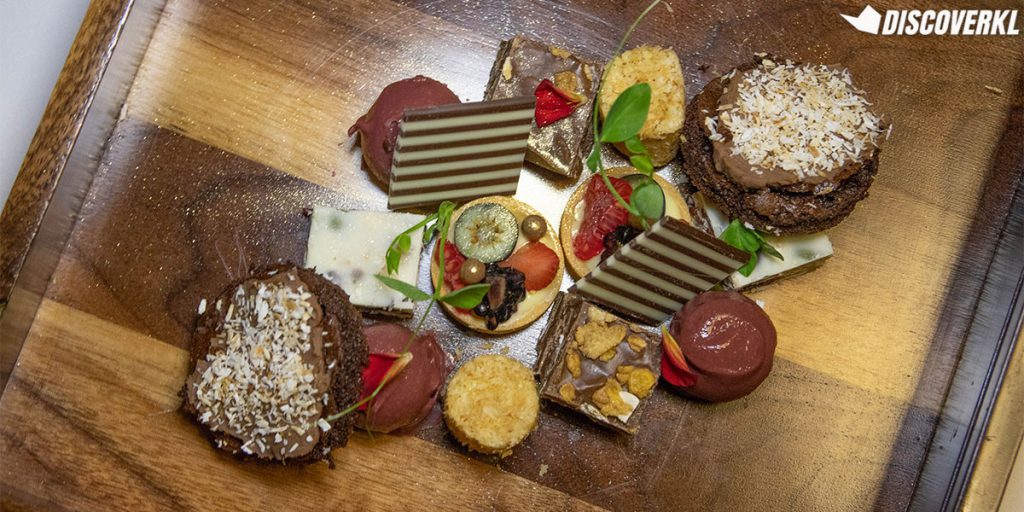 Plus, there was a box of Chocolate Bon Bons which is fun to snack on as you stretch the evening a little longer over a complimentary glass of fine Ruby Port.
So, is a 6-course fine dining experience at Tangerine a #SaveOrSplurge? Here's a breakdown based on your spending category:
College/Uni Students: Maybe next time, when you've got a bigger budget to spend. Being a fresh graduate who lived off a FaMa (father and mother) scholarship and a PTPTN loan, I'd stay away from splurging on this.
While the meal, ambiance and view is great for a posh evening, you're better off spending your hard-earned savings on a hotel buffet or high tea.
Young Working Adults: Yes, for the experience of learning how to adult. Having freshly transitioned into the world of adulting, this dining experience opened up a new world of knowledge such as knowing which cutleries to use and which order to use them as well as the best type of wine to pair with certain dishes.
For the price, it's really worth it as your palate will be entertained with premium ingredients made with modern culinary techniques and equipment you'd probably not have at home so you won't be able to recreate it to this precision even if you tried.
Working Professionals: Go for it, splurge all the way! It's a great place to impress a date or a client as well as to treat yourself or a loved one. They've even got a 13-course degustation set dinner for RM1478 nett for 2 pax. For that price, you'll get to enjoy all the food mentioned above and more.
This restaurant also allows children above the age of 10 to dine in thus making it perfect for young parents to have quality time and introduce the finer things in life to their children.
This menu will be available from 1st July 2019 till 31st September 2019. Click here for reservations.
Tangerine
Hours: 6pm-11pm, daily
Address: Tangerine, THE FACE Suites, Sky Deck (Level 51), 1020, Jalan Sultan Ismail, 50250, Kuala Lumpur, Malaysia
Website: Tangerine
Tel: 03 2168 1688