Feast Eat is a KL buffet guide highlighting anything, from buffet tips to the best dishes to target at some of the top buffets around Klang Valley.
---
Sheraton Imperial Kuala Lumpur recently revamped their buffet line with selections perfect for meat and seafood lovers. In addition to their live stations, local and international cuisines, they've got premium steaks and an upgraded Seafood-On-Ice selection.
Hence, I brought another meat and seafood-lover colleague with me to check out how much we'd be able to consume together.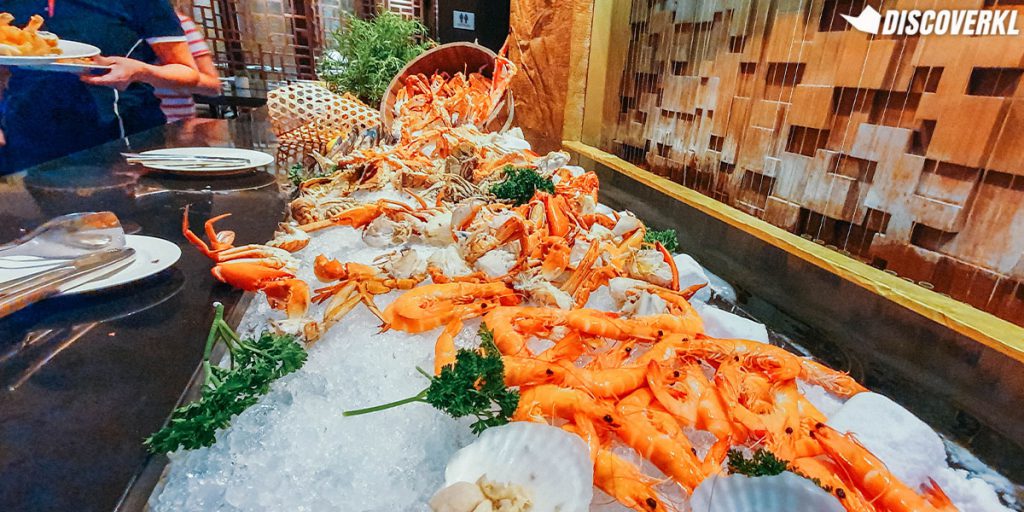 Our Strategy
Between the two of us, we decided that we'll break down the buffet into two rounds. We targeted the fresh seafood, meats, cold cuts and some desserts for the first round.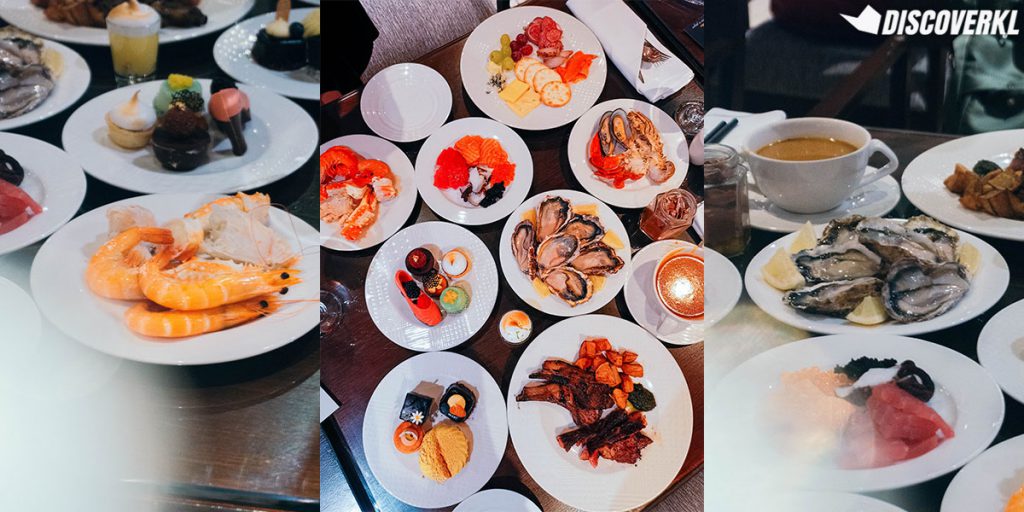 On our table, we had some roasted vegetables with Grilled Australian Tomahawk steak carvings, slipper lobsters, Japanese fresh oysters, fresh poached prawns, crabs, salmon and tuna sashimi as well as a variation of tarts, custards and mini cakes.
For the 2nd round, we had some gnocchi, scallops, sushi, caviar, salmon roe, traditional Chinese soup, naan, beef and duck.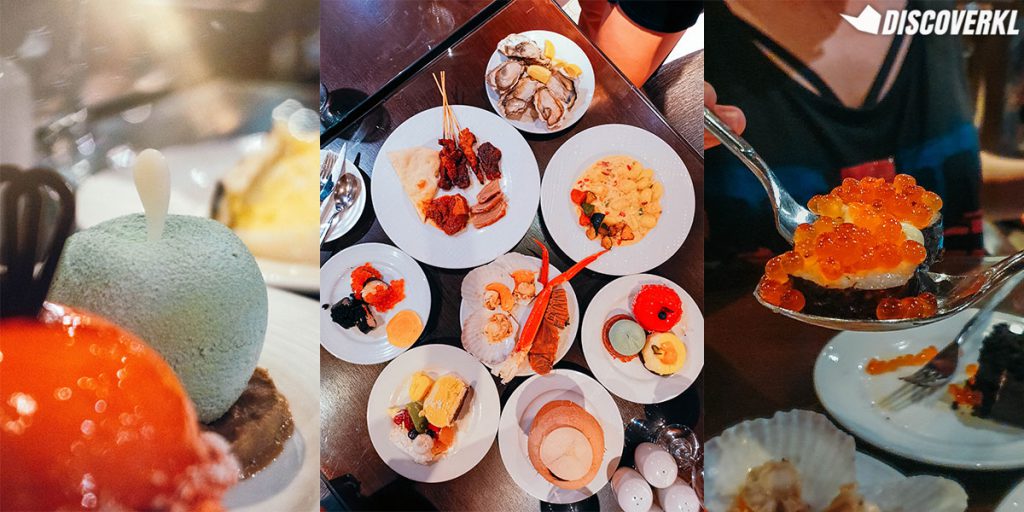 Plus, this buffet has free flow Chilean wine for an additional RM100 per pax so we opted for that too. They've got Luis Felipe Edwards Pupilla Sauvignon Blanc for their white wine option and Luis Felipe Edwards Pupilla Carmenere for their red wine option.
Seeing as I would be mainly eating seafood, I opted for the white wine that was fruity, smooth and floral. A real palate pleaser to complement the briny seafood flavours.
With that said, here's how we got our money's worth and the dishes you should try.
1. Japanese Fresh Oysters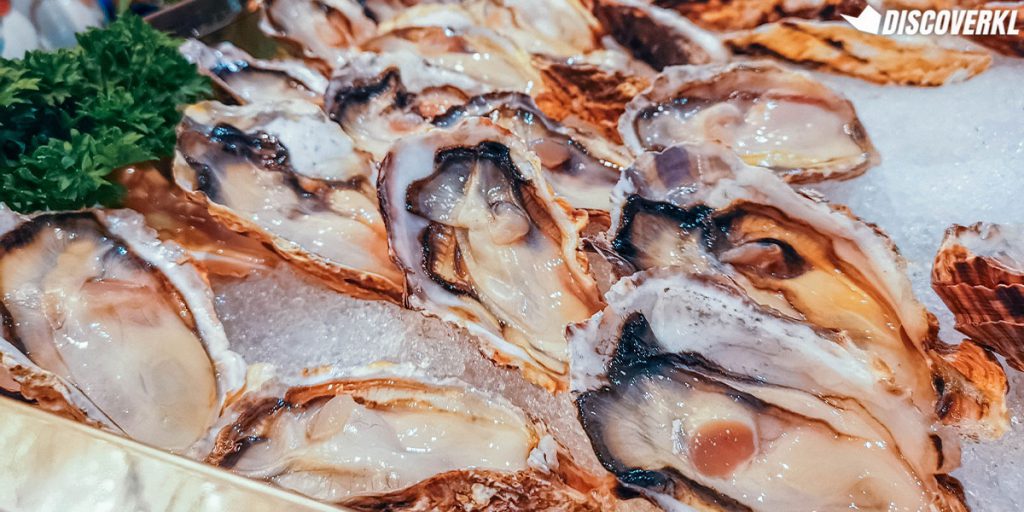 Having been through my fair share of hotel buffets with seafood bars, these are by far the creamiest and milkiest oysters I've had. Even my colleague who's had her fair share of them in Japan agreed these were indeed creamy.
The flesh was silky and soft and the liquor (otherwise known as oyster juice) was slightly briny. Combined with a squeeze of lemon, the sweet creaminess was met with an edge of citrus.
Safe to say, we went back for seconds of these Japanese Sakoshi Bay Oysters.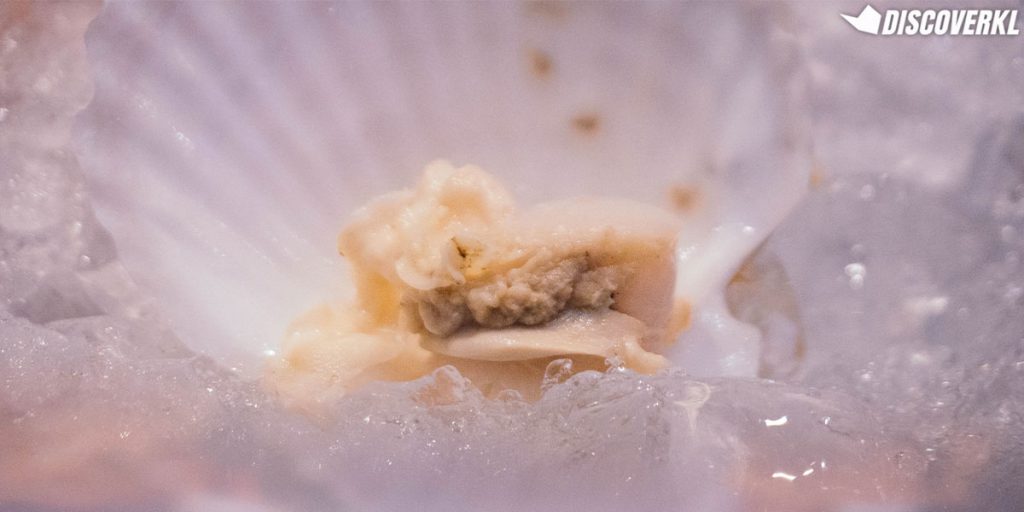 Their scallops and mussels were really fresh as well. Slightly more briny, and some were a little grainy, it was delicious but not as memorable as the oysters.
2. King Crab Legs
As the night went along, the waiters kept refilling the seafood counter with more freshly-cooked slipper lobsters, poached prawns, and King Crab legs.
The shells of the King Crab legs were soft enough to break by hand, revealing the tender, sweet and juicy meat within. However, the brine was a little salty albeit flavourful.
3. Poached Prawns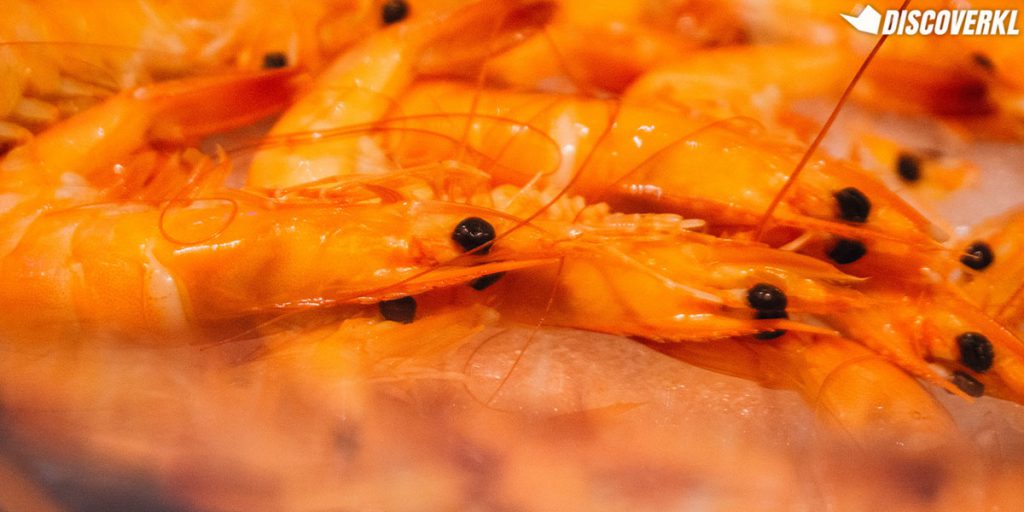 Typically, prawns are steamed with a combination of ginger and Chinese wine. But I love how these prawns were poached just right on their own.
This allows the natural sweetness of it to be present, unadulterated by other flavours. The shells came off clean from the firm meat indicating its freshness.
The slipper lobsters on the other hand weren't my personal favourite. I found the texture of the meat too soft but my colleague enjoyed it.
4. Salmon Roe and Caviar
At the caviar station, there were handrolled maki rolls, nigiris, and sliced salmon, tuna as well as octopus. Eaten on its own, the thick slices of salmon and tuna were smooth and buttery.
But it was the salmon roe and caviars that caught our attention.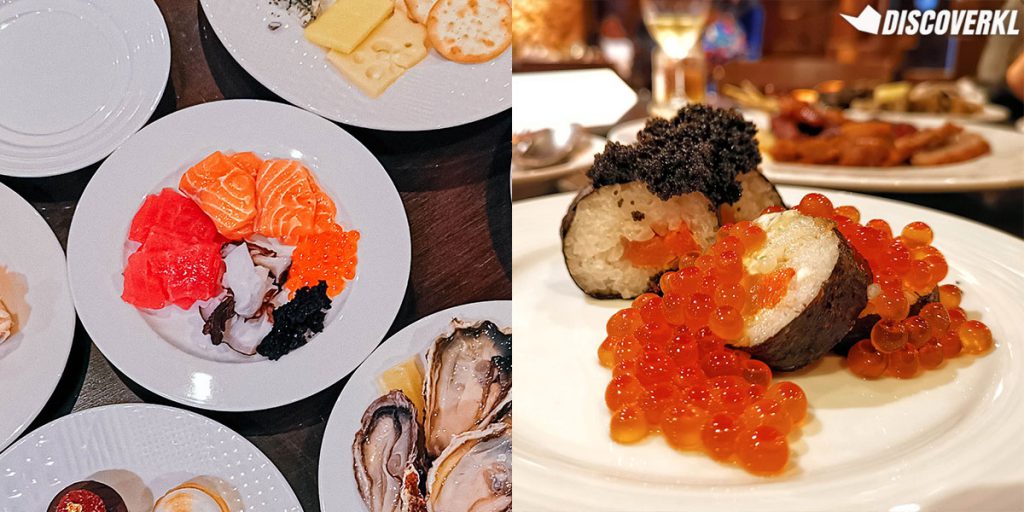 As seen in the photo above, we enjoyed our caviar and salmon roe two ways —on their own and on some sushi.
By this time, I was already rethinking my previous experiences with seafood. Being pleasantly surprised by the oysters' indulgent creaminess, the salmon roe followed closely, but not too far behind.
In normal sushi bars, salmon roe has the tendency to be like little balls of Omega 3 oils bursting in your mouth. With that in mind, the ones served here proved themselves better.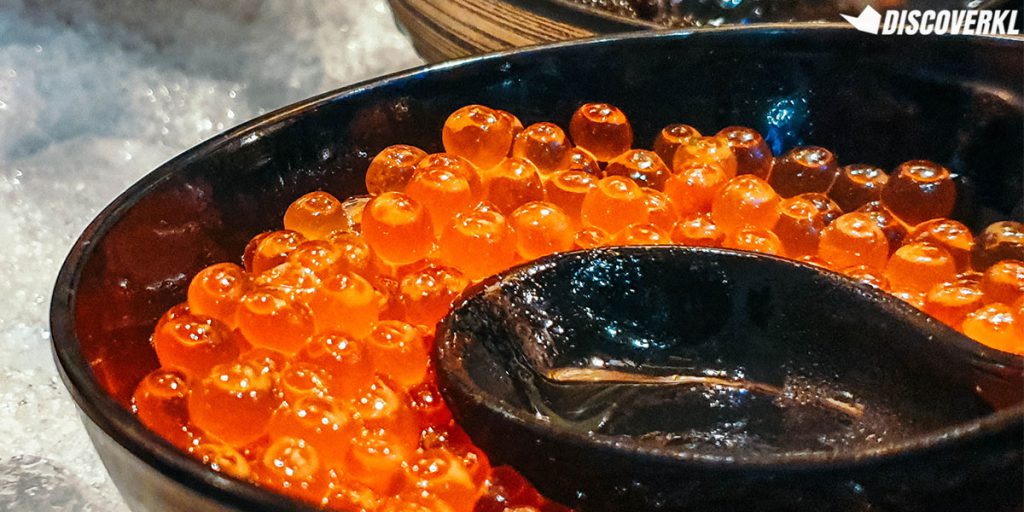 It was briny, mildly sweet, savoury and almost buttery with a juicy pop. Definitely added a nice layer of flavours to the otherwise plain-tasting sushi rolls.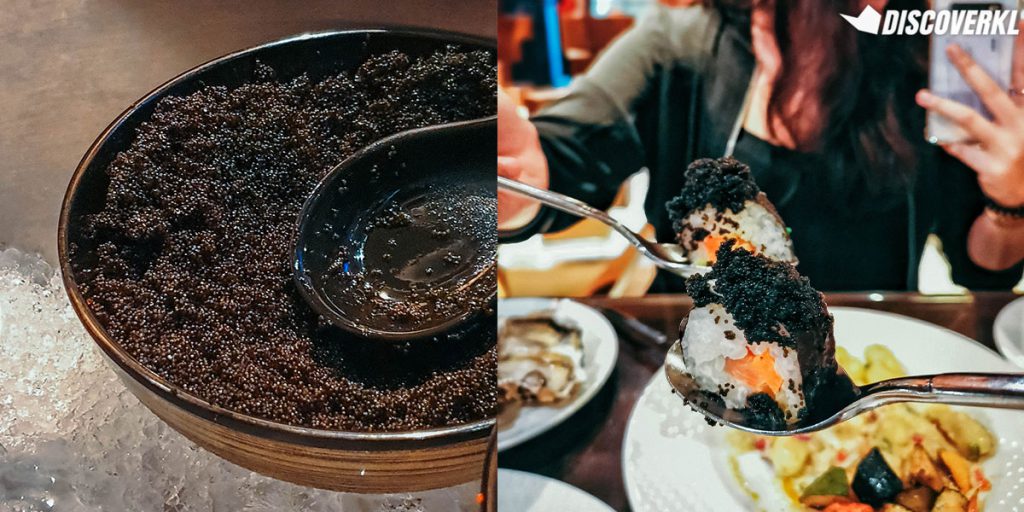 This may not be the most expensive caviars available on the market but it pops with a slightly sweet and savoury flavour. Also quite a delight to add on a sushi roll.
5. Cheese and Meat on Crackers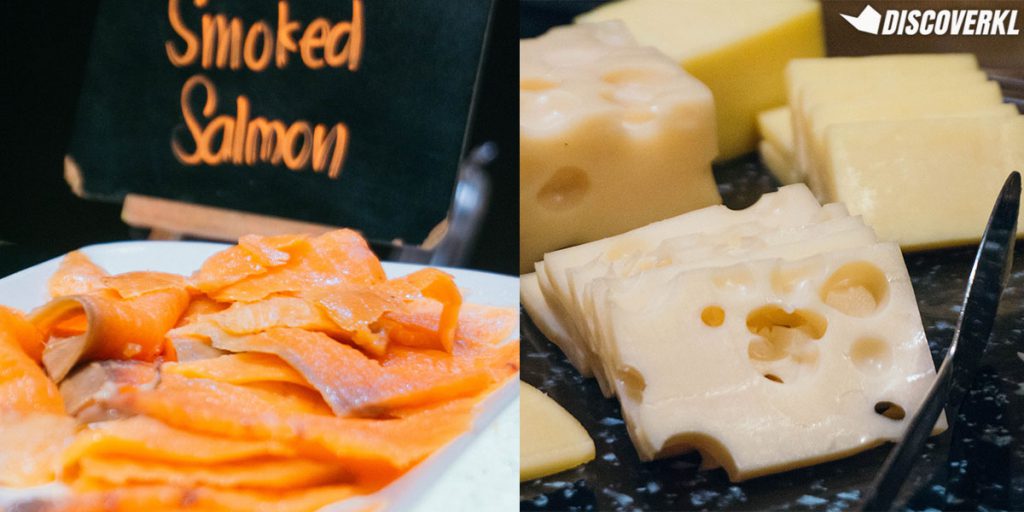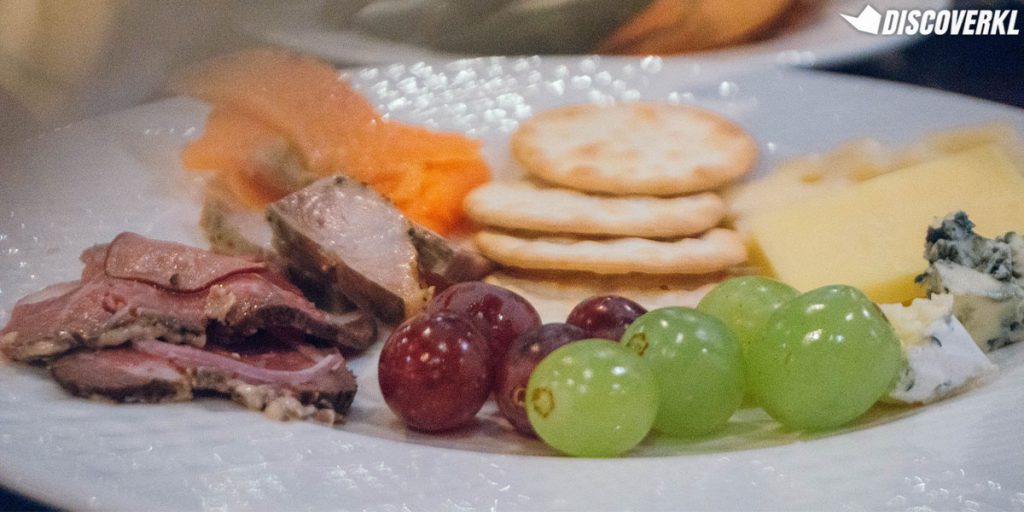 With these being in a buffet, you'll get unlimited options on how you'd like to enjoy your cheese crackers. I opted for some blue cheese with cold cuts and a grape to balance out the heavy gamey flavours.
You can even have it with some caviar, a glass of wine and feel creatively fancy.
6. Handmade Pastas and Sauces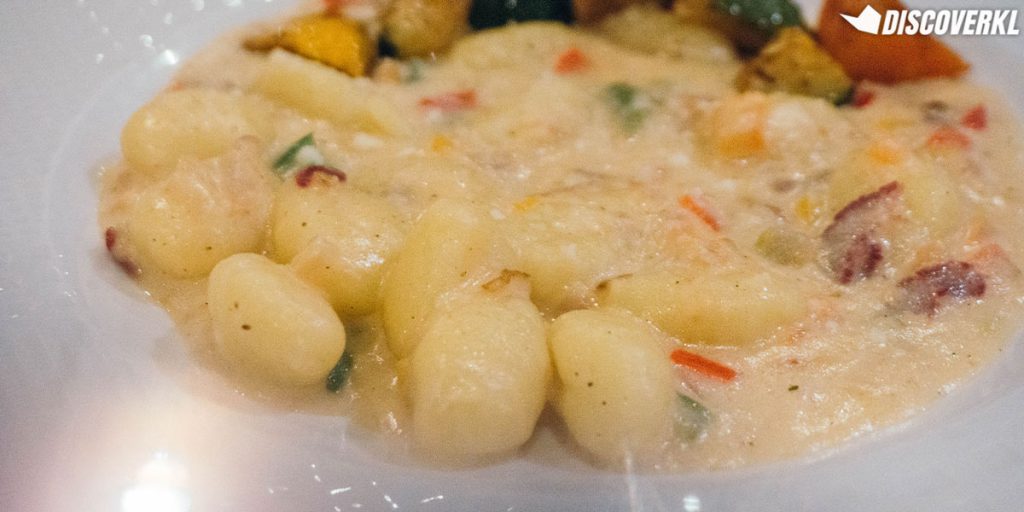 Not giving it all away here but there will be special appearances of the master chefs from Celestial Court and Villa Danieli, both award-winning restaurants.
We opted for some handmade pasta from the Pasta Station and it was a delight to watch it being made in front of our eyes.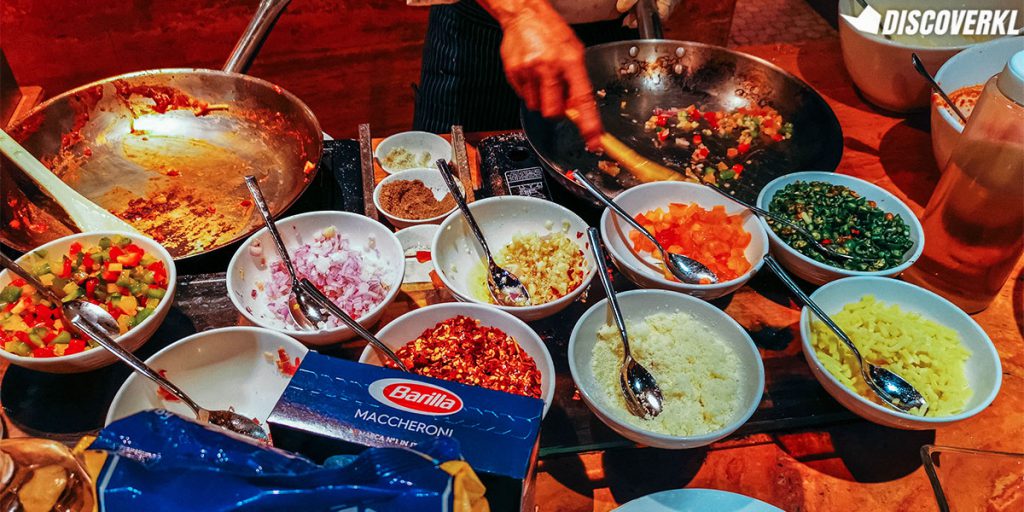 Feeling quite full from our previous dishes, it was a nice break to chat with our chef as he prepared our pasta. You can choose between various types of pastas as well as bolognese or white sauce to go with it.
Noticing that we were both Chinese, the chef even excluded beef bacon from the mix until we requested for it, which is a nice touch considering how he did not know if we had any dietary restrictions.
7. Grilled Naan and Beef Rendang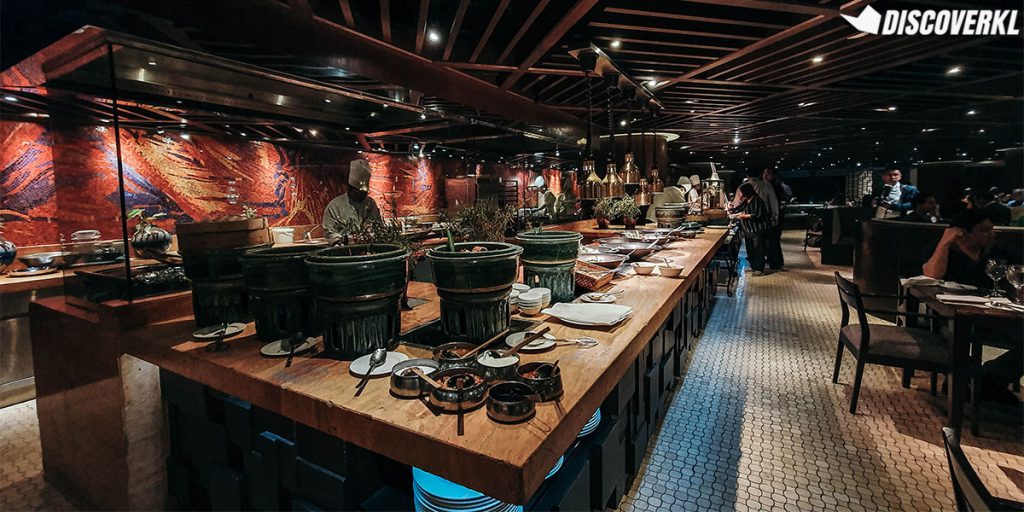 Like most hotel buffet spreads, there has to be lines of local foods. Albeit being stuffed, I couldn't resist helping myself to some naan and beef rendang.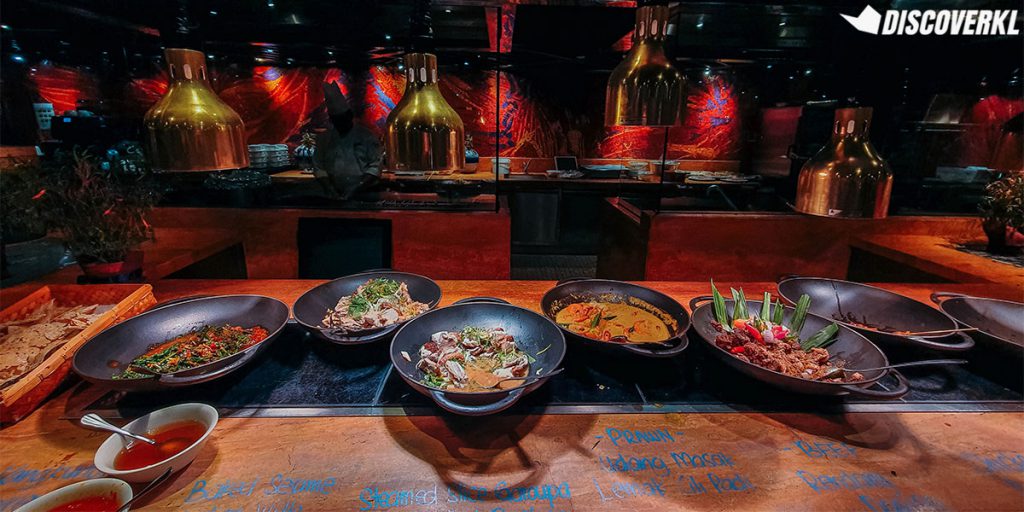 Being kept in a wooden steamer, the naan was soft and warm. Paired with the flavourful beef rendang and tender chicken satay, my appetite came back quickly enough.
8. Double Boiled Chicken Soup in a Coconut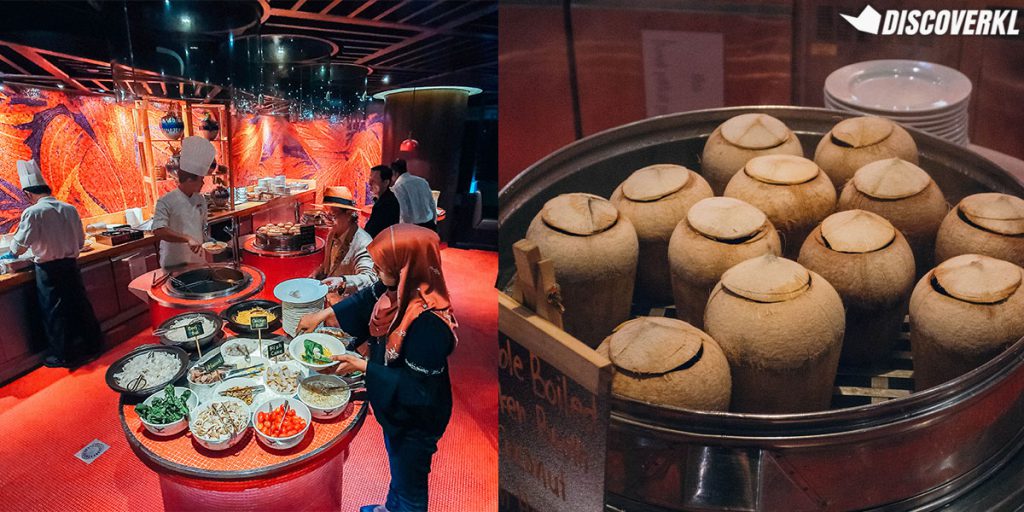 This particular dish reminded me of my mom's herbal soups at home. Double boiled in a coconut is chicken with herbs like white fungus and wolfberries.
The soup was really flavourful and gave a nice break from the fatty meats and curries.
9. Grilled Tomahawk Steak Carving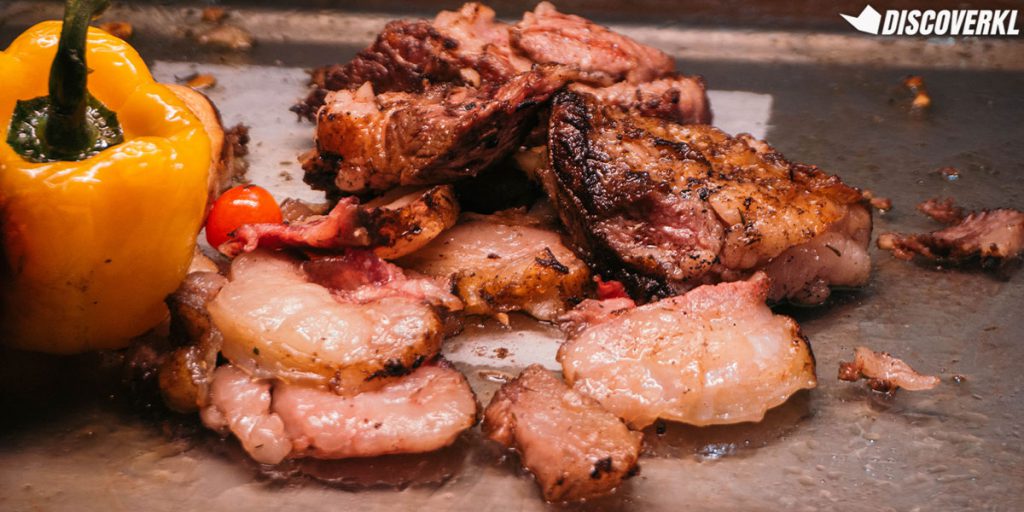 One of the main stars of this buffet, the meat was tender and smokey. However, the cuts were rather fatty which I enjoyed but my colleague preferred something leaner.
The tomahawk steak was skillfully marinated with salt, cracked pepper, fresh herbs and garlic so as to draw out the natural sweetness of the Australian steak.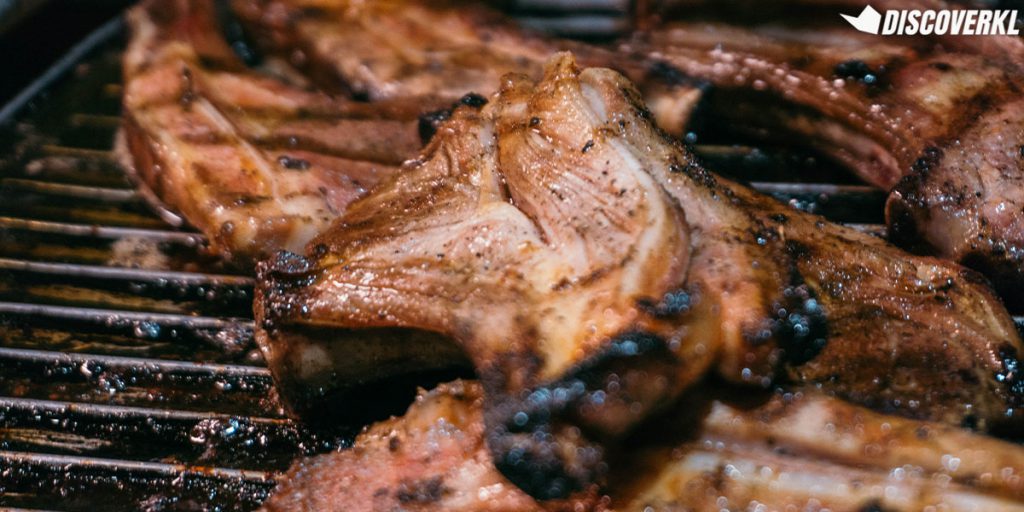 Alternatively, you can opt for their lamb shoulder. The meat is rather lean and tender with a good amount of marinade.
10. Desserts
Because it won't be a Malaysian buffet without some sweet treats to end the meal with, we had desserts next.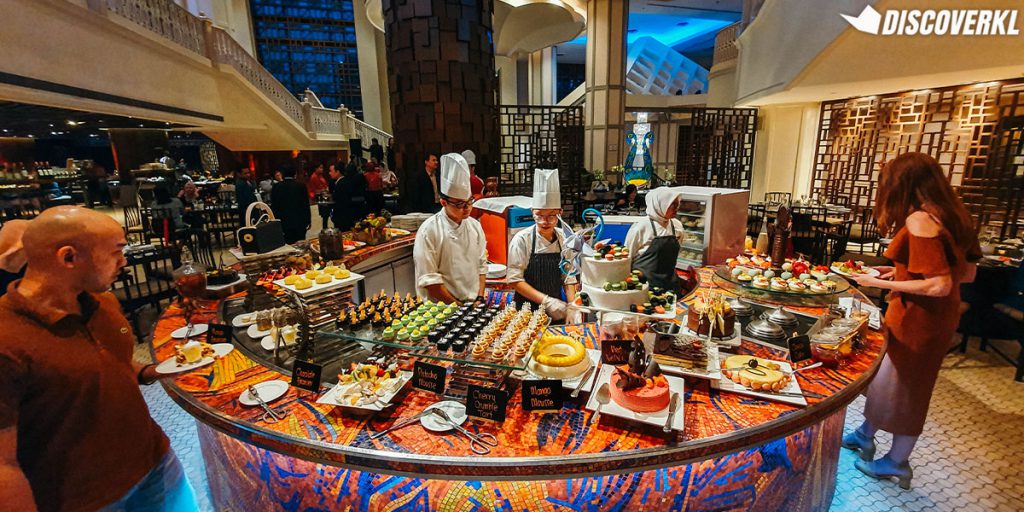 Sheraton Imperial Kuala Lumpur's dessert bar had a wide assortment of puddings, cakes, tarts, mini cakes, ais kacang and even fried ice cream.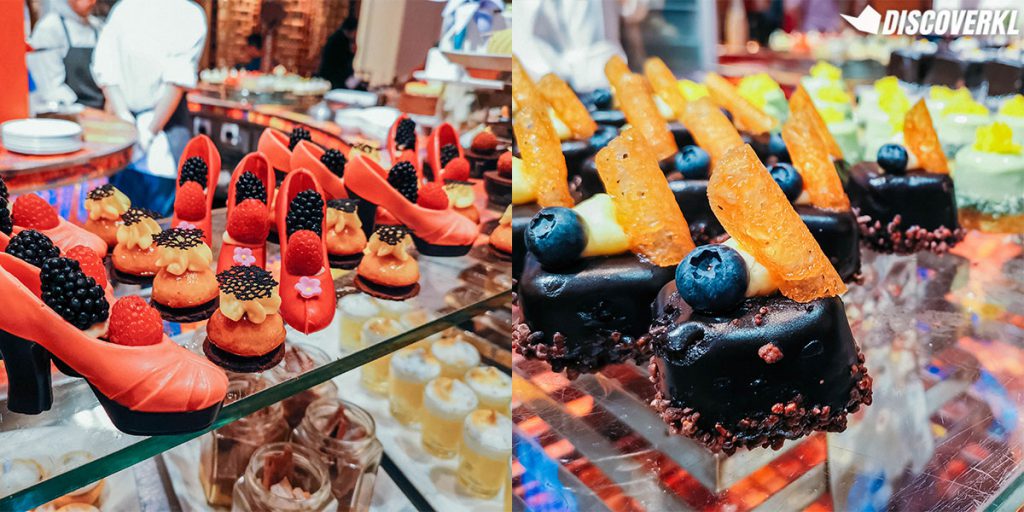 While everything looks heavenly, we'd recommend sharing the mini cakes and taking smaller slices of puddings. If you're feeling adventurous, you could even slip in a few during your first buffet round.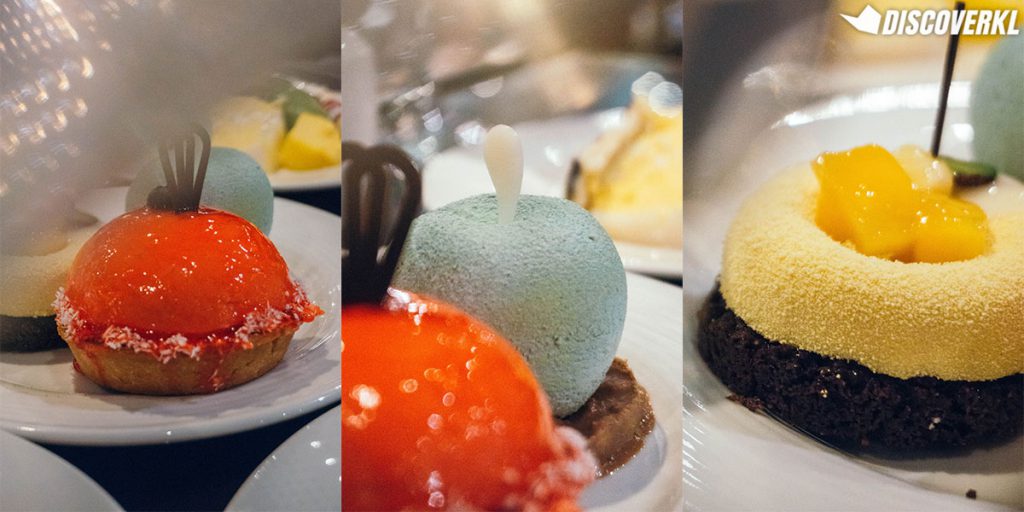 These mini fruit-looking cakes seem adorable and delicious but let us save you the embarrassment of not finishing one for being too full.
The red fruit-like tart has strawberry jam and cream mousse on the inside with a jelly layer on the outside.
The green apple-like cake had a lighter tasting custard with an apple pie filling in the middle. The biscuit at the bottom is sweet and savoury which goes well with the custard without making it feel too heavy.
But my favourite of the three would be the mango mousse with cubes of mango in the middle and a chocolate brownie-ish base. The mousse was not too creamy and slightly sweet which would have went well with a cup of coffee.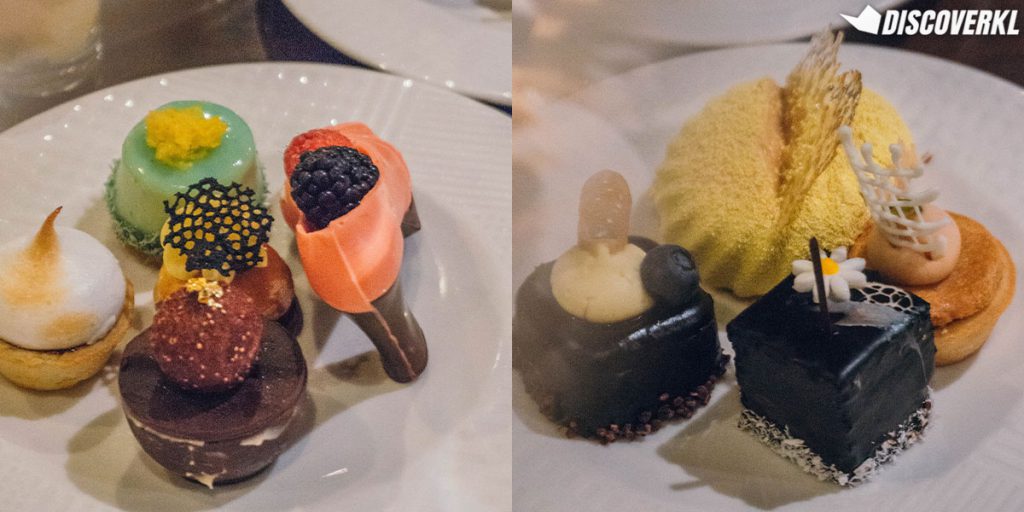 We'd say the chocolate and mango mousse desserts were our favourites. Not so much on the meringues as the sugar felt a little too coarse and had a sourish taste to it. If you're a fan of almond-flavoured desserts, do give the green-coloured tart a try!
-//-
Overall, we'd reserve more tummy space for the fresh seafood, grilled meat, pasta, the double boiled chicken soup in a coconut and wine.
For the price of RM199 nett per person, the selection was aplenty and didn't leave us feeling too guilty for our gluttony.
The Weekend Seafood & Grill Buffet
Price: RM199 nett (Adult), RM68 nett (Child)
When: July 5th onwards, Fridays-Saturdays: 6.30pm-10pm
Where: Essence Restaurant, Level 1, Sheraton Imperial, Jalan Sultan Ismail, 50250 Kuala Lumpur.
Website: Essence Restaurant
Reservations can be made at +603 2717 9933 or through [email protected].