#SaveOrSplurge is a DiscoverKL series highlighting the most luxurious makan experiences, activities, places and travel spots in and out of KL. Leave it to our team to find out if you should just "save your money" or "splurge all the way".
---
I don't know about you, but I'm a huge fan of health bowls and would rarely turn down a chance to indulge in them—my colleagues, not so much.
Recently, we decided to build our own bowls with Agrain. It allowed us a chance to choose among 30+ options and 3 different bowl sizes.
Unlike other food delivery services, Agrain is a restaurant and food delivery service in Klang Valley that focuses on healthy grain bowls.
If you can't be fussed about building your own bowl, they have preset bowls for you to choose from too.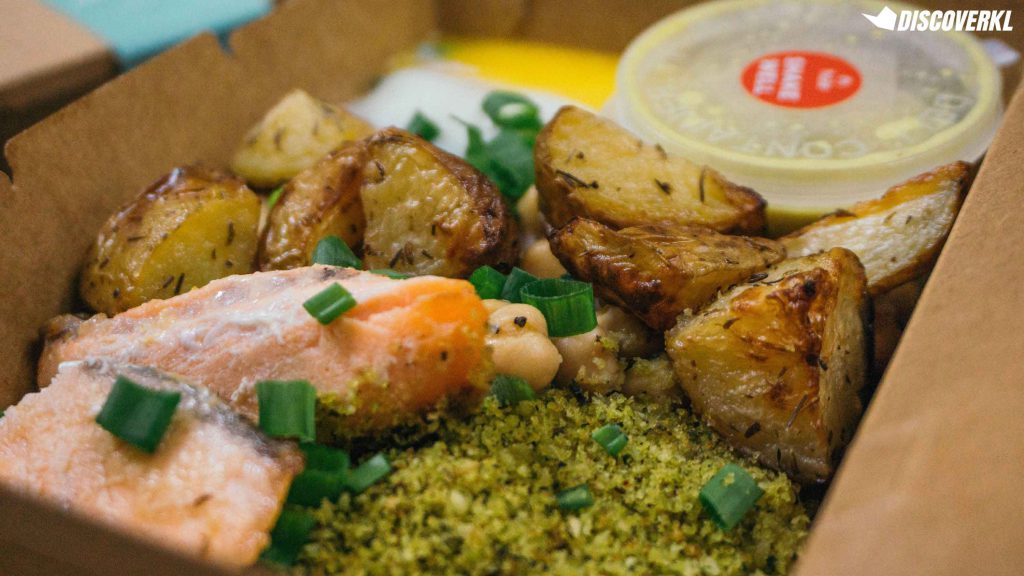 The brand focuses on nutrition density and their carb, protein and supplement options are also intentionally heartier in order to keep you fuller for longer.
Feeling adventurous, we decided to splurge on some of Agrain's more premium options and upsized certain portions to see if it would actually be worth it to spend on a premium bowl or would it just be a huge portion of carbs and sad portions of proteins and vegetables.
We went with the following order and it was priced at RM33.90:
Large Bowl:
ecoBrown's Rice (we added an additional serving)
Baked Salmon
Herb-Crusted White Fish
Onsen Egg
Chickpea Salad
Herb Roasted Potatoes
Chopped Spring Onions
Green Curry Sauce
Admittedly, when the bowl arrived, I was pretty impressed.
It arrived in pristine conditions. In comparison, I've had meals delivered in similar brown paper containers and there were visible grease stains on them. Not only that, the box would sometimes arrive in squashed conditions too.
So this was already a huge step up.
The contents of my Agrain order looked visually impressive and the inner kiasu in me was happy with how heavy the container felt too.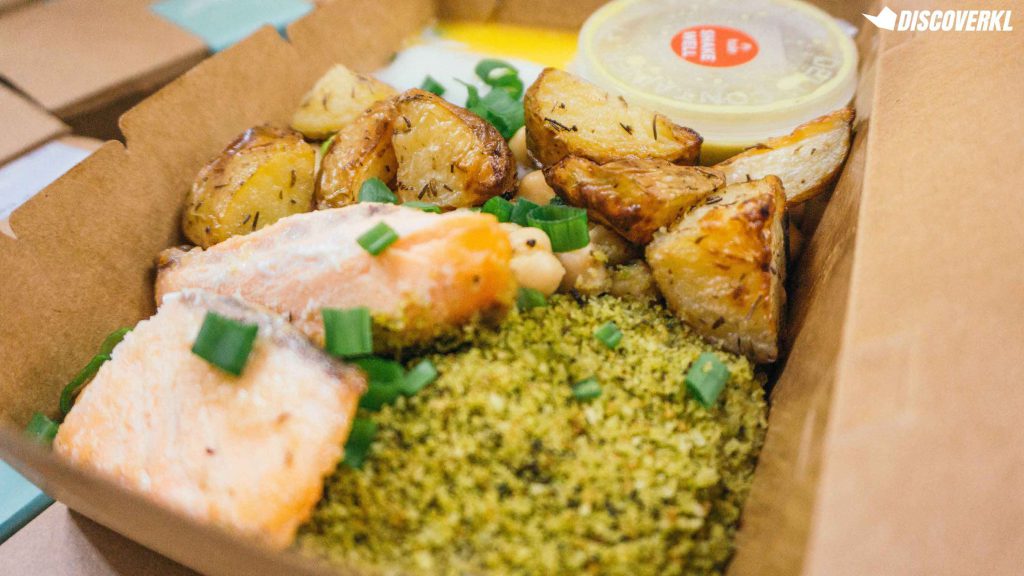 The fishes stood out for me, both for their portion and taste. The baked salmon, albeit having a chewy leathery skin (which is considered normal for the way it was cooked), was soft and bone-free.
Meanwhile, the herb-crusted white fish had a nice crunchy crust followed by melt-in-the-mouth softness.
The onsen egg, when mixed with the rice, unfortunately, created a wet sloppy mixture. It did not look as appetising as we had hoped for it to be. When eaten separately though, they were tasty.
I wasn't a huge fan of the chickpeas as well because they tasted too sour, perhaps due to it being tossed in some lemon juice to retain the freshness.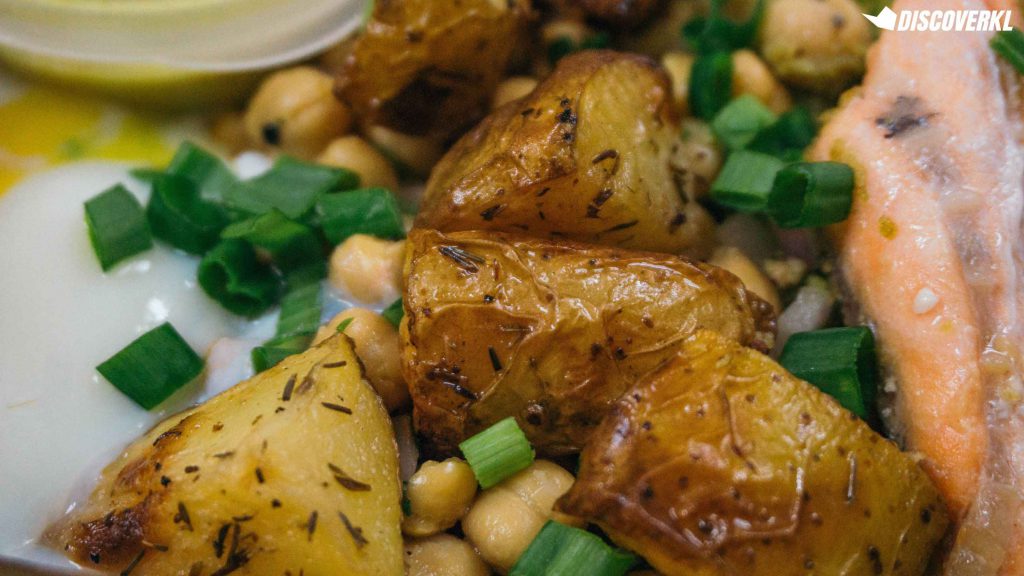 The "pièce de résistance" for this dish was the humble baked potatoes, which arrived with the skin on. Thanks to the rough cuts and baking them skin on, the potatoes were not mushy in consistency. Have some of these with the green curry and you might just forget the funky-tasting chickpeas you've had earlier.
At the end of the day, health bowls are no doubt an acquired taste and arguably, it's not for everyone.
And even if you're a huge fan of health bowls, it pays to know what ingredients work well with each other. In hindsight, I probably would have gone with complementary supplements to the baked potatoes and fish. Some garlic cauliflowers might have been more ideal for the crunch factor, considering how everything else was of a softer, mushier texture.
Portion-wise though, I was satisfied. I wound up sharing the bowl with a colleague because there was no way I'd be able to finish the large portion on my own.
Because we halved the portion evenly, it would only cost us roughly RM17 each to recreate this bowl again. Considering how I'd end up paying RM15-RM20 for a similar bowl, I like how a simple upgrade at Agrain allowed me a chance to try 2 types of fish, rice, and a mix of vegetables.
So, is the upsized RM33.90 bowl by Agrain a #SaveOrSplurge? Here's a breakdown based on your spending category:
College/Uni Students: Once in a (long) while, definitely. Having once been a college student myself (ages ago), I can relate to how college life can get ridiculously expensive and regularly spending RM33.90 on health bowls is absurd.
However, if you're planning to share this large bowl with a friend, it would roughly be RM17 for a pretty hearty portion including proteins like salmon and herb-crusted fish. That should leave you feeling full for hours.
That said, I don't know many college students who'd want to have a health bowl every single day so I'd say, order this in on days when you're rushing an assignment with your group mates or if you're planning to stay in on a Friday night and treat yourself to a hearty meal.
Young Working Adults: If you're too lazy to meal prep, consider making this a once or twice-a-week thing. Being someone who has lived both the meal prep and the monthly subscription meal plan life, I'd say that this is a nice in-between option.
A huge reason why I chose to meal prep in the first place was because I got to control how much oil, salt and sugar goes into my meals. As ideal as the situation was though, I wasn't disciplined enough to prepare my meals weekly.
With Agrain's healthier options, those in the same boat as me can opt to treat themselves (perhaps once or twice a week) to a nutritious, albeit pricier, upsized bowl.
We'd suggest going for affordable mixed rice options on alternate days because let's face it, you're likely not balling…yet.
Working Professionals: This is well within your means, so I'd say, go for it! At this age, you're likely more comfortable with spending RM33.90 on a meal regularly so Agrain's upsized bowls are within your spending budget.
If you're not someone with a huge appetite, you can opt for a salad base to make it healthier and, portion-wise, more manageable.
And you don't have to order in every single time (even though delivery is free of charge). For a change of scenery, those working in Greater KL can visit Agrain at any one of their 3 outlets in Menara Hap Seng, Gardens North Tower or Intermark Mall.
Agrain by Hale
Hours: Mondays-Fridays: 11.00am-3.30pm, 5.30pm-8.30pm; Saturdays-Sundays & Public Holidays: 11am-3pm
Address: Suite G01, Ground Floor, The Gardens North Tower, Lingkaran Syed Putra, Mid Valley City, 59200 Kuala Lumpur
More hours and locations here.
Tel: 03-22020595