Personally, I do not see the enjoyment of artistically crossing my "t's" and dotting my "i's". Painstakingly embellishing my perfectly plain off-white Muji notebook pages with stickers also makes no sense.
But after researching for this article, I must admit I'm feeling the itch to get my hands on adorable stickers and washi tapes—maybe even jump on the journalling train.
Although there are physical stationery shops of where you can buy these products from, they may not carry certain international brands.
E-commerce options like Lazada and Shopee have a wide range of specialised stores. And they even come with user ratings so you'll be assured of quality without even having to see the products firsthand.
Some even import, curate and design their own products!
So, I found 11 homegrown stores on Shopee with 5-star ratings that are guaranteed to make even the most anti-journalling person feel the itch to pick up a calligraphy pen and make things prettier.
All of these stores are based in Malaysia hence their shipping times would be much faster compared to buying from an overseas seller (with certain exceptions).
1. Artsunami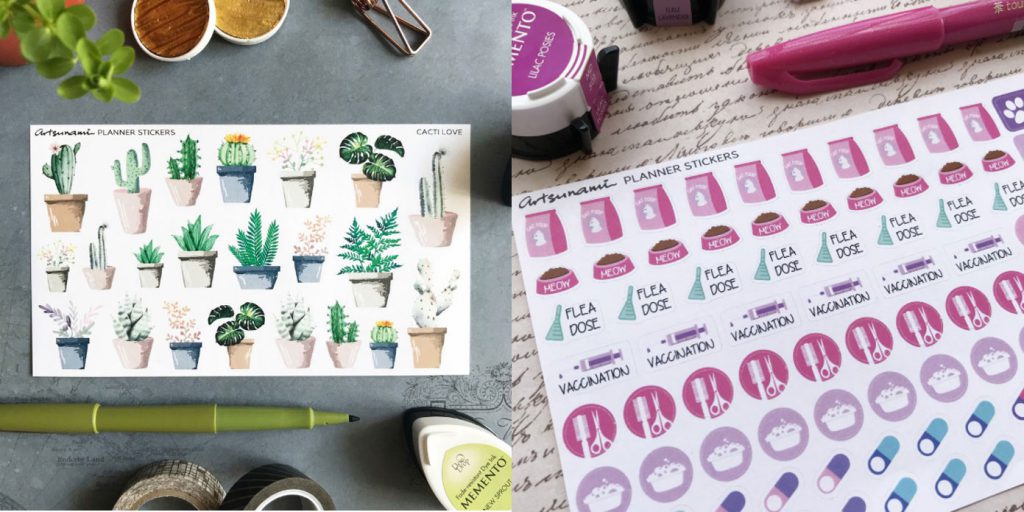 For the avid journaller, Artsunami may be a common name for you.
With over 100 products listed on their page such as their customisable habit trackers, chrono trackers, finance trackers and more, you'll be able to organise your life better.

This online store is perfect for those looking for rose gold-foiled stickers, motivational prints, notepads, writing tools and labeling stickers such as day and month covers, academic stickers or icons and tasks.
Rating: 5 stars/850 raters
Shipping Time: 1-2 days
Aesthetics: Preppy watercolour chic
Website: Artsunami
2. Lootersbox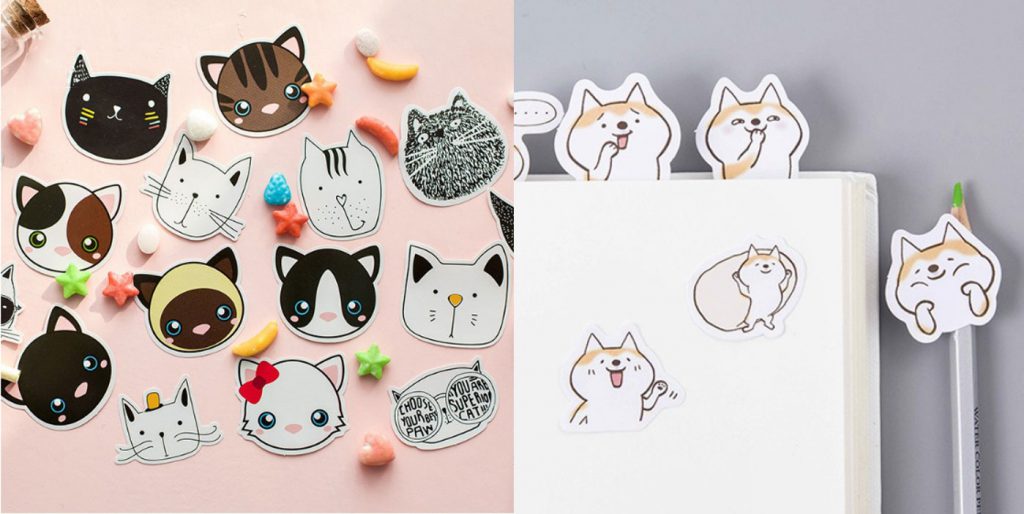 Founded by a collective of item hunters, this group of friends turned their passion into a business by sharing their hobby of journalling with the world.
With close to 2,000 items in their store and new arrivals that come in weekly, so you might see yourself refreshing the Shopee store regularly just to see the new updates.
They also ship mystery free gifts with some purchases, and if they make any mistakes with your order, LootersBox provides compensation and allows return.
Rating: 5 stars/33,326 raters
Shipping Time: 1-2 days
Aesthetics: Anything dog/cat, pastel colours and Japanese, kawaii designs
Website: Lootersbox
3. Craftlog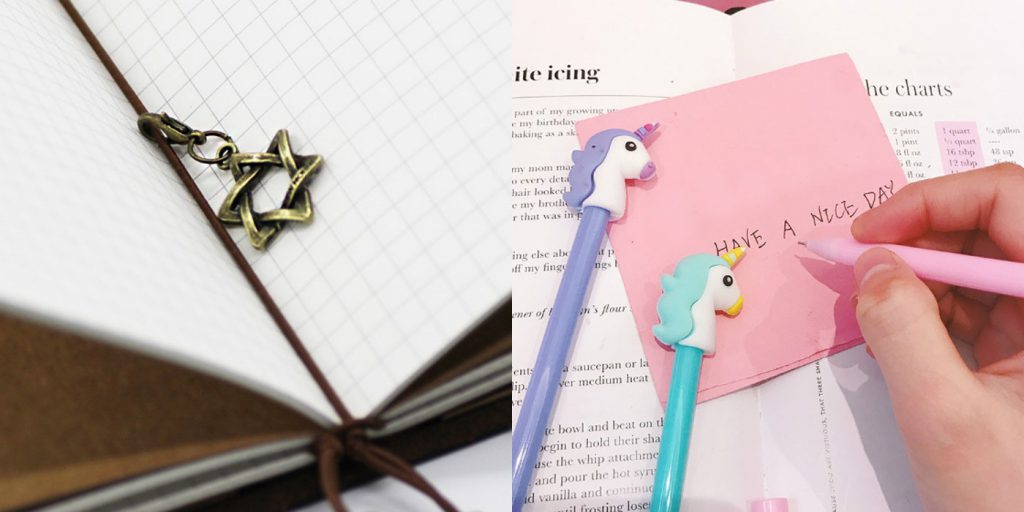 From planner charms, rubber stencils, pencil cases and cute AF pens, Craftlog is the perfect place for any beginners on their journey.
Craftlog believes in embracing the beauty of writing and finding inner peace through it. And this is reflected through their wide selection of more than 1,300 items for sale.
They even sell adhesive kraftpapers here. These are essentially vintage brown paper accessories that becomes sticky when a few drops of water are applied to it—perfect to prettify your journals or to create a new category.
Rating: 5 stars/18,917 raters
Shipping Time: 1-2 days
Aesthetics: Rainbow gradients and pastel colours
Website: Craftlog
4. Sugarcatz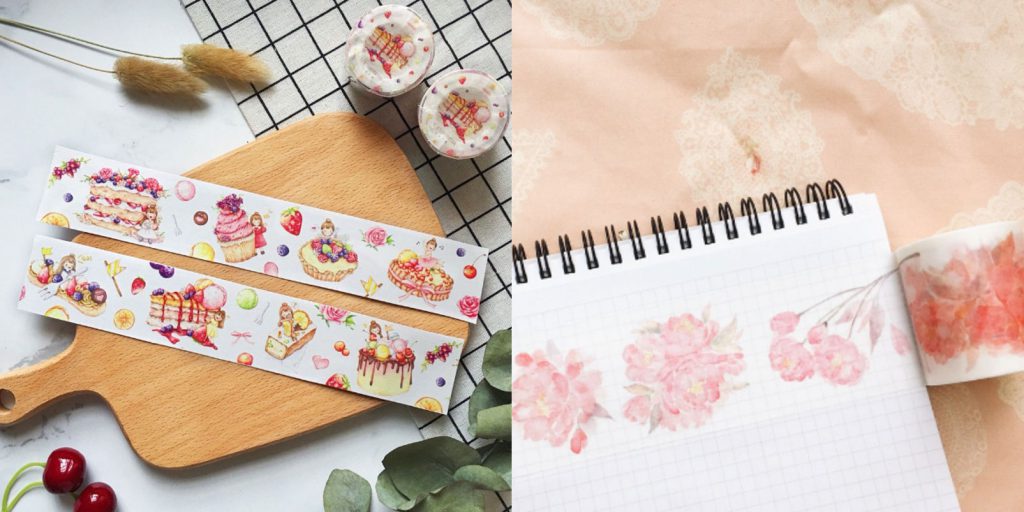 If supporting local artists is your thing, Sugarcatz can be your source of joy.
Established in August 2008, the Sugarcatz team are self-proclaimed stationery addicts, and it shows in the selection on the store.
From locally-designed stickers to internationally-designed washi tapes (China, Japan and Taiwan), they are all intricately-designed and printed. Just browse and be prepared to be amazed at all the tiny details that fit onto a tiny strip of washi.
For fellow addicts, shipping is free for purchases above RM40, and it's not hard to get there.
Plus there are very good reviews from customers on their carefully-packaged items and adorable stickers as free gifts too!
Rating: 5 stars/3,586 raters
Shipping Time: 1-2 days
Aesthetics: Asian-influenced, French bakery chic
Website: Sugarcatz
5. Miya Werkstatt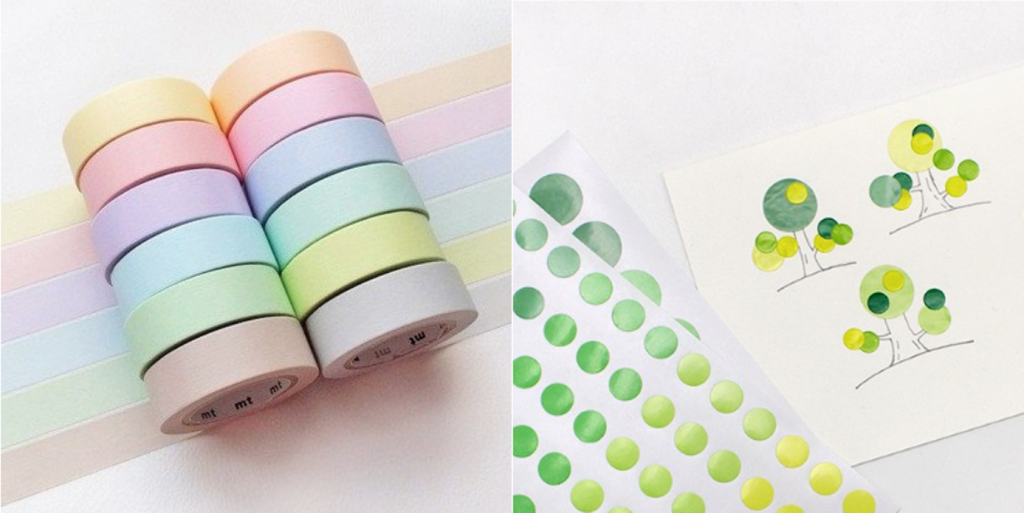 If Miyawk was a physical store, I frankly would never be able to leave it without buying something.
With over 9,200 items in their catalogue, Miyawk carries different brands such as Kokuya, Tombow, Sakura, Pilot and Kuretake.
For those who are unfamiliar with these brand names, they are basically high quality pens and office supplies one could use for everyday journalling.
They even have a tab dedicated to bullet journalling and it consists of ball pens, gel pens, markers and brush pens of different kinds.
Rating: 5 stars/9,382 raters
Shipping Time: 1-2 days
Aesthetic: The clean minimalist journal with pops of pastel colours
Website: Miyawk
6. Missstrawberrymilk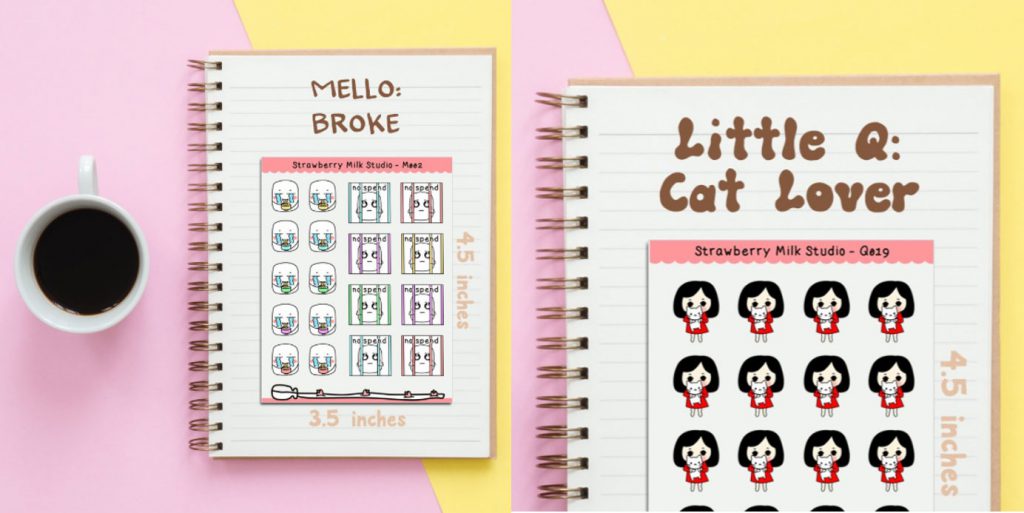 Hailing from across the sea is Missstrawberrymilk, a Sarawakian designer who creates and prints her own cute stickers!
Taking the planner approach, her stickers are single line designs and created to mark important dates in your calendar. For example, there's a series for Garbage Day, or however you may be feeling on a particular day.
Rating: 5 stars/196 raters
Shipping Time: Seller is currently on vacation hence shipping time is TBC until they're back
Aesthetic: Cute miniature human designs
Website: Missstrawberrymilk
7. Gottaliststudio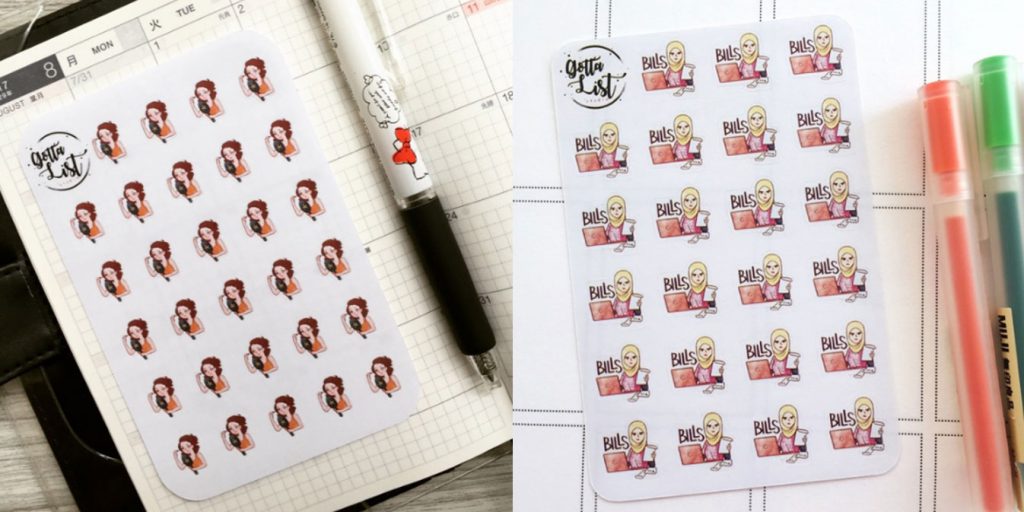 Here's another for you local talent supporters! Hand-drawn with love, the chic, functional and fun sticker designs of Gottaliststudio were created based on one's daily routine.
They even have a series featuring three different characters, namely Kayla, Hana and Amber.
The Kayla series is perfect for the girly girls out there. Meanwhile, Hana is the resident hijabista and Amber is the sporty chick who also enjoys artsy activities like painting.
Each sticker series features these 3 characters partaking in activities like reading, sleeping and pampering oneself.
Besides that, they also have a sticker series for icons and local food. For all you hijabistas, Hana could be the missing sticker to add your own persona into your journals!
Rating: 5 stars/3,789 raters
Shipping Time: 1-2 days
Aesthetic: Human characters to personalise your journal with
Website: Gottaliststudio
8. Lullacraft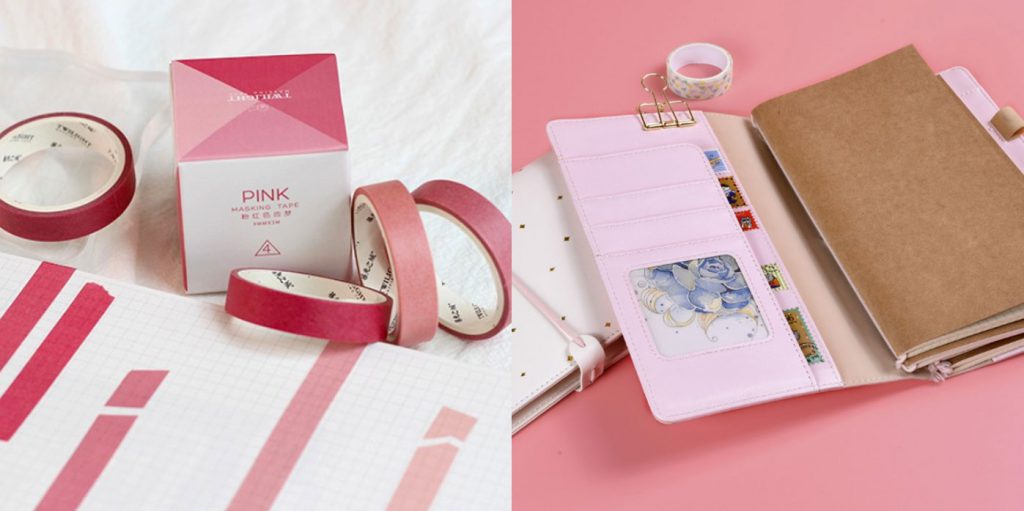 Should Lullacraft be a utilities closet, it would be your fashionable elder sister's, the one you'd badly want to ransack. Think a more mature, yet muted-colour appeal.
Lullacraft was founded out of the love of physical paper, and the desire to help others record down precious thoughts and memories on paper.
Filled with rainbow-coloured gradients, birthday decors, ink pads, lomo cards and adorable sticky note designs, this could be the ultimate e-store for your pretty scrapbooking needs.
There is also free shipping for purchases above RM40!
P.S: Each buyer gets a mysterious freebie and you may even upgrade to a solid packaging to protect your precious goods.
Rating: 5 stars/2,882 raters
Shipping Time: 2-4 days
Aesthetic: Florals and pastels, with an occasional hint of the minimalist Muji class
Website: Lullacraft
9. PeppermintZakka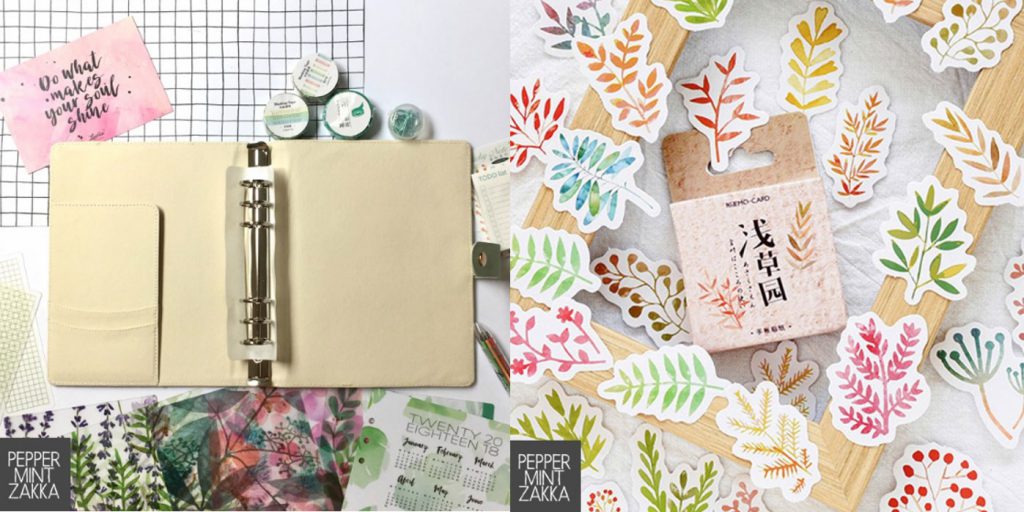 If you like unicorns, botanicals, pastel skin bullet journals, and pens so cute it's vulgar, PeppermintZakka would be perfect for you!
Be prepared to fall in love with their categories such as Unicorn Paradise, Planner Addict and Arto by Campap, because they make looking for items based on aesthetics so much easier.
They even sell vintage eyewear to make you look hipster AF while journalling in an obscure cafe.
Rating: 5 stars/8,669 raters
Shipping Time: 1-2 days
Aesthetic: Colourful botanicals and florals for the woman who knows what she wants
Website: Peppermintzakka
10. Ohforkeepsake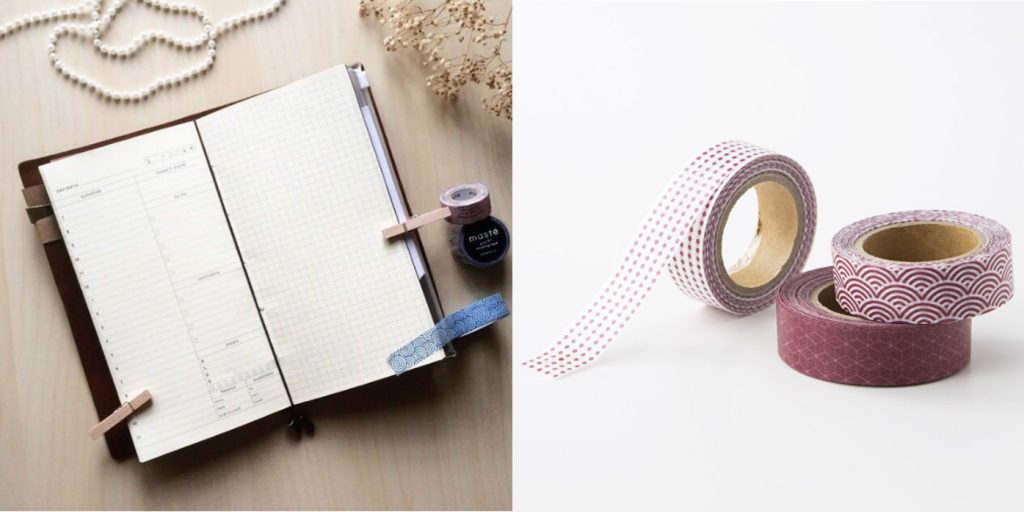 I've never felt so excited for washi tape until I saw these Muji ones on Ohforkeepsake. While you may be able to get them in Muji stores, they are not available online aside from a few e-stores such as Ohforkeepsake.
Plus, they also design their own journal inserts which look really slick and chic. Considering how this is a fairly new store, they've only got 19 items at the moment. Still, from the limited selection, you might find one that tickles your fancy, especially if you enjoy the Muji appeal.
Rating: 5 stars/8 raters (thus far)
Shipping Time: Duration is dependent on item ordered
Aesthetic: Zen, Japanese, oriental, Muji vibes
Website: Ohforkeepsake
11. Memolog Stationery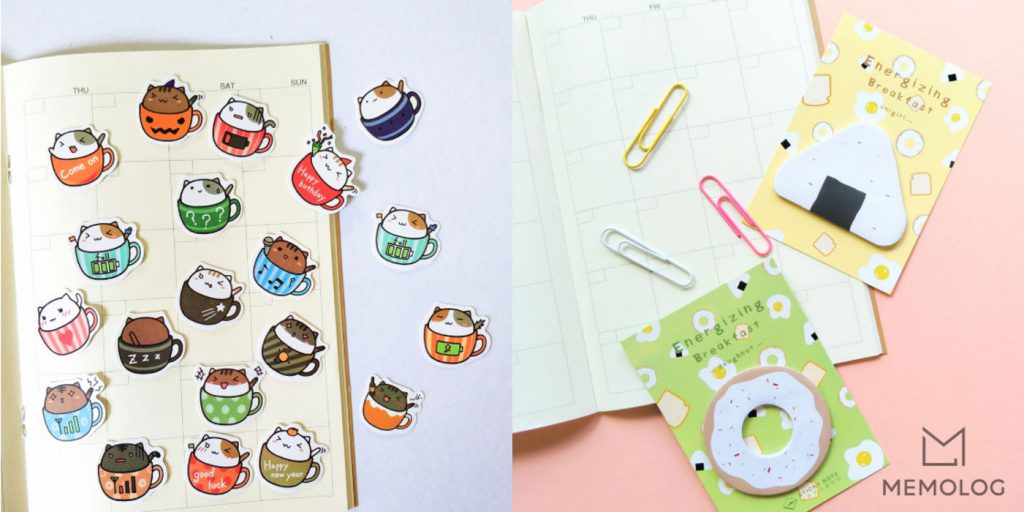 With their simply adorable and eye-catching stickers, sticky notes, notepads and accessories, Memolog Stationery aims to revive the lost art of handwritten notes.
They create unique, cute and functional designs and keep things affordable with their great prices and free deliveries for purchases above RM35.
This is definitely a store you have to check out with their mini portable panda stapler set, glitter washi tape or warning sign memo pad sticky notes!
Rating: 5 stars/222 raters
Shipping Time: 2-4 days
Aesthetic: That girl with cute stationery you've always wanted to befriend.
Website: Memolog Stationery
Feature Image Credit: Memolog Stationery, Sugarcatz