Soft shell crab burgers, anyone? 
Why yes, we're back at it again with the lowdown on the best Soft Shell Crab delicacies in the Klang Valley. Previously we pleased all you nood lovers with a list of soft shell crab pasta dishes that will cheer you up from any crabby day.
Now, drool over some soft shell crab burgers that are equally as mouthwatering. 
1. The Other Half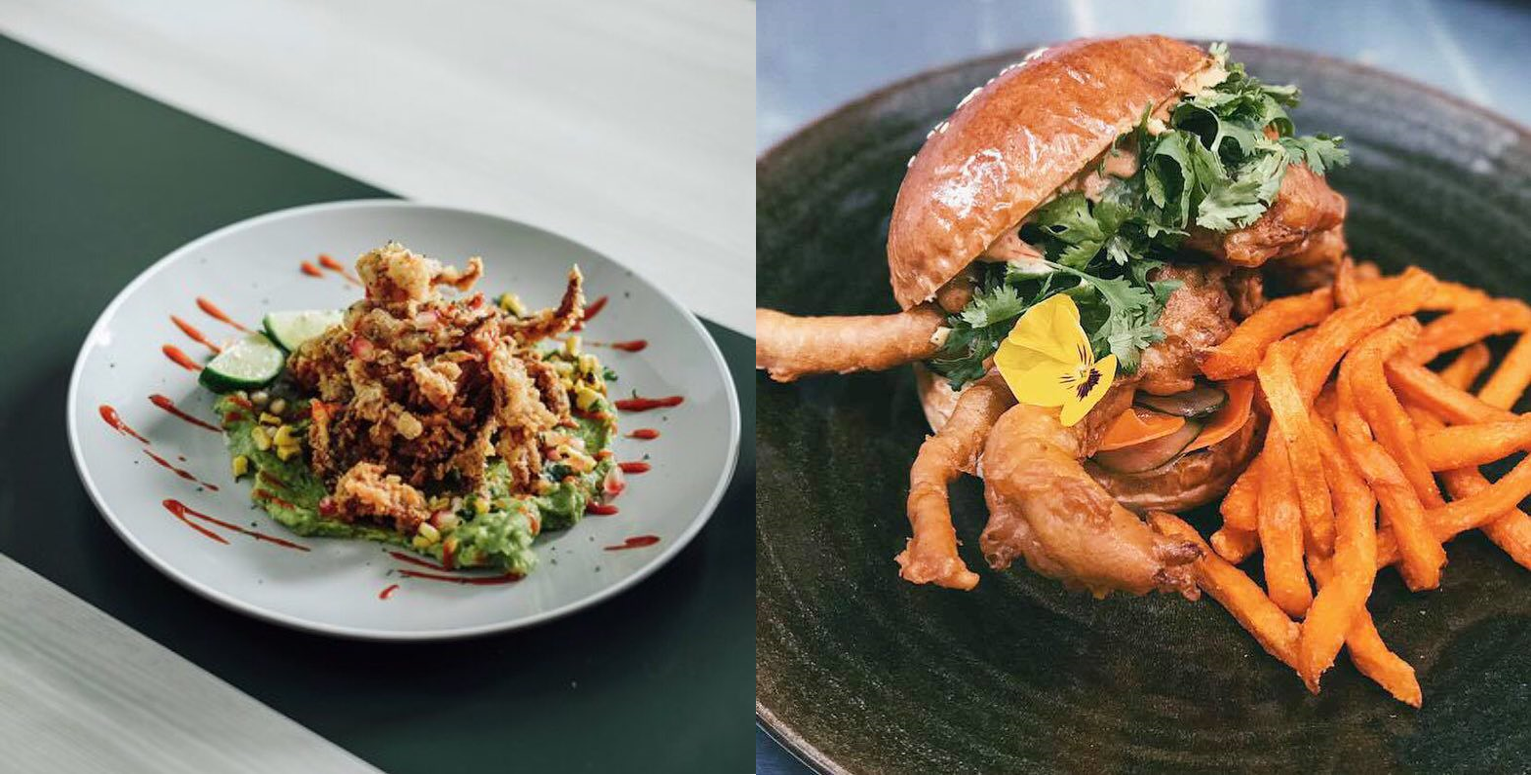 Regardless of whether you just fought with your lover or are very much in love with them, The Other Half will be your better half.
Their Sweet & Sour Soft Shell Crab Burger with sweet potatoes perfectly embodies the chemistry of a relationship – good times and not so good times combined to make the entire relationship memorable.
Plus, they also have an equally as delicious deep fried squid on a heavenly bed of avocado smash.
Hours: Mondays-Sundays: 9am-5.30pm
Address: Unit 2-1, Greens Terrace, No.1 Jalan Wan Kadir 3, Taman Tun Dr Ismail, Kuala Lumpur, Malaysia 
Website: The Other Half Cafe
Tel: 03 2771 6221
2. Jibby & Co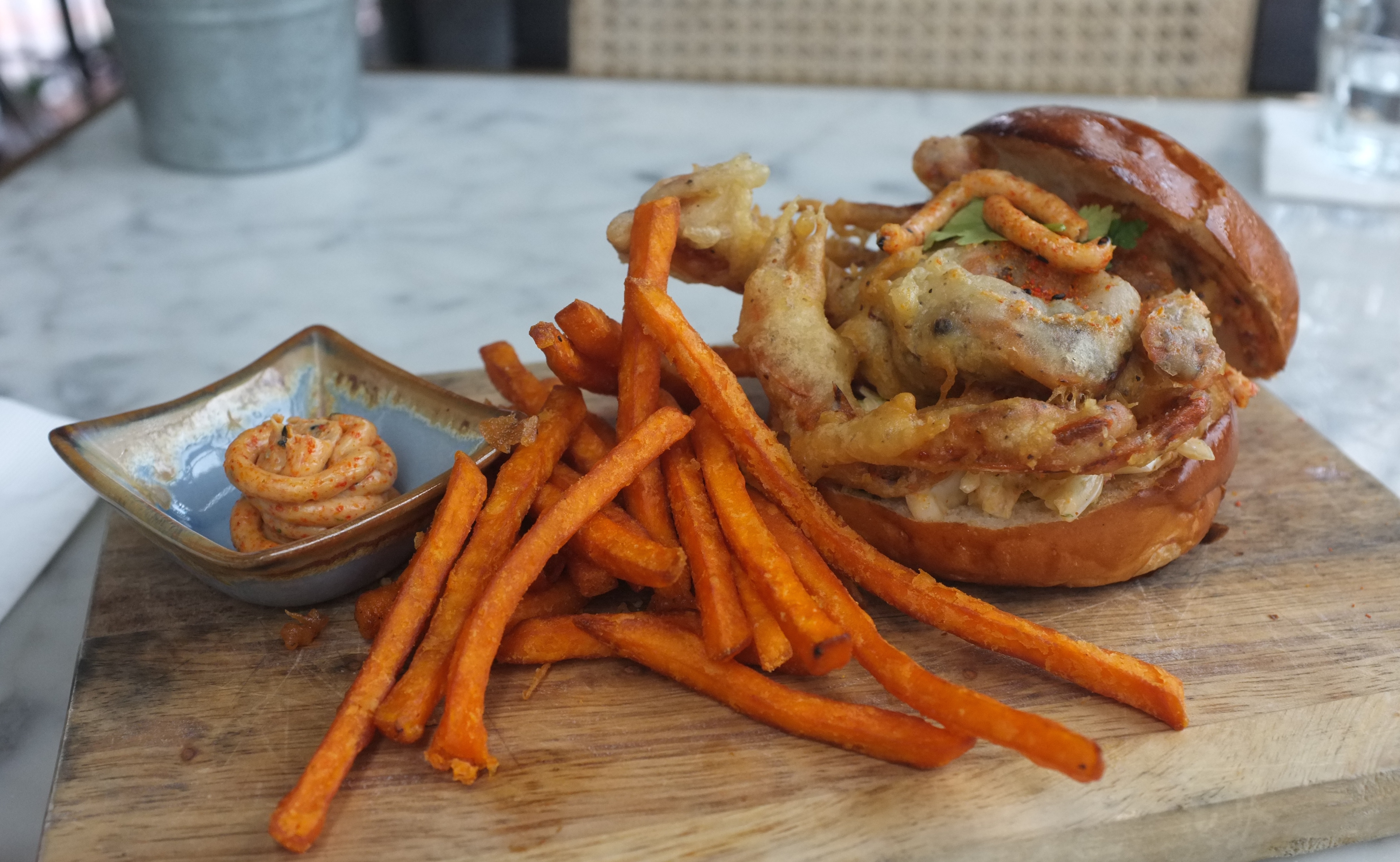 Housed under the Serai Group company of restaurateurs, Jibby & Co is an amalgamation of Melbourne-sized Pan Asian Cuisine and Western breakfast favourites.
Their Soft Shell Crab Burger would be one of their most notable dishes among their patrons.
Served with Asian coleslaw, spicy mayonnaise and a mountain of sweet potato fries, it is beautifully paired with their special blend of select Indonesian high-altitude coffee beans.
Should you prefer something more Asian, they also make a mean chilli egg drop dip with blue swimmer crab meat served with crispy fluffy mantaos!
Hours: Mondays-Sundays: 8.30am-10.30pm
Address: LG37, Empire Shopping Gallery, Jalan SS16/1, 47500 Subang Jaya
Website: Serai Group
Tel: 03 5613 7070
3. The Daily Grind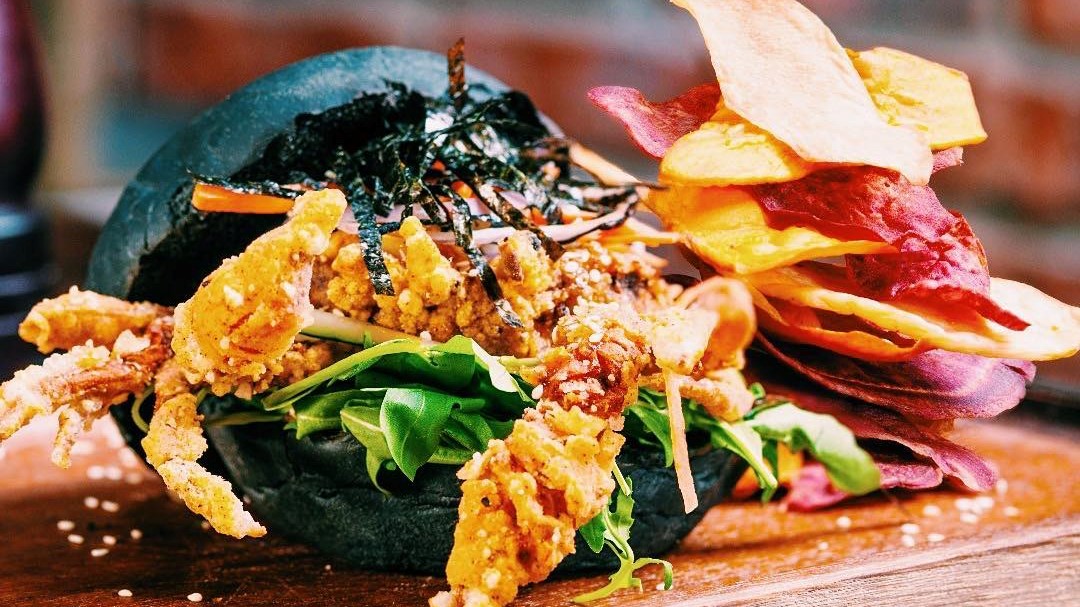 Scuttle down to The Daily Grind for some Downtown Tokyo grub!
Deep-fried soft shell crab with Asian slaw and wasabi mayo served on a bed of rocket leaves and a toasty charcoal bun, this was ranked as one of their best gourmet burgers.
The Daily Grind also hand makes their patties (hence the name "The Daily Grind") with premium ingredients daily to ensure freshness and quality in every bite. 
Hours: Mondays-Sundays: 11am-10.30pm
Address: LG8, Lower Ground, Bangsar Village 1, Jalan Telawi 1, Bangsar Baru, Kuala Lumpur
Website: The Daily Grind
Tel: 03 2287 6708
4. Breakfast Thieves KL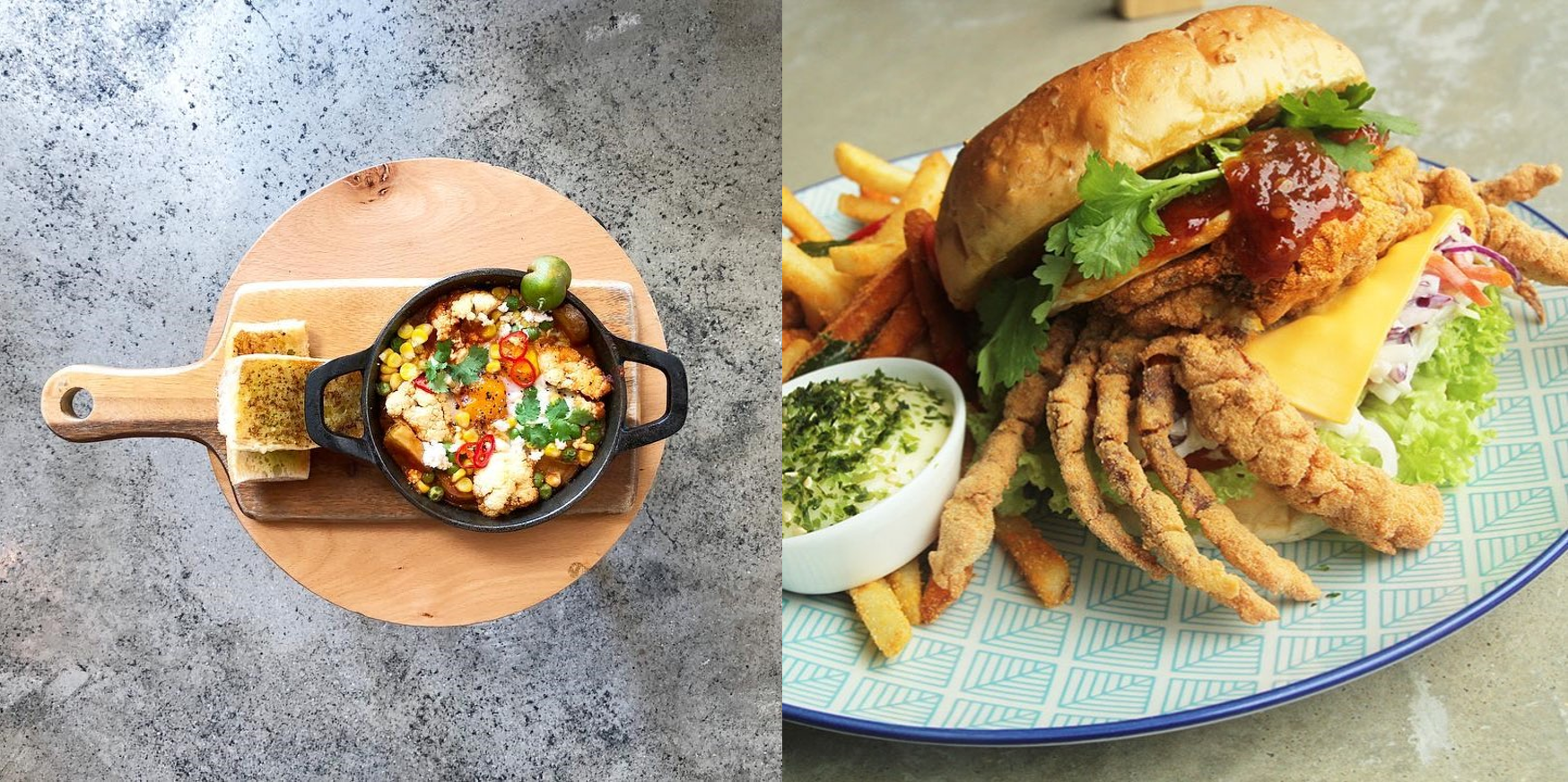 The OG Breakfast Thieves restaurant in Fitzroy, Melbourne is located in an old chocolate factory and the KL branch is also housed in a building with history – a 63-year-old commercial printing factory to be exact.  
In an open space with a relaxing environment, they specialise in modern Australian cuisine fused with Asian influences.
Should you like to spice up your life, their Uncle Foo's Fiery Crab Burger might be the fire you need in your life.
It is a soft but crispy deep fried soft shell crab in a fluffy brioche bun, surrounded by chili ginger sauce, a slice of cheddar, lettuce and a fried egg.
Completing the dish is a cabbage slaw accompanied by a heap of potato and sweet potato fries seasoned with salted egg yolk and curry leaves.
PS: They also have a vegetarian dish called The Legend made with spicy baked eggs, cauliflower, button mushrooms, peas and corn, feta, coriander, calamansi lime and herbed garlic toast!
Hours: Tuesdays-Sundays: 9am-5pm (Closed on Mondays)
Address: 29-5, Jalan Riong, Bangsar, Kuala Lumpur
Website: Breakfast Thieves
Tel: 03 2788 3548
5. Sköhns Canteen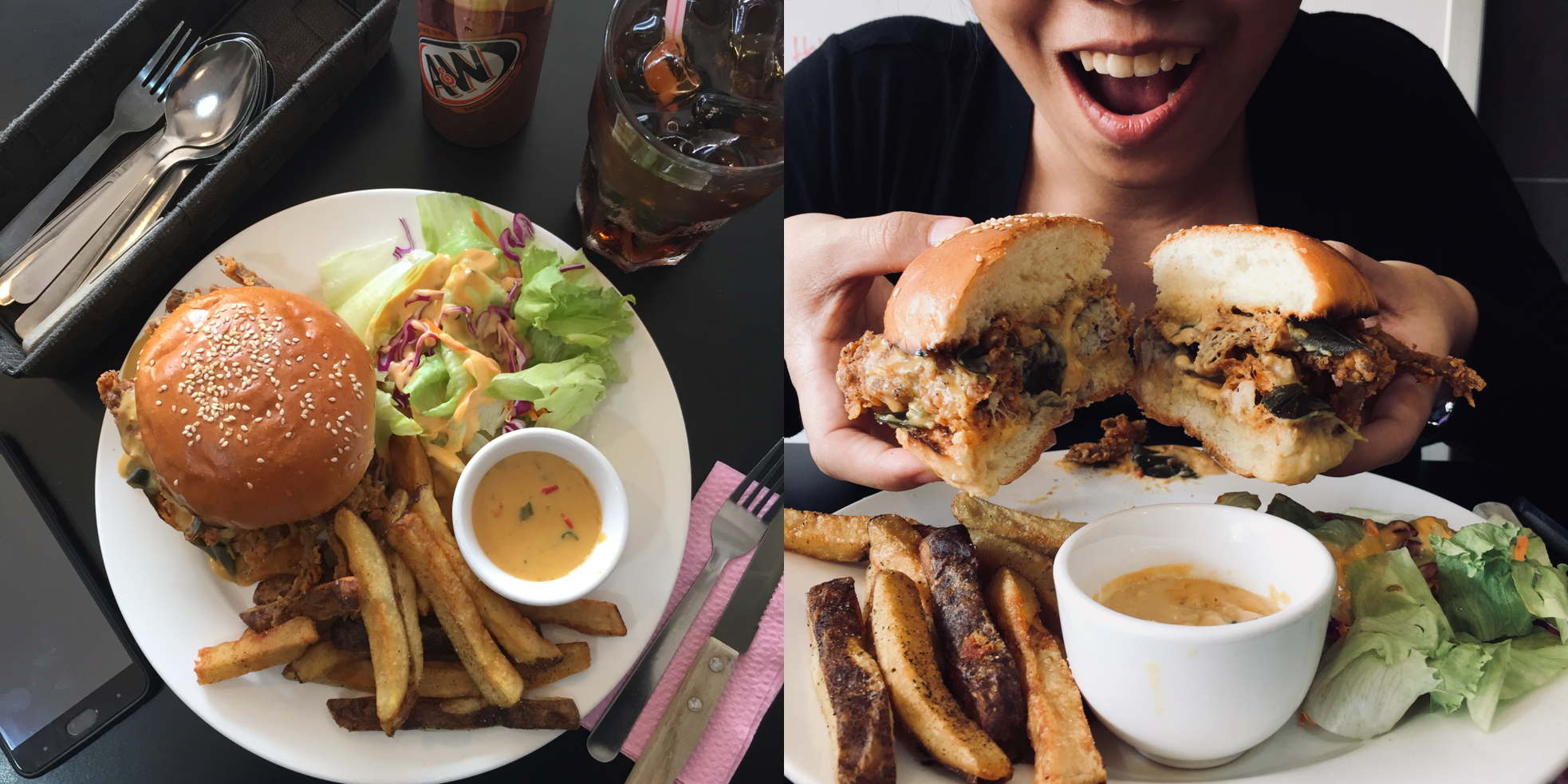 In a secret canteen hideout that serves amazing scones and desserts is this Salted Egg Yolk Soft Shell Crab Burger.
Featuring a deep fried soft shell crab with audible crunchiness (beats KFC's crunch) and a sweet and savoury salted egg yolk sauce, this burger sounds too good to be true.
However, the real crowd-pleaser was their homemade fries and the extra salted egg yolk sauce served on the side. Sköhns Canteen may look like a canteen, but the passion of their chef radiates through their food. Read more about it here!
Hours: Sundays-Wednesdays: 11am-10.30pm; Thursdays-Saturdays: 11am-11pm
Address: Lot G-13, Perdana The Place, Jalan PJU 8/5G, Damansara Perdana, Petaling Jaya
Website: Sköhns Canteen
Tel: 03 7732 4116
6. Crust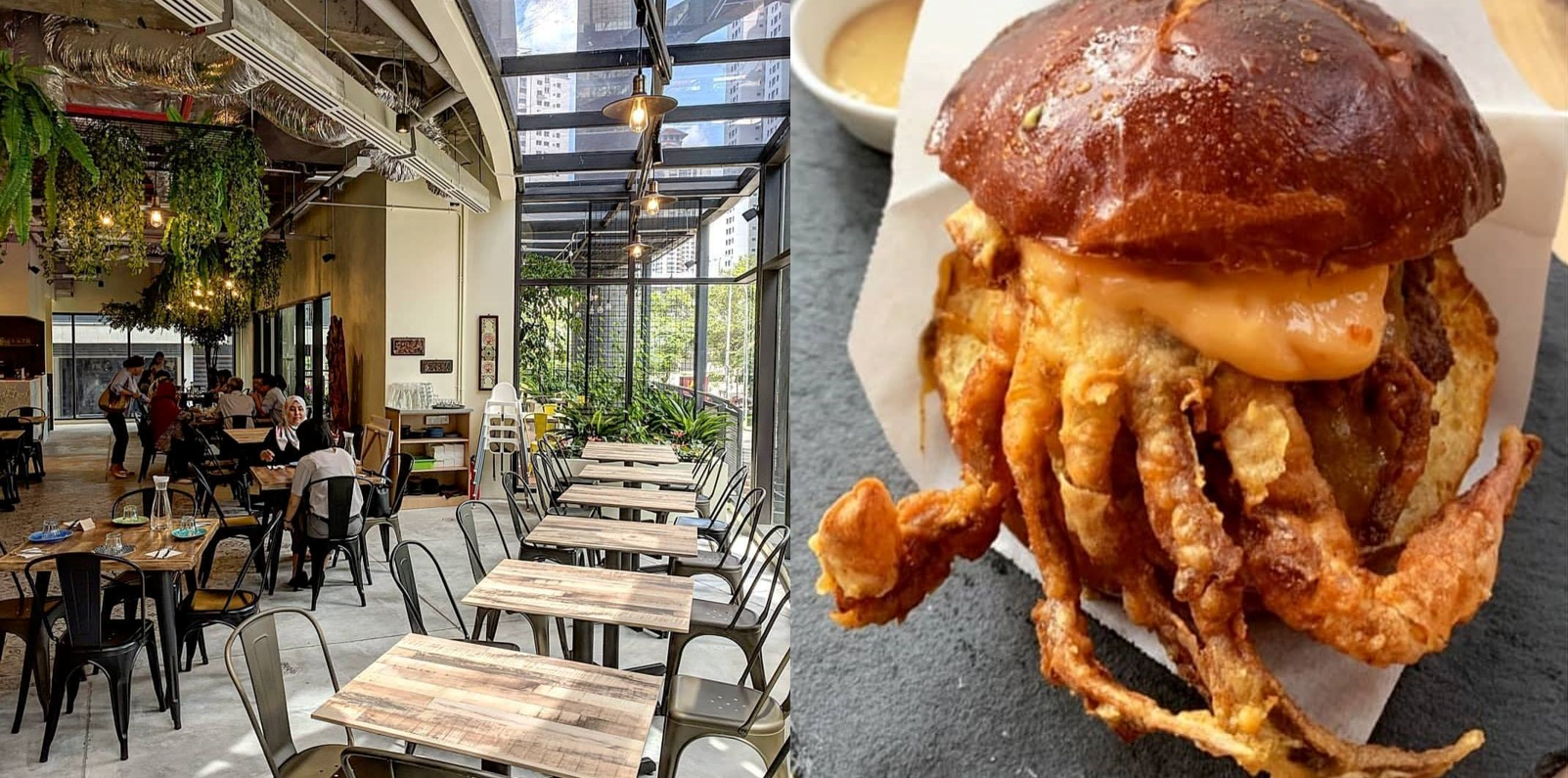 Specialising in wood-fire sourdough pizzas, burgers and cakes, Crust can be summarised with one item in their menu, Oishii (which means delicious in Japanese).
Their Oishii burger takes on the western idea from an Asian/Japanese angle of a juicy patty, sharp cheddar, deep fried soft shell crab and tobiko (fish roe) budu (fermented seafood) mayo.
Where the sea meets the land, it's combined in between a pretzel/brioche hybrid bun.
We imagine this would be one delicious but adventurous meal created by its sister branch Patty & Pie!
Hours: Mondays-Sundays: 11am-3pm, 6pm-10pm
Address: 1F-17, 163 Retail Park, Jalan Kiara, Mont Kiara, Kuala Lumpur
Website: Crust KL
Tel: 03 6419 5708
7. VCR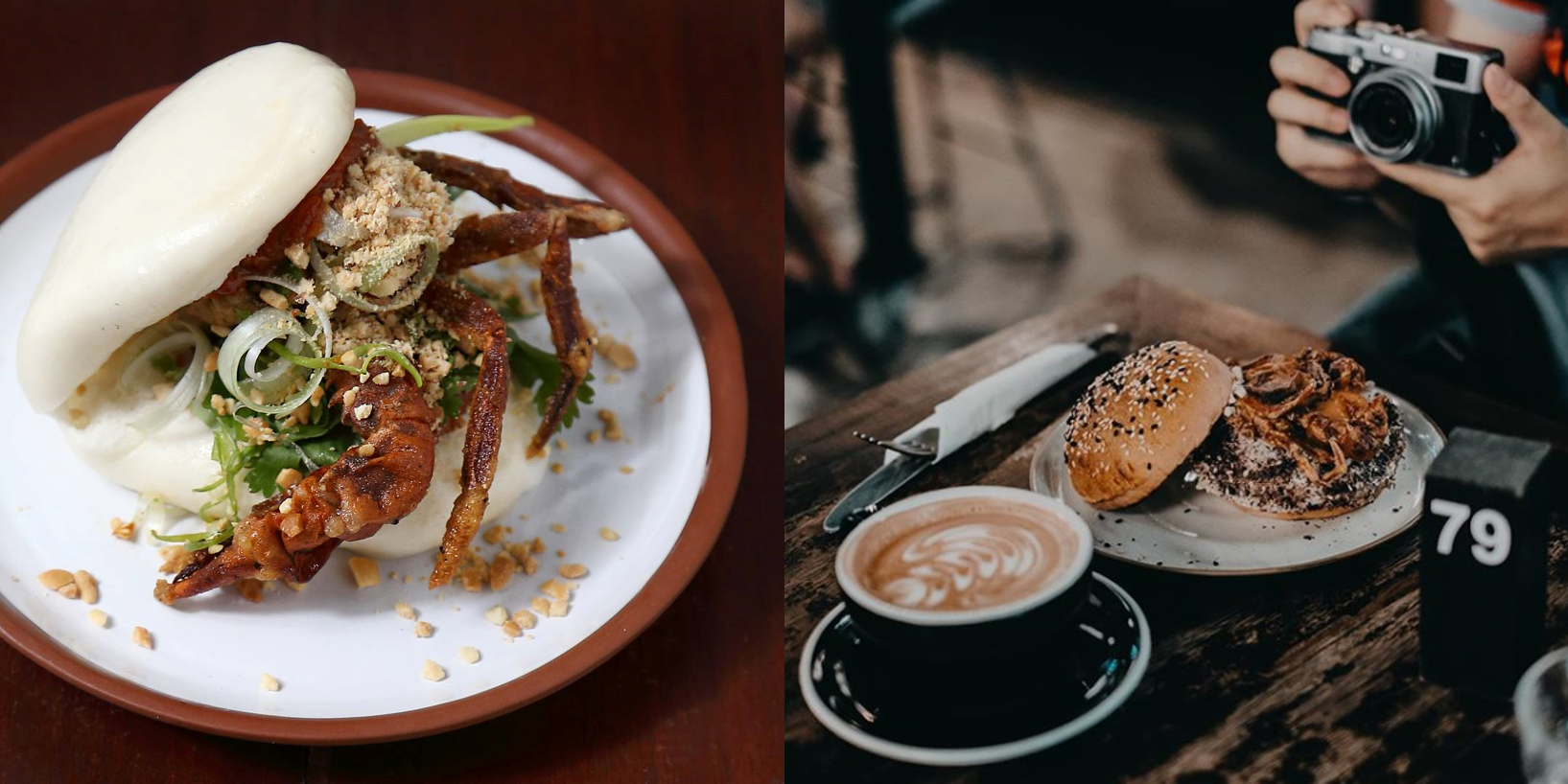 Aside from their delicious Big Breakfasts, potato waffles and french toast, VCR serves arguably one of the best coffees in town. 
But wait, they've got three new additions to their bao fam too! Their Chili Crab (Deep fried soft shell crab, belacan, spring onion, peanut powder), Portobello and Daebak can be devoured at the Bangsar branch for dinner.
Perhaps VCR stands for Very Creative Recipes after all.
Hours: Mondays-Sundays: 8.30am-11pm
Address: 2, Jalan Galloway, Kuala Lumpur

Website: VCR
Tel: 03 2110 2330
8. Seabites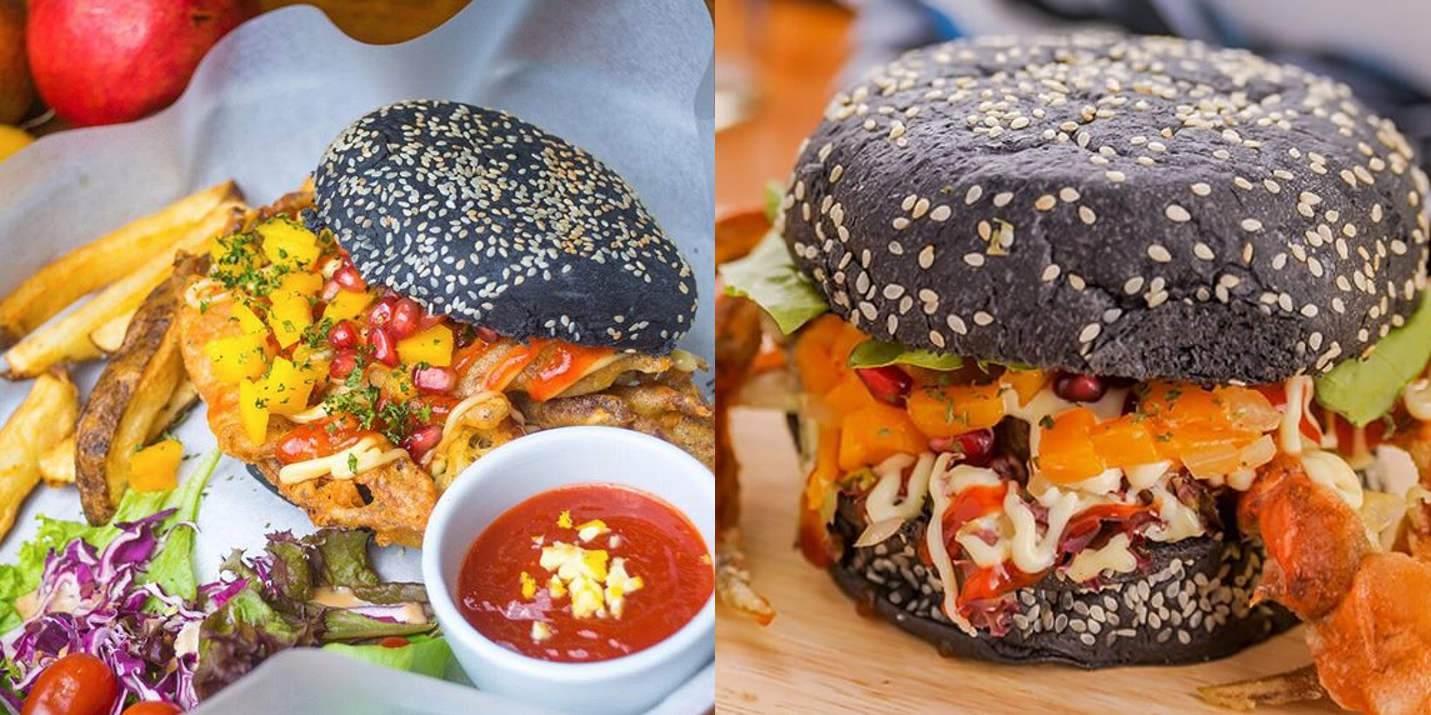 Just when you think things couldn't get any better, this place serves not one but A COUPLE OF SOFT SHELL CRABS in a burger!
Squeezed in between black charcoal buns with pomegranate salsa and a mix of sauces, this burger will transport patrons to a yacht party in the middle of the sea!
Colourful, flavourful and more than a mouthful, the Softy Crabby Burger is a modern fusion crab burger one must have!
Hours: Tuesdays-Thursdays: 10am-10pm; Fridays: 10am-1pm, 2pm-10pm; Saturdays-Sundays: 10am-10pm (Closed on Mondays)
Address: No.24, Persiaran Zaaba, Taman Tun Dr Ismail, Kuala Lumpur
Website: Seabites/
Tel: 016 3664 530
9. Dotty's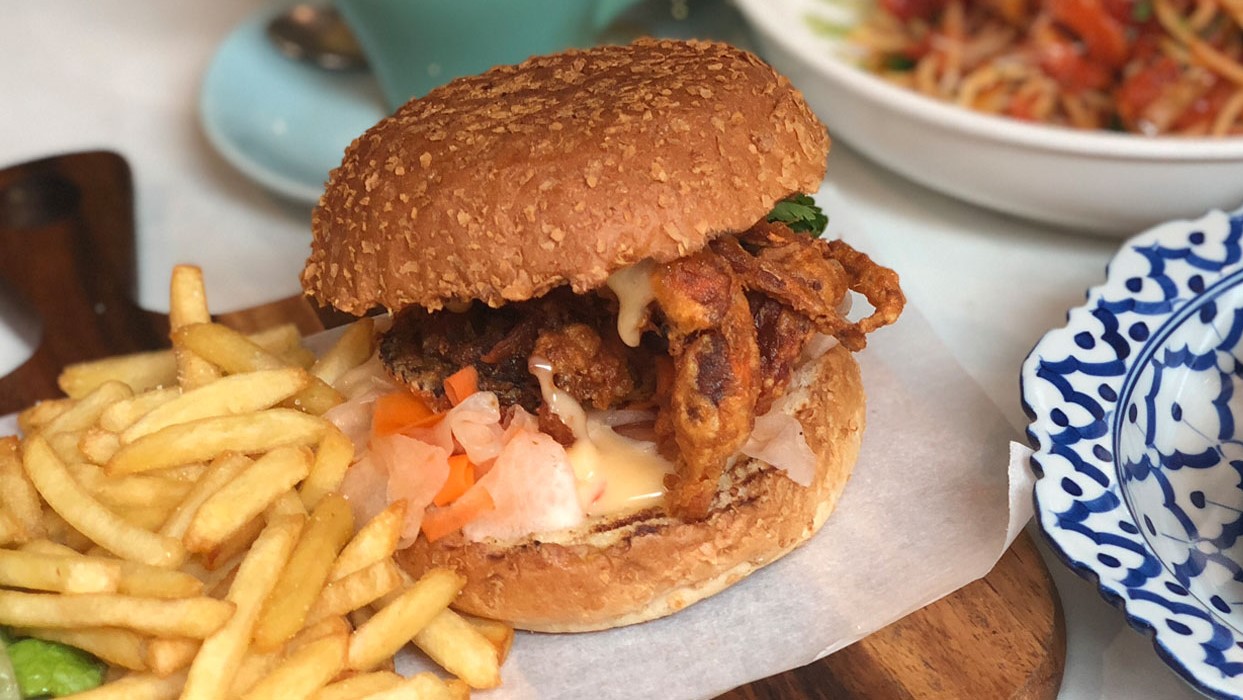 Speaking of yacht partys, here's a flagship store with soft shell crab dishes too!
At Dotty's Pastries and Coffee, TTDI you'll find a crunchy fried soft shell crab sandwiched between freshly baked burger buns with a side of fries and house salad.
If you've got a hankering for some eggs and noods, they've also got soft sell crab pasta or soft shell crab eggs benedict.
The eggs benedict was highly recommended and we can totally see why. Poached eggs drizzled with Hollandaise Sauce, sautéed Spinach, English Muffin and soft shell crabs sound like the perfect combination!
Note: Their soft shell crab dishes are available at their TTDI and KLCC outlets only*
Hours: Mondays-Sundays: 8am-10pm
Address: 20-G, Jalan Tun Mohd Fuad 2, Taman Tun Dr. Ismail, Kuala Lumpur
Website: Dotty's  
Tel: 03 7733 4233
10. Sanoook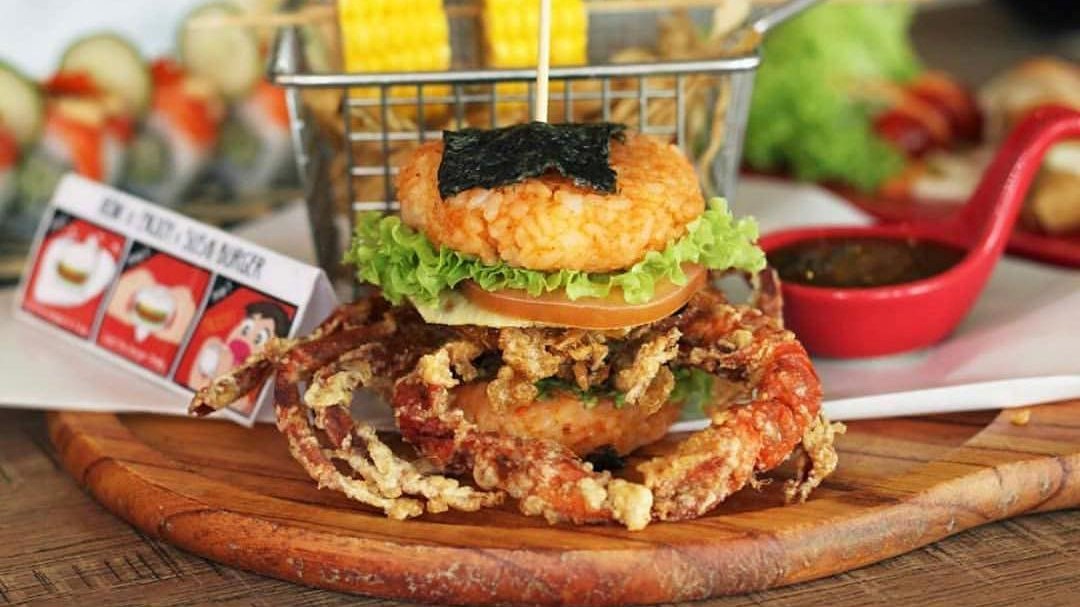 If you're an indecisive millennial like me who simply cannot decide between sushi, deep fried food, burgers, salads or economy mix rice on a daily basis, Sanoook could be the answer to your first world problems.
Located in Pavilion and Sunway Pyramid, their soft shell crab sushi burger features a soft shell crab with mango chili sauce, lettuce and tomatoes sandwiched between a pan-fried rice burger.
Unlike most restaurants, their sushi burgers are served with grilled corn on a bed of frilly fried burdock roots.
Hours: Mondays-Sundays: 10am-12am
Address: Lot 4, Ground Floor, Sunway Pyramid West, Kuala Lumpur
Website: Sanoook
Tel: 03 2110 5756
Bonus
11. Wild Honey, Pavilion KL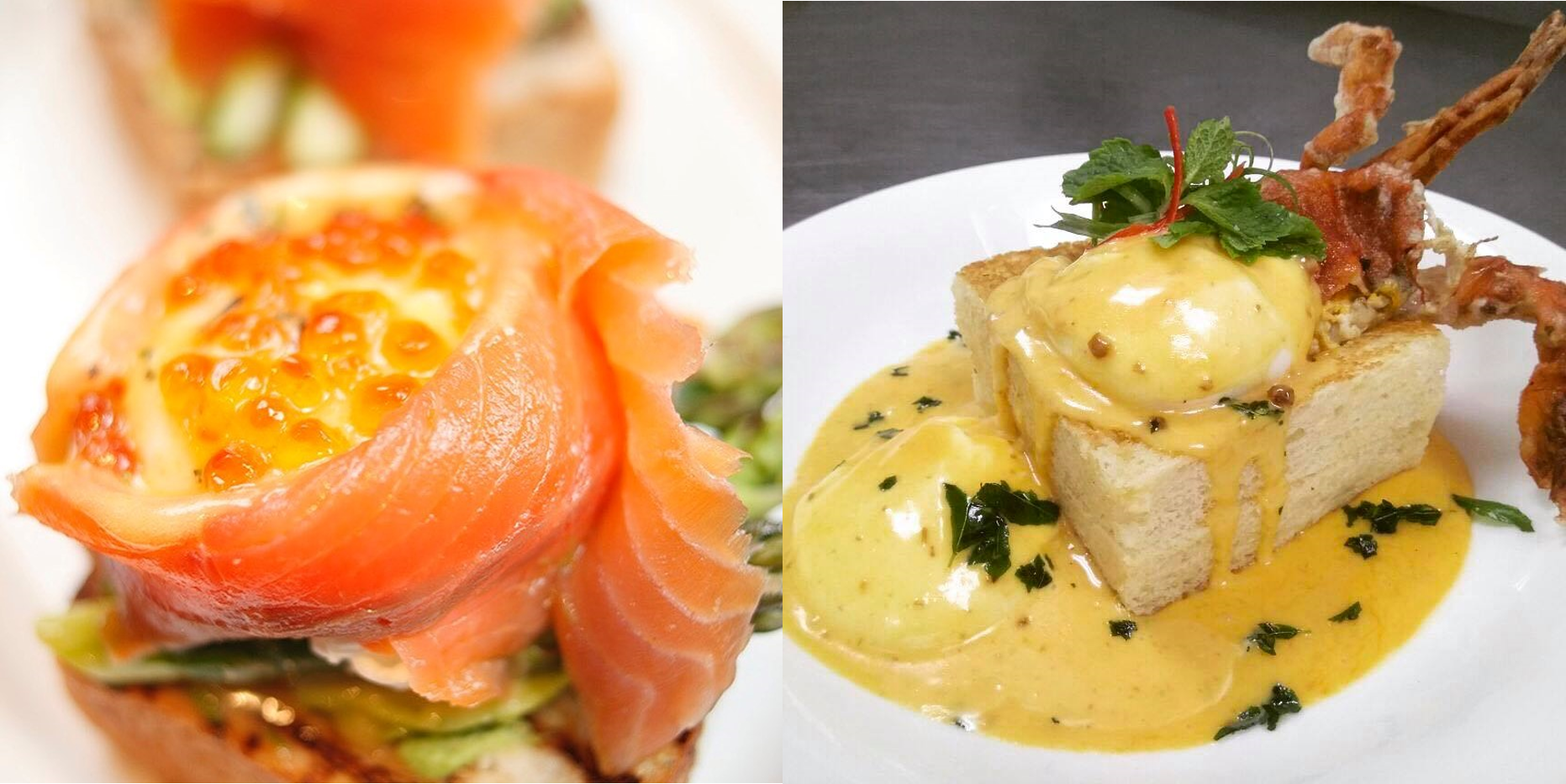 Wild Honey KL's version of a soft shell crab burger features a brioche "box".
Named the Golden Triangle, it's a soft shell crab perched on a brioche bread "box" with poached eggs, drenched in a Laksa sauce with fried curry leaves.
It truly embodies Wild Honey KL's passion for pushing the delicious boundaries of breakfast by creating a dish that's sweet, savoury, spicy, chewy, gooey, crunchy, simple and elegant!
Hours: Mondays-Sundays: 10am-10pm
Address: 06-645, Pavilion KL. 168 Jalan Bukit Bintang, Kuala Lumpur, Malaysia
Website: Wild Honey
Tel: 03 2110 1626
Feature Image Credit: Sanoook, Seabites