With all the diet fads out there, here's one to avoid: the low-"crabohydrate" (pun intended) diet. There should be no reason to not enjoy seafood unless you have a deathly allergy to it.
Here are 8 places in Klang Valley to get "pincers-deep" in some of the best soft shell crab pasta dishes!
1. Frisson Coffee Bar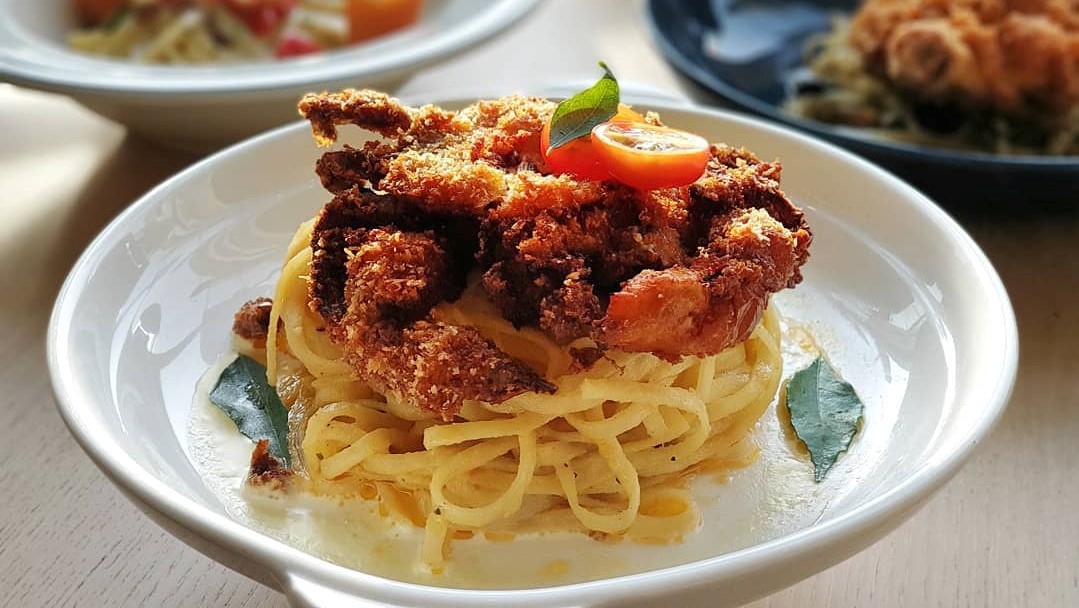 Frisson has been known to create quirky dishes which quickly become their bestsellers. Their Waffle Burger and Doughnut Burger dishes are excellent examples. While they do have delectable sweet treats like their waffles and ice cream, milkshakes and pancakes, they also have their fair share of delicious savoury treats. Their Salted Egg Soft Shell crab pasta is one of their highlights of their newly-released menu! Crispy on the outside, soft on the inside, this deep fried soft shell crab makes the perfect combination with their pasta done al dente. Check out their new menu and promotions on their Facebook page.
Price: RM29.90
Hours: Mondays, 11am-10.30pm; Wednesdays-Fridays, 11am-10.30pm; Saturdays-Sundays, 9am-10.30pm
Address: Jalan SS 21/1A, Damansara Uptown, Petaling Jaya, 47400
Website: Frisson Coffee Bar
2. Naj & Belle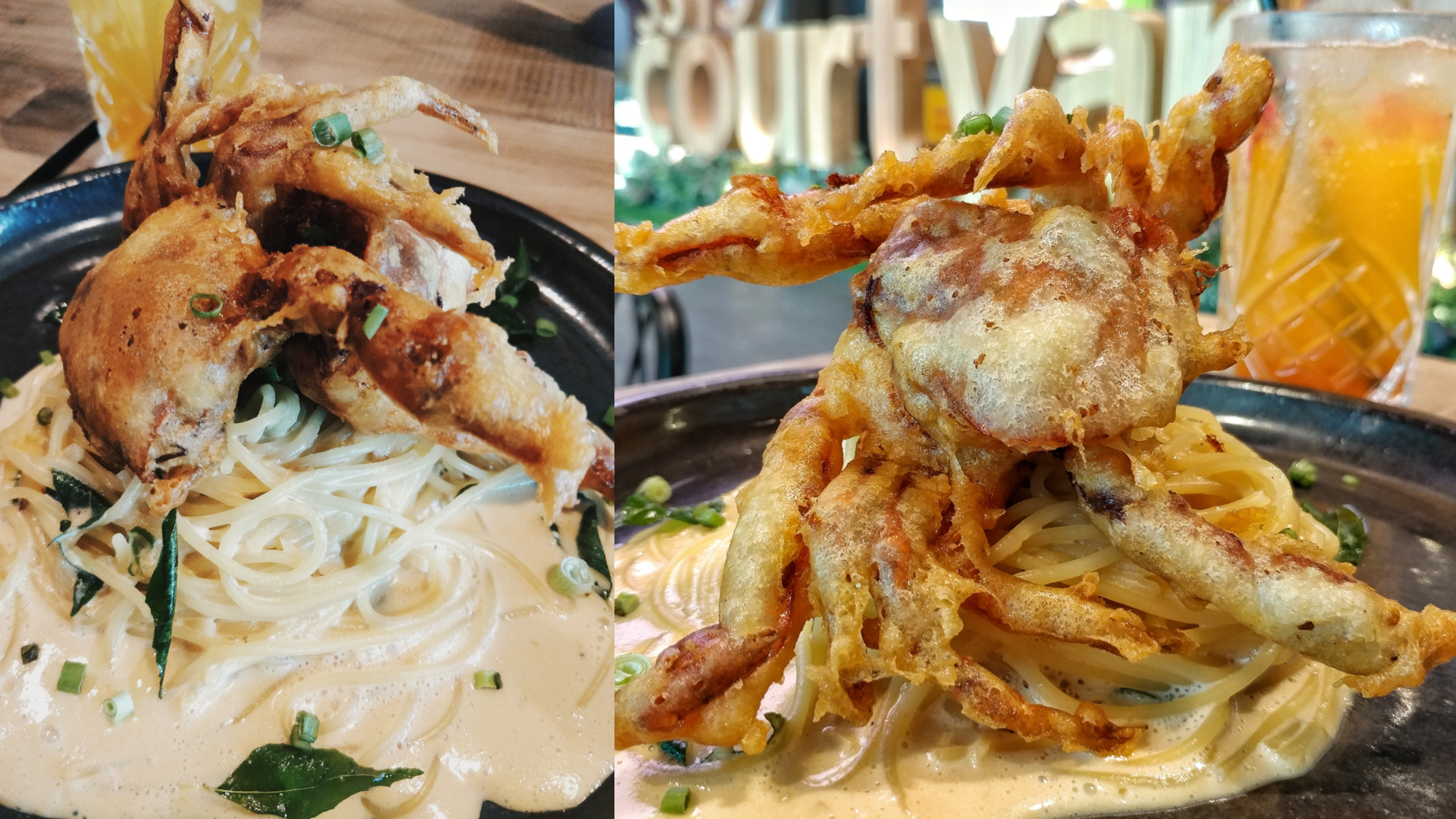 Mention Naj & Belle and we'll all think of their refreshing watermelon cake and fluffy pavlovas. But did you know that they also serve HUGE Soft Shell Crab Pastas here? Their Soft Shell Crab Linguini is an Asian-style carbonara with curry leaves and birds eye chili. The milky goodness and fiery spices are balanced out like all good things in life. Fancy something more local? Opt for their Nasi Daun Pisang that consists of grilled banana leaf turmeric rice with barramundi fish sambal, grilled stuffed squid, crispy soft shell crab and acar.
Price: RM29
Hours: Mondays-Fridays, 9.30am-10pm; Saturdays-Sundays, 9am-10pm
Address: SS15 Courtyard (located beside Harajucube)
Website: Naj & Belle
3. Ben's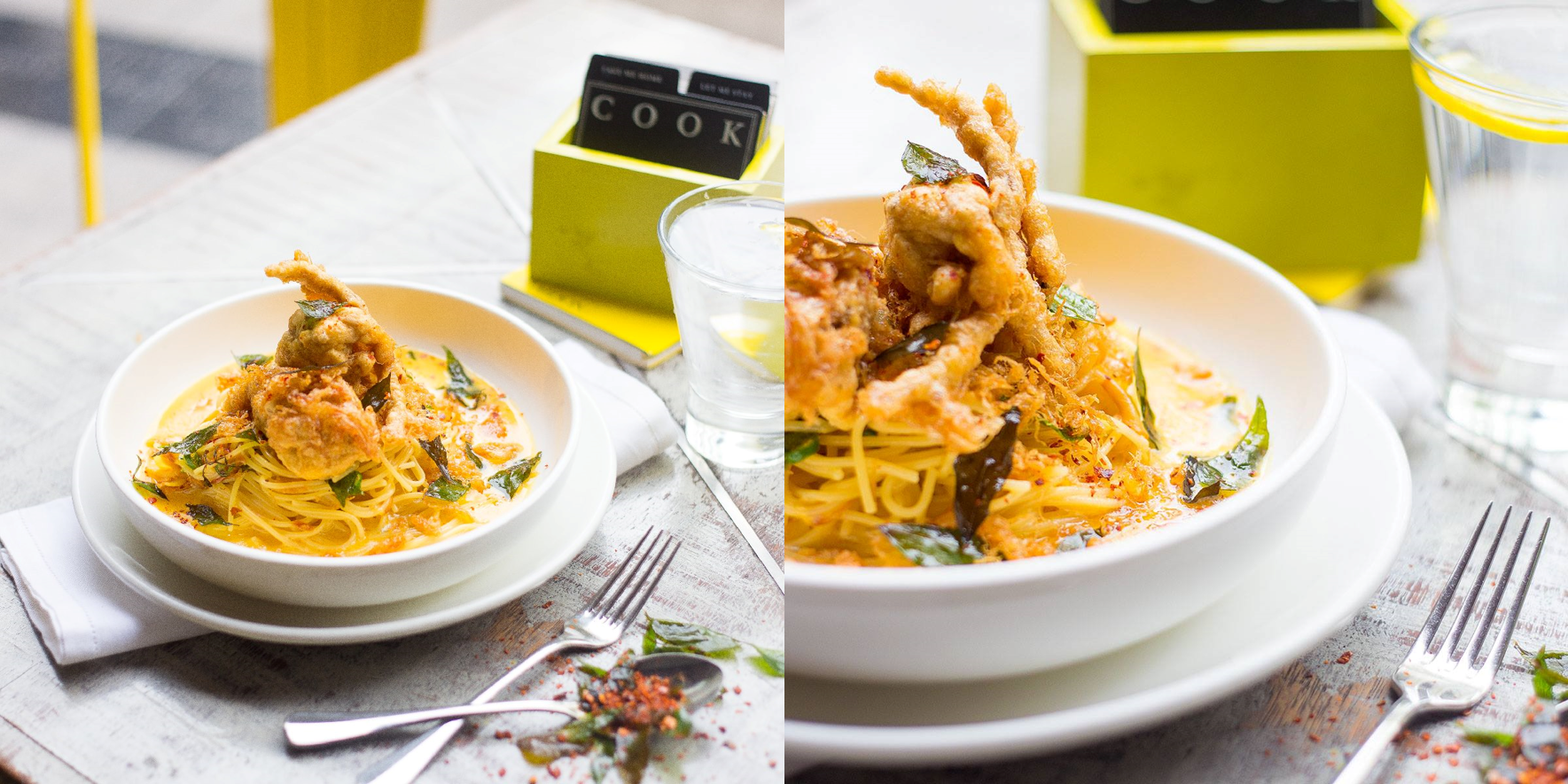 We cannot express how much of a fan we are of Ben's food menus! In addition to their awesome Buttermilk Chicken, they also have have a Golden Soft Shell Crab Spaghettini. It features a deep fried soft shell crab perched on a delicious mountain of pasta surrounded by a rich gravy of curry leaves, chili padi, creamy parmesan with evaporated milk sauce. In addition to that, Ben's KLCC is also now open from 8am onwards with a brand new morning menu from RM35++. Talk about being the perfect morning pick me up and #lunchsituation!
Price: RM29
Hours: 11am-11pm, daily
Address: 6.11.00 & E6.11.00, 6th Floor, Pavilion KL Shopping Mall, 168 Jln Bukit Bintang, Kuala Lumpur, Malaysia
Website: Ben's
4. Blackbird KL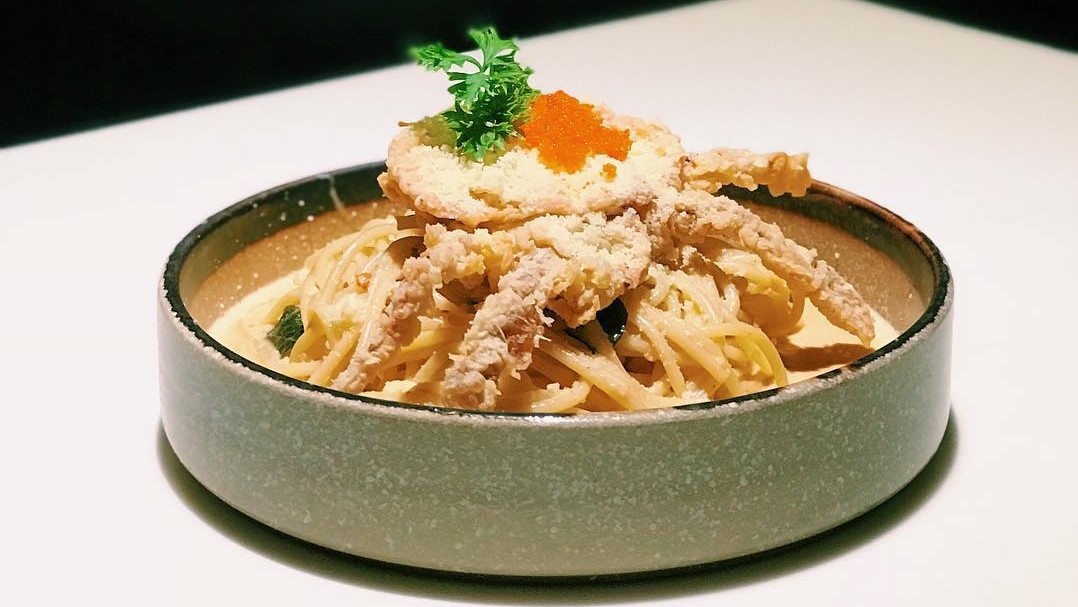 Now this is a place to have fun at, especially for the ladies. Upon googling up Blackbird KL, we noticed that their Soft Shell Crab Pasta was highly recommended by patrons. Citing its milky delicious gravy and perfectly fried crab, it seems to have won a few hearts. Plus, on Thursdays ladies will be treated to free fancy garnished cocktails too! What say you make a date with your girlfriends for a crabby but not crappy dinner date at Blackbird KL? Then, finish the night with some delicious cocktails.
Price: RM32
Hours: 6pm-1am, daily
Address: Level 23A, Tower B, The Troika (Jalan Binjai), 50450 Kuala Lumpur City Center, Kuala Lumpur
Website: Blackbird KL
5. Chequers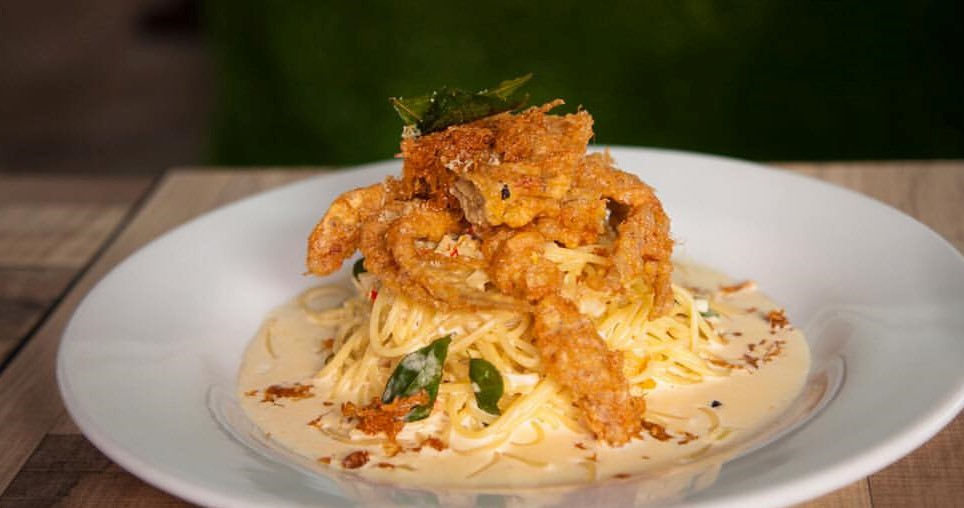 The crispy golden deep fried Salted Egg Soft Shell Crab Pasta by Chequers is sure to win the hearts of Salted Egg lovers! Located in Taman Tun Dr Ismail, Chequers is all about savoury waffles and comfort food! With premium local and Halal ingredients, they serve handmade waffles and American meals in a fun and whimsical atmosphere. We like how huge Chequers' soft shell crab is, in comparison to the pasta. Now that's definitely a good ratio of pasta to soft shell crab, because we all know how it totally sucks to only be served soft shell crab bits the size of your finger, alongside a mountain of pasta.
Price: RM32
Hours: Thursdays-Tuesdays: 8am-11pm (Closed on Wednesdays)
Address: 153 Jalan Aminuddin Baki, Taman Tun Dr Ismail, Kuala Lumpur 60000, Malaysia
Website: Chequers
6. Be Sixth Comfort Food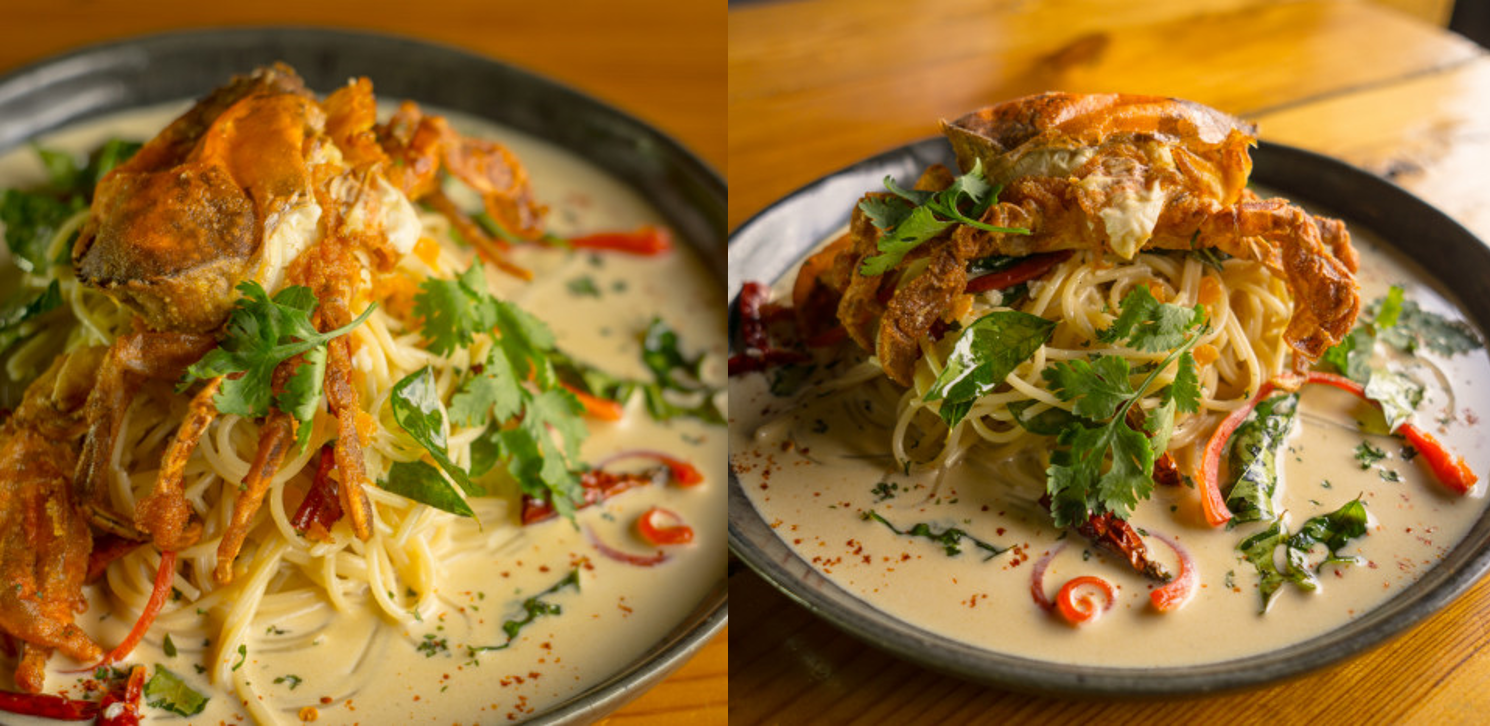 Situated in Melawati Mall, Be Sixth Comfort Food stays true to their name by providing, well.. comfort food! Featured here is their Salted Egg Soft Shell Crab Creamy Pasta garnished with Coriander to add a hint of fresh herbs to the milkiness. In addition to that, they also have a Dukkah Crusted Chicken dish, which is a tender chicken breast marinated in dukkah spices, a side of sauteed potatoes and pumpkin as well as mashed green peas. If you'd like something more familiar, they also have a wide array of burgers and sandwiches.
Price: RM30
Hours: 10am-10pm, daily
Address: Level 6-01, Melawati Mall, Taman Melawati, Jalan Sabah, Kuala Lumpur, Ampang, 53100
Tel: 03-4162 0353
7. Basil Pasta House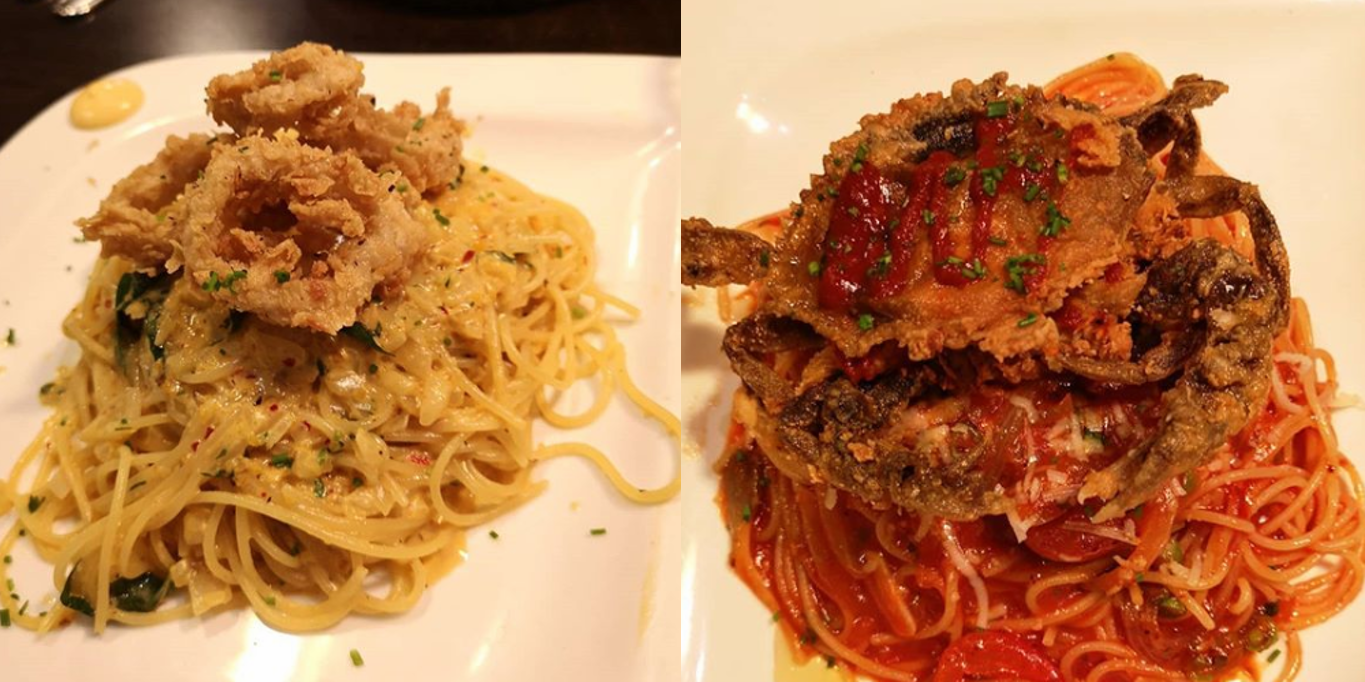 Taking a breather from the train of milky fried crab pastas is Basil Pasta House with their Spaghetti Arrabbiata Style Crispy Soft Shell Crab. Aptly named the "angry pasta", it consists of dried chili, assorted field mushrooms, seasonal vegetable cherry tomatoes, parmesan cheese, tomato concasse and lemon oil beneath the coveted crispy soft shell crab. For those who cannot handle their spice, they also have an equally as delicious Spaghetti & Crispy Squid Chinese Golden "Mac & Cheese" ironically served on a bed of pasta.
Price: RM30.90
Hours: Mondays-Saturdays, 12pm-3pm, 4pm-10pm; Sundays, 12pm-10pm (Closed on Tuesdays)
Address: 21, Jalan Kuchai Maju 6, Kuchai Entrepreneurs Park, 58200 Kuala Lumpur, Wilayah Persekutuan Kuala Lumpur
Website: Basil Pasta House
8. Trust Issue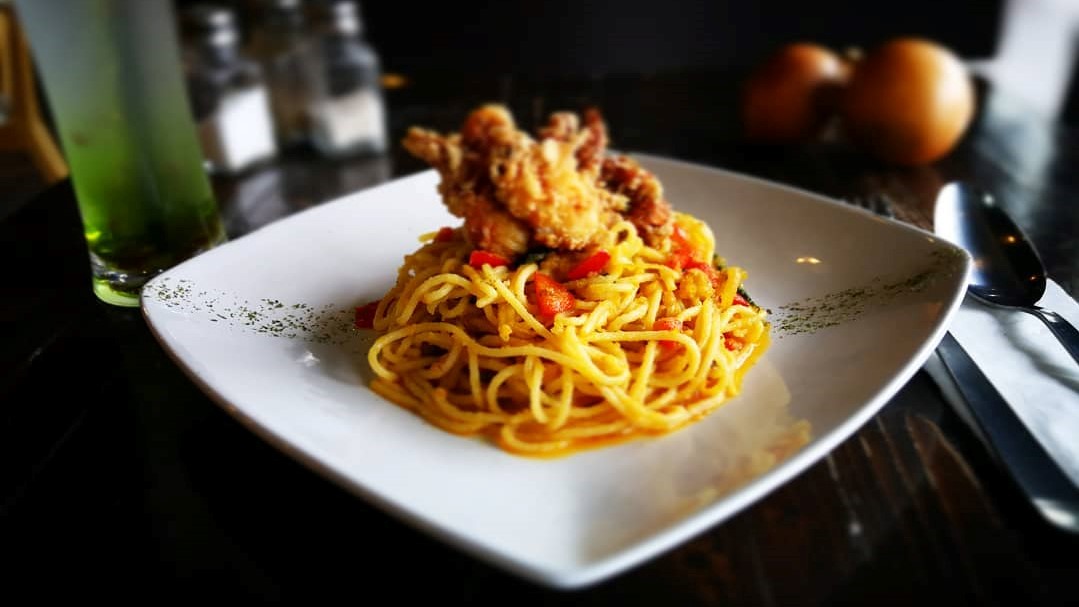 Trust no one but trust us on this one. Trust Issue has definitely earned the trust of their regular patrons with their ever famous mango cheesecake. But they're not just all about the sweets. Here we have their deep fried soft shell crab gracefully enthroned on a mount of salted egg pasta. They also have a very unique Stingray Pasta which is seasonal (be sure to check their Facebook page to be in the know). Wash down your milky meal with their interesting mocktails and finish it off with delightful desserts such as their pancakes, sizzling brownies or pavlovas!
Price: RM27
Hours: Mondays-Thursdays, 12pm-2am; Fridays, 4pm-1am; Saturdays to Sundays, 12pm-1am
Address: No. 102, Jalan Dwitasik, Dataran Dwitasik,, Bandar Sri Permaisuri, Cheras Kuala Lumpur, Malaysia
Website: Trust Issue
Feature Image Credit: Makan Share and Chequers