Ever since I was a little girl, plane rides were something I genuinely looked forward to.
Perhaps it's the excitement of traveling, but the novelty gradually wore off as I grew older and the sweet memories were subsequently replaced with rude flight attendants and mediocre meals.
That was, until our company's first anniversary which we celebrated aboard Plane In The City.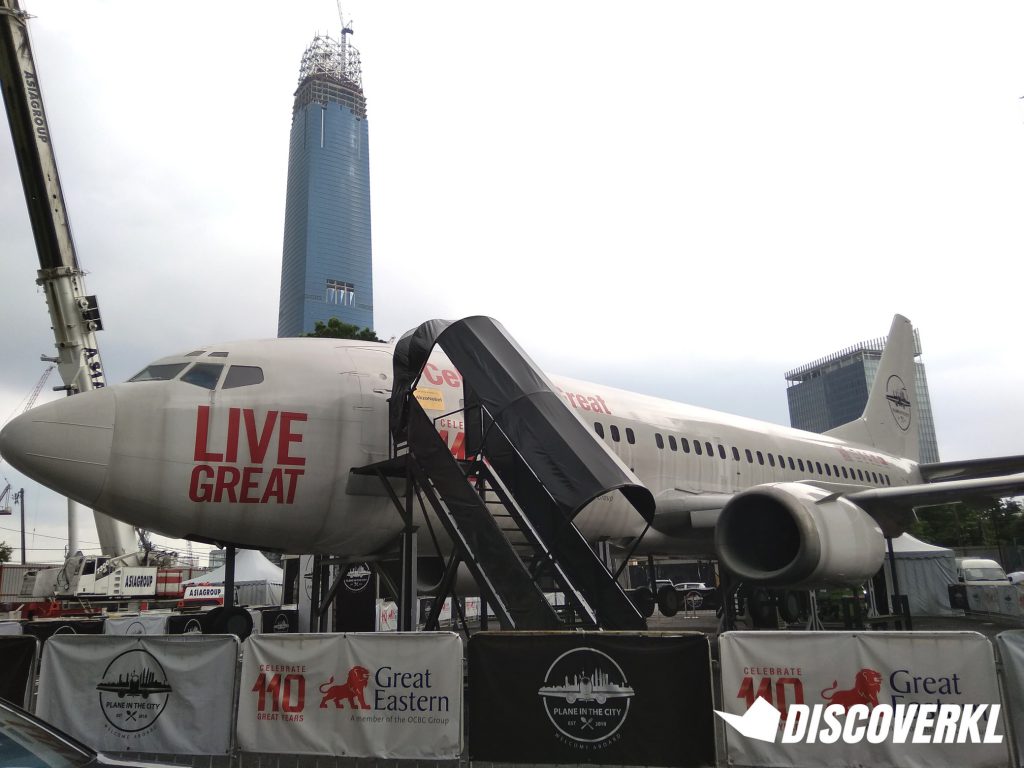 Plane In The City is the first aircraft dining experience in KL and it's organised by the same team behind the famed Dinner In The Sky experience.
Priced at RM199 per pax for a 90-minute economy class journey, guests get to enjoy a multi-course fine dining experience, walk on the plane's wings and play captain in the cockpit of the Boeing 737.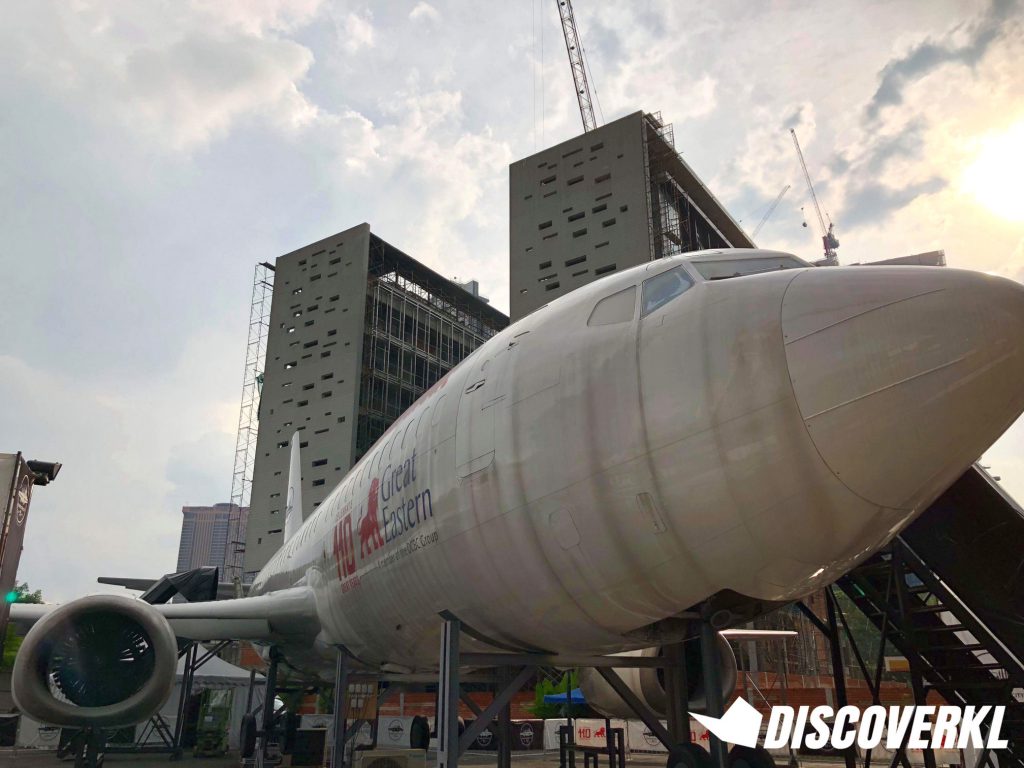 Plane In The City is hard to miss because even from a distance, you would be able to spot the ginormous plane which frankly looks pretty majestic when up close.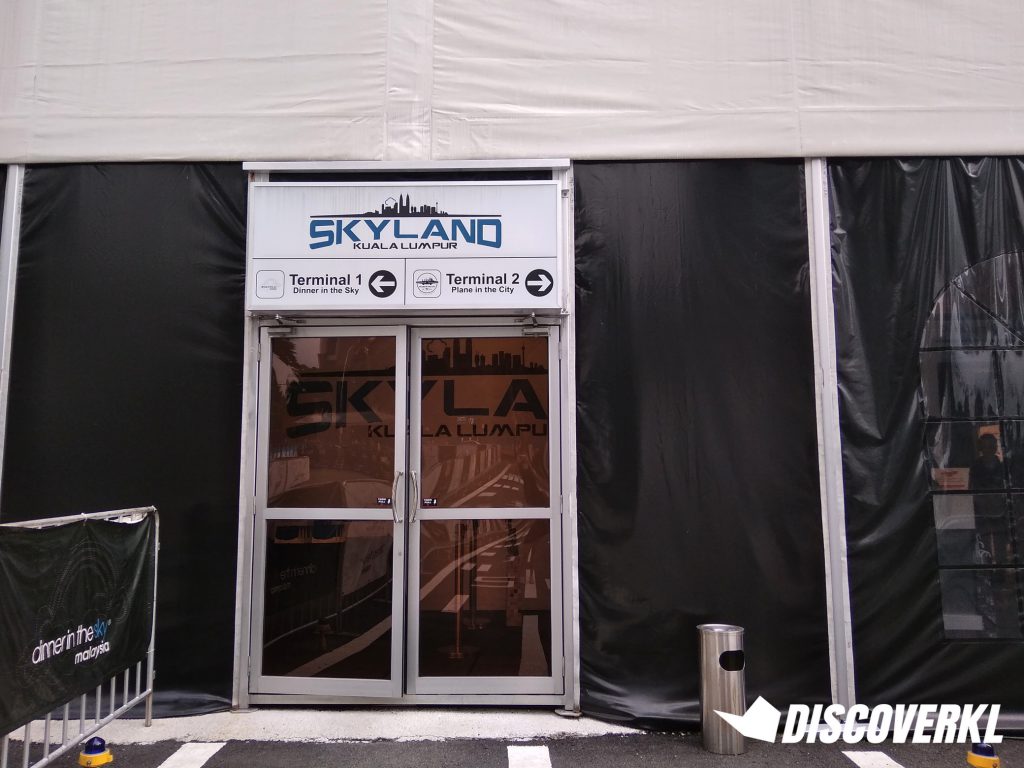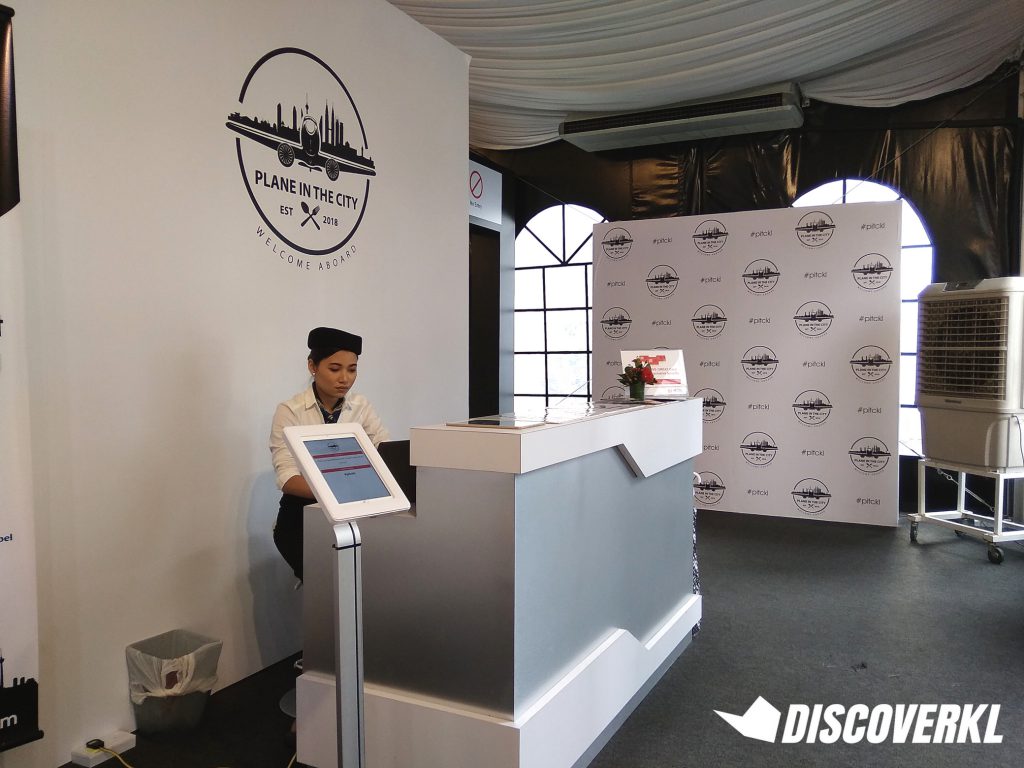 Upon entering, we checked in through a touchscreen portal and snapped some shots at the Plane In The City backdrop with some plane-inspired props.
We can later browse through these pictures at the touchscreen device by our plane seat and have the option to purchase them as a souvenir (each picture is priced at RM49).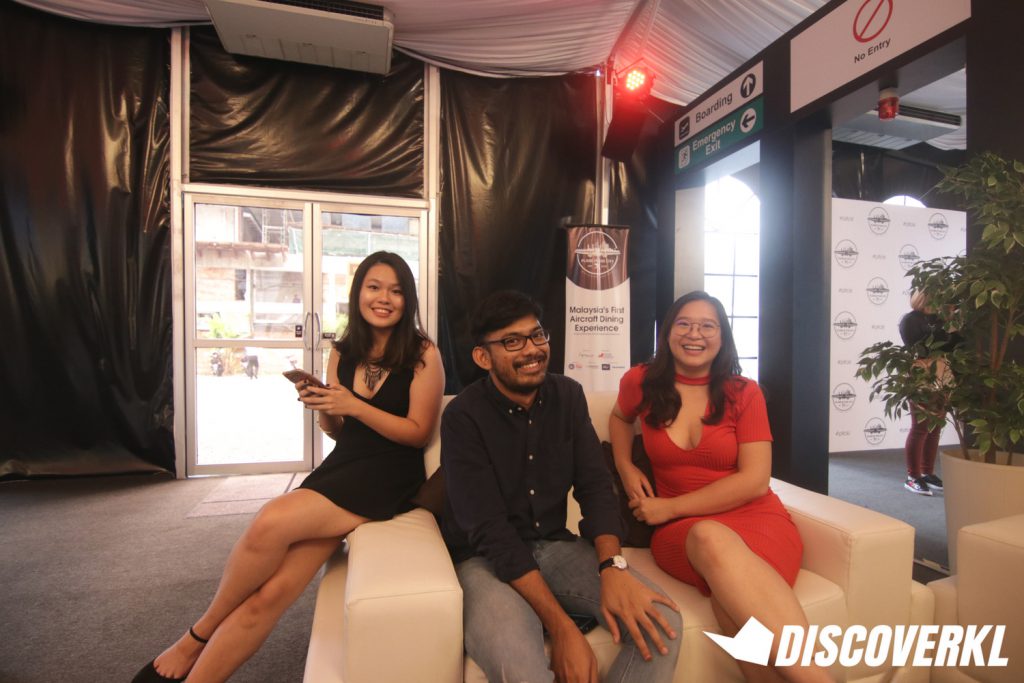 As we arrived at Plane In The City a little earlier, we killed time by chilling at the Skyland Lounge and enjoyed some complimentary drinks courtesy of Plane In The City (complimentary drinks are typically reserved for business class guests).
It was fortunately a short wait as we boarded on time—15 minutes before our 6pm session commenced.
Note: If you need to use the restroom, do so prior to boarding as there are none on the plane. However, you are allowed to disembark during the flight in the case of an emergency.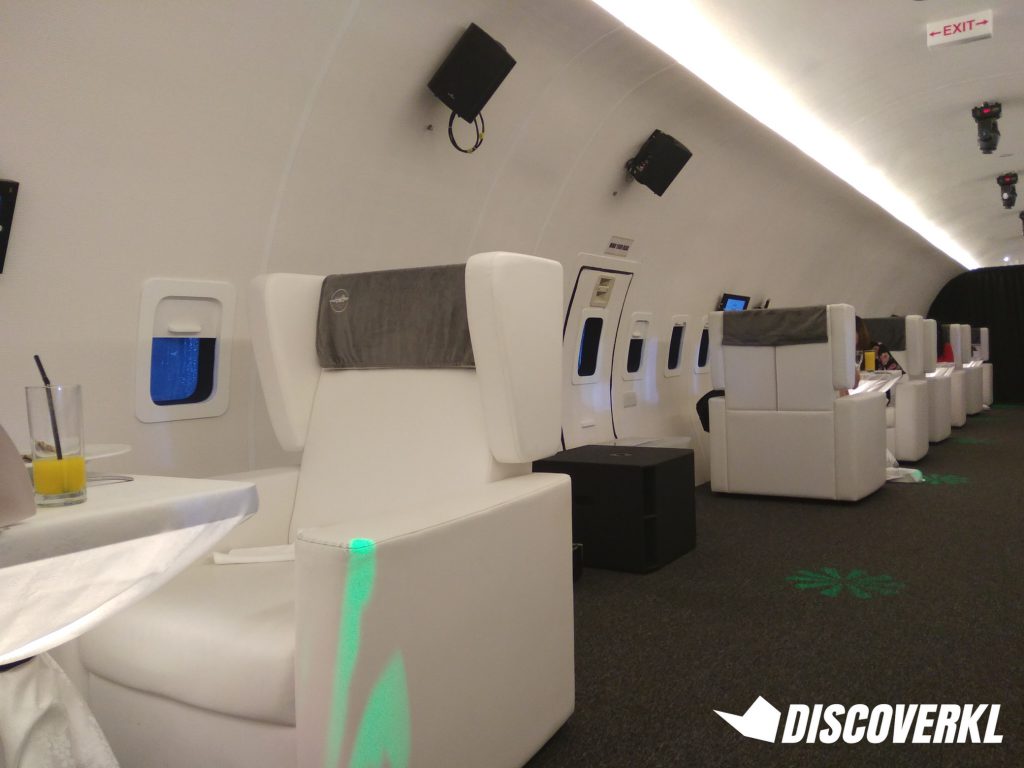 Like any aircraft, seatings are pre-arranged but the only difference is how there are only window seats on this flight and guests are seated facing one another.
This would make it ideal for a couple's date night or a besties' outing.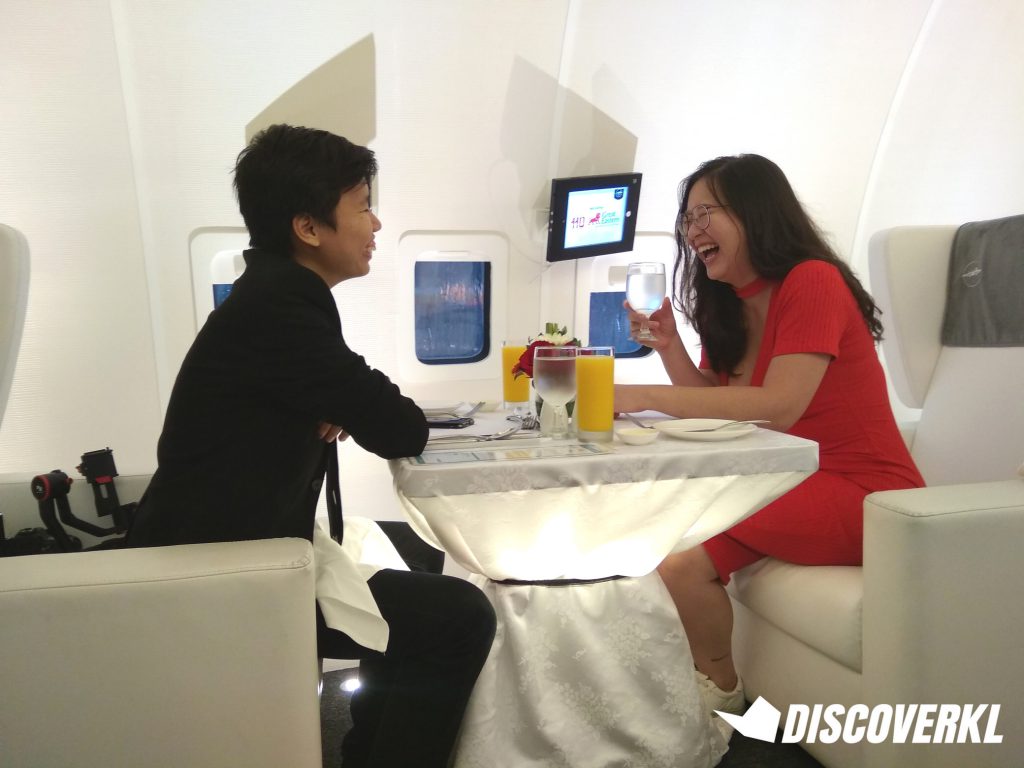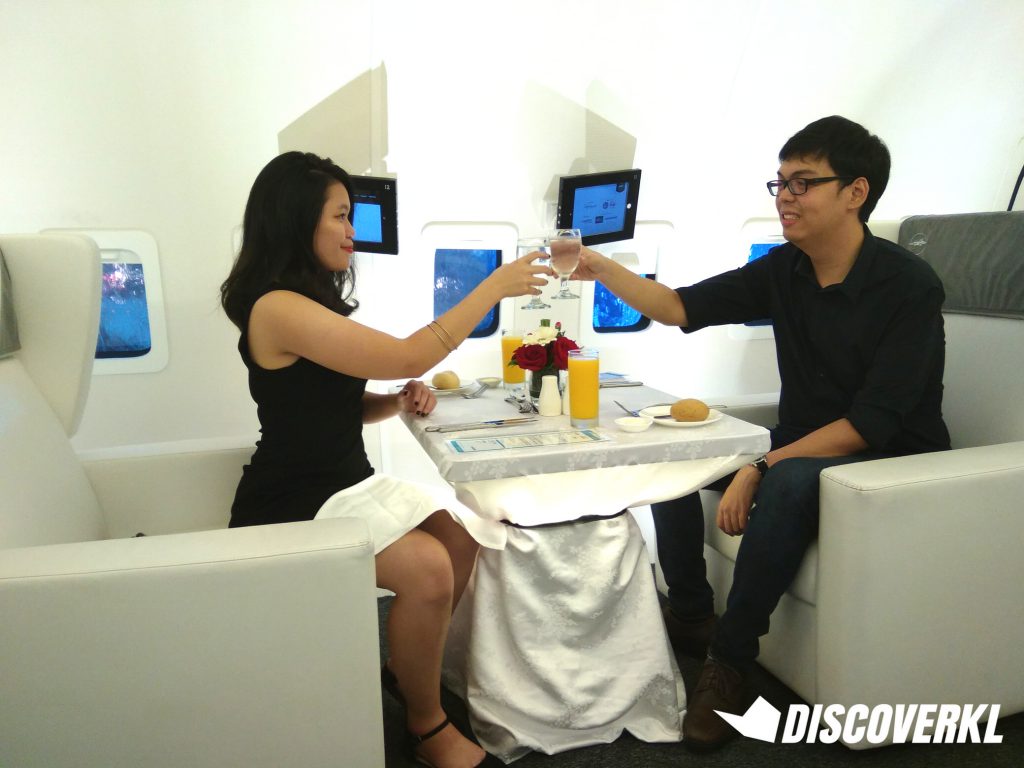 Whilst awaiting your meal, opt to pay the plane cockpit a visit or experience wing walking for the first time—or both.
As it happened to rain heavily during our visit, we could not head out to the wing of the plane and was compensated with a ticket that allowed us to try it out at another time.
The wing walk experience would allow guests to walk along the wing of the plane whilst being strapped in with a harness. It would be a cool experience, even for those with a fear of heights.
As wing walking was out of the question even as the rain died down, (the crew members were concerned that the plane surface would be too slippery and hence, not safe for walking on) we chose to head to the cockpit instead.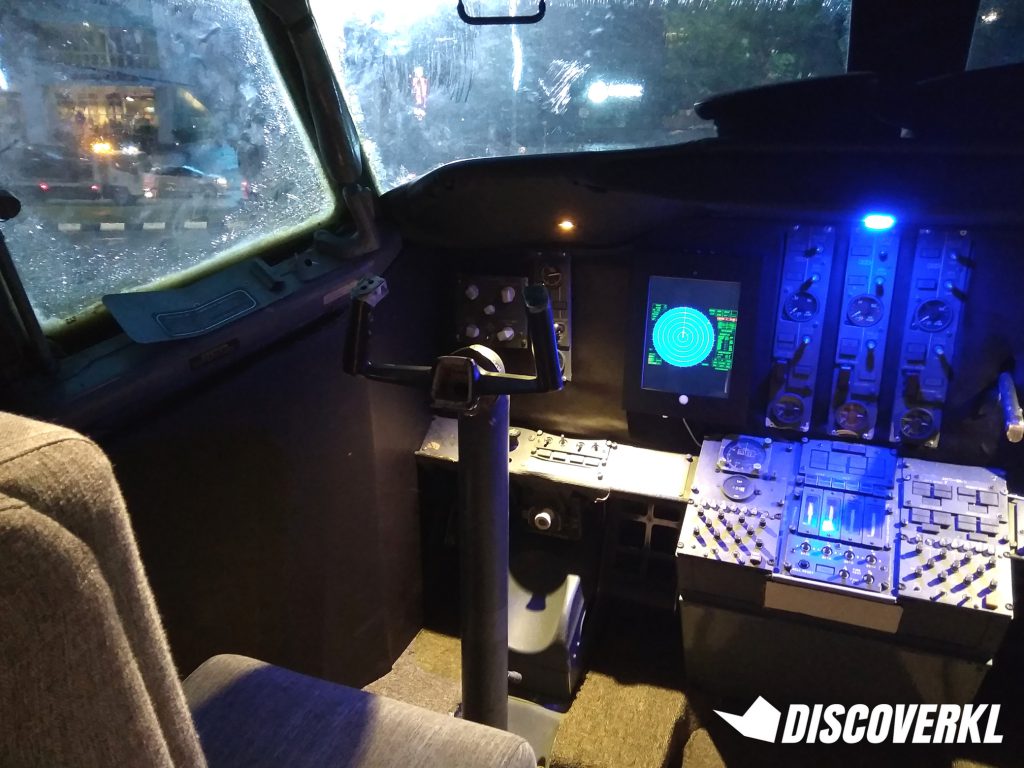 It's cool how the Boeing 737 control system remained mostly intact—but don't get any ideas in your head to steer the plane towards Switzerland though. 😛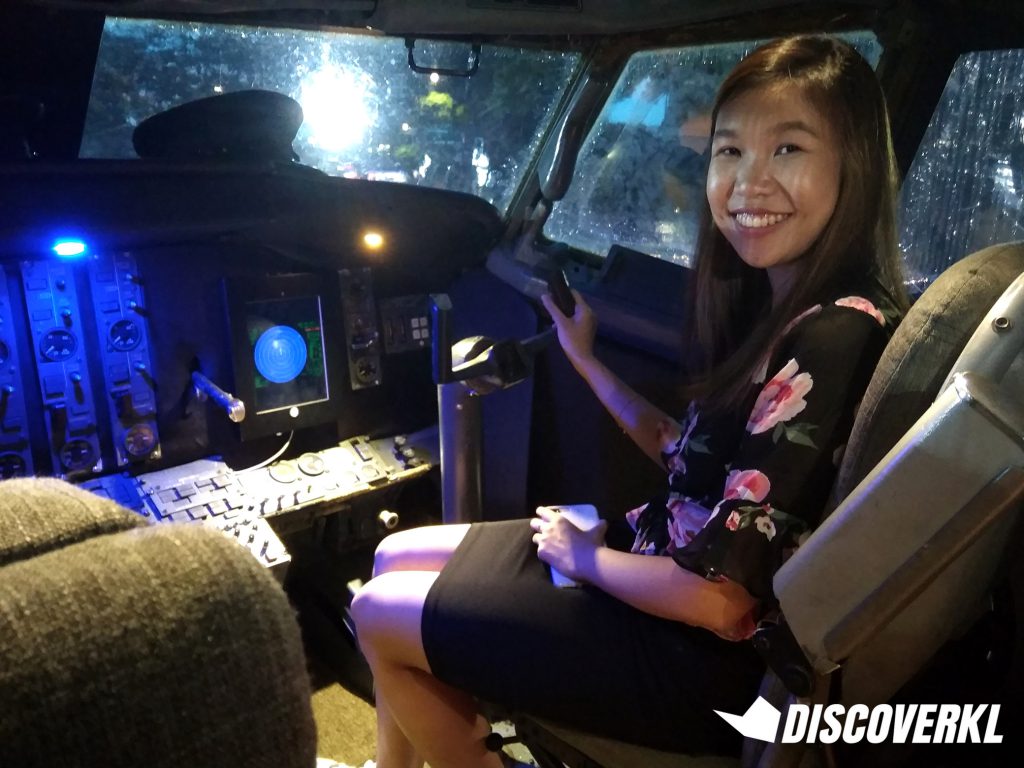 Pilot caps are available as props so feel free to snap as many shots as possible of yourself playing captain.
The cabin crew's playful in-flight announcement was our cue to head back to our seats. We were even urged to "unbuckle our seat belts to make way for the food to come".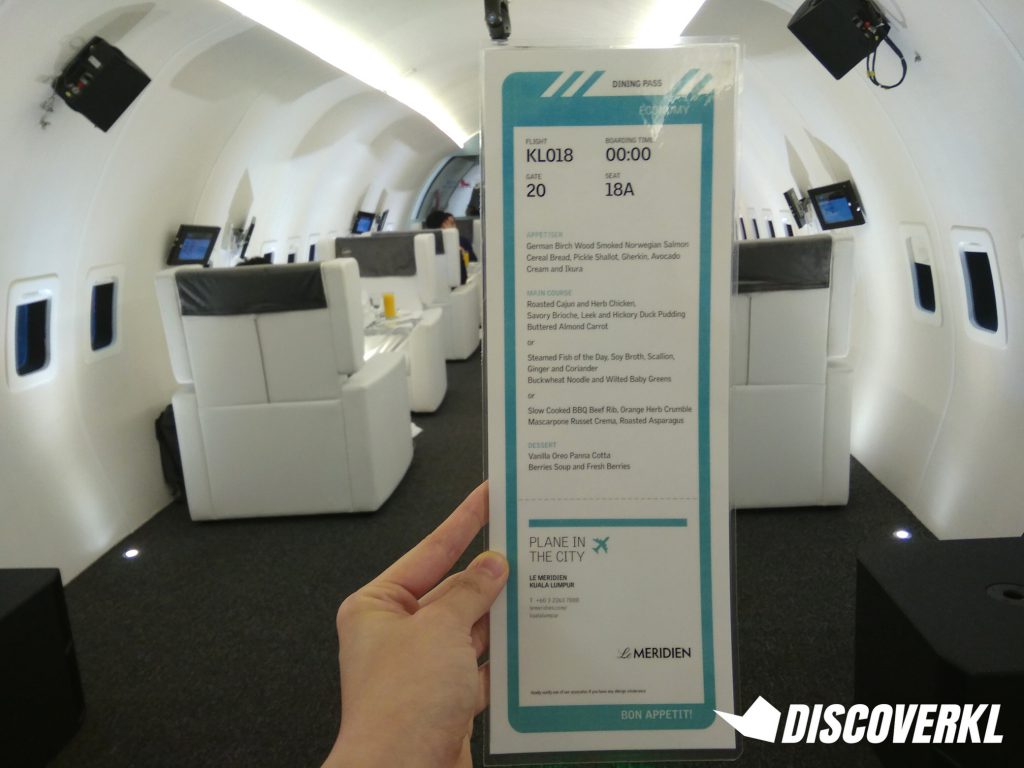 Meals were exclusively prepared by Le Meridien Kuala Lumpur and it's a 3-course degustation.
Guests will be served a choice of white or wholemeal buns which are surprisingly fluffy and not the rock hard dinner rolls you would expect. We also enjoyed a free flow of water and juice throughout the meal.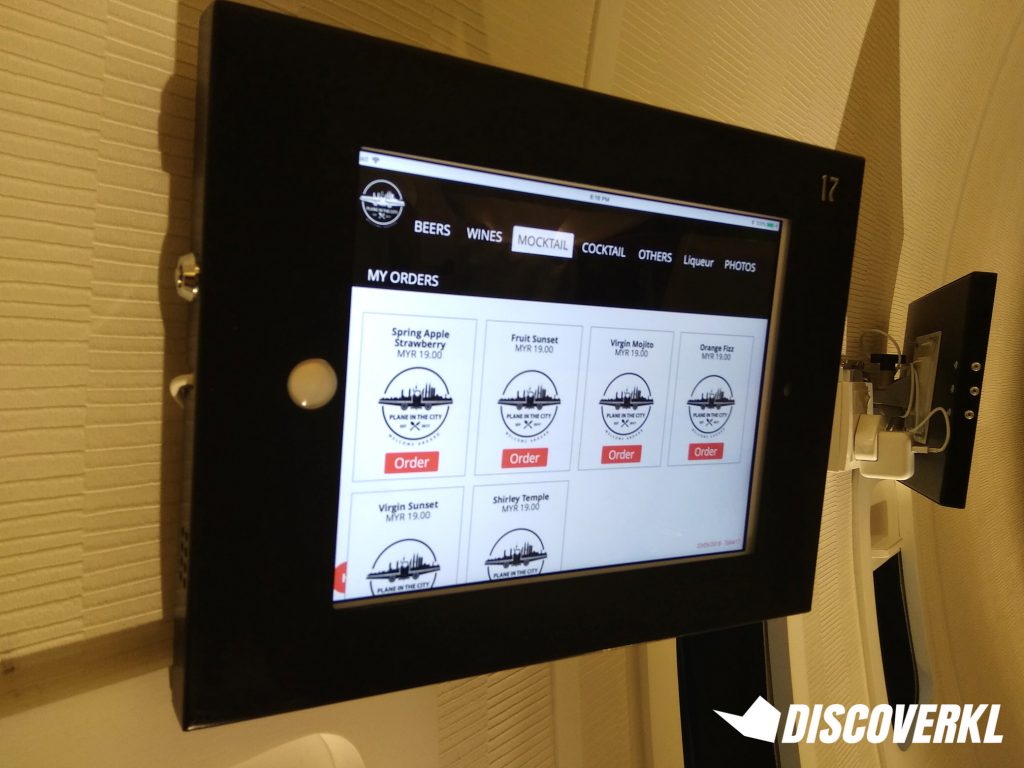 If you're hankering for some bubbly, you may also opt to purchase your own drinks from the in-flight menu (payment is made on the spot and it's cash only).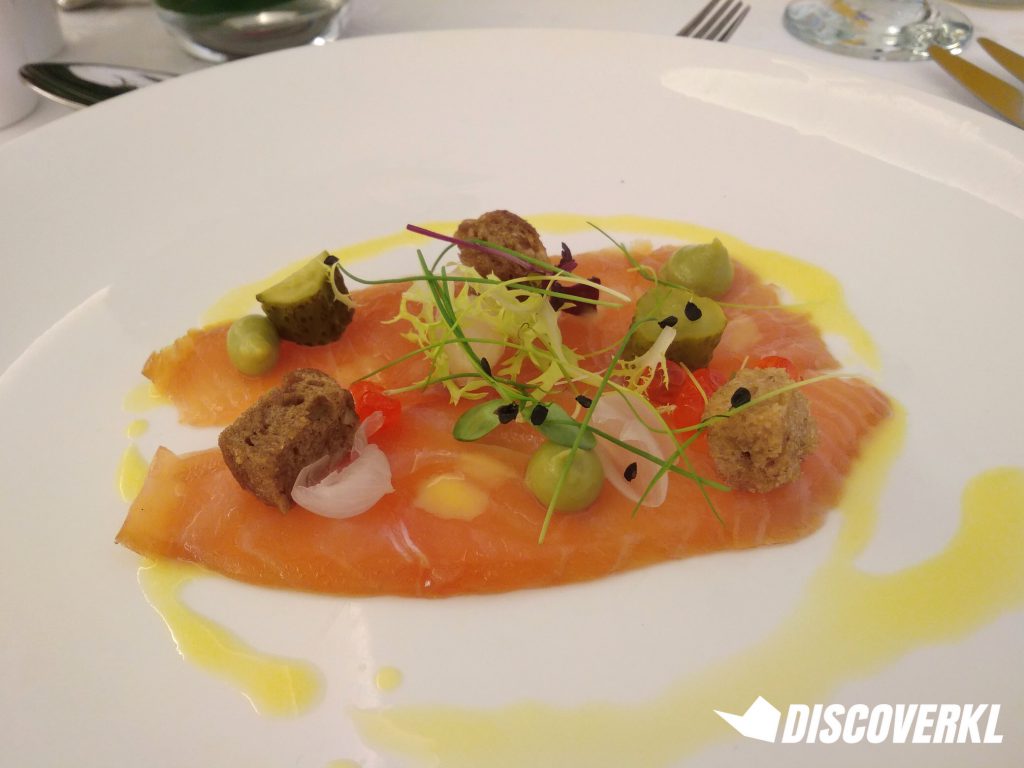 Appetiser's a German Birch Wood Smoked Norwegian Salmon Cereal Bread, Pickle Shallot, Gherkin, Avocado Cream and Ikura.
The lean cut of smoked salmon was just the right serving size and we enjoyed how the gherkin was a sour element that cut through the richness of the avocado cream.
The main course is a choice between:
Roasted Cajun and Herb Chicken, Savoury Brioche, Leek and Hickory Duck Pudding, Buttered Almond Carrot
Steamed Fish Of The Day, Soy Broth, Scallion, Ginger and Coriander with Buckwheat Noodles and Wilted Baby Greens
Slow Cooked BBQ Beef Ribs, Orange Herb Crumble, Mascarpone Russet Crema and Roasted Asparagus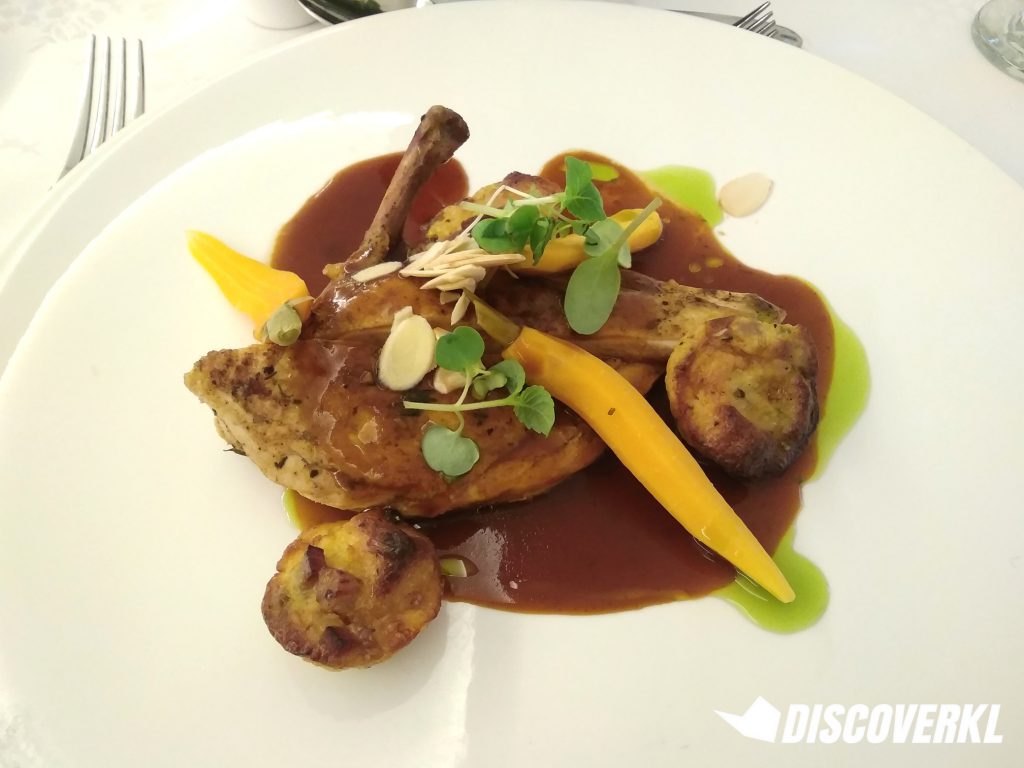 The chicken meat is soft and melts in the mouth and whilst this was a winner, so was the bite-sized savoury brioche it came with—we wished there were more of these!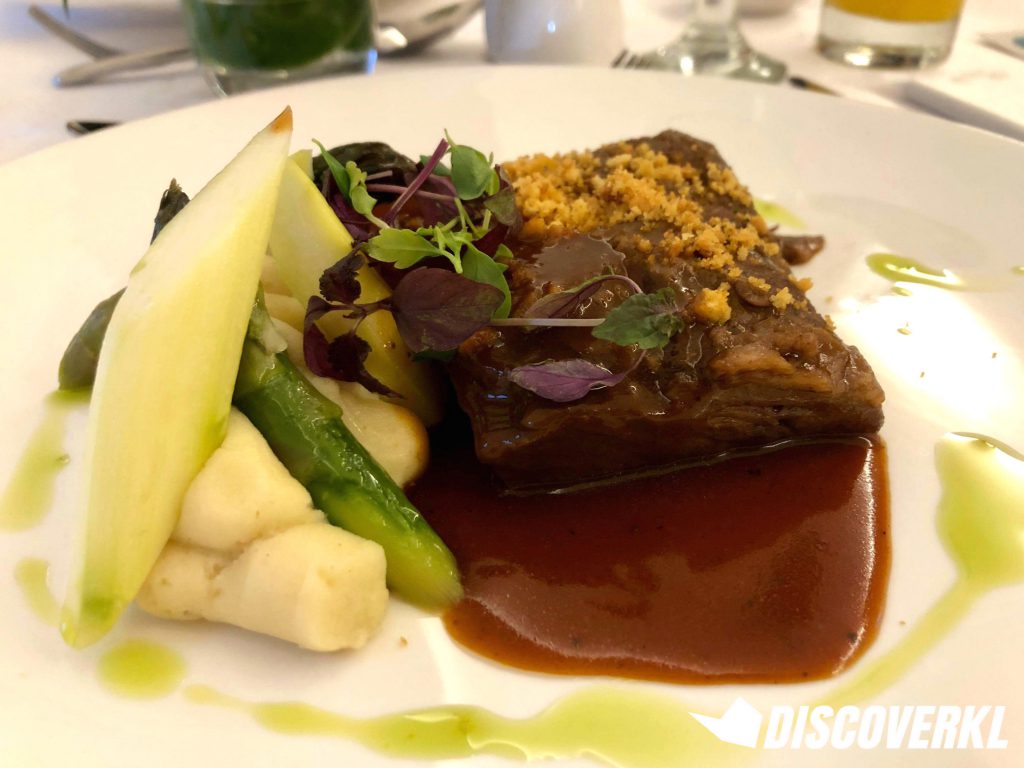 The beef is flavourful and tender and you can tell that quality protein is used in this dish. The mashed potato with mascarpone on the other hand, is soft and creamy. In fact, our Managing Director who was on a keto meal plan even skipped a day of dieting to enjoy this. Yup, that's how good this is.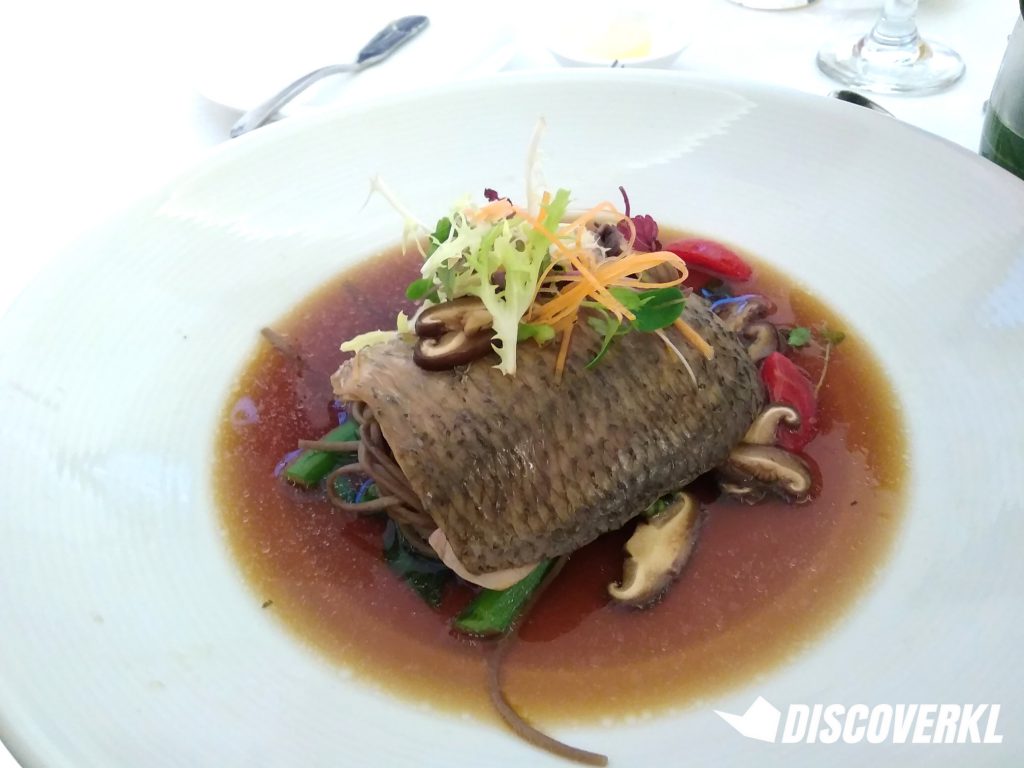 The fish is soft but we found the gravy too savoury, hence overpowering the flavour of the fish. What we did enjoy though is the decent portion size and how it was accompanied by plenty of green vegetables. The dish reminded us of classic Chinese comfort food so if you enjoy Asian meals, this one's for you.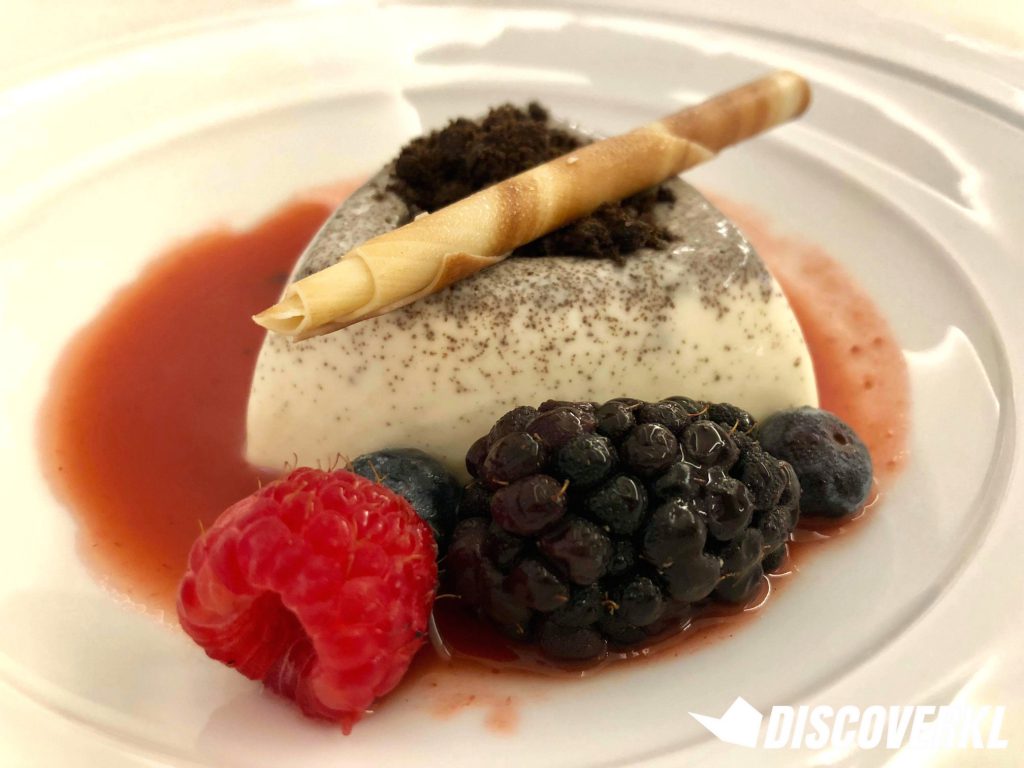 For dessert, we had the Vanilla Oreo Panna Cotta which made for the perfect end to a sumptuous meal. It was smart of the Le Meridien KL team to add fresh berries to the decadent dessert as its sweet-sour taste cuts through the richness of the panna cotta nicely.
Some of our team members who were observing the fasting period for Ramadhan had their meals served at roughly 20 minutes past 7pm and dates were offered to start them off. It was nice that although the cabin crew were anticipating another flight session at 8pm, they allowed our team members sufficient time to enjoy their meal before disembarking from the flight.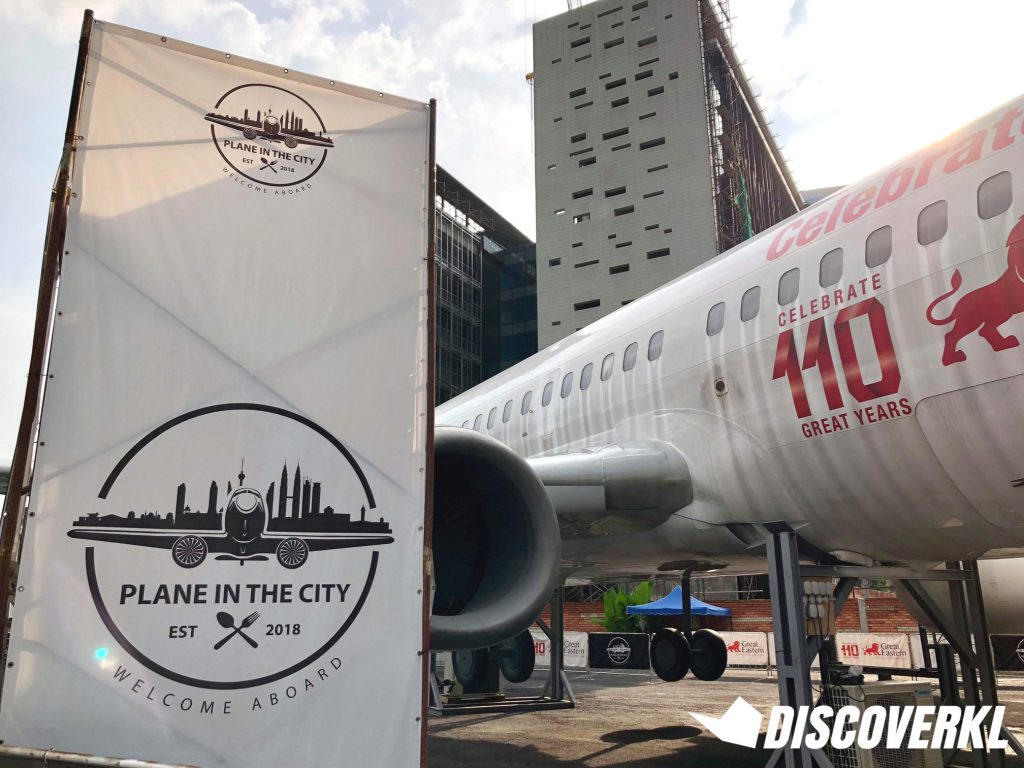 When the time finally came for us to land, it was bittersweet.
We wished we had a little more time on the plane as the length of the session was just nice, considering how we did not try the wing walk experience during our visit.
Other than that, it was definitely a dining experience for the books. And considering how RM199 is a typical price tag for a fine dining experience in KL, what Plane In The City offers is well worth the price.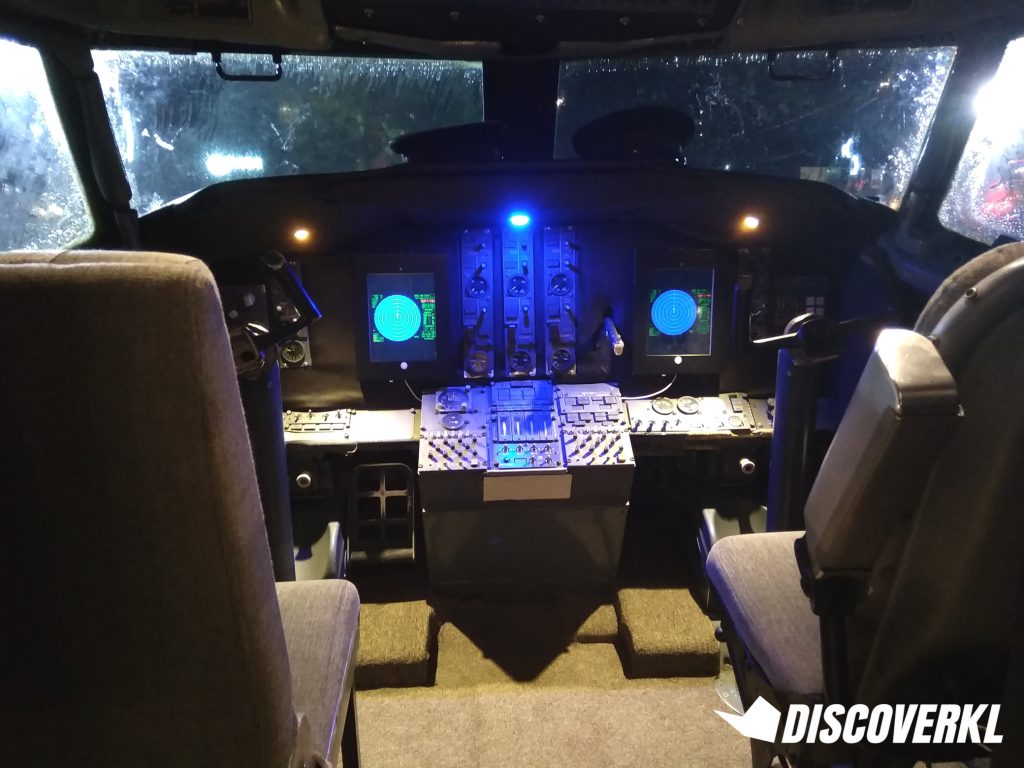 I'd say that the wing walk experience coupled with a visit to the cockpit makes this a new and refreshing fine dining experience that KL-ites should definitely consider.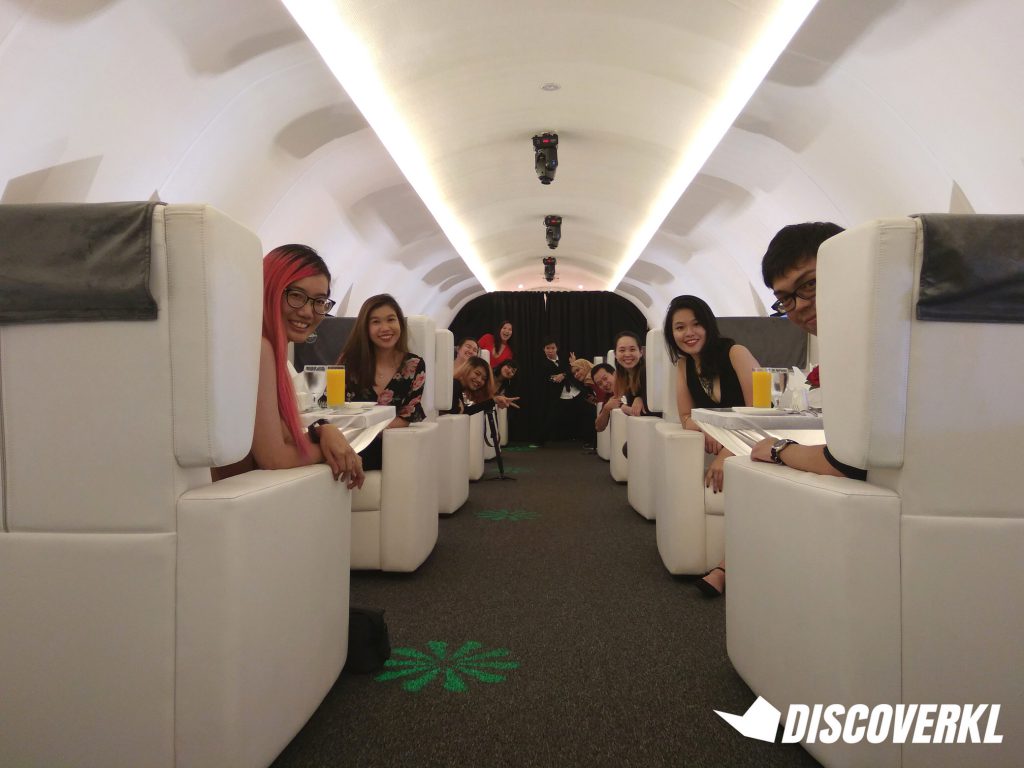 So until next time, it's been a good flight, Plane In The City!

Plane In The City
Hours: 6pm and 8pm, Mondays-Fridays, (up to 4 sessions on weekends)
Address: Imbi, 55100 Kuala Lumpur, Federal Territory of Kuala Lumpur
Website: Plane In The City
Tel: 03-2282 6413