A few days before Christmas, Breakout invited us to put our wits and brawn to the test at their newest escape room outlet, Spy Game.
Located at The Curve, Spy Game is quite unlike their usual escape room games. Known for their immersive storylines, Breakout has gone a step further with their latest experience by additionally incorporating spy-like elements.
Think James Bond, but without the guns. Or Assassins Creed, without the actual assassinations.
Players must complete mission objectives while dodging guards patrolling the play area by hiding, sneaking around, or using the tools provided to them to distract them.
Of course, it won't be an escape room without solving puzzles, but there are generally fewer puzzles than their other outlets because there are also some physical challenges involved.
On top of that, this is the first time we've played an escape room that allows us to bring our phones and earbuds as part of the gameplay. Our phones act as a spy app to interact with our Spy Agent, Agent K who will be giving us helpful instructions throughout our escape.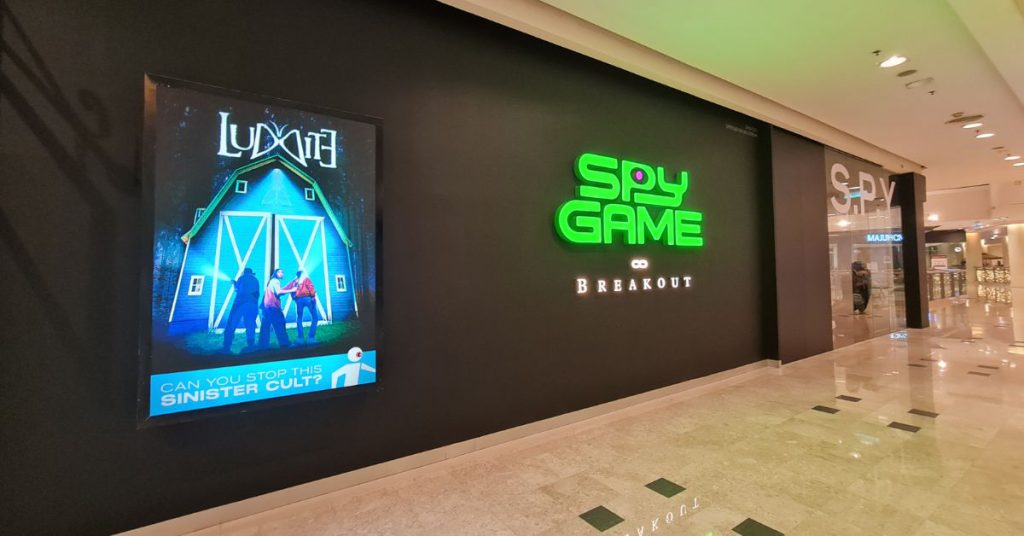 One thing to note about Spy Game is that all the rooms (aka missions) involved are a part of the same storyline. Currently, there are two rooms available, and there are three more rooms to come which will all be part of the chronological order of this story.
We were told that a mission could host a maximum of up to six pax, and since there were nine of us that day, we had to split our teams into a group of four and five.
The first team, which had four members, went for the first mission (Purify). The second team was assigned mission two (Rescue).
Hint: Mission two (Rescue) has a little wall climbing involved so do dress appropriately and be physically prepared.
Mission two requires a hostage (a prisoner that is separated from the rest of the team at the start). I volunteered was nominated by my teammates so I obliged.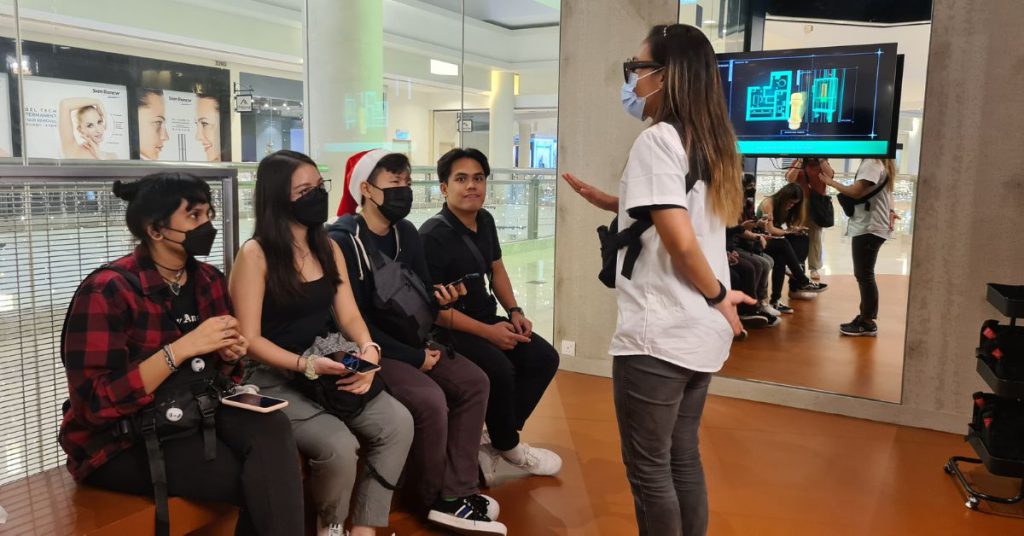 While the rest of my team gets a briefing from a Spy Agent, an angry guardsman dragged me away into my prison cell.
Without much instructions given, I was therefore left in the dark (metaphorically and quite literally) about what exactly I was supposed to do.
Hint: If you're the prisoner, take the time to observe your surroundings, take note of any details because this will come in handy for your team later on.
I made a small mistake in using some brute force in my puzzle-solving skills, which later on I learnt wasn't necessary.
Unfortunately, I wasn't told beforehand that certain props aren't actually involved in the escape solution, so I may or may not have pried open a power outlet wall plate with my bare fingers thinking that there was something behind it (oops).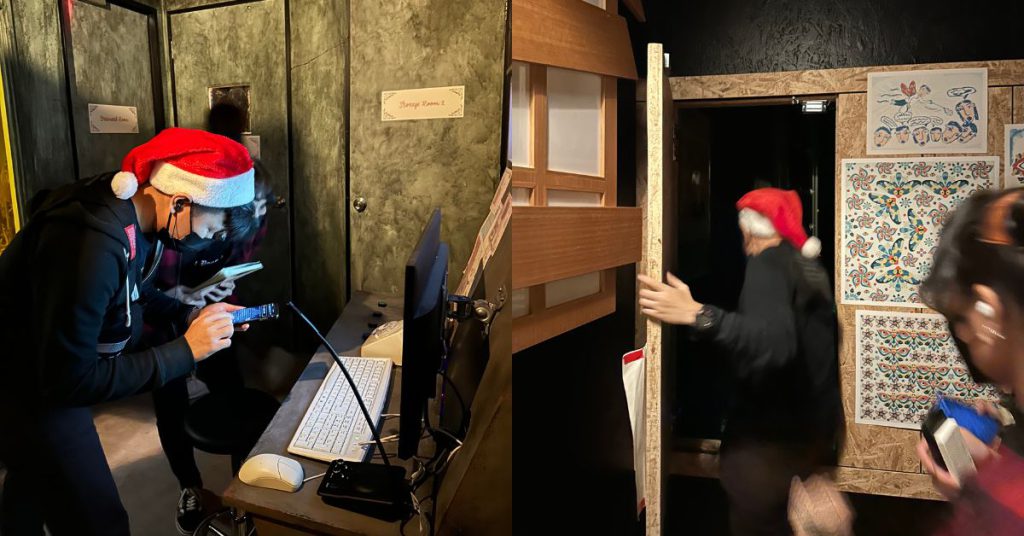 Roughly 15 minutes in, I heard a bunch of shuffling outside my prison, followed by a loud audible beep and the door opening.
My teammates have come for me!
But our happiness was short-lived because soon after that, we accidentally tripped the laser alarm and guards were coming to our location. Agent K immediately alerted us to hide, and we scrambled to do so.
Hint: You will have some time to crawl under a table, or hide in a cupboard. But if you're not near any hiding spots, do not panic or attempt to run. The worst case scenario is that you'd get caught and you'll spend one minute in a temporary prison room, which really isn't all too bad. So safety first!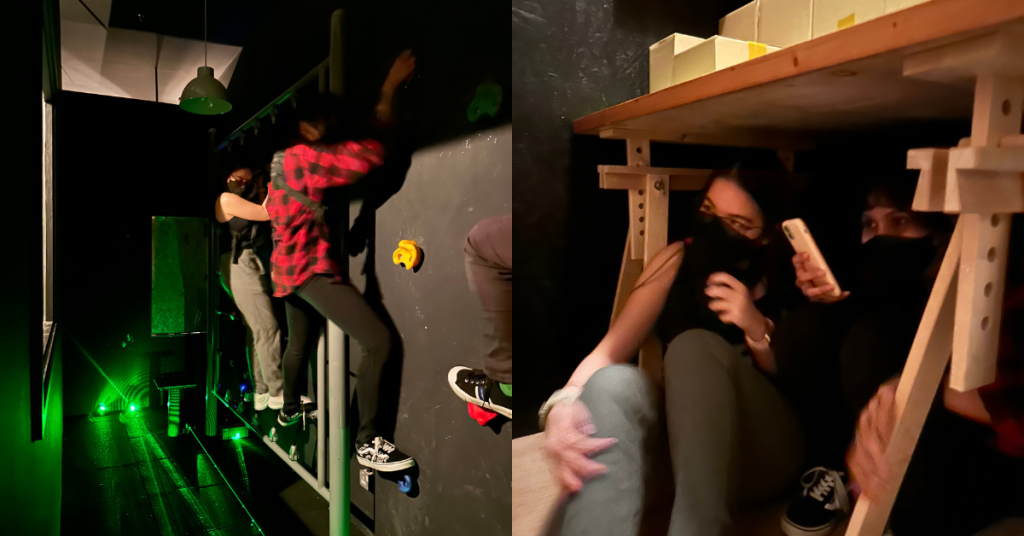 Even though my team successfully saved me and I had gotten the final piece of the puzzle figured out, the eureka moment had come too late and we ran out of time (each mission/room has a 30-minute time limit).
We're sorry, Agent K, we have failed you.
At the very least, we weren't the only losers. Our other team who was playing mission one also did not manage to escape in time.
Needless to say, Agent K was having a pretty bad day with his very disappointing agents.
Albeit the failure, we had great fun and there was a lot to debrief each other on after leaving the play area. The interactivity really heightened our senses in the game, and also motivated us to attempt the missions again seeing as there are various potential outcomes based on where we choose to hide, or how we choose to distract the guards.
Hint: In hindsight, we should have spent more time to look for the disguise that was in the room. Being disguised means that there would be less one person to look for a hiding spot if a guard was coming.
The physical challenges may sound intimidating to some at first, but few of us even expressed an interest in trying rock climbing after this.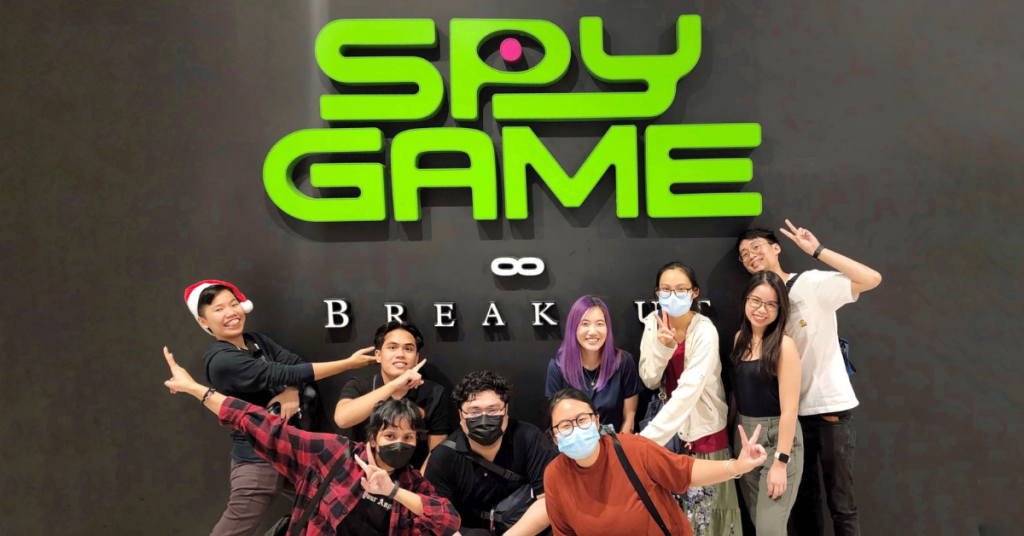 One of the signs of a well-designed escape room game is the percentage of returning players. We're all in agreement that if given the opportunity, we would definitely come back to reattempt the missions.
In fact, even if we were successful today, playing the missions again with another group of friends would be a different dynamic and the outcome would be unpredictable.
Hint: If you do decide to replay, don't forget to keep your receipt and use it during purchase to get a 50% discount.
All in all, we had an amazing time and I'm very impressed by Breakout's commitment to elevating the escape room experience for their players.
Hopefully next time, we will make Agent K proud.
Breakout The Curve
Location: 256, Level 2, The Curve, 6, Jln PJU 7/3, Mutiara Damansara, 47810 Petaling Jaya, Selangor
Website: https://www.breakout.com.my/
Contact Number: 011-3321 3628
Operating Hours: 10AM to 9PM