While scrolling through Brickhouse's Instagram page to learn more about Popsicola, another F&B outlet that they're running, we chanced upon another of Brickhouse's restaurants called ELLO! KL, a fast-food restaurant specialising in brioches, pitas, and more.
Based on the pictures we saw, the outlet looks quite Instagrammable as it's filled with bright lights and pastel colours, which make an excellent backdrop for taking OOTD shots.
As suckers for aesthetic posts on the 'Gram, we had to check it out, plus the food looked good too.
Located at LaLaport Bukit Bintang City Centre, ELLO! KL is relatively small, but has sufficient space for intimate groups of up to 8 pax.
Booth seating and round tables aside, there's also a bar table facing the window where you can have your meal while staring at people walking past outside (totally not what I would do…). Meanwhile, those who actually enjoy Malaysia's weather can go for the outdoor seating area.
Their menu is split into several categories, like the All-Day Brekkie, where you can get food items ranging from the Morning Sunshine (scrambled egg with cheese) at RM13, to The OMG (scrambled egg with beef bacon, turkey ham, and beef bacon) at RM18.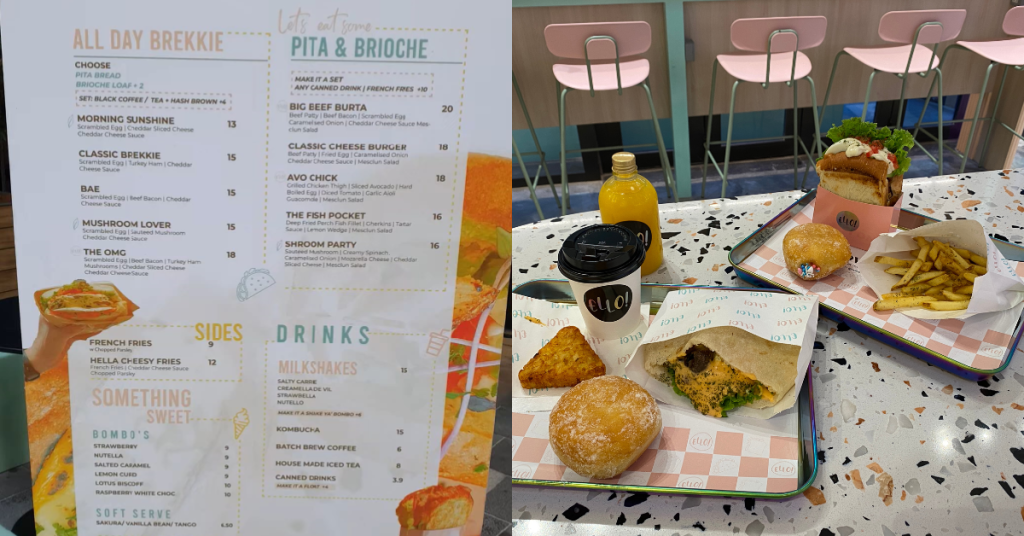 You can also turn your meal into a set by adding an extra RM4 to get tea or black coffee, and hashbrowns.
The next category is the Pita and Brioche menu, where you can find food items that are more filling, like the Big Beef Burta (RM20), Classic Cheese Burger (RM18), Avo Chick (RM18), The Fish Pocket (RM16), and Shroom Party (RM16).
Similar to the All-Day Brekkie set, you can top up RM10 to add a serving of french fries and a canned drink.
I opted for a set of The OMG with tea and hashbrowns for a total of RM22, while my colleague, Zhareef, opted for Avo Chick Set, which is basically grilled chicken thigh, sliced avocado, and garlic aioli guacamole priced at RM28.
We also ordered a Lotus Biscoff (RM10) and Raspberry White Choc (RM10) bomboloni to end our meals with.
When I took a bite of The OMG, the molten cheese and scrambled eggs was a burst of flavours in my mouth, while the beef bacon and turkey ham provided the much-needed protein, leaving me feeling quite full while I was done.
Zhareef shared the same sentiment, finding his Avo Chick quite filling, and relatively healthy since it includes ingredients like sliced avocado, eggs, tomatoes, and mesclun salad.
He noted that there was a hint of sweet, savoury, and creaminess from the avocado slices, too.
Once we were done with our meals, we moved on to the bomboloni for dessert. While they were quite sweet and tasty, we wished ELLO! KL was a tad bit more generous with the fillings.
As for the drinks in our set, we got ourselves a cup of tea and a can of Coca-Cola. In addition to that, we also bought a small bottle of orange juice, which we felt was a little on the expensive side at RM13.
There are other drinks on their menu too, such as milkshakes (RM15), Kombucha (RM15), Batch Brew Coffee (RM6), house-made Ice Tea (RM8), and canned drinks (RM3.90).
Overall, we felt that most of the food we ordered not only looked good, but they tasted about as good, too! If we had to nitpick, we would say that perhaps just come here for the main meals, as the bomboloni and some of their drinks were a little on the pricier side.
ELLO! KL
Location: G-91, Ground Floor, Mitsui Shopping Park Lalaport, BBCC, 2, Jalan Hang Tuah, Bukit Bintang, 59100 Kuala Lumpur, Wilayah Persekutuan Kuala Lumpur
Operating Hour: 10AM to 8PM daily
Instagram: https://www.instagram.com/ello.kl/?hl=en
Contact: 016-406 5218