When we first perused Tsutaya and striked up conversation with some visitors, we learnt that there are various reasons why people visit Tsutaya, aside from poring over the many books.
These ranged from nostalgia, an interest in Japanese culture, and more, but one thing was clear: it's not just all about the books.
While any bookworm can surely appreciate the endless rows of book titles, here are 10 other things you can do when visiting Tsutaya to get the most out of your experience.
1. Learn about Japanese art, craftsmanship and cultural practices.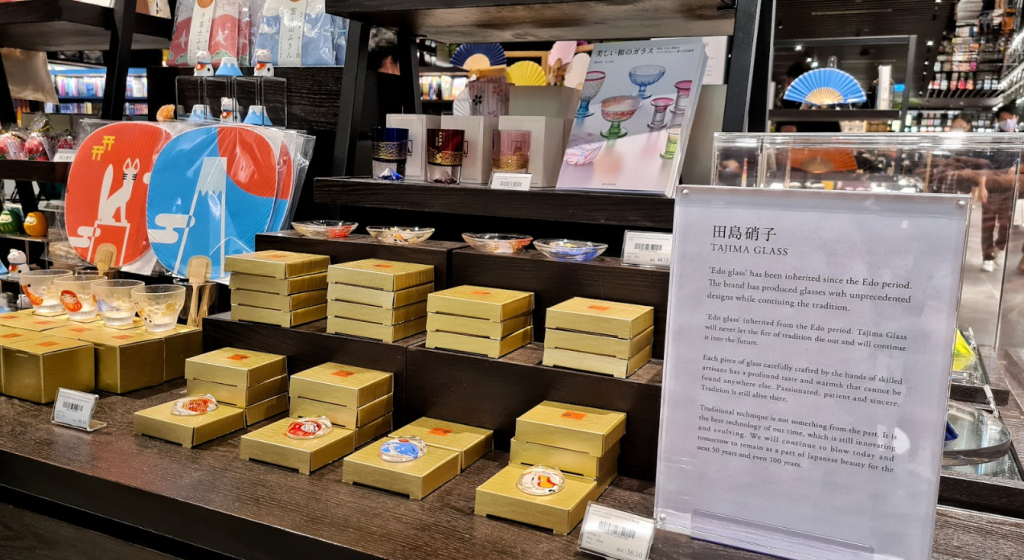 Who comes into a bookstore expecting to learn about "Shibori", "Edo glass", or wooden marquetry?
Not us, but as we browsed through the aisles of trinkets, accessories, and glassware, it became clear that Tsutaya wanted to educate not just through books, but through its displays too.
From the shelves of curious-looking bags to intricate paper fans, we read up on "Furoshiki", a type of Japanese gift-wrapping, and got to know the names of famous Japanese designers and brands such as Kami No Shigoto, Masako Ban, and Kazunori Kato.
While the displays themselves were a visual feast, the bits of information fed to us helped us better appreciate each item as we scrutinised their excellent craftsmanship through sight and touch.
2. For those who can afford it, there's a mirage of high quality Japanese branded merchandise to shop from.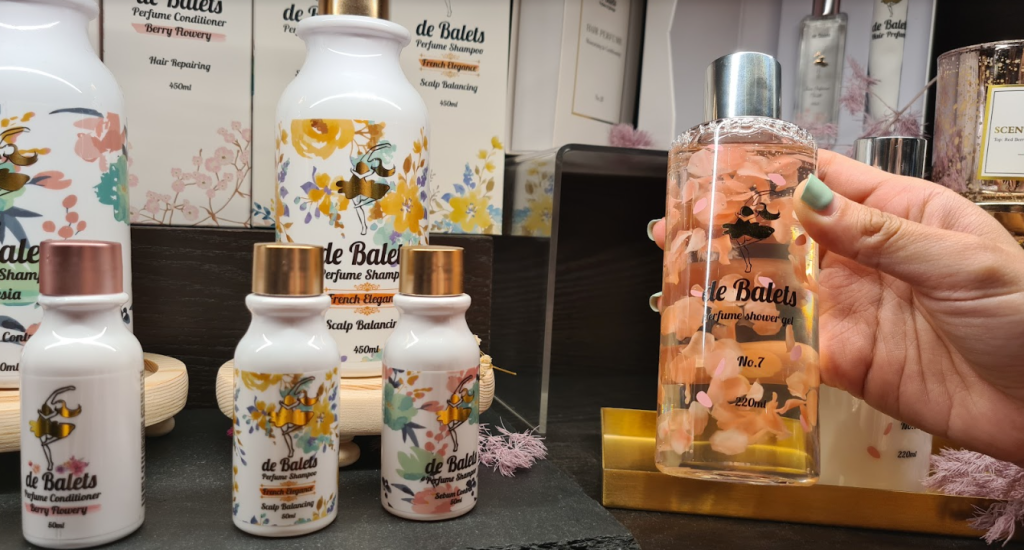 As you might be able to tell from the previous point, Tsutaya Books is actually not just all about books—it's all things Japanese.
Sure, there are other spots in Malaysia that carry Japanese products. However, there are items that are exclusively available at Tsutaya Books, as indicated by the little plaques next to the products.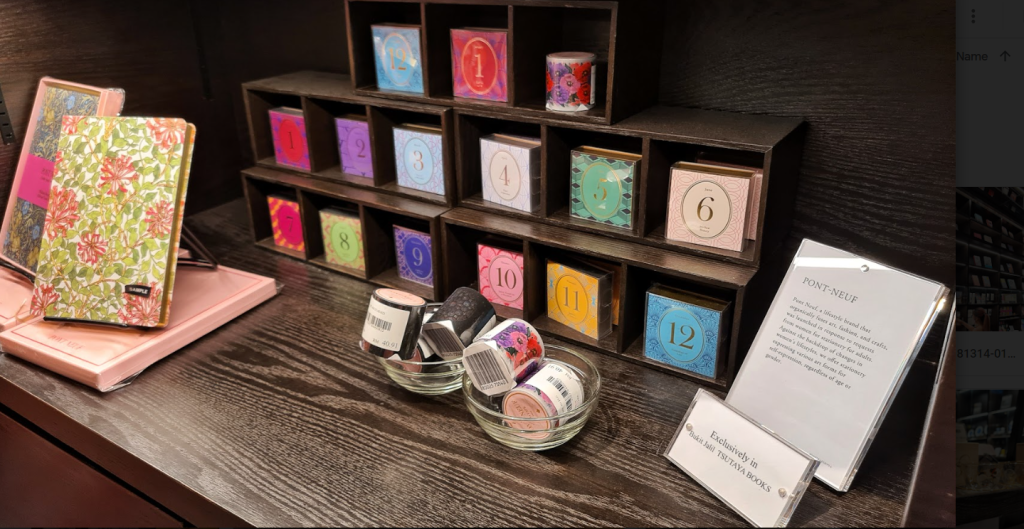 Speaking of plaques, almost all the brands available in the store come with descriptions of them, so even if you've never heard of them, you can quickly get to know what their brand is all about.
3. Don't forget to admire our own Malaysian brands proudly displayed next to the imported items.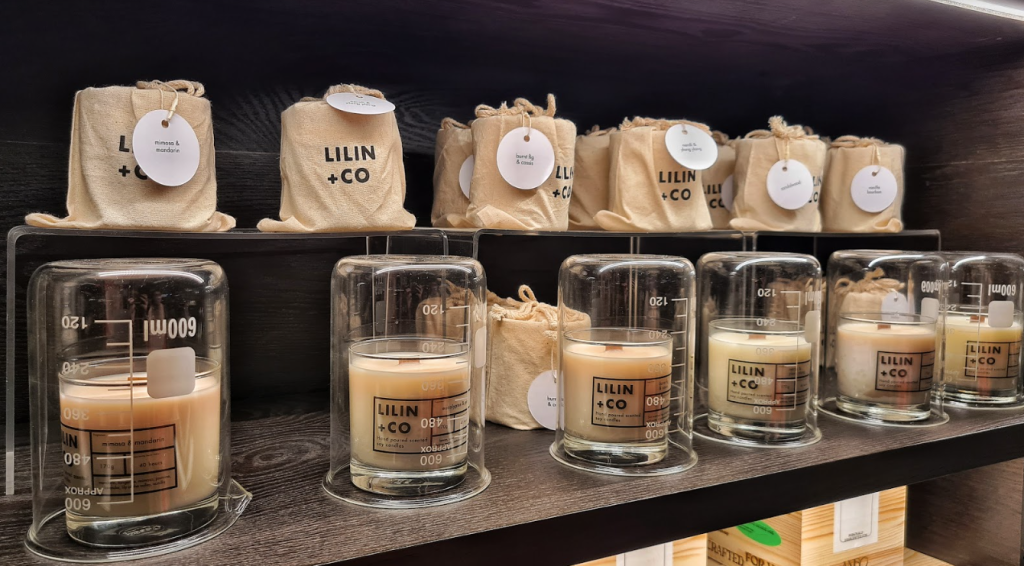 As we browsed, we were surprised to spot Malaysian brands proudly displayed front and center with the rest of the Japanese-made products.
A few that we spotted were Lilin+Co, OLFAC3, and Cher's in the beauty and personal care section. There's also ANBO, a Malaysian beeswax candle brand, and a dedicated table for featured artist Vanissa Foo's Humana Art.
We're sure that there's plenty more displayed about the store, but we'll let you try to spot more local brands during your visit.
4. Cat lovers, keep an eye out for kitty themed products that will tempt your purse strings.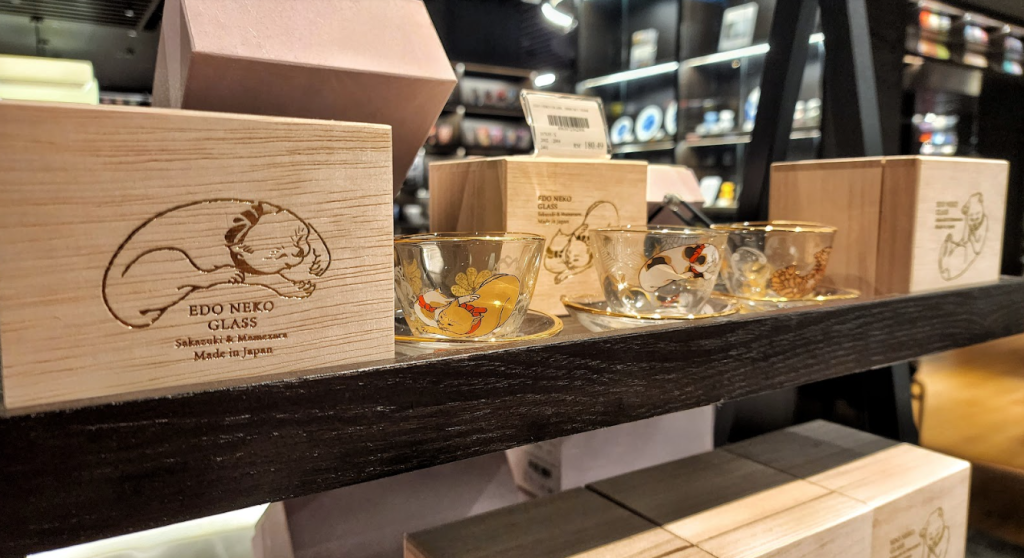 Japan really does love their furry feline friend and oh man, so do we. There was barely a moment that could pass in between us squealing over one cat-themed product or another.
If it wasn't a paperweight, it was a hair tie pendant, and there was so, so much cat-themed crockery. There were teacups, beer glasses, and heat-changing mugs. We were weak.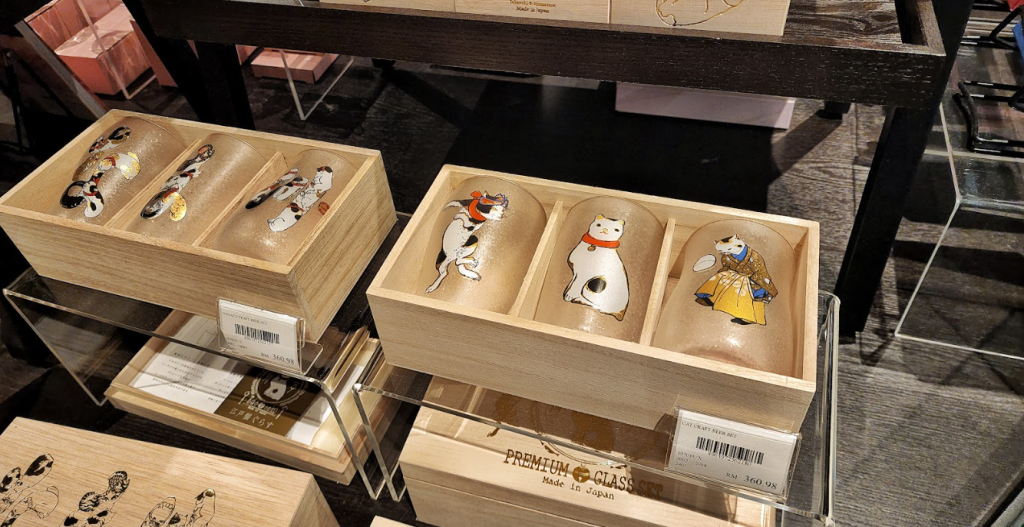 The only thing that kept us at bay was being shocked back into reality by the prices of these beautiful, well-made products.
Even a simple cup could range in the hundreds of Ringgit, and as tempting all these products were, they weren't purchases we could (and should) make on the spot.
Hence, our next point.
5. As for those who don't have deep pockets, like yours truly, we played a game of "Guess The Price".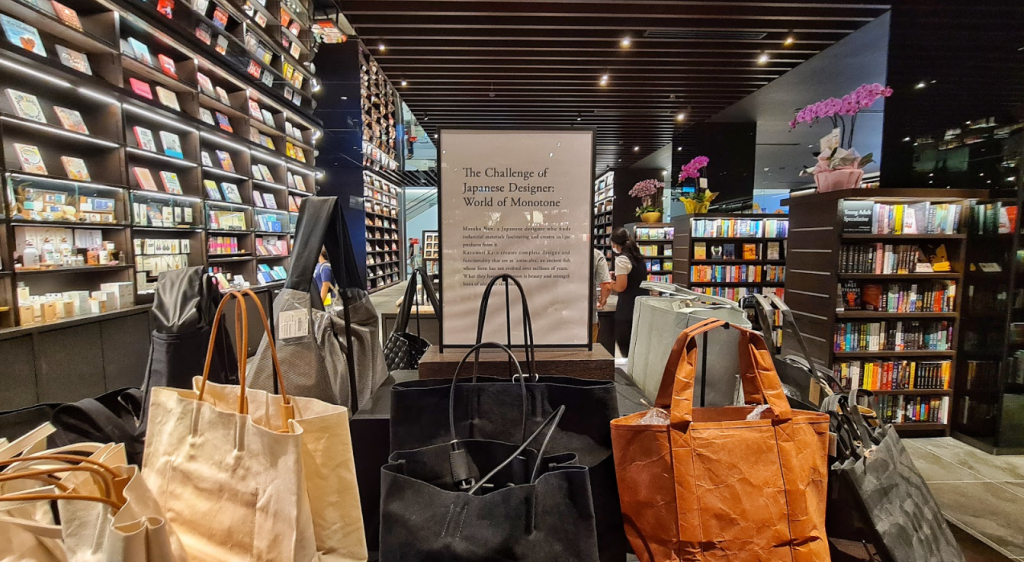 Who doesn't love a bit of window shopping, especially when you're not up for dropping big bucks?
As many of the brands were new to us, we don't exactly know the price points of their products, which gives us the perfect opportunity to guess the prices.
Each guess gave us mini heart attacks, though, as we frequently underestimated the price points. After our initial surprise, we remembered that these brands are premium labels imported from Japan after all, which aren't that easy to find locally.
Still, justification aside, it still makes for a really fun game to play by yourself or with your friends while browsing the store.
6. Have a sip of coffee or tea with some pastries at the cafe.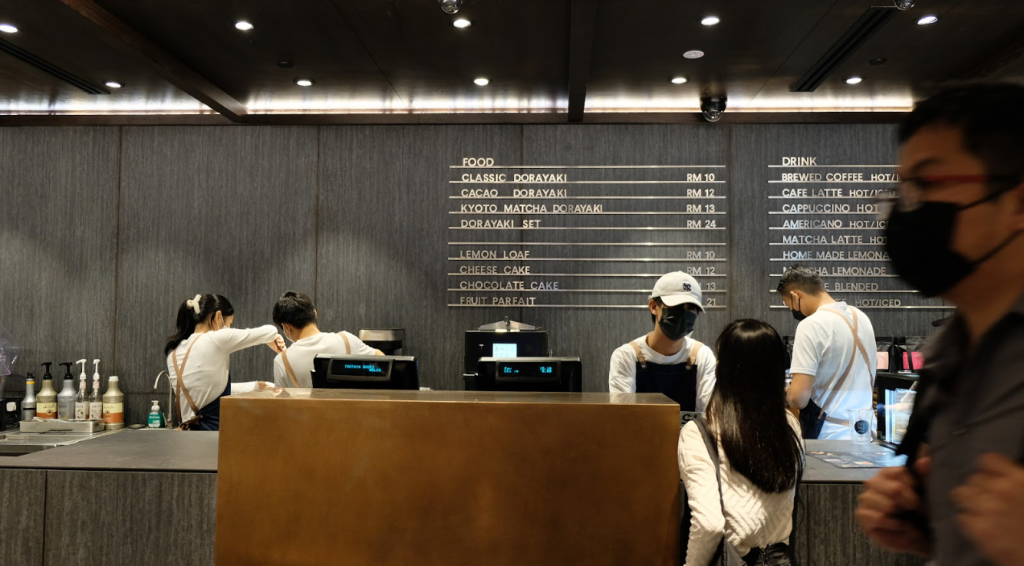 Following the smell of coffee, you will be able to find Tsutaya's in-house cafe. Next to it, there's plenty of seating for solo visitors and groups alike.
Their menu isn't extremely extensive, but there are some Japanese desserts and drinks being served that would be a nice accompaniment if you plan to read there for a while.
Unfortunately, the cafe was already closed for orders by the time we got there, far too distracted by all the goodies that came before it. According to Tsutaya's Facebook page, the in-house cafe operates from 11AM to 7PM, so don't be like us and visit during those hours to get a taste of their dorayakis.
7. Grab a book and read at the lounge or in front of a relaxing water feature, don't worry, it's free.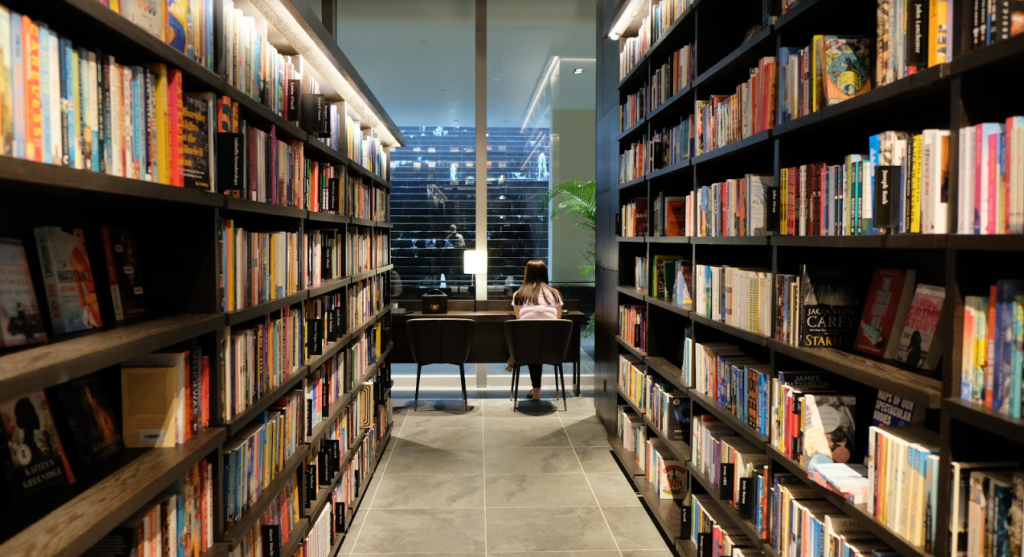 Towards the end of the bookstore (if you start at the entrance and make an entire round the way the layout intends for), you'd find a quieter stretch of tables behind the book aisles.
This part could almost be mistaken for a library, if it weren't for the still-high foot traffic. The seats face the window, giving unobstructed views to the staggered water feature outside—a zen, picturesque environment to get some reading done.
According to Dhivya, an employee at the bookstore, visitors can even start reading books without paying for them (though we don't recommend eating and reading an un-bought book at the same time, lest you dirty the pages).
8. If you miss Japanese stationeries, there's a section dedicated to that here.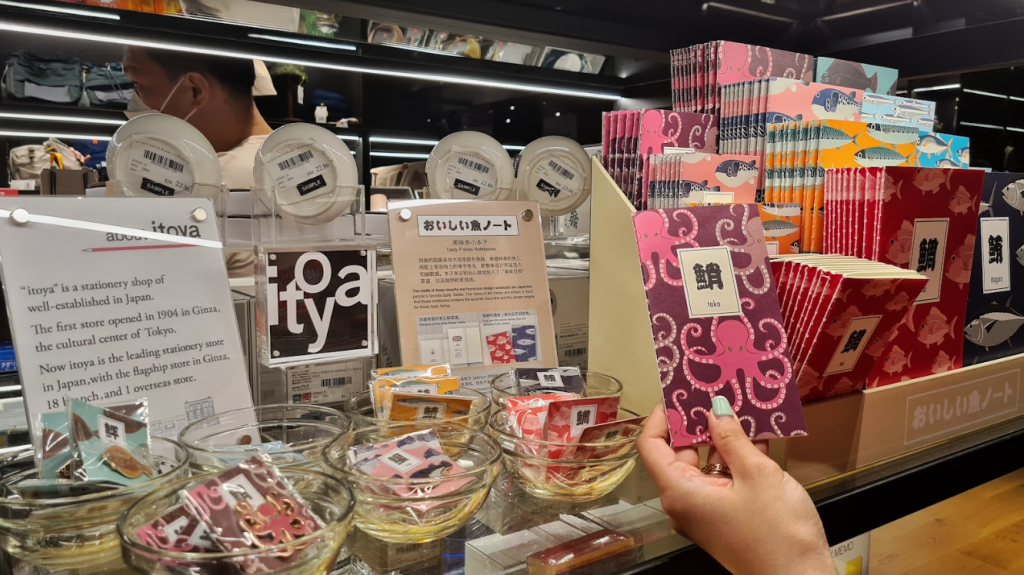 Stationery fiends, we have some good news for you. Tsutaya has a whole area in its store with a wide selection of various Japanese stationery, not just your usual Pilot-brand products (nothing against them, either, of course).
This section is somewhat separated from the rest of the bookstore, which spatially makes sense, but can be rather overwhelming when there's a lot of people in there.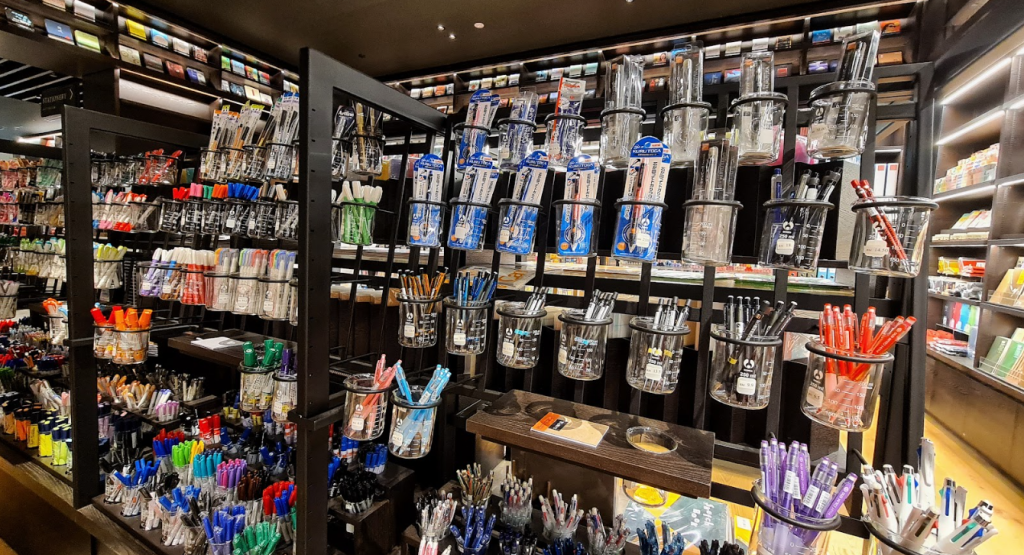 Our advice is not to rush here, but instead take your time browsing through the plethora of quality pens, stickers, washi tapes, adorable notebooks, and more.
9. Manga fans, you're not forgotten, enjoy the variety of manga comics.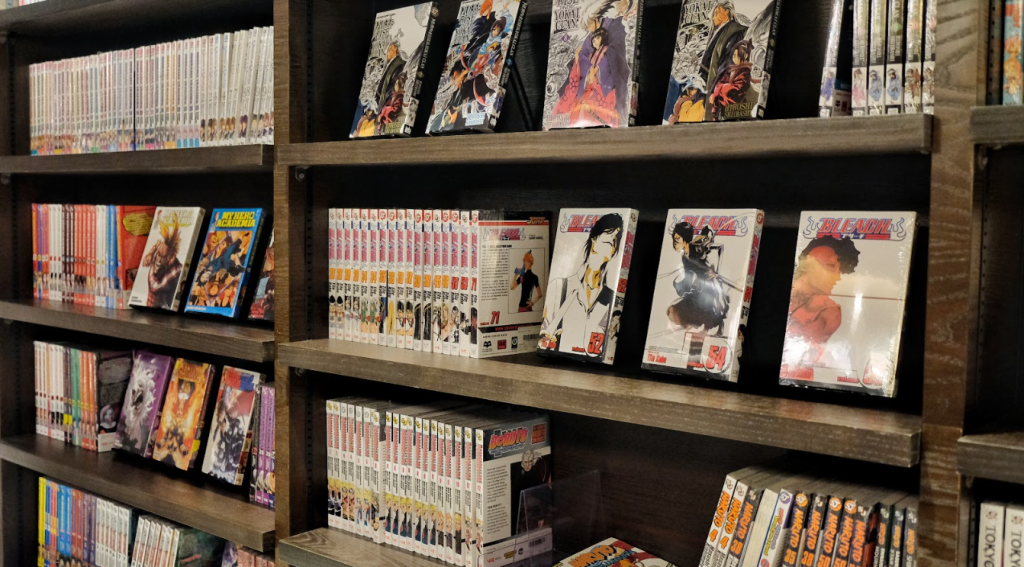 When thinking of Japan, manga is definitely one of the first things that come to mind. So, it's no surprise that Tsutaya carries many well-known manga titles on its shelves.
One of my colleagues swears she saw someone taking a selfie with a Dragon Ball Z book, indicating that there are manga fans looking for their favourite titles.
By the way, if you're ever unable to find a specific book, you can ask one of the many staffers around, and they'll search it up for you on their system (they don't have any computers lying around).
10. After browsing through all 31,000 sq ft of Tsutaya, pop by Ainz & Tulpe, a Japanese skincare and beauty care store just next door.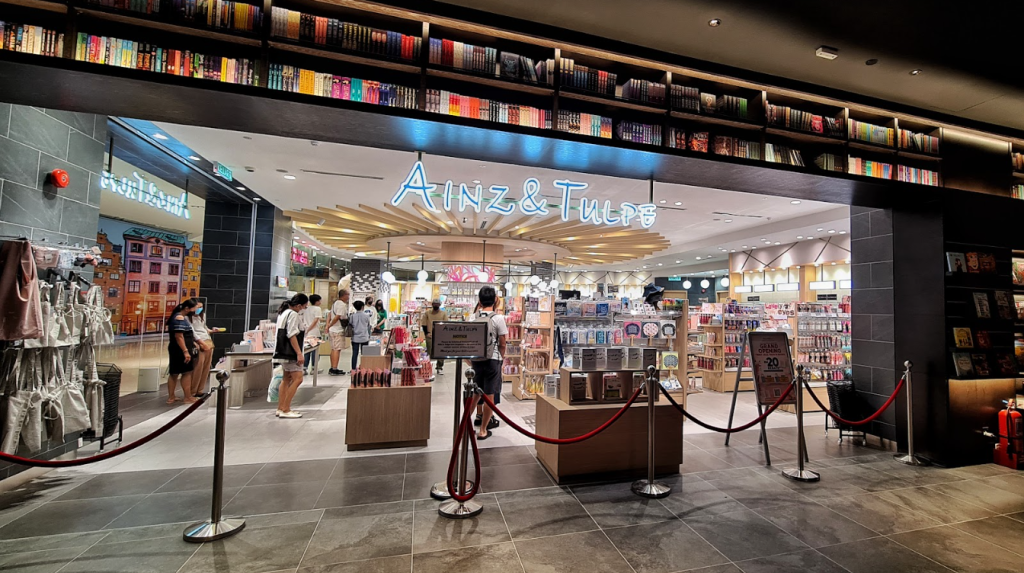 Right next to Tsutaya is Ainz & Tulpe, a beauty and lifestyle store carrying various Japanese cosmetics, skincare, and healthcare products. It even has an entrance directly in Tsutaya, so you stroll right in after you've finished book shopping.
Here you can try out and shop for various J-Beauty goodies. Just like with Tsutaya, this is the first Ainz & Tulpe store in Southeast Asia.
If you plan to do all of the above, be prepared to set aside several hours, especially if you're going on the weekends as there might be queues.
Tsutaya Books
Address: Lot 2.89.00, Level 2 Orange Zone, Pavilion Bukit Jalil, Persiaran Jalil Utama, Bandar Bukit Jalil, 57000 Kuala Lumpur
Website: http://www.ccc-my.com/