The benefit of working from home (WFH) used to be a common work perk for companies in Malaysia, since the default working environment is the office. However since the pandemic, a lot of companies who do not necessarily require an official office for work have transitioned and adapted to the WFH life.
This means having the SOPs and procedures in place to work from home productively with effective communication amongst colleagues and superiors. Meeting at the office is only a once-in-a-while occasion, perhaps for meetings or strategy brainstorming sessions.
But with our home becoming our main workplace, the WFH concept isn't a benefit anymore, it's become the new norm. What then should replace this perk?
We bring to you, workcations.
A workcation has some similar qualities as the WFH concept since you don't work in the office, except that the work environment is no longer your home, but a hotel (or Airbnb) instead. And since it is partially a vacation, some working hours or after working hours includes leisurely activities in or near the hotel. It is an upgraded and elevated version of WFH—but of course, it costs money.
A workcation can be done alone if you want a change of scenery, or better yet, as a company so that everyone gets to indulge in something fresh together. Meetings can be held over a hotel suite dining table or a hotel boardroom instead of an office meeting room. Leisure time could be a good time to bond together when it involves enjoying in-room service, or as we ourselves learnt, when making cringy IG reels in our suite.
For this hotel workcation experience, we got ourselves checked in at the Ritz-Carlton KL (yes, we went fancy, we deserve it). The hotel was so kind to upgrade our room from the 2-bedroom suite to the 3-bedroom suite.
Disclaimer: The accommodation was not sponsored by the hotel as we wanted this to be our small way of supporting the local hotel industry, but the upgrade was kindly offered to us without an add-on cost. This workcation happened well before the start of MCO 3.0 and the hotel staff had all the necessary SOPs in place for our safety.
3-Bedroom Suite, Ritz-Carlton KL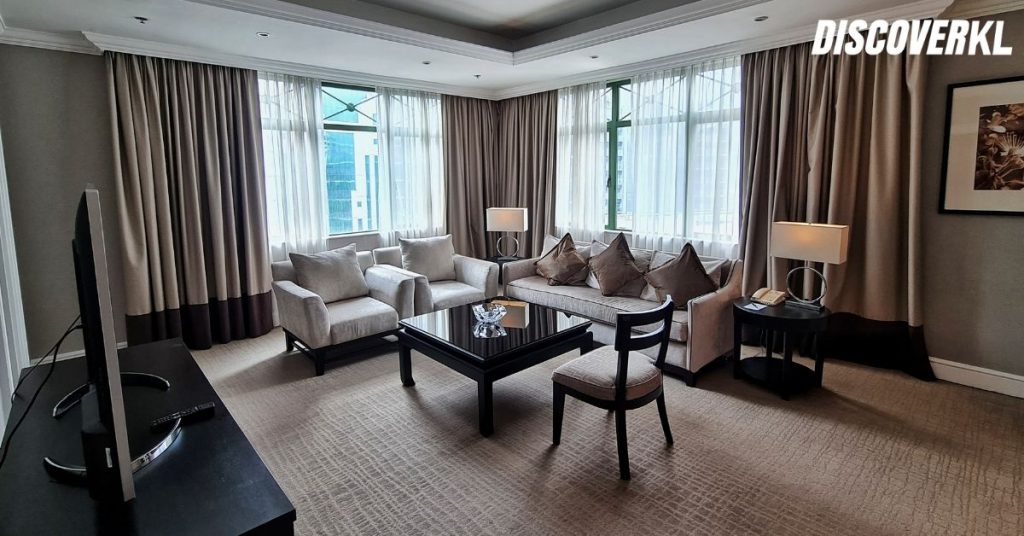 Spanning at approximately 2261 square feet, the 3-bedroom suite is almost double the size of our whole office. Almost. Which is a little ironic considering that pre-pandemic, the office is where we're supposed to be every weekday and we're only going to be spending 3 days here. But we're not complainin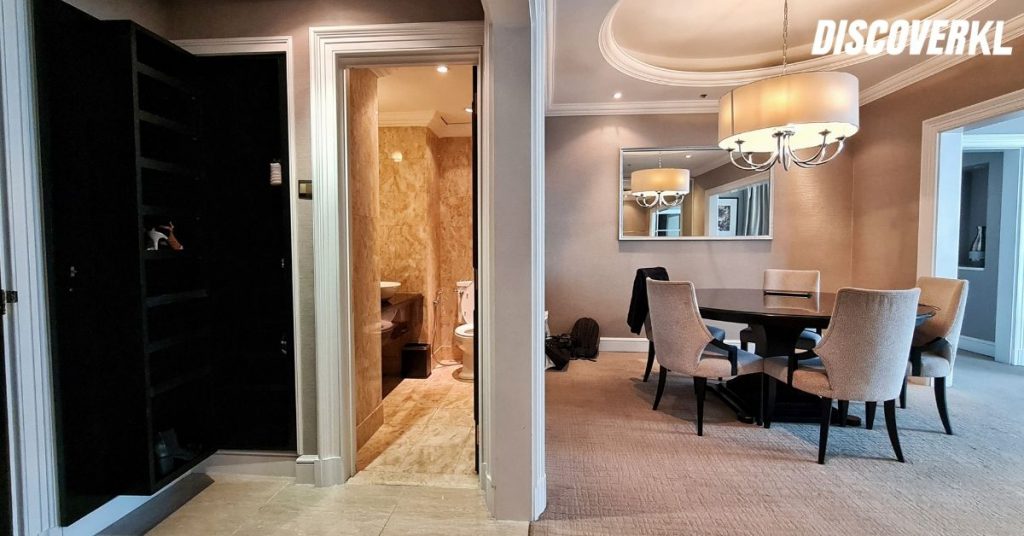 The entrance of the suite opens up to a big dining and hall area, with a hidden shoe closet that is next to a guest toilet. This dining table would also later be our group work table. Free WiFi was provided for the duration of our stay and we can affirm that the connection speed and stability was reliable (even for Genshin Impact play time at night).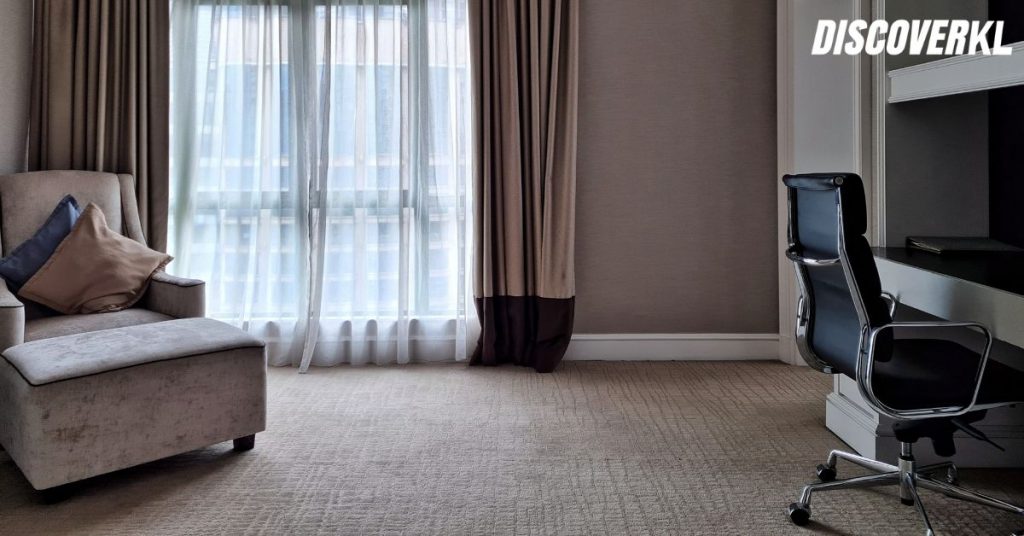 For anyone who prefers to work solo, there's a separate area with a workstation, i.e. writing desk. Our video editor appreciated this private working space more since she could focus on editing without the work chatter going on in the hall.
The suite was fairly soundproofed, which means that we weren't bothered by any noise coming from other hotel rooms. There were no distractions other than when our neighbouring hotel guests were talking in the corridor for a few minutes one night.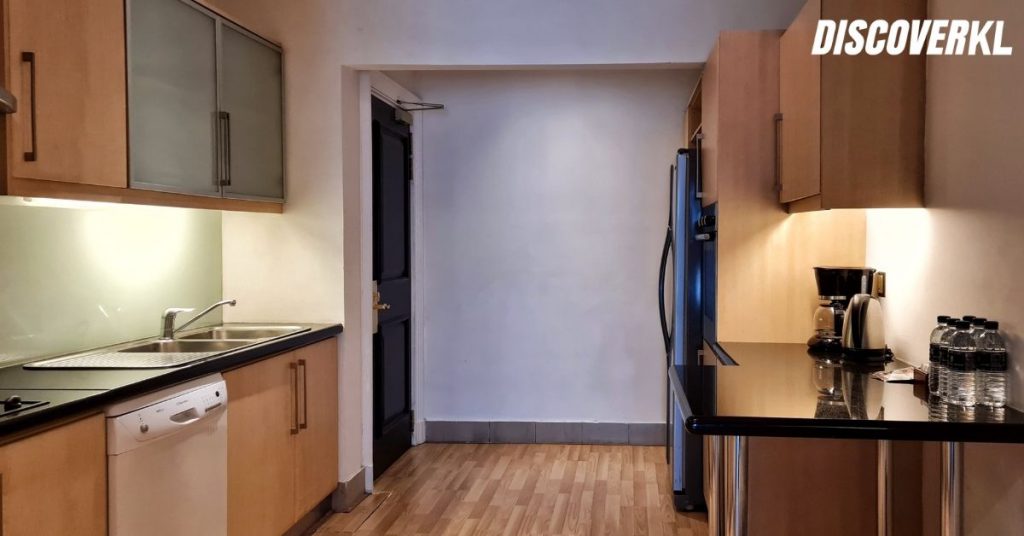 A complete kitchenette is available with a separate entrance door and another guest toilet (trust us, we were never short of toilets). Another irony, the fridge that we have here for 3 days is also bigger than our office fridge. Again, not a complaint.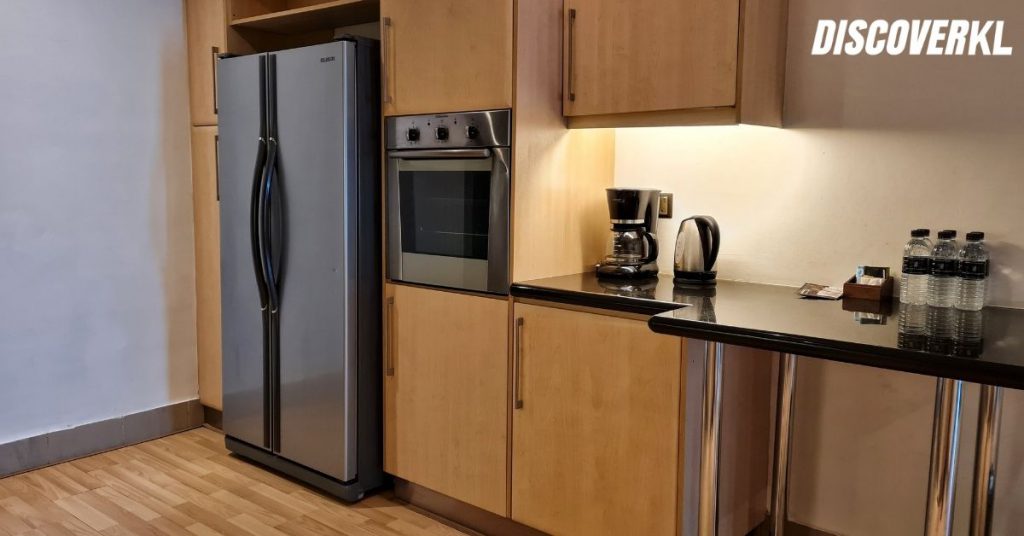 It also has a stove, with pots and any other cooking utensils that you need being provided by the hotel with a simple call to their front desk or butler service. It even has an oven that is so big we can only assume it's for baking cookies if you brought along a baking mixer.
Each of the 3 rooms has plenty of space, and an ensuite toilet that's fully marble-tiled. The master bedroom is even more spacious and has a walk-in wardrobe. It is the only ensuite toilet with a bathtub, and double vanity sinks.
Bear in mind, the Ritz-Carlton in KL is over two decades old. Despite their extensive renovation in 2015, the rooms still have that slightly dated look in comparison to some of the newer and more modern contemporary hotels that have popped up throughout the city.
One may notice some wear-and-tear on the kitchen cabinets, stains and marks on the walls, but still for us personally, those did not stop us from loving the charm and opulence that the hotel suites exude.
What's A Workcation Without Good Food?
"Indeed, how does one even work without first a tummy filled with good food?", was what we told ourselves when choosing our workcation venue. As the home to reputable restaurants such as The Cobalt Room, Li Yen and The Patisserie, Ritz-Carlton was purposely selected for this purpose.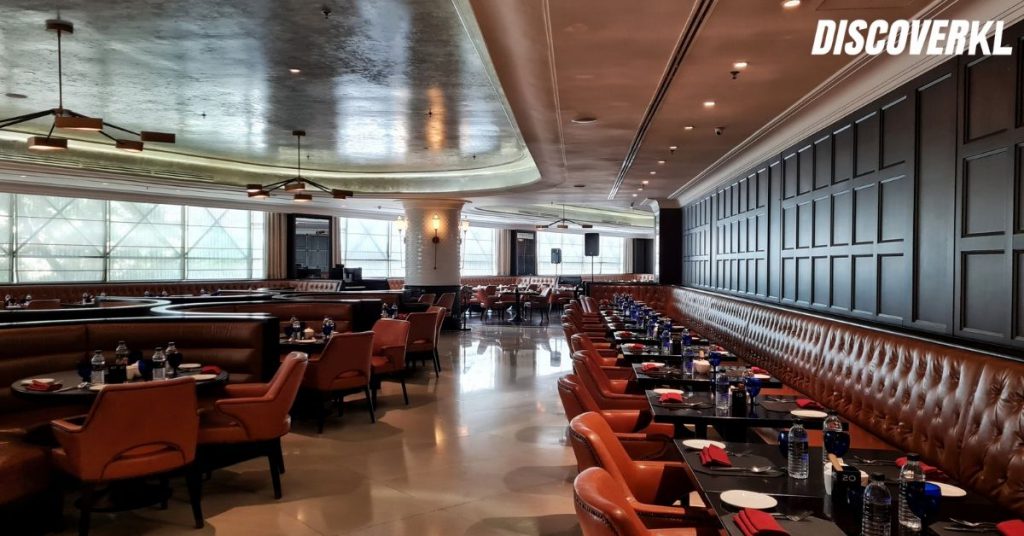 Our daily buffet breakfasts were served at The Cobalt Room. Other than the good variety of food, we especially applaud the efforts of the Ritz-Carlton staff for their buffet safety precautions.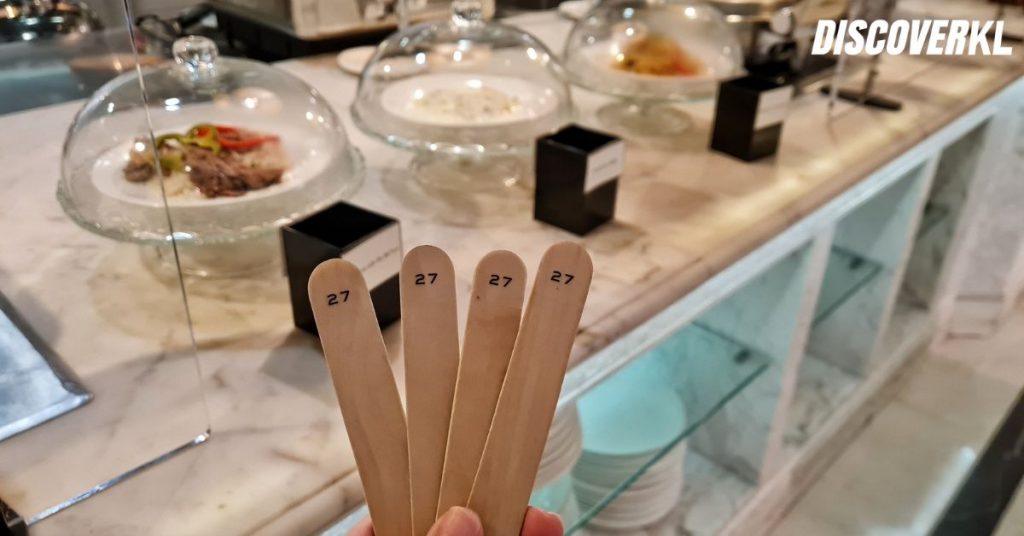 Instead of the usual process of grabbing your own food at the buffet, each table has their own numbered ice cream sticks. If you see something that you want at the buffet stations, place your table's ice cream stick at the black designated holders and the waiters will bring the food to your table directly.
This system greatly reduces the risk of the public touching and handling the same utensils and removes the occurrence of overcrowding and waiting lines at the buffet stations. If you'd like more food to be given for each serving, you can request for that and the servers will gladly oblige.
There could be some delay sometimes because you have to wait for the waiters to get to your table instead of the usual self service, but other than that, service was top notch.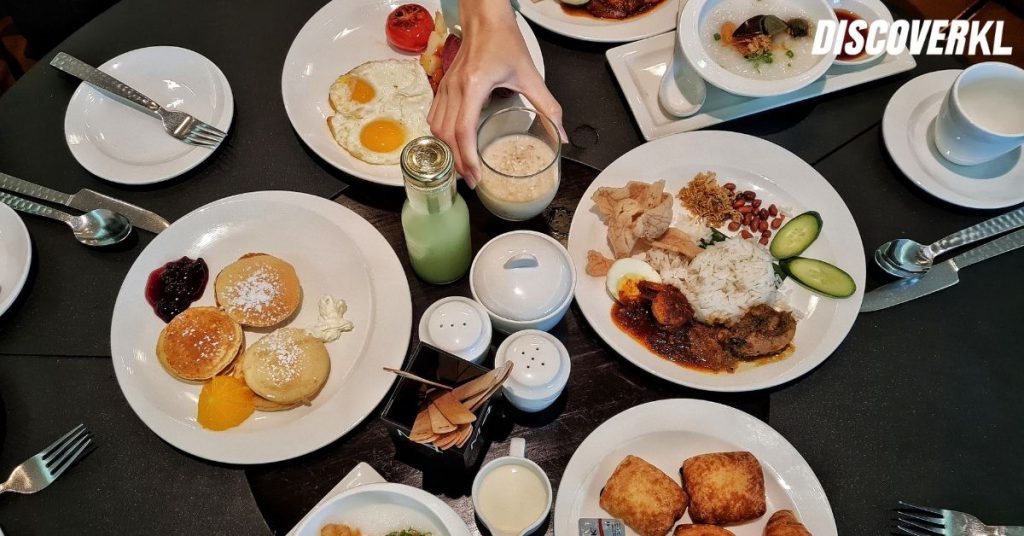 This was the same for our dinner buffet too, it has the same safety precautions and delicious food. For our first evening, we had the opportunity to savour a Middle Eastern festive feast.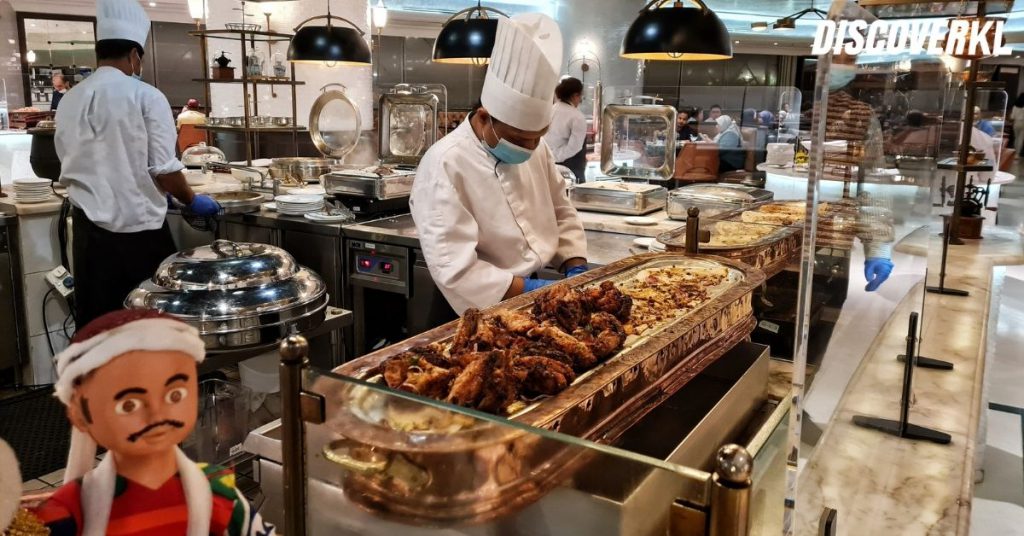 It was a scrumptious meal to wrap up our first day of work here. The food was very appetising, Sade in particular even enjoyed the music that accompanied our meal (she used the SoundHound app to grow her playlist).
From the juicy kebabs, to the fragrant Lebanese herbed potatoes, and the well seasoned chicken wings, we really had our fill of authentic Middle Eastern dishes and traditional desserts for RM128 per adult.
This is Faye's genuine reaction when sampling the food.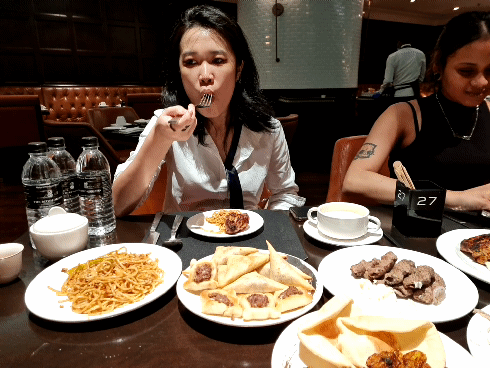 We had our lunch at Li Yen, you can read our full review of our meal here. Hint: It was one of our best meals at Ritz-Carlton. 
It was just too bad that The Patisserie was closed during our stay, so we could not try the beautiful desserts there. Next time, we hope.
Did We Get Work Done?
Short answer, yes. But we could have done even more if not for the time spent creating some videos for Instagram Reels.
We highly commend the staff at Ritz-Carlton for their attentive service and patience. We actually felt a little guilty because they had to make several trips up to our suite to deliver food (GrabFood, and other food that was sent to us for reviews), Sarah's mouse (because she carelessly forgot to pack it), pots and cooking utensils, extra cups—everything was brought up to us with a smile.
The only thing that they could not provide to us was an extension cord for additional power outlets. This is something that should be added to the list of items to prepare for the working crowd that might eventually increase in hotels as workcations become a more popular working style. It wasn't a deterrent for work though, since there were enough power sockets for us to use.
Personally, we deem this workcation a success. And honestly, we already hear St Regis calling our name, tempting us for the next one.
The Ritz-Carlton Kuala Lumpur
Website: https://www.ritzcarlton.com/en/hotels/malaysia/kuala-lumpur