Now that we're in RMCO, we would think that most new businesses would remain in a 'just-wait-and-see' approach when it comes to operations.
Some FNBs are struggling to just keep their doors open and some are thriving in the situation—especially fast-food joints.
But one unexpected restaurant, Calia, which hails from Melbourne, Australia, had opened up its very first international outlet in Malaysia just last month.
A Heavily Japanese Inspired Menu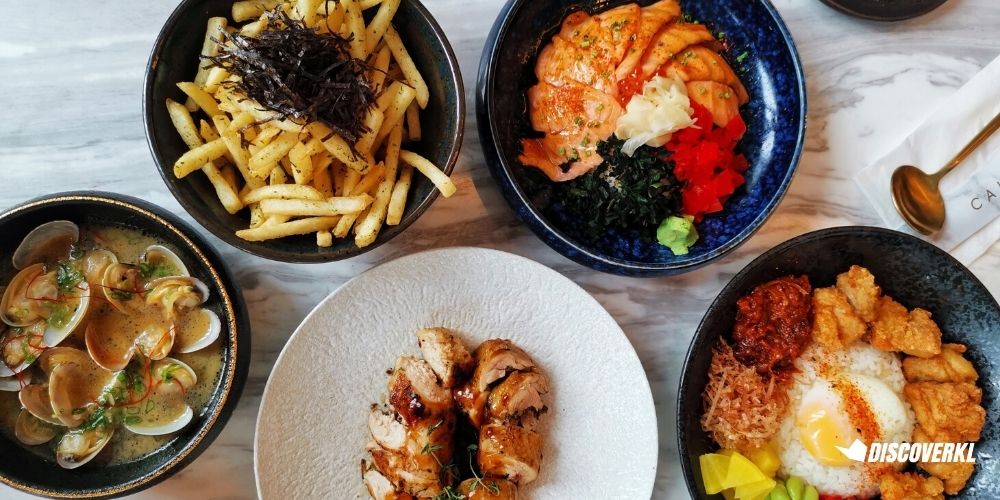 The Calia menu is designed by Francisco Javier Araya, a Michelin star chef who was inspired by Spanish, Chilean, Japanese and Chinese cuisine.
Most notable on the menu, however, are the Japanese inspired dishes. As one of the new hottest places in KL, everyone is unsurprisingly raving plenty about their dishes on social media.
But you are after all going to be paying premium prices for high-end dishes, so we're gonna keep our review here true and honest.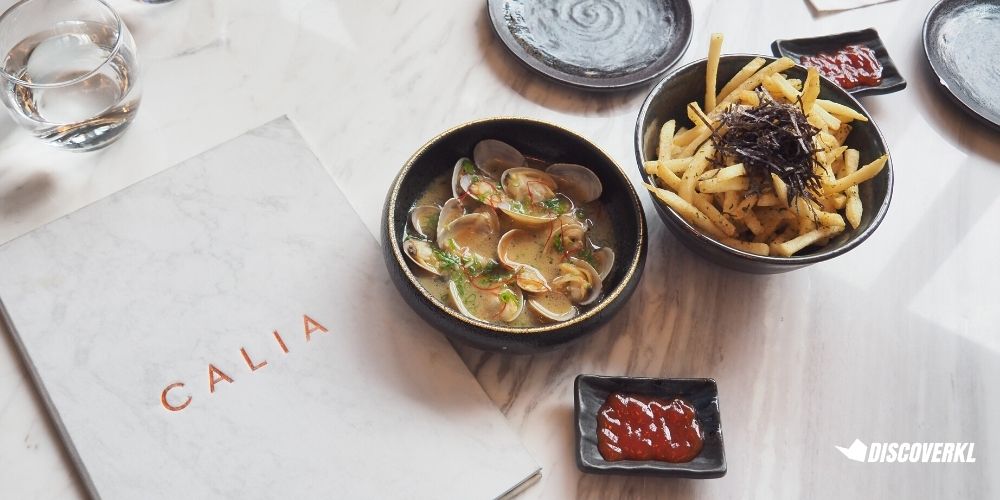 The Umami Fries were cooked to a perfect crisp. As with their namesake, umami is present in seaweed, so essentially this is just salted seaweed fries.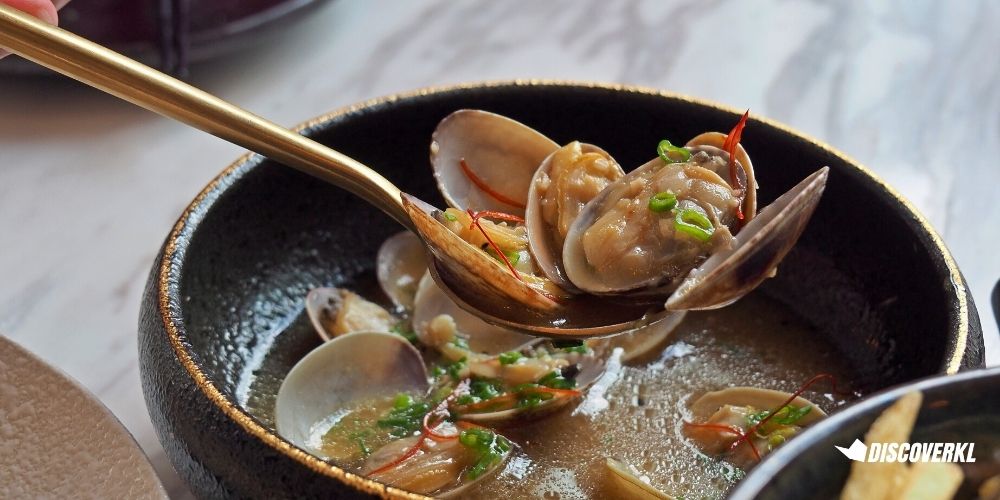 The Sake Butter Clams had a great broth that was buttery smooth and the sake taste was mellow. On a cold and rainy day, this would absolutely be the comforting dish that you'd want to be slurping on.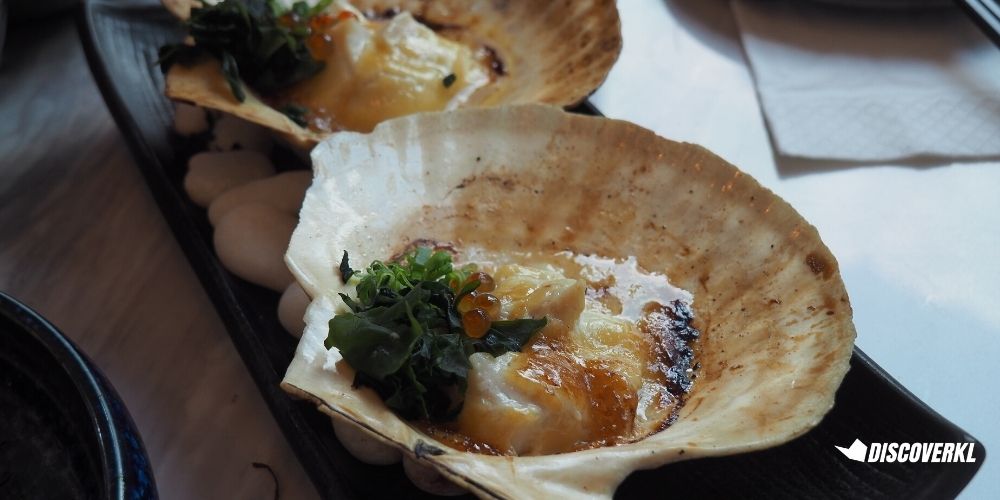 The Baked Scallop looked like a decently sized dish, even though there were only a pair. One of my colleagues, however, lamented that the scallop meat itself did taste a little overcooked to her.
The Miso sauce was a little divisive too. Was it savoury, creamy, and tasty on its own? Yes. Did we wish we could have the natural flavours of the beautiful scallop shine through without having to battle with the sauce? Also yes.
Very Satisfying Main Entrees
One dish stood out compared to the rest in the menu, and it was the Nasi Lemak Donburi.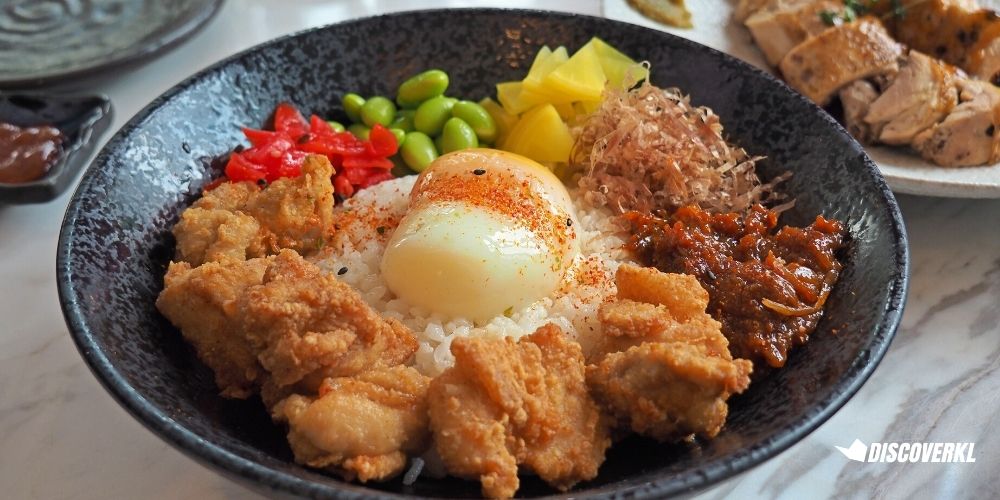 This dish is unique to Calia Malaysia, and it's clear it's meant to cater to our local tastebuds. The menu describes it as a dish with coconut flavoured Japanese rice topped with Chicken Karaage, Japanese anchovy sambal, a 63° egg and other toppings found commonly on Japanese dishes.
Our immediate thought was to pop the egg and Boomerang the runny yolk for Instagram, but the egg wasn't what we assumed it to be.
In the egg's defence, a 63° egg can be interpreted differently in different establishments, and the Calia version runs more on the creamy side instead of flowy.
This was my favourite dish of the day but another colleague felt that the Malaysian elements of sambal did not mesh well with the Japanese gingers and seaweed. For the rest of us, it actually ranked very high on the "we would order this again" list, mainly because it felt like a full, proper meal with good value for money and taste.
This slideshow requires JavaScript.
We were quite excited when the Aburi Salmon arrived on our table despite it being a rather familiar dish. It's a bit of a cliché to call a piece of meat "melt-in-your-mouth", but we're going to do that here for the salmon because that's what it did.
It was very well cooked, nowhere reaching the dry, demotivating flakiness that overcooked salmon unfortunately has. Calia's Japanese inclinations also shone here, with the rice being well-flavoured with vinegar and a perfect complement to the salmon.
Don't let the unassuming looks of the Truffle Chicken fool you. It may not look as extravagant as the earlier dishes, but after the first taste, I was hooked.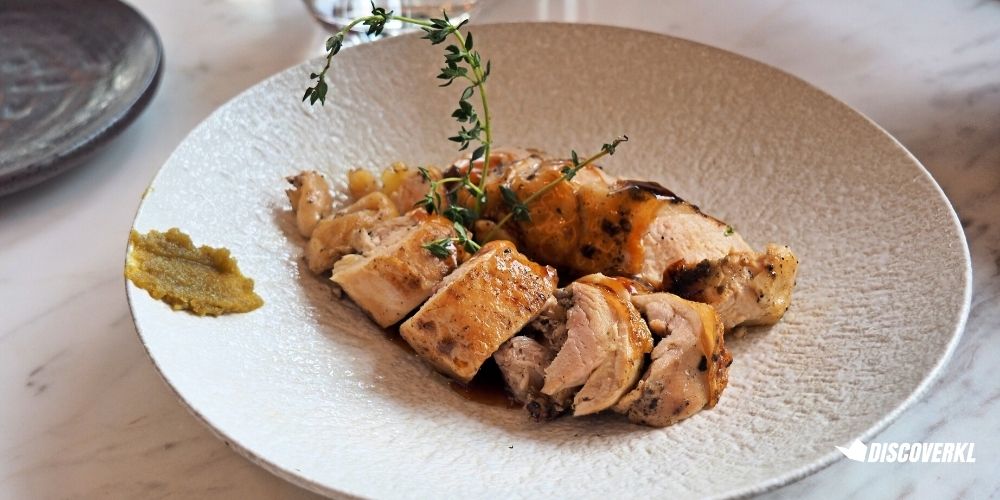 You might not care that the truffle is more of an aftertaste rather than a party in your mouth because the chicken itself is tender, moist and very well seasoned.
I also highly recommend adding on the tartness of the Yuzu Kosho (Calia's housemade wasabi) served on the side with your mouthfuls of chicken for the best flavour experience.
The Ones That Fell Short Of Our Expectations
One dish that could be polarising was the Calia Wagyu Bowl with 63° egg.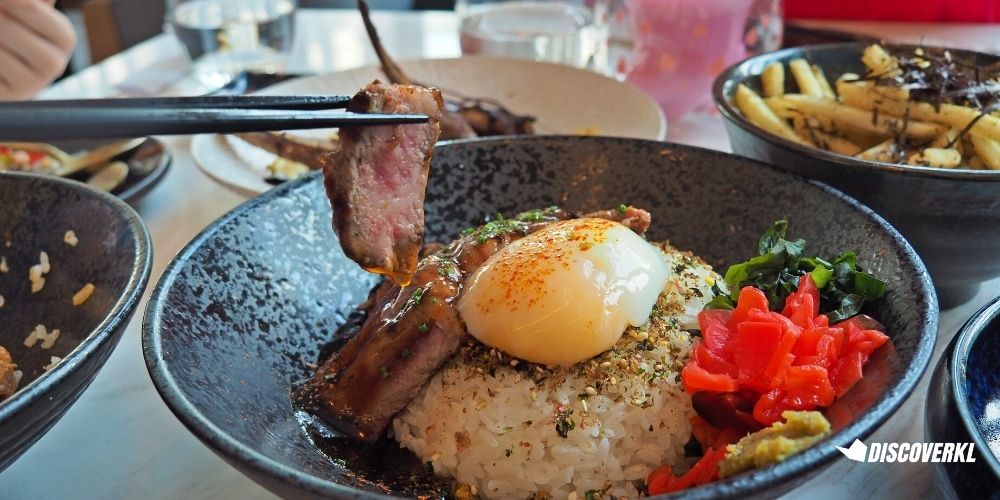 Now proper carnivores and meat lovers would know that a really good cut of well seasoned marbled steak would taste really good on its own, without the heavy addition of any sweet sauce or gravy.
When it comes to wagyu meat, the meat itself is more than capable of delivering in terms of texture and flavour. Calia's version, however, is rather heavy-handed with their signature sauce, and due to its sweetness, the natural taste of the wagyu was easily lost.
Perhaps what would have worked better is if the sauce had been drizzled a little more off to the side and not directly over the meat. Alternatively, it could be served in a separate side plate for each diner to dip in, to their own liking.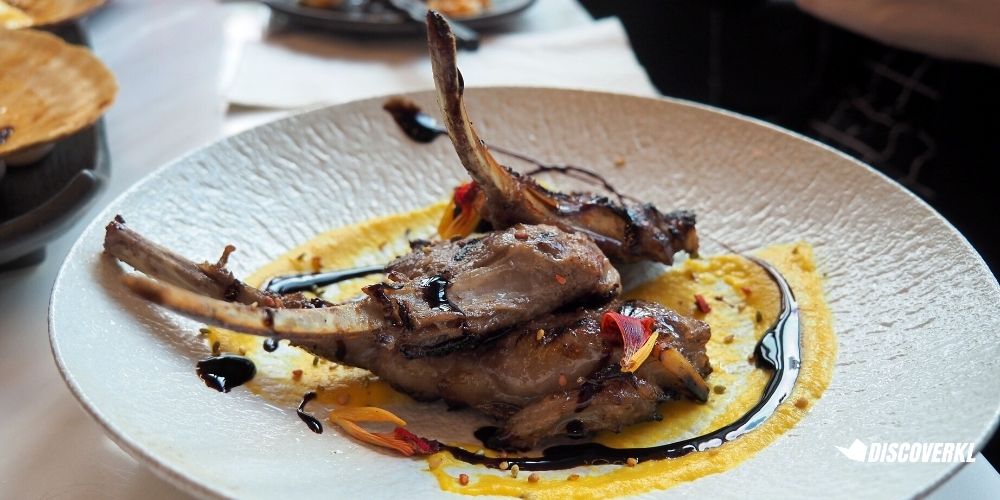 Another dish that we found would be better without its sauce is the Saikyo New Zealand Lamb Rack.
The lamb itself was juicy and tender. No complaints there. The pumpkin puree and balsamic vinegar sauce were also tasty, but somehow their combination with the meat just wasn't hitting the right notes for us.
Like the wagyu, we felt the lamb was good enough to stand on its own, without needing to rely on heavy sauces to be enjoyed. Or maybe it required a different pairing.
Drinks That Are Cuter Than Me
For drinks, we tried the Rose Latte, Matcha Latte, and Mörk Iced Chocolate.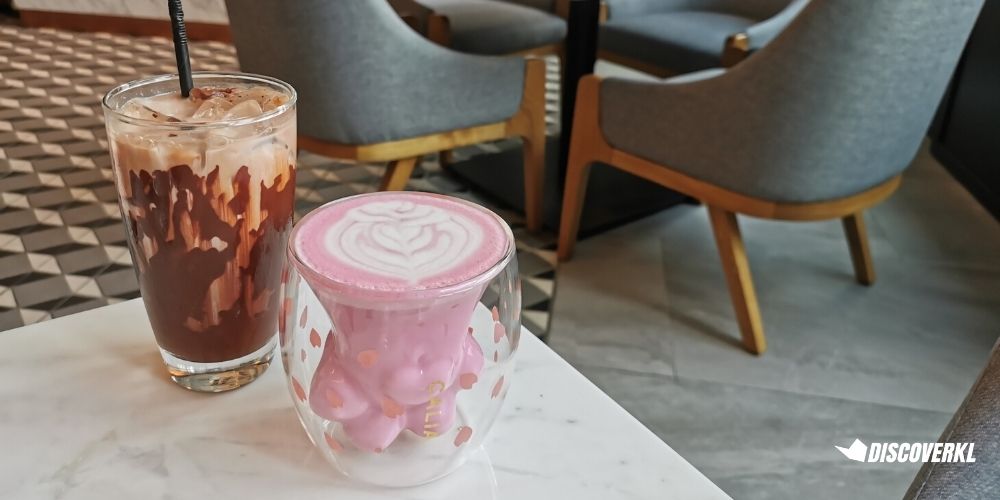 Served in their own cat-paw cup, actual organic rose petals were used in the creation of the Rose Latte for the aroma, but they used rose syrup too for a little more flavour and sweetness.
I enjoyed it a lot, but those with more discerning taste buds might find that it tastes a bit more artificial due to the rose syrup. One of us said that it reminded her of a Bandung drink.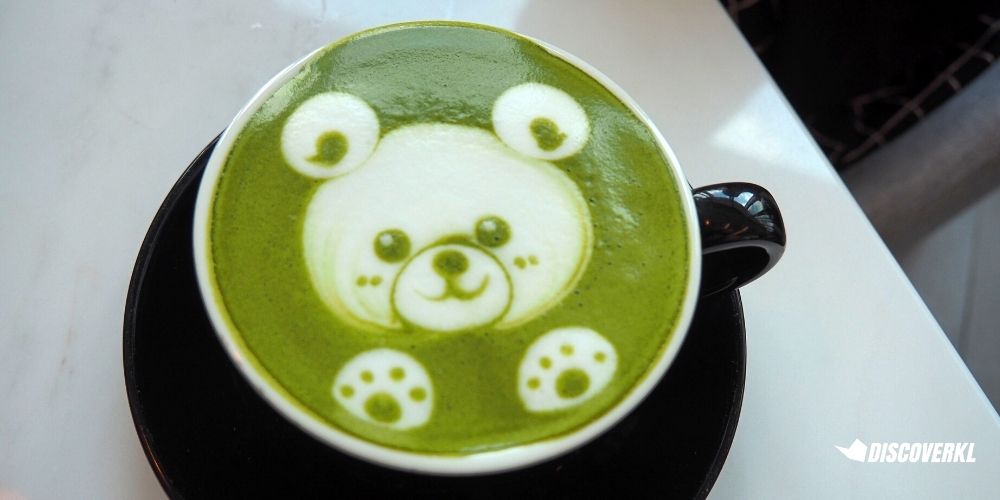 The Matcha Latte stole the show when it comes to drinks. The matcha was quite kaw, so if you're one to like strong matcha flavours, this will be right up your alley.
Speaking of kaw, the Mörk Iced Chocolate falls on the lighter side of that spectrum, so it's more like chocolate milk. If you like your chocolate drinks thick and made with actual melted down chocolate, this wouldn't be recommended.
Saving The Best For Last
Of course, we saved some space for dessert, so we ordered their Brown Sugar Boba Cake and Matcha Lava Lava.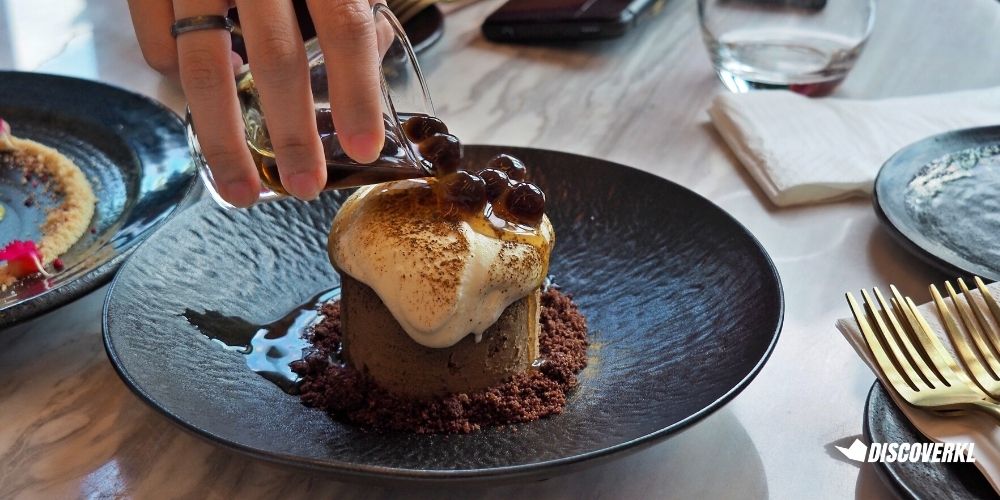 The Brown Sugar Boba Cake came with a helping of boba pearls which were rather soft and not very chewy. If you're a true boba fan, you might want to skip the pearls.
The sponge cake itself was very bouncy and airy, and the cream on top was mild. It's a classic combo for boba cakes, and it works very well here for Calia's rendition of it too.
This slideshow requires JavaScript.
As for the Matcha Lava Lava, we realised the lava mentioned twice in its name is completely justified. A generous thick helping of warm matcha ganache flowed out once the cake was cut.
We can only think of one reason why you wouldn't love the Matcha Lava Lava: if you don't enjoy the bitterness of matcha.
Other than that, it's a definite crowd-pleaser and another dish that most of us would return just to eat again. One of us even confidently claimed that this is the best matcha lava cake that she's ever eaten.
Final Thoughts
It's safe to say that we thoroughly enjoyed our experience at Calia.
While some dishes did fall short when it came to personal tastes, the 4 of us had at least one dish that we'd order (and pay for) if we stopped by Calia again.
For me, it was the Nasi Lemak Donburi and the same went for one of my colleagues, while another chose the Aburi Salmon.
Our fourth colleague found hers to be a tie between the Matcha Lava Lava and Sake Butter Clams.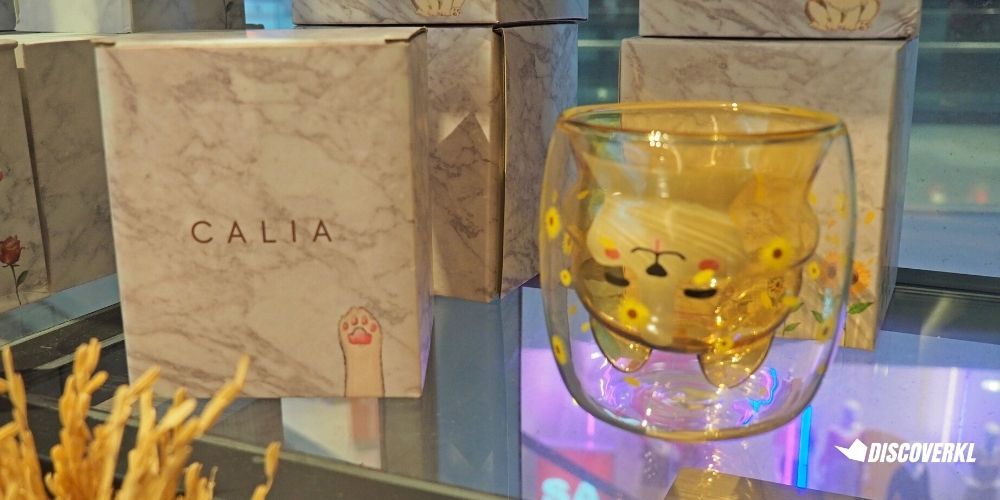 The Calia experience isn't just about sitting and dining there. Walking into the restaurant, you're greeted with a selection of goodies ranging from Calia's very own cup designs, kitchenware and a selection of spices and sauces.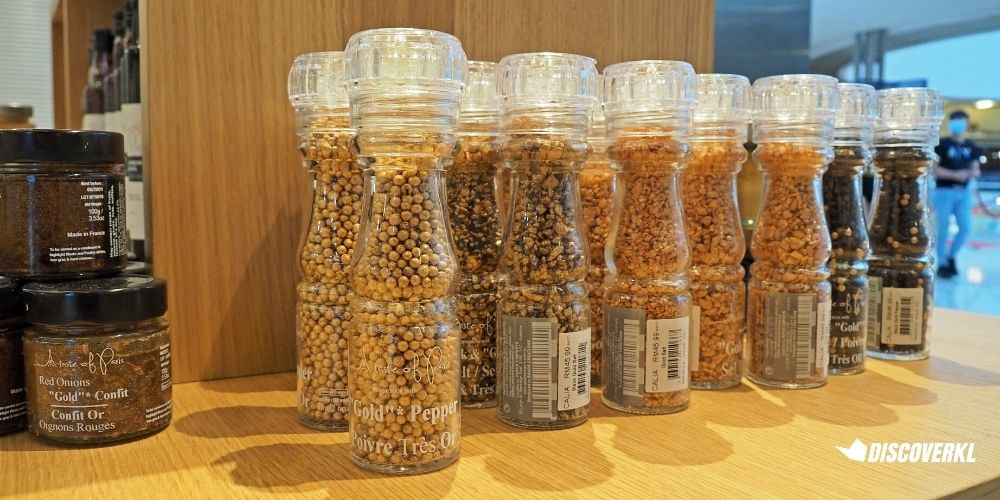 So if you'd like to replicate that touch of Calia luxury at home, you can bring home some souvenirs to grace your own kitchen or to cook with.
Calia
Hours: 12:00PM to 9:30PM (Monday – Sunday)
Address: Pavilion KL, Lot 6.11.00, 168, Jalan Bukit Bintang.
Website: https://my.calia.co/
Prebook: https://www.tableapp.com/partner/calia-pavilion-kl#/