Even before we stepped into Positano Risto, the atmosphere was beckoning us to do so. It's a spacious corner lot facing a little garden lit up with fairy lights. At the front is the alfresco area for patrons to enjoy the natural breeze and chill on sofas.
On the inside is a brightly lit and airy space with a feature wall spotting a landscape of Positano, Italy.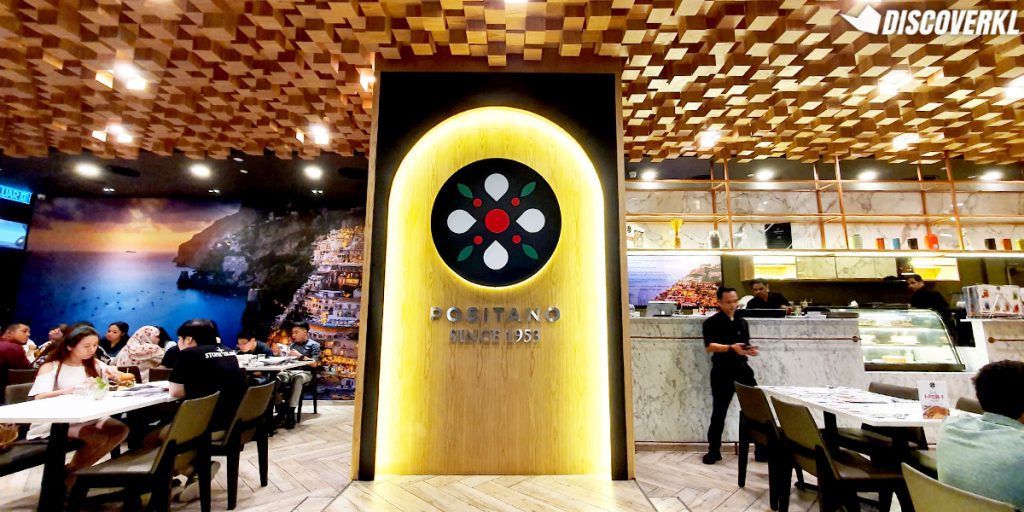 "I've never been to Positano. But my brother-in-law who's my partner has. He described the place as beautiful. It touched his and his wife's heart like no other place of worship ever did. And that sparked his strive to create a restaurant chain whereby Muslims and non-Muslims can dine together," shared Ishak, co-founder of Positano Risto.
Together, they opened their first restaurant in Singapore, at 66 Bussorah Street with the name Positano Risto. The moniker of this place roughly translates to "Positano's restaurant", which is made apparent by both outlets having a full-sized wall of the landscape of Positano.
Unpretentious Delicious Food
"When we decided to venture into this, a lot of industry veterans told us we'd fail. All because we wanted to have a halal Italian restaurant and most Italian recipes utilise wine. But we refused to listen because we know if we do things right, it will work out," said Ishak and we're glad they pushed on.
If they had listened to the negative Nancys, we'd never have had the chance to try this cheesy and fragrant thin crust pizza.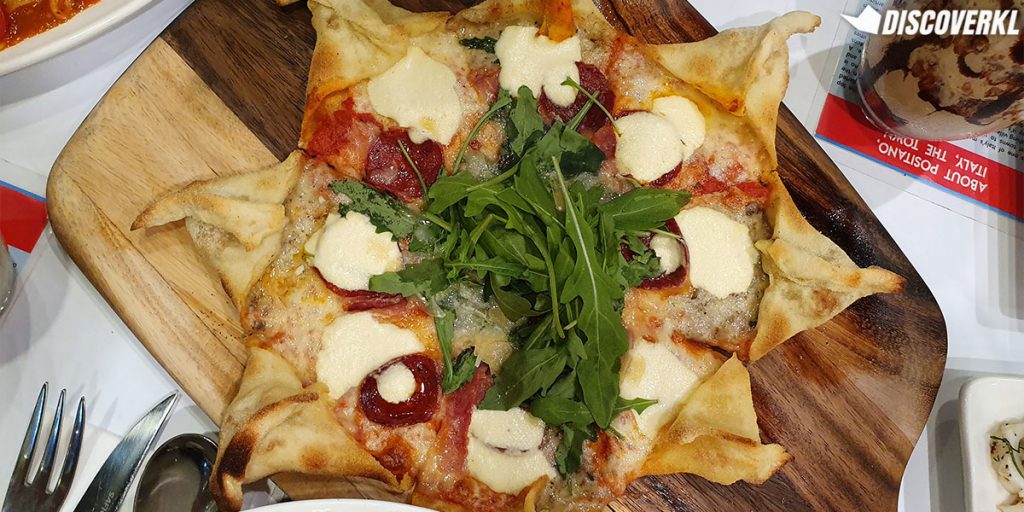 The Positano Super Supreme Calzone is a pizza with 8 pockets filled with mushroom and beef pastrami goodness. Topped with tomato sauce, mozzarella, turkey ham, beef pepperoni, burrata cheese, parmesan cheese and rocket salad, it had a soft and cheesy base with a light crispy crust.
Due to the combination of meats and herbs, it was a savoury and herby delight.
Bridging Gaps Over Plates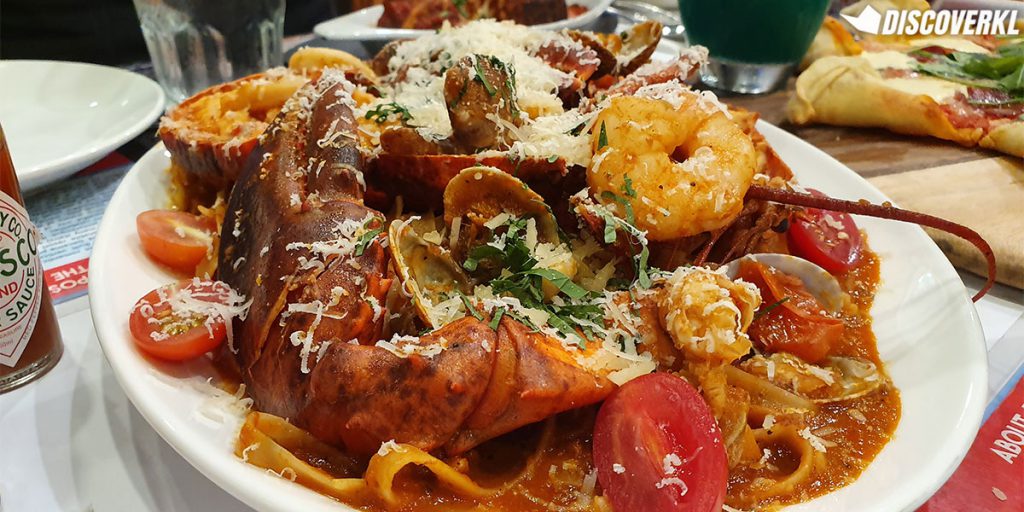 As much as we fight over the ownership of nasi lemak, hawker centers, and the classic copycat conundrum, there's one thing we all agree on. 
"Good food is a universal language," explained Ishak, to which we wholeheartedly agreed with.
"We've been seeing quite a lot of multiracial-working crowds come over to dine, in both Singapore and KL. And that's great because it's a different alternative from the typical nasi kandars. Positano Risto is halal and we've got great options for everyone to choose from!"
As the evening went by, a steady trickle of patrons filled the seats. It was refreshing to witness a nice racial demographic balance under one roof. At Positano Risto, it was like the spirit of 1Malaysia came to life in an Italian Restaurant.
We love how they've got mains for sharing too such as the Positano Signature Boston Lobster Fettuccine.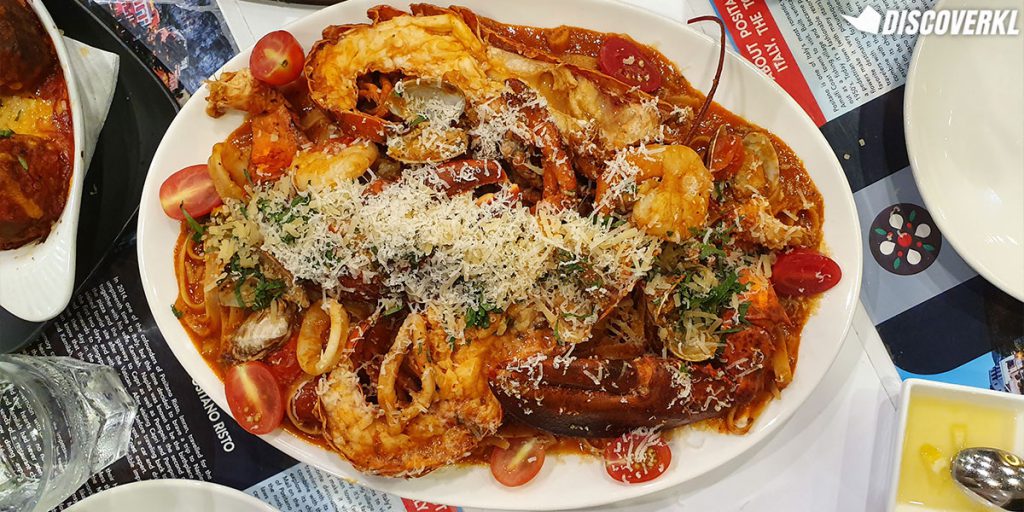 Whole Boston lobster and fettuccine tossed in their signature lobster bisque sauce. It's served with a generous portion of tiger prawns, squids and vongole. Although it says on the menu that it's good for two, you could share it between three to four persons with the inclusion of other sides and mains.
Authenticity With A Lokal Twist
Having had my fair share of halal western cuisines, I've been burnt enough to know to stay away. I've come to expect plates of over-boiled noodles swimming in thin, sweet tomato soup, served with mushy subpar sausages or chewy slices of ham. As for drinks, it's usually coloured syrups with a dash of water. And for dessert, muffins with chocolate cream passed off as a poor excuse of a lava cake. 
Ishak said that European dishes are generally milder-tasting in comparison to our local flavours. Hence, they had to tweak the dishes at Positano Risto a little to fit the local palate.
Their Amalfi Style Seafood Soup and Slow-Cooked Italian Meatballs bore testament to that.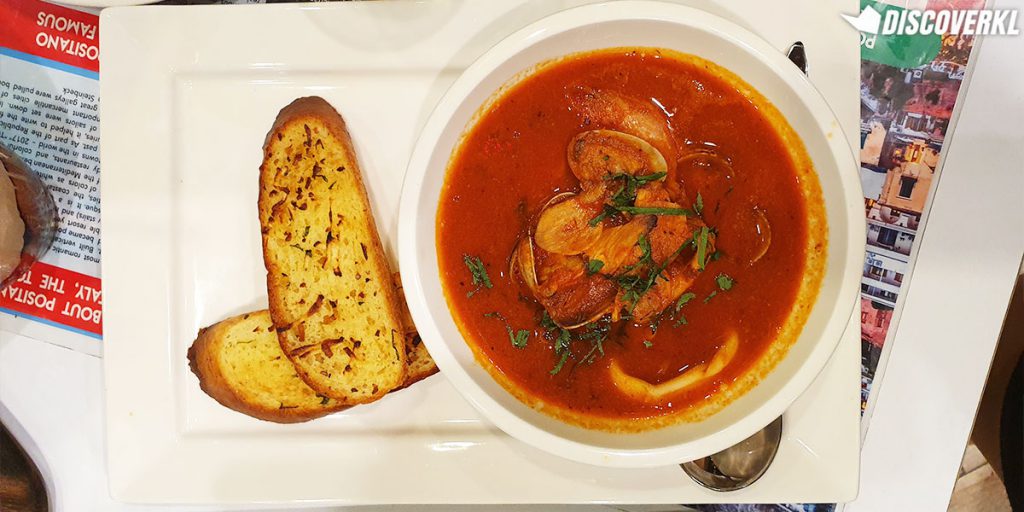 Made from scratch, the seafood soup was flavoursome and also had a generous serving of tiger prawns, squids and clams. Served with two pieces of garlic bread, we happily lapped up the rest of the soup on its own too.
However, their Slow-Cooked Italian Meatballs were a show stopper.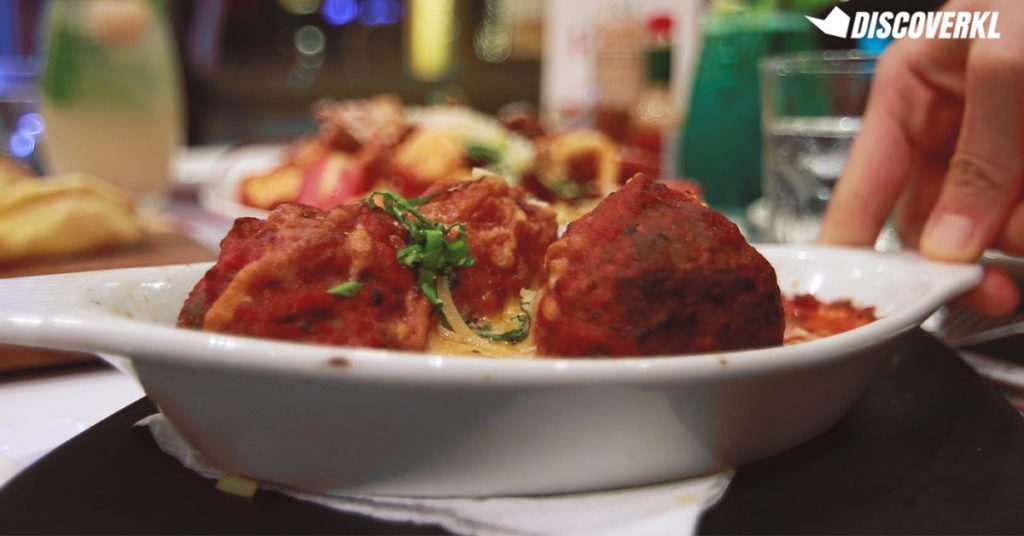 Easily the size of a golf ball, the meatballs are made from 100% meat with eggs as a binding agent. This resulted in a compacted ball of meat that fell apart with the ridges of chopped meat.
Braised in their in-house spicy tomato sauce, the mozzarella and cheddar cheese balances out the tangy and savoury tomato base.
As for pasta, their Fettuccine Carbonara is their best seller and we can see why.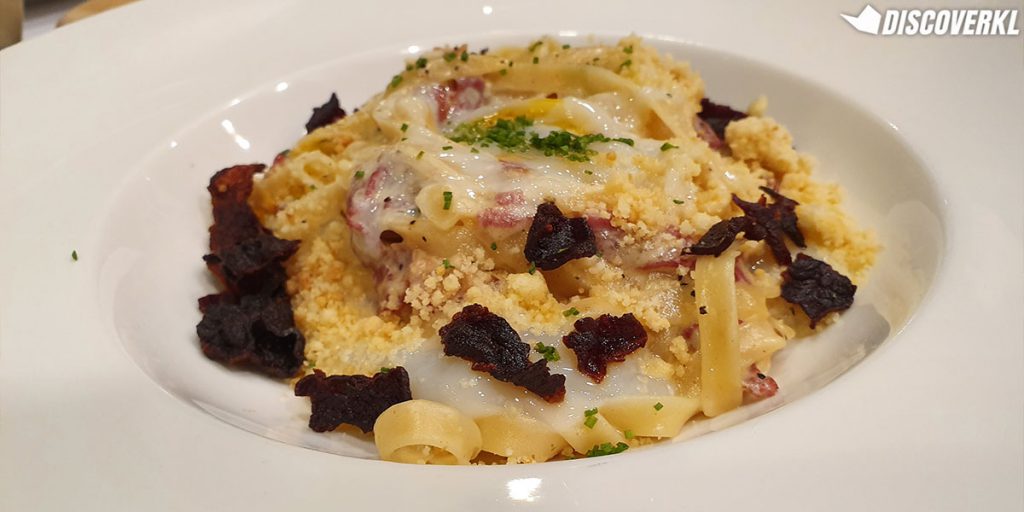 Housemade pasta tossed in traditional Italian carbonara, topped with beef pastrami, crispy beef bacon, chives, parmesan crumbs and a sous vide egg, it's the perfect milky dish.
If you'd like to have something light and refreshing like a crisp summer's breeze, their Char-Grilled Calamari with Herbs is a must-try.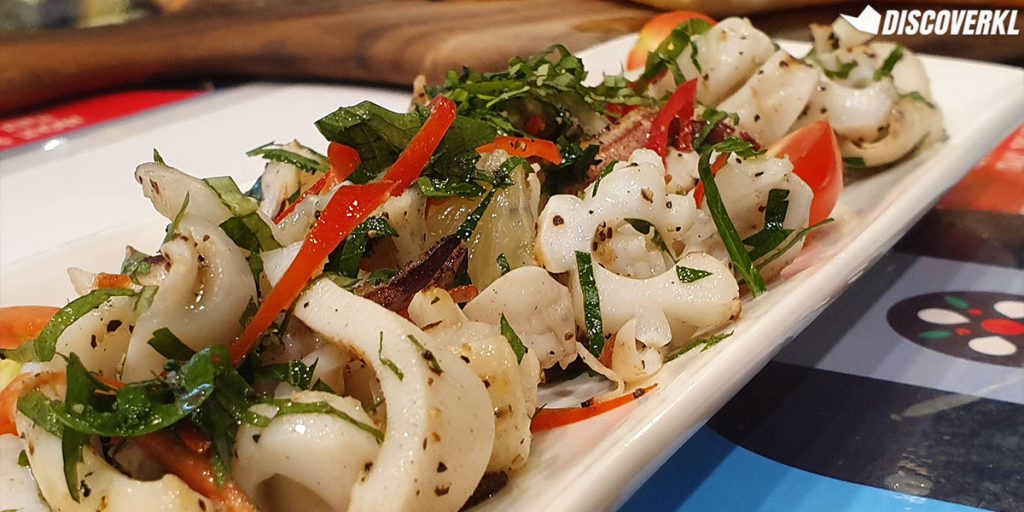 Tossed with fresh mint, parsley and sliced chilli served with a drizzle of garlic oil and lemon, it's akin to a Chinese cold dish served in banquets.
A Refreshing Change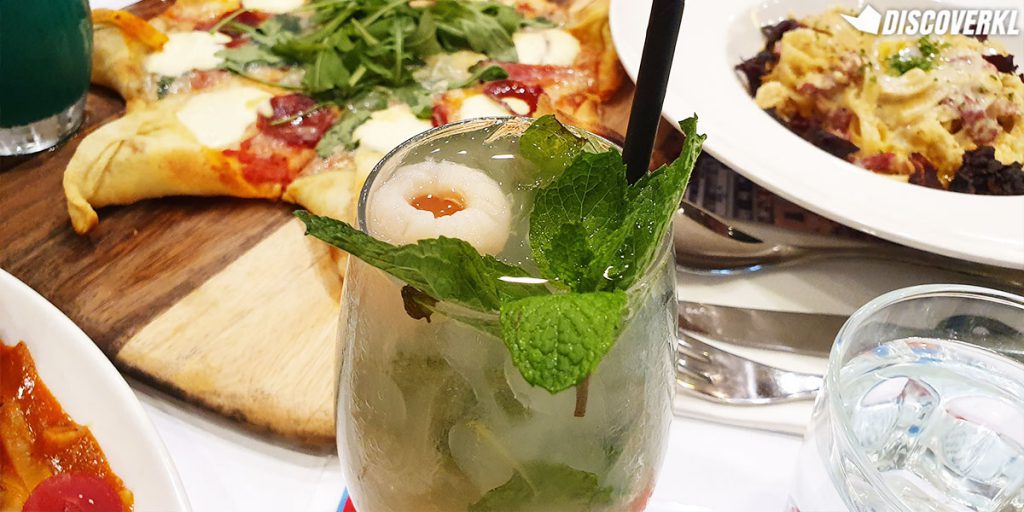 While most European cuisine eateries would serve wine to accompany and amplify the taste of their dishes, Positano Risto serves thirst-quenching mocktails and shakes instead.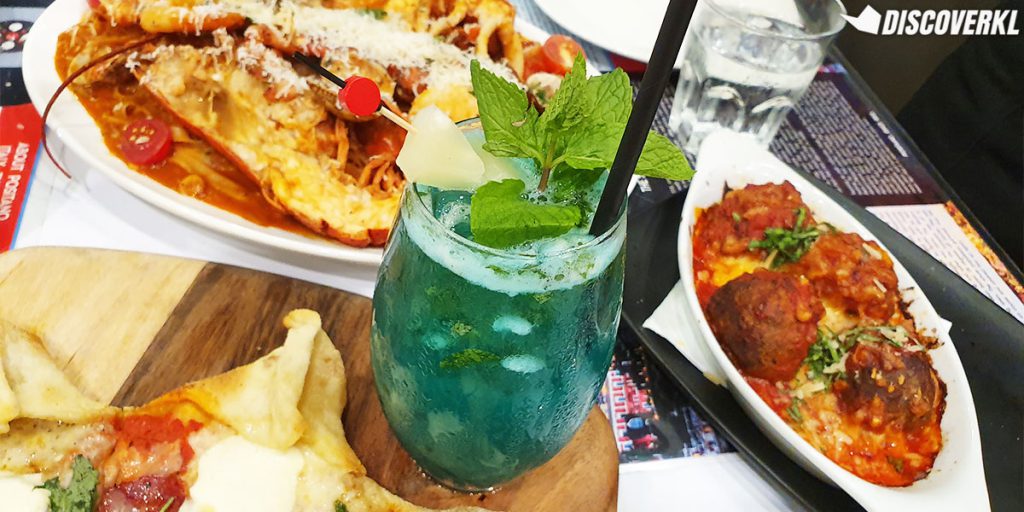 For their mocktails, we had their Lychee Di Menta, Sky Walker and Passion Colada. The Sky Walker made from wild blueberries, Blue Lagoon and Lemon-Lime Soda is reportedly their bestseller.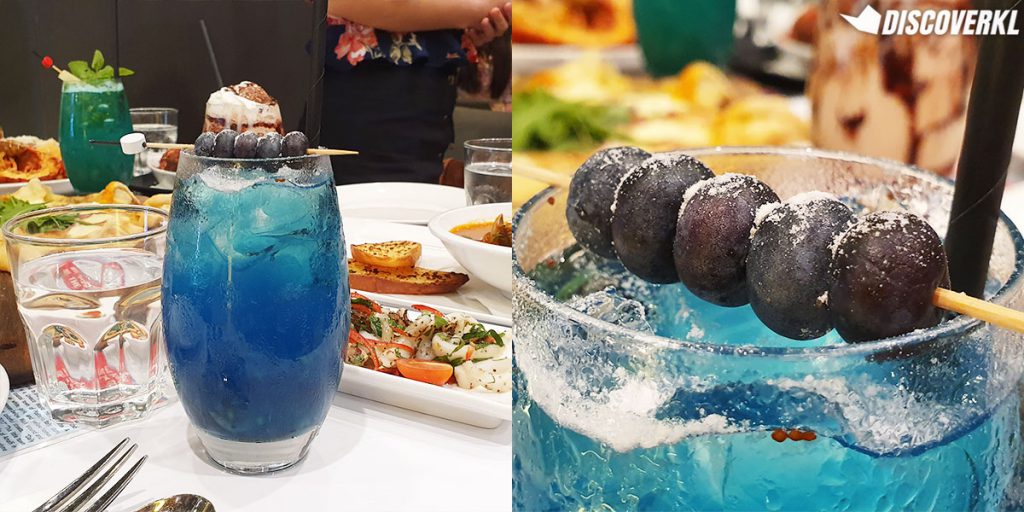 Served with sugar-dusted blueberries on top and crushed blueberries in the drink, it's a fun drink to sip and nibble on as you wait for your food to arrive.
However, our personal fave was the Godfather milkshake that had Ferrero Rocher, Nutella and premium vanilla ice cream.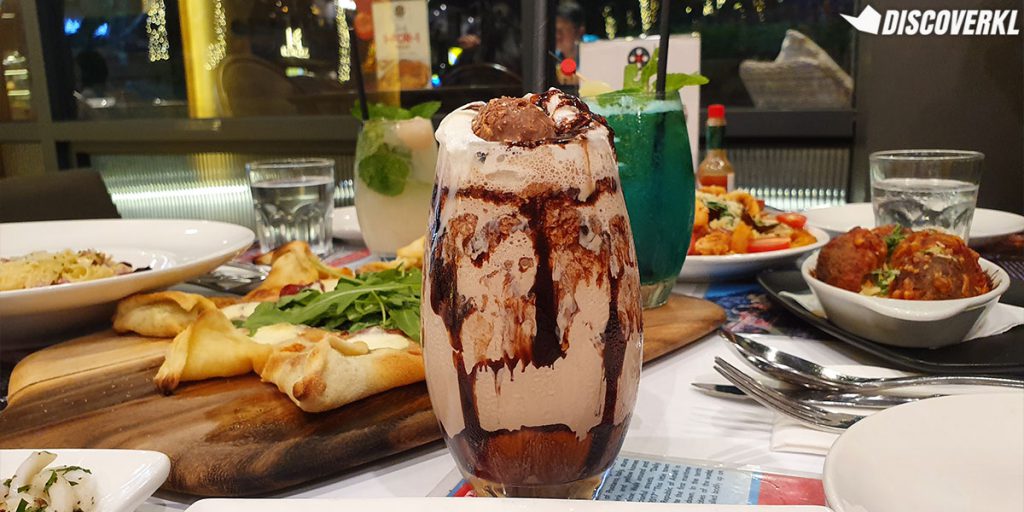 It was creamy and chocolatey but not too much dairy till it fills you up too quickly.
As for desserts, their Positano Signature Oreo Chocolate Lava Stack was a sinful delight to end our meal with. A warm molten dark chocolate lava cake stacked on a homemade Oreo mud pie ice cream drizzled with chocolate and caramel sauce.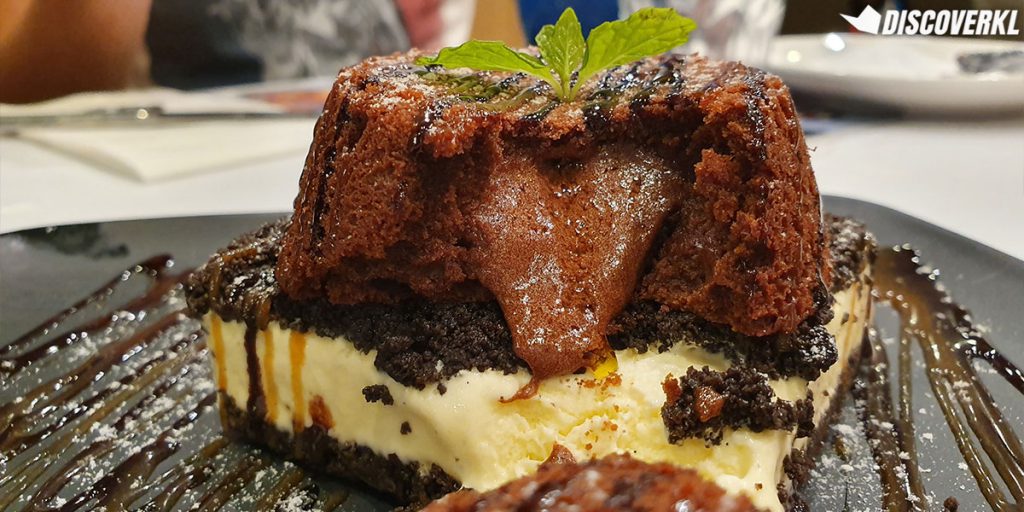 And yes, the molten chocolate really flowed.
We love how the vanilla ice cream added a lighter layer to balance out the heavy chocolate flavours from the cake and Oreo.
John Steinbeck once said, "Positano bites deep. It is a dream place that isn't quite real when you are there and becomes beckoningly real after you have gone."
Ishak shared with us that the core values of this restaurant is to serve 5 star food at 3 star prices. Coupled with the warm and inviting experience, they know they've succeeded when a customer returns for more.
And honestly, we'd gladly return for more. Positano Risto, you've left a deep mark.
P.S.: They've got express lunch sets from 12pm-3pm too! Starting from RM17, choose from 10 different dishes and get a complimentary beverage.
Positano Risto
Hours: Mondays-Fridays: 11am-10pm; Saturdays-Sundays: 11am-11pm
Address: Block C1, Lot 2, Level G3, Publika Shopping Gallery, Solaris Dutamas, No. 1, Jalan Dutamas 1, 50480 Kuala Lumpur
Website: Positano Risto
Tel: 03-6411 3799