Healthy food is often perceived as tasteless, plain, boring and much too overpriced for the most part. At least, that's what I think.
Having this in mind, Hale, a local healthy restaurant, was launched. Their mission? To rewire mindsets like mine.
Their founder shared that they want to promote the belief that eating well is simple and it can be in the form of interesting and delicious food.
Under Hale, you'll get dishes such as BBQ Chicken Brown Rice, Chicken Pesto Pasta, Salmon Quinoa Bowl and more. Best part of all, you can get all these delivered to you for free with no minimum order.
Check out their full menu here.
However, they've also got a physical restaurant called Agrain by Hale which serves grain bowls and Western-inspired recipes with an Asian twist. These are also available to be delivered to you via FoodPanda.
Being foodies and non-health food junkies, we decided to give Agrain's bowls a go to see if it would change our mindset about healthy food delivery services.
Agrain allows customers to pick from an assortment of ingredients to build the grain bowl of their choice. Alternatively, there are also preset bowls for those who can't be bothered to make their own. We decided to go with both.
Build Your Own Grain Bowl
For their grain bowl, you'll get to select three different bowl sizes, namely Petit (RM13.90), Regular (RM16.90) and Large (RM20.90). In every meal order, you'll get to select a base, protein, supplements, toppings and dressings.
The difference in pricing is reflected in the amount of protein (1/2 portion for Petit, 1 portion for Normal and 2 types for Large), number of supplements (2 for Petit, 3 for Regular and Large) as well as the toppings portion (1 topping for Petit and Regular, 2 for Large).
1. The Basic Beige Bowl (RM16.90)
We created the Basic Beige Bowl to answer the question of whether a bland-looking bowl would taste equally as bland.
Naturally, we went with the blandest colour of them all: beige.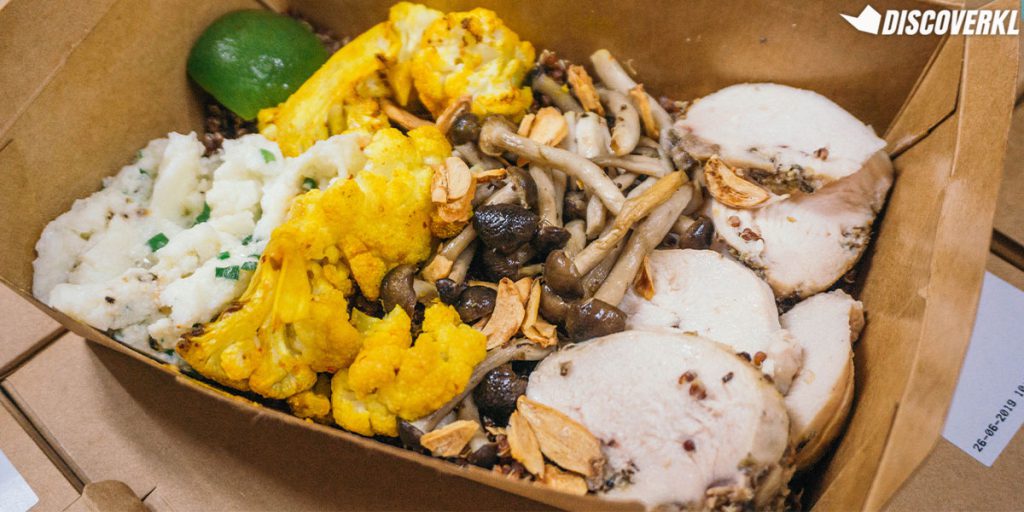 Everything in the box is white or brown in colour, with the brightest colour being the yellow from the turmeric cauliflower and green from the limes.
To my surprise, this was a rather nice tasting bowl. The miso-infused quinoa gave a savoury taste that was complemented by the herbs from the turmeric cauliflower and the citrus-y lime.
The chicken breast was alright, not dry nor stringy. The egg whites, scrambled with what appears to be dried herbs, was not particularly flavourful but it was definitely an interesting way to cook an extra side of protein.
Only complaints from my colleagues for this bowl was that the quinoa was a little under cooked, hence it having a tougher texture.
2. The Vegetarian Bowl (RM16.90)
For this bowl, we decided to try some of Agrain's vegetarian options because the general assumption, especially for someone who enjoys her meat, would be that veggies = plain tasting.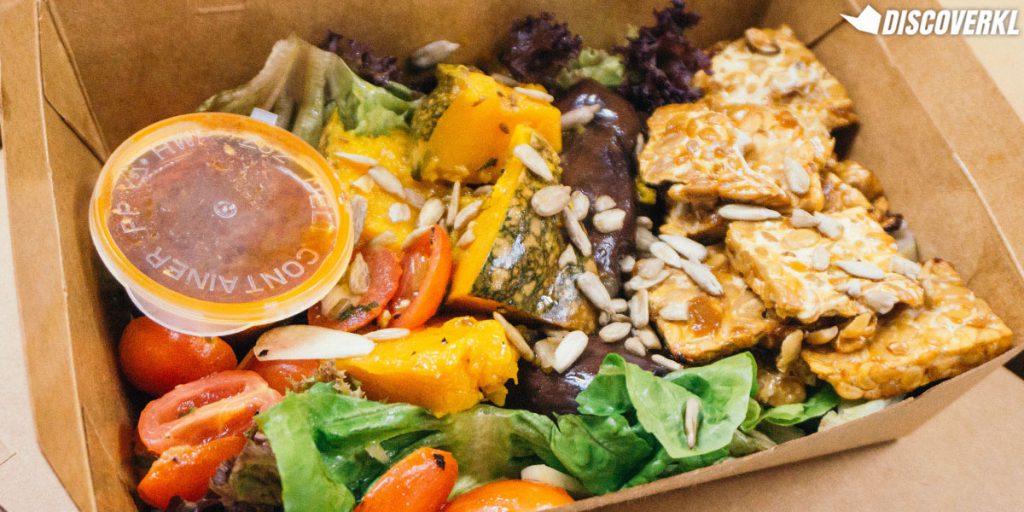 To my surprise, this was honestly one of the best plant-based meals I've had in a long time. The teriyaki tempeh was nicely marinated and flavourful, definitely something to order again.
While we do get stir fried pumpkin and eggplants everywhere, the addition of spices such as cumin and thyme was an appreciated change from the norm.
Eaten with a side of tomato sambal, it gave a layer of sweet and savoury spice, making this a flavourful dish.
However, the marinated cherry tomatoes were too salty. While some would appreciate the taste, personally I did not enjoy it.
3. The Rabbit Food Hater Bowl (RM19.90)
If there's anyone in the office with a penchant for meats, it's my boss. She's usually seen roasting chicken, making meat stews and cooking up some delicious meat-based dish in the office.
She's also a very picky eater and admitted that she disliked 90% of the items on the Agrain menu. Hence, we just had to get her to customise a grain bowl for herself.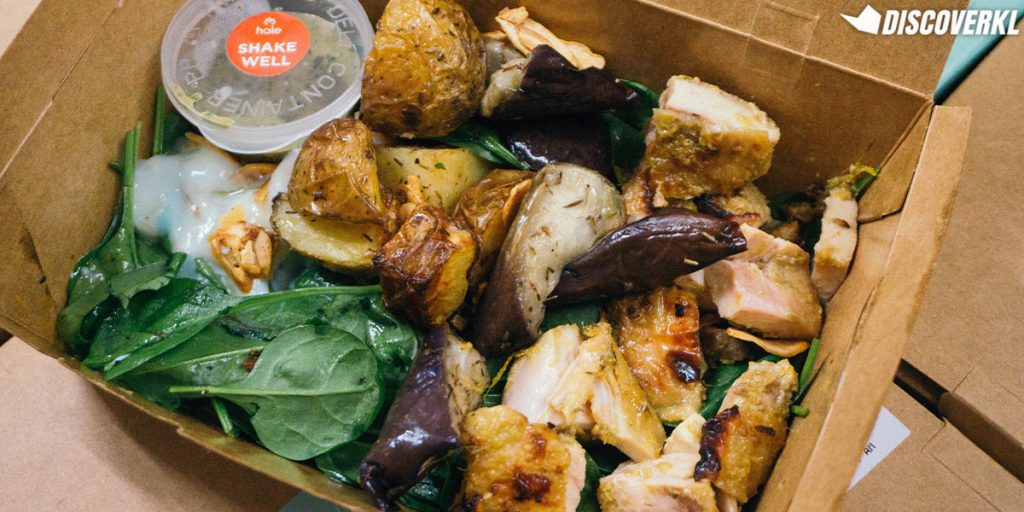 The lemongrass chicken thigh was nicely marinated and went well with the herb roasted potatoes. However, the spinach tasted "too raw" for her liking and it had a slightly bitter aftertaste. As for the basil pesto sauce, it had a hint of star anise which felt a little out of place.
Perhaps if the ingredients were served nice and hot, like it would be at a restaurant, it would have tasted nicer and less like a bowl of leftovers served on a bed of baby spinach.
4. The 'Safe' Bowl (RM13.90)
We created a "safe" bowl which is intended for first timers who are curious on what healthy food could taste like.
We selected the most foolproof ingredients like brown rice and chicken and also decided to go with the smallest portion size because naturally, if you're trying something new for the first time, you wouldn't want to go all out on the largest bowl, only to wind up with food wastage if you happened to dislike it.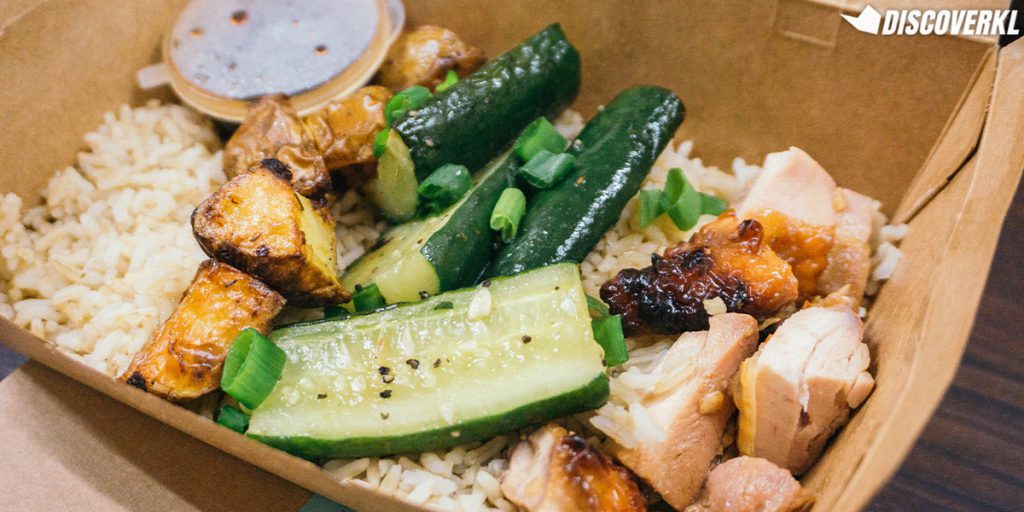 Should you not be a fan of breast meat and lemongrass, the honey soy chicken thigh is definitely worth the try. Juicy, sweet and savoury, it was quite a delight on its own.
Even though I decided to flirt with the devil and order a soy-lime-cilantro dressing, it tasted like sushi soy sauce which was surprisingly alright. However, I'd strongly recommend being careful with the amount of sauce you add to your grain bowl if you're not a fan of your food swimming around in gravy.
5. The Tam Chiak Bowl (RM33.90)
Depending on how you look at it, this order would be for two small eaters or one really hungry person.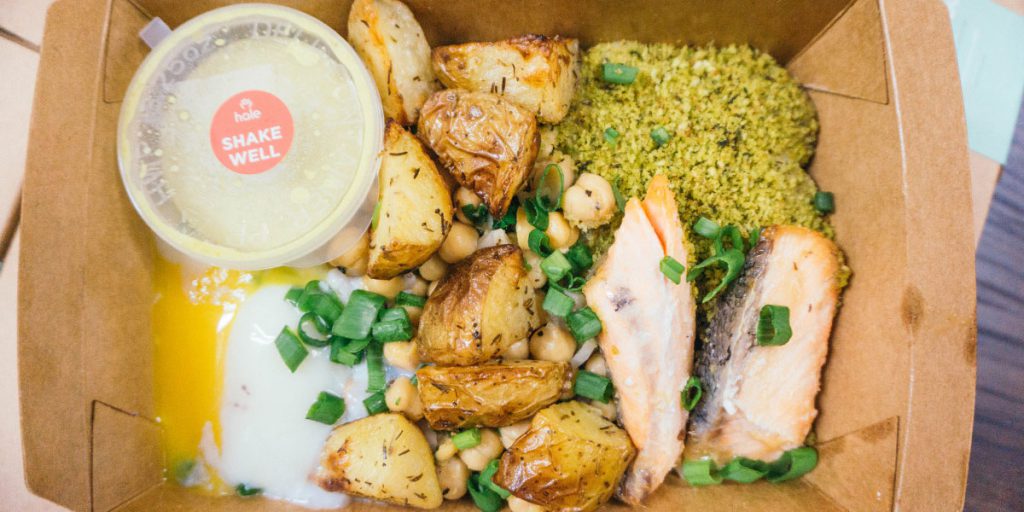 This box was definitely a heavy one.
We customised our large bowl to include two proteins: a herb crusted white fish and baked salmon, a serving of onsen egg, chickpea salad and herb roasted potatoes.
My two colleagues who shared this box noted that Agrain was pretty generous with the portion of brown rice in this order.
Combined with the sizeable protein portions, it was a filling meal. While they enjoyed the proteins in particular, one of them found that the ingredients chosen for this bowl was just a little too plain. Price-wise though, it's definitely worth it if you're looking to share with another person.
6. The Surprise Bowl (RM16.90)
For our final order, we got Agrain to surprise us with a grain bowl combination that they think we might enjoy.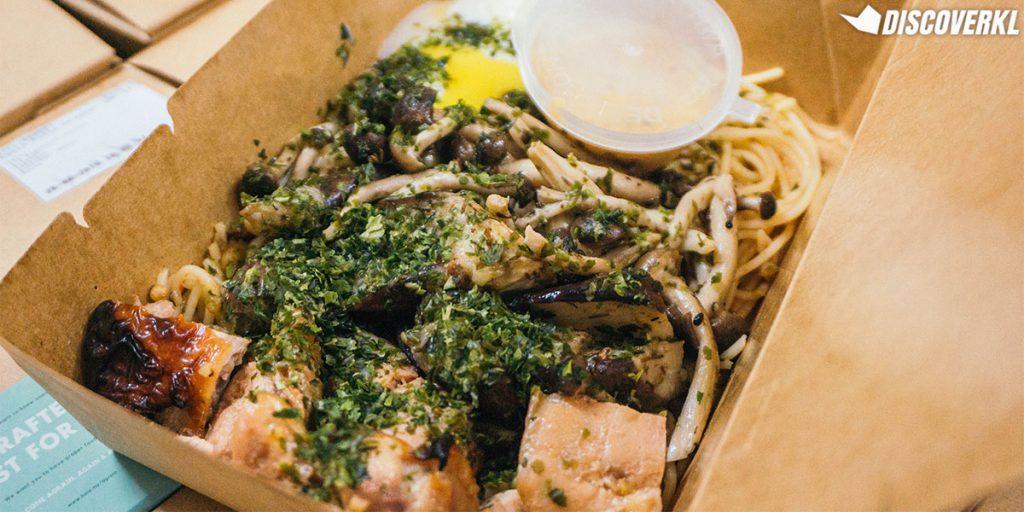 And like how we got our food, they delivered. The salted egg yolk dressing was legitimately creamy and fragrant; not some poor excuse of artificial flavourings whipped into a creamy consistency.
The combination of the pasta with the onsen egg, nori and dressing created a flavourful symphony. Eaten with some honey soy chicken thigh, you can say that this will be one order we'd return for.
From the Agrain Summer Menu
Should customising a grain bowl from scratch be a little too tedious for you, they've also got preset bowls whipped up with healthier and nutritional ingredients.
We had Agrain's Buddha Bowl, Signature Nasi Lemak, Pesto Pasta Chicken, Thai Viet Noodles, Green Curry Chicken and Country Side Salad.
Here are the ones we'd come back for:
1. Signature Nasi Lemak (RM15.90)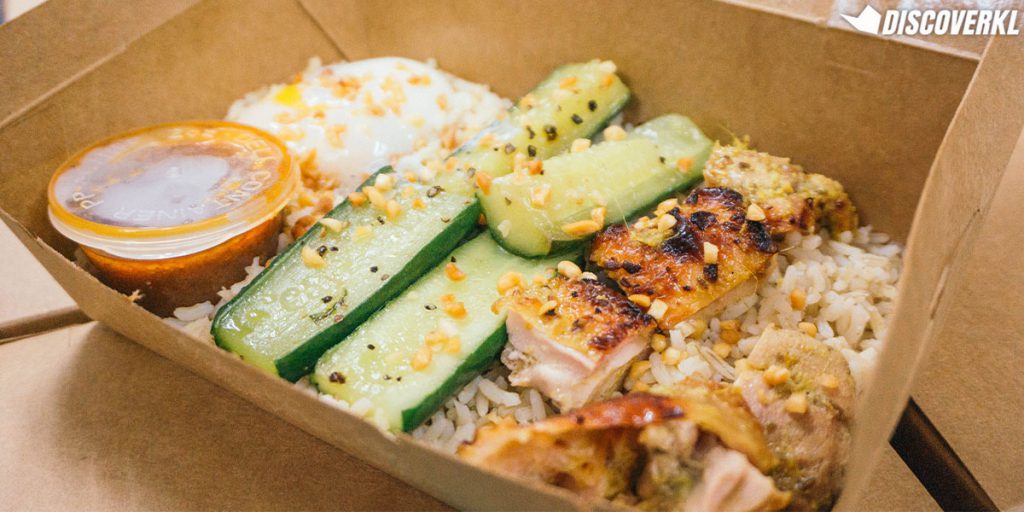 It's definitely not your gerai tepi jalan kind of nasi lemak, but it's a healthier alternative. The brown rice is fragrant and cooked with coconut and the lemongrass chicken is akin to the taste of satay ayam meets rendang chicken. If anything, it tastes familiar.
Personally, the onsen egg and grilled cucumber elevated this humble Malaysian delicacy.
2. Thai Viet Noodles (RM15.90)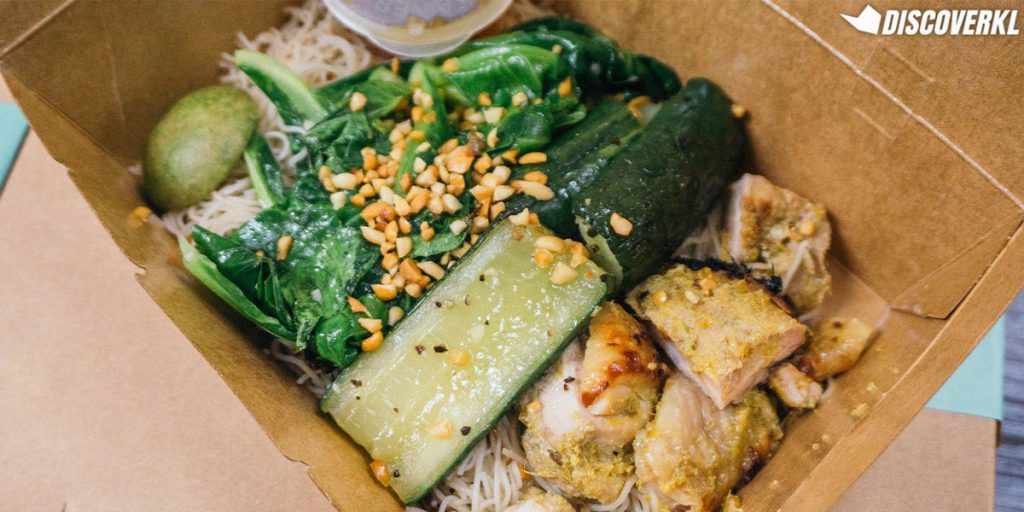 This was a refreshing meal with the sauce adding a nice kick of citrus to the otherwise plain vegetable condiments. For its price, I'd say it's fair and on par with what you'd typically pay in Vietnamese/Thai restaurants.
3. Green Curry Chicken (RM13.90)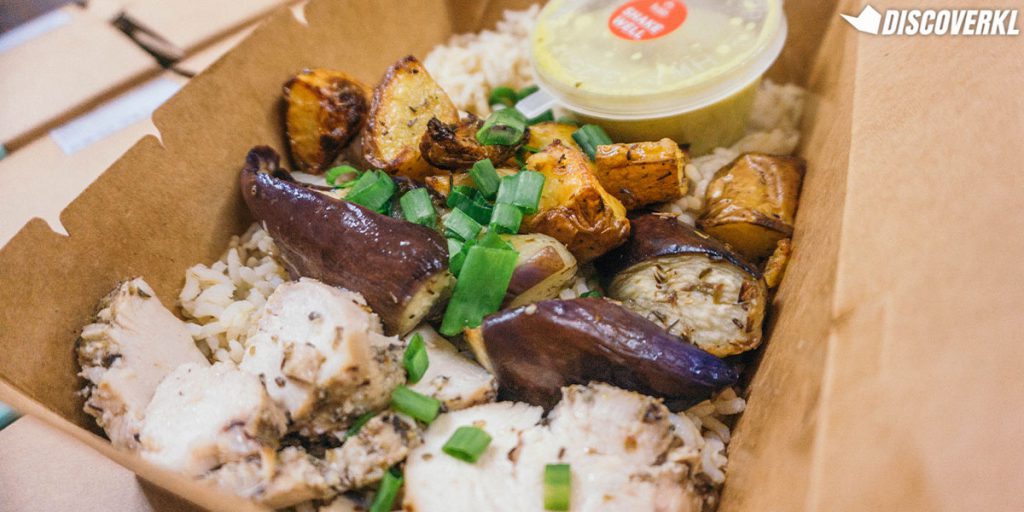 What really made this dish stand out was the Green Curry dressing. Creamy but not too heavy, it added an aromatic flavour without it being too rich to finish.
-//-
At the end of the meal, we were quite full but at the same time, we had a craving for something sinful.
It's probably because we're accustomed to eating food with a higher grease and salt content, thus making our healthy lunch taste rather bland in comparison.
That being said, we did have some winners, especially with the Vegetarian Bowl, Tam Chiak Bowl, The Surprise Bowl and the Signature Nasi Lemak.
For the most part, we felt that Agrain delivered with their meals. It also allowed us to be more aware of what we're putting into our bodies and make better changes to our diet.
What we do hope for in the near future is to have more protein-filled options to choose from.
Agrain by Hale
Hours: Mondays-Fridays: 11.00am-3.30pm, 5.30pm-8.30pm; Saturdays-Sundays & Public Holidays: 11am-3pm
Address: Suite G01, Ground Floor, The Gardens North Tower, Lingkaran Syed Putra, Mid Valley City, 59200 Kuala Lumpur
More hours and locations here.
Tel: 03-22020595