Les Mills may be a familiar term to those who work out in fitness centres.
But for those who don't, it's actually a global brand that develops fitness classes for trainers and individuals to work out to.
They're commonly found on the class schedules of popular fitness centres like TopSpeed Fitness, Celebrity Fitness and CHi Fitness.

They've got more than 16 types of workouts available, like BODYPUMP, BODYCOMBAT, and LES MILLS BARRE. With the addition of LES MILLS Virtual, they hope to recreate the experience of a class in a virtual setting, with cinematic content.

According to research done by the team, it has shown that their immersive cycling class, THE TRIP (done under the virtual experience context) yielded a reduced perception of fatigue with the same or higher workout intensities.

Recently, Les Mills previewed a virtual reality class at their office and I had the privilege of taking class with them. These virtual classes are already available in some participating fitness centres across Malaysia. You can also opt to take class from the comfort of your own home, through an app.

Here're my initial thoughts of the experience:
1. Virtual Experience ≠ Virtual Reality

Honestly, when they labelled this as a virtual experience class, I was immediately assuming that we'd be wearing VR goggles and some form of kinetic tech. But nope, all that was set up for the LES MILLS BODYCOMBAT class was an empty room with a projector and two speakers.
After watching the introductory video on how the virtual classes are produced, it almost felt like I'd be working out to a YouTube video. I was disheartened. But my curiosity made me hustle on anyway, because to be fair, it would be really annoying (and gross) to work out while wearing the VR goggles that are on the market today, which are simply bulky.
2. It involves a well thought-out workout and production
"Because our classes are filmed with a live audience, you have a substantial amount of atmosphere and live noise which helps to create that sense of being part of a class, rather than just looking at an instructor on a screen.

Keith Burnet, Les Mills' Global Market CEO
During the virtual class, Les Mills showed us the production process of the video. First, the team works on selecting the right licensed tracks that suits the energy of the workout they're preparing for. Then, they work with the instructors to choreograph and plan the workout session for the maximum benefit of users.

Next comes the lights, cameras and actions by a group of instructors leading a crowd for workouts. This is how they capture the natural energetic charisma exuded by the trainers on screen.
And finally of course, the post-production to produce cinematic workout videos, which is a huge step from the VHS tape workout videos from Jane Fonda's time.
The visuals are arranged in a way to keep you focused on the workout while not being too trippy that it sends you on a psychedelic trip.

The cheers of the live audience and the charisma of the trainers working out together really creates a motivating atmosphere too.
3. It's much less intimidating for first-timers taking a group class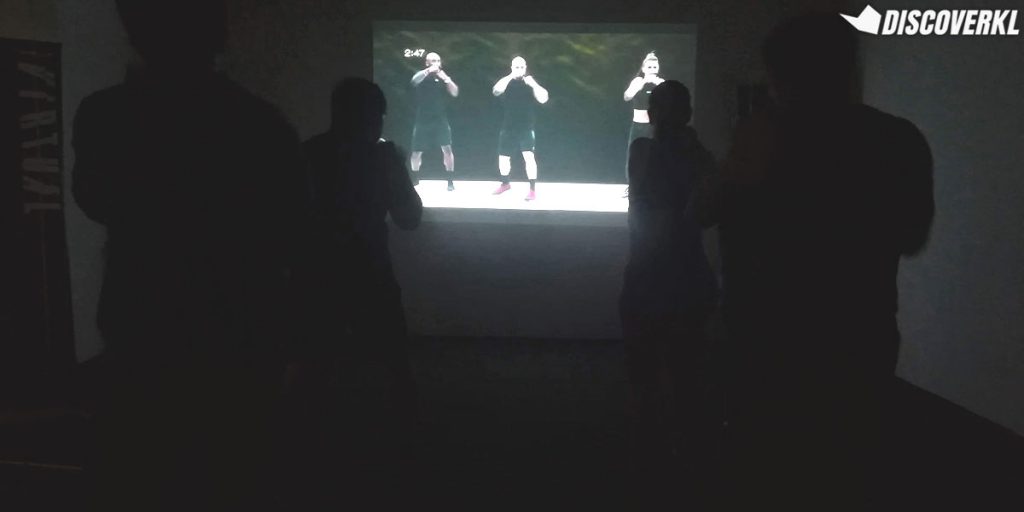 Despite being an extrovert who's familiar with gym equipment and the prospects of working out, group classes are one of my worst fears. Perhaps it's the shame of seeing really fit 60-year-old aunties slay all the movements while this 20-something-year-old stumbles her way through a Body Combat class.

To a certain extent, these classes are fun and motivating. But when you're working out in broad daylight, in front of a full-length mirror, surrounded by adults who clearly know their moves, reality gets too real.

During this virtual workout experience, I realised that I could focus much better on myself rather than focusing on others like I usually do. Maybe it's the flashing lights from the video or the darkened room. But it gave a sense of privacy and the freedom to laugh at myself when I messed up the steps.
It's sort of like when you're sitting in a crowded cafe with your earphones on, listening to Spotify, oblivious to the world around you. Except you're working out too.
At one point, I even found myself feeling like I was in a Black Mirror episode, what with the lack of an instructor and everyone in the room working out unanimously to a projected screen. It felt utterly surreal but downright cool.
4. I worked out harder than I had expected to

"Content is key and so is the experience. It is still about the experience…You want to feel motivated, you want to feel excited, and you want to look forward to doing the activity. Virtual allows you to do that by recreating the experience of a class in a virtual setting."

Phillip Mills, CEO of Les Mills International
Here's what we did in about 30 minutes: kicks and punches, burpees, mountain climbers, push ups and sumo squats.
In regular workout group classes, I'd tap out by the 15-minute mark from feeling faint and nauseous. But I was surprised at myself for holding on for about 25 minutes before taking a break from push ups because my arms felt like jelly.

This increase in performance could possibly be attributed to the energetic video and soundtracks booming from the speakers. It was really easy to get into the flow because all we had to do was follow the beat of the song and the movements of the instructors.

Plus, they would occasionally make funny but oddly motivating noises with the accompanying movements—think "skrrt pap pap pap"—to drive more power to your movements. Yes it appeals to a meme-loving Gen Z, sue me.
5. It acts as a global passport to fitness

"Les Mills virtual classes helps to provide the 'always-on' service that millennials and the Gen Z have come to expect."


Les Mills' Global Markets CEO Keith Burnet
In congruent with today's "always on" economy, we expect to get whatever we want, whenever we want it. Hence, signing up for a gym membership that takes out a portion of our monthly income is a serious consideration for some of us.

Les Mills believes that with their app and by taking their virtual classes, users will be able to keep up with their daily exercise routine and see results faster.
Their gyms can be found all over the world including KL, but sometimes I can't be bothered to change into gym wear and head out again after a full day of work and food reviews. Hence, having access to my classes at home would ease the guilt and give me no excuse to be slacking.

P.S.: This is how to rope your friends into some workout fun and perhaps finally build your own gym kaki entourage!
For the time being, the Les Mills On Demand app is not available for usage in Malaysia yet.
According to Maylin Leong, Les Mills Asia Pacific's Business Partnership Manager, the app is currently in the process of being translated to different languages to suit the Malaysian market. However, it is available in Singapore for as low as SGD24.99 per month.

Coining this as a Spotify for fitness, users will only have to pay a fixed monthly fee to access 16 Les Mills workout classes on the app. Under each different type of class, there'll be a range of videos such as the introduction, a beginner's workout and workouts of different durations (30-60 minutes).
Besides easing beginners into joining group classes, this app will also enable members to try out different types of classes without "gym-timidation".
Dictionary Time: "Gym-timidation" refers to the feeling of being intimidated when stepping into a gym/class full of fitness pros.
According to David Patchell-Evans, Founder & CEO Good Life Health Clubs, "Virtual helps get people started with classes they otherwise never would, and many of them get hooked and go on to attend live classes."

-//-

Overall, the virtual reality fitness concept is great for the new crop of Gen Zs who might prefer an alternative way of working out.
Where Klang Valley is already filled with all sorts of alternative fitness classes like aerial yoga and Pound classes (where you'll literally pound the ground with what looks like drum sticks), Les Mills' VR fitness class fits right in.
It's ideal for self-motivated fitness enthusiasts and "gym-timidated" people like myself and I love how it gives me the freedom to explore classes with various difficulties effortlessly. Now I don't have to huff and puff my way through "normal"/basic classes.

If the app is not for you and you prefer working out in a group, you can join some of the gyms which currently provides this virtual fitness class.
If you're curious, check out the fitness centres with Les Mills classes near you.FitWorx at Amcorp Mall, Peak Fitness at Citta Mall and Celebrity Fitness at Bangsar and D Pulze Cyberjaya are already running these virtual classes!
Feature Image Credits: Les Mills The Ride