Recently, I embarked on my very first Dining In The Dark experience.

Best part is, my team and I were kept in the dark (pun intended) about what would entail—I went with 2 of my colleagues (one was also experiencing it for the first time).
To keep the element of surprise, I tried not to Google up the famous fine dining spot and allowed the experience to unfold before my eyes.
If it's your first time too, here're 7 things you should know.
1. You'll "lose" your sense of sight very early on.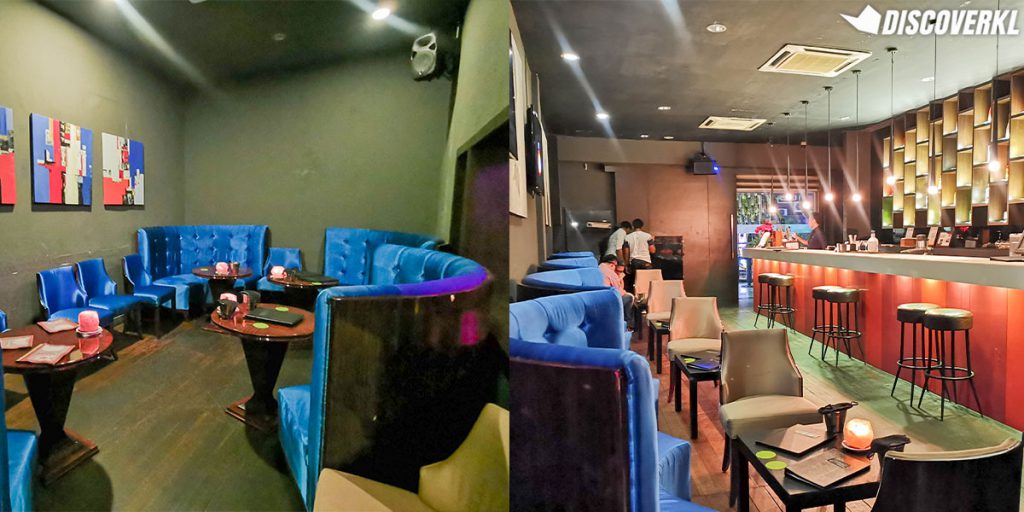 As soon as you enter the restaurant, which is scented with lit candles, you'll be brought to a separate section at the back (the restaurant is broken into several different areas).
We started the dining experience with an activity that required us to only use our sense of touch to solve puzzles and complete challenges. It was definitely tough to be without sight but it gave us a preview of what's to come as we entered the dining area.
2. But your remaining senses will be heightened.
Our guide led us into the dining area in a choo-choo train style. We took baby steps and weaved our way around tables.
As we did so, excited chatters can be heard. The best way to describe this: falling asleep to Netflix in the background.
Your eyes are closed but you can hear distinct dialogues in the background.
3. The experience is fit for the visually-impaired as well.
The place has been designed for us to function without sight. From the floor plan to the texture of the furniture and the serving bowls, it's almost like the ideal place for the visually-impaired to maneuver around safely.
In fact, we were told that Dining In The Dark has received its fair share of visually-impaired individuals coming in to enjoy a meal with their family.
Meals were served in bite-sized pieces and nothing was scalding hot.
The floor is completely flat with soft carpet so there's minimal risk of tripping and hurting yourself. Plus, the edges of tables are rounded and the chairs are cushioned so you won't have to worry about knocking into any sharp edges.
4. It's really dark in the dining area.
As a fully-sighted person, I was worried that we'd just be blindly thrown into a really dark room and left to fumble around. Being a generally clumsy person who's afraid of the dark, this is a valid fear of mine.

Thankfully, each diner is first given a briefing by his or her designated darkness expert on what to expect from the experience.
The darkness was explained to us as "It's so dark, you'll only understand it when you experience it for yourself". Our darkness expert, AK wasn't joking.

Here's what it looked like: You'd laugh now but honest to God, that's how it was.
Even with my eyes wide open, it's like being under the duvet in a completely dark room.
Basic skills like clinking glasses or eating with my spoon and fork became almost impossible without the aid of vision.
5. Thankfully, there are experts to guide you.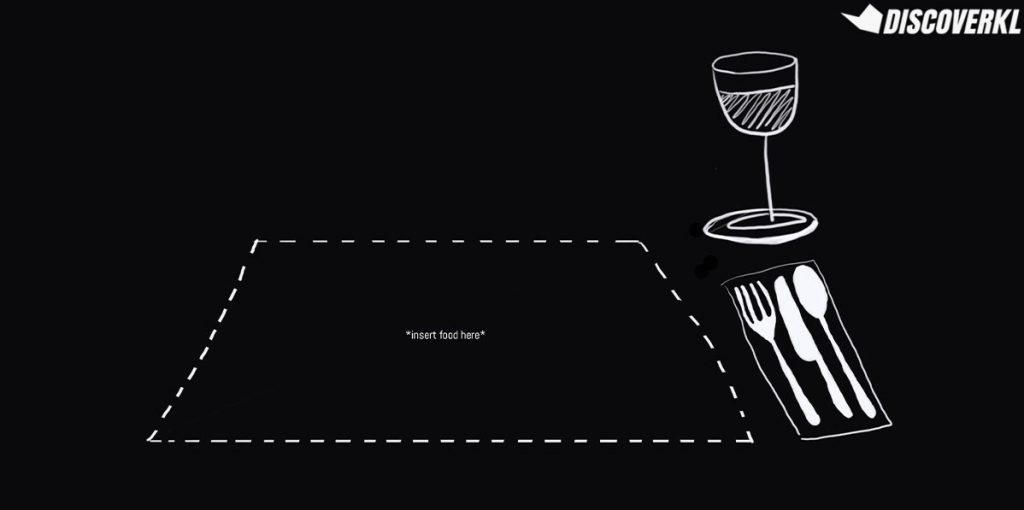 AK briefed us on the positions of our cutlery, napkins and drink coasters. We were also advised to reach for our glass from the stem to avoid knocking it over.
Without the aid of vision, you'd really be reliant on the instructions of the darkness expert.

Being placed in the hands of a capable guide who has mastered the darkness, we willingly did as we were told.

Tip: Do not move your coaster as that's where the guides will be setting your drink down. Moving it might cause the glass to be placed at an incorrect position and you might accidentally knock it over.
Find out more about our darkness expert here.
6. You might wind up eating something you don't like…and that's okay.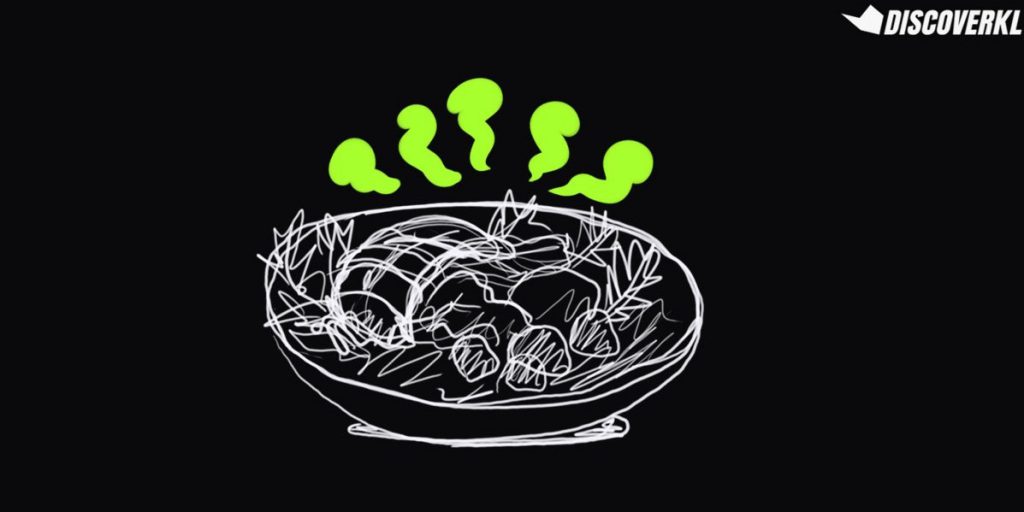 In ordinary dining settings, you'd be able to pick and choose your meals based off personal preferences. However, in this establishment, it is a set menu with adjustments available to meet dietary restrictions such as allergies or religious reasons.

They encourage you to leave your biases at the door and try foods that you'd typically avoid. For my colleague, it's meat. For me, it was cilantro, parsley or anything that smells and tastes like it.

Lo and behold, one of the dishes had cilantro in it. While I detested it, I bravely ate another spoonful of whatever was on the plate, including the cilantro and it tasted pretty good. I'd even go as far as to say that the cilantro was an appreciated botanical accent to the meal.

7. Yes, go ahead and eat with your hands.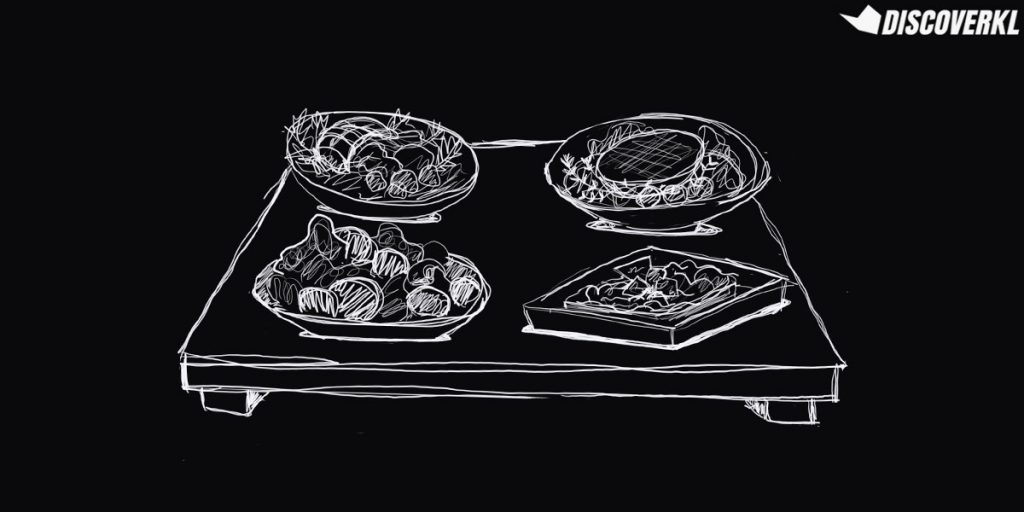 Instagrammable cafes and restaurants are mushrooming everywhere. But more often than not, their dishes are subpar with a hefty price tag slapped on it. Some might argue that it's because of art.

But for a foodie like myself, taste always comes first. And in this dining experience, texture follows.
It would be frowned upon to eat with your hands in public most times. But the complete darkness strips away the need to be hoity-toity with cutleries or the fear of getting gravy on your fingers.
It makes you focus on the flavours of a dish, the individual ingredients and their differences or similarities.

Before that evening, I never knew how pillowy soft cubes of fish and beef could be. Nor how similar jackfruit and bananas could taste. Or how onions could be combined with crisps in a harmonious marriage of flavours.

It was strange and utterly beguiling but I also thoroughly enjoyed myself because for once, I could truly be me.

-//-
During my time at Dining In The Dark, I learned that they do not consider themselves as a charity hub.

However, it is an ideal place to literally walk in the shoes of the blind and visually-impaired. Even if it's only for an hour or two, the still darkness, accompanied by groovy elevator music and interesting food will get you to ponder about your life while spending quality time with friends and family.
If you're looking to reserve a spot for yourself and a loved one, check out the details below:
Dining In The Dark KL
Price: RM130 (excluding drinks)
Hours: 6pm-9.30pm, daily
Address: 50A, Changkat Bukit Bintang, Bukit Bintang, 50200 Kuala Lumpur, Wilayah Persekutuan Kuala Lumpur
Website: Dining In The Dark KL
Tel: 03-2110 0431