Being afraid of the dark, naturally I was antsy about my first Dining In The Dark experience.
As their name suggests, the experience has diners dining in a pitch black environment.
However, there is one integral role in the entire experience; a key person who helps ensure that things run according to plan: the trusty darkness expert.
The darkness experts at Dining In The Dark are visually-impaired but their lack of sight is what aids them in being naturals at their job.
We learnt that the role is an ideal fit for the visually-impaired as, with proper training, they are able to navigate seamlessly through the space. And they do this without facing disorientment—something that the fully-sighted typically experience within a period of time of being in a pitch black environment.
AK is one of the few darkness experts who has been with the company for the past 3.5 years.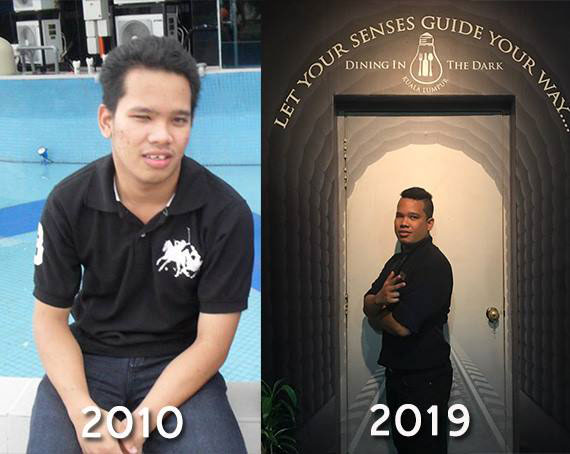 Born premature and with cataract, AK is partially-blind and describes his sight as roughly 5% of the general publics'.
A typical day would have him come in by 3pm where he will proceed with the set-up process.
The guides will have a one-hour break at 4pm and by 5pm, they will have an internal briefing where they will learn more about the guests of the day as well as their specific dietary requirements—for instance, AK would be informed of my egg allergy.
The guides will then receive their first few customers by 6pm and will remain in service for the duration of the 90-minute experience.
Our team arrived for the 6.30pm session and begun with 2 warm-up games.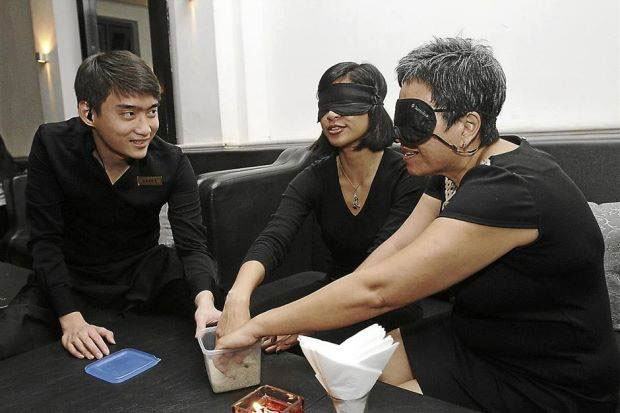 Without giving too much away, the games had us leave our sense of sight at the door and initially, it was unnerving as it's definitely a sense that the fully-sighted would often times take for granted. There will be blindfolds involved and you would have to use your own sense of imagination in order to complete the task.
After the 10-15-minute warm-up, we left our personal belongings in the locker. AK then led us for our dining experience in an orderly fashion; choo-choo train style.
Having walked this path countless of times, the darkness experts are familiar with the placement of furniture and have the entire layout committed to memory. Think of it as having a permanent visual map etched across your mind.
"There are no stairs so don't worry," AK reminded us as we entered, his calming voice and confidence putting me at ease.
Hailing from Kedah where Bahasa Malaysia is the main language spoken, the anthropology major got to improve on his English at Dining In The Dark and he's now fluent in it.
The job also helped him to develop his soft skills.
However, it's definitely not something AK had developed overnight. Where he shared that he was nervous and even shaking on his first day, we sensed none of that during our Dining In The Dark experience.
On his first day on the job, AK relayed how he came in at 3.30pm and had 3 hours of training prior to receiving his first guest. "Guides need to be fast learners here," he noted.
As we were led to our table, AK took the time to meticulously break down the order of our meals.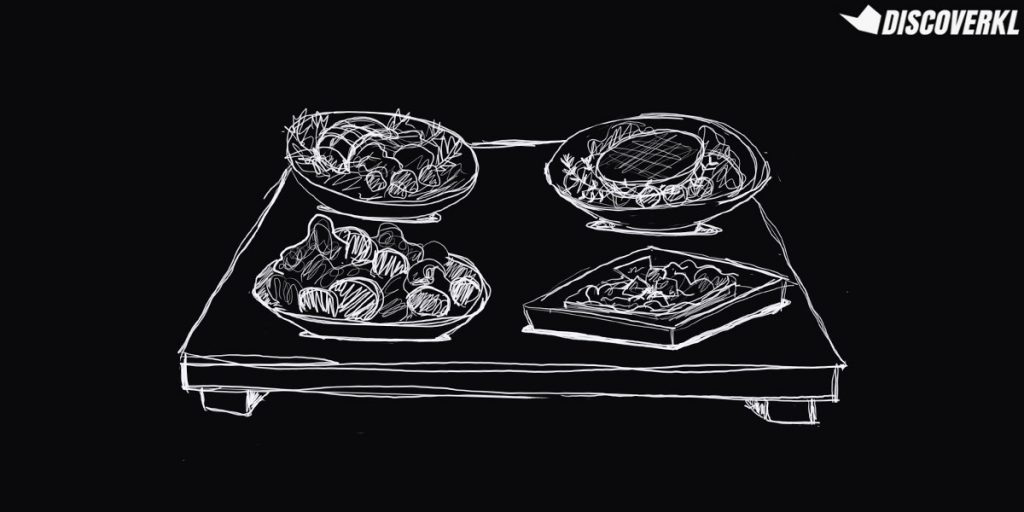 With each new menu, the darkness experts will have the chance to taste test the types of meals that are served to their guests. That way, they are better equipped to explain the dishes that they are serving, including the ingredients and components of the meals.
Besides that, AK also thoroughly explained the position of our platters as well as the placement of our drink and its coaster.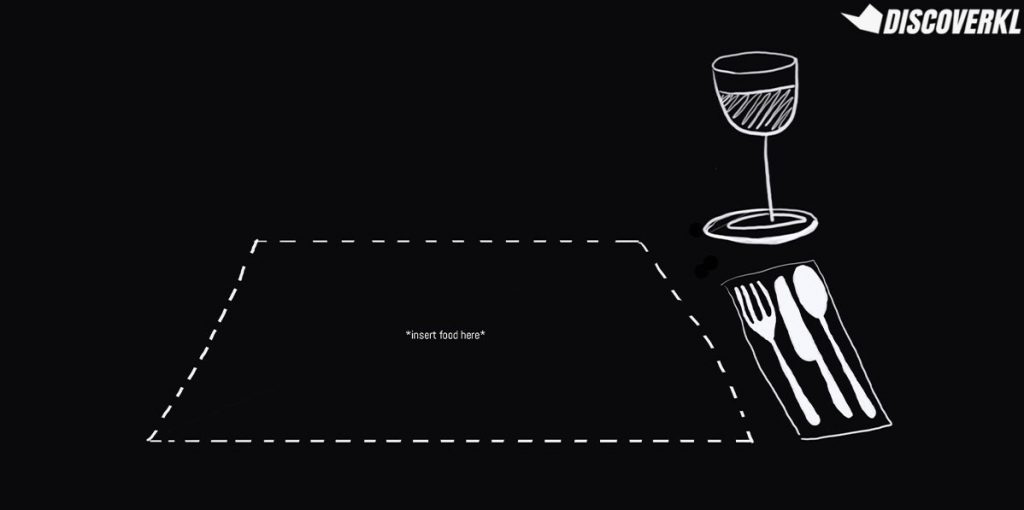 "Be careful not to move your coaster because I'll be placing your drink there," AK reminded us.
It took plenty of groping around at first but eventually we had a little mind map of the table's structure in our heads.
As we indulged in our meal, we could hear other guests around us, conversing with one another; a typical scene in any other restaurant.
But not all guests are quite as chatty.
Where he serves an average of 80-90 pax on a busy weekend night, AK relayed how he has met his fair share of customers during his time here.
Once, AK served a lone female customer who had a fear of the dark and he was initially unaware of this.
She was particularly quiet and it was only at the end of the meal when she begun to open up. The customer explained how she was trying her best to conquer her fear of the dark and tonight's dinner was a result of her therapist's advice.
The soothing jazz music and AK's guidance helped to soothe her nerves.
"Most of the guests are nervous and scared and do not know what to expect. Based on the reviews, they read that it's a totally dark room but they won't know what to expect until they are here," AK shared.
At the end of the meal, the guest noted how she was able to somewhat overcome her fear of the dark.
AK shared how he also had one amusing experience where a first-timer showed up in a shirt that glowed in the dark.
When the guest panicked and asked if he should remove his shirt, AK laughed and reassured him that that need not be the case. "Don't worry, I will cover your shirt," AK told him instead, passing his guest a blanket to cover up with.
It's these sort of experiences, both amusing and enlightening, that makes this job an interesting one for AK.
One thing's for sure though, it has definitely helped him to gauge how different guests react to different situations.
And that's how AK has developed the innate skill of knowing when his guest is finished with his or her meal and is ready for the next course.
It's not rocket science, we learnt, but rather something that comes with experience and basic intuition.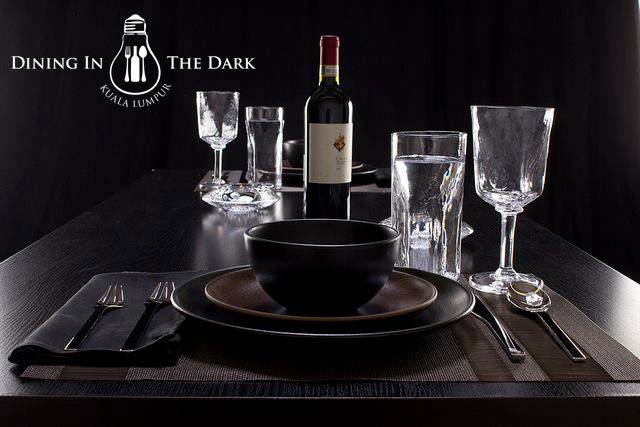 At the end of the day, the Dining In The Dark experience is meant to be a wholesome one.
What makes the restaurant different is the unpredictability of it all.
Meals are kept a surprise and you're in the company of friends or loved ones without your gadgets as a distraction.
As AK puts it, "I want the customers to not look at us as a charity. It's all about the food, the quality time together and the experience. Nowadays, people don't really focus on the food and their time together because of their gadgets but here, it's different. We want to bring that good value back into the restaurant."
Dining In The Dark constantly revamps their menu and is currently in their 2nd week of a brand new lineup of dishes. Check out the link below to place your reservation:
Dining In The Dark
Address: 50A Changkat Bukit Bintang, Kuala Lumpur 50200, Malaysia
Website: Dining In The Dark
Tel: 03-2110 0431
Feature Image Credit: Dining In The Dark