Vacations are all about celebrating our hard times sloughing away as worker ants, dutifully doing our 9-5 jobs to pay for commitments.
However, sometimes travelling requires lots of planning and a lot more spending. This leaves you high but dry and frustrated. Plus there's the millennial conundrum of "need zen but will die without internet".
So here's a list of 14 ideal places to stay in and chill hard without worrying about food, WiFi and laundry.
The hostels listed here are smack right in the middle of the city and are ideal for ambiverts who just need to be around people or extroverts who want to party from sun up to sun down.
It's also got all the basic amenities that are perfect for those who are looking to travel solo.
Capsule Hotels
For the wandering ambivert with the need for privacy but will also wilt and die without human interaction.
1. The Bed KLCC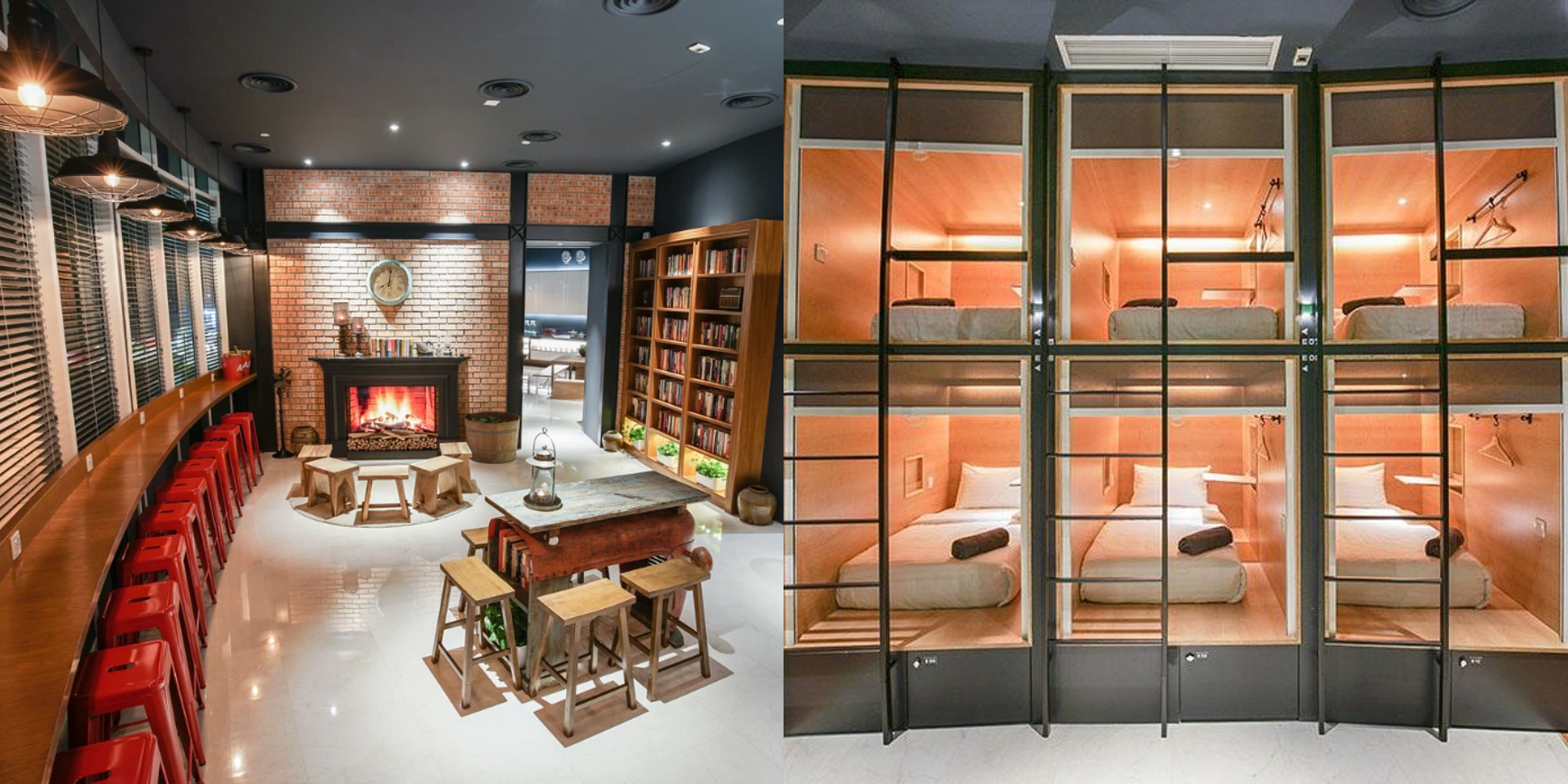 If perusing the aisles of IKEA without buying anything is your guilty pleasure, The Bed is the perfect staycation place for you!
Located right in the middle of KL City, this place is ideal for ambiverts who would love to hang out with random strangers but have the perfect sanctuary to retreat to at the end of the night.
You'll even get your own hangers and a clothes rack so your clothes or (god-forbid) undies don't go missing or get tangled up with other strangers' ones.
Perhaps if you're feeling their serious Scandinavian vibes, read more about the place here.
Price: From RM55
Amenities: WiFi, personal reading light, table for laptop or writing postcards, hangers and a clothes rack, personal power socket and a towel.
Address: 12, Jalan Sultan Ismail, 50250 Kuala Lumpur
Website: The Bed KLCC
Bonus Points: Easy access to major malls and tourist attractions or a hotspot for Tinder matches if that's your thing. 😉
2. Space Hotel @ Chinatown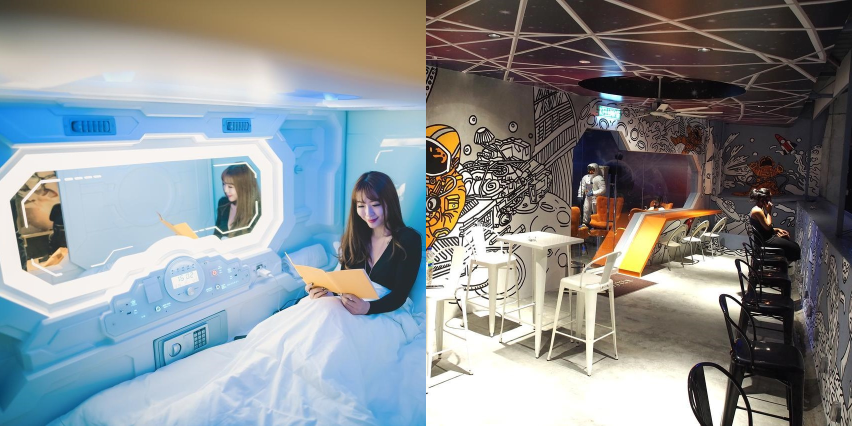 For the futuristic-loving geeks who just need to chill, Space Hotel at Chinatown is a great place to run away and hang out with like-minded travelers.
With individual pods that come equipped with a large mirror, lights, and buttons to beep and bop, you're guaranteed your privacy once the doors of the pod shuts.
Comfortable duvets, futuristic designs, this place is not only Instagrammable but clean and comfortable enough to transport you to dreamland (pun intended).
Price: From RM45
Amenities: WiFi, locker room, luggage storage, 24 hour reception, leisure/TV room, laundry, housekeeping, terrace, free toiletries
Address: No 5-2 and 5-3, Jalan Petaling, Kuala Lumpur, Malaysia
Website: Space Hotel
Bonus Points: Able to up your Instagram game and has amazing beef noodles nearby.
3. Riccarton Capsule Hotel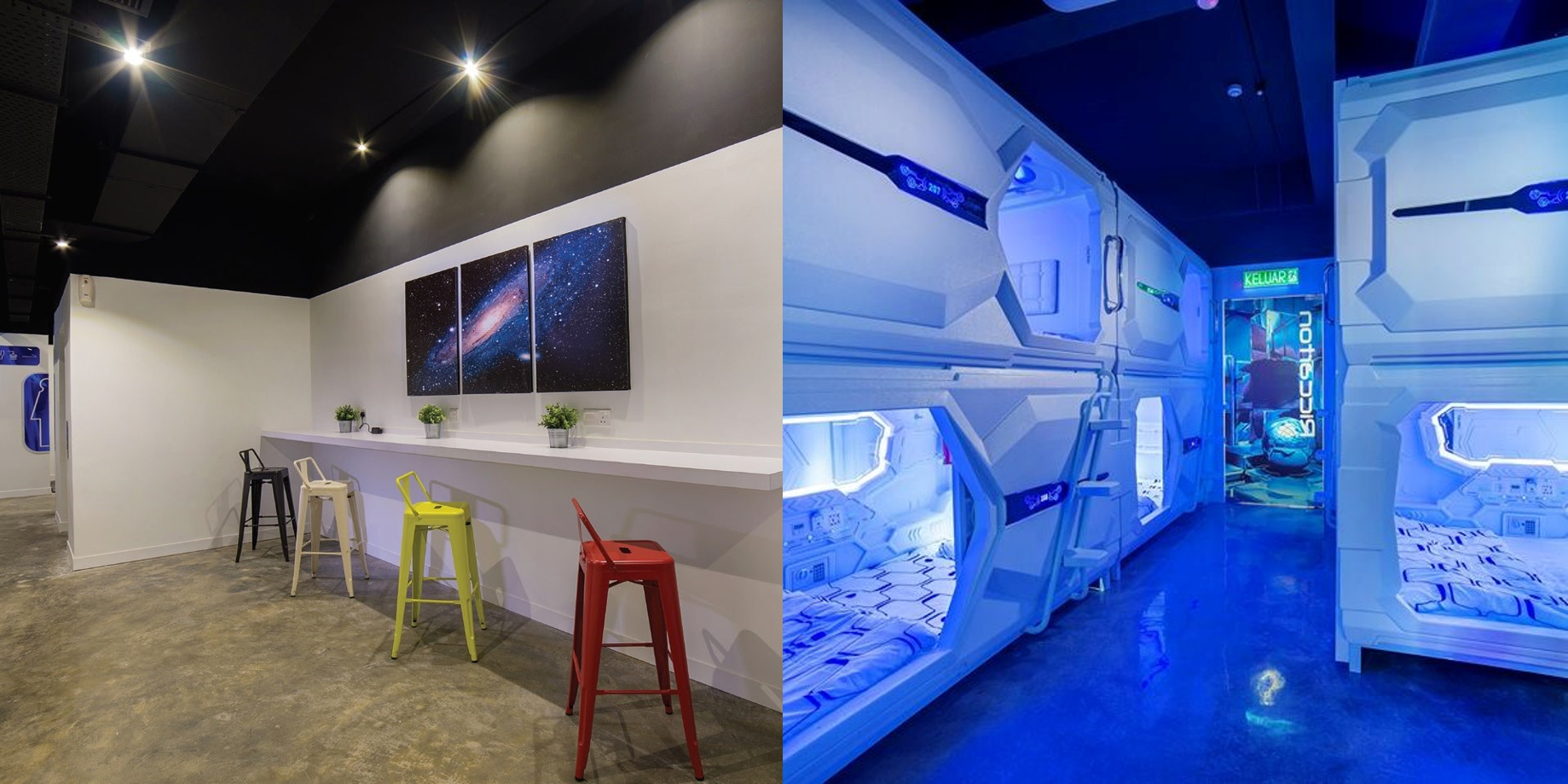 Riccarton Capsule Hotel is not another hotel that's smack right in the middle of the city. Located at the fringe of KL City at Titiwangsa, it is the perfect kind of futuristic capsule hotel minus the buzz and bustle of the crazy downtown.
Surrounded by an abundance of local eateries, you'll be immersed in the local culture minus the tourist traps.
We were absolutely baited by their tranquil roof garden with an alfresco environment, but if that's not enough for you, Titiwangsa Lake Park is simply a short Grab ride away.
Complete privacy and comfort and great accessibility at a great price? Uh yes please!
Price: From RM38
Amenities: WiFi, disable-friendly, luggage lockers, rooftop garden, shower rooms, toiletries
Address: No. G-1, Wisma Q Titiwangsa, Persiaran Titiwangsa 1, Jalan Pahang, Kuala Lumpur
Website: Riccarton Capsule Hotel
Bonus points: Titiwangsa Lake Park nearby, more tranquil than being in the middle of the city.
Hostels
For the community-loving individual to zen out with like-minded globe trotters.
4. Back Home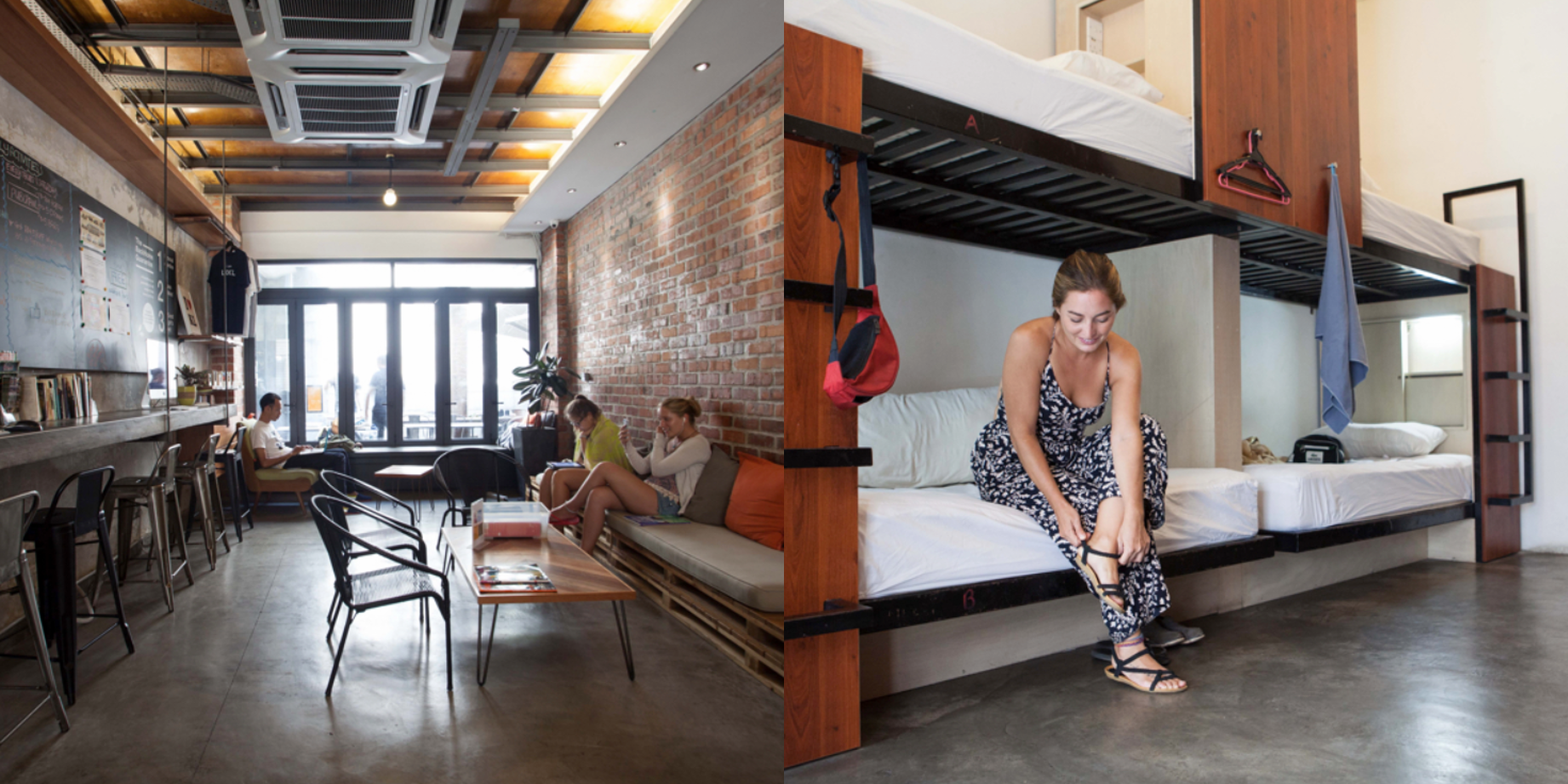 As the name suggests, Back Home guarantees a comfort level of being at home all in the heart of the historical part of KL.
Plus, if you're living on your own in KL and miss your fambam, you can also purchase locally designed postcards and stamps to send some love home.
They'd also make quite a neat collectible! They were given really great reviews about their clean and peaceful environment, accessibility and that their coffee shop (LOKL) makes really great coffee!
Price: From RM55
Amenities: Toiletries, neighbouring cafe, courtyard, complimentary breakfast, coffee and tea, laundry, snacks and drinks, luggage lockers
Address: 30, Jalan Tun H.S. Lee, 50000 Kuala Lumpur.
Website: Back Home
Bonus points: LOKL Coffee Co. serves amazing coffee/brunch and they have locally designed postcards and stamps for sale.
5. Paper Plane Hostel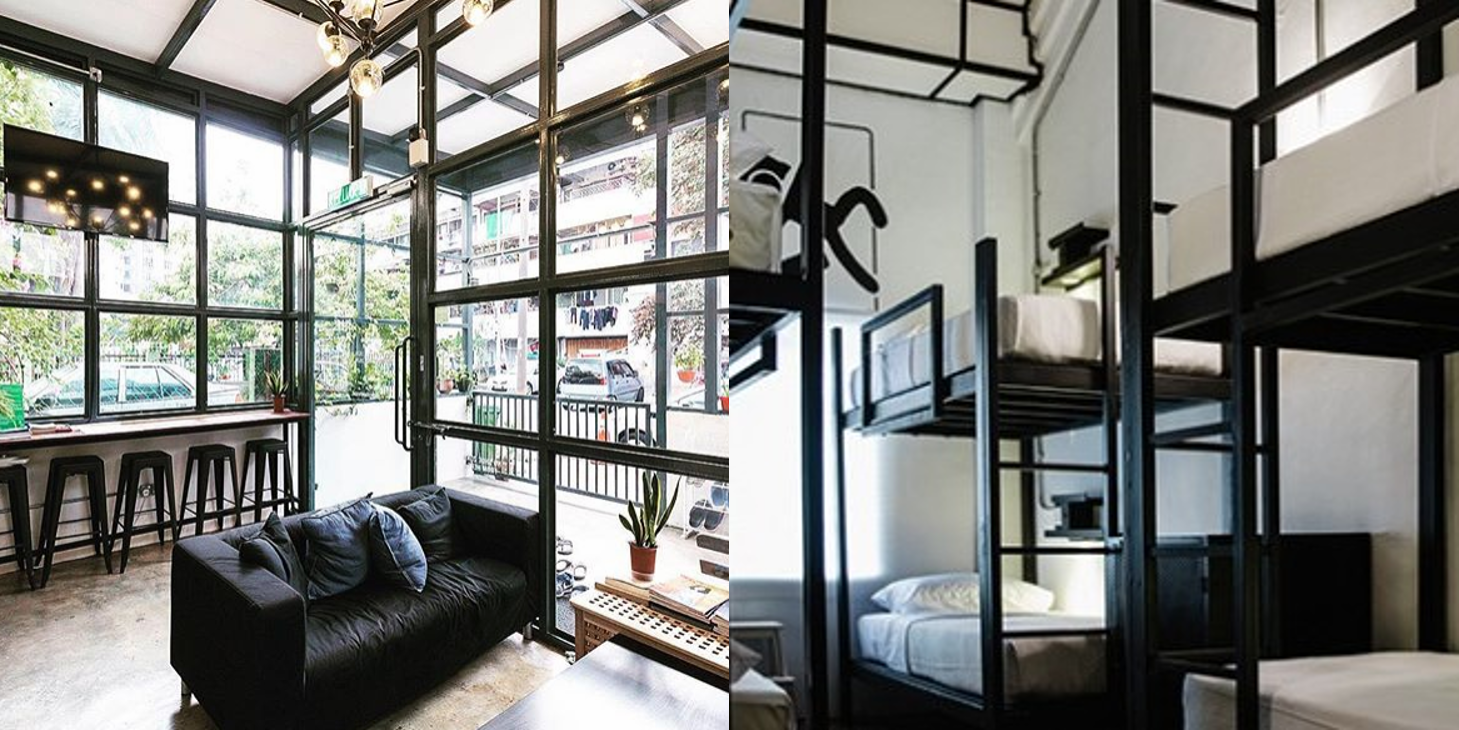 Paper Plane is a refurbished and rebuilt 100-year-old colonial house with clean industrial designs.
Decorated with wall paintings by artists, every corner has a story to tell. Their glasshouse lobby and rooftop garden are some of the favorites of their guests and we can totally see why!
The few times I've passed by here, there would usually be a small international group of friends chilling with beers and some ciggs in their front patio.
And despite having limited street parking, this hostel is really near to Hang Tuah Monorail station which makes it super convenient for you to travel around KL fuss-free!
Amenities: Toiletries, pillows, bedding, bathroom, WiFi, washing machine (extra charge)
Price: From RM70
Address: No.15 Jalan Sin Chew Kee 50150, Kuala Lumpur, Malaysia
Website: Paper Plane Hostel
Bonus points: Near to VCR (serves arguably the best lattes and brunches) and Pahit (an amazing speakeasy specialising in Gin cocktails).
6. Grid 9 Hotel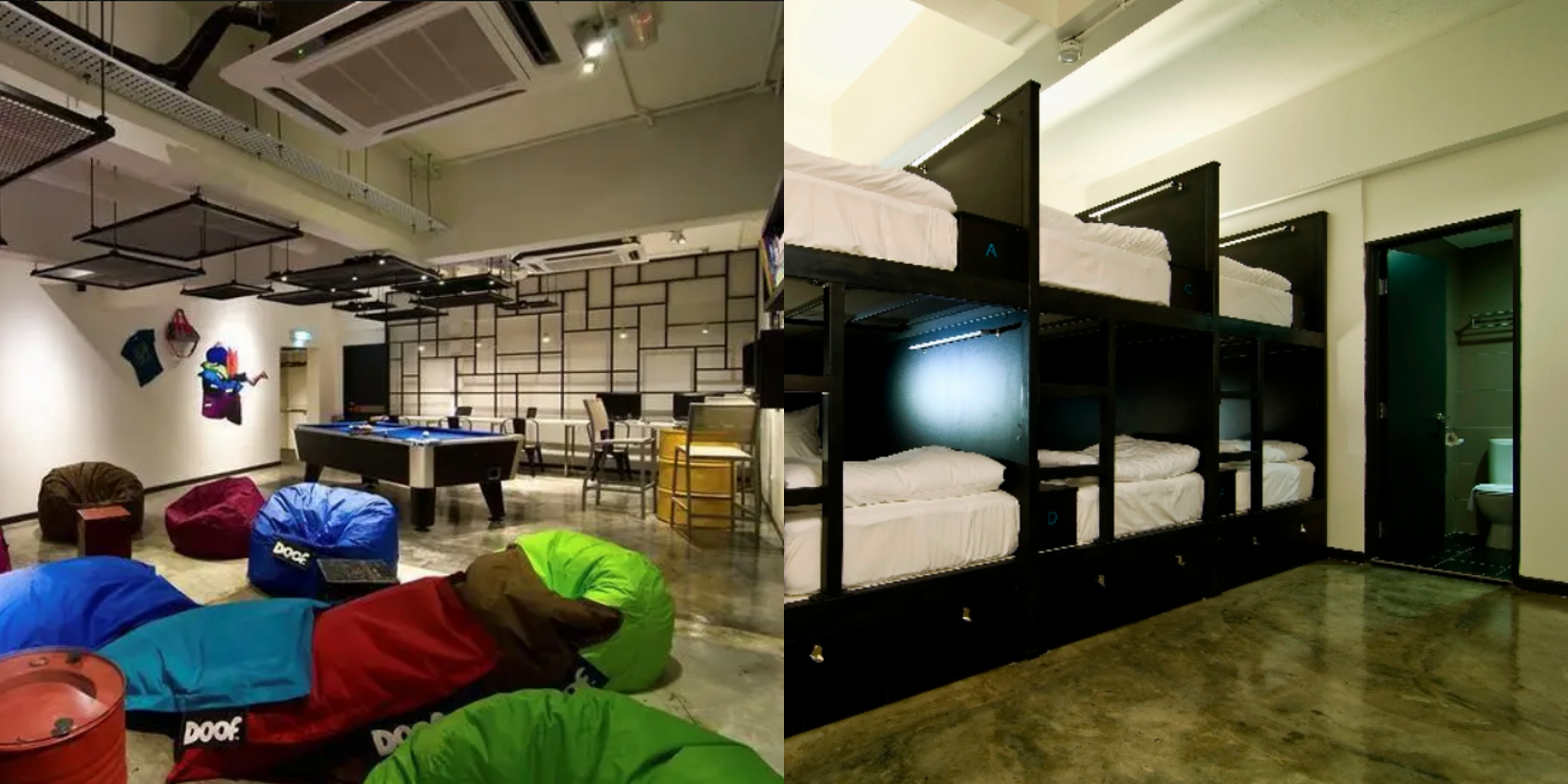 Listen up party animals because the party is just about to get LIT! Aside from their bean bag filled lounge, special privileges at ZOUK are granted to guests at Grid 9 Hotel.
Situated next to Jalan Maharajalela monorail station and a 10-minute walk from Chinatown, it has never been made easier to party from sun down to sun up.
Feel free to wake up way past noon and walk around town looking for the best local brunch coffee shops or kopitiams nearby.
Chill, drink, mingle, and connect with local or globetrotters alike, Grid 9 has created this space in like of a grid to foster connectivity between their guests.
Amenities: WiFi, city maps, towels, common room, 24-hour reception, laundry, luggage storage, housekeeping, bar, cafe, restaurant, games room (pool table)
Price: From RM35
Address: No.9, Jalan Maharajalela, Kuala Lumpur, 50150, Malaysia
Website: Grid 9 Hotel 
Bonus points: Disable-friendly bathroom at reception floor and their beanbag lounge.
7. The Reeds Boutique Hotel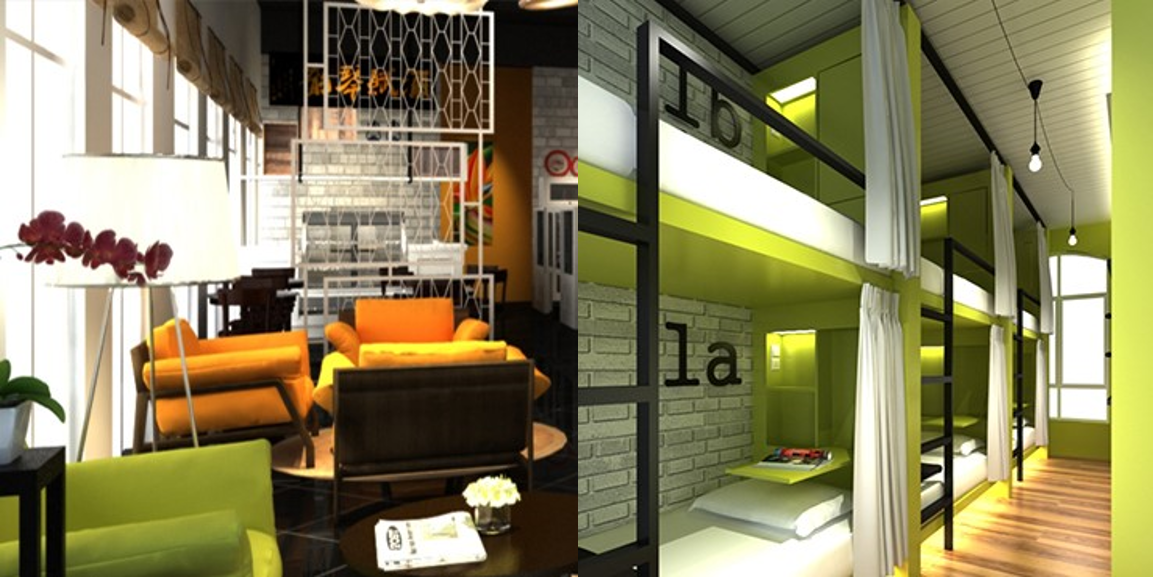 Historic culture meets chic modernistic interiors, The Reeds Boutique Hotel will showcase Malaysia from a fresh perspective.
Being a favourite of locals and travelers alike, they have received great reviews about their rooms, service and location.
Probably because they are located a 3 minute-walk from Medan Tuanku monorail station, 5 minutes from the city center and a few doors down from amazing Baba Nyonya food at Limapulo: Baba Can Cook,
In conclusion, The Reeds Boutique Hotel is in the heart of the city with a safe distance from loud bars and pubs for a peace of mind.
Amenities: WiFi, outdoor terrace, parking, luggage storage, cafe, restaurant, towels
Price: From RM27
Address: No.9, Jalan Yap Ah Shak, Chow Kit, 50300 Kuala Lumpur, Wilayah Persekutuan Kuala Lumpur.
Website: The Reeds Boutique Hotel
Bonus points: Kickass Baba Nyonya food owned by the ever-so-friendly Uncle John.
8. Revopackers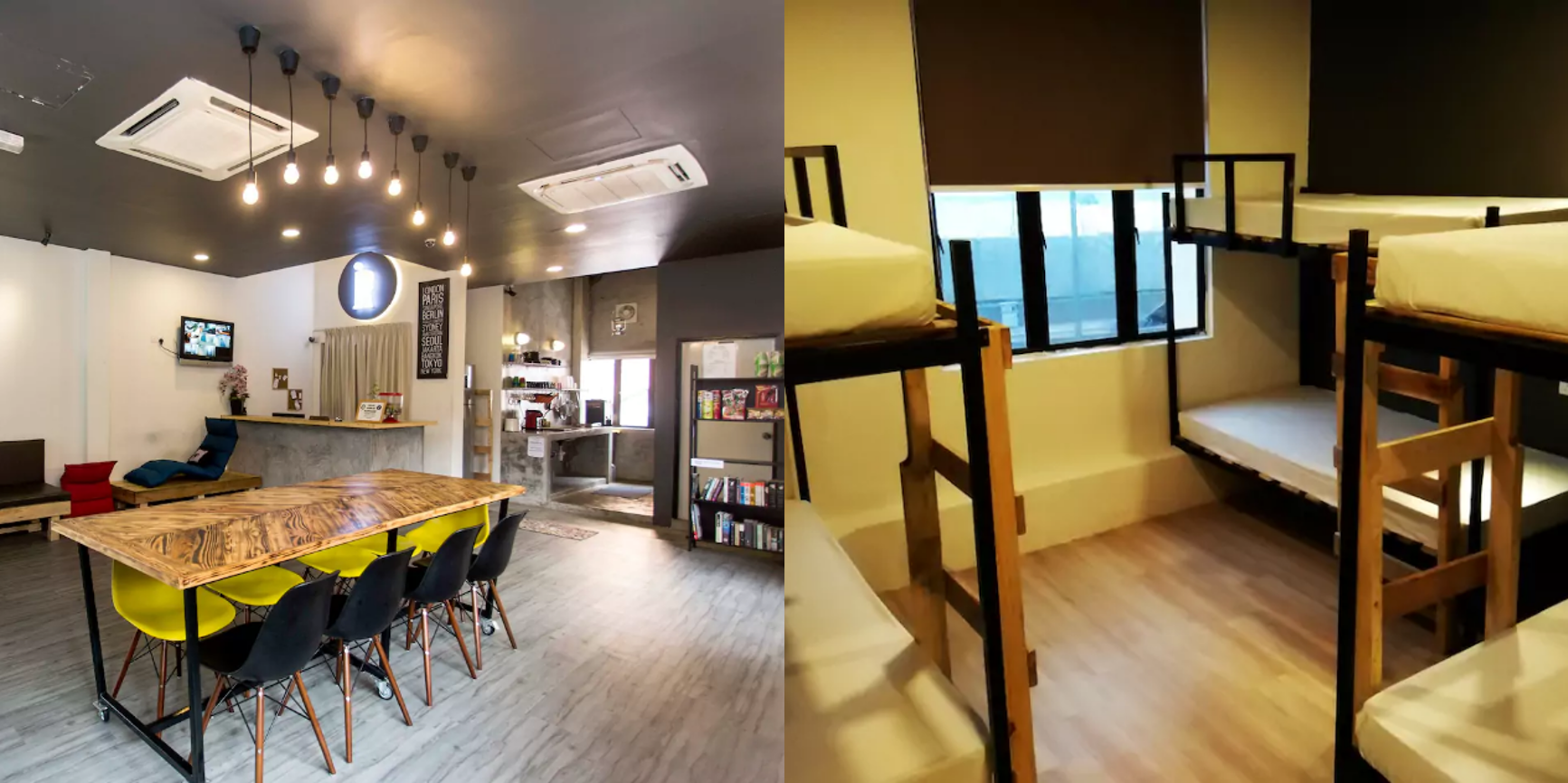 Located near the party district of KL, this neat, clean and stylish hostel is also one for the party animals.
Stay up all night partying and take a leisurely stroll down to ICC Pudu Market for one of the best local food courts for breakfast.
They're known for our local toast and eggs, egg tarts, Chee Cheong Fun, and pork noodles. Alternatively, sleep in with their fluffy pillows and comfortable beds until your scheduled wake up call gently wakes you up from your deep slumber.
You'll never miss your flight with their shuttle bus and airport transfer services!
Amenities: Breakfast, WiFi, parking, lockers, common room, wake up calls, shuttle buses, airport transfers, mini supermarket, cafe
Price: From RM34.65
Address: 258, Level 2, Jalan Changkat Thambi Dollah, Pudu
Website: Revopackers
Bonus points: Wake up calls, airport transfers and an abundance of local eateries.
9. Travelogue Guesthouse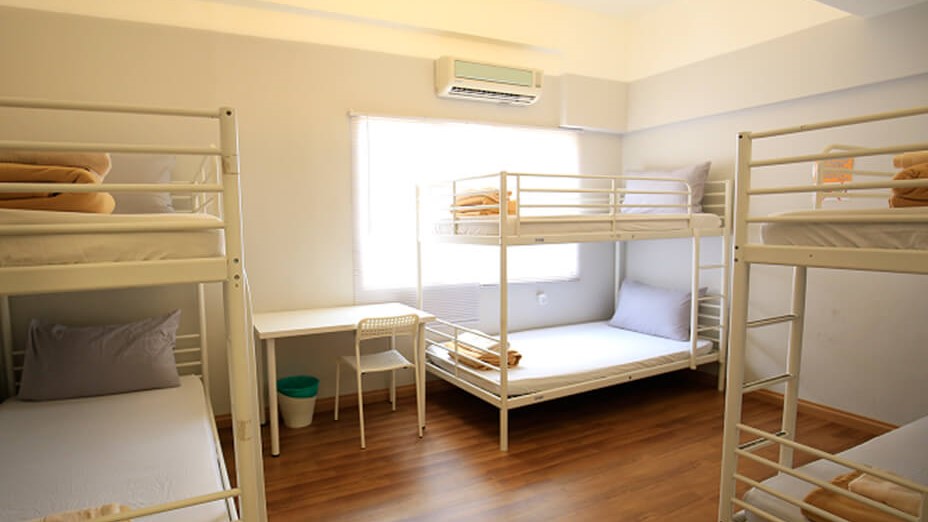 Personally, this is one of my faves from this list. Located in the golden triangle, it's extremely affordable, comfortable and emits Korean Drama vibes.
Soft neutral colours, comfy sheets, abundance of natural lighting and a roof top garden to chill at, Travelogue KL is a home-stay guest house with a friendly environment.
Although no breakfast is provided, they do have a small kitchen for guests to use and prepare a simple breakfast to go with their free coffee.
Amenities: Airport transfer, WiFi, luggage storage, cafe, games room with Wii, kitchen. 
Price: From RM33
Address: 118B, Jalan Bukit Bintang, Kuala Lumpur, 55100, Malaysia.
Website: Travelogue KL
Bonus points: Located close to malls, night-life and Jalan Alor (another haven for delicious local food).
10. TWENTY5 by Ohana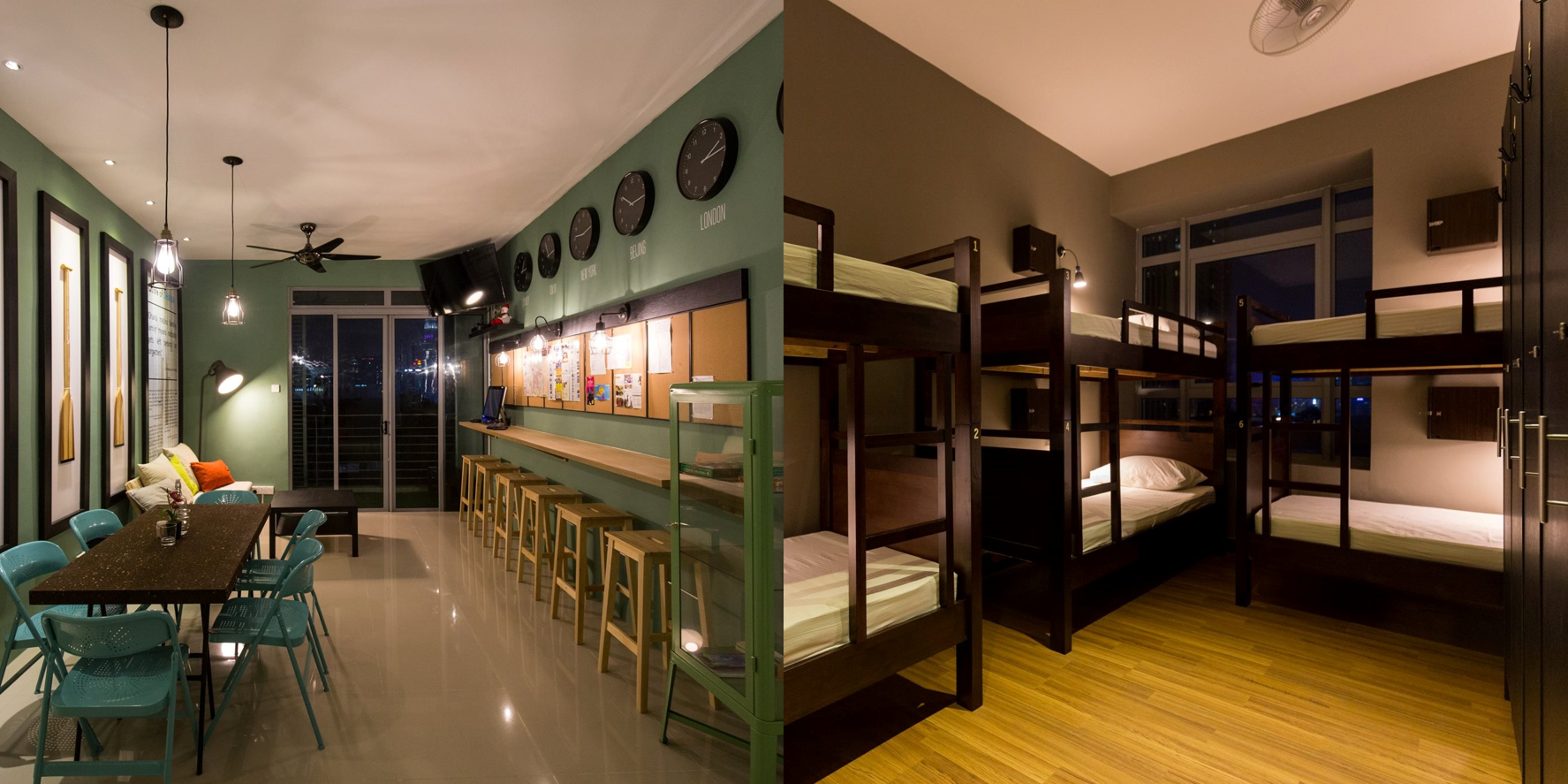 "Ohana means family", as said by Stitch from Lilo and Stitch and this is what they hope to make every guest/traveler feel – the sense of home.
Situated in the middle of the city, guests would not have to worry about too much environmental noise as this accommodation is located on the 26th level of a duplex penthouse.
Guests can choose from twin rooms to larger dorms of up to 10 beds in this hostel. Should you require more privacy, they have a pod hotel called Ohana. 
Amenities: Breakfast, Wifi, swimming pool, laundry, kitchen, luggage storage, 24-hour reception, board games, playstation. 
Price: From RM35
Address: 26th Floor, Unit 2, Taragon Puteri Bintang, Jalan Changkat Thambi Dollah
Website: Twenty5 by Ohana
Bonus points: The hostel with the best skyline.
Airbnb
Private note-worthy accommodation in someone else's decorated home for the extra peace of mind. Simply because you don't want to spend your mornings greeting strangers out of politeness.
11. MUJI Studio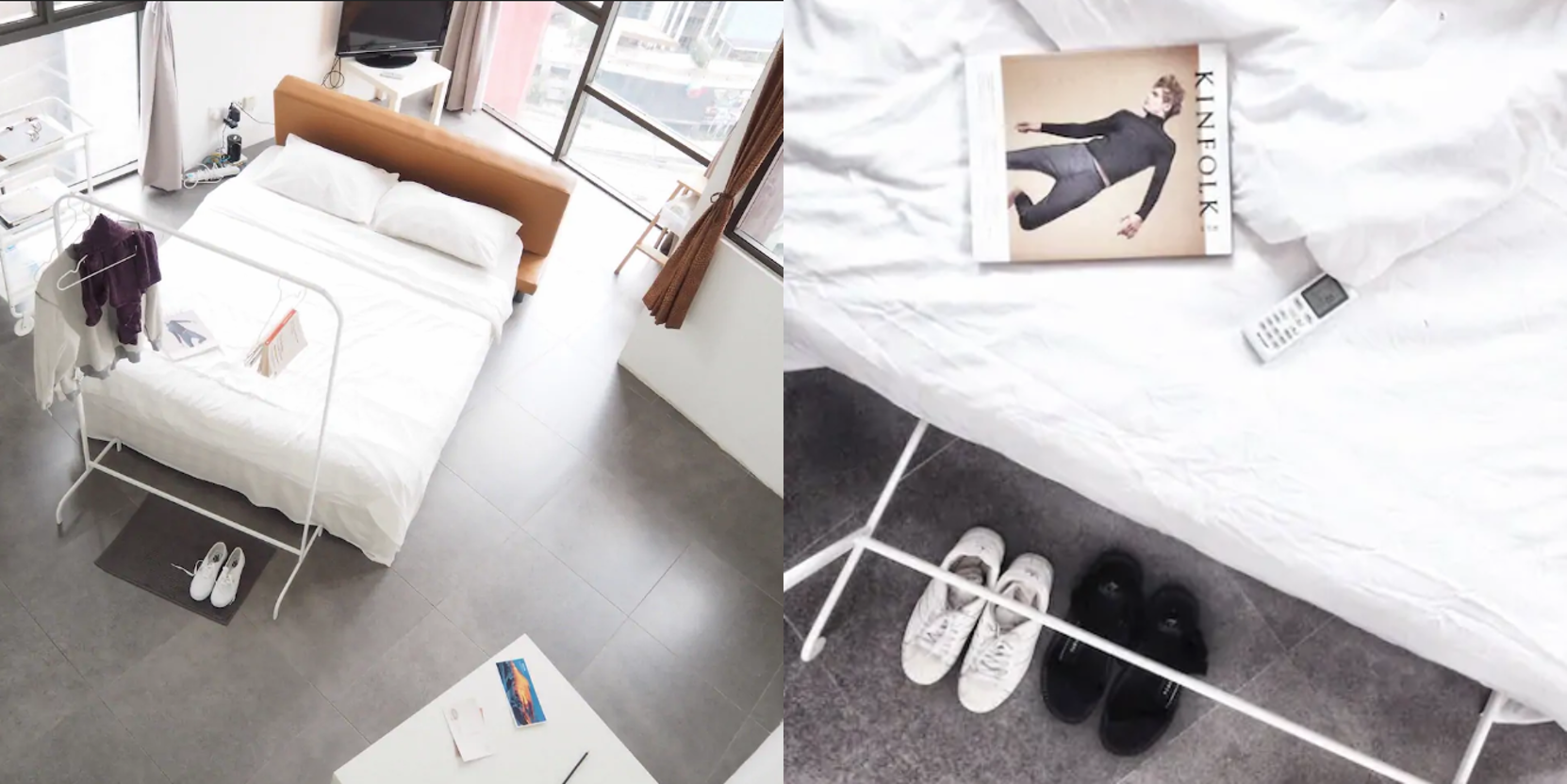 Very much like our first listing in this article, the IKEA dream home in a pod hotel, this apartment is the perfect getaway for you MUJI fans.
Aptly named the MUJI Studio, its home owners have personally designed the interiors of this studio apartment to create a clean, slick, modern and contemporary design.
Emphasising on those characteristics are the white-coloured details as seen in their bedding, towels, metal hanging rack, table combined with untreated, fair timber items.
Their thoughtfulness is amplified through the strategically placed queen sized bed laid in a diagonal orientation – to prevent path obstruction while providing visual privacy from the main door.
Amenities: Self check-in, WiFi, small kitchenette, toilet, towels, toiletries, free parking
Price: From RM88
Address: Petaling Jaya
Website: Airbnb
Bonus points: Near to Heritage Lane, easy access for food, bars and basic groceries.
12. Premium Cozy Deluxe Room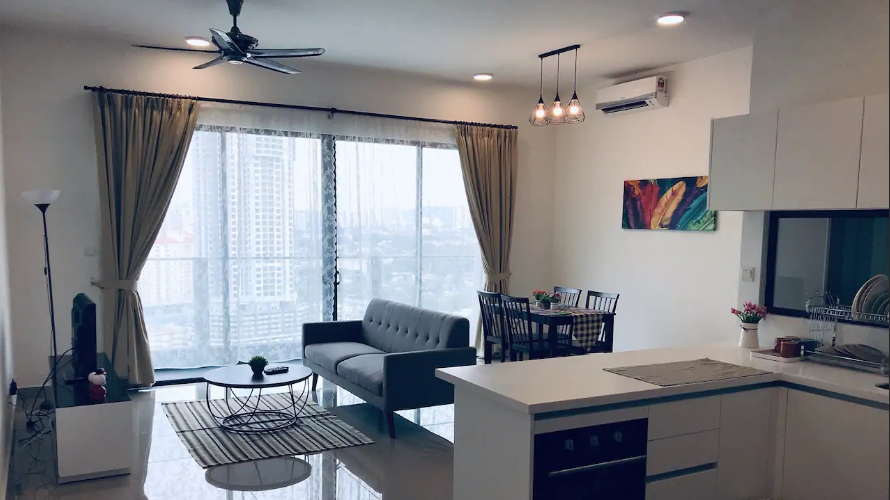 Another one that's perfect for one who needs the peace in stillness and quietness is this listing on Airbnb by Toshi.
Marked as a "Rare Find", it is usually booked and has received countless stellar reviews.
But it really is not surprising as it has facilities for Yoga, a gym, a Forest Lounge and a Sky Garden for the ultimate zen out experience.
Amenities: WiFi, sky garden, laundry, mini market, gym/yoga, badminton, forest lounge, free parking, cable TV, kitchen, heating, washer, pool, lockbox, BBQ grill
Price: From RM46
Address: Kuala Lumpur
Website: Airbnb
Bonus points: View of KLCC with an easy access to the city.
13. The Nooq Cozy Studio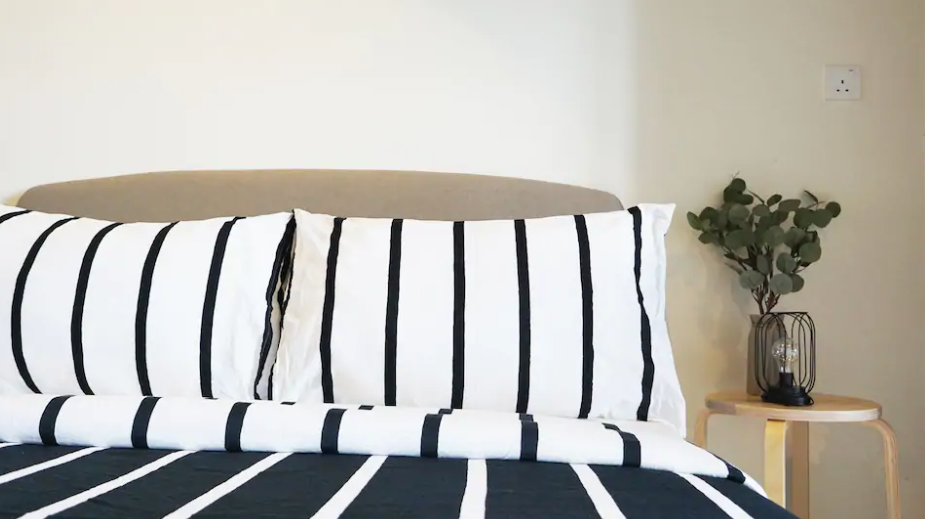 For the introverted book worms, The Nooq Cozy Studio by Noah on Airbnb is the perfect hideout for you.
Located in one of the administrative suburbs of Selangor, this comfortable staycation is located near the largest bookstore in KL a.k.a. BookXcess.
Guests can check in and then head to Tamarind Square for a hearty lunch at Tiger Lily Thai Restaurant before perusing the endless aisles of discounted books at BookXcess.
Book in one hand, beverage in another and you're all set to chill by the pool or on the couch at home.
Amenities: WiFi, parking, kitchen, elevator, iron, gym, pool
Price: From RM86
Address: Cyberjaya
Website: Airbnb
Bonus points: Near to the largest BookXcess store at Tamarind Square.
14. Studio Apartment Room KL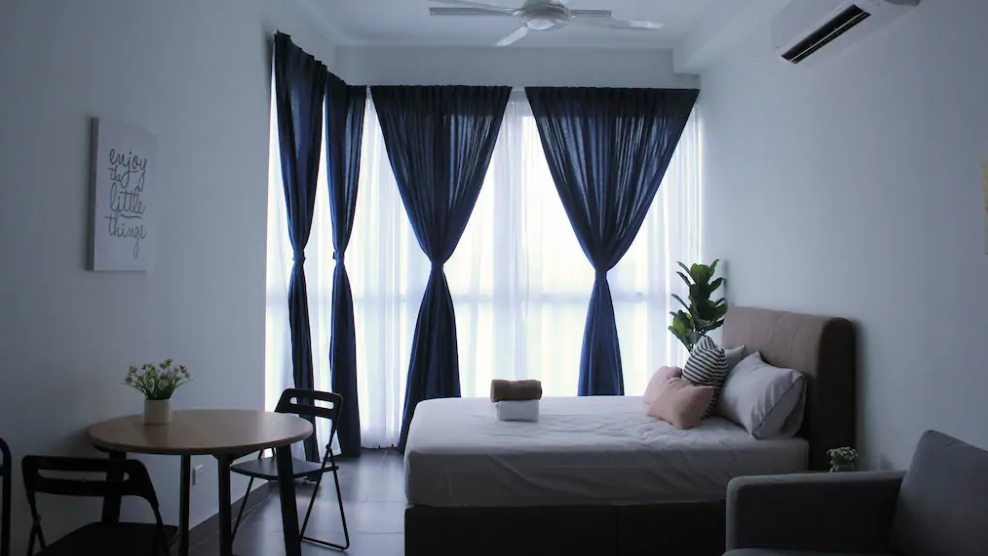 Like all things in life – balance is key. Jacey's place is a 15 minutes drive away from the city center (Pavilion KL and KLCC) which is also accessible via public transport stations 5 minutes away.
Numerous positive reviews were left on the cleanliness of the space and the great views from the rooftop and the floor-to-ceiling windows.
Thus this is certainly the perfect place to chill out after a whole day of exploring the city under the sunny albeit warm Malaysian sun.
Amenities: Self check-in, WiFi, kitchen, elevator, free parking, essentials, gym, pool,
Price: From RM77
Address: Sentrio Pandan, Jalan 3/76c, Desa Pandan, 55100 Kuala Lumpur, Wilayah Persekutuan Kuala Lumpur
Website: Airbnb
Bonus points: Not too near but not too far from the city which provides a peaceful environment for a relaxing staycation.
Feature Image Credit: Paperplane Hostel and Airbnb user @Venice