Calling all selfie and dessert lovers! There's a new spot in town, and it's screaming for your attention.
Located in the heart of Kuala Lumpur, you can now get to experience a multi-sensorial journey at Malaysia's first ever dessert-themed Selfie Museum.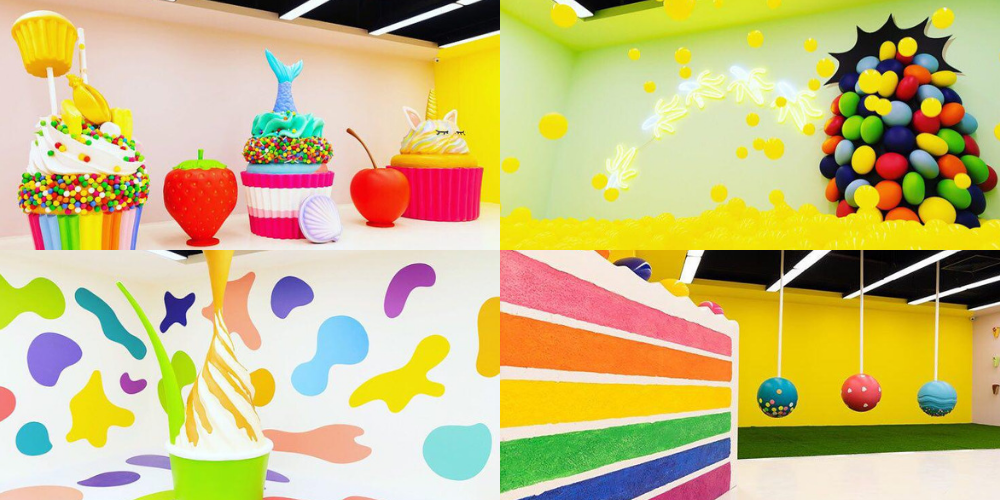 The museum is said to be the first in Malaysia with such concept: integrating 3 main elements that feature rooms with creative installations, interactive technology and also food tasting to satisfy our Malaysian's deep love of desserts.
If you have the means, why settle with just one room? So the creative minds behind the museums came up with 9 instead. Each room displays different themes, and designs—giving its patrons a desire of taking more Insta-worthy pictures.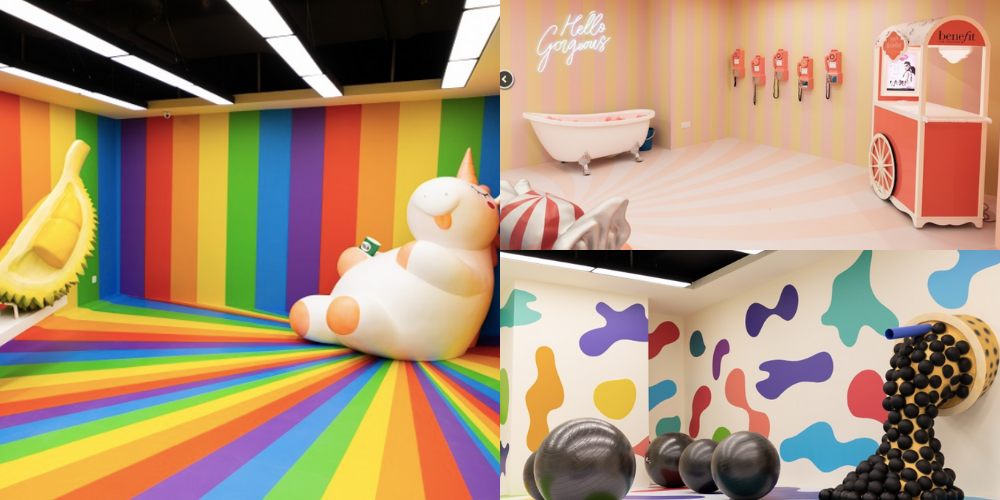 Image Credit: Marketing Interactive
Measuring 7,000 square feet in size, this hot spot is sponsored by international and local favourite brands from Pandora, Benefit Cosmetics, Samsung, Baskin Robbins, Hotlink Red, TeaLive, Lingham Chilli Sauce, llaollao, and dUCk Scarves.
Selfie lovers don't only get to pose with the life-sized desserts, but they get to eat them, as well.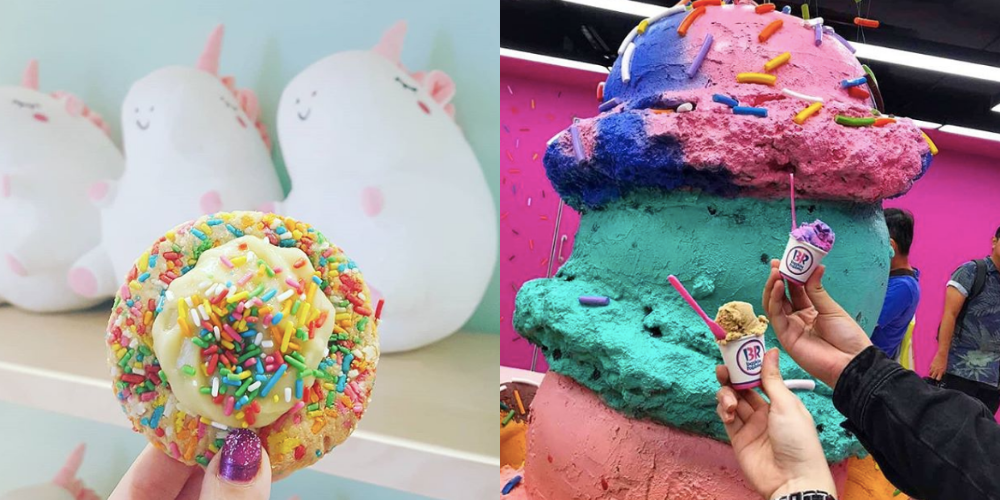 To fulfill your cravings, you will get a total of 5 Malaysian-inspired desserts: Sirap cupcakes, Baskin Robbins ice cream, Pisang tarts, and TeaLive bubble tea. And did we mention it is all for FREE?!
Apparently, the idea behind the whole concept came from how families love the feeling of interacting and bonding with each other as they come together to take a photo.
And with the Selfie Museum, families can now enjoy themselves even better with the museum features and also capture long-lasting memories in photographs to hold on for a lifetime. Quite inspirational, I must say.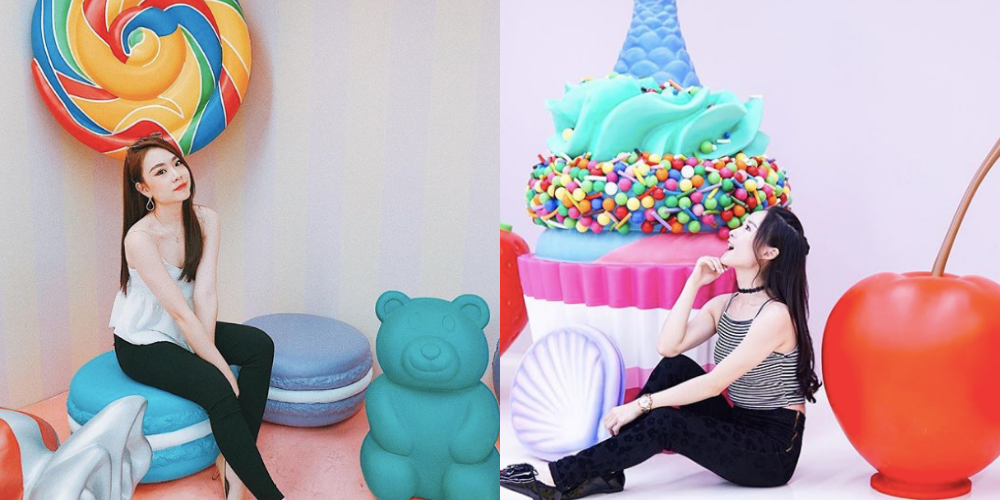 The first room you'd encounter would be The Giant Cakes designed by Pandora.
It displays a variety of vibrant coloured life-size cake sculptures. Also in this room, patrons can either choose one cupcake between the two flavours of Sirap or Gula Melaka.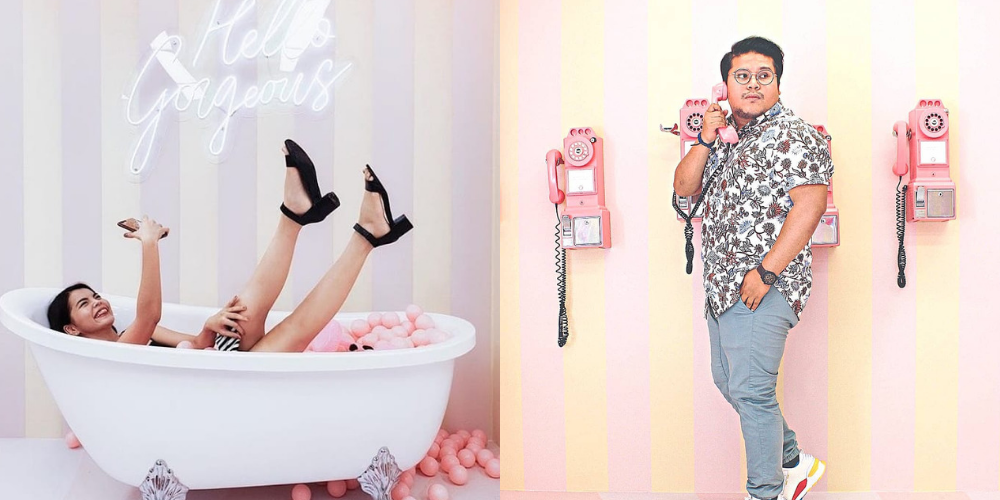 Next up is the room representing Benefit Cosmetics: Everything's Sweet.
An eye-catching room with candies, a room you'd want to be in to catch terrific selfies with a pastel coloured background, a bathtub ball pit to a vintage payphone and such. Plus point, you can also enjoy some soft and fluffy corn or lychee marshmallows as you walk through this gorgeous looking room to the next one.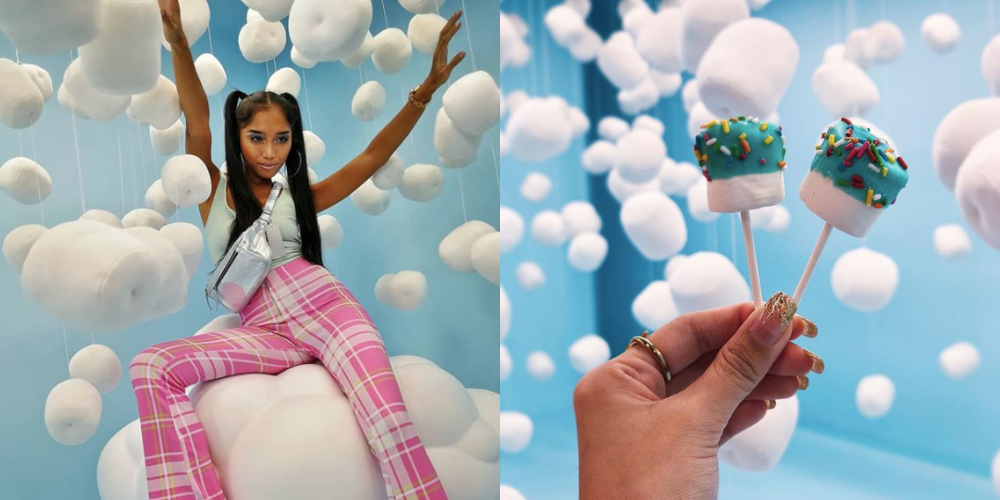 Fluffy and soft like cotton candy and marshmallow? Count me in!
Just be in the moment at Fluffy Path and take endless pictures to capture the memories, so you can look back. Always wanted to know what is it like to be up in sky? This is your chance, then!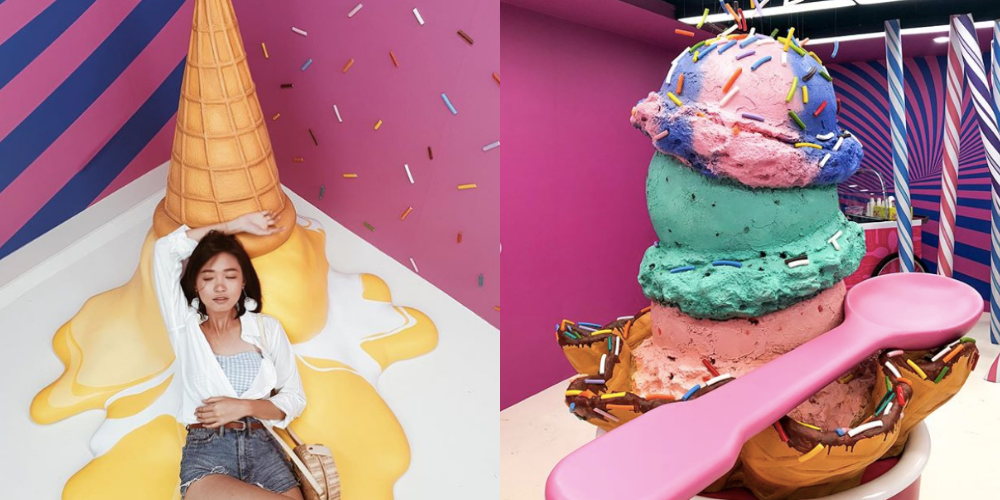 Hungry for some ice cream? Well, what about taking pictures with giant ice cream sculptures by Baskin Robbins? Ice-Cream World features the most sinful but the most delicious meal to pose with—and to top it off, you will also receive a free scoop of their Cold Brew Crunch or Cotton Candy flavoured ice cream. So, you're not only posing, but you can eat too!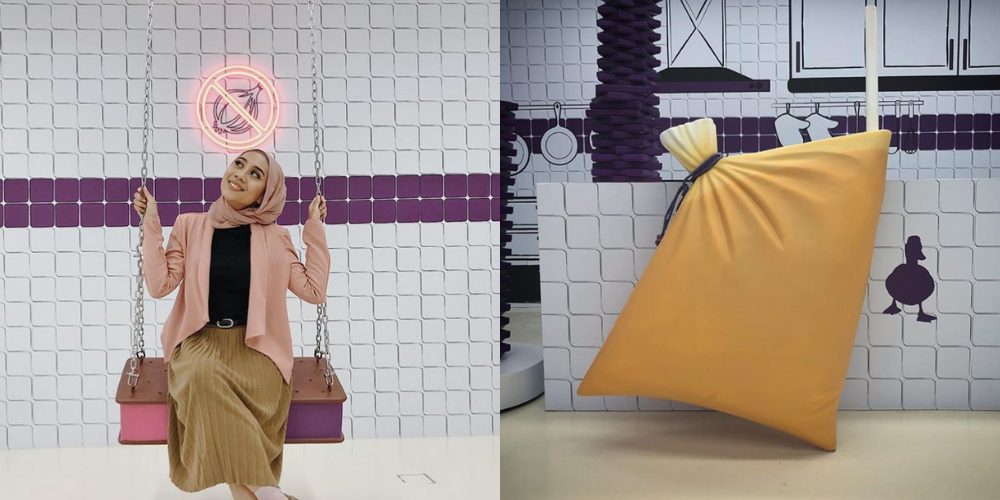 dUCkies Café is the perfect insta-worthy cafe that we all want to be at. With an interesting setting of a large teh ais, ikat tepi—dUCk Scarves has certainly up the game of putting a local twist. And don't forget to have a swing on their ice cream biscuit for a good time!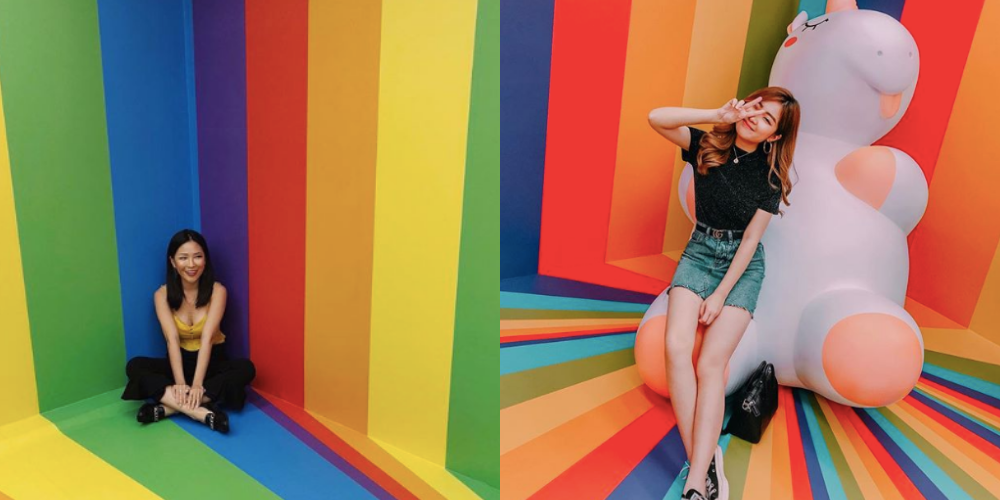 What's a Rainbow room without a magical giant unicorn that spreads love and joy to everyone?
Unicorns are sure to make people smile and be on top of their day! Don't forget to take a selfie with the adorable creature at this magical rainbow spread room.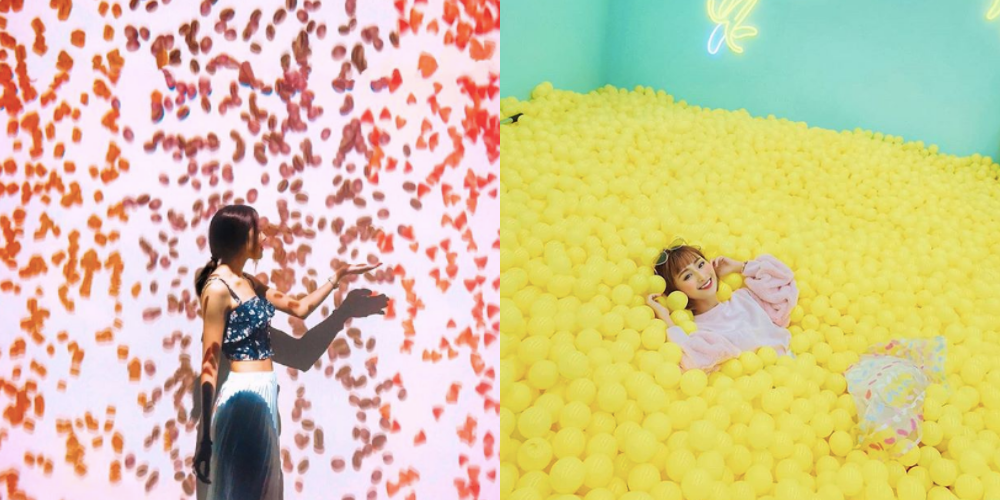 SAMSUNG Galaxy presents 3 zones of different interactive experiences with the latest SAMSUNG Galaxy S9+.
You can go bananas and jump into a ball pit or take an elegant photo with a pretty background projecting behind of you, all at the Super Happiness room!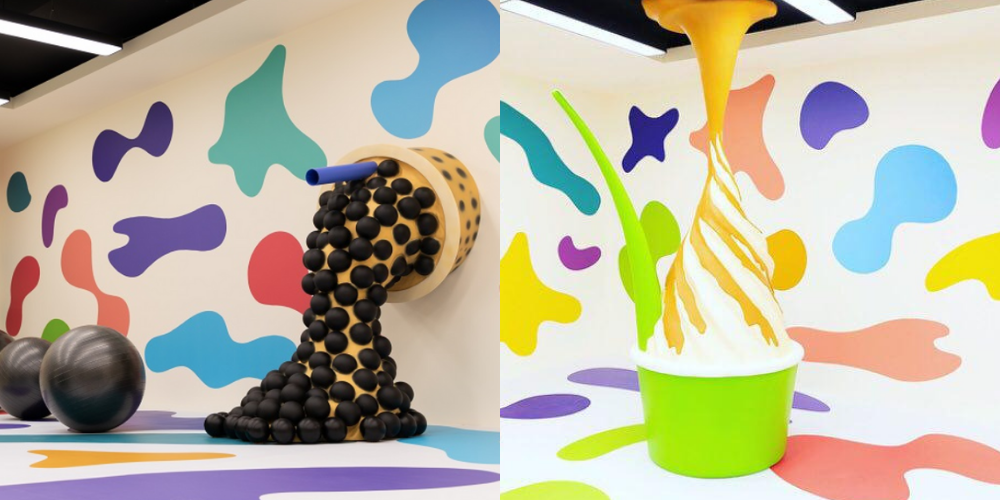 The Splash Lab—brainchild of TeaLive and llaollao—features a life-size of your favourite bubble tea stuck on the wall with giant pearls that would make you crave for some.
Not to mention, the giant tub of yoghurt that is pretty much screaming your name. A perfect combo where patrons will be rewarded with a complimentary cup of Roasted Milk Tea with Grass Jelly to quench your thirst after passing by the tempting room.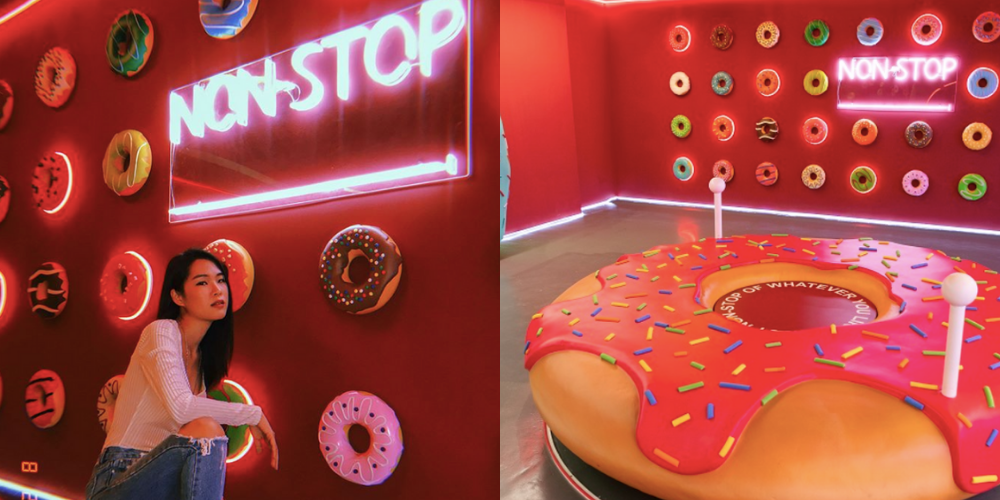 Last but not least, Do-Nut-Stop right there—there is still the room by Hotlink that you need to get by. If you have a huge undying love for donuts, then get a sugar rush as you fancy your way among huge donuts that looks too good to be eaten.
With that being said, you can choose a local-flavoured tart (coconut or banana!) for FREE.
If you love taking selfies, and are a sweet tooth then this is the place you'd want to be at!
What are you waiting for? Scoot your way to town and get absolute delicious photos of you that would make all your friends drool as they scroll through your IG feed! 😋
The Selfie Museum
Operating hours: 10am–10pm, Monday to Sunday
Address: Unit 2.28, Level 2, Fahrenheit88, Jalan Bukit Bintang, Kuala Lumpur
Website: The Selfie Museum
Ticket prices: RM45 (Adult) | RM30 (Children)
Feature Image Credit: @awwdray, @gwynethgui & @kevin_chin