Have a deadline to meet but you don't have the most conducive work space to work in? Plus, you just can't seem to get anything done in the comfort of your own home especially when your home WiFi isn't fast. If this is you, then you need either a work-friendly café or a co-working space.
Well then, DiscoverKL has got you covered! Here is a list of 10 places in Klang Valley with internet speed starting from 88Mbps up til 110Mbps. Intrigued yet? Bookmark this page so that you don't have to look around aimlessly for other spots.
1. The Toast Co (110Mbps)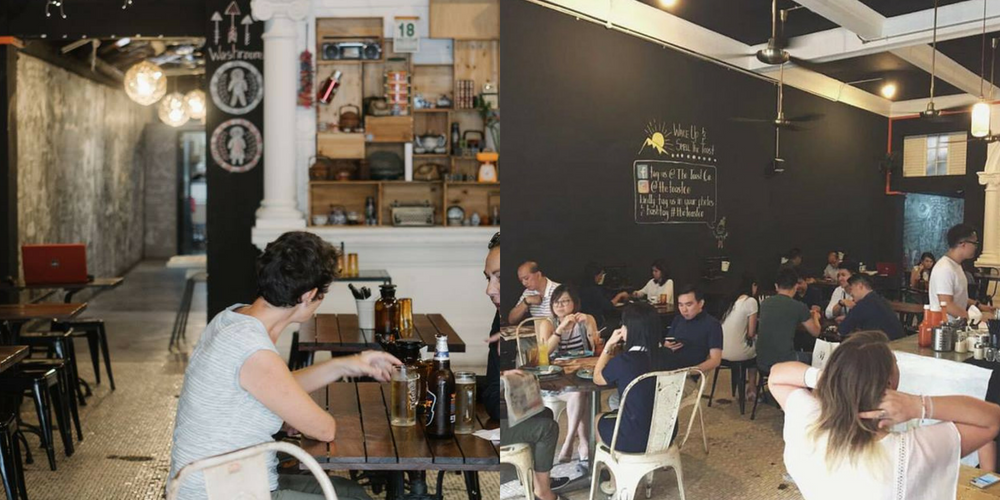 Located in Chinatown, you will see many people coming here to enjoy a cuppa whilst doing some work on their laptop. The only setback people will have to endure at this café is probably the limited amount of plug points around. There are some that are available, however only for the tables that are closer to the wall opposite the cashier. Generally, this spot is quite quiet, except during lunch hours but that is what you need. A spacious environment with good, scrumptious food – that caters for vegetarians as well. This spot has something for everybody. Plus point when the internet speed is 110mbps.
Hours: Mondays, Wednesdays-Fridays: 9am-7pm, Saturdays-Sundays: 9am-8pm
Address: 78, Jalan Sultan, Kuala Lumpur
Website: The Toast Co
Tel: 012-323 3580
2. Café Tujoh (101 Mbps)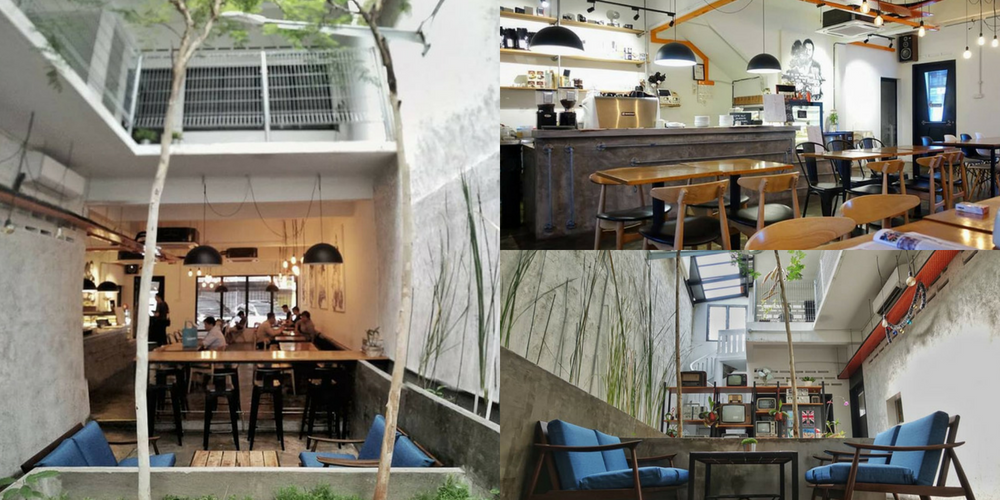 A small quaint café from the outside, and a contrasting black and white interior on the inside – the ambiance accompanied by natural lights has upped the notch for a comfortable setting. Nestled in a neighbourhood around Petaling Jaya, the café has access to power points on the benches side. With reasonable lunch sets and great cakes, this is quite a good spot to work away especially when the internet connection is as quick as Speedy Gonzales.
Hours: Mondays-Thursdays: 11am-11pm, Fridays-Saturdays: 11am-11.45pm, Sundays: 11am-10pm
Address: 617, Jalan 17/10, Seksyen 17, Petaling Jaya
Website: Café Tujoh
Tel: 03-7932 3611
3. The Playground (100 Mbps)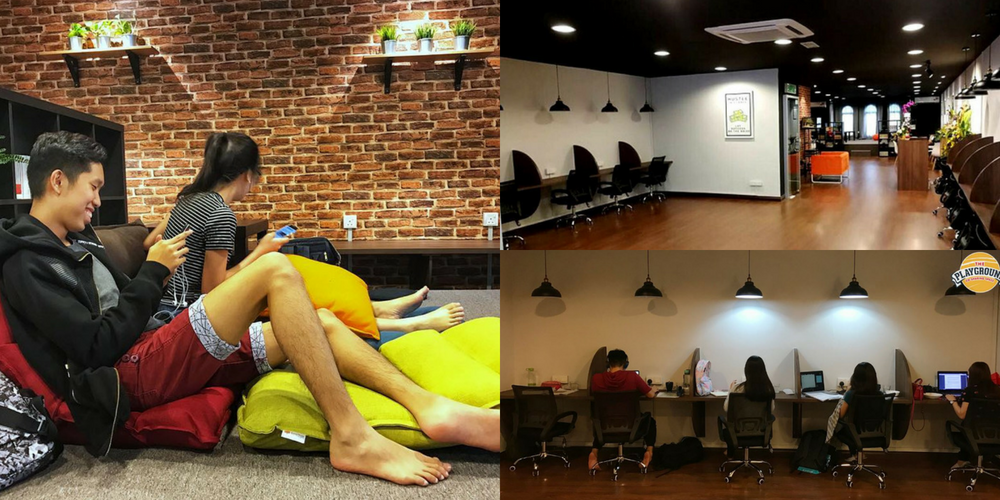 Co-working spaces have been around for a while now, and with The Playground, it's a way better option as you get your money's worth when it comes to high speed internet connection. Unlike a café, you don't need to pay for any food or drinks to feel 'entitled' to stay.  By just paying RM17 for an all-day pass, you can get unlimited access to coffee, tea, ice cream, and a variety of snacks. You can stay here for as long as you want too. There is also a lounge for you to play some Playstation games to relax – such a plus point! A spot that certainly lives up to its name.
Rates: Below 90 minutes: RM12.50 | 90 minutes: RM17
Hours: 11am-10pm, daily
Address: Jalan PJU 5/10, Dataran Sunway, Kota Damansara
Website: The Playground
Tel: 019-949 9522
4. Nomad Malaysia (100 Mbps)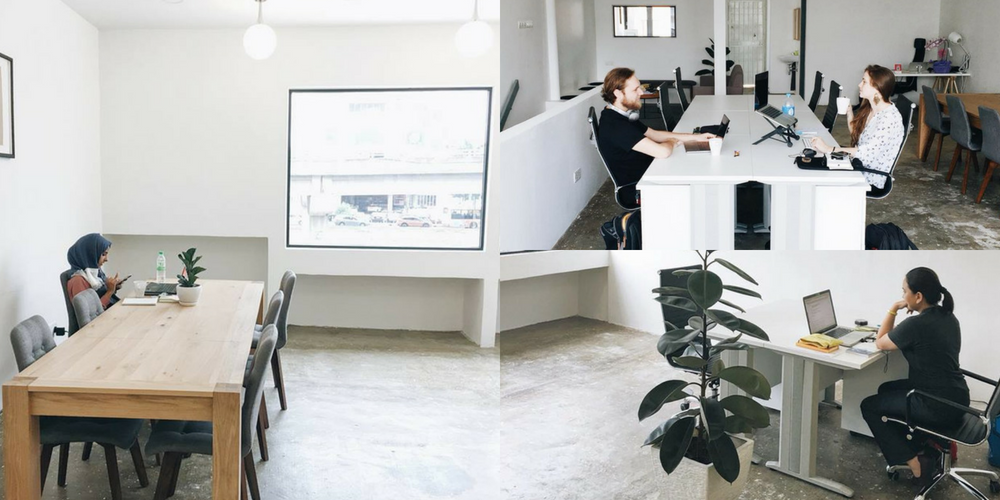 Another co-working space but with a little twist on how you could actually make your payment. It's a minimalist, homely space that accepts exercise as form of payment. This spot gives you comfort levels like nowhere else. In addition, Nomad Malaysia offers a free flow of high-quality tea and coffee blends as well. A place with some peace and quiet to get some work done, while burning carbs off at the same time? Sign me up!
Rates: Get RM5 off by choosing 2 forms of exercise: 20 pushups, 20 sit-ups, 20 squats, 60-second plank | Get RM10 off by choosing 2 forms of exercise: 100 pushups, 3-minute plank, 3-minute squat hold
Hours: Mondays-Fridays: 9am-8pm, Closed on Weekends
Address: No. 7, 1st Floor SS 18/1B, Shoplot, Subang Jaya
Website: Nomad Malaysia
Tel: 03-5611 4332
5. Herserlef (100 Mbps)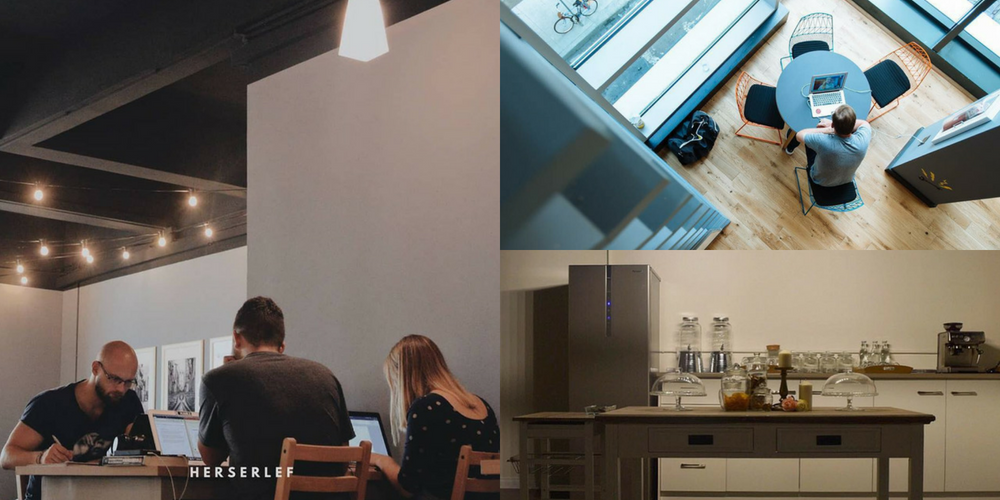 A quiet shared space with a conducive layout where you can work with increased productivity. Located in Sri Petaling, HERSERLEF charges its guests RM0.18 per minute and a maximum rate of RM16.20 after 90 minutes per day. With free unlimited coffee, snacks like cakes and cookies, as well as flavoured and normal drinks, you'll want to stay here all day! Plus point during the weekdays, if you come by with 3 friends or more, you'd get to enjoy the rate of RM15 per person.
Rates: RM0.18 per minute. After a stay of 90 minutes, the rate is capped at RM16.20 | 3 pax or more in a group – RM15 per pax
Hours: Monday, Wednesday & Thursday: 11am-11pm, Friday-Saturday: 11am-12am, Sundays: 2pm-11pm, Sunday: 2pm – 11pm, Closed on Tuesday
Address: 9-1, Jalan Radin Bagus 9, Sri Petaling
Website: Herserlef
Tel: 014-683 1081
6. A Space To ___. (100 Mbps)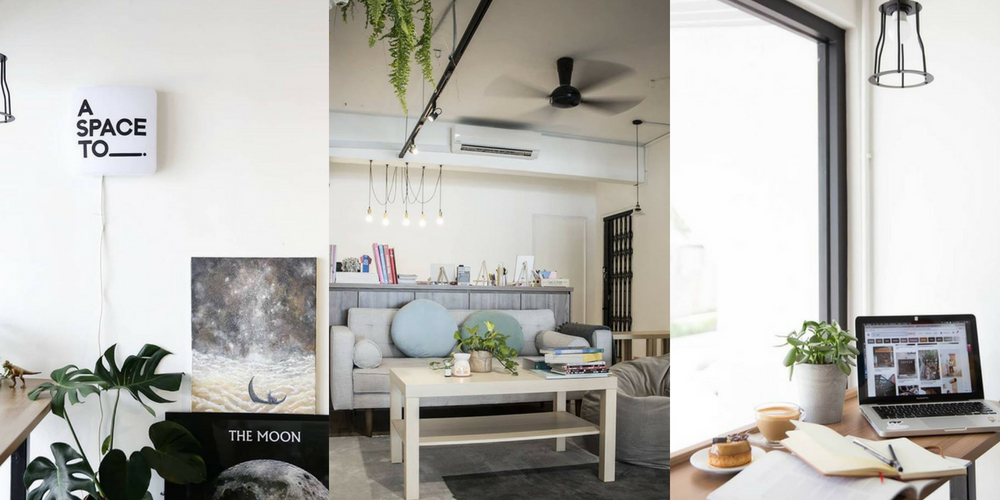 Located in Damansara Utama, A Space To ___. is just the right space for you to work, learn, experience and practically just spend your time doing productive stuff. Charging RM18 as a whole day rate, you'd get to enjoy the café-like interior with speedy internet connection. With an ever-growing collection of knick-knacks, toys and art supplies located at different corners, this space is meant for perfect light bulb moments. At a rate of only RM8 for the first hour, and RM12 for the second, this spot is the right share space for you to be productive and get your creative juices flowing.
Rates: 1st Hour: RM8 | 2nd Hour: RM12 | Above 2 Hours: RM18/day | After 7pm: RM10/entry
Hours: 10am-10pm, daily
Address: 109A, Jalan SS 21/37, Damansara Utama
Website: A Space To ___.
Tel: 03-7732 2166
7. Sandbox (100 Mbps)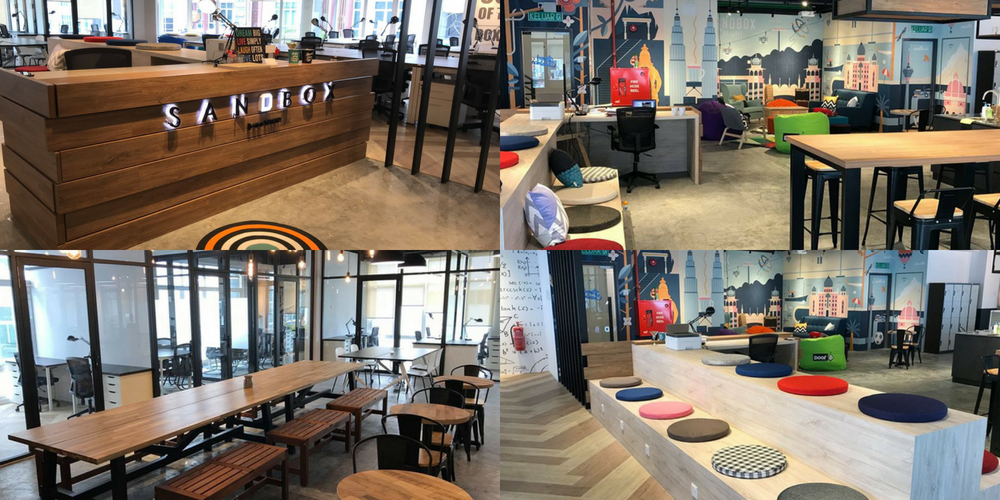 A modern-day cosy interior that provides a certain laid back vibe where it is work-friendly and maximises the productivity out of us. Sandbox charges RM28 for a whole day rate, and if you're a student, it is only RM18! This area provides free seating for anyone who's looking for a place to get work done for a day. Sandbox's patrons have access to a free flow of coffee and tea, all day long.
Rates: Normal Rate: RM28/day | Student Rate: RM18/day
Hours: Mondays-Fridays: 9am-6pm, Saturdays-Sundays: 9am-9pm
Address: 22-1, Jalan Radin Bagus 3, Sri Petaling
Website: Sandbox
Tel: 012-326 7533
8. VCR (97 Mbps)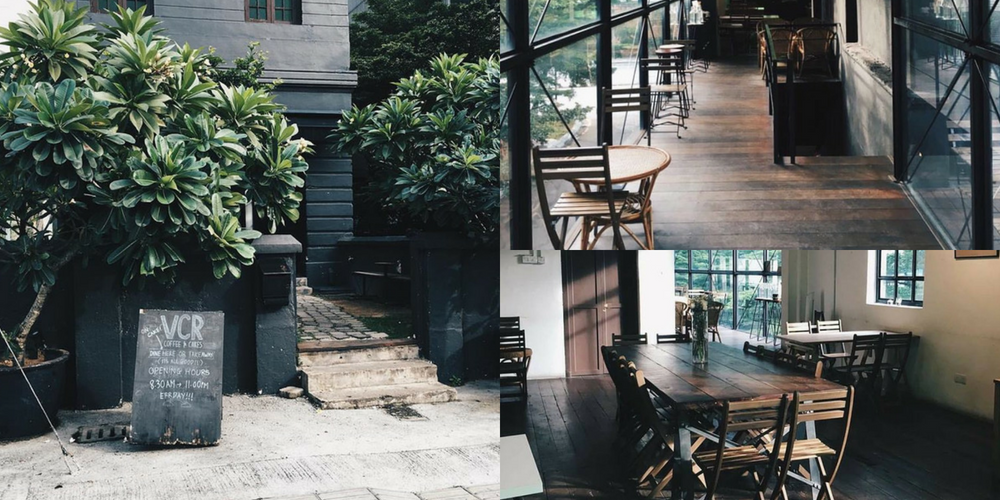 VCR stands for Video Cassette Recorder. A cosy spot in the heart of KL that allows you to work in an environment that not only serves good food, but a spot to get your work done, without any trouble. You would not be the only lone ranger here because apparently, it is a go-to spot where people like you enjoy being productive at. Just grab a good cup of coffee to keep yourself awake as you get through work.
Hours: 8.30am, daily
Address: 2, Jalan Galloway, Kuala Lumpur
Website: VCR
Tel: 03-2201 0011
9. Coffee Stain (97 Mbps)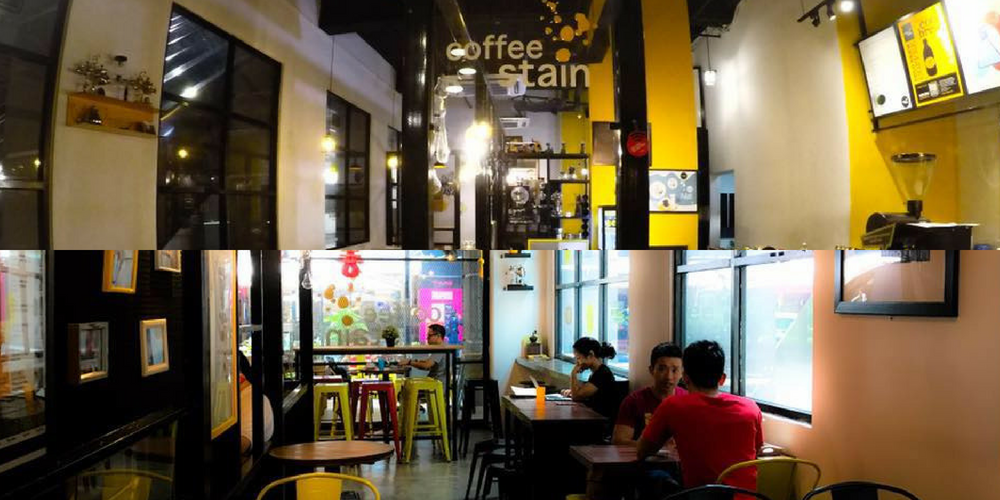 Great roasted beans brewed to perfection by the café's award-winning baristas that will pretty much guarantee you to not doze off while you work. The spot is usually visited by many people because a) it is located in Publika and b) it is quite a hotspot. Probably a top spot since its WiFi speed is at 97mbps! Good coffee, a space crowded with other like-minded folks but excellent WiFi speed? I think I can work around that.
Hours: Sundays-Fridays: 8.30am-10pm, Saturdays: 9.30am-10pm
Address: D4-G3-01, Solaris Dutamas, Kuala Lumpur
Website: Coffee Stain
Tel: 03-6211 2022
10. In House Café (88 Mbps)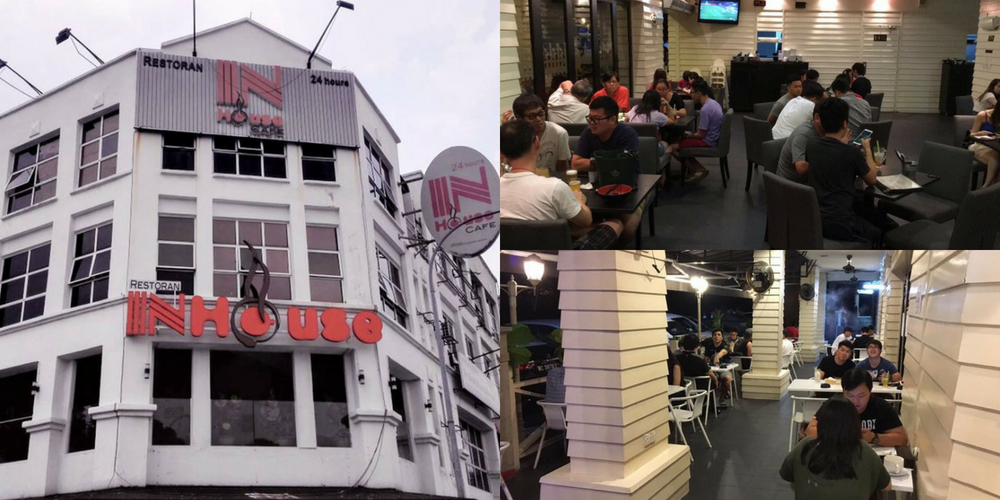 This spot is usually visited by many people so it may tend to get noisy at times. However, just plug in your earphones, and you'll be fine. With tables around and plug points available near the seating area, this is one of the spots where you can pretty much just relax and wind down as you do some work. Plus it's a café, so with a proper meal and drink by your side, work to complete your deadline and enjoy the 88mbps WiFi speed that they have. Do note that this café is non-halal.
Hours: Open 24/7
Address: 33, Jalan Kenari 17C, Bandar Puchong Jaya
Website: In House Café
Feature Image Credit: Sandbox, VCR, Nomad Malaysia & Café Tujoh