It's hard to miss it because even from a distance, warm bright lights guide the way to La Juiceria Signature Nadi Bangsar.
The brand, which has been synonymous with healthy eating since its inception in late 2014, recently launched its latest outlet and it's positioned on the ground floor of the Nadi Bangsar serviced residence.
It's also apt that the restaurant is located right beneath a crossfit gym.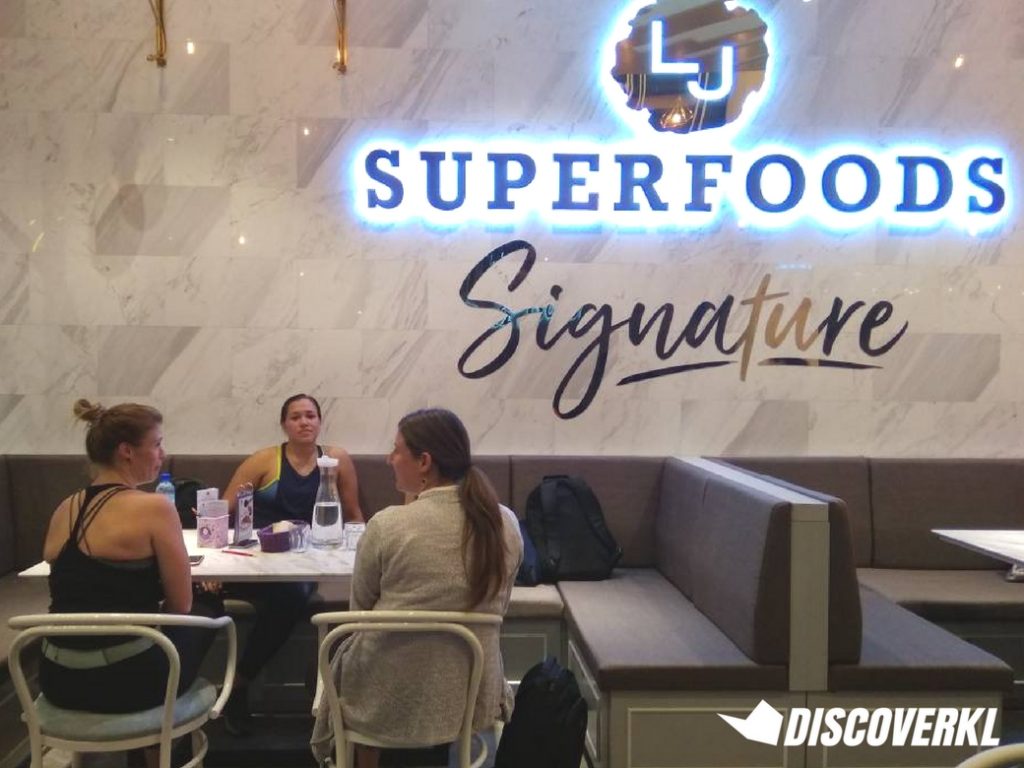 On any given day, you'd likely see gym-goers grabbing a nourishing bite after their workout session or well-dressed folks stopping by for an Insta-worthy makan session.
And our new friends, Chloe and Kate, fit the bill for the latter.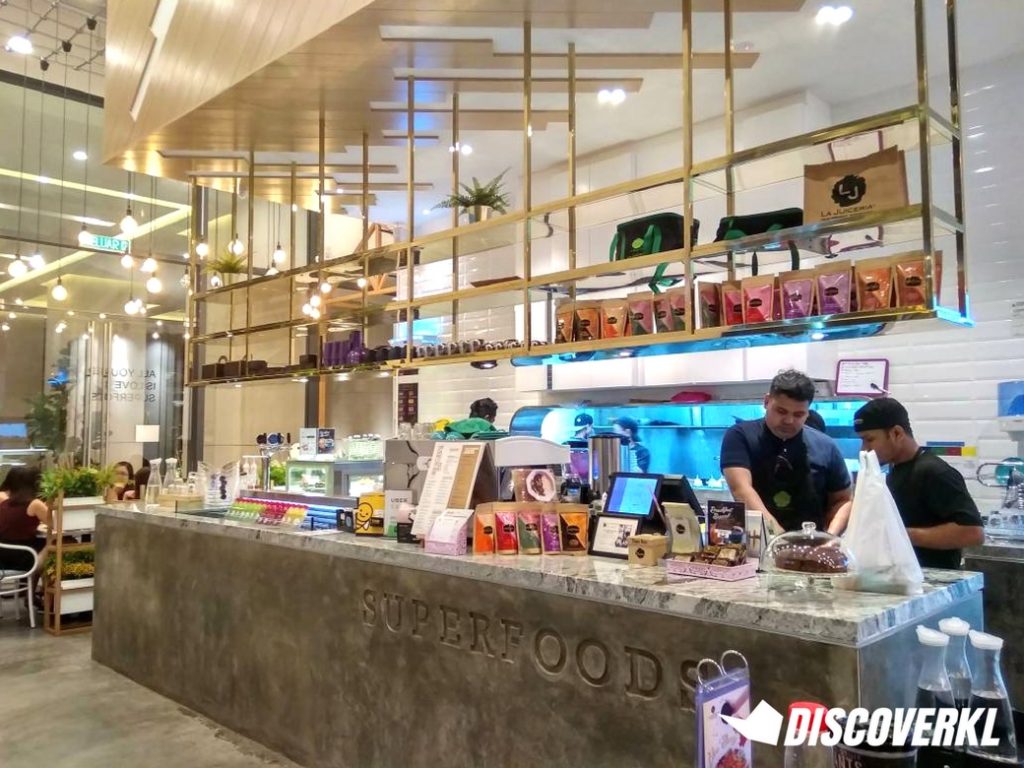 During our recent visit to La Juiceria Signature Nadi Bangsar, we were joined by 2 of our DiscoverKL readers, Chloe and Kate. The pair are ex-colleagues who remain close friends even after all of these years. They maintained their close bond through lots of makan sessions and this was actually one of the rare opportunities that they could meet for a quick catchup session.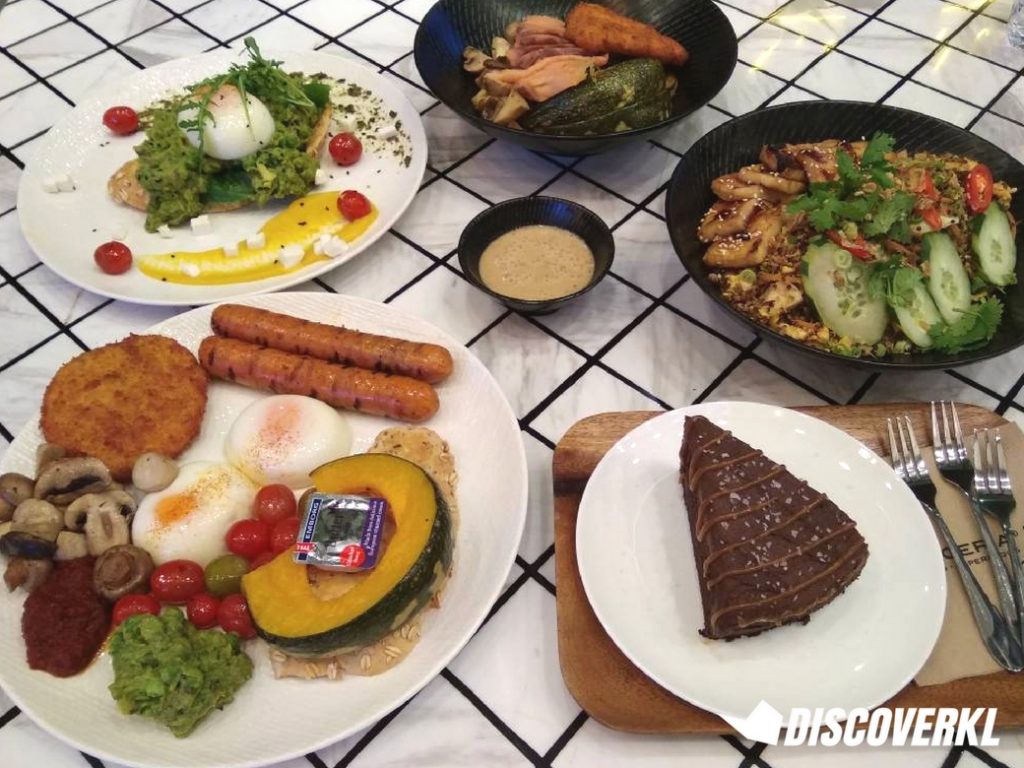 Observing the hearty feast before us, Chloe proceeded to whip out her phone to Insta-story the meals while Kate waited patiently, the inviting scent somewhat torturous as we swiftly snapped the pictures.
Though both are big foodies, Chloe admitted that she enjoyed documenting her meals on Instagram whilst Kate preferred taking mental snapshots of her meals instead.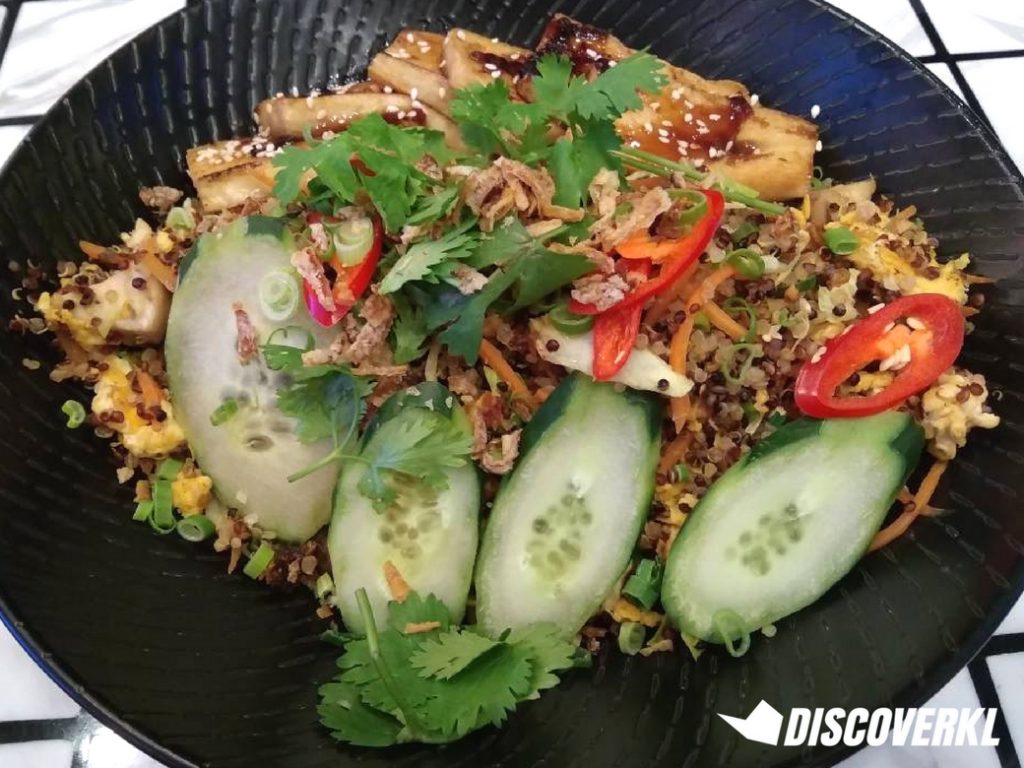 As Kate tucked into the Fried Rice Quinoa w/ Add-on Teriyaki, she shared that the quinoa is an interesting alternative to white rice as it is still a fulfilling, hearty grain with the added benefit of being better for you.
The mix of Western and Asian is apparent, what with the quinoa grains and the Asian cooking style of nasi goreng and it could've flopped easily but in this case, it worked like a charm.
The cilantros added a refreshing pop of flavours and the finely sliced bell peppers and carrots are a subtle integration of vegetables, particularly good for those who absolutely detest their greens.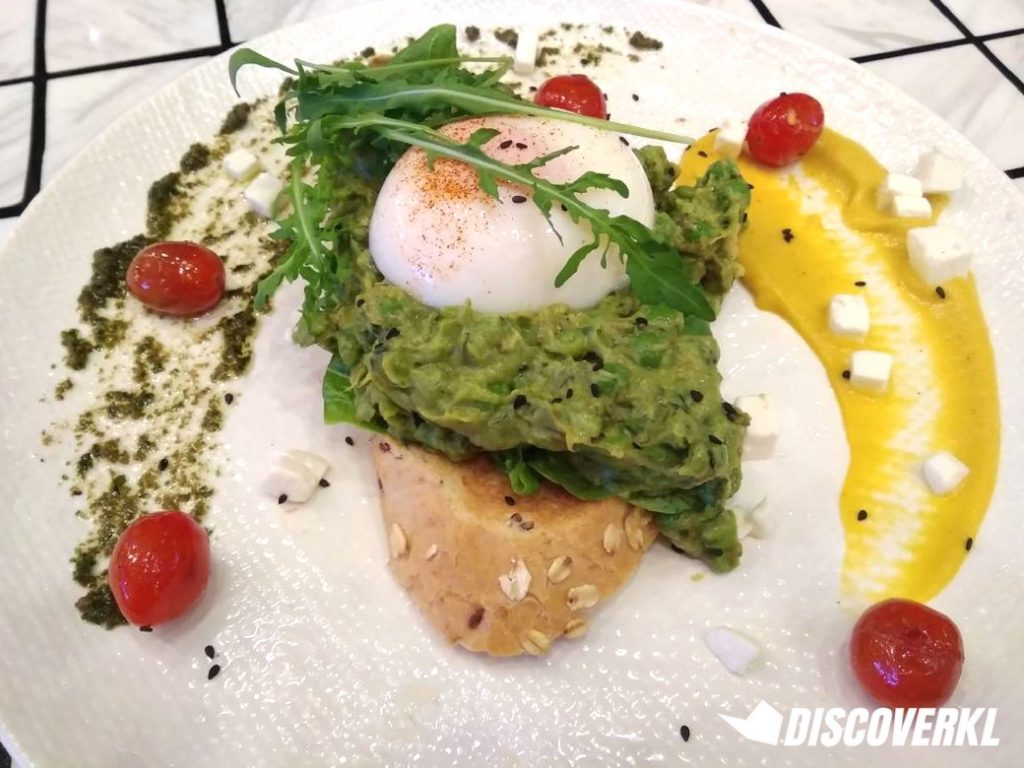 Admittedly, slicing into the sourdough toast from the Avo Mashed Greens platter was a slight chore as it leaned towards being over-toasted but that actually worked in favour of the poached eggs which softened the bread with its river of yolk and whites.
It also held the spread of avocado with green peas well without turning soggy. An interesting addition to the meal were the small cubes of feta cheese which lent a tangy aftertaste, effectively cutting through the richness of the fruit and egg.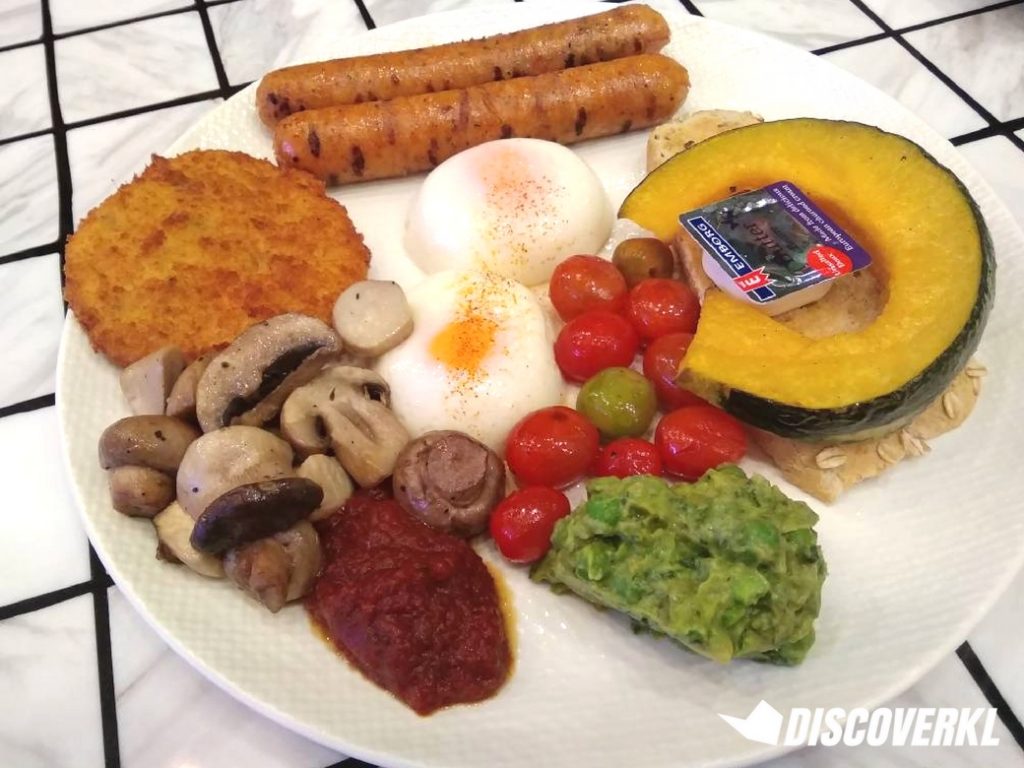 The Big Breakfast is an ambitious dish, diving straight into the deep end with the inclusion of heavyweights like the sourdough bread, poached egg, 2 plump chicken chorizos, hashbrown and juicy button mushrooms.
The chicken chorizos had a herby kick while the mushrooms had a natural sweetness to it. The star, however, is the pumpkin. "You can taste the raw sweetness of the pumpkin because it isn't seasoned, and it's not too mushy as well," Chloe noted.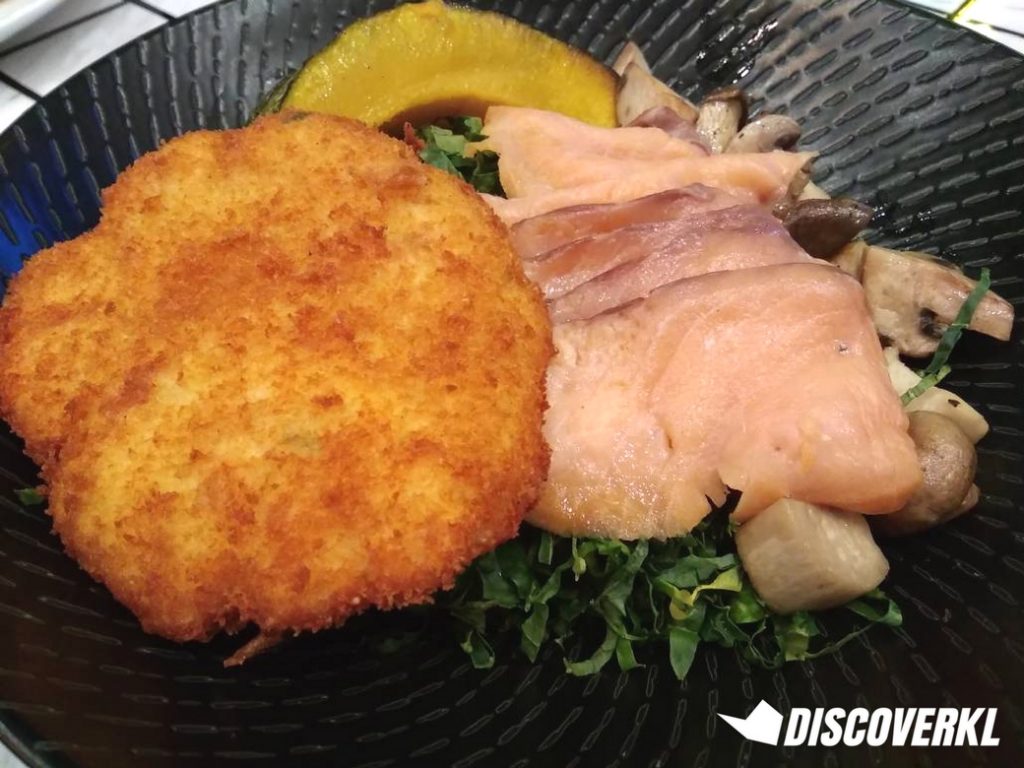 Our "Build Your Own Salad" consisted of kale, smoked salmon, roasted pumpkin, sautéed mushroom, housemade hashbrown and roasted sesame sauce. 
Individually, they were great; the smoked salmon slices, though they were thin, had an intense flavour and paired well with the dry kale strips and the accompanying roasted sesame sauce. The pumpkin, however, did not pair as well with the other ingredients and in hindsight, we should have opted for a poached egg instead because that would have probably worked better with the rest.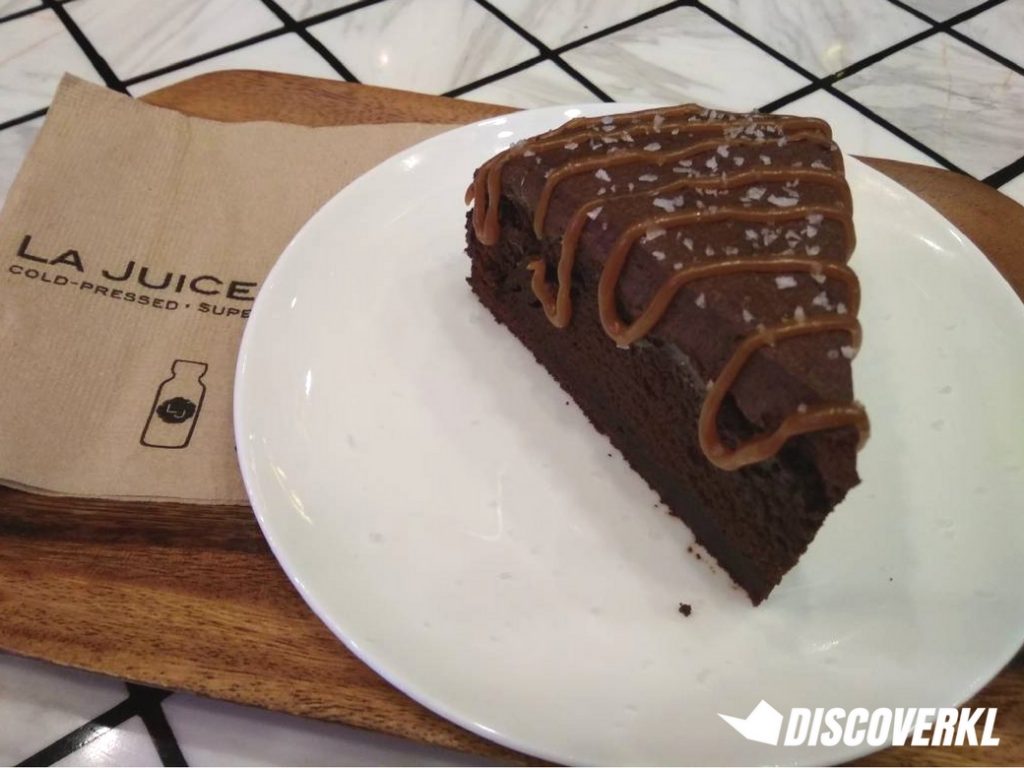 Heaven in a slice, that's what the Chocolate cake is. Despite not being a huge fan of chocolate, I particularly enjoyed how the sweetness of the creamy cocoa blended nicely with the drizzle of caramel sauce. Incredibly indulgent, Chloe managed only a mouthful as she was stuffed from the glorious feast we just had. Still, she gave it a thumbs up.
Also, although the spinkles of fleur de sel on this slice of cake from The Honest Treat may be tiny, they totally balanced the sweetness of the cake out. Fleur de sel is basically sea salt and the marriage between it and the caramel drizzle is divine.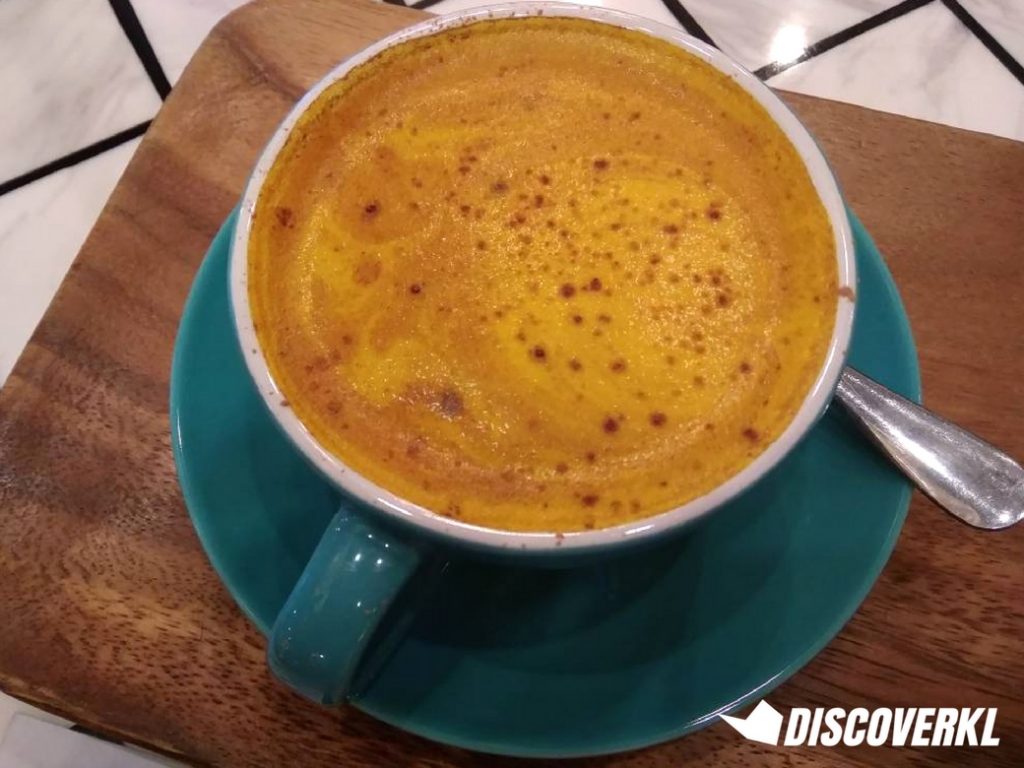 To cap the night off, we enjoyed the Turmeric Milk in individual mini teacups and even with a couple of sips of the beverage, we could tell that the flavours were potent. We were told that turmeric itself has antioxidant properties.
The slew of health benefits that this drink comes with aside, it is warm and hearty and not at all overpowering. I would imagine it being perfect with a plate of cold salad or one of The Honest Treat's raw cakes at the counter.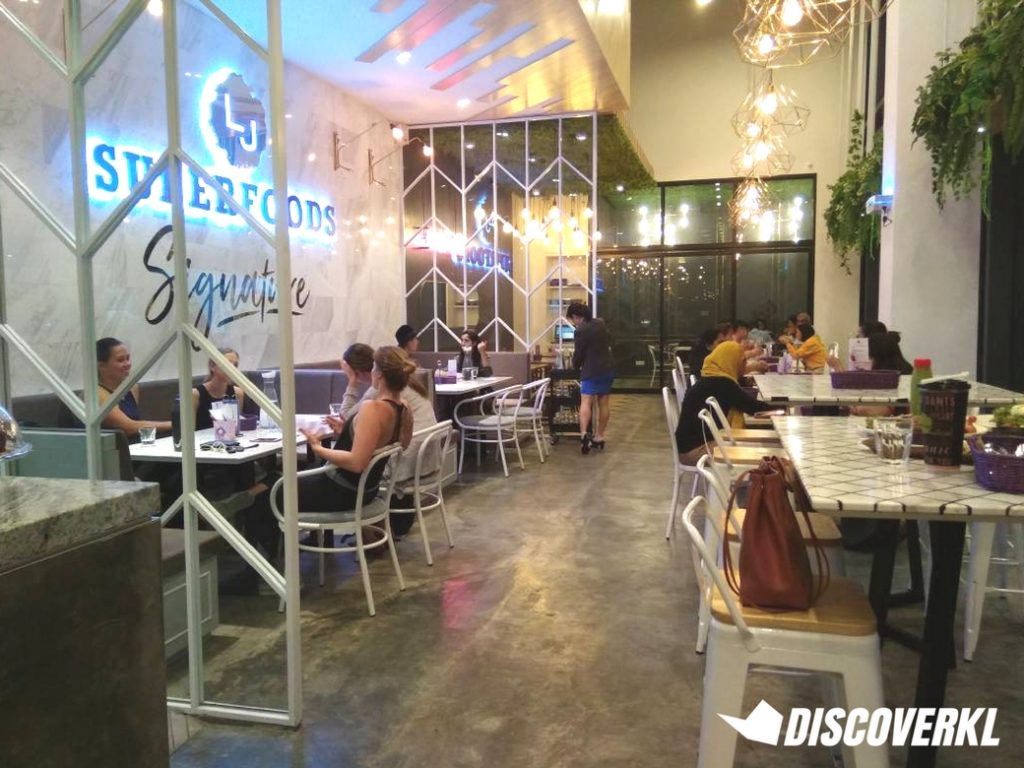 Overall, La Juiceria's latest outlet did not disappoint—it's got the familiar bright lights and greenery adorning the walls, feature walls designed for photo sessions and marble tables with accompanying high chairs.
There's even a play area for kids.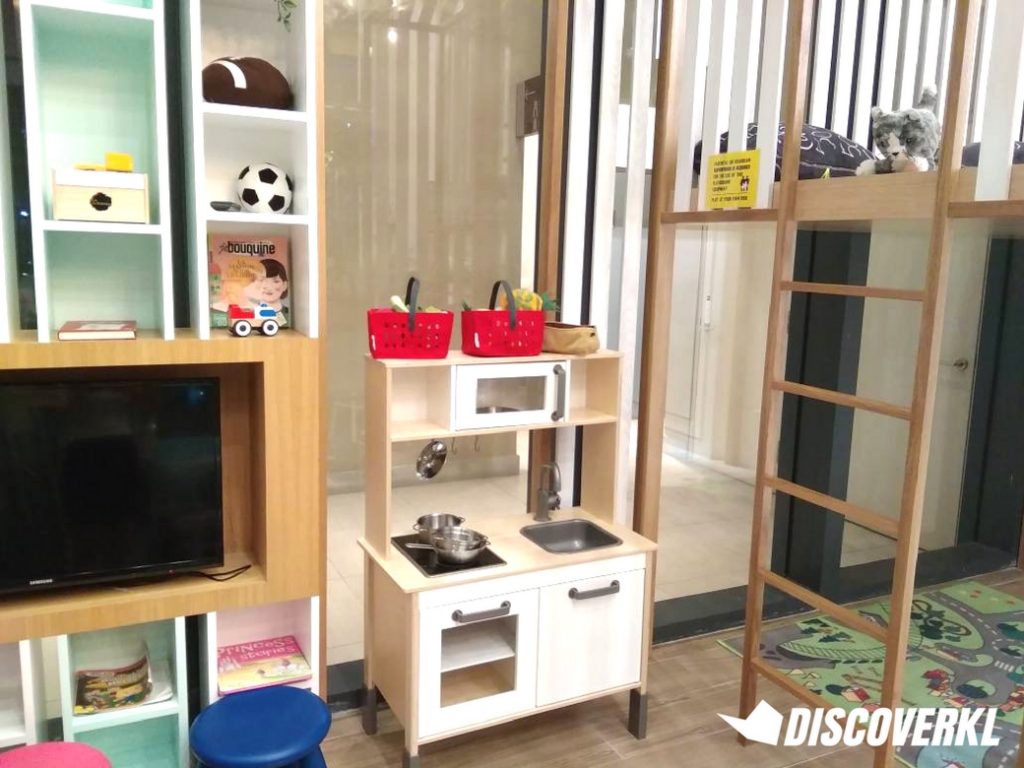 Complete with a mini "kitchen" to play masak masak at, a TV to watch some educational 'toons, books, toy cars and plush toys, little ones will be kept occupied whilst their 'rents enjoy their meals.
With this, it's clear that The Nadi Bangsar outlet ticks all the right boxes.
And as Chloe puts it, "I'll definitely be back again," while Kate chimed in, pointing at the menu: "Maybe we could try this dish next time."
Next time, now that sounds like a good indication to me.
Price: 
Quality: 
La Juiceria Signature Nadi Bangsar
Hours: 8am–10pm, daily
Address: Unit No. Retail 1, Ground Level, Pangsapuri Servis Nadi Bangsar, No. 16, Jalan Tandok, Bangsar Baru
Website: La Juiceria Signature Nadi Bangsar
Tel: 03-2201 9923