The DiscoverKL ambassador team had a great month of July, where they attended plenty of cool events and food reviews. Here's a recap of all the fun things they got up to the past month!
1. Boozeat Smirnoff
Boozeat is a Malaysian startup that sends the party right to your doorstep by being more than just a booze delivery service. Essentially, they deliver the fun straight to you, whether that's in the form of liquor or its food pairings like oysters, popcorns and even macarons!
Our ambassador, Chervyn, had the chance to drop by Boozeat's Smirnoff event where she sampled some Singleton Whisky as well as learned the process of whisky-making. Chervyn especially enjoyed how the whisky-making process was portrayed in VR-form!
https://www.instagram.com/p/BWgst1XAs1t/
2. ScrumpTea Delicious High Tea
Pinkies out! We sent our ambassadors, Jean and Jolene, to the ScrumpTea Delicious high-tea experience that sent them on a sugar rush. It was a complete indulgence for both of them and they particular enjoyed the chocolatey treats.
https://www.instagram.com/p/BWhFRiWn1U-
If you're looking to try these desserts out, you'd be glad to know that Grand Millenium KL hosts high tea buffets every weekend and it's your chance to indulge in some chocolatey desserts, which even includes a pretty rad chocolate fondue!
https://www.instagram.com/p/BWfICu6B2Se/
3. Whip Up KL
Whip Up KL is known for their desserts and our ambassador Shermyn, who has a sweet tooth, enjoyed some of Whip Up's bestsellers, including their plated dessert platters and sweet drink pairings.
Not only that, she also loved Whip Up's nasi lemak and avocado toast dishes. Who would've thought that you'd find main meals at a place which markets itself predominantly as a dessert house?
Click here to check out Shermyn's full review!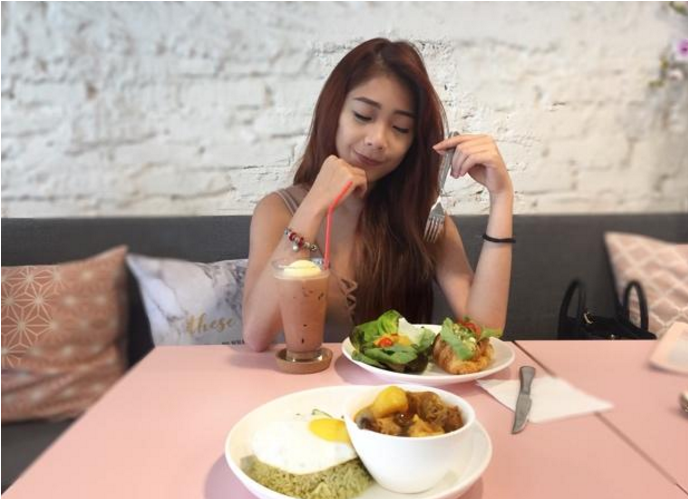 4. Outdark SS15
If Korean food is your fave cuisine, chances are that you've heard of Outdark SS15, a new Korean makan place, specialising in fried chicken and seafood broth platters.
Our ambassador, Sarah, happens to be a big foodie and she simply could not pass up a chance for some finger lickin' good Korean food. Her favourite was the platter of fried chicken and creamy, buttery crinkle-cut fries. If you're looking for a place that's cosy and romantic (the lights here are dimmed on purpose!), you can check this Subang eatery out.
Click here for our full review at Outdark SS15.
https://www.instagram.com/p/BWuiJm0FgSf/
5. Dessert Bar By Stanley Choong 
Dainty desserts that evoke a Parisian feel, that's what Dessert Bar By Stanley Choong is all about. In fact, did you know that this pâtisserie is run by a chef who received training at Le Cordon Bleu?
Our ambassador, Zoey, went down to Dessert Bar By Stanley Choong, where she not only got to meet the chef himself, but also try out a whole range of petite pastries and desserts. Of course, after her meal, she could not pass up the chance to take a picture with the iconic neon bunny at the store's entrance!
Click here to check out Zoey's full review at Dessert Bar By Stanley Choong.
6. 4 Fingers Launch
4 Fingers launched its latest Klang Valley outlet in Berjaya Times Square back in July, and Sarah and Sharon made the time to drop by the outlet.
https://www.instagram.com/p/BW2SaawF1WY/
They had a finger lickin' good time sampling the fried chicken, which is 4 Finger's bestseller, and for the first time ever, Sarah could not finish her food because the 4 Fingers team were generous enough to offer a wide spread for our ambassadors to try.
As Sharon puts it best, "I can't say no to fried chicken!"
https://www.instagram.com/p/BWz0S2bjMK3/
7. Häagen-Dazs Froyo Tasting
If you're a huge fan of desserts, Häagen-Dazs is probably something you'd enjoy on the reg. But did you know that they've now introduced a whole range of froyos too? We sent Sarah to try the froyos out and she gives them a thumbs up. Head on over to the nearest Häagen-Dazs outlet and try them out for yourself!
https://www.instagram.com/p/BXFwAVflOm6/
8. Artico It's Nitro-Cool
With a unique name like Artico It's Nitro-Cool, we were excited to find out what this ice cream parlour is all about. Zoey headed over to try Artico's bestsellers, which includes unique floral-inspired flavours like lavender. There's even a flavour which caters specifically for those who are lactose-intolerant: the vegan strawberry.
9. Tony Roma's Ribs 
Ever tried a sweet Sarawak Black Sauce with some ribs before? Tony Roma's recently celebrated their 45th anniversary and Sarah had the chance to try out their delectable Ribs platter which came with a variety of different sauce pairings, including the Sarawak Black Sauce.
Her favourite though, was the unique Pepsi BBQ flavour. That's certainly a sauce to try the next time you head down to a Tony Roma's outlet!
https://www.instagram.com/p/BXVH8eElfl4/
July was a food-filled month for our DiscoverKL ambassadors, with plenty of desserts and fried chicken. We can't wait to see what August has in store for our team.
If you're looking to increase your brand's awareness and introduce products or services to our fellow Malaysians, feel free to drop us an email at [email protected]. We would love to work with you!
We're also on the lookout for more ambassadors to join our team, as they discover more fun and exciting adventures in and around KL. If you love eating, socialising, and discovering new places in and around KL, drop us an email at [email protected]!