Over the past week, several notable brands in Malaysia have shifted into a new look and for some, even a new name entirely.
Lazada has opted for a sleeker look and 11Street is now known as PrestoMall.
Seems like it's a season of change for local brands and KAKIGŌRI, one of the well-loved shaved ice pioneers in Malaysia, has now opted for a new name. Here are 7 reasons why their rebranding was done right:
1. The team released a formal statement prior to the name switch
On June 20th, the team released a statement on Facebook to announce their departure from the previous KAKIGŌRI branding.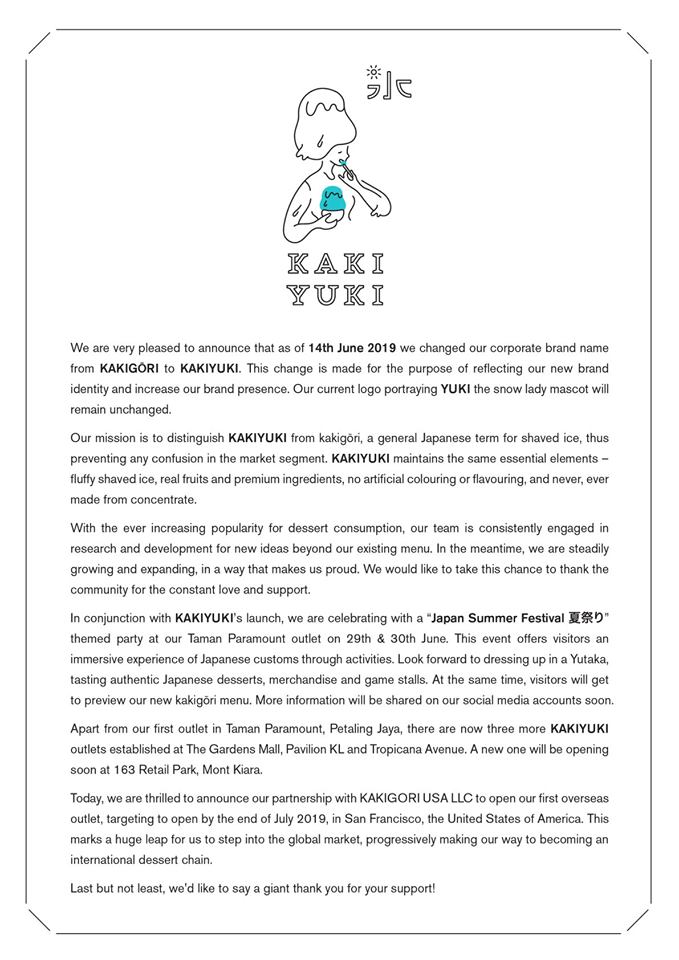 In the full page statement, KAKIGŌRI was clear on why the changes were made. "This change is made for the purpose of reflecting our new brand identity and increase our brand presence," they mentioned.
Either way, it's cool that their followers got the heads up.
2. They're not rushing the changes on social media
As with any big change, KAKIGŌRI knows to take it in stages and they mentioned how they will be updating their social media accounts accordingly, within the next month.
On their Facebook page, KAKIGŌRI noted, "We will gradually update our signage, social media account name and branding materials within a month."
For some, the change is immediate. We wake up to a completely new brand logo and name and we wonder if we've accidentally downloaded another app onto our phone. With this, we at least have the time to process the changes.
3. No change in concept = not a (very) big change for consumers
At its core, the kakigori concept remains and while there will be new menu introductions, releasing seasonal flavours is already a common practice for the brand.
More importantly, there will be no major overhaul to the existing dishes that they are serving and because of this, it doesn't impact the consumers directly.
4. Yuki, the snow lady mascot remains
Yuki is the snow lady mascot with a cool kakigori hairdo.
KAKIGŌRI has been integrating Yuki into their branding (albeit subtly) and you can see images of her printed onto tissue papers and pasted as wall decals at KAKIGŌRI outlets too.
While admittedly, the image of Yuki alone might not be a strong enough brand positioning for a non-regular consumer to instantly recall the KAKIGŌRI brand, it's comforting at most, that Yuki remains.
And the fact that her name is a huge part of KAKIGŌRI's new branding further strengthens the positioning for the team.
5. They're opting for a more search-friendly name
Look up KAKIGŌRI on Google and the brand's competitors will likely pop up on the first page as well. KAKIGŌRI is after all the term for Japanese shaved ice served with sweet condiments.
With all things considered, KAKIYUKI would make for a more search-friendly brand name as opposed to KAKIGŌRI. The former name would be akin to naming one's restaurant "Burger" or "Cake".
6. They chose the right time to rebrand
Alongside the announcement made late last week, KAKIGŌRI noted that they have partnered with KAKIGŌRI USA LLC for their first ever overseas outlet.
Considering how the San Francisco grand opening will commence in July 2019, it makes sense that their rebranding strategy was to be carried out now.
"This marks a huge leap for us to step into the global market, progressively making our way to becoming an international dessert chain," KAKIGŌRI said in their statement.
As they enter the international foray, it's wise to opt for a branding which extends past Malaysians' recall of their brand identity. As locals, we are likely familiar with the KAKIGŌRI brand by now but try entering the international scene with a generic name. With that, I think it's wise to rebrand now, prior to the launch.
7. They're even throwing a party to celebrate their new name
To further solidify KAKIYUKI's entrance into the F&B scene, the brand is throwing a launch party called the "Japan Summer Festival". Held from June 29th-30th, the event will be held at KAKIGŌRI's Taman Paramount outlet.
Guests will be able to dress up in a traditional yukata, try traditional Japanese desserts and have a chance to preview their new menu.
The party allows consumers a chance to celebrate this new milestone together with the brand, which has been around since 2016, and nothing feels more inclusive than that.
Feature Image Credit: KAKIGŌRI